Unofficial Guide to DIY Epoxy Countertop Resurfacing
DIY epoxy countertop resurfacing is a great way to update your kitchen on a budget. It's possible to update those ugly countertops without replacing them. And it's affordable too.
I love finding budget solutions for my home like my wood countertops or concrete countertop overlay!
In our new house, I just painted the countertop to look like marble!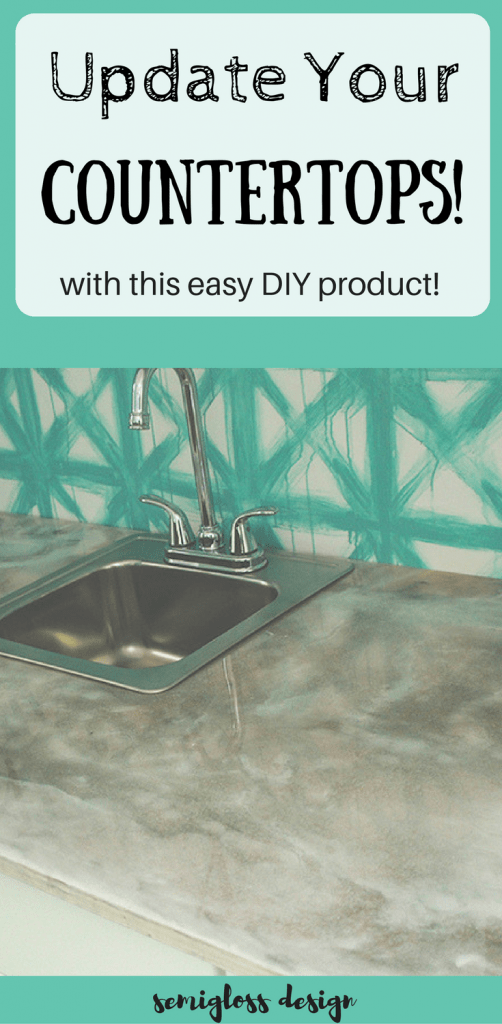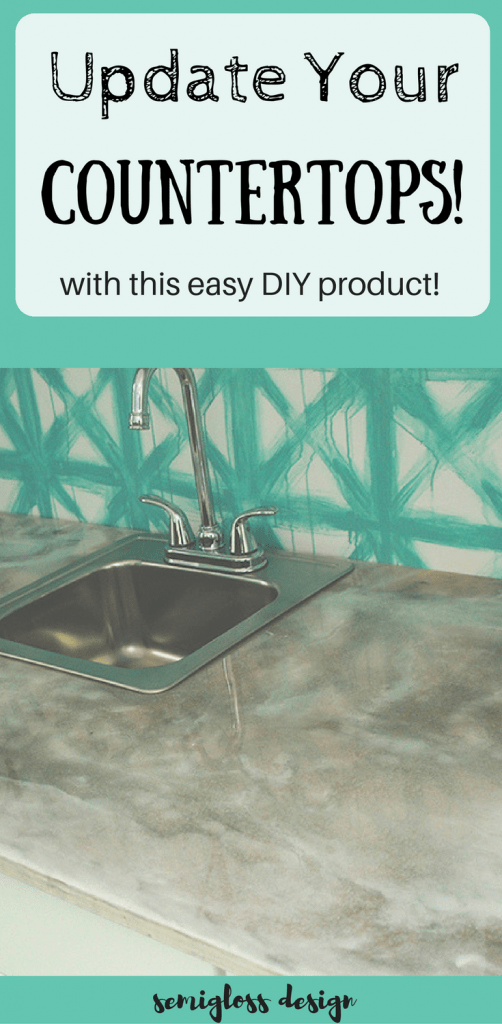 While I was planning my sunroom, I was searching for unique countertop options. All that I knew was that I wanted them to be shiny. I ran across Countertop Epoxy on pinterest and was immediately smitten. The countertops shown were amazing and shiny and so cool.
I knew immediately that I wanted to use the product! Today, I'm sharing my experience with DIY countertop resurfacing using a kit from Countertop Epoxy. I'll also share tips in case you need to build the countertops yourself, like we did.
The epoxy countertop kits from Countertop Epoxy are completely customizable with 14 prime coat colors and 35 metallic powder colors, plus they are about to add neon colors. How cool would that be?
Countertop Epoxy can be applied over almost every type of countertop to give a whole new look. I even saw it used over ugly tile on a bathroom wall!
Epoxy Countertop DIY FAQ's
How much does it cost to resurface a countertop?
A countertop resurfacing kit is $299, which I'll admit is still a pretty penny. However, when compared to the price of granite or marble, is much more affordable. You can't get a more durable surface for the price!
Can you use this process over laminate countertops?
Yes! Be sure to sand the surface so that the epoxy can stick to it.
Is epoxy durable? How does it hold up over time?
Epoxy is incredibly durable. There are videos on Youtube showing people placing hot pots directly on the surface with no consequences.
I have epoxy over my concrete countertop in my kitchen and I place hot pots on the surface all the time. It still looks great.
These countertops in my bar get a lot less use than my kitchen, but they've held up as well.
More about the process
It feels like a giant art project and you can completely customize it to fit your decor.
I must begin with the admission that we made about 100 mistakes during this process. I'm considering changing my tagline to "We make mistakes, so you don't have to!"
We're not experts in DIY. And that's fine. We learn from our mistakes and I share them here to help others avoid those mistakes.
So although we made a million mistakes, the end result is gorgeous. No matter how many times, we screwed up, we were always able to fix it! I will definitely be using Countertop Epoxy again. A certain mauve kitchen countertop needs resurfacing ASAP!
In full disclosure, I purchased this product with my own money, but received a discount. I would never recommend a product that I haven't tried or that I don't believe in. All opinions are my own.
The DIY Countertop Resurfacing Process
A few notes before I start:
I used to work with resin when I made jewelry, so I was expecting this product to be smelly. The resin epoxy mixture almost had no smell at all. Resin is normally really toxic, but this was smelled a little worse than paint. The worst smell came from using too much alcohol with the blowtorch. I felt comfortable using this in my home around kids and pets.
The recommended temperature for working is 70-75. This stressed me out like crazy, but I found that it didn't need to be that exact. I know that we worked in with both warmer and cooler temperatures. Humidity is probably more important than temperature for drying.
There is plenty of resin in the kit so be generous.
The working time is longer than I thought it would be. You need to work quickly, but there's no need to rush. It stays workable for 20-30 minutes.
About the Countertop Resurfacing Kit
The epoxy countertop resurfacing kit comes with:
Jar of Base Prime Coat
3 Bags of Metallic Glitter Powder
2 Part Epoxy Resin Kit
The epoxy countertop resurfacing kit came in 2 separate shipments. I received the base coat and metallic powders a few days after I ordered. The large bottles of resin took about a week to come.
Supplies for DIY Countertop Resurfacing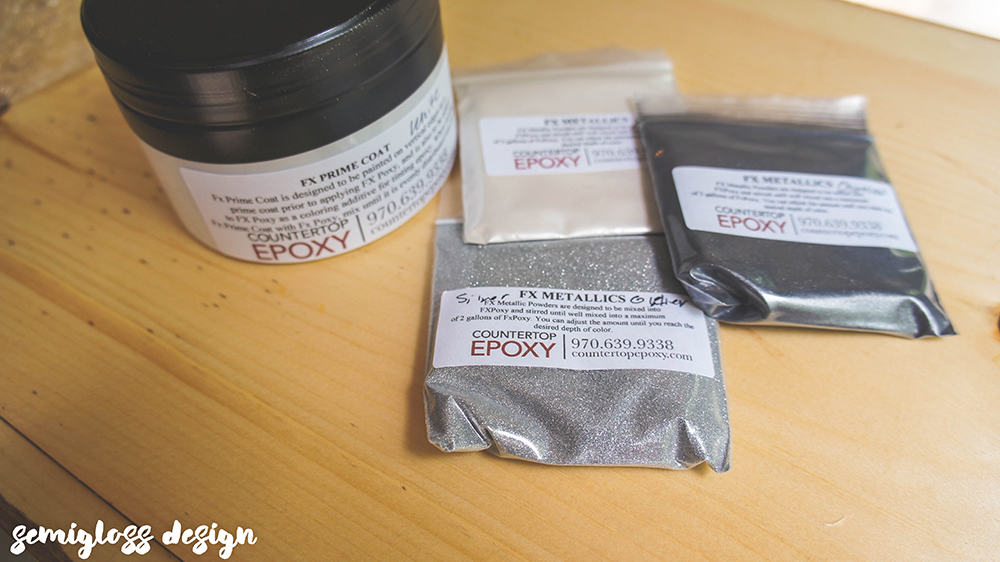 This post contains affiliate links. By purchasing an item through an affiliate link, I earn a small commission at no extra cost to you.
Countertops (we made ours from plywood, but this technique works well over existing countertops as well – even tile!!)
Countertop epoxy kit (I chose a white base color with charcoal, pearl, and silver metallic powder to imitate marble)
Buckets and mixing cups (we used 6 in total)
Cheap paintbrushes (have plenty: we used 4)
Mixing sticks
Small roller with foam roller
Plastic drop cloths
Spray bottles (1 for each metallic powder color)
Isopropyl alcohol 91% (1 bottle per metallic powder color)
Prep Work for Countertop Resurfacing
Prepare the surface. Start with clean countertops or make your own. We made ours, so we made sure to cut the hole for the sink first. We used a kreg jig (tutorial) to join wood together because I was wrong about the wood we had in our shed being the right size. It ended up being a good chance to see how it worked on countertops with cracks. We filled the crack with spackle and sanded. No regrets with this decision. It worked quite nicely!
Prepare your workspace. Use a large plastic tarp under the countertops. We placed our countertops on top of buckets to have an elevated work space. If your countertops are already installed, tarp off the fronts of the cabinets and the floor beneath them. The epoxy mixture has to drip, so protect your home. Wear gloves to protect your hands.
Skim coat (or prime) raw wood. The instructions say to skim-coat them with a thin layer of epoxy if using on raw wood, so we did that. Next time, I will prime them instead. The instructions had us mix a small batch of epoxy to paint over the wood. I mixed 1 pint of hardener and 1 pint of resin and stirred for 5 minutes. We painted it on with a cheap paintbrush. It was late when we applied this coat, so we missed some spots. It has to dry for 6 hours, so we let it dry overnight. If you follow this step, use the blowtorch at this step to remove the bubbles. Hold it about 8 inches from the surface and move it quickly.
In the morning, it looked like glass. We had definitely missed some spots and it was a bit bubbly. I popped the bigger bubbles and figured that the final step would cover them, which it did.
Paint the edges with the base coat. Any vertical parts must be covered in the base coat. Give it a nice thick coat and let it dry for 4 hours.
After 4 hours, it was still a bit sticky. We moved it into the sunroom to have better light and better maneuverability. We had tried working in the garage at first because we thought it would smell bad, but it wasn't too bad.
Countertop Resurfacing with Epoxy
Mix the countertop epoxy. I mixed another batch of the epoxy at a 1:1 ratio of resin to hardener. This time, I mixed a quart of each. Stir for 5 minutes.
Prepare the metallic powder/alcohol solution. While my husband was stirring the mixture, I started mixing the metallic powder and alcohol in the spray bottles. Be generous with the glitter for darker colors. We sprayed a lot on our counters and we still only used about half of each bottle.
Add the base coat to the epoxy mixture. When the mixture is stirred for 5 minutes, pour it into a new bucket and add the base coat. Mix for an additional 4 minutes. We set timers to be sure we mixed for the correct amount of time.
Pour the epoxy mixture onto the countertop. Once it's stirred, we started pouring the mixture over the counters. Use a paintbrush or foam roller to spread the mixture. I liked the paint brush for better coverage more than the foam roller for the colored application. Let the mixture roll off the edges of the counter. I also applied more to the edges with a paint brush. You want a nice thick surface over the edges. (The mixture will harden faster in the bucket than the countertop, so pour all of it onto the counter at once.)
Apply the blowtorch to pop the air bubbles. Once it's covering the surface well, it's time to blow torch it. This gets rid of all the bubbles. Plus you look awesome wielding a blow torch! Winning! Hold the torch about 8 inches above the surface and move it quickly. (For smaller areas, you can also use a handheld BBQ lighter to pop the bubbles.)
Apply the metallic powder/alcohol solution. When you're pretty happy with the lack of bubbles, it's time to add the sparkle. Start spraying and watch with amazement as it marbles and swirls. It's such a cool process to watch.
Spray until you're happy. It's hard to know when to stop because it's so much fun. You can also add more epoxy mixture if you get too crazy. The results swirl and it's gorgeous. We probably went a little overboard, because the paint ended up thinning too much and we could see the wood through the epoxy. It was very pretty, but unexpected.
Apply the torch again after the alcohol fumes die down. The alcohol fumes are pretty bad at this point. Try to let the fumes dissipate a bit before torching the bubbles. It still might catch fire, but just blow it out. The flame goes right out and it's way less scary than it sounds. Even for me, who is terrified of house fires.
Let dry and try your best not to touch it. After a few hours, you can go back and scrape the drips from the edges or you can sand later. We scraped ours off later.
We could have been done at this point, but we decided to do another coat. I wanted more coverage on the edges. So we mixed another batch of clear and a batch with the basecoat and poured it on. The colored base coat section was poured around the edges and then swirled around on the surface so it didn't look weird. We mixed it with the clear coat with our paint brush. There's no way to screw up. My husband accidentally spilled metallic powder on the counter and it ended up being my favorite part. We added the spray again as well, but used way less! We repeated the blow torch process and let it dry.
Flood the counter with a clear coat.The results were much prettier, but the edges still needed help. We struggled with our edges before finally figuring it out. So we mixed up the rest of our epoxy mixture and flooded the surface. When they say to flood it, FLOOD it. Don't be stingy with it. It poured everywhere. I really liked the foam roller for this part. It spreads the clear coat really nicely. We torched it one last time and made sure that the torch helped it self level.
The end results are beautiful. The epoxy countertop is nice and thick.
Use a paint scraper or sander to get rid of the drips. If you waited to scrape the drips, let it dry completely before flipping it over to scrape it. It felt dry to the touch, but it hadn't cured yet, so we have faint impressions from the drop cloth. The scraper made fast work of the drips though! (I now prefer to sand the edges instead. It's faster and has less chance of damaging anything.)
I was able to smooth the impressions with a wash cloth. It's not perfect, but it lessened the weird spots. Overall, its absolutely beautiful.
All of our mistakes still ended up so pretty! And the different layers give it so much depth! I could stare at it for hours. And I can't stop petting it.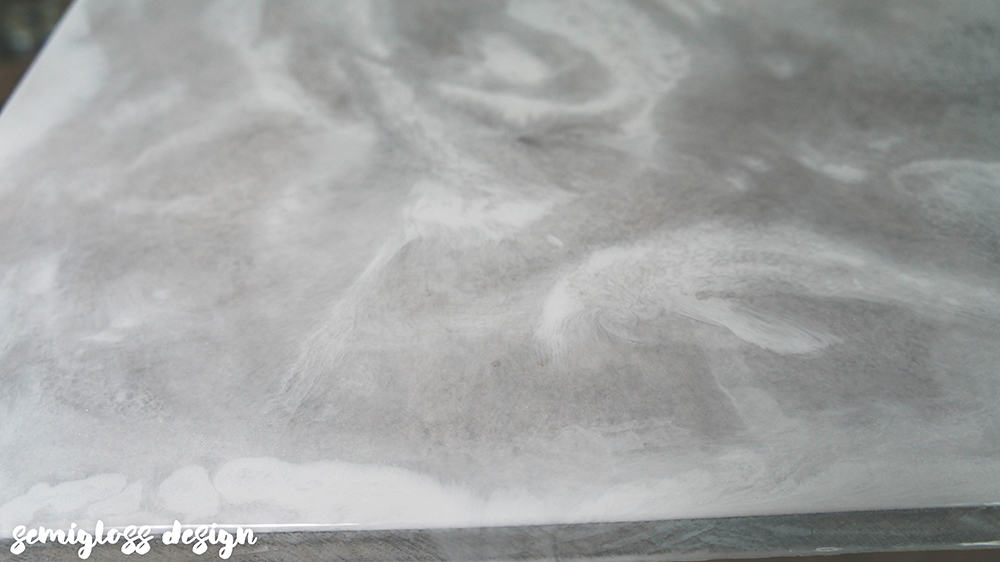 DIY Countertop Resurfacing – What I Will Do Different Next Time:
Make the counter edges smoother. We made our countertops out of plywood and project wood for the bar top. If I did it this way again, I would add plywood banding around the edges so they were nice and smooth.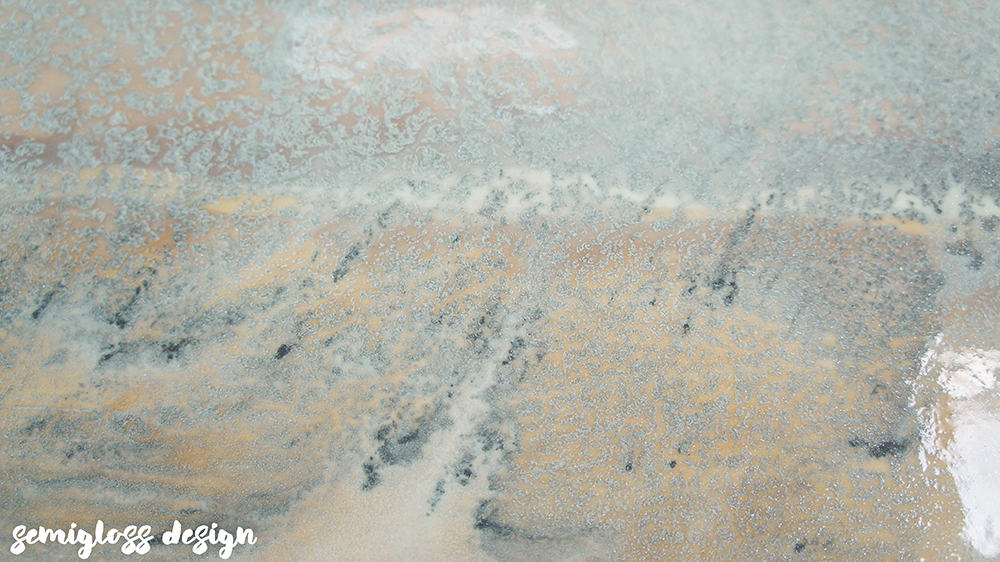 Prime. I would also follow my instincts to prime the wood. I think that oil or shellac based primer would work well. Of course I would practice first to make sure. Starting with white would have disguised the wood surface more. That being said, I don't hate the results. The wood color showing through was unexpected, but not bad. I like the additional color that it gives the results.
For my kitchen counters, which are a lovely shade of mauve, I will prime them first. I don't want the mauve to show through. The epoxy was much more translucent than I thought it would be. Of course, we might have gotten carried away with the spraying glitter part. (Update, I did a similar process recently in my kitchen. Check it out!)
Order 2 jars of base coat. Next time, I'll order an additional jar of base coat, just so that I have PLENTY! I was worried I would run out, so I tried to be stingy with it. We did end up using it all. I think it would be cool to use 2 different colors though and marble them before the metallic powder part!
Err on the side of mixing too much. I'll be way more generous with the resin. There was *PLENTY* of it!
Clear coat! I think a final coat of clear resin is a good idea because you can spread it without worrying about ruining your design. Plus it adds some depth to the final results that is really cool.
Would you try countertop resurfacing in your home? What do you think of my pretty, glittery epoxy countertops?
Pssst! Want to see a different version using epoxy countertops?
Check out this post with a totally different look!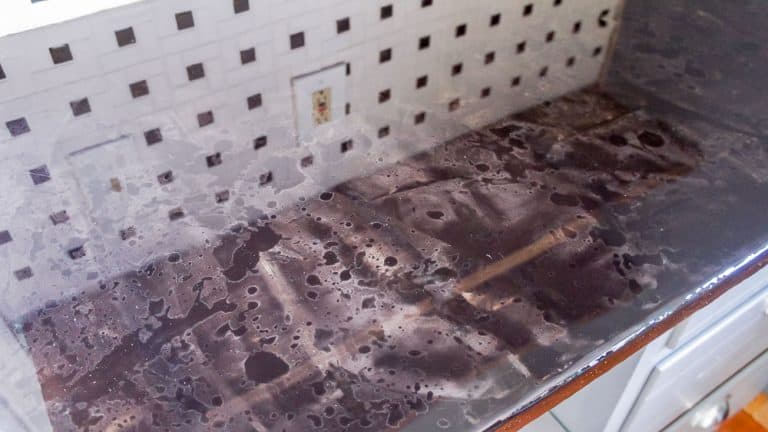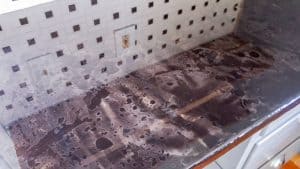 Pin for Later!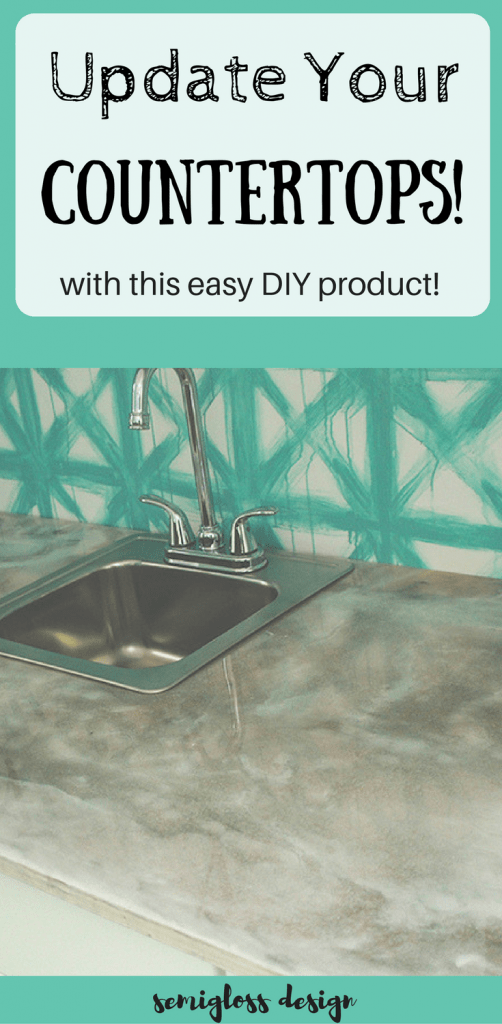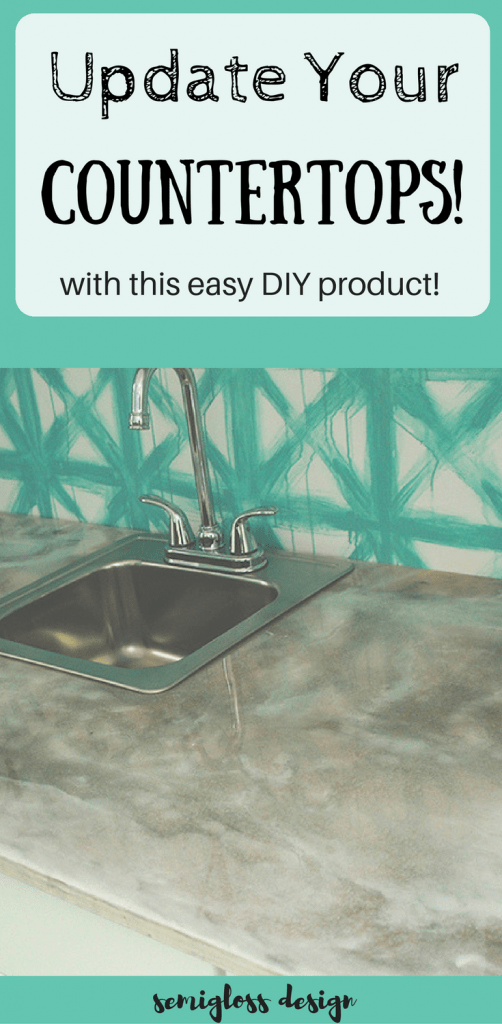 If you like this post, you might like these!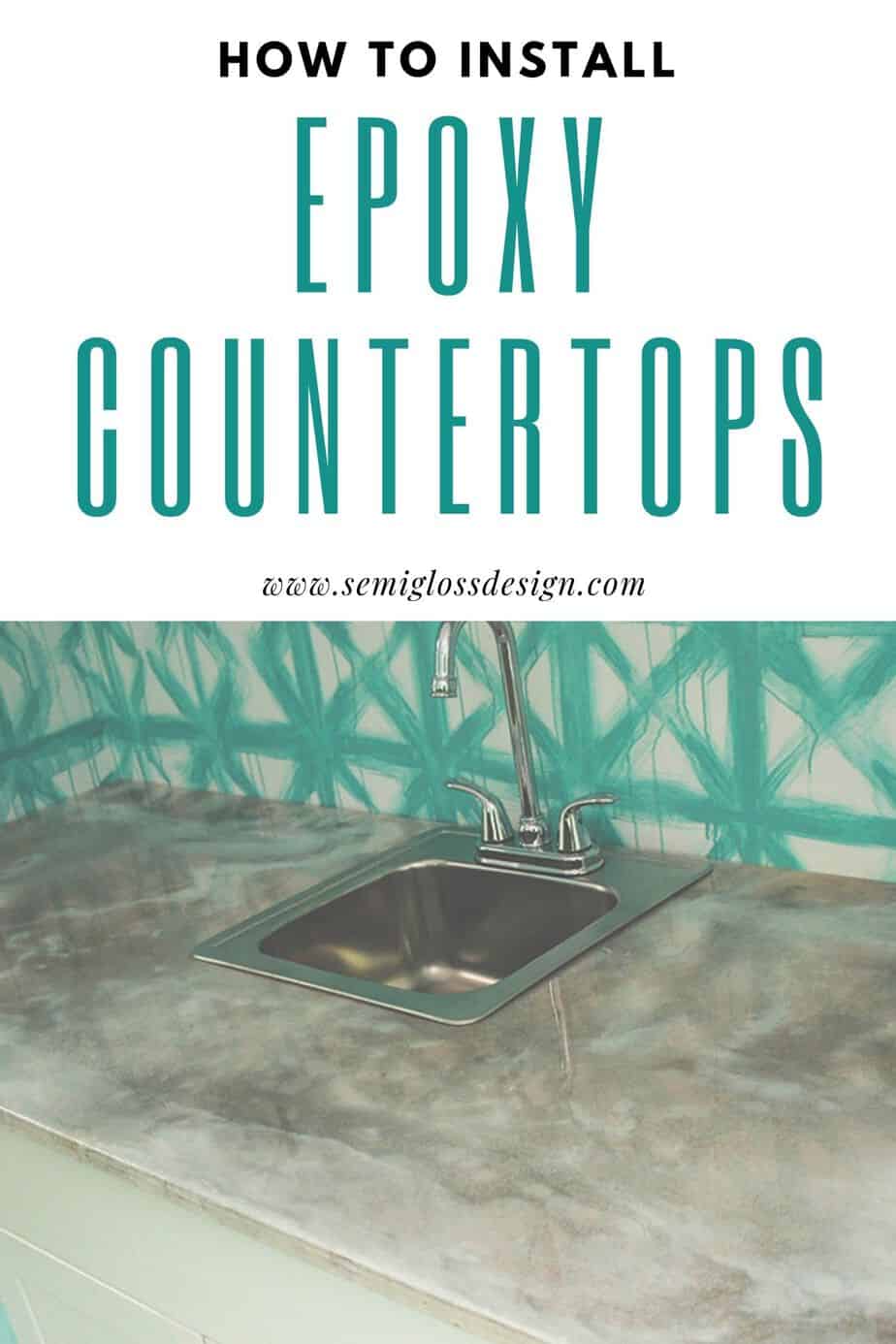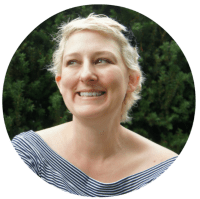 Emy is a vintage obsessed mama of 2 DIYer who loves sharing affordable solutions for common home problems. You don't need a giant budget to create a lovely home. Read more…