Welcome to Our Florida house
I can't believe that we've only lived in this house for 2 weeks. Today, I'm sharing the before photos of our new Florida house.
This post contains affiliate links. By purchasing an item through an affiliate link, I earn a small commission at no extra cost to you. As an Amazon Associate I earn from qualifying purchases.
After living in Maryland for 13 years, it was time for a change. It took months of hard work and questioning our choices every day, but we're finally here.
Read about how we staged our house for sale here.
Why did we move to Florida?
I'm sure you're asking why we moved. There are a ton of tiny reasons, but the main reason is that we wanted a longer summer.
Every year, we've stretched our pool season as long as we could, sometimes getting into the pool when it's 65º out. And it still never felt like enough.
We love being outside and we love being warm. So Florida it is.
We moved to a small town called Spring Hill, about an hour north of Tampa. So far, we love it here.
Buying the House
My daughter and I traveled to Florida to house hunt while my husband and son took care of packing.
This was the 2nd house that I looked at and I couldn't stop talking about it to my husband.
I loved the neighborhood and I loved the layout. It's so close to everything. We're 5 minutes away from Target, Lowes, the grocery store, and a Joann craft store, plus a ton of restaurants.
We also fell in love with the lizards. All of the houses here have them, but coming from Maryland, we just can't get over how cute they are.
Update: Here's how the house is looking after 6 months.
Our New Florida House
All of the photos were taken after we unloaded our cars, but before the moving truck came, so excuse the mess. We also hadn't cleaned yet.
Our new home is a typical Florida house with stucco walls and a tile roof. I'm not crazy about the paint color and the door color will change once it cools off.
When you enter, there's a very large room with high ceilings. The entryway has a light that's like 20 feet high. Definitely won't be DIYing this light fixture replacement.
We're also not sure how to repaint it. Luckily it's white.
This front room has a door to the pool and a weird niche that was probably for one of those old giant TVs (not shown).
There's blue carpet throughout and it will eventually be replaced.
This room is going to be my art studio. Yes, it's not what most people would do, but it's what works for this stage in our life.
The kitchen is large and needs some cosmetic work. So far, we've replaced the sink and faucet.
Check out the plans for our kitchen makeover here.
Eventually, we will redo the kitchen completely, but for now, it needs some inexpensive changes and a ton of organization.
The lights are weird, but they're super bright, so they are staying for now.
The kitchen is open to the dining room space and the living room space, which also opens to the pool.
These areas just need paint and window treatments.
The pool area is lovely. A screened-in pool was a must for us and we are so happy that we went for it. It's so peaceful out here and the pool water is so warm, even at night.
Our bedroom also opens to the pool area. I'm not sure what I'm doing in here yet.
We have 2 closets, which need to be re-done. The old wire closets were falling out of the wall, so we removed them. We plan on doing a built-in system using IKEA Pax wardrobes.
Our bathroom is one of my favorite rooms in the house. Yes, that's a pink tub. And yes, I love it.
I can't wait to give this room some love and make that pink tub shine. Also, I bought a seashell chandelier for the space, so dreams really do come true.
Functionally, there's nowhere to put towels for the shower, so we will be fixing that.
And yes, that's a bidet.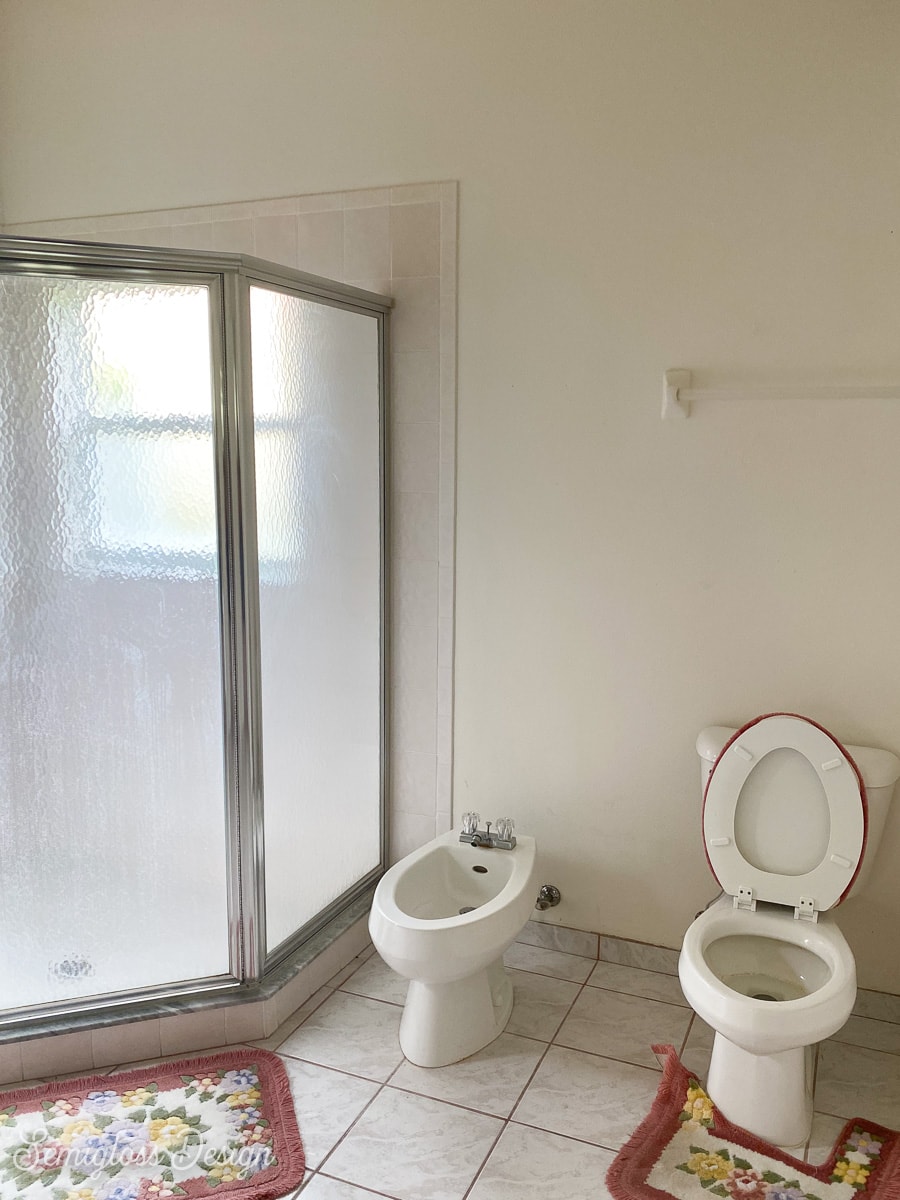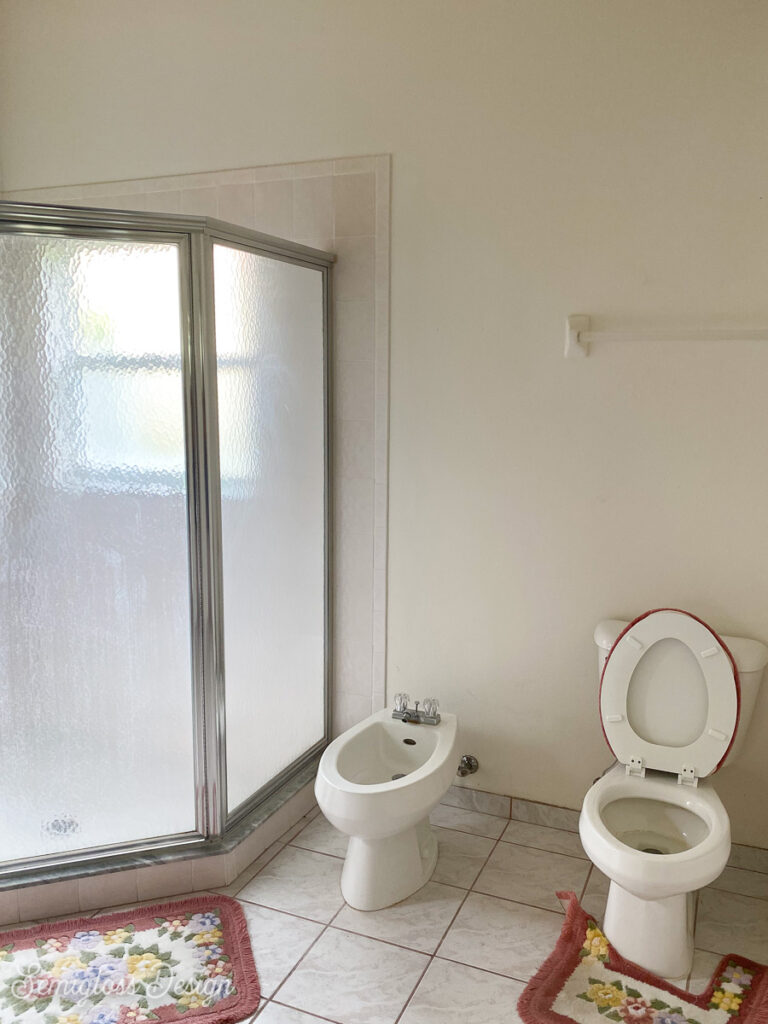 Don't worry, the bathroom rugs went into the toilet after these photos. I had plans to remove the weird curtain as well, but it was too high up. It's still there because our stepladder was misplaced during the move.
The kid's rooms are in their own hallway with a pocket door to close them off. I doubt we will ever use it, but it's cool to have pocket doors in the house.
More blue carpet.
My daughter's room has a large walk-in closet that she loves to sit in.
We repainted my son's room white because it desperately needed a fresh coat of paint.
Their bathroom has pink countertops and almond fixtures, so that will be interesting to work with until we replace them.
The room also has fluorescent light fixtures that need to be replaced. The light is a horrible yellow color.
The other hallway also has a pocket door. It contains my husband's office, another bathroom, and a room that used to be a laundry room. The hallway leads to the pool, as well.
My husband is working remotely now and he has meetings all day long. It didn't take me long to realize that there was no way that we could share an office. (He talks way too much.)
The room was green with a wallpaper border, which we've already removed and painted white.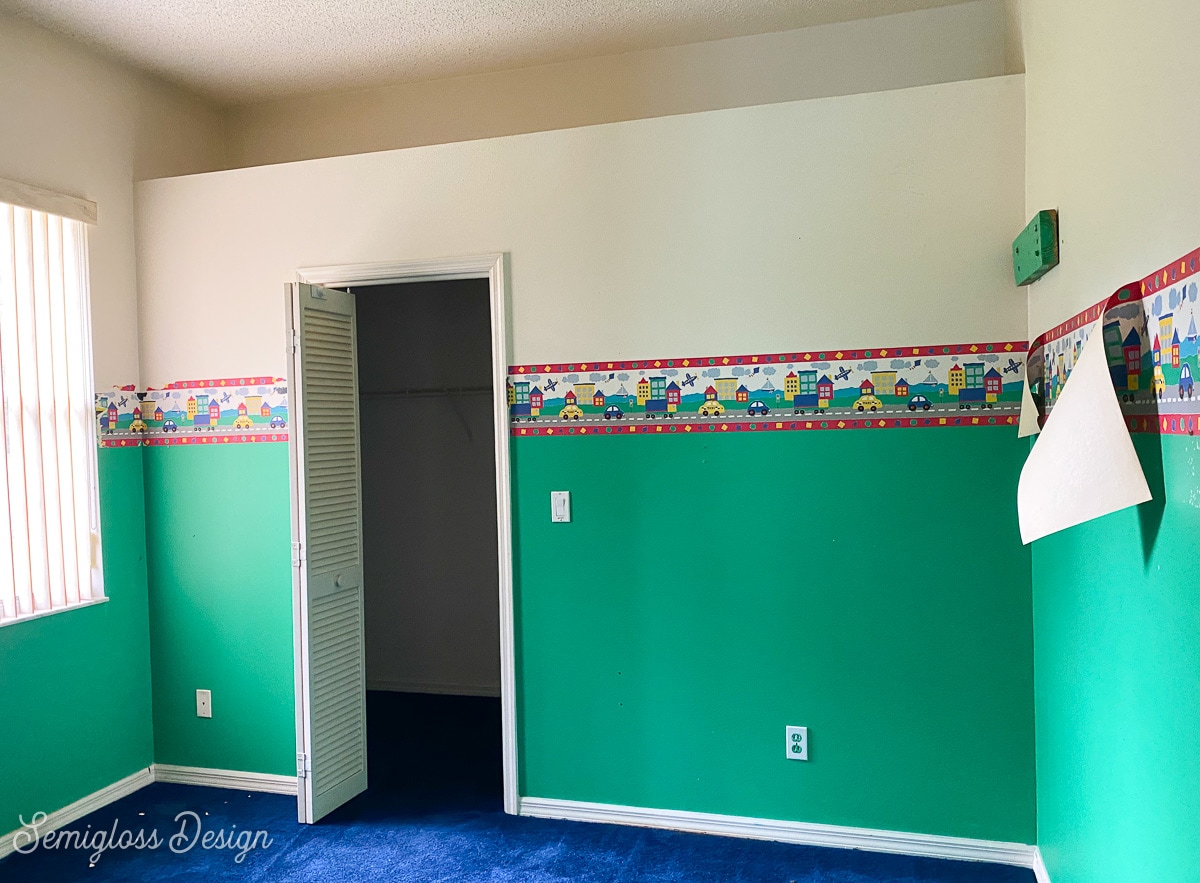 The bathroom has a blue sink, blue tile, and blue on the countertop.
We use this bathroom way more than I thought we would, so I'm looking forward to making it super cute and working with the blue.
The shower is the perfect place to wash the dog, by the way.
The laundry room is mauve with blue countertops. Eventually, we will move the washer and dryer back in, and make my dreams of a beautiful laundry room come true.
Update: This room is becoming my home office. Check out my office plans here.
Currently, the washer and dryer are in the garage. It's a big space that is filled with boxes right now.
I can't wait to get started making this home beautiful. It's just hard to decide which project to start first.
What will we work on first?
Right now, we're working on fixing the things that are broken. We moved in and realized that several things weren't in very good shape. Other things broke right away.
Here's what I'm dreaming about working on:
A small kitchen update with paint and organization.
Garage organization. This would make working on stuff easier if we can actually find tools.
My craft room. Since this room is necessary for my work, it needs to be done sooner than later.
Our closet. We ripped out the wire shelving, so we can't unpack clothing until we have somewhere to put it.
The blue bathroom. This isn't a high priority, but it would be fun to work on and it would be quick.