Moving Tips and Tricks for Using a Moving Company
Get easy moving tips and tricks for using a moving company.
We used a moving company to move to Florida from Maryland and we learned a lot during the move.
There are a lot of things that we would do differently. Learn from our mistakes.
You might also like this post on how we staged our house for sale.
This post contains affiliate links. By purchasing an item through an affiliate link, I earn a small commission at no extra cost to you. As an Amazon Associate I earn from qualifying purchases.
I wish that I would say that everything arrived in perfect condition, but unfortunately, that's not the case.
We have items that are damaged or missing. We also received items that were not ours. (Our stuff was stored in a warehouse in between moving and closing on our new house.)
It's mostly okay though because we chose a moving company with insurance. Most of the items can be replaced.
Bottom line: if you are super attached to something, move it yourself. That's the only way to guarantee that it doesn't get damaged or go missing.
Overall, it wasn't as bad as it could have been. With the high amount of moves lately, mistakes are bound to happen and we're lucky that nothing super irreplaceable is missing or broken.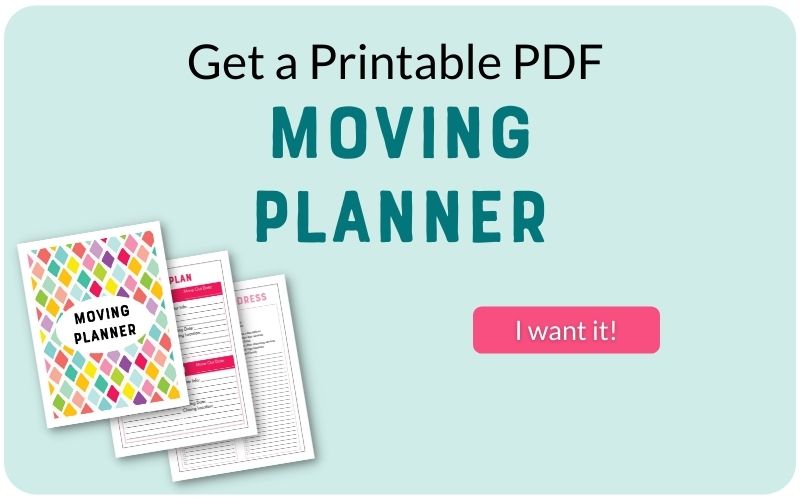 Easy Moving Tips and Tricks
The first step in getting ready to move was decluttering.
It saved us money by having less stuff to move and saved us time by not having to unpack stuff that we didn't want in our new home.
Start by getting rid of the things that moving companies can't move.
Things A Moving Company Cannot Move
There are items that a moving company is not allowed to move. They will provide you with a list, but here are some of the items that our moving company gave to us.
If you want to keep these items, you will need to move them yourselves.
Otherwise, you will need to dispose of them before the move. Have a plan for getting rid of these items ahead of time to save time on moving day.
For instance, I have a very large supply of professional artist paints. It would have cost thousands of dollars to replace my art supplies, so I put them in a plastic bin and moved them in my car.
If you have a large number of items that you want to keep, you might want to rent a small trailer to haul behind your car. Another option is shipping the items to your new home.
Please note that some of these items cannot be shipped.
Paint
Aerosol cans
Gas and oil
Lawnmowers and gas-powered weed eaters
Matches and lighters
Cleaning supplies
Chemicals
Houseplants
Food
Anything liquid (Our movers wouldn't take shampoo, perfume, etc.)
Alcohol
Things You Should Pack in Your Car
Important documents*
Medicines
Items that the movers cannot take
An "open first" box
*Important documents can vary. We obviously took family documents and such. However, we didn't bother to take a box of sentimental letters with us.
Somewhere out there is a very embarrassing box of old love letters between my husband and myself.
Photos are another thing you might consider bringing with you.
What to Pack in Your Open First Box
Packing an "open first" box can save you time and more importantly money. We ended up having to re-purchase a lot of these items.
Basic cooking supplies (pots and pans)
Cleaning towels
Bath towels
Toilet paper
Toiletries (if not in your suitcase)
Bedding
Pet supplies
Basic tools for furniture assembly
Scissors and box cutters
Trash bags
Snacks
Painting supplies if you're into DIY
Packing Tips
Our moving company was a full-service company. This meant that they were supposed to disassemble furniture and pack everything for us.
That sounds great, but the reality is that they are young kids who don't care about your stuff.
Here are a few things that we wish we had done before the movers showed up.
Disassemble your own furniture. Then you know where all of the pieces are to each piece of furniture. (We only had a tiny mishap with our furniture, but we received someone else's box that contained sofa legs. Can you imagine getting your sofa without the legs?)
Place small parts like screws in ziplock baggies and attach it to the furniture. (Packing tape can damage furniture, so be careful when you attach it.)
If you're packing your own belongings, save money with used cardboard boxes. We ordered from this company and received our boxes within 2 days. I highly recommend them!
If you have items with small pieces, be sure to wrap each container with stretch wrap. Our movers placed a giant bin of screws in a box that then got opened upside down. What a mess!
IKEA furniture took the most damage. It scratches easily and the hinges on cabinets break easily. Be ready for damage.
If you own furniture dollies, ladders, and stepladders, make sure that you write your name on each piece so that they don't confuse your items with their own. None of our furniture dollies or ladders showed up…
Same goes for large trash cans. They also didn't make the move.
Label each box on the side, not the top. It's really hard to tell what is in each box from the top when you have a huge stack of boxes. And it's even harder when the boxes get placed upside down. (Most of our boxes weren't labeled at all or were labeled incorrectly.)
If it matters what side goes up, label it clearly on all sides.
Breakable items can be cushioned with bubble wrap. Be generous with it! If you have a surplus of throw pillows, I also recommend using the throw pillows for extra cushioning.
When the movers are finishing up, walk from room to room and check to make sure that they haven't missed anything. Check all closets and cabinets.
Recommended Packing Supplies
Inventory Tips
Our moving company provided an inventory list, but it was far from complete.
Most lines said "medium packing box." A lot of the larger items were not even listed and are missing. My guess is that these items were never tagged or written down.
I got lucky because as a blogger, I photograph everything. So I just happen to have a photo of the 7 skateboards that are missing. And photos of our tool collection to use as an inventory list as we unpack.
At a minimum, photograph your expensive items. Photographing each room can also be a good idea. I was able to use my photos and see at a glance which pieces of furniture were missing.
If you're super organized, make a list of what is in every single box. (For most of us, that just isn't going to happen.)
When you're unpacking, make notes of items that appear to be missing. They might show up in a random box and then you can cross it off of the list. (This list is also helpful for rebuying those missing items – looking at you missing xbox power cord.)
We also made notes of damage. Once everything is unpacked, the house will feel chaotic. It can be hard to remember everything if you don't take notes as you see it.
You might also like:
Pin for Later!