12 ways to save money on home improvement projects. DIY isn't always cheap, so it's important to make the most of your budget!
With several large home projects in our near future, saving money on home improvement has become very important to us. The more we save, the more we can do! Look, we all know that home improvement costs money. This post isn't about how to do it with no money! But there are ways to save money on home improvement.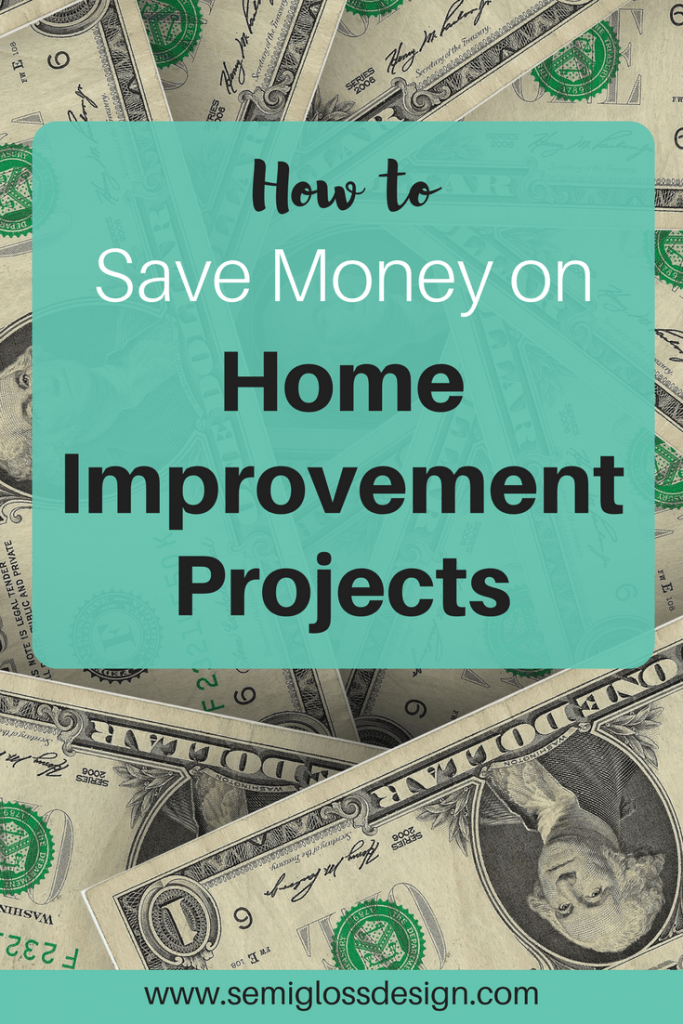 How to Save Money on Home Improvement Projects
Military Discount
Obviously this only applies to a certain population, but it is a new one for us. My husband served in the military for 11 years, but we have never asked for a military discount until recently. At Lowes, you can get 10% off, which really adds up when you're spending large sums of money.
If you're like us, it doesn't sound worth it to dig through paperwork for your DD214, but it was much easier than that. If you have a Lowes customer card, log in and add it to your card. If not, go to the store and get one and apply for the military discount. The computer cross-references your information with a database of veterans and you're approved. No need to find that paperwork!
This discount is good for all veterans, whether active duty, retired or veteran.
At Home Depot, from what I've read, the discount is good for retired and active duty, but not vets. You have to have a military ID.
Lowes Credit Card
Ugh, I know. Credit cards. Yuck. This one has a particularly high APR too. However, if you have the money for it, use the credit card and pay it off immediately. Instant 5% off. On holidays, the percentage can be higher. Just make sure you pay it off immediately!
For non-Lowes purchases, we're using our regular credit card and paying it off. Most credit cards have points that can be spent on items or travel. We like using our credit card to earn those points. We've bought speaker systems and small appliances with our points before. Most recently, my last 2 trips to Texas were paid 100% with credit card points. It's worth checking your credit card points to see what you can get! It might not get you tools, but you might get that trip to the Bahamas for spending money you were already spending.
Holiday Sales
It's always worth checking out the holiday sales. Pretty much every month has some large holiday in the United States. Sometimes the discount is large, other times, not so much. It's always worth a look. Plus, if you have a credit card with that store, they often offer an extra percentage off!
Clearance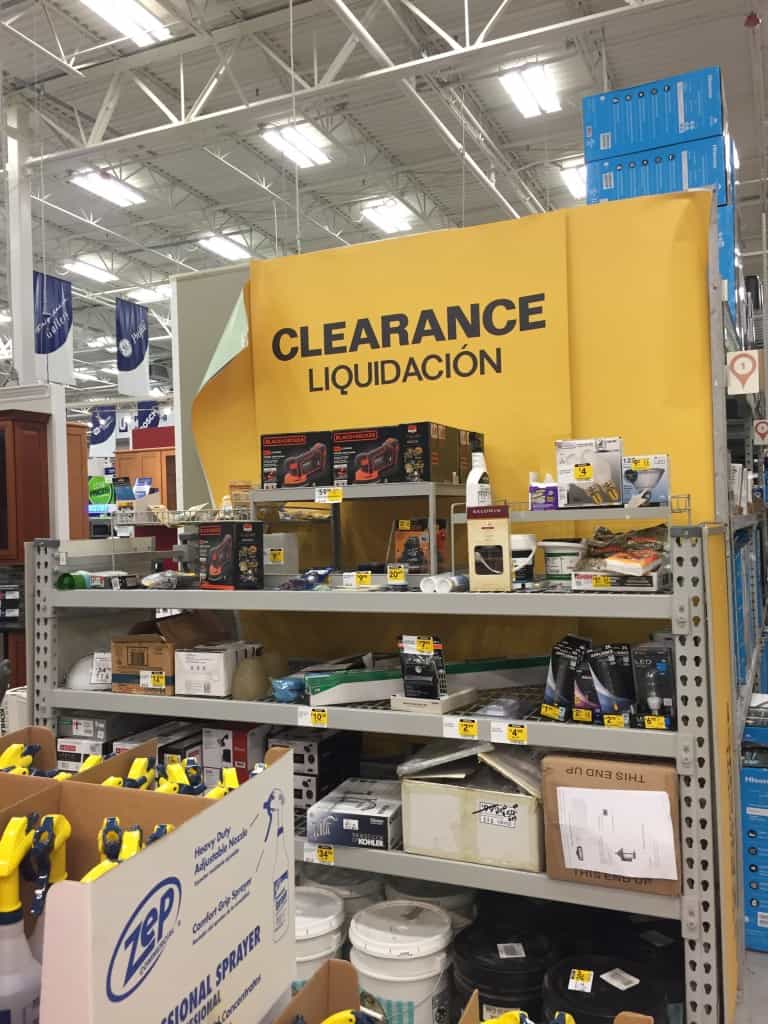 Find out where the clearance sections are and take a peek every time you go. Last week, I saw a stove for $300.
Oops paint is also a good thing to check out. For some projects, you don't need a specific color. It's always fun to see what is there.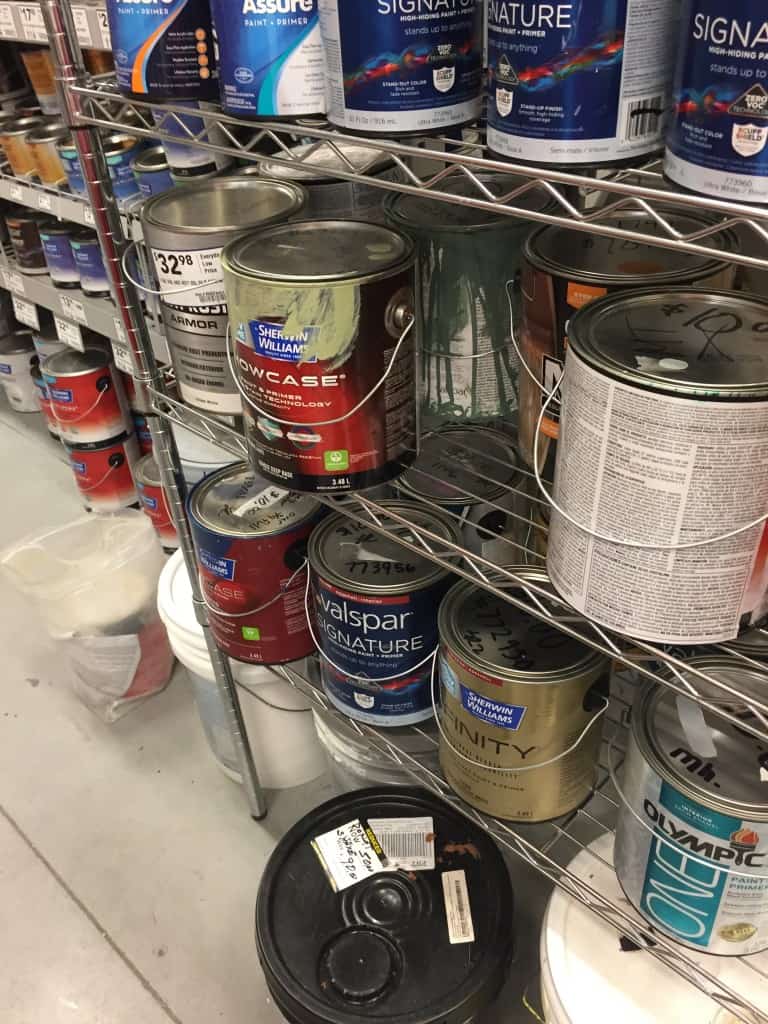 Be Okay with Less than Perfect
You can get discounts for less than perfect merchandise. Sometimes it's just the box that is damaged. Sometimes, it's the product. Our fridge was about $500 cheaper because it has a scratch that is 1/2″ long. I can deal with the scratch.
I bought acrylic sheet recently and received a discount because the end was all broken. The sheet was 48″ and I only needed 41″. That broken part was only about 3″, so it was perfect for what I needed it for.
Notice a flaw? Don't be afraid to ask for a discount!
Buy in Bulk
Contractor packs are the best! Did you know that you can get a discount on certain items if you buy them in bulk? I love buying giant packs of caulk, rollers, light switch covers and door handles. We bought retaining wall blocks and received a discount for those too. It's always worth checking.
Shop Online
When we bought our stove, it was $200 cheaper online, so I went and asked for the discount. I'm not sure why the prices were different, but they were and I wasn't going to pay full price.
Most big box stores will price match, so if you know that one has it cheaper, ask them to price match!
Think Outside the (Big) Box (Store)
We all think of the large blue or orange stores when we need stuff, but there are so many options.
Costco. Did you know that Costco carries lighting and tile?
Lumber stores. We have a fancy wood store in our town and their prices are actually better for plywood and the quality is much better!
Landscape suppliers. When buying mulch, dirt, compost, gravel or stone, look at landscape suppliers. You can also search for mulch or dirt delivery to find one near you. It's so much nicer having it delivered than weighing down the car with it. I love our local stone company.
If you're local to Frederick county, MD, Huffer Trucking is the best. They're affordable and fast! They always patiently answer our questions and their customer service is top notch.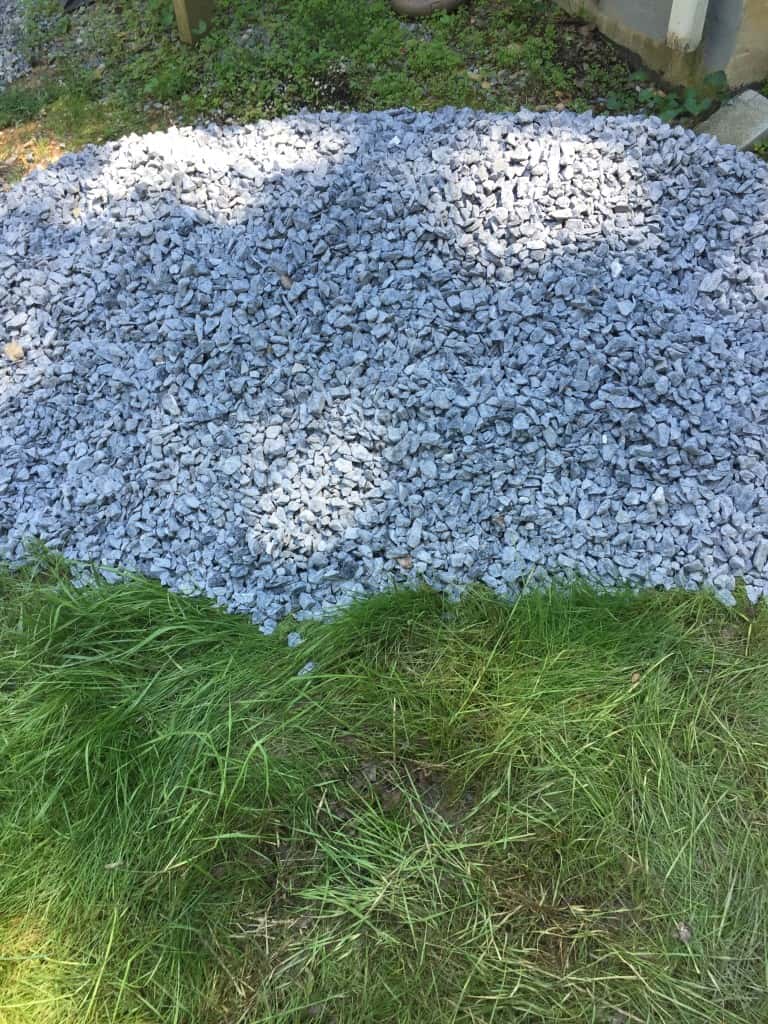 Amazon. Who needs to go shopping when Amazon delivers? They carry home improvement items like tile, lighting and supplies!
Buy used.
Restore. The restore carries building supplies and it's always worth it to check them out for cheaper products. Most of the time, they're new.
Craigslist. I love craigslist for building supplies. You can get vanities, wood, brick pavers, you name it!
Facebook sales groups. Join your local Facebook sale groups and look for supplies. Our group just had a vintage clawfoot tub for $150!! I've also seen live edge wood, lighting and bathroom vanities.
Get Creative
I love creative solutions. When we wanted a countertop for our sunroom bar area, we could have gone with standard laminate or more expensive stone. Instead, I did some research and discovered epoxy countertop resurfacing.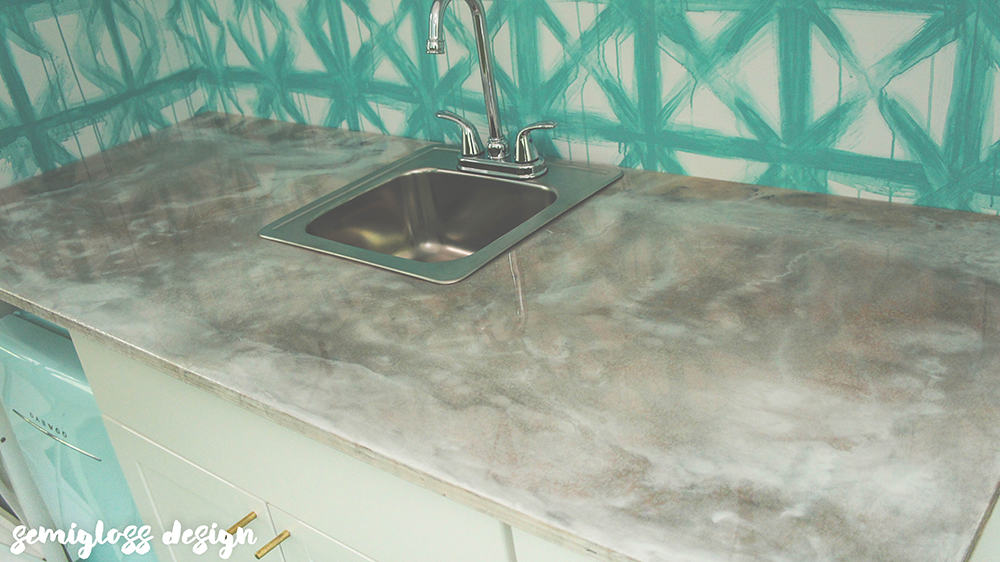 We'll need to replace our countertops in our kitchen soon and I plan on using affordable concrete.
In our bathroom, I didn't want the trouble or expense of a whole bathroom floor reno, so I painted and stenciled it. Check out my DIY page for more creative solutions!
Sell Stuff
I've had the crazy urge to simplify my house lately and that means selling excess furniture. I really want to sell everything and start over. So I listed everything out and came up with fair prices for everything and realized that I can earn about $2500. Maybe you're not a furniture hoarder like me, but you probably have things around your house that can sell.
Borrow or Rent
It's not always necessary to buy tools. My husband has a friend who he always swaps tools with.
Renting is another option. We prefer to rent equipment from Rentals Unlimited because the prices are better than hardware store rentals. Plus, they will deliver large items. If you're only going to use a tool for one job, why buy it? The quality is normally better than what you can buy anyways. They rent large equipment like the one below, but also normal tools like drills and tile saws.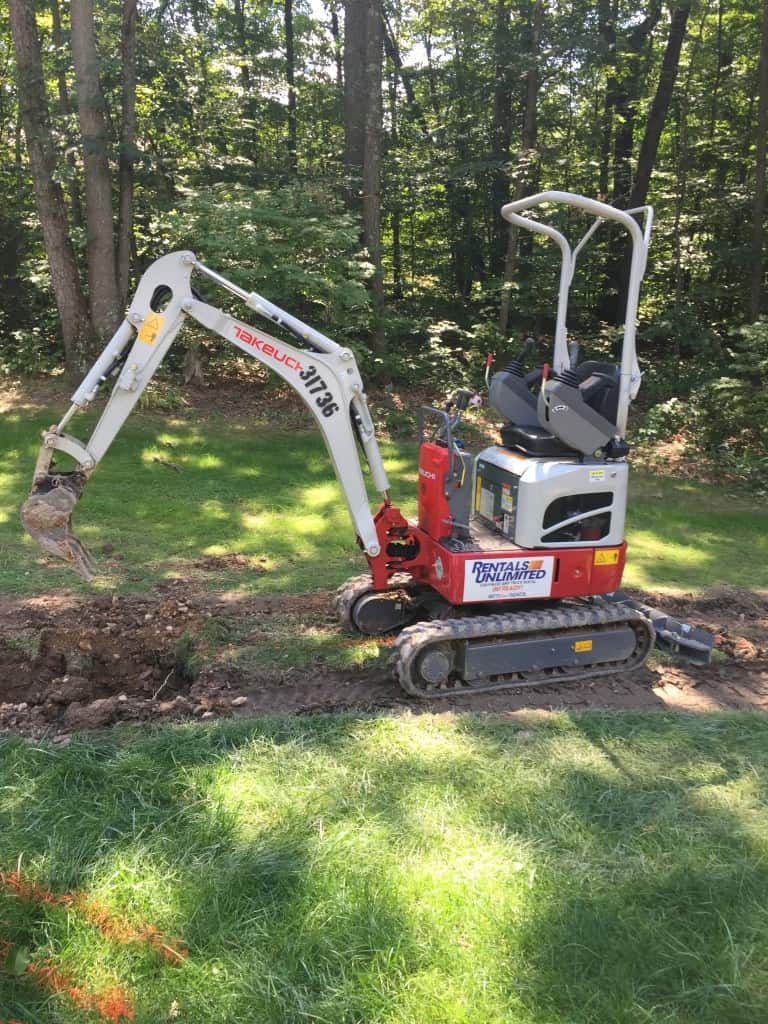 If you need a large tool delivered, schedule it for Saturday. If you call an hour before they close to get it picked up, they won't come until Monday. You just got yourself an extra day!
Our location tells us to do this. Make sure your location is closed on Sunday before you try this! Also, it helps if you don't live near it. We like about 15 minutes from ours for reference. I'm sure if we were closer, they might make the effort to get the machine back earlier.
Think Smaller
This is a trick that I use when I feel overwhelmed by huge projects. Instead of focusing on the whole project, I break it up. We just cleared some land and it's hard for me to plan out 1 acre of gardens. But a 4'x4′ spot is doable!
This same concept can work for home improvement. Instead of buying all new doorknobs, buy 1 or 2 every time you go to the hardware store. I do the same with vents. It's not any cheaper, but it's less overwhelming and it feels doable. Those tiny projects add up and make you feel good!
Breaking your large projects into smaller pieces is usually perfect for gaining momentum! In my front yard, instead of buying all of the plants at once, I only bought about $50 each week. Planting $50 worth of plants only takes a few hours. Since the work got finished so fast, it led to me doing more work around the house! Gotta love that!
What is your favorite tip to save money on home improvement projects?
If you liked this post, pin it to share with your friends!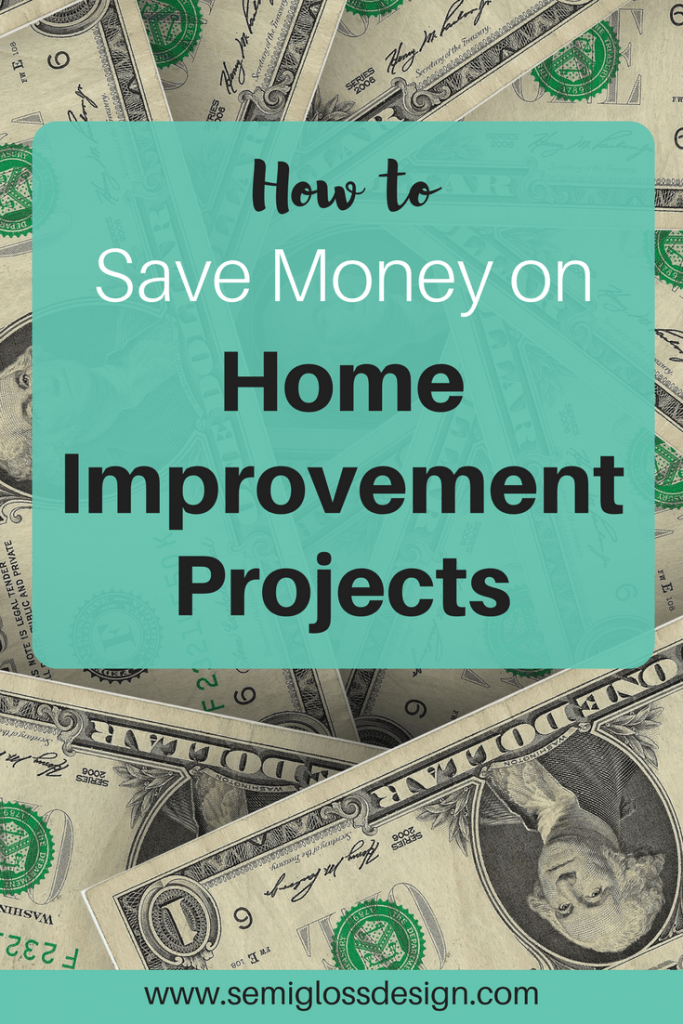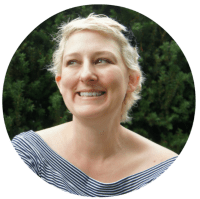 Emy is a vintage obsessed mama of 2 DIYer who loves sharing affordable solutions for common home problems. You don't need a giant budget to create a lovely home. Read more…