Dreambox Alternative: Affordable Craft Storage Ideas
Looking for a Dreambox alternative? Save money on craft storage with this smart solution for organizing. Learn how I made a craft cabinet to store and organize my craft supplies
You might also like this post on craft room organization ideas.
This post contains affiliate links. By purchasing an item through an affiliate link, I earn a small commission at no extra cost to you. As an Amazon Associate I earn from qualifying purchases.
We've all seen the ads for the Dreambox craft cabinet and fallen in love with it. Until we click on it to see the price. Yikes.
After months of hemming and hawing over it, I finally splurged and ordered a Dreambox cabinet in September 2021.
After 5 months of waiting, I still didn't have it. And the version I wanted was going to be delayed by another 4-6 months.
So I canceled my order and came up with an alternative solution.
Update: I wrote a new post with more affordable craft storage furniture options.
Reasons to Choose a Dreambox Alternative
After waiting for 5 months for my Dreambox to be delivered (and being in my new house for 6 months) I realized that it wasn't the right solution for me.
The longer I waited, the more regret I felt about spending that much money on craft storage.
Here are a few reasons why.
Open VS Closed Storage
My craft area sits in the front of our home in an oversized living room. While I'm very grateful for the space, I've realized that I don't really want it to look like a craft room.
I just don't want to look at my stuff all the time. Meaning, I want CLOSED storage.
Yeah, I know that the Dreambox closes. But I also know me. I would never close that thing.
It would be open all the time and look messy because that's my reality.
My new solution looks more like a piece of furniture than a storage cabinet. No one has to know what the cabinet holds. It kind of looks like a china cabinet (which would work great for craft storage by the way!)
No Need to Buy More Supplies
I also knew that I would need to buy more craft supplies to make it look pretty.
Look, I love buying craft supplies, but I already have so many. It seems stupid to buy more just to make something look a certain way.
I buy what I need as I need it and that's not usually based on rainbow colors. My most used vinyl colors are black and gold…
And so many of my craft supplies aren't photogenic. (Which is also why I need closed storage!)
The Size
The Dreambox is 9 feet long when open. While my room is big enough to fit a 9′ long cabinet, most people don't have rooms large enough to fit one.
We just downsized and we will downsize further in a few years, so a 9′ long cabinet probably wouldn't work in a smaller home.
And although that sounds really big, a Dreambox really isn't big enough to hold my many machines. I have several cutting machines, Easy Presses, and sewing machines. So I need more space for larger objects.
Storage Based on Category
As far as small objects go, I personally don't like it when all of my stuff is separate. Let me explain.
I have a lot of hobbies, but they can really be broken down into a few categories: sewing, Cricut, jewelry, paper stuff, and random craft stuff. I'm not including my art stuff because I like my paints in a different area.
With my Dreambox alternative, I was able to organize based on craft categories and see everything together.
This feels a lot more inspiring to me than seeing everything so separate. And no searching for the bin that holds my paper punches. They're with my paper crafting supplies.
The Wait Time
Five months is a long time to wait for something. They offered to send a different version because the one I wanted was going to take an additional 4-6 months, which means almost a year of waiting.
I understand the shipping delays and all of that, but I don't understand the company selling something that they don't have in stock and don't know when they will have it in stock.
And then running ads to sell even more of something that they don't have.
I can't even imagine the logistical nightmare of that.
With my new solution, I walked into IKEA, bought everything in 30 minutes (yes, that alone is a miracle!) and it took about a week to assemble everything because it got warm here and I wanted to be in the pool every day.
The Cost
At the time of buying in September, I spend $3097. This was the cost to add the light kit and to have it preassembled.
The price has since increased.
I don't care who you are. $3000 is a lot of money.
And we're not talking about a product that is made from real wood. Nope. It's made from the same stuff as IKEA furniture.
We just moved and everything from IKEA didn't do very well in the move. So that means I'm spending $3000 on temporary furniture.
Instead, I spend about $689.99 before tax at IKEA for 3 pieces of furniture.
But I think it's possible to make a similar version even cheaper if you search on Facebook Marketplace for used furniture. (Or you might even own similar pieces already!)
Crate VS Boxes
When you buy a Dreambox, it is delivered in a giant wooden crate. This means that now you have to somehow get rid of a giant wooden crate.
Some people would be thrilled to have the extra scrap wood, I guess, but I'm not one of them.
When we moved, we got rid of so much stuff and the thought of having extra stuff to get rid of was stressing me out.
IKEA stuff comes packed in cardboard boxes, which can be broken down and recycled. No need to pay to get rid of a giant crate.
The Customer Service Sucks
And for the record, CreateRoom's customer service is the worst I've ever encountered.
It took a week of trying to contact them via phone, email, a contact box, and the chatbot before I was issued a refund. And while I did receive a full refund, it was really stressful to try to contact them so many times.
I know that a Dreambox is really cool looking, but I'm much happier with my solution.
My Dreambox Alternative
Okay, I want to preface this by stating that you don't need to go out and buy new stuff to organize your craft supplies. You might already own stuff for this.
Or you might be able to get on Facebook Marketplace and find similar products.
Don't waste money on organizing. Spend that money on craft supplies or whatever makes you happy!
Here's what I was working with before. It was so messy looking.
This is basically a dresser with 2 bookcases on top. My bookcases have doors, but bookcases would work as well.
I was super inspired by the Logan collection by Pottery Barn, but it was going to cost me way more than the Dreambox. So I turned to IKEA.
I used 2 Havsta cabinets on top of a Songesand dresser.
(By the way, when you buy a dresser from IKEA, you have to sign a waiver before they even let you enter the aisle where they are located, then you receive several emails telling you to anchor it to the wall.)
All three pieces were pretty easy to put together, especially the top cabinets.
They're heavy enough that I didn't attach them together permanently, but you can do that if desired. I'll screw them into the walls before I have any small visitors. (My kids are teenagers, so well past the climbing furniture phase.)
There are instructions and hardware to attach the glass cabinets to a different bottom and that should work. Or you could just add screws to attach the bottom of the cabinets to the dresser top.
The knobs on the upper cabinets were swapped out with these and the drawer pulls with these adjustable pulls since the size was weird.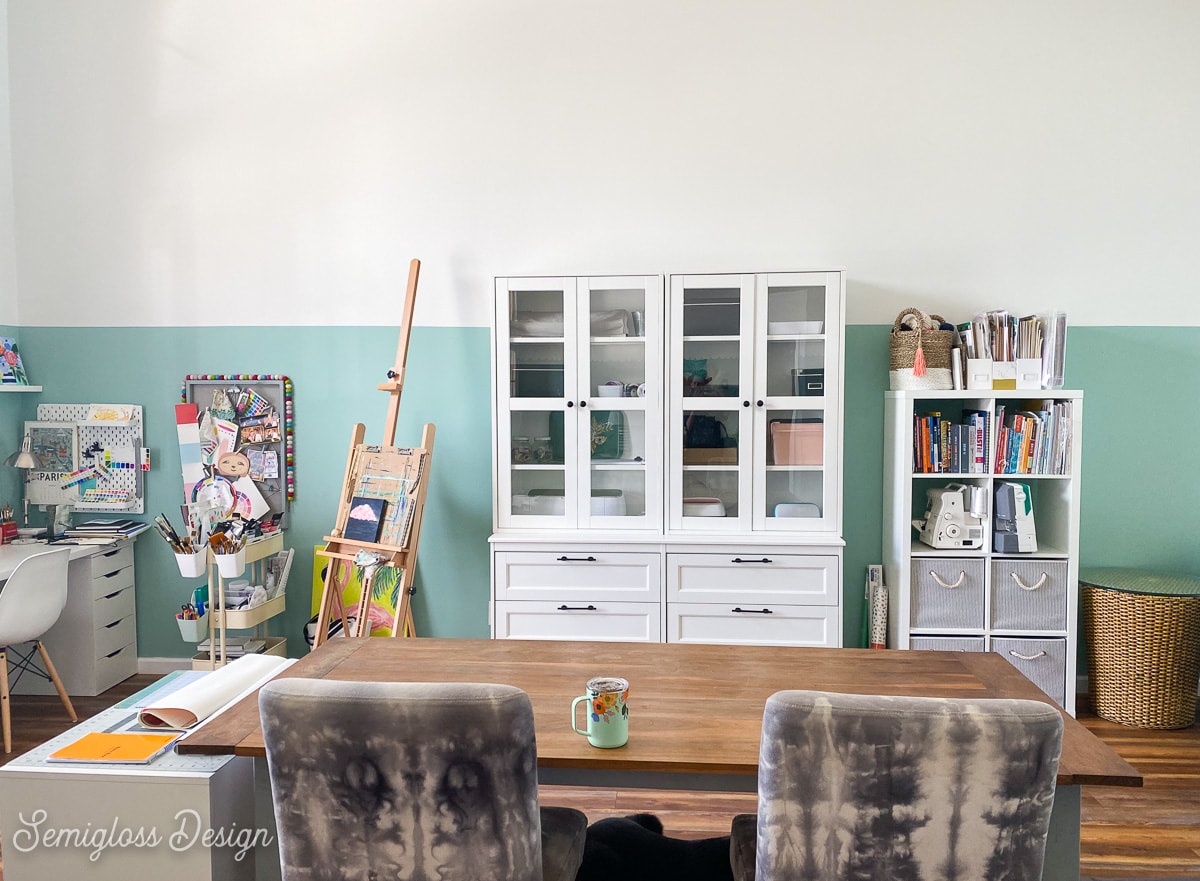 Each drawer contains small containers similar to these.
I actually already had enough small boxes for my supplies. Some of these boxes are from electronic equipment (like new phones or keyboard boxes.)
Other IKEA Alternatives to the DreamBox
If you like open storage, a larger Kallax cabinet with inserts would do the trick. There is even a desktop that you can install on the cabinet.
If space is a premium, the Norden table takes up minimal space and folds out to create a workspace.
Non-IKEA Alternatives
If IKEA isn't in your budget, look for used furniture. Dressers are great for storing craft supplies. China cabinets or bookshelves are also great ideas. Old wardrobes or armoires can also work.
If you want a cabinet that closes, this affordable cabinet is a great solution. Just add organizers to store your supplies.
Adding shelves to an unused closet is another idea.
The truth is, there is no ONE solution for craft storage. It's going to depend on how you like to work and how you like to store your supplies.
How I Organized my Cabinet
The dresser drawers are now organized into craft categories: Cricut blanks and extra supplies, craft projects and house stuff, sewing supplies, jewelry-making stuff, random craft supplies, and papercraft supplies.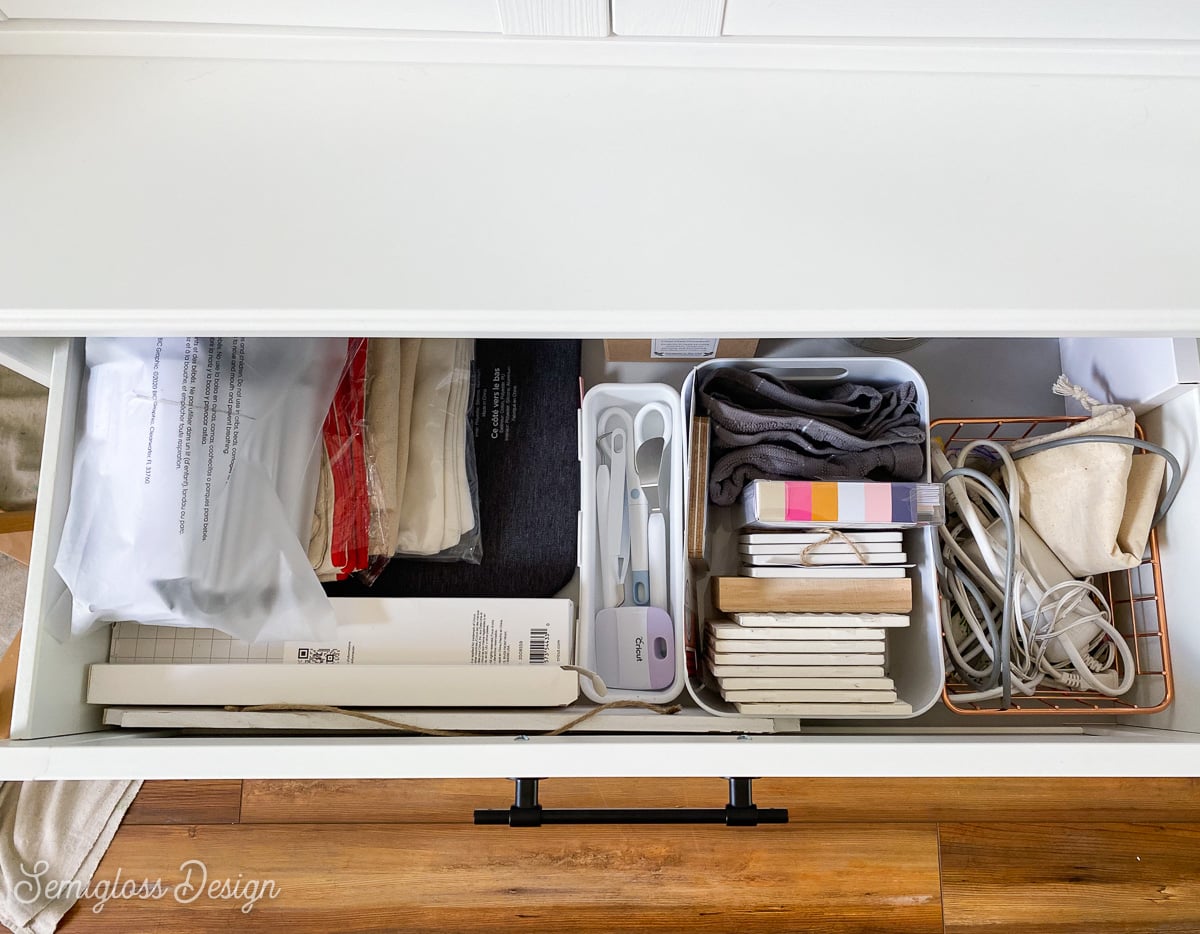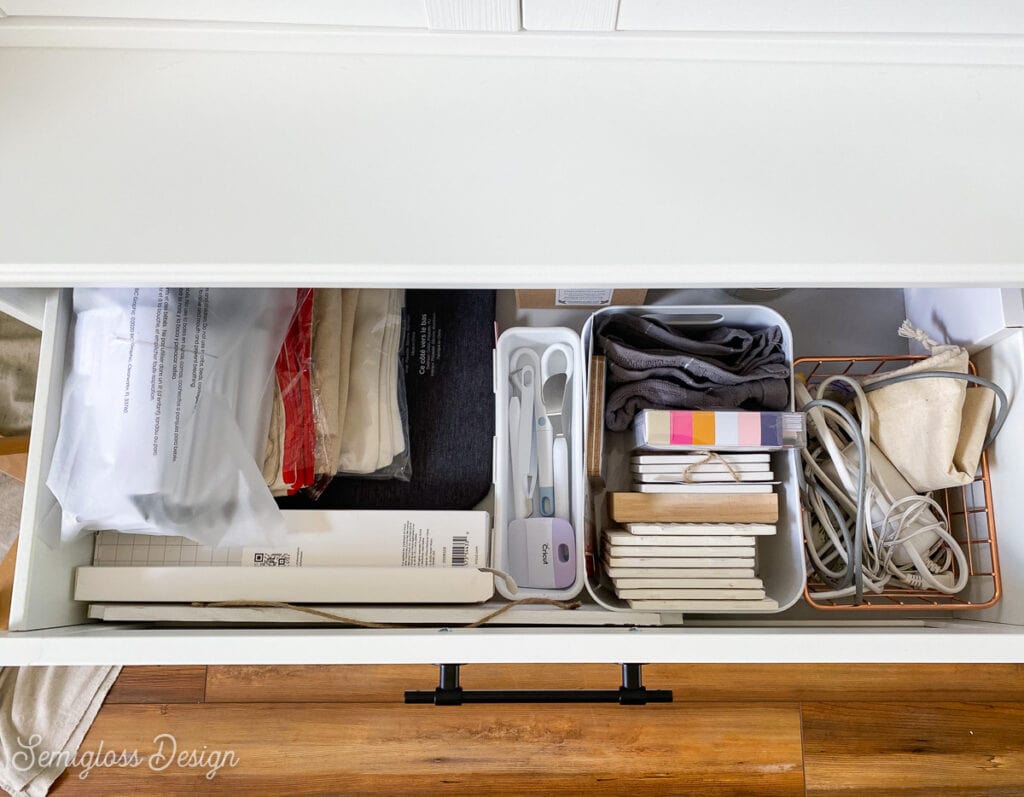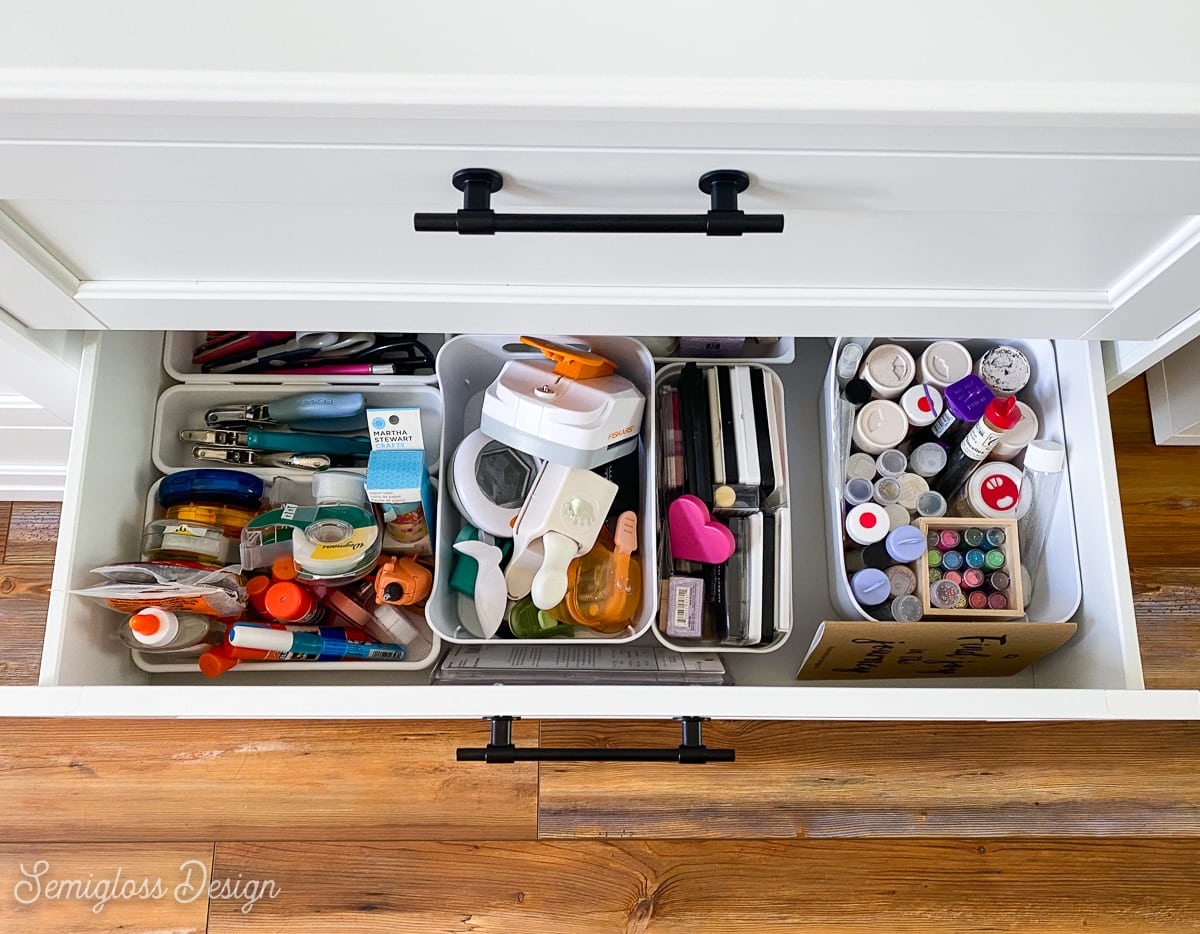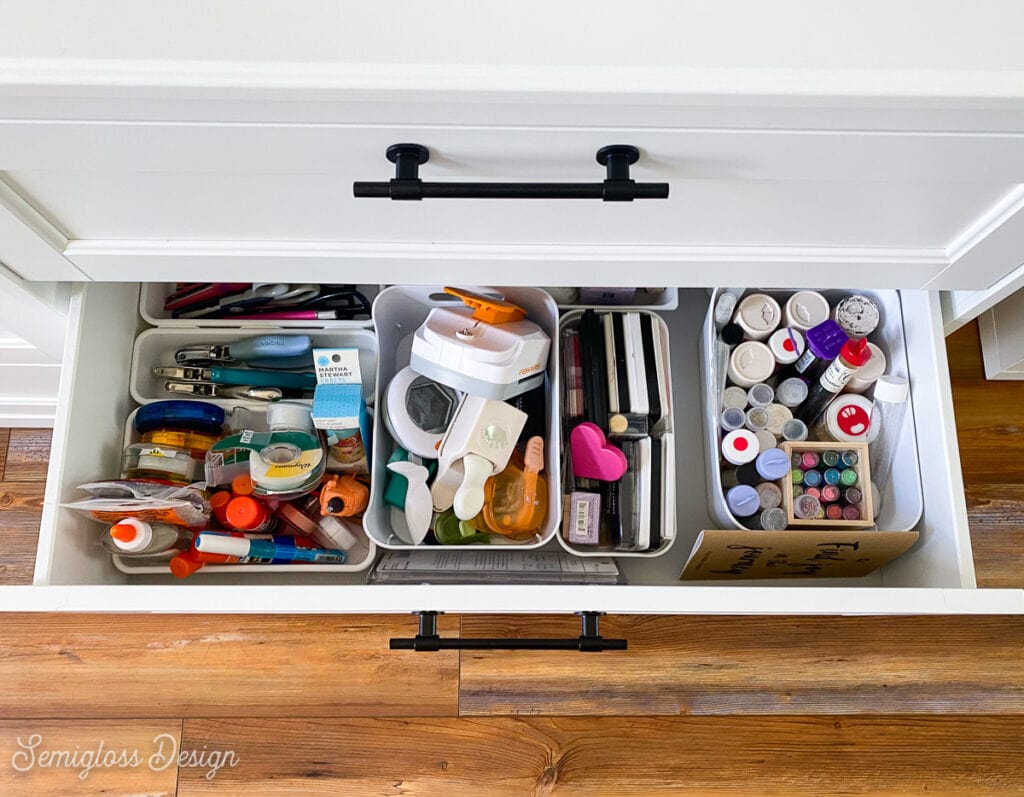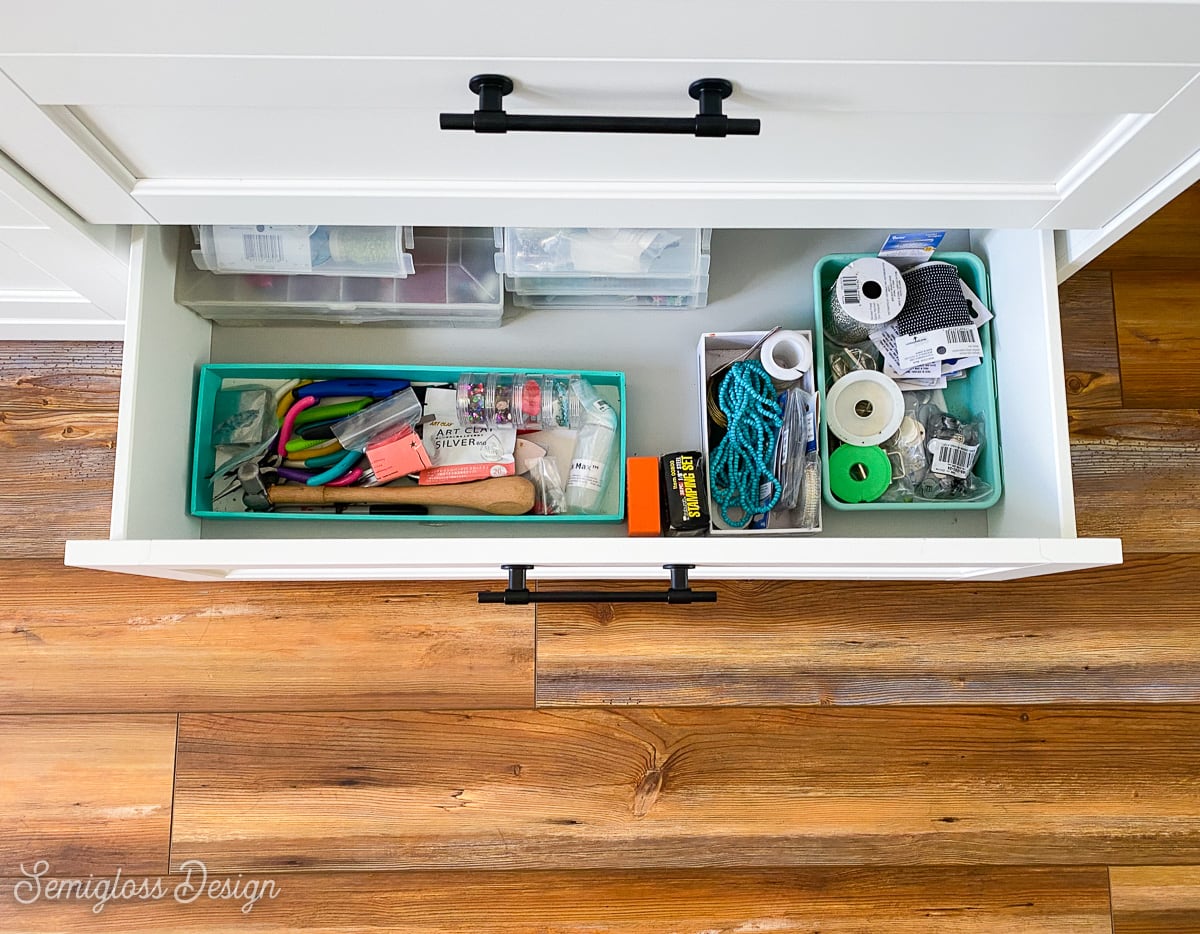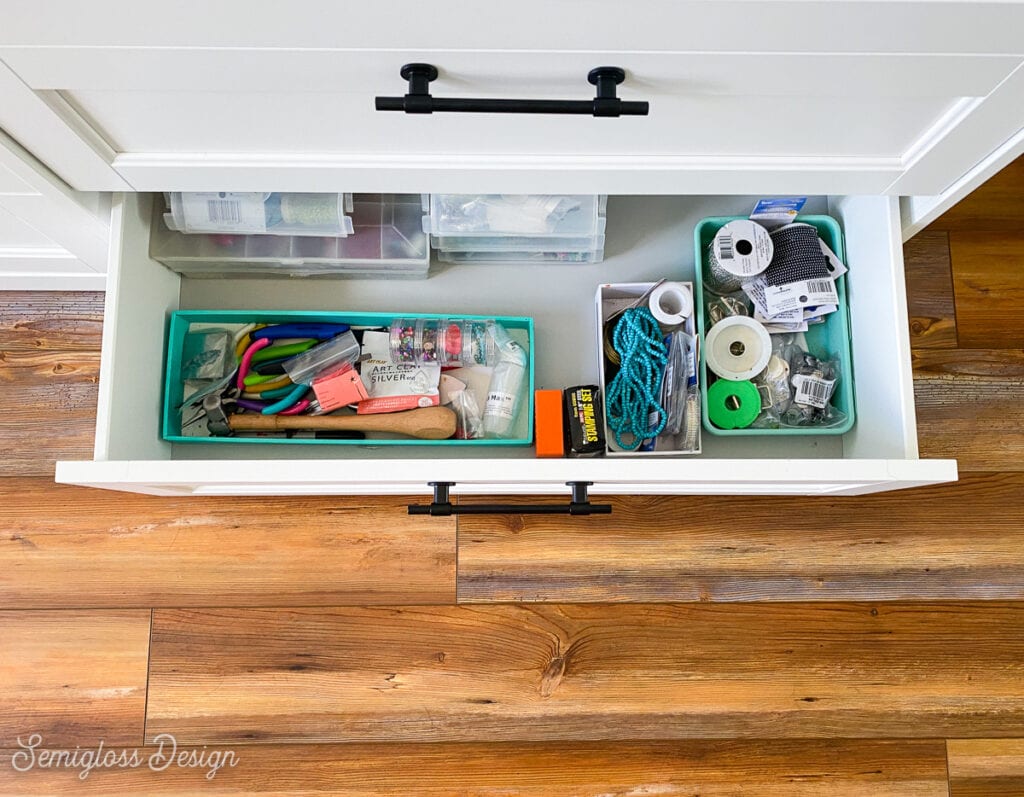 The top holds more sewing supplies in the boxes (zippers and trims), camera equipment, my cutting machines and Easy Presses, and some ribbon.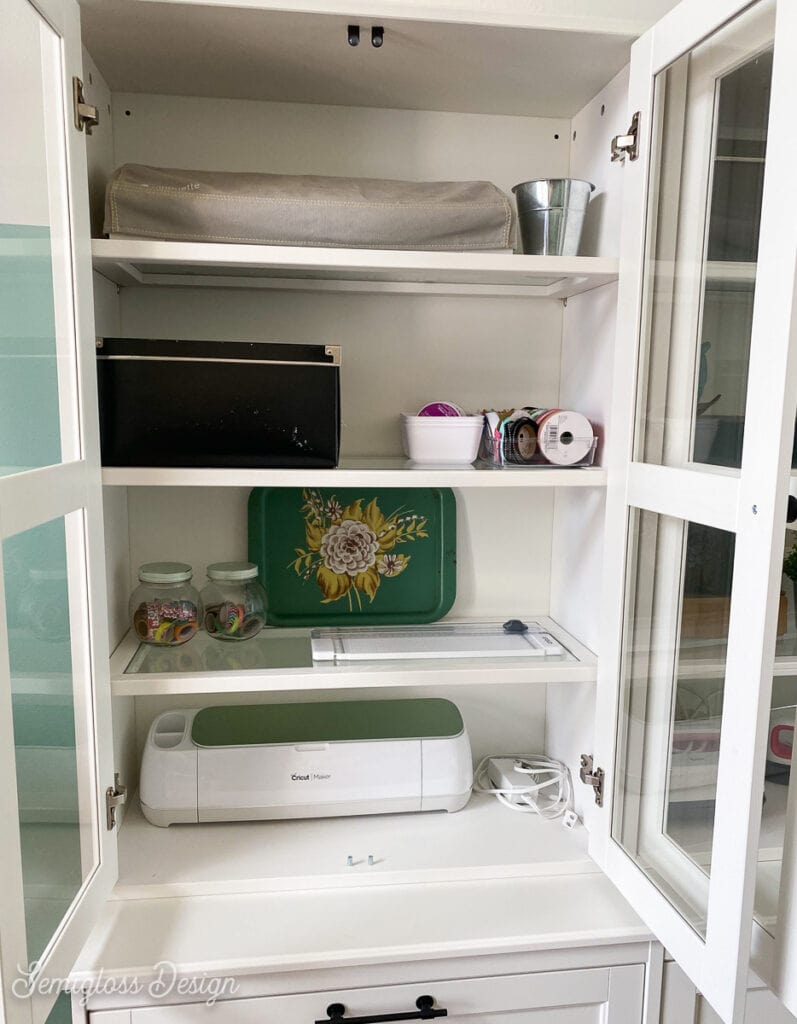 There's extra room for more supplies if I need them.
I also have a Kallax shelf that holds my yarn, sketchbook collection, books, and sewing machines.
Two of the striped bins are empty. One holds felt and one holds smaller canvases, which will get moved once I finish my art area.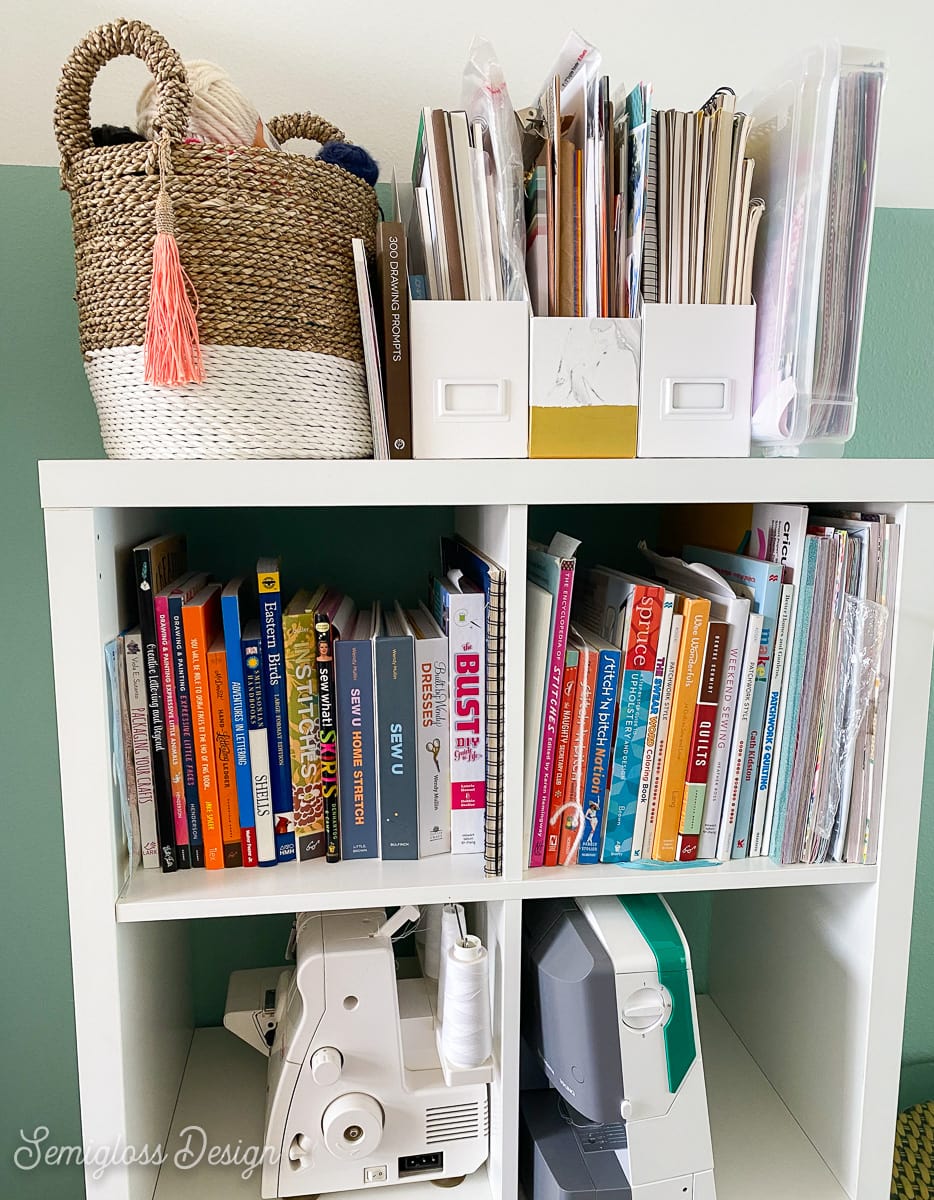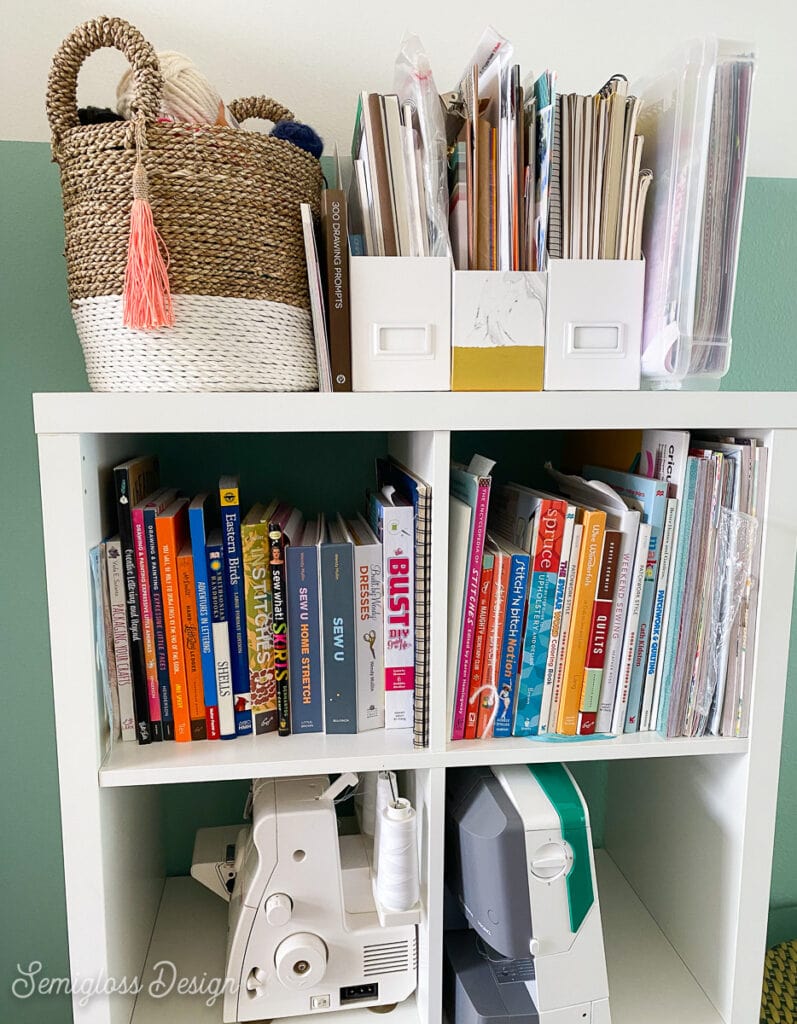 My vinyl is stored on a shelf in these cool acrylic containers. One holds iron-on vinyl and one holds adhesive vinyl.
Excess vinyl and supplies are stored in a rolling Alex drawer unit that also holds extra art supplies. It needs to be organized a bit more, as you can see.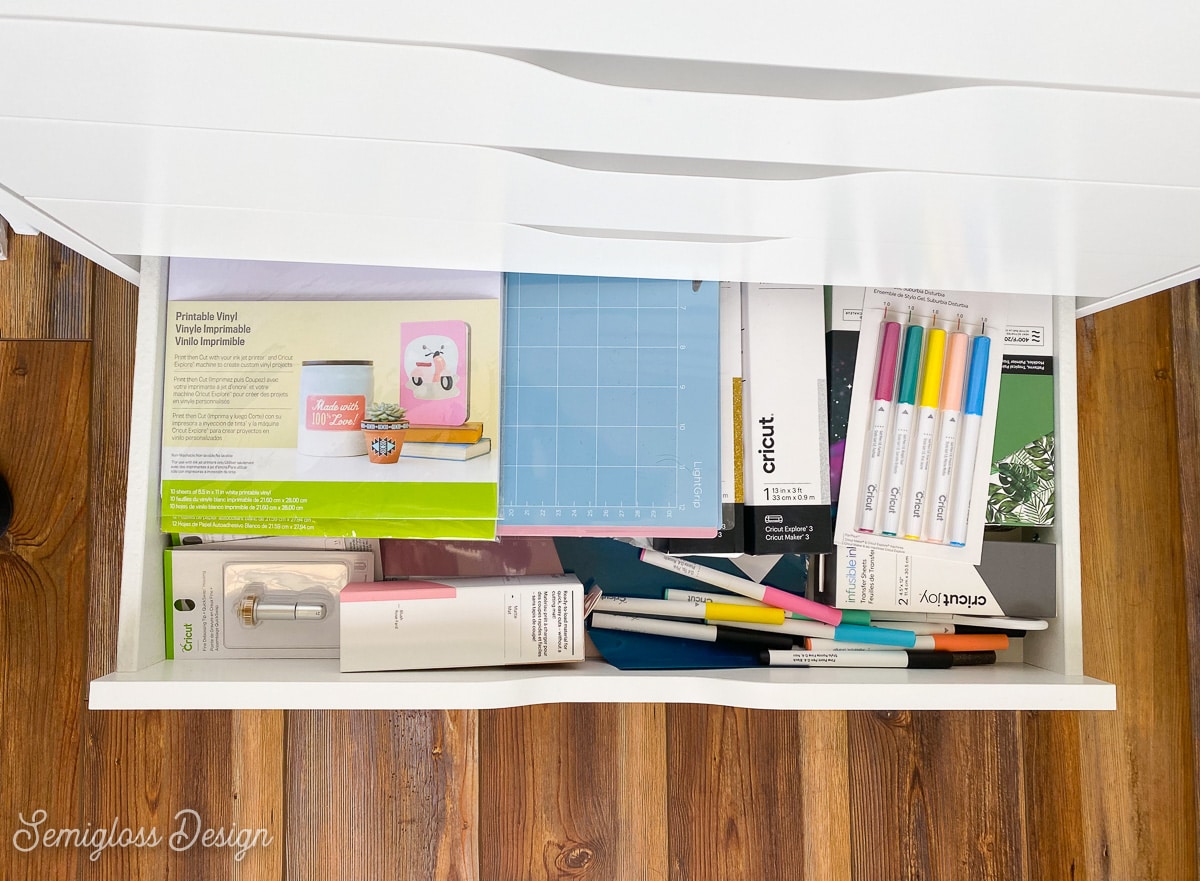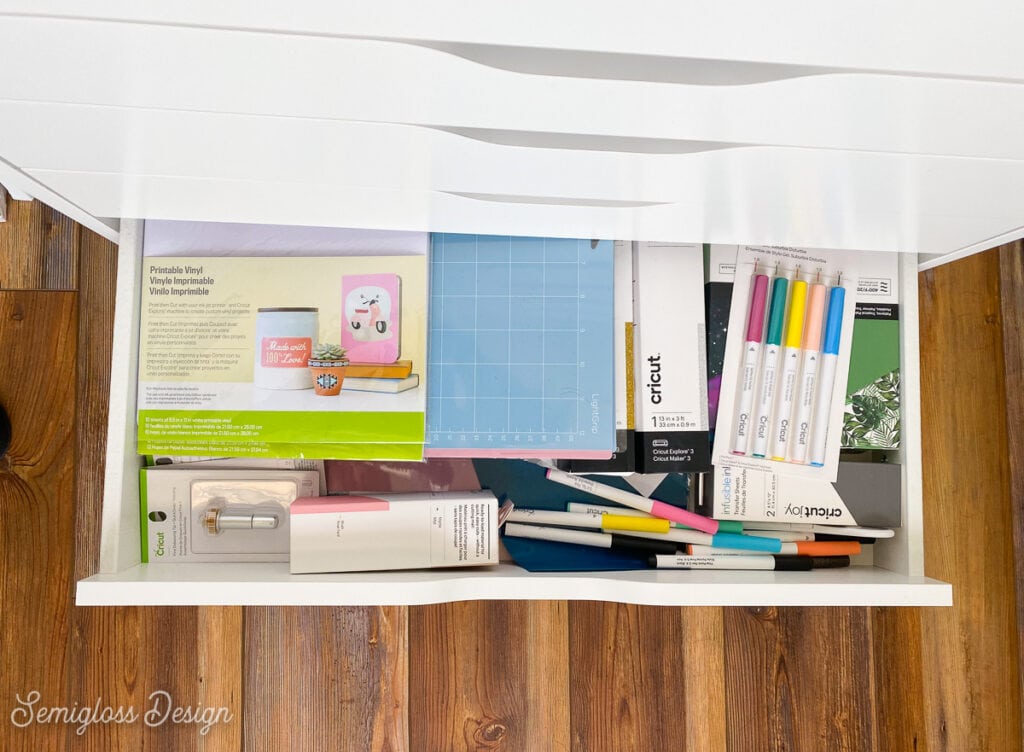 I can't wait to get this space finished (I'm moving my office area to another room, so that has created a mess right now.
My art area will be changed a bit too once I move my computer desk. Here's how it's looking right now.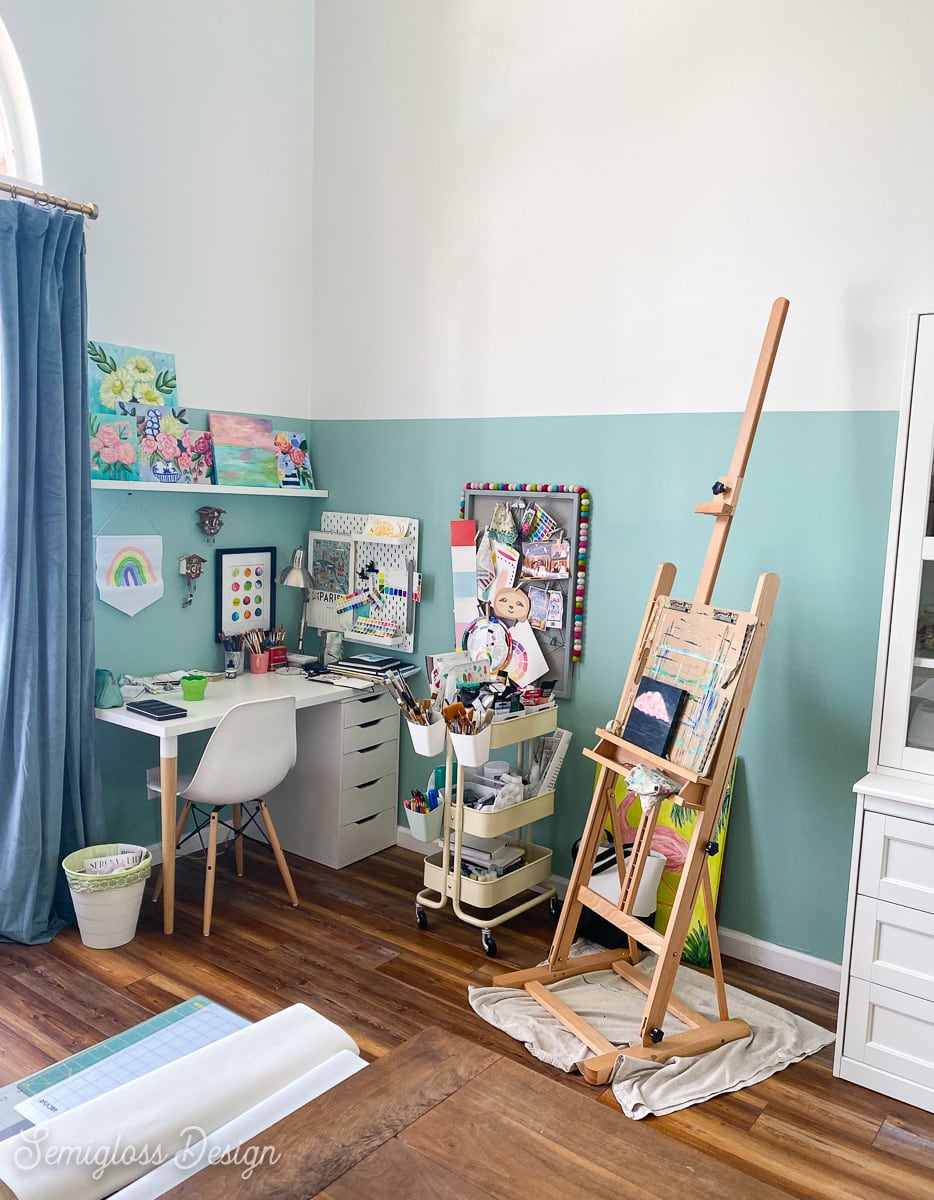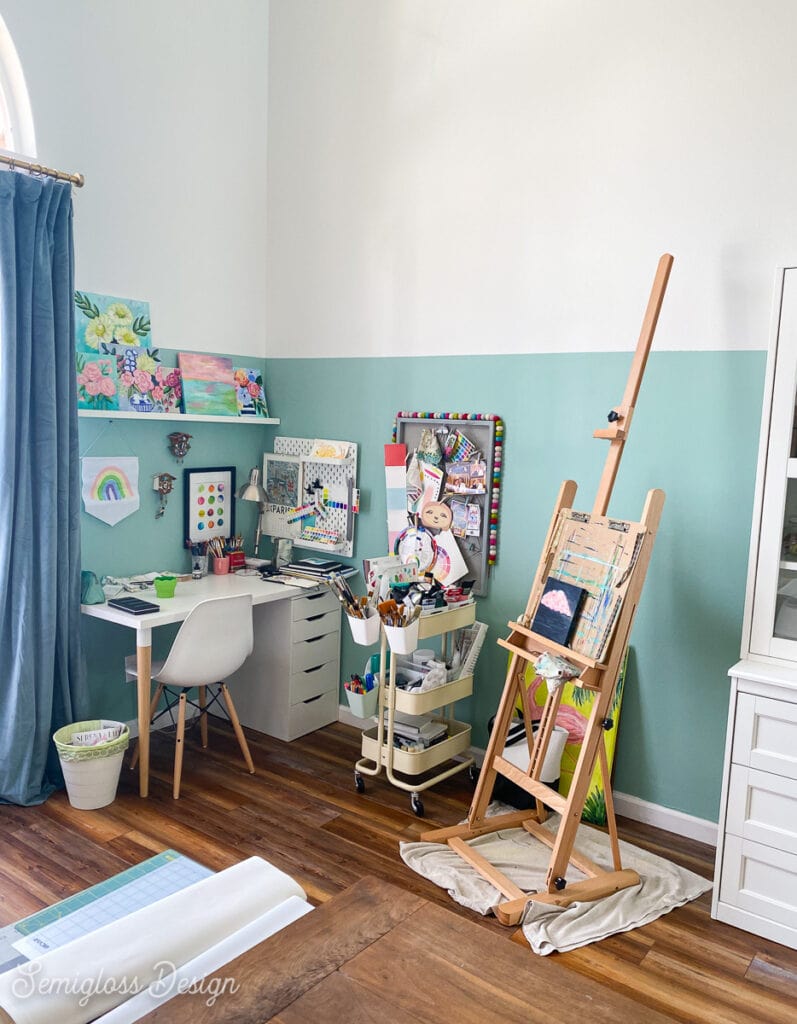 You might also like:
Pin for Later!