We moved into a new house about a month ago, so I want to share all about it.
If you would have told me that we would be moving so soon, I would have laughed at you. But here we are.
It's hard to explain why, but I'll try. To make a long story short, we weren't looking, but we ran across a house and fell in love with it. Two days later, we were making an offer on it.
We walked in and it felt like home. The last house never did. It always felt temporary for a reason that I couldn't explain or fix.
All About the New House
So here are the fun details about the house.
It's 98 years old and is on the National Register of Historic Places. It even has a name.
The house is a kit home. Kit homes were ordered through mail-order catalogs.
Everything needed to build a home was shipped on a railroad, so they're normally located within a mile or 2 from the railroad. Homeowners then assembled the homes themselves.
Many companies sold kit houses. Sears is the most famous. Our home is an Aladdin kit home. It's pretty cool, because the catalogs still exist, so we can see the exact floor plan, finishings, and even furniture that was available at that time.
Our new home is located in a cute town with nearby restaurants and parks. They seem to have festivals and events every weekend. We love being able to walk everywhere.
It's a 4 bedroom, 5 bathroom house. Two of those bathrooms are half baths. The kid's bathrooms are tiny, so that sounds much fancier than the reality.
The house has a beautiful front porch and we've been loving sitting on it every evening. Porch sitting is my new favorite hobby.
The yard has several giant live oak trees, which remind me of my forest backyard in Maryland. I love the trees here.
The backyard is mostly shaded and lovely to spend time in. I swear it's 10º cooler here than our last house, despite them only being 15 miles apart.
There's a cute deck in the backyard.
This house is the opposite of an open floor plan, which I love. Many of the original details are missing, so they will be fun to restore.
At one point the house was a bed and breakfast and some of the updates are more Victorian than what's appropriate for a 98-year-old home.
Here are some photos from the day we closed on it. Pardon the mess.
Here's the foyer. This room is small and I can't wait to make it special. Hubby hates the tin ceiling, but I think it might look cute painted white.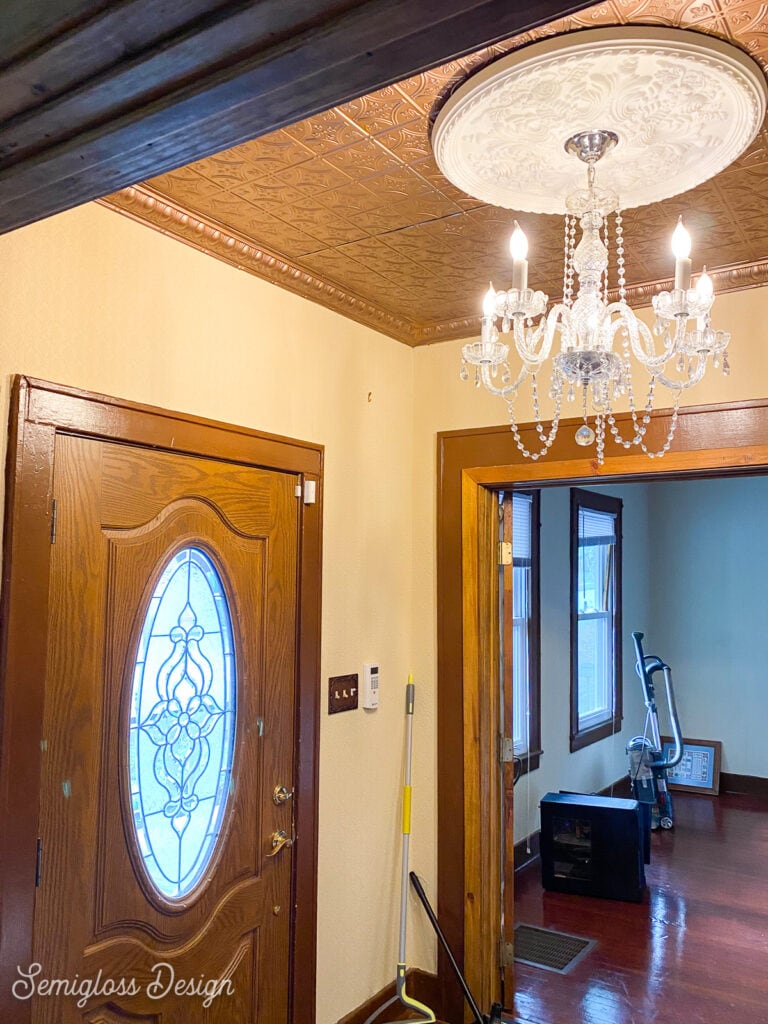 I can't wait to change out the runner to something a bit more me.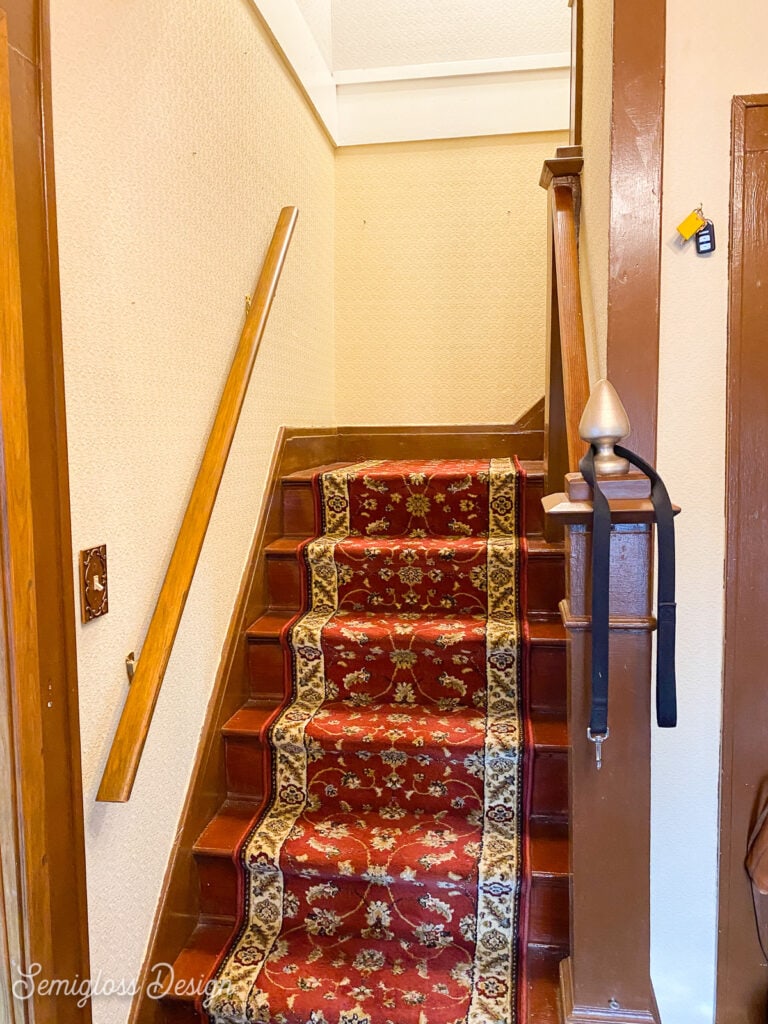 The flooring and molding are mostly original. The molding is pretty simple but large. It looks like it's wood in the photos, but it's painted brown.
The fireplace is huge and painted as well. I'm going to try and strip it, but I might have to paint it a solid color instead. That's a faux finish.
The fake brick paneling is also going to go once I figure out how to remove that massive mirror.
Every single room has a chandelier in it. They all have pretty medallions that aren't original.
This was my office before I stripped the wallpaper and painted it.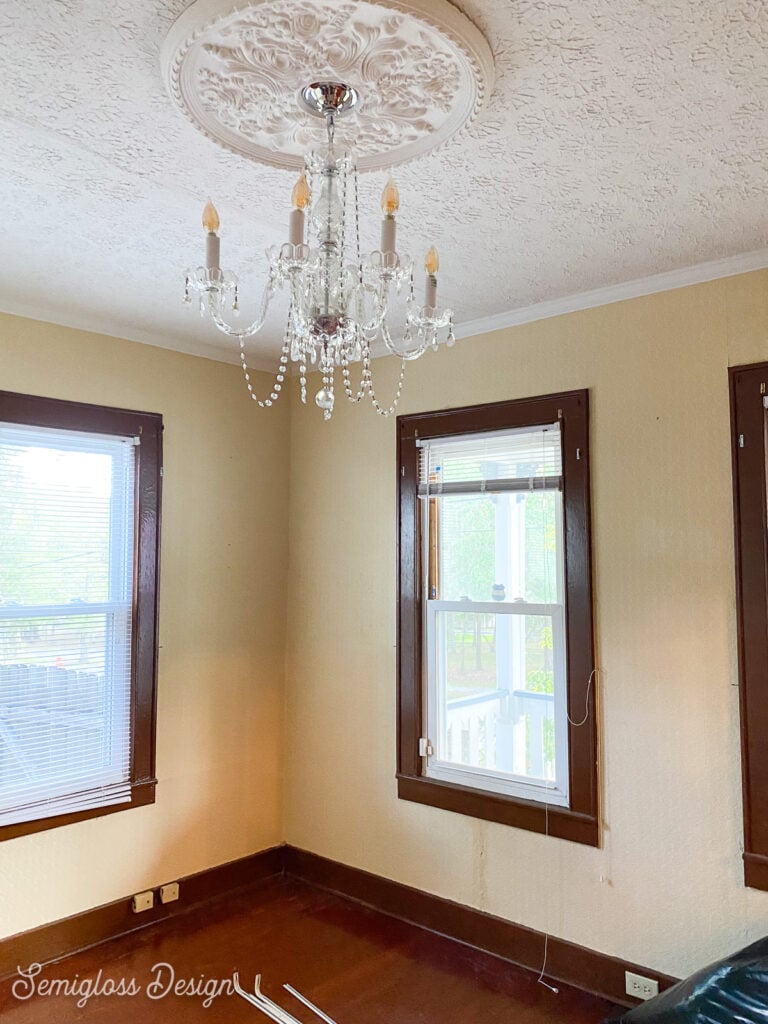 Here it is after I painted it before the movers came.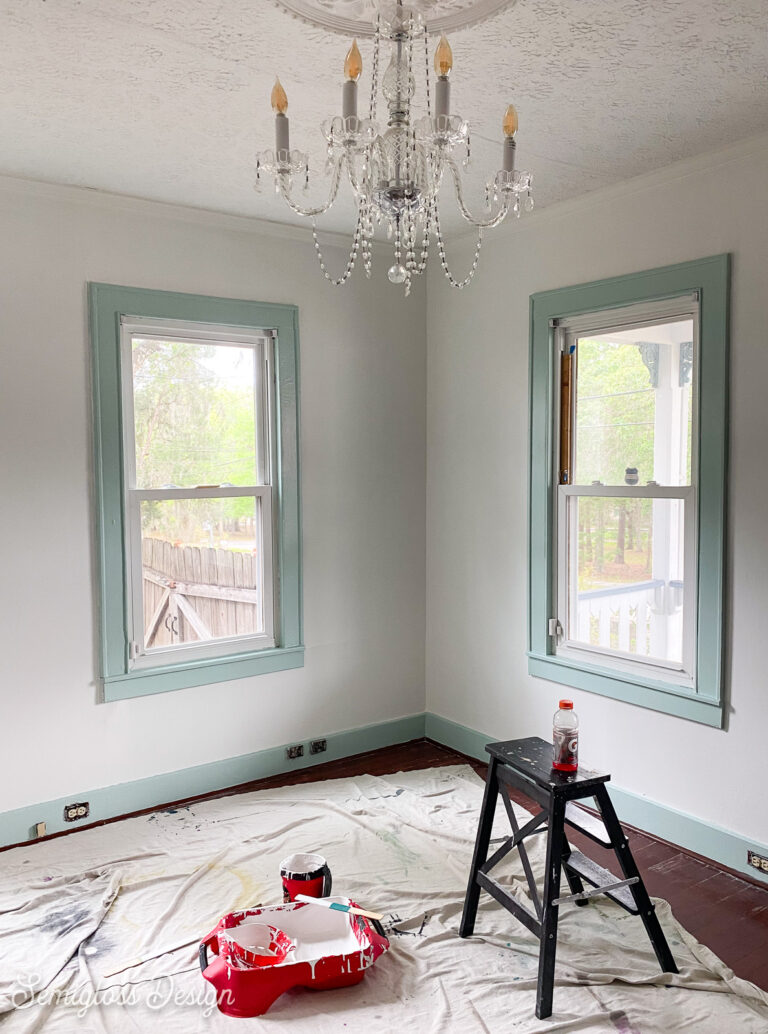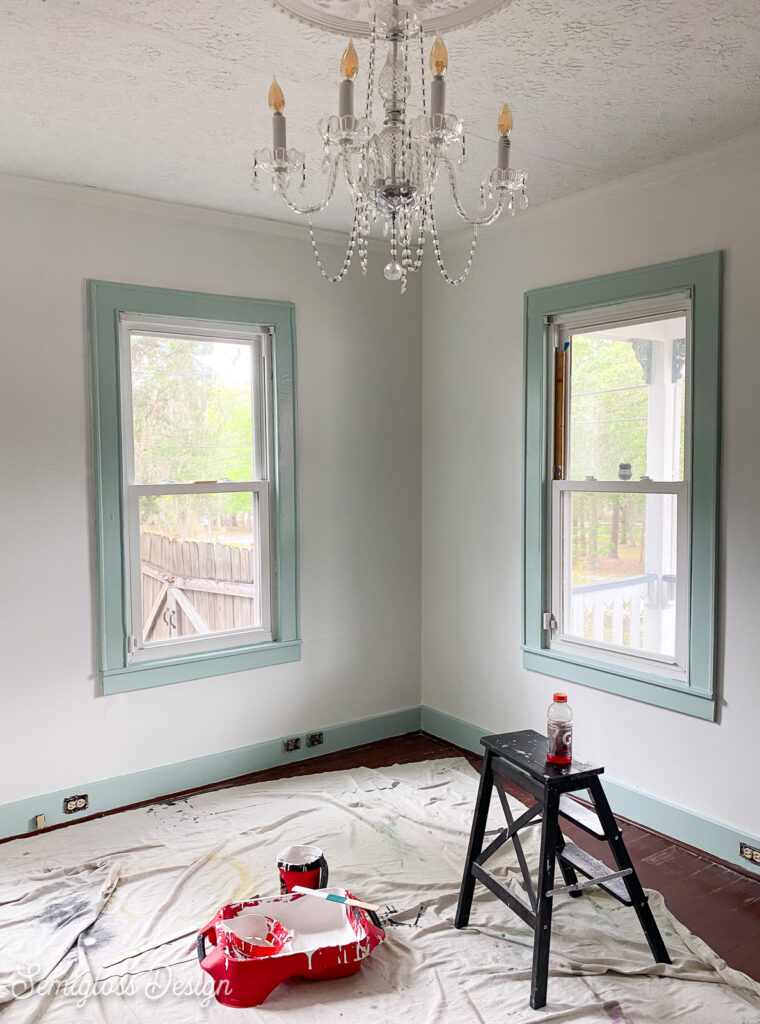 Several of the bathrooms have oversized ornate mirrors that need to go.
Here's one of the half-baths. Notice the restroom sign. This used to be a commercial building, so there are weird details everywhere that need to be removed.
This room is teensy. And over-the-top with decor. I live here and I'm not sure what's happening with the ceiling.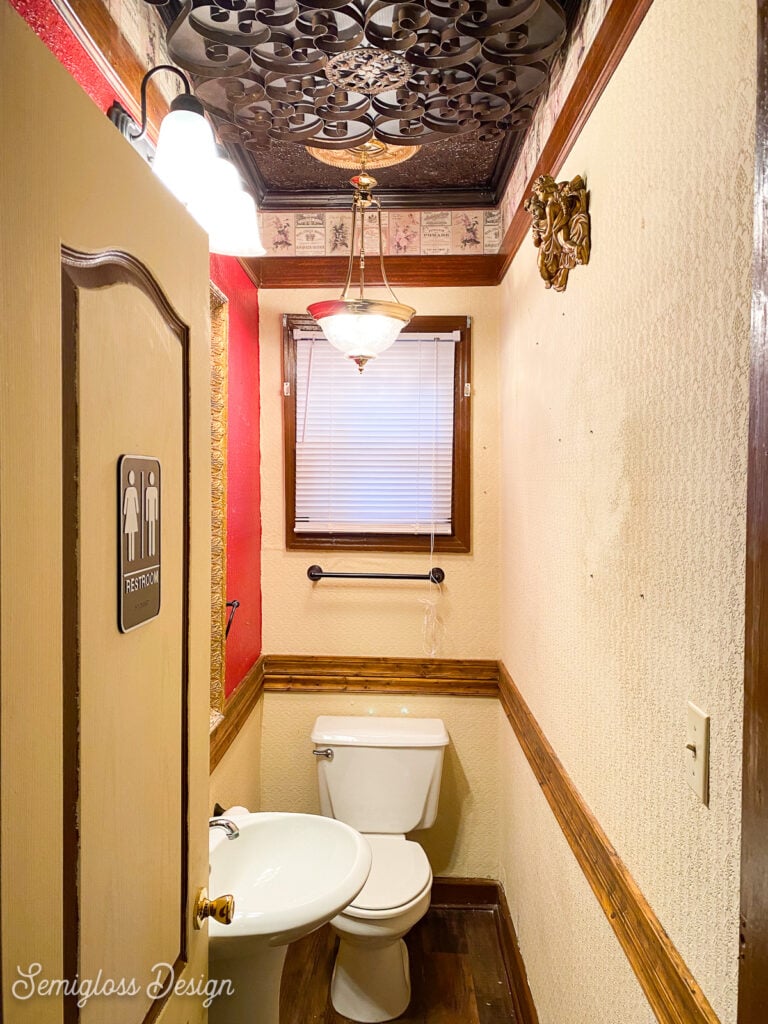 Here's the kitchen when we first moved in. The glass cabinet is possibly original to the house, so it's staying.
The orange walls have been painted white.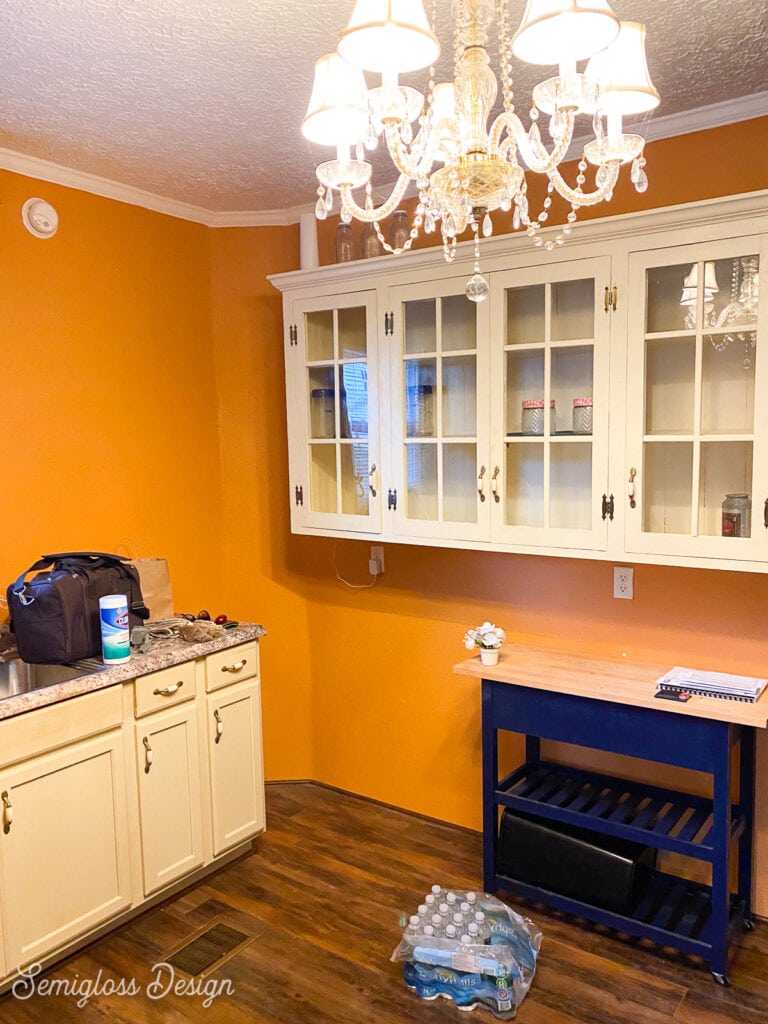 Next to the kitchen, there's a small room where we're making a dining room.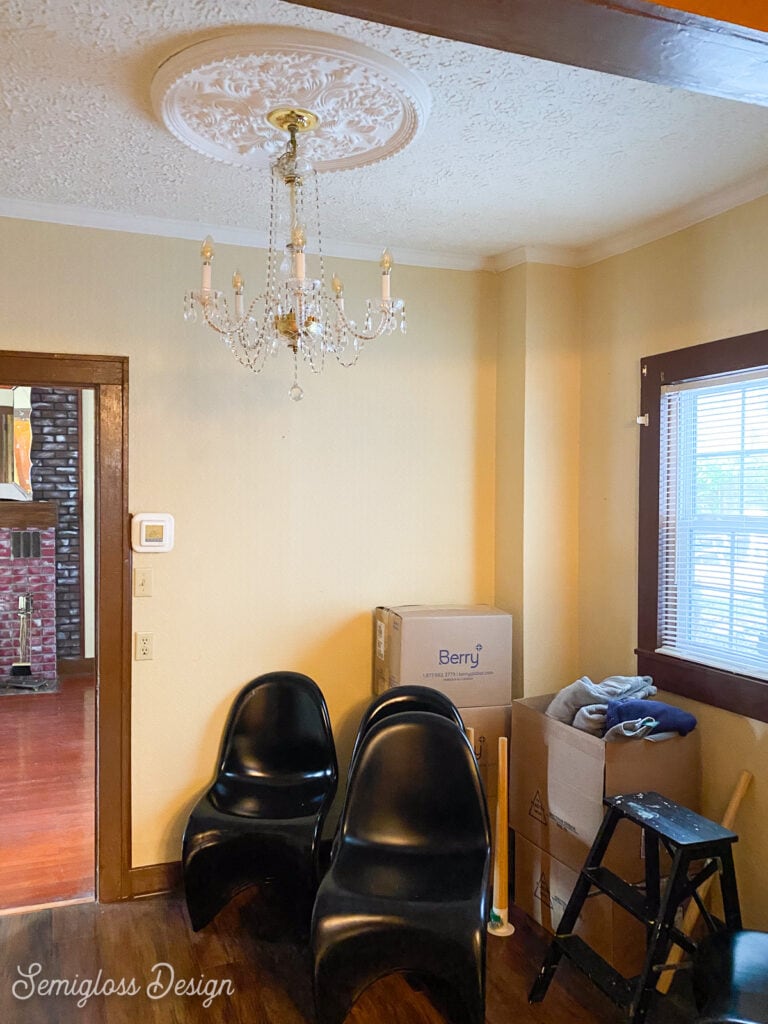 At the back of the house, there's a very small laundry area and another half bath.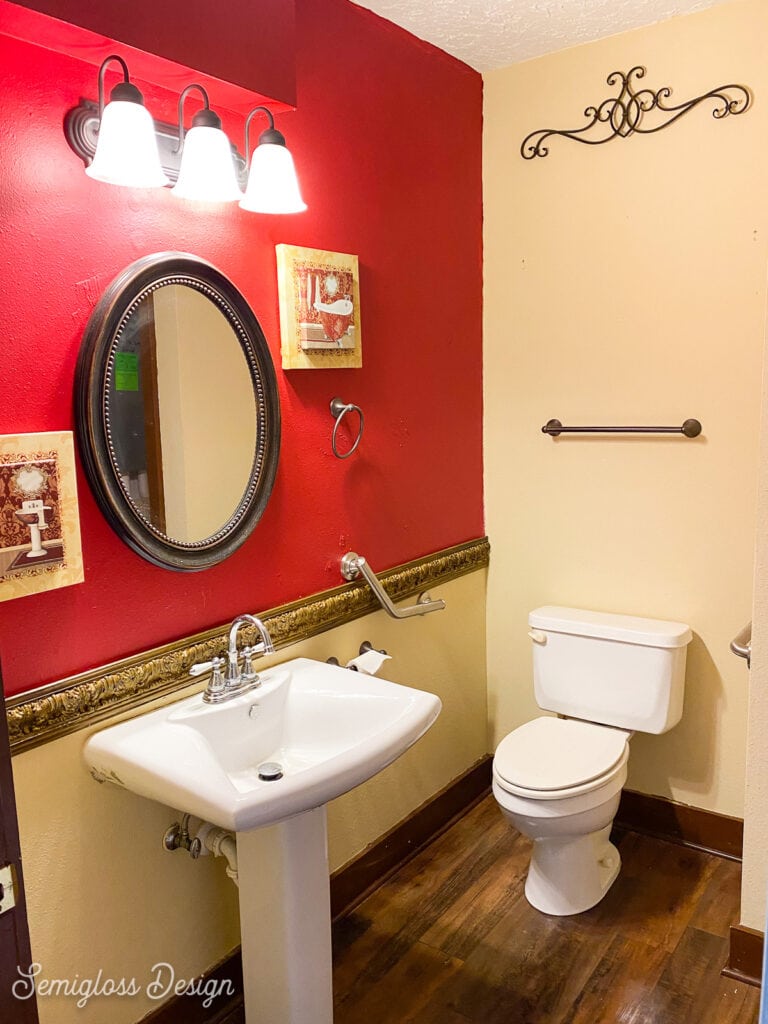 The bedrooms are upstairs and they all pretty much look alike.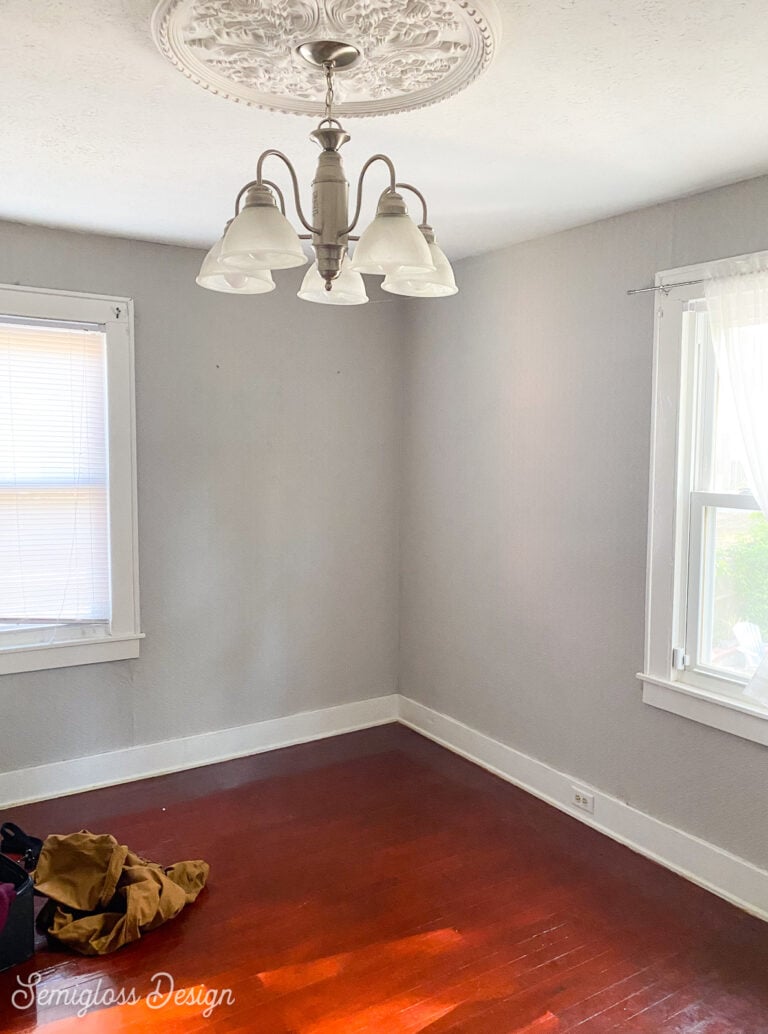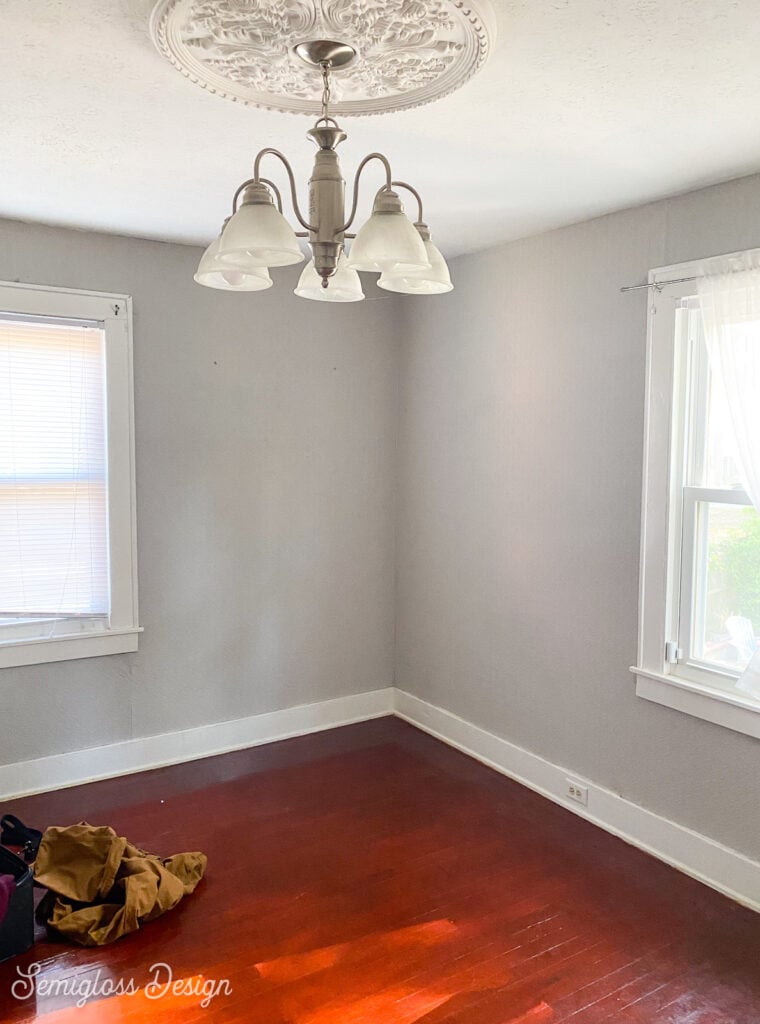 Our bathroom has a rounded tub enclosure that I suspect is hiding a claw foot tub. It's such a cozy space and I love it more than my giant bathtub at the last house.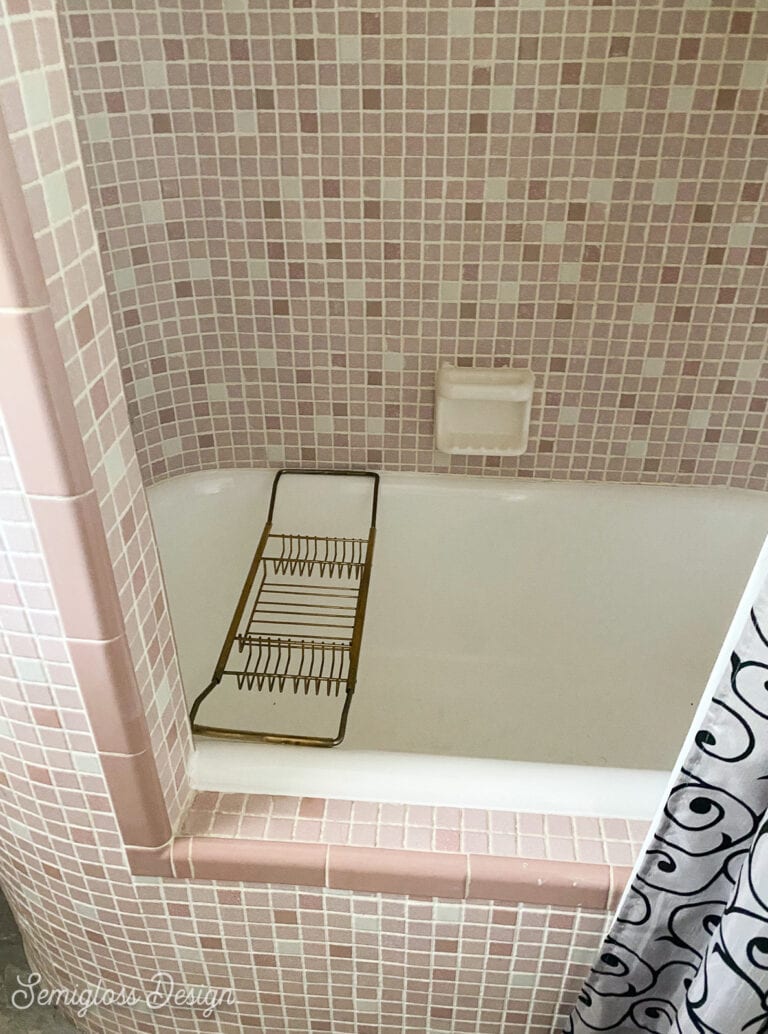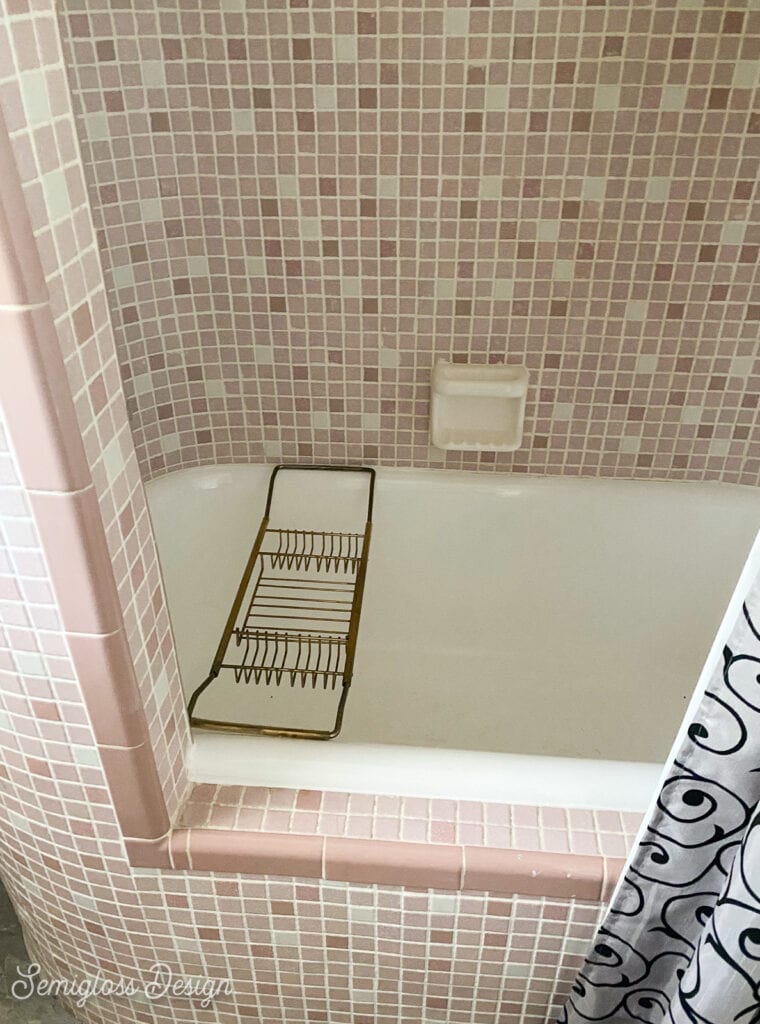 It also has a crazy large mirror. I'm dying to work on this bathroom because there is no storage right now.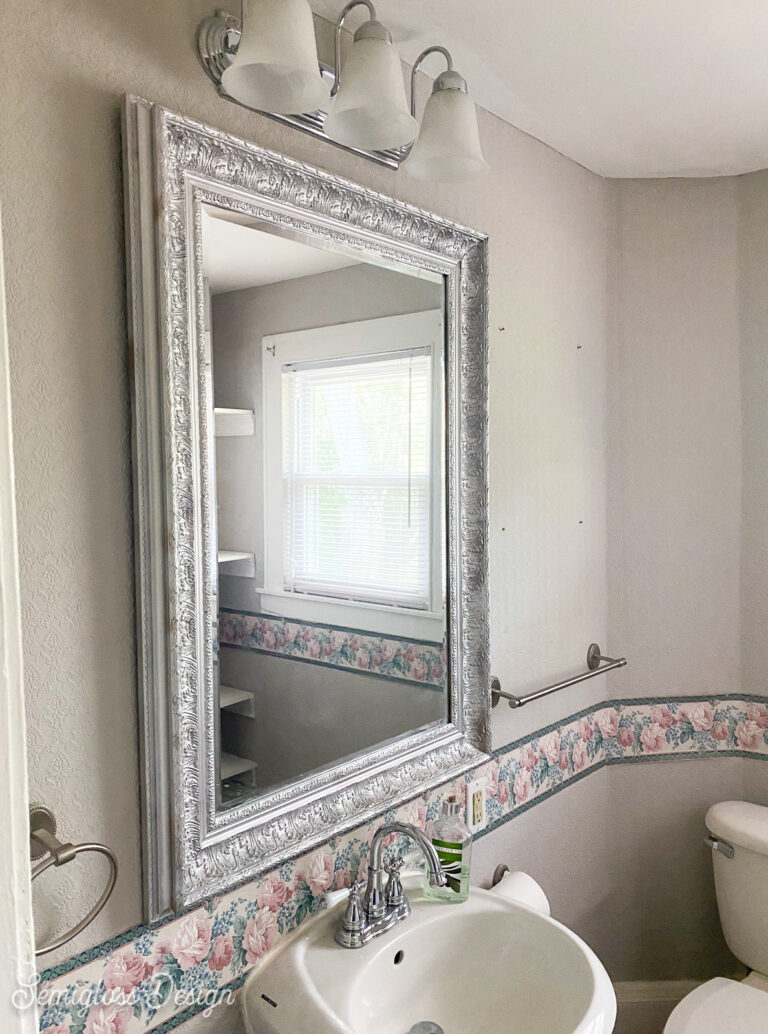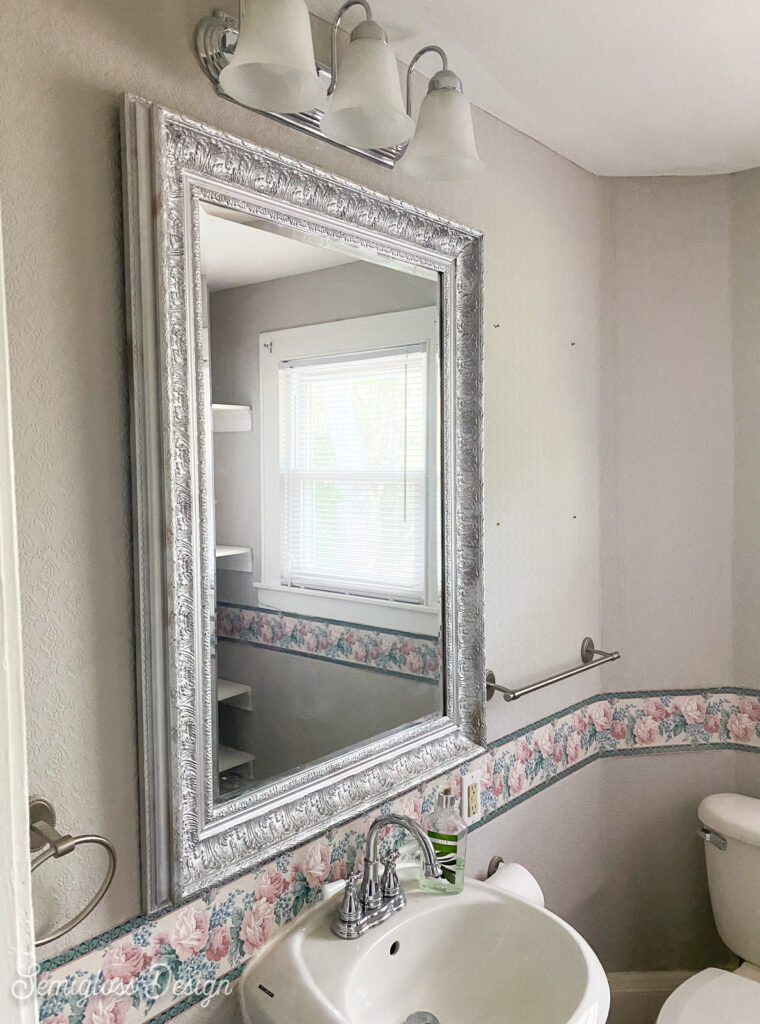 The kids have bathrooms and they are even smaller. My shoulders touch the walls when I stand close to the sink.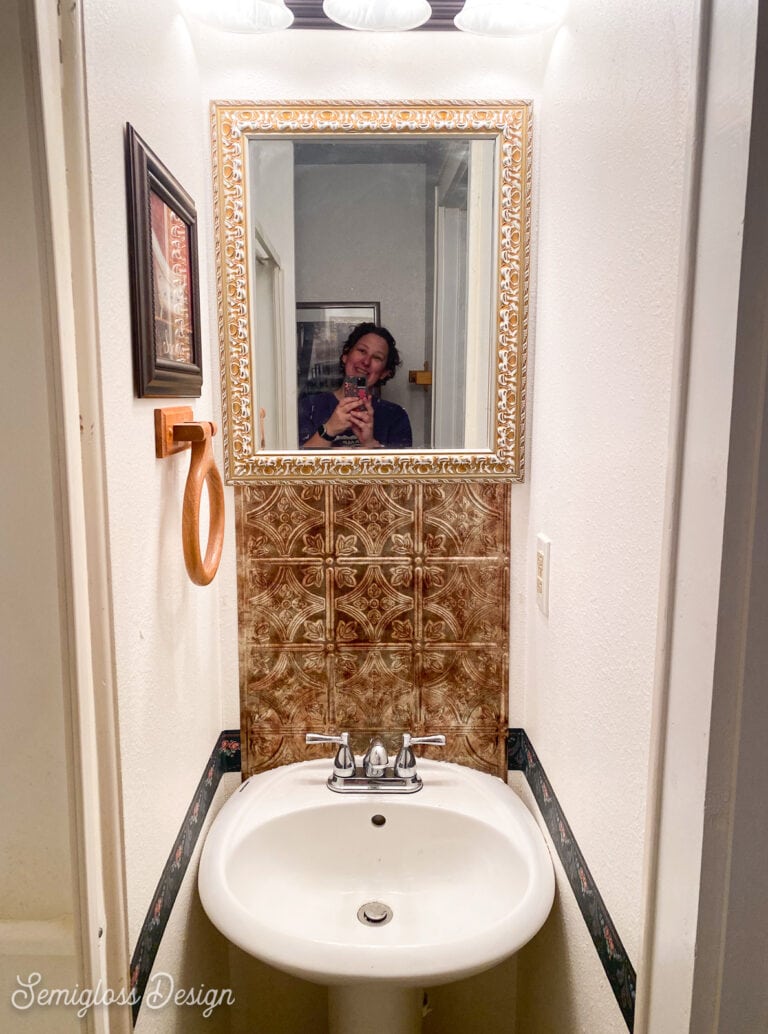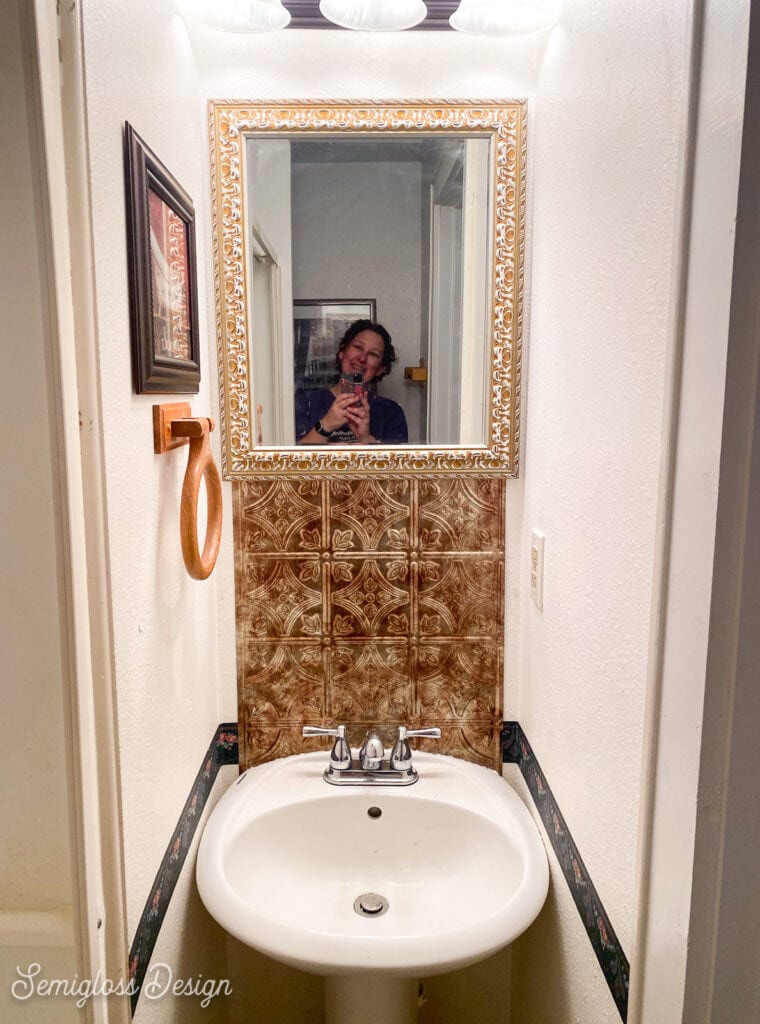 Upcoming Projects and Decorating Dilemmas
A new house means new projects. Here are some of the more pressing projects on the agenda.
Wallpaper
There's wallpaper in almost every single room and while it's pretty plain, most of the walls need repairs that require us to remove the wallpaper.
So far, I've removed the wallpaper in 2 rooms. It takes about a week to remove it, repair the walls, and get them painted.
Some of the rooms have wood walls and some have plaster. A few of the newer rooms have drywall, so every room is a mystery.
Uneven Flooring
The floor is very uneven so that will be interesting to decorate around. The foundation is solid, just uneven. I'm sure at one point, we will need to get more work done on it.
I used an entire pack of shims to get the shelves level in my office.
Size Challenges
This house is smaller than our last house and probably about half the size of our home in Maryland. It doesn't feel smaller, but it does feel like we have too much stuff.
Some of the bathrooms are tiny. Like 20 sq feet tiny, so we need to come up with creative storage solutions.
The closets are all small as well.
Kitchen
The house was a commercial building for years, so the kitchen is more of a breakroom. It needs to be redone.
So far we've added some inexpensive fixes until we can remodel the entire room.
No Garage
We're going from a 2-car garage to a small shed and that has been hard so far. It needs a bit more organization to be functional.
So that's the new house.
The movers came last week, so we're slowly putting this house together. We have guests coming next week, so guess I need to go do more unpacking.