The Beginner's Guide to DIY Stained Concrete Floors
Learn how to stain concrete floors. DIY Stained concrete is an affordable, yet beautiful way to update cement floors.
You might also be interested in learning about how I resurfaced our kitchen countertops with concrete!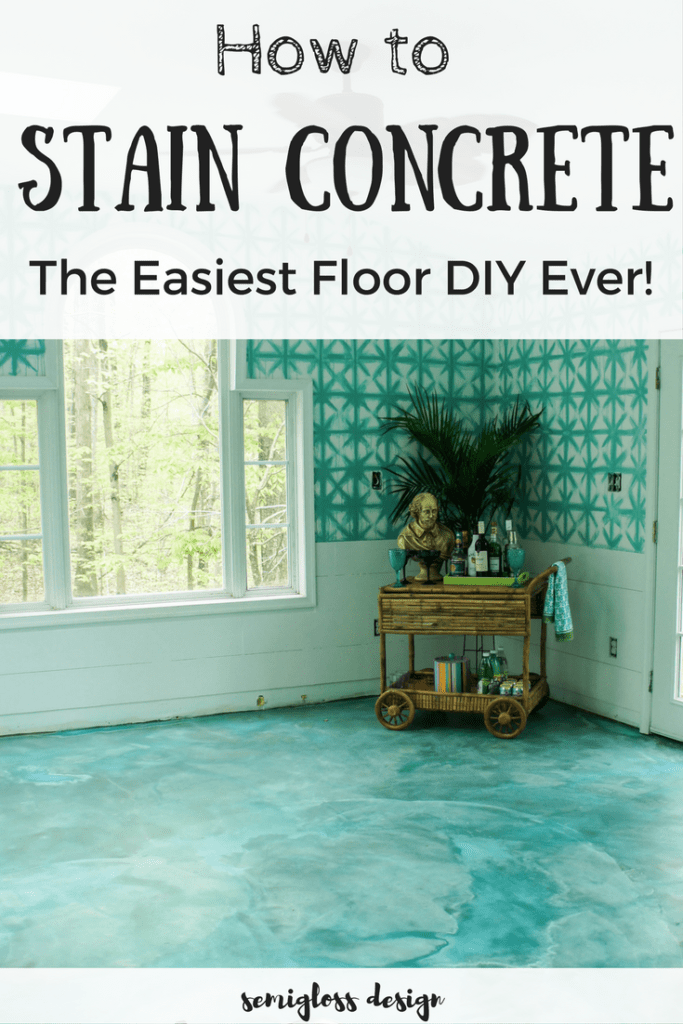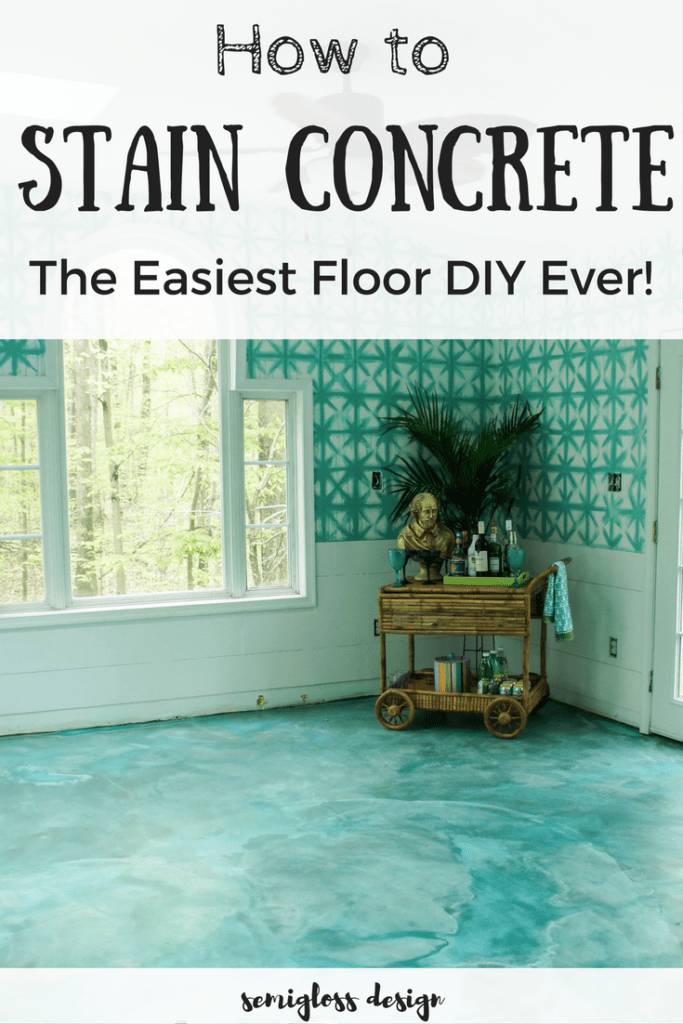 One of the most impressive ways to update your home is by changing the flooring. Unfortunately, it can also be the most expensive update.
And you don't want to settle for the bargain bin selections if you're going through the effort to change the flooring.
Today, I'm sharing my DIY stained concrete floors that are both beautiful and budget-friendly!
Even better, this product is extremely DIY-friendly, no matter what your skill level is! If you can spray paint (even badly!), you can do this!
How much does it cost to stain concrete floors yourself?
I love finding alternative ways to make my home look pretty that are affordable.
The normal floor options like wood or tile would have cost a fortune.
Even the cheapest tile would have cost close to $200 for this room. Stained concrete is much less expensive than tile.
If our floor had already been concrete, this project would have cost less than $150 for the whole room (about 20 x 25). We spent about $130 on all of the supplies to stain our concrete.
Even with the cost of the concrete, the cost is the same as the mid-range tile that I didn't love.
Click here to learn how we installed concrete over a sub-floor.
I want to *LOVE* my home. Every aspect. That means not settling. So the extra cost for the concrete was well worth it for the amazing results that we ended up with.
Have you ever seen a floor this dreamy?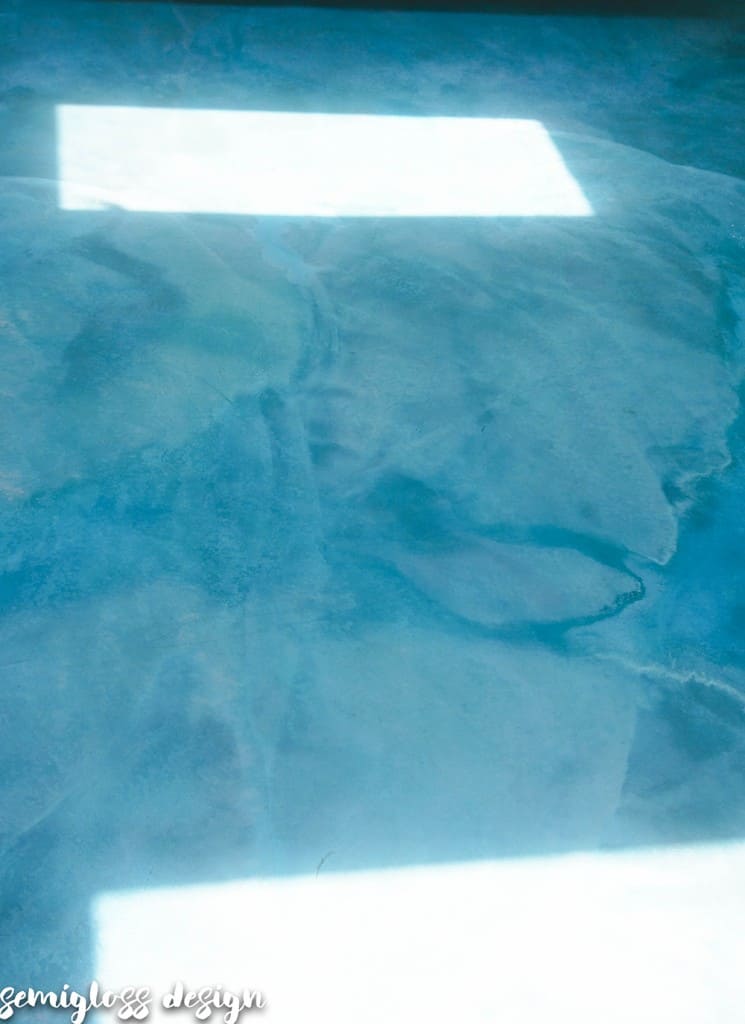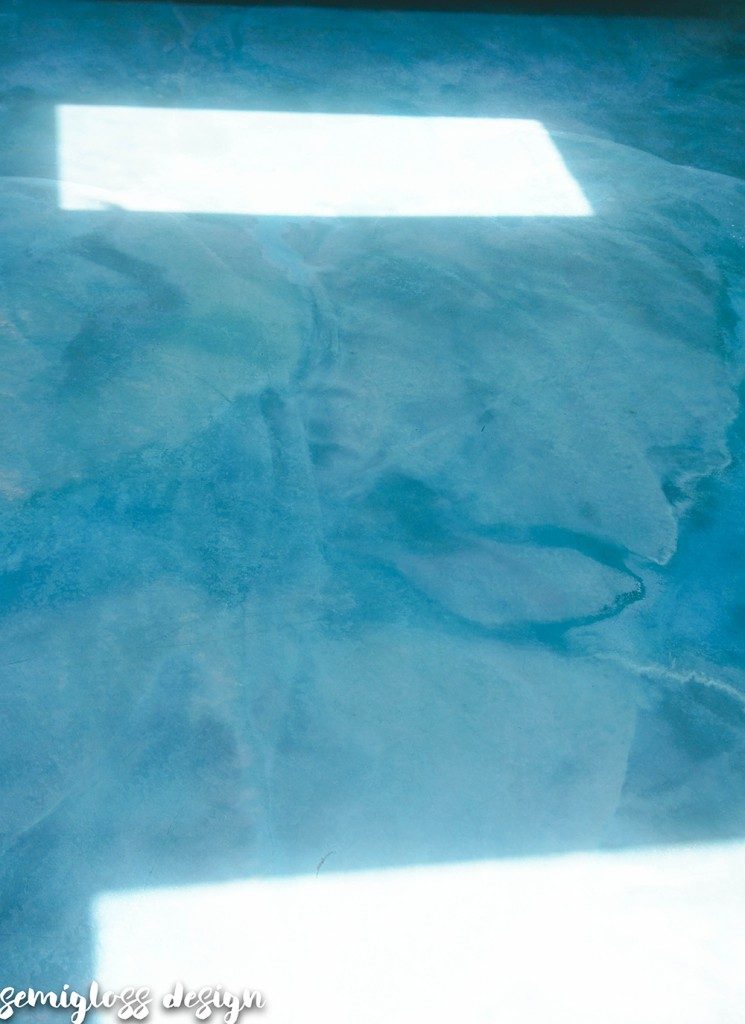 About the Concrete Acid Stain We Used
We used a product called Kemiko Stone Tone Stain. I first learned about this product years ago on the Christopher Lowell show. Concrete stain has been on my mind since then.
The stain colors are limited, but they're all pretty nice colors that make concrete look so warm and inviting.
Kemiko stains are acid stains, but don't let that scare you away.
This is not a sponsored post. I just wanted to share my love for the product and how amazing it is!
I bought the supplies locally at East Coast Kemiko. It was so refreshing to meet someone so passionate and knowledgeable about flooring.
I've dealt with a lot of businesses lately that have had less than stellar customer service, so East Coast Kemiko was a nice surprise.
Although we showed up at his store 15 minutes before he closed on a Friday before a holiday weekend, Andrew took his time telling us all about the product and how to use it.
We will definitely be going through this company again for future purchases.
If you're in the DC or Baltimore area, I highly recommend East Coast Kemiko!
PS. If you like affordable solutions, come back next week to learn about a cool countertop resurfacing product! You've probably never heard of it AND you get to use a blow torch. Plus GLITTER!!!! Surely glitter and a blow torch have you intrigued! Click here to learn more.
See the Final Room Reveal Here!
DIY Stained Concrete Floor
Scroll to the bottom for printable instructions.
Acid Stained Concrete Precautions
All concrete is different. Full concrete slabs take about 6 weeks to fully cure. Since we only used a thin concrete resurfacing product, it cured in 24 hours. The full tutorial for resurfacing a floor is here.
When using Kemiko, you have to follow the directions!
Do NOT use muriatic acid to clean the concrete! If you use muriatic acid, the stain won't work.
The stain is an acid-based stain, so take precautions for that. Wear gloves and rubber boots when working with it.
See the results of staining an old concrete floor here.
Supplies Needed
This post contains affiliate links. By purchasing an item through an affiliate link, I earn a small commission at no extra cost to you.
Cleaning the Concrete
Even though our concrete was brand new, it had to be cleaned. Concrete is made from dirt, after all.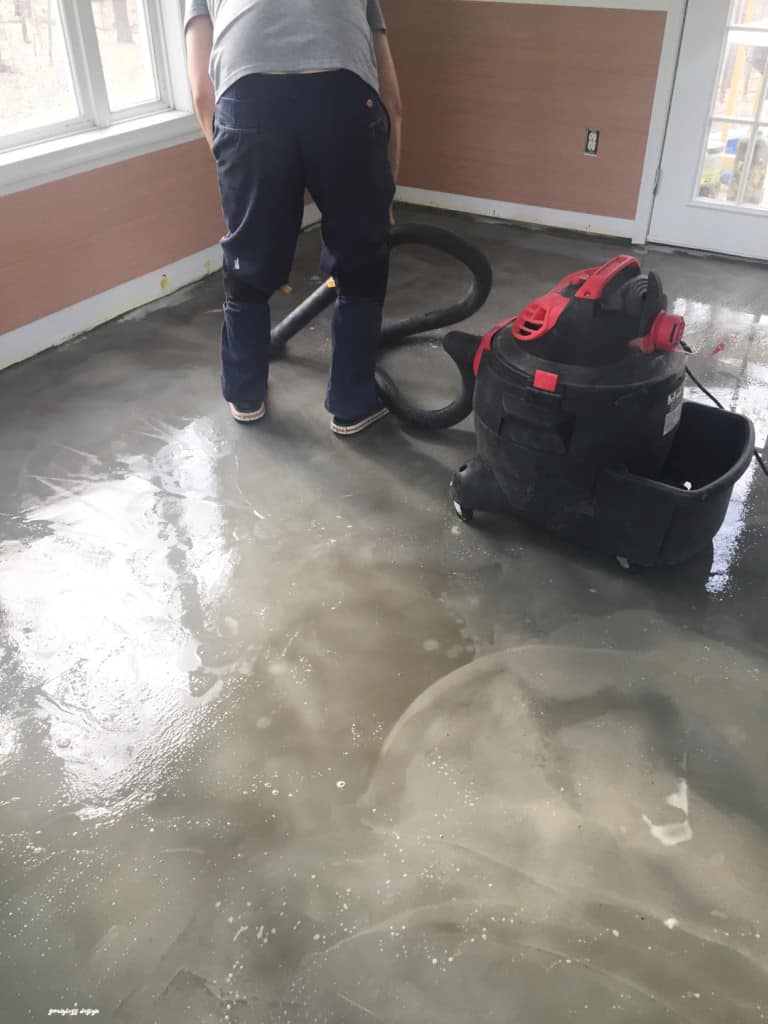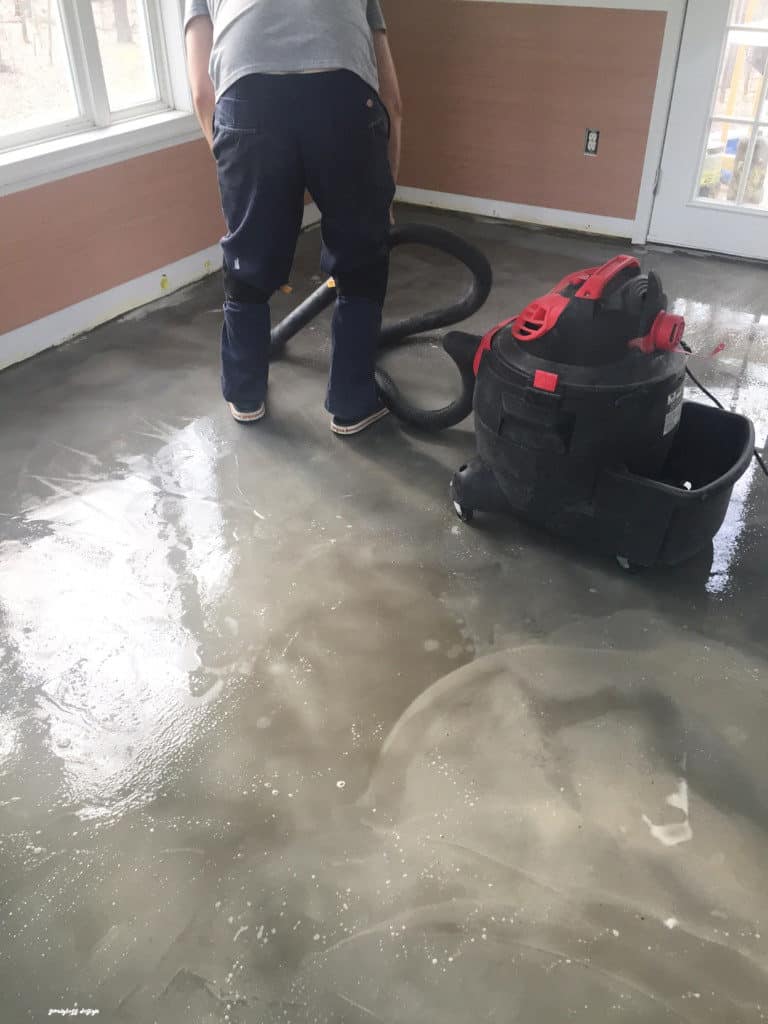 We filled the plastic sprayer with a mixture of half neutra-clean and water. Then we wet the concrete floor with it and then sprayed it with water. We used a push broom and scrubbed the concrete surface clean.
Once, we felt the floor was clean, we used a shop vac to suck up all of the water. We repeated the process, with less soap and more water.
Then I mopped it just to be sure it was super clean. Use a shop-vac to suck up all of the water again. Then we turned on the fans and let the floor dry.
This process goes a LOT faster than you would think.
How to Stain Concrete
***The stain is acid, so please take necessary precautions. I wore gloves and rubber boots to protect my skin.***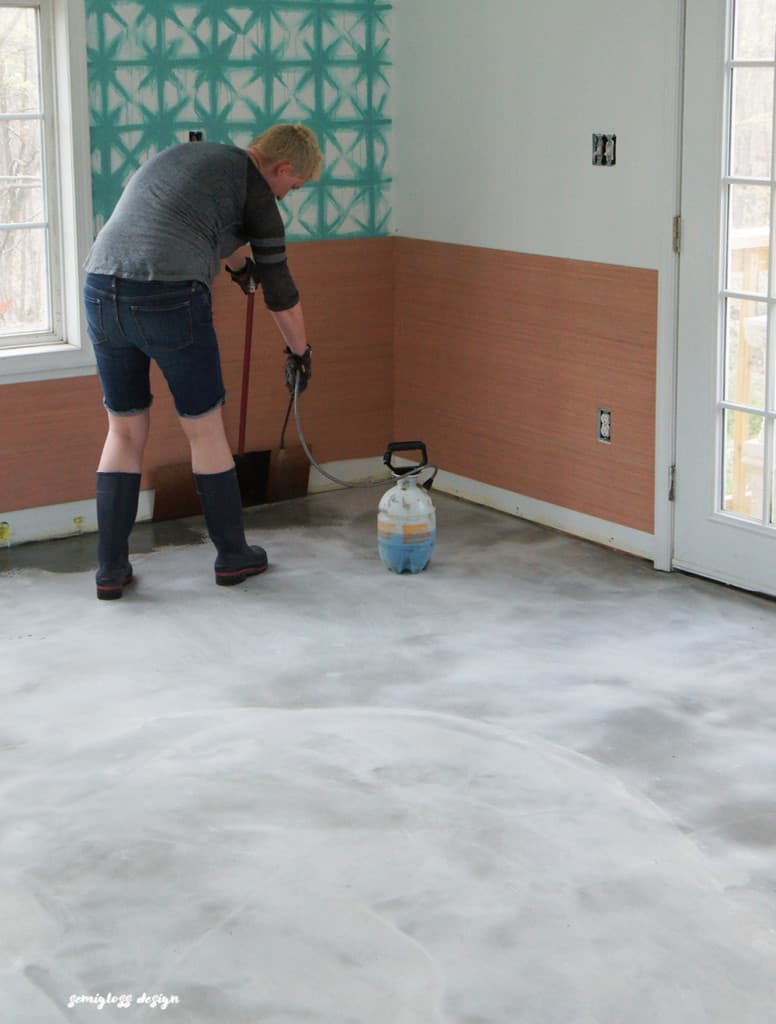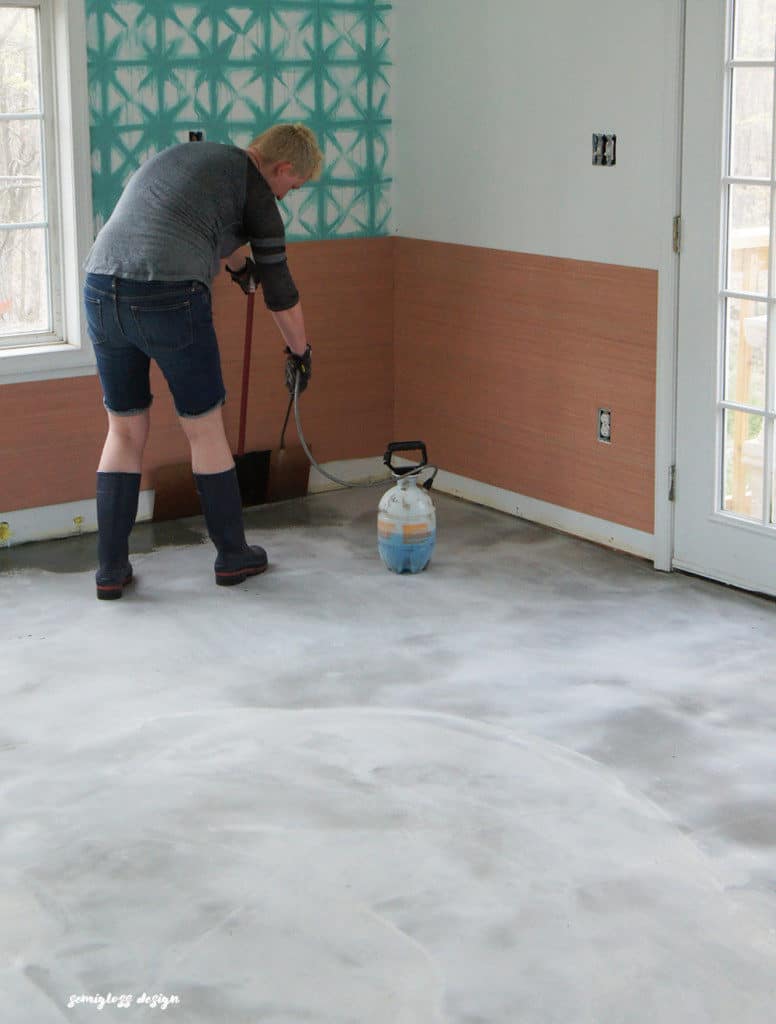 Once the floor was dry, it was time to stain. My husband made me a nifty contraption to protect the walls from the stain using a piece of cardboard and a paint pole.
Using a plastic sprayer, we mixed the stain at a 1:1 ratio with water. I sprayed the edges of the room first and then went back and sprayed the rest of the room, one small section at a time.
The reaction is immediate and magical to watch. It bubbles a bit and turns fun colors.
One bottle was just enough to finish this room.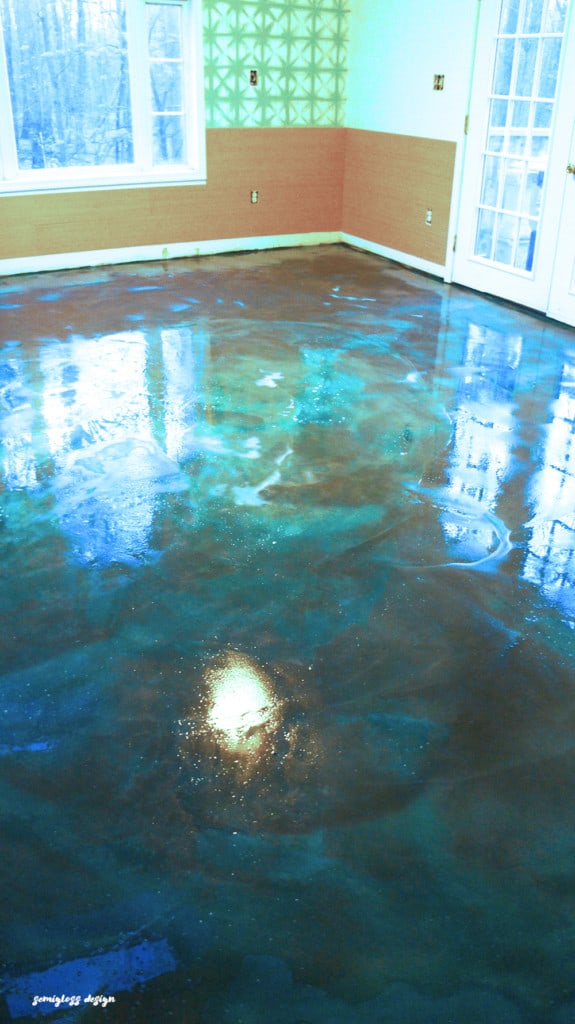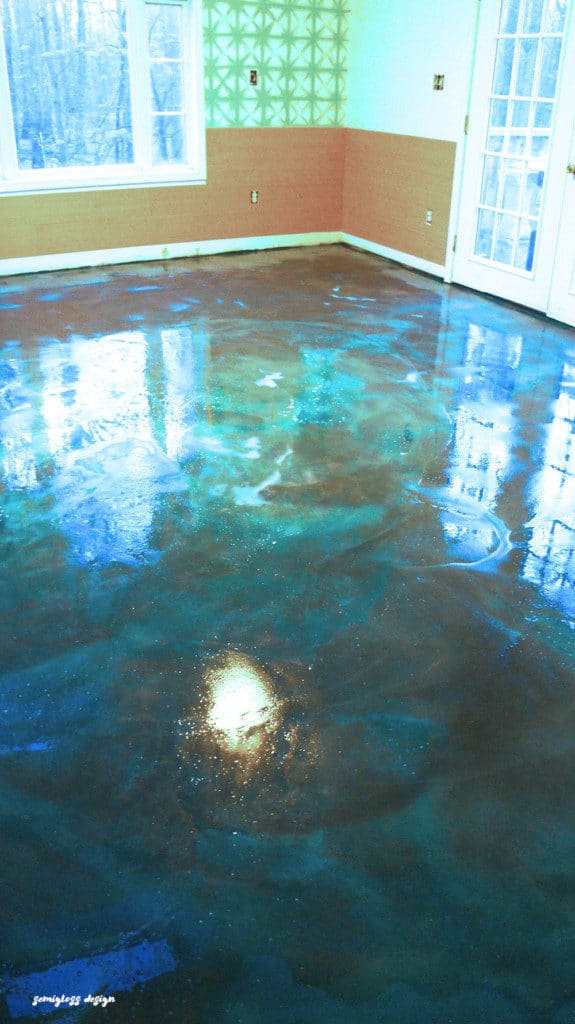 Let the stain dry. This process took a lot longer than we thought it would.
We let it dry overnight and most of the next day. The stain pooled in low spots on the floor, so those spots ended up a lot more vibrant.
Note: During application, it still got on the walls. Everything still had to be painted at this point, so I was okay with it.
Plus, we had no baseboard on yet. I have since painted over the lower portions of the walls with no weird reactions.
Cleaning the Concrete (Again)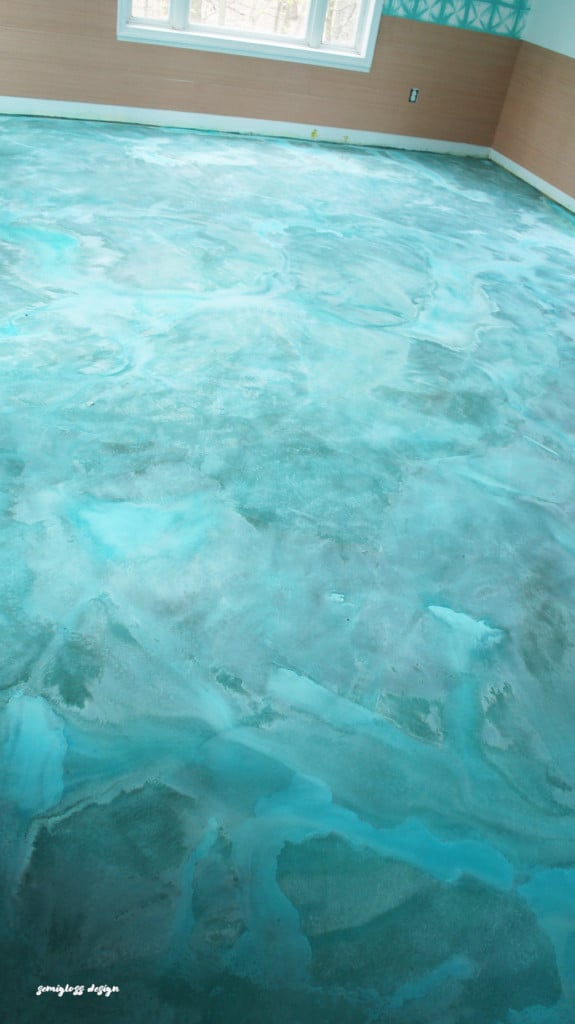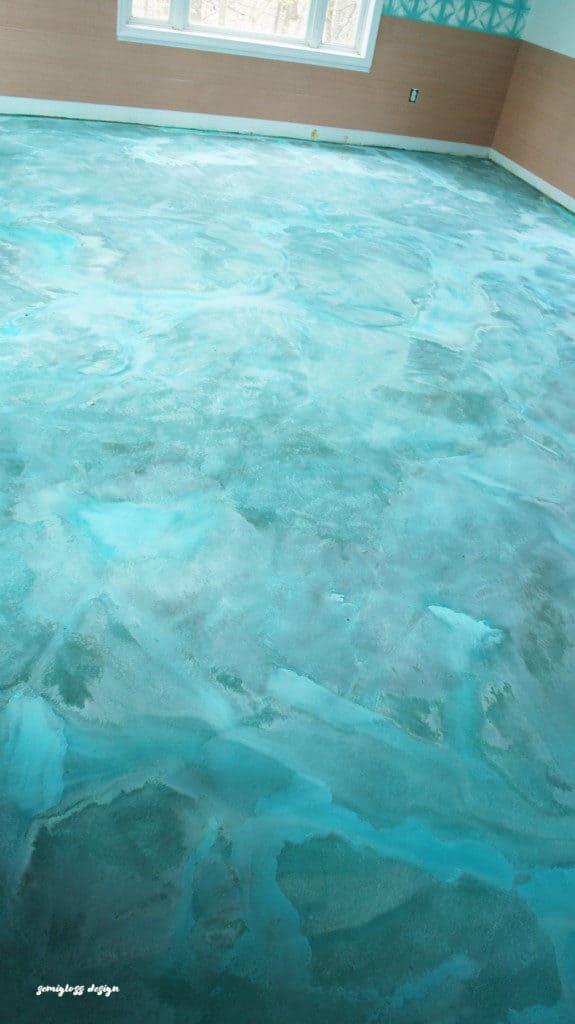 Use the same process for cleaning as before, but this time, your water will turn blue (or whatever color of stain you chose.) Spray the soap, add water, and scrub.
Vacuum up the water with a shop vac. Repeat until the floors are clean.
You should be able to wipe the floor with a white rag without it not turning colors.
Let the floor dry completely.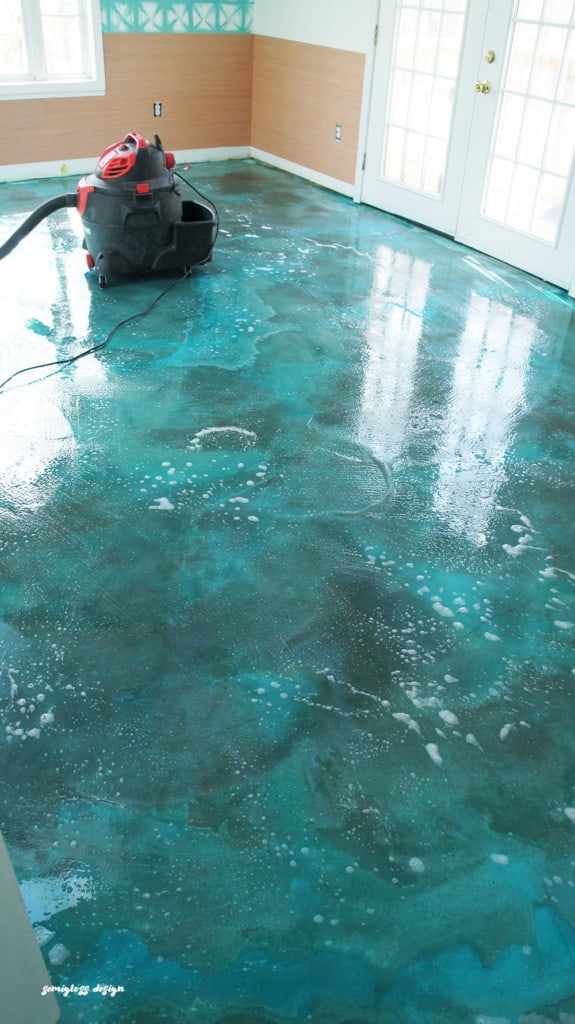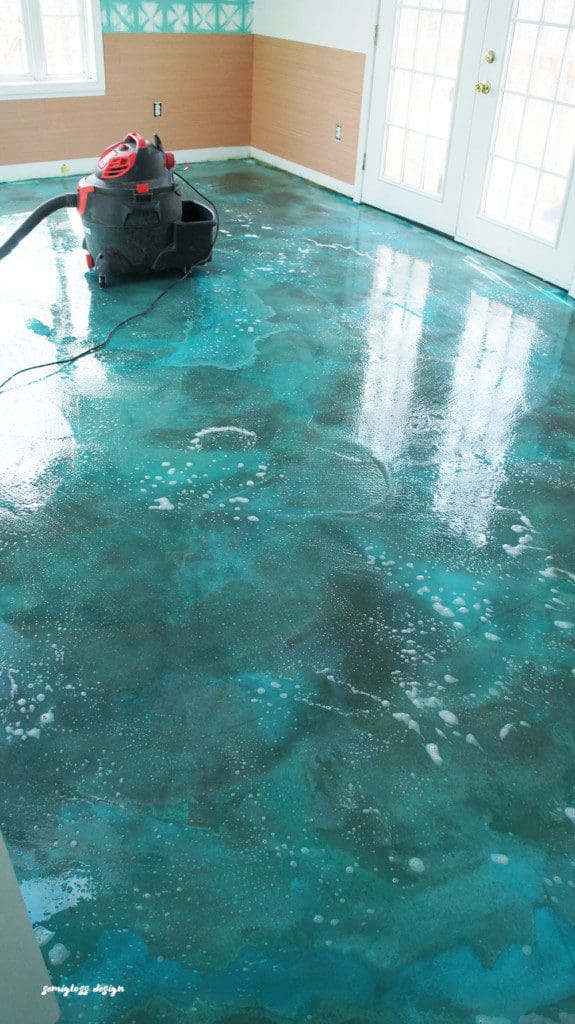 The color of the floor when wet is the color that your floor will be when sealed.
If the color is not dark enough at this point, add another layer of stain and clean it again.
We were in *LOVE* with the color and might have sung love songs to it.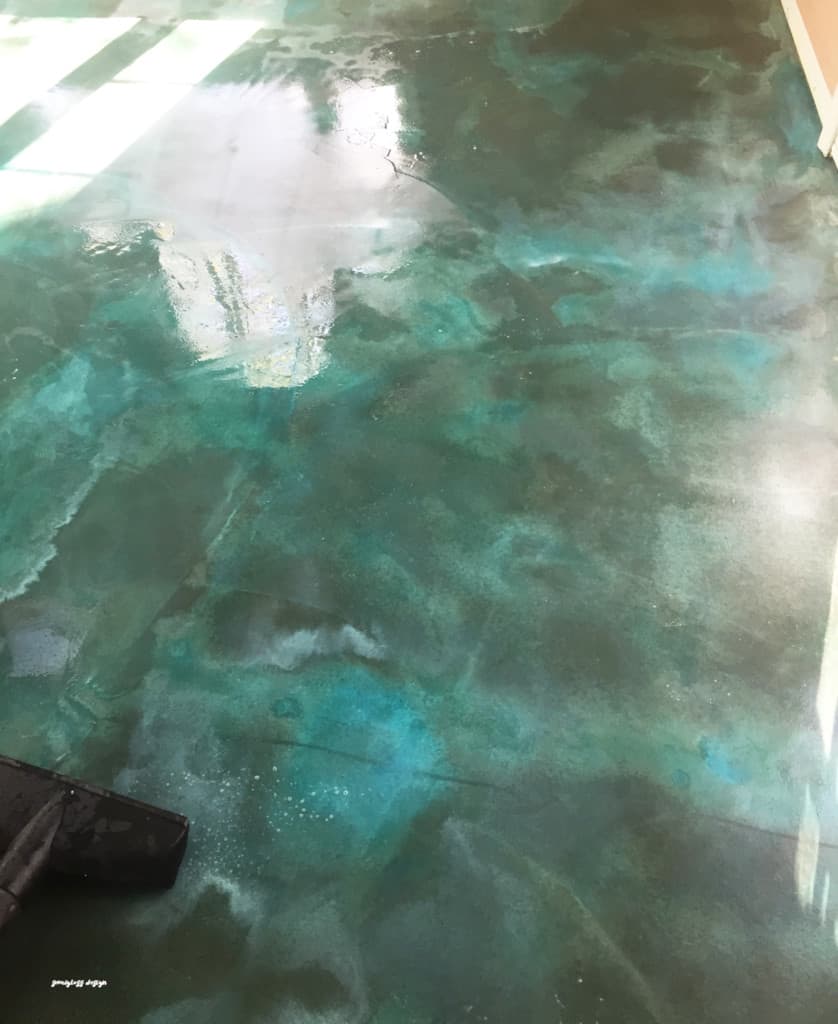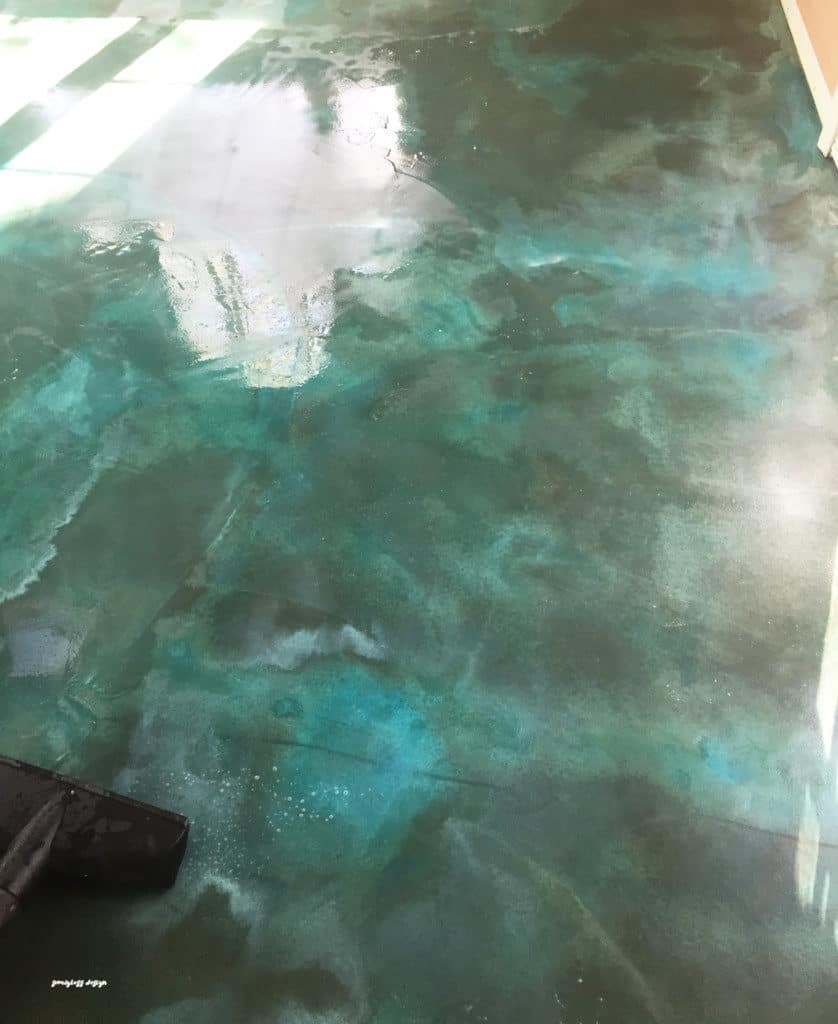 Sealing the Stained Concrete Floors
Although the super shiny floors make my heart sing, this room goes out to our pool so we often have wet feet when entering. Slipping was a concern.
If we use a concrete stain for our basement, we will consider a high gloss finish.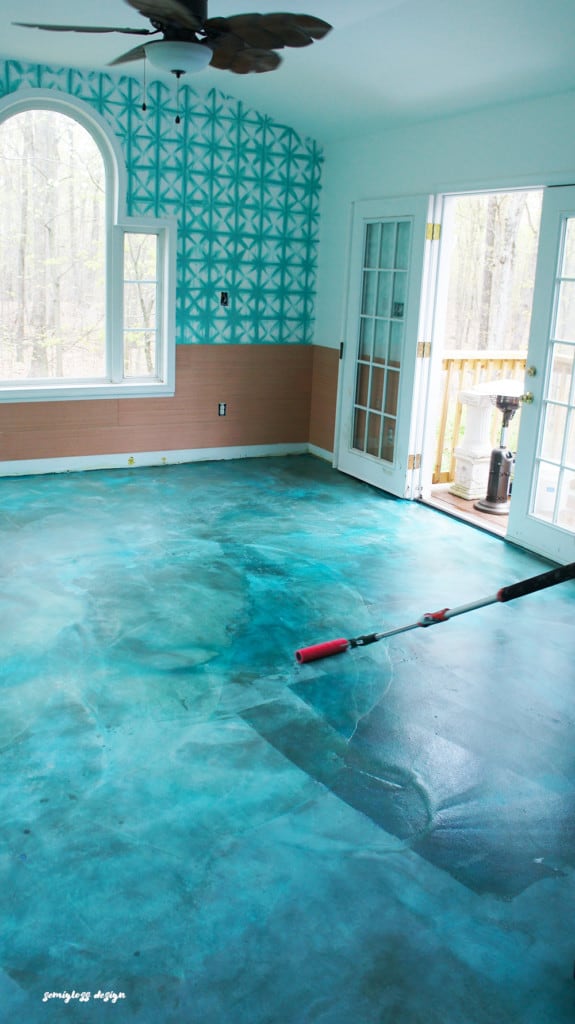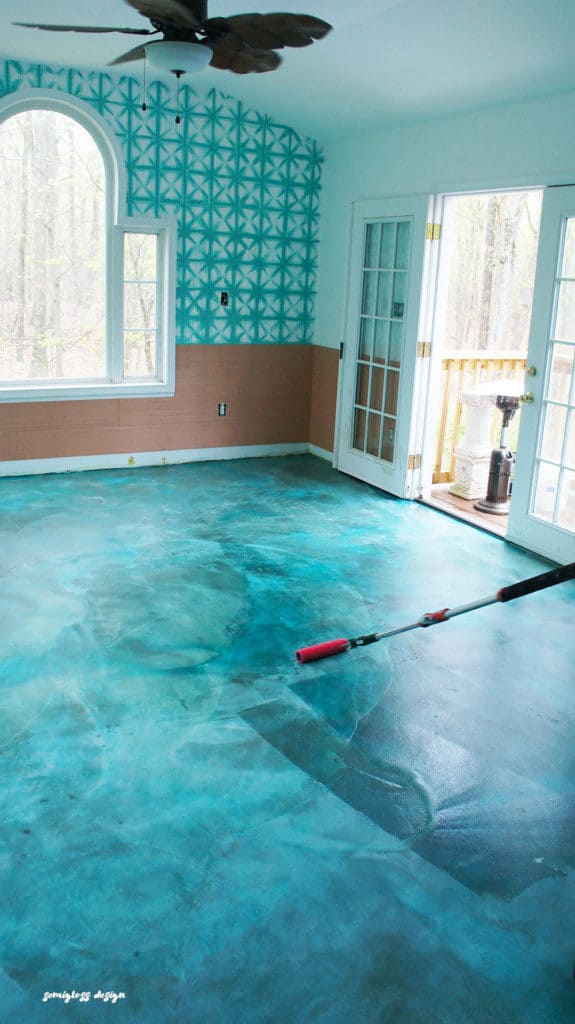 I chose the Clear a Thane in Satin for our floors. There is still a sheen, but it's subtle.
It's a little more slippery than I hoped, but man do they look amazing!
Applying the stain was super easy as well. If you have ever painted a floor, you know that it goes fast! And this was no exception.
Using a paint roller and roller handle, my husband painted on the sealer.
He had to use a brush in small areas, but 95% of the floor was done with a roller.
When it was dry, we applied a second coat.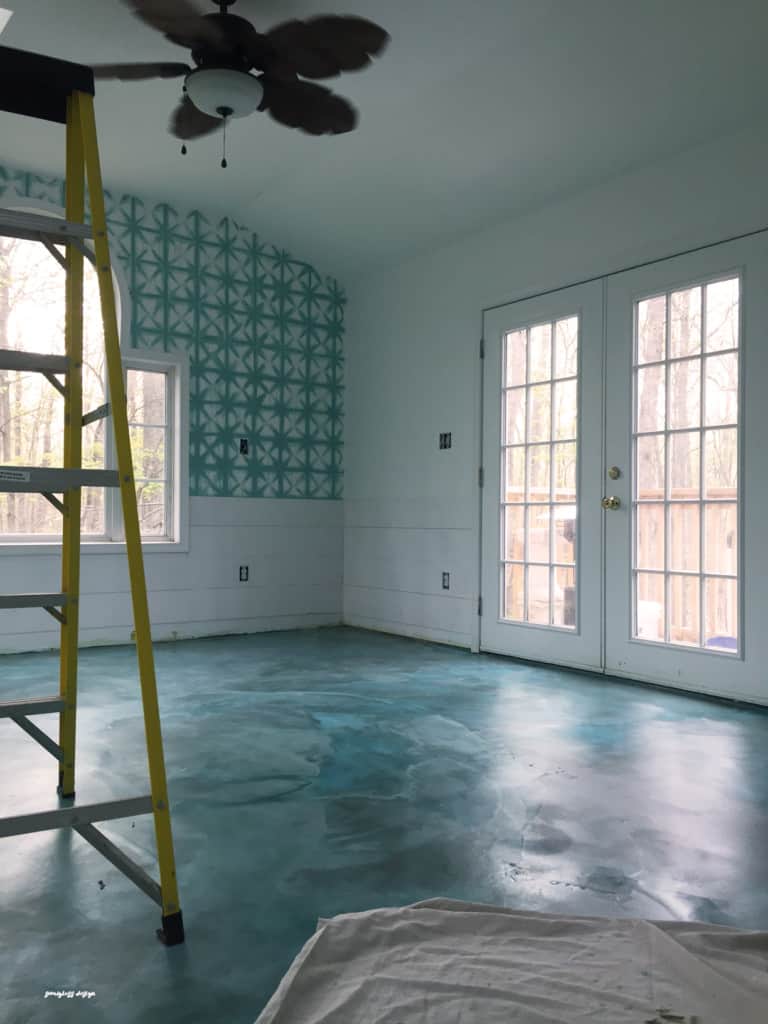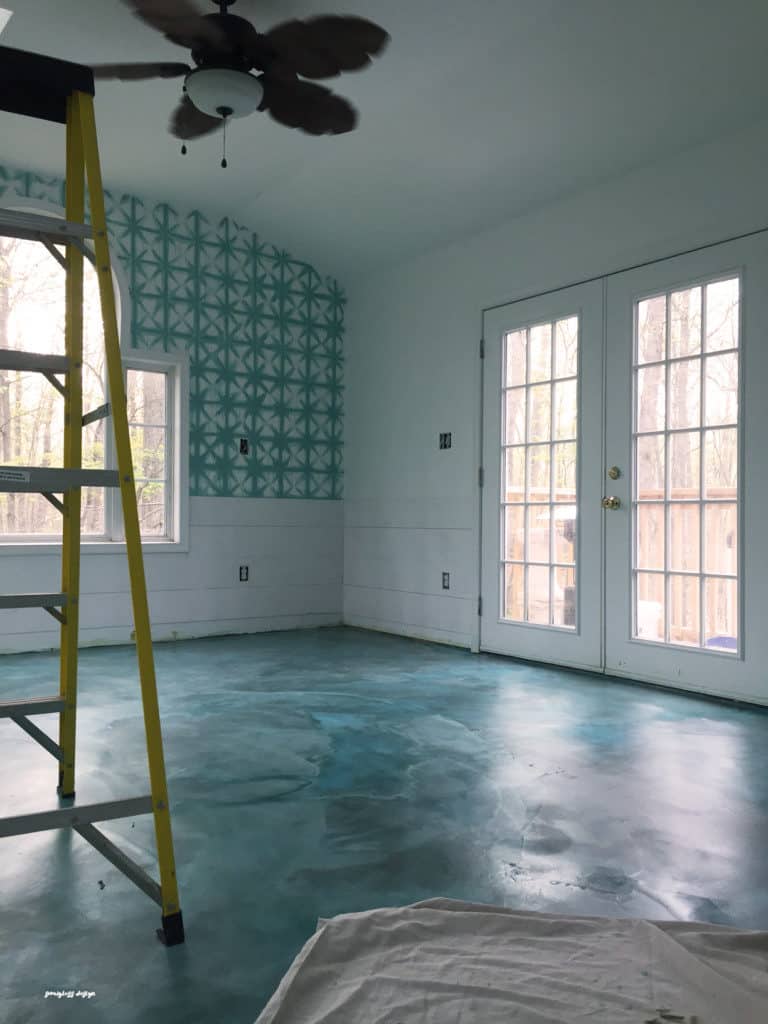 It dried to the touch in 2 hours, and in 4 hours we could walk on it. By the next day, I was able to get back in there and finish the walls.
Overall Thoughts on Staining Concrete
Kemiko Stain was so much fun to use. DIY stained concrete is the easiest DIY that we have ever done, with the most amazing results.
Ease of Use: 5 out of 5
Price: $130 compared to an estimated $500 for tile. (Roughly $ 0.50 sq. ft)
Time: It took longer to dry than we spent working on the floor. Work time was about 4 hours. Definitely doable in a weekend.
Will we use it again? Definitely. The cost and ease of use make us want to use it everywhere. We resurfaced our front porch so that we could use it there as well. We're also considering it for the patio of our dreams that we want to build.
Edited to add: We also stained our basement floor and LOVE the results.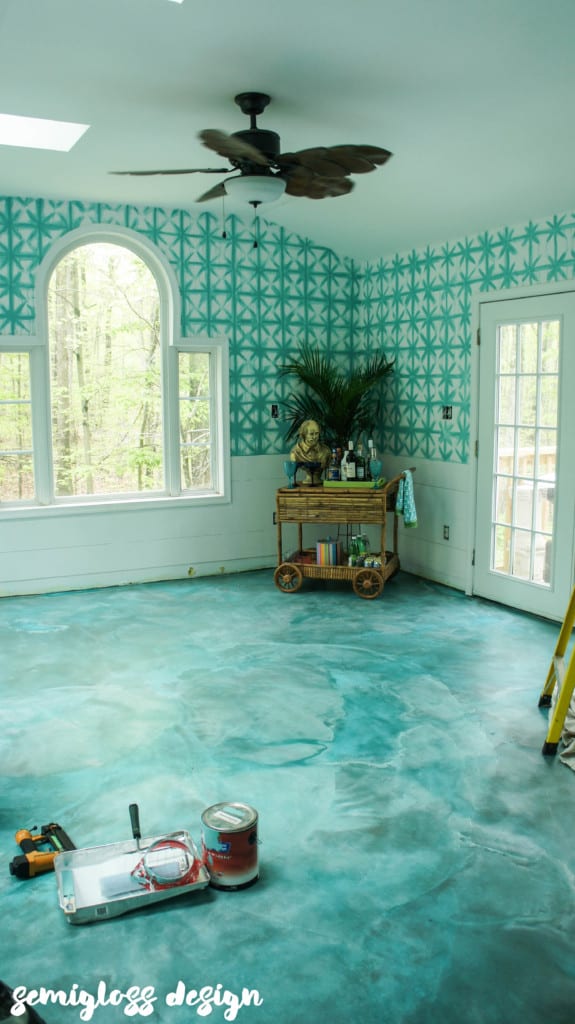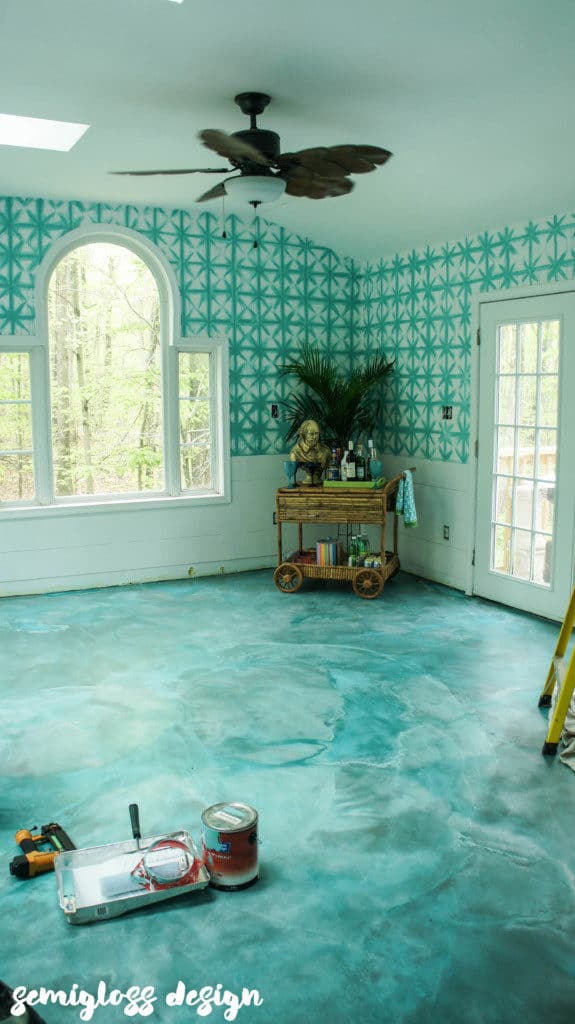 This aqua floor is my dream come true. Mermaid floor dreams, that is. 😉
Edited to add these photos. The color seems to change with the light. Still love these floors!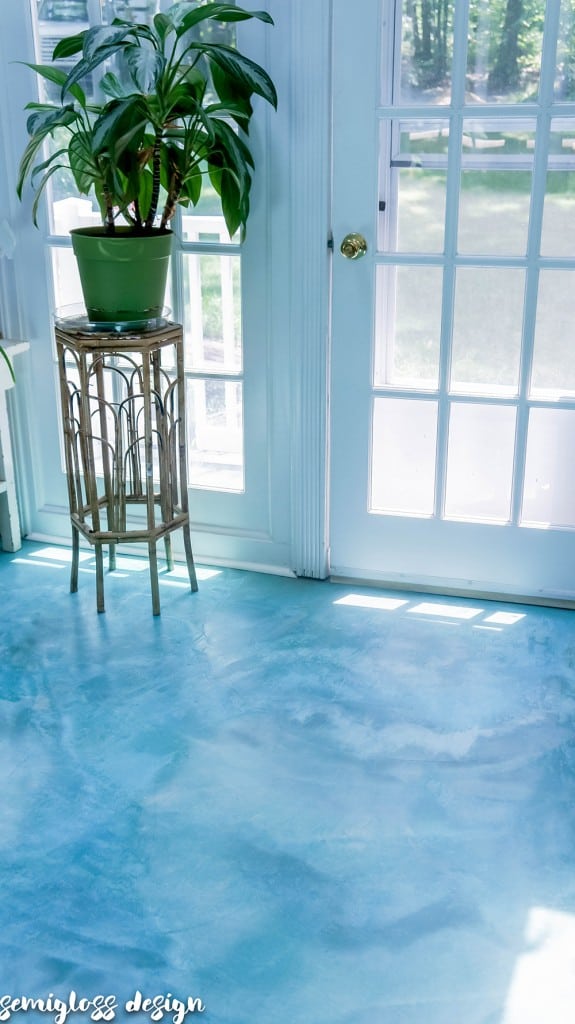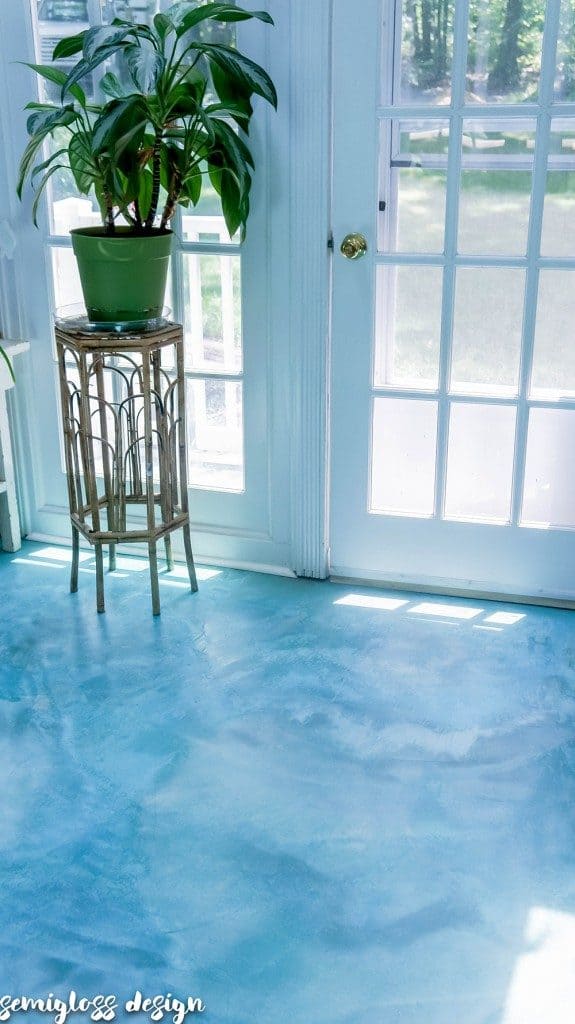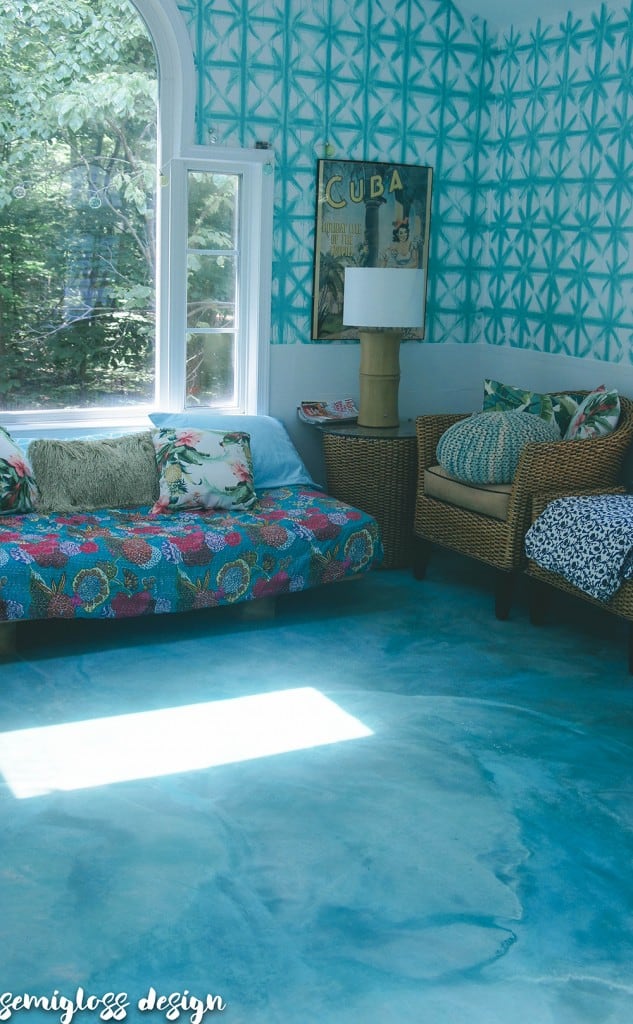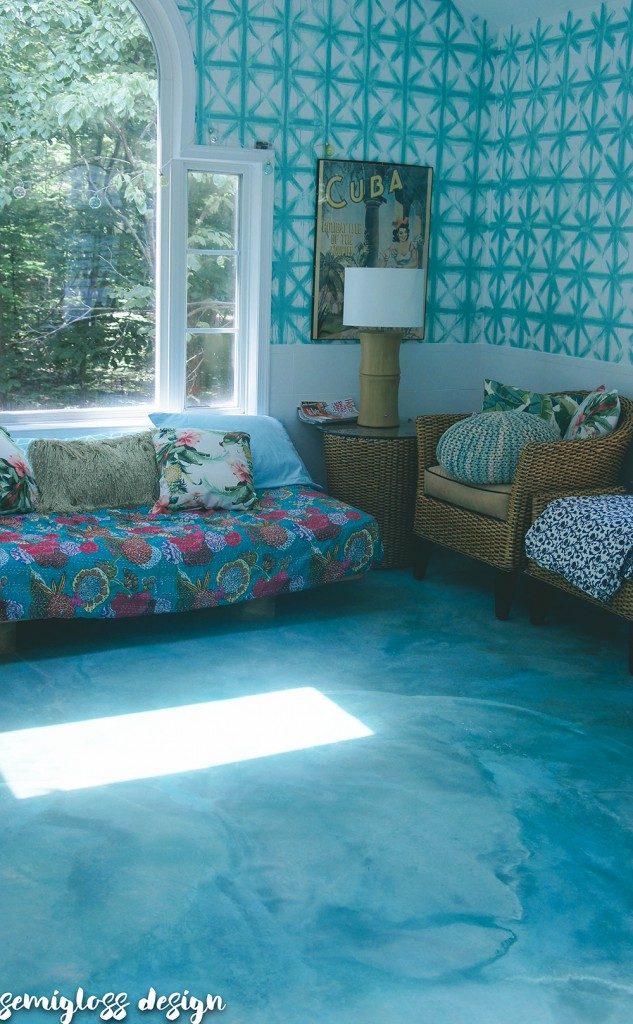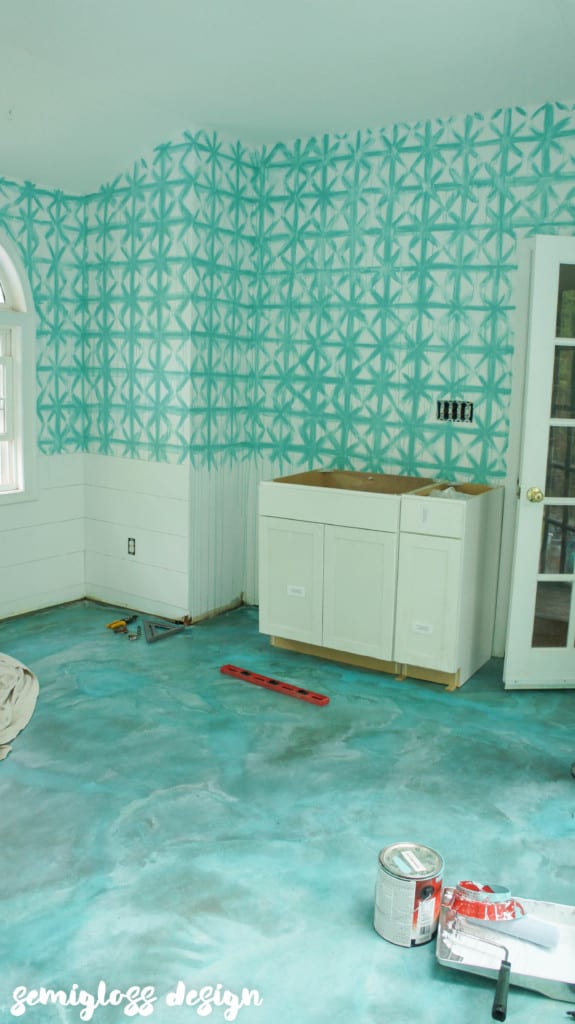 This post was part of the One Room Challenge. I linked as a guest participant.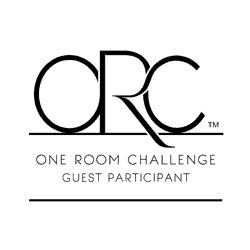 If you liked this post, next week, I will be sharing a super fun affordable way to update/make kitchen countertops. I cannot wait to share this source because I am so excited to use the product!
Stained Concrete FAQs
Does Stained Concrete Last?
Acid-stained concrete is permanent. It soaks into the floor, unlike paint that sits on top. There is no flaking.
Update: After 2 years, my stained concrete floor looks just as amazing as it did the day we finished. The room gets heavy use in the warmer months. We have seen no damage from our dog's nails either.
Last update: We sold this house in the summer of 2021 and the floor still looked amazing. The color was still beautiful with no chipping.
Is stained concrete expensive?
DIY stained concrete is very affordable. We spent less than $200 on a large room. Try finding tile that cheap!
Can you stain old concrete?
It depends. If you've owned your home since it was built, you probably have a better idea of what kind of cleaners have been used on it.
If you bought your house from someone else, it may have been cleaned with muriatic stain, which prevents the stain from soaking in as well. You can read more about our experience with staining our garage floor.
In our experience, it has been better to stain new concrete.
Is stained concrete slippery?
We specifically chose a less glossy finish to prevent slips. We walk in this room with wet, bare feet all the time and have had no issues!
Glossy finishes will be more slippery.
Does concrete sealer darken concrete?
The sealer we used just deepened the color in our stained concrete. In our garage, it didn't darken the floor at all.
Be sure to check out how we stained our basement floor!
Yield: 1
The Beginner's Guide to DIY Stained Concrete Floors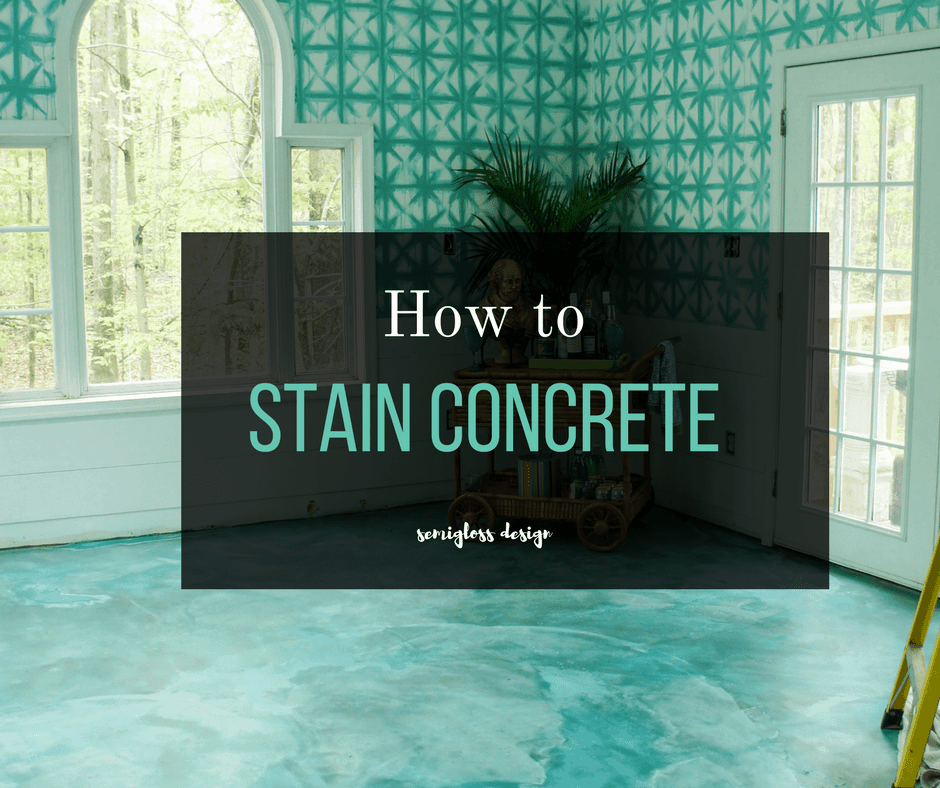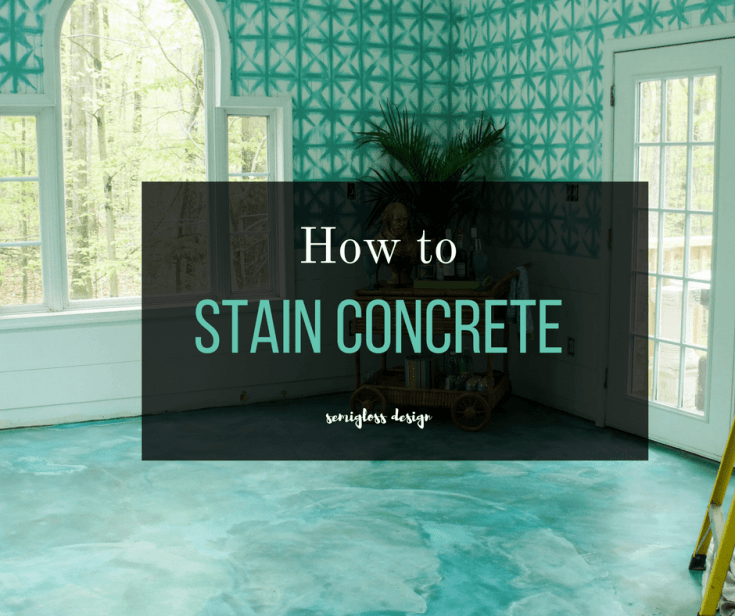 Learn how to stain concrete floors with acid stain. This affordable DIY project is perfect for homeowners who want a unique floor without spending a fortune.
Total Time
2 days
5 hours
Materials
Neutra-clean
Push broom
Kemiko acid stain in Aqua
Paint brush
Mohair roller
Clear-a-thane sealer
Tools
Shop Vac
Water hose
Extension pole for roller
Plastic sprayer
Instructions
Spray the floor with a 1:1 ratio of water and Neutra-clean in a plastic sprayer.
Spray the floor with water and scrub it with a push broom.
Use a shop-vac to remove any water.
Repeat the process until the floor is clean and remove as much water as possible.
Let the floor dry completely.
Spray the floor with a 1:1 ratio of water and stain.
Let the floor dry.
Clean the floor again using a 1:1 ratio of water and Neutra-clean.
Spray the floor with water and scrub.
Use a shop-vac to remove the water.
Repeat the cleaning steps until you can rub the floor with a white cloth and no color rubs off.
Let the floor dry completely.
Seal the floor with Clear-a-thane. Use a paintbrush to paint the edges of the room first.
Then use a mohair roller to cover the rest of the floor.
Let it dry and apply a 2nd coat of Clear-a-thane sealer.
Notes
Dry time varies due to humidity and weather.
Recommended Products
As an Amazon Associate and member of other affiliate programs, I earn from qualifying purchases.
You might also like:
Pin for Later!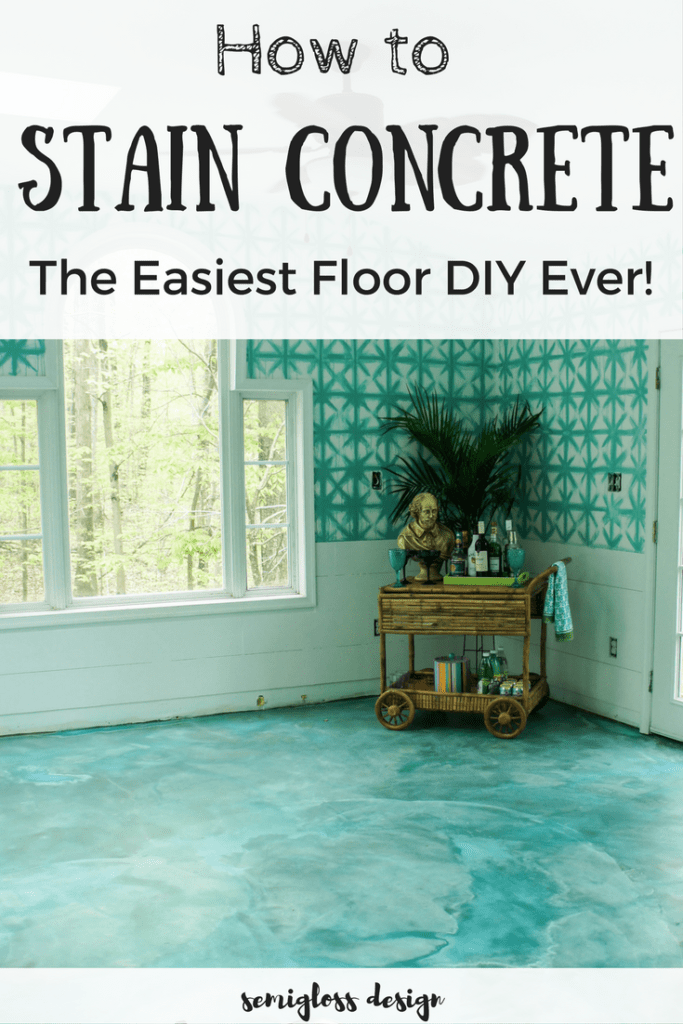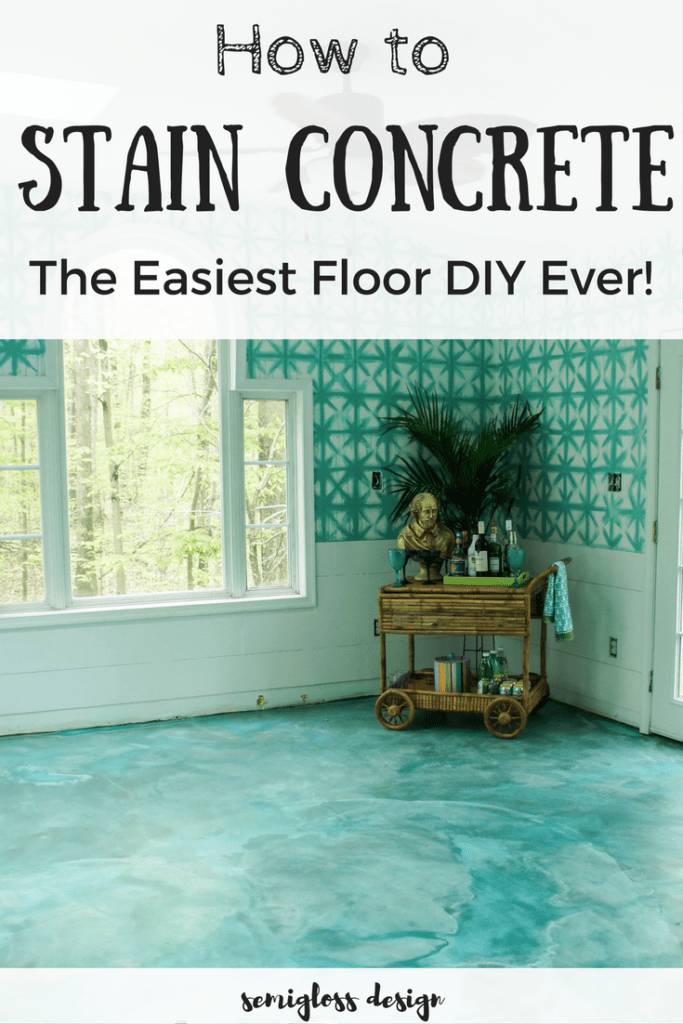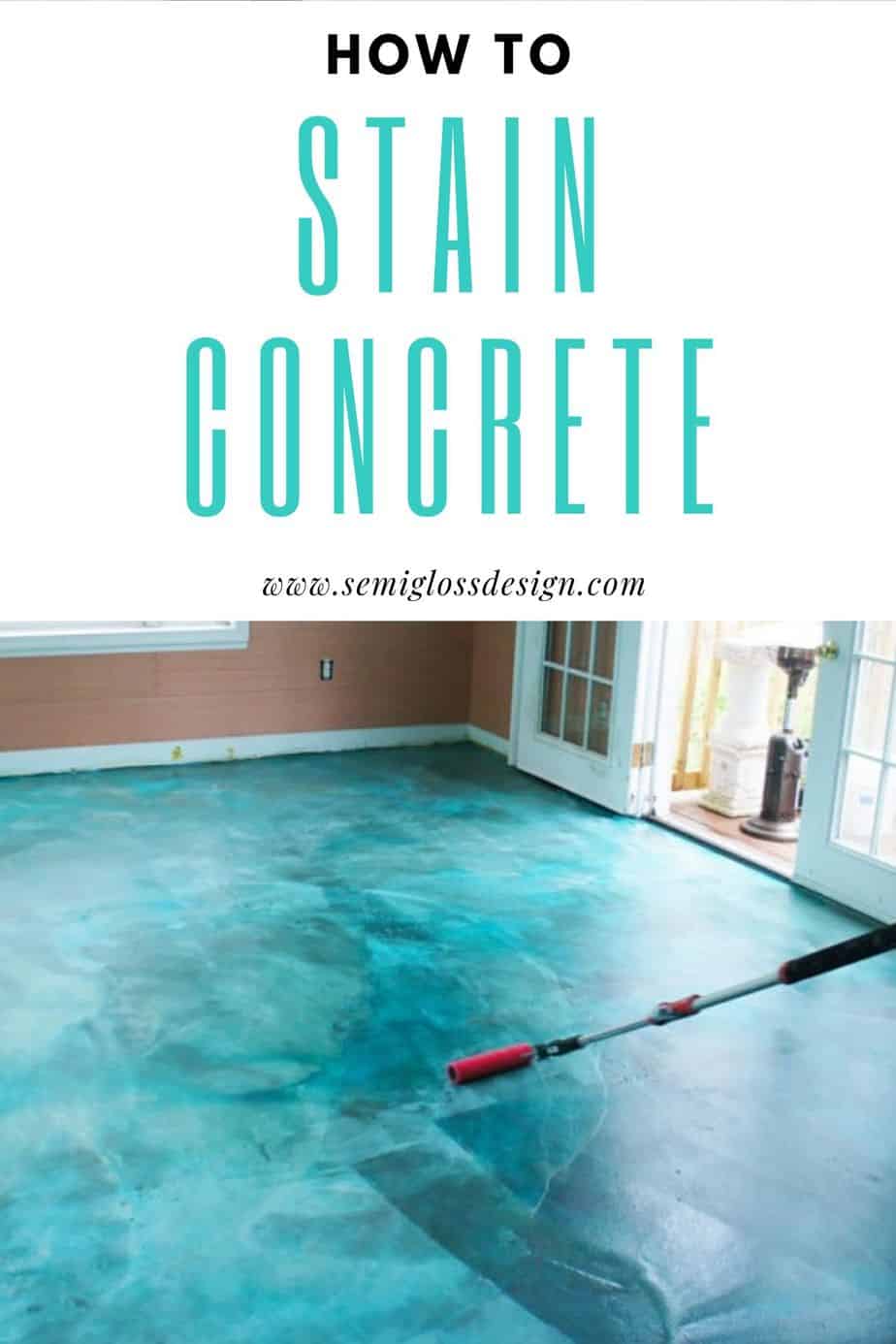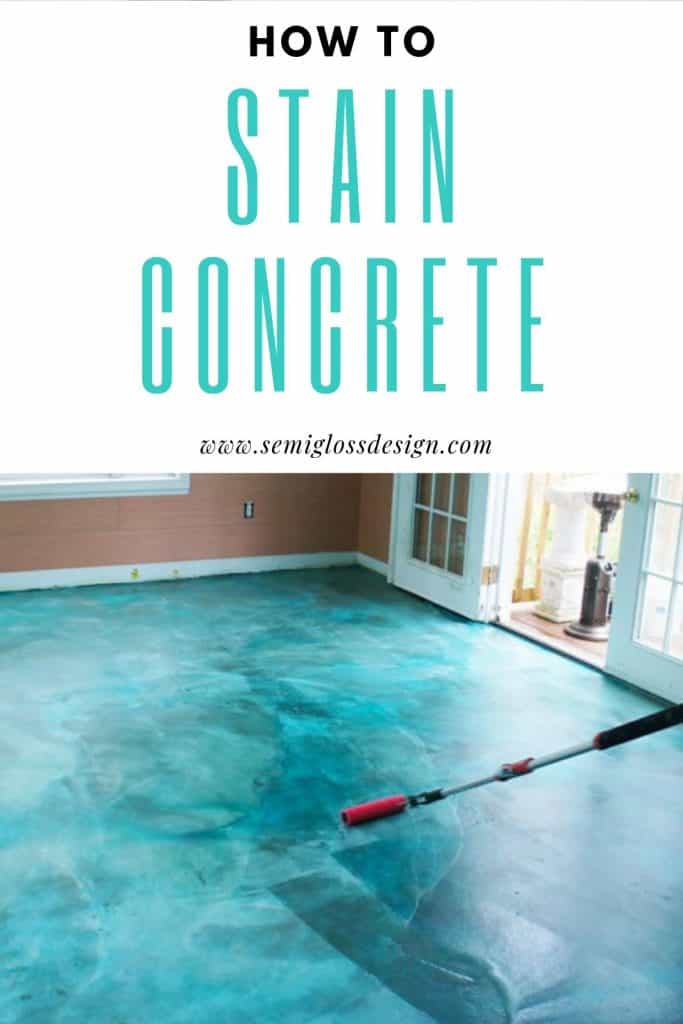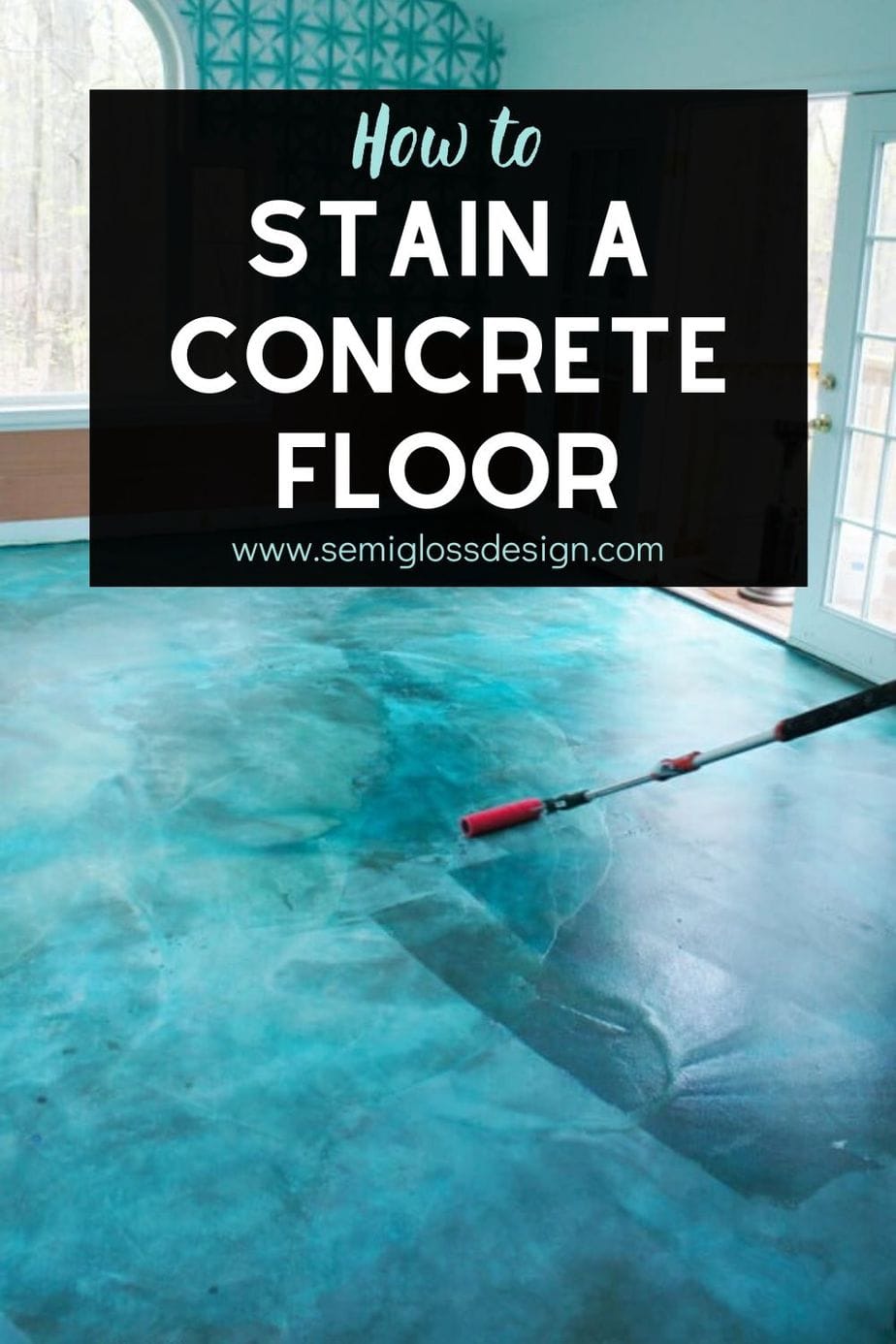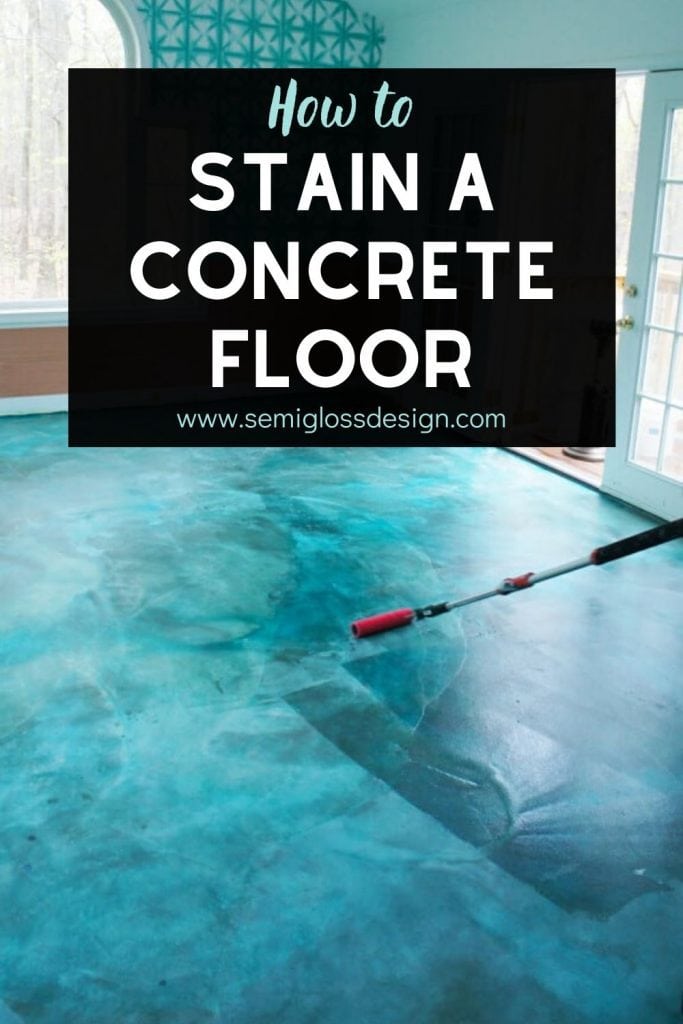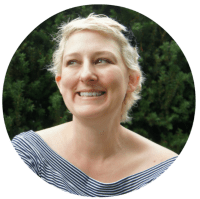 Emy is a vintage obsessed mama of 2 DIYer who loves sharing affordable solutions for common home problems. You don't need a giant budget to create a lovely home. Read more…