How to Paint and Stain Stairs for an Updated Look
Learn how to stain stairs.
It's been forever since I talked about my staircase and hallway makeover. Sometimes life gets in the way of getting stuff done. Other times, the project stumps you a bit. This was a bit of both.
When I last wrote, I shared how we removed the carpet from the stairs and prepped for staining the stairs.
I stained them, but wasn't happy with them. It took a few weeks to decide whether to re-stain them or just paint the stairs.
Unseasonably warm weather convinced me to try re-staining them and I'm super happy with how they're looking.
Today I'm sharing how to paint and stain stairs to make them beautiful, as well as my missteps along the way and what I would do different.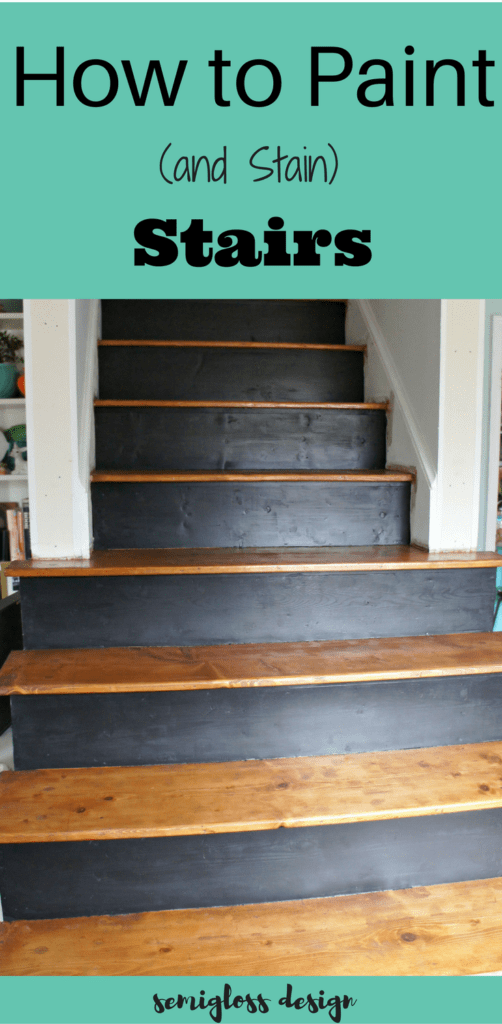 To see the finished results, check out this post: Staircase Renovation Reveal
How to Paint and Stain Stairs
The Order for Refinishing Stairs
In case you are planning a similar project, it's helpful to have a plan for work order.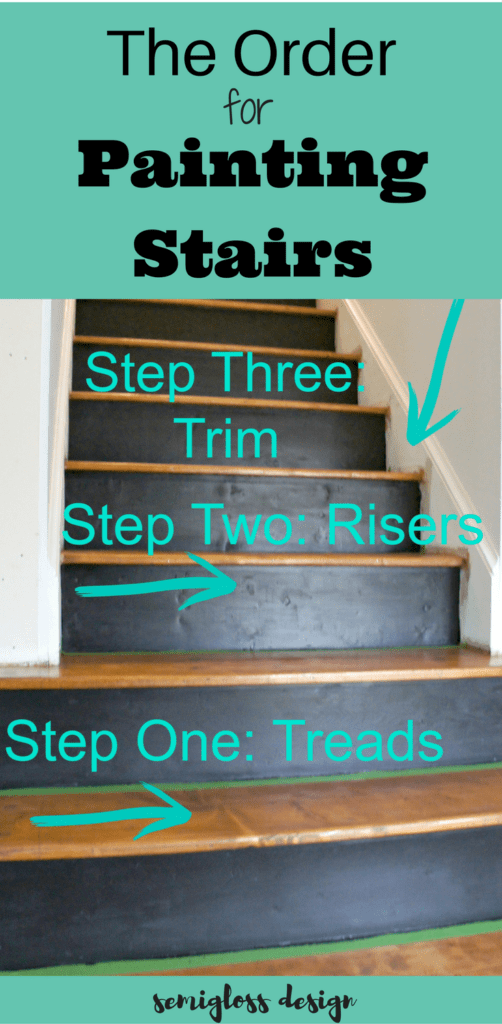 Stain Treads
Paint Risers
Paint Trim (still needs to be done)
Edited to add: See the staircase makeover reveal here!
How to Stain Wood Stairs (Treads)
Supplies Needed
This post contains affiliate links. By purchasing an item through an affiliate link, I earn a small commission at no extra cost to you.
Start with very clean stairs. I vacuumed up dog hair and kept a microfiber cloth with me to wipe away any stray hairs that I missed.
Stain every other stair tread. This allows people to still get upstairs since the stain takes a long time to dry.

Mix the stain well and apply with a foam brush.
Let it sit for a few minutes and wipe off the excess stain with a clean rag or old t-shirt. The longer you let it sit, the darker it will be.
Let dry for about 8 hours before using the stairs. I let my stairs dry for a full day before applying the coat of stain on the rest of the treads. In the picture, you can see where I considered staining the risers as well. It was also an easy way to see the color of the stain from far away.
Protect the Stain Finish on Your Stairs
When all of the stairs are dry for a full day, apply a clear coat of poly. I used a satin water-based poly so that it won't yellow over time. It goes on milky, but dries clear. It was fully dry after about 2 hours, but this will vary depending on the brand you use. The poly protects the wood, but also enhances the wood's beauty.
Apply a second coat of poly if desired. I'm installing runners on my stairs, so I skipped the 2nd coat.
To remove stain from your hands, wash your hands with a bit of olive oil mixed with soap. Add sugar to the mix if it's really bad. Not only does this make your hands soft, it removes all of the oil based stain from your skin. This also works for spray paint! Check out this DIY hand scrub!
How to Paint Stairs (Risers)
Supplies Needed
If you're paining the risers white, please read my guide on how to paint furniture white. It's the same concept for stairs and other wood projects. If your stairs are pine, they WILL bleed through, so take precautions to avoid ruining your hard work.
Tape off the stained treads. I only taped the bottoms because I'm decent at cutting in at the top. If that makes you nervous tape the top too. If your trim needs to be repainted, don't worry about taping it off either. After you apply your tape, rub the edges well to create a seal.

Use primer if you're painting the risers white. Pine has knots that will bleed and make your white paint yellow. I recommend this primer because it's the best. It's a bit stinky, but not horrible. Use a chip brush and clean it with household ammonia.
If you're painting the steps black, skip the primer, unless you just like priming. I used Sherwin Williams for HGTV paint from Lowes in Tricorn Black. This paint is so thick and it goes on nicely with 2 coats. I used satin, because it covers well, but it's still cleanable. You can use semigloss, but be prepared to apply more coats. I do not recommend flat paint.
Apply a thin coat, especially at the taped edges. Let dry.
Apply a second coat as needed.                                           
When it's dry, remove the tape, and voila! Your stairs are gorgeous! (Besides the trim…)
If your paint bled under the tape a bit, you can either leave it because it's unlikely to be noticeable when walking on it, or you can gently scrape it off with a razor blade.
Things I Would Do Different
For the prep work, I had filled in all of the gouges and nail holes, and then sanded. If I had to do it again, I would skip the filling part. The stain looked awful on these parts, so I had to re-sand portions of the stairs. On dark surfaces like stain, the holes will not show up anyways.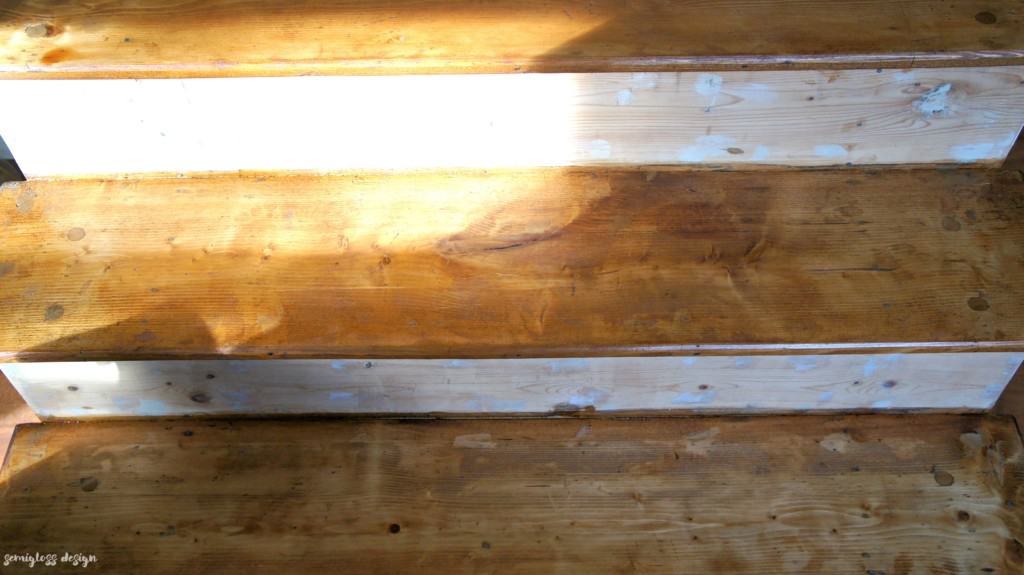 Work in warm weather. I've been working on this project during the winter, so ventilation has been difficult. The last coat of stain was applied when I could open the window and it made a world of difference to the smell and my mood. Plus, it dried faster.
Use the correct stain the first time. I had leftover deck stain that was a pretty color and I thought it would work just as well as it did on the deck. Boy was I wrong. The color looked wrong inside, plus it was so dull and lackluster. I applied a coat of Minwax Special Walnut over the top of it and it added so much depth. It's a million times better now!
Work on low traffic days. Working while the kids were in school worked much better than having to keep them off of the stairs. It worked best if I applied the stain first thing in the morning so that it had all day to dry before they were needed.
Pine stair treads will never be perfect. If that's an issue, for you, save up for more expensive hardwood to use instead. Pine is soft and dents easily. I have a huge gouge from where I threw down a dog bone. Personally, I like the dings because they give it character. Plus, in a house with kids and a dog, I don't have to worry about things being too precious. If it's already a bit beat up, I won't cry when it gets "aged" a bit more.
If weather permits, place a box fan in a nearby window facing outside to blow all of the stain fumes outside. It's not perfect, but it really helps cut down on the smell. The smell was the worst part about the process.
Staining Stairs FAQs
How long before you can walk on stained stairs?
Stain takes about 24 hours to dry, but that can vary due to humidity and other factors.
How to stain stairs and still use them?
I stained every other stair so that our staircase was still usable. It was easier to work on a day where my kids were at school and I started early in the morning to give it plenty of time to dry.
What happens if you don't wipe off stain?
If you don't wipe off stain, it takes forever to dry. But more importantly, it doesn't show as much of the beautiful wood grain. With time, it might start flaking as well. The beauty of stain, is that is soaks in the wood, making it a more durable finish than paint.
Can you stain pine stairs?
My stairs are pine and I stained them. Just understand that pine is a soft wood and will never look perfect. Dents are going to show on pine.
If you're just getting started and need some tips for removing carpet, I can help! It's easier than you think with a few easy tricks and tools.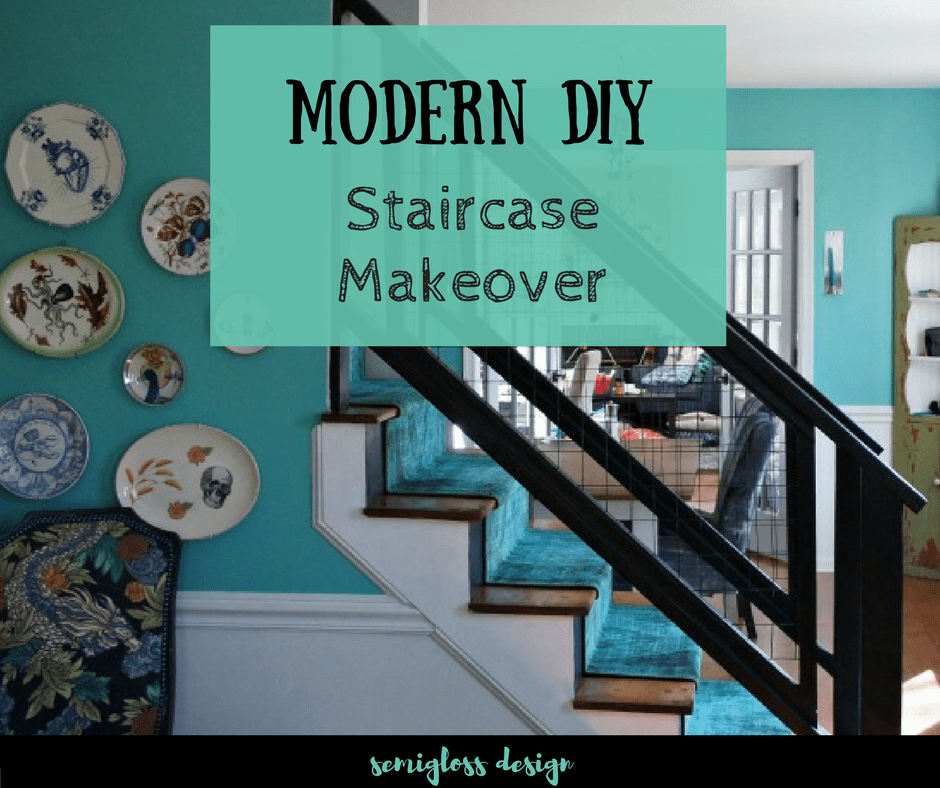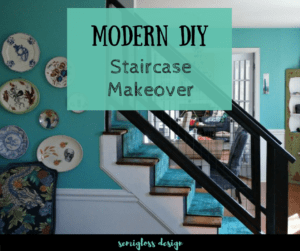 So what do you think? Do you want to paint and stain your stairs?
Related Staircase Posts
Pin for Later!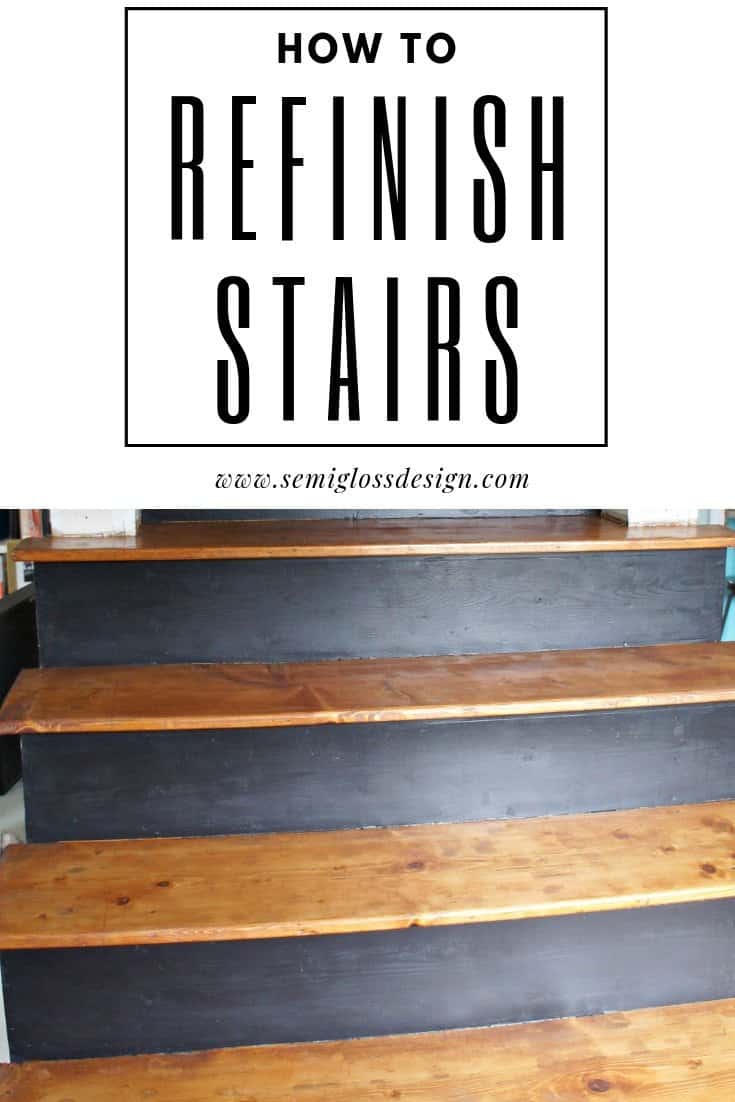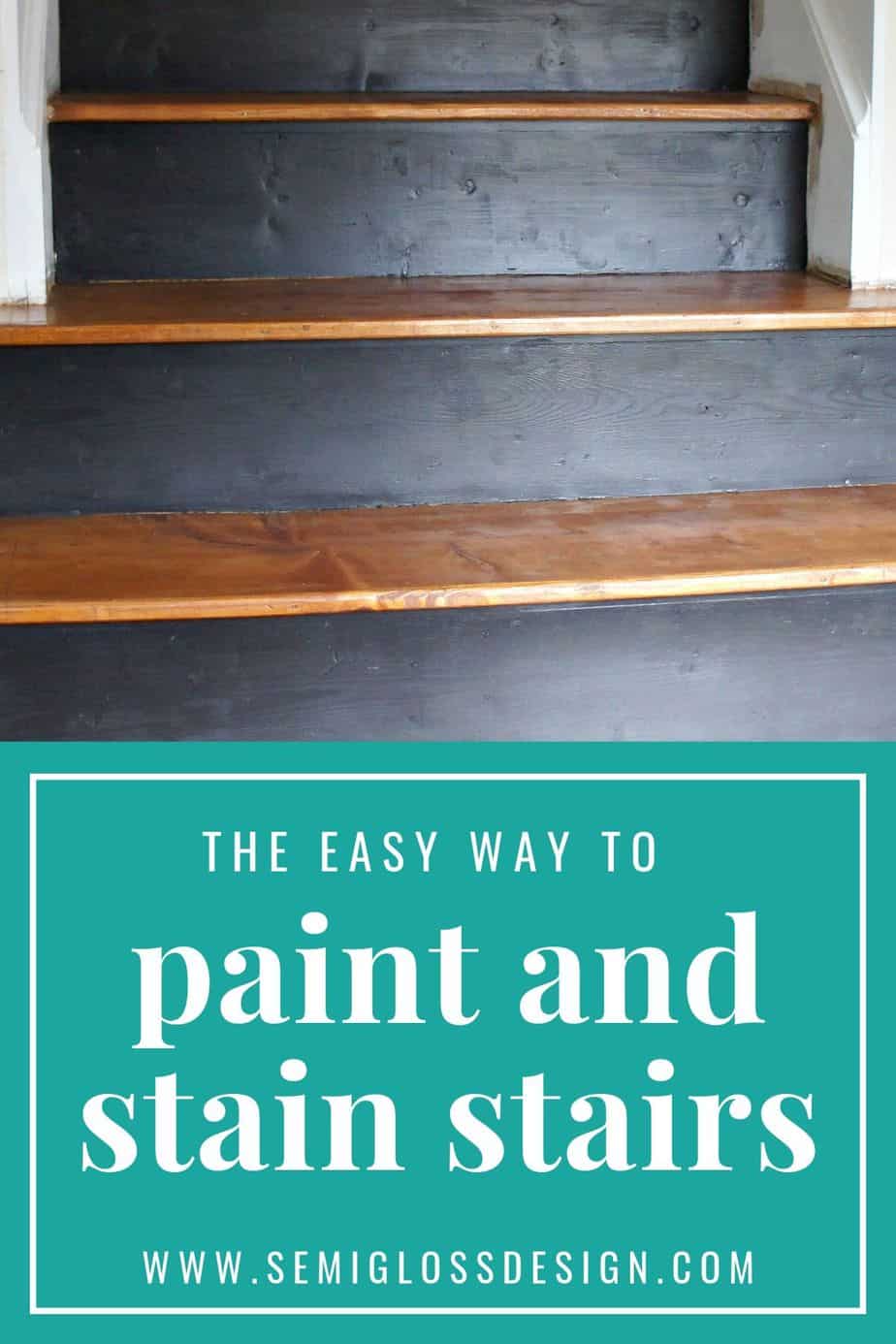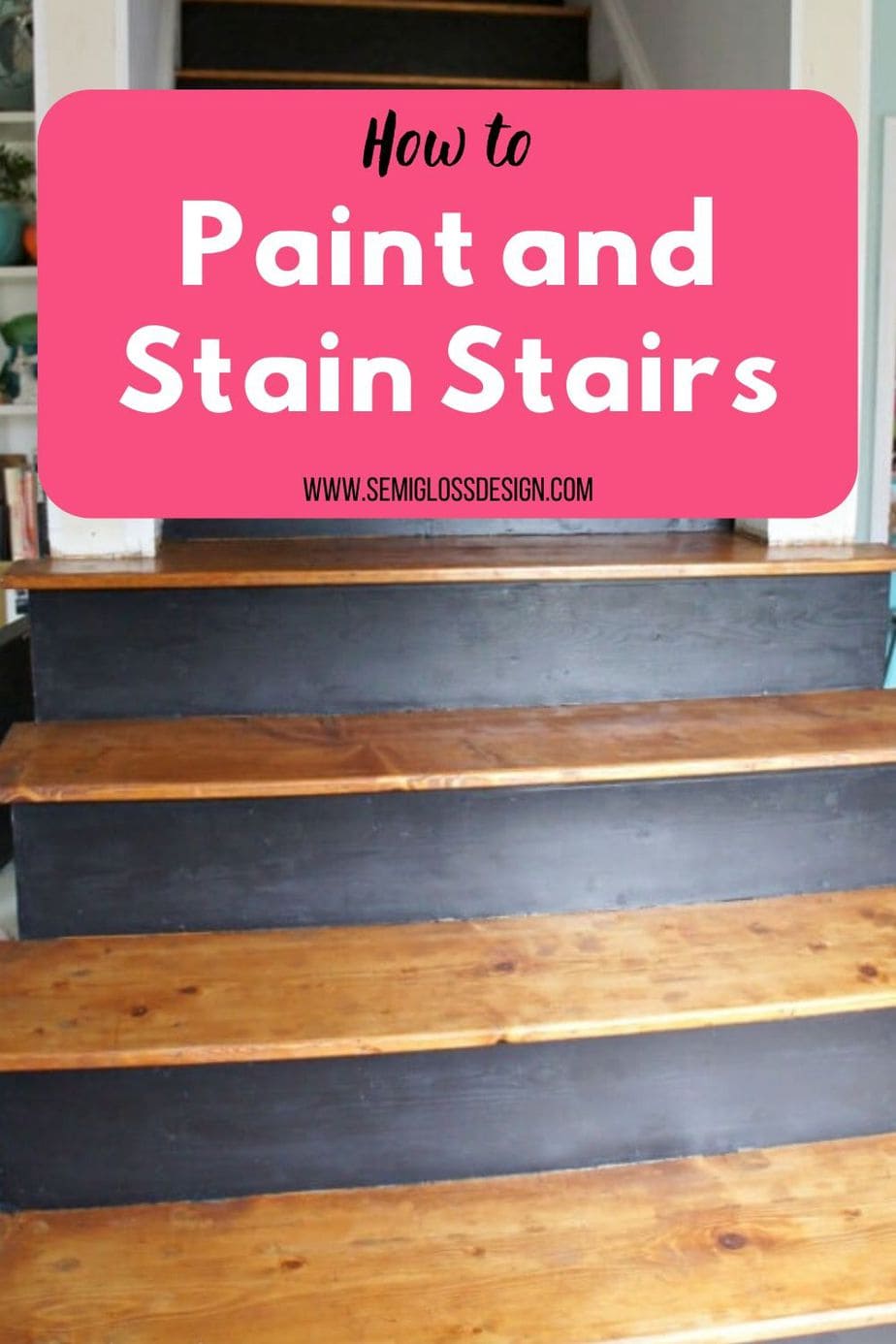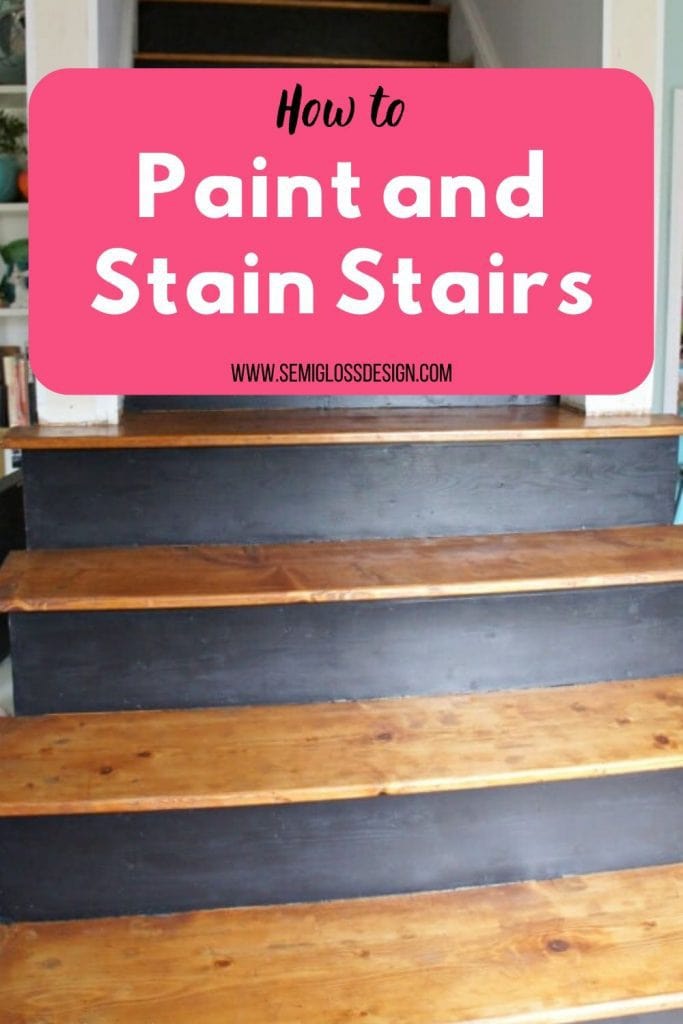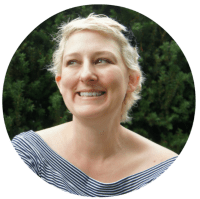 Emy is a vintage obsessed mama of 2 DIYer who loves sharing affordable solutions for common home problems. You don't need a giant budget to create a lovely home. Read more…