Smart Tips and Tricks to Remove Carpet from Stairs
Learn how to remove carpet from stairs. Removing carpet is necessary before you can stain and paint your stairs.
Sometimes with really big projects, it's best to divide it into a series of small projects. For my staircase and hallway makeover, that's exactly what I'm doing.
Over the weekend, I got out a crowbar and a staple remover and started ripping out our carpet.
It didn't take long for my husband to hear the siren song of the crowbar and join in. And then my son joined as well. Removing carpet from stairs is pretty fun. 
If you're like us, you inherited old carpet when you bought the house. It's beige and filled with mystery stains that you haven't bothered cleaning because you really just want it gone. For some reason or another, you've been waiting to remove it.
For us, it was because there were other projects that were higher on the priority list. But, I also hated the newel post and balusters, so it was a much going to be a much bigger project.
The good news is that removing the carpet is free! It only costs you time and effort, which makes it one of my favorite projects.
I was also nervous because I had no clue what was hiding under the carpet. When we removed our poodle carpet on the basement stairs, we found out that they were made of junk lumber.
Luckily, I had a feeling that these would be decent. I felt confident that we had treads under the carpet because they were shaped differently.
However, I firmly believe that junk stairs are still better than gross carpet stairs.
You might also be interested in learning how to remove carpet from a room.
How to Remove Carpet From Stairs
Supplies Needed
This post contains affiliate links. By purchasing an item through an affiliate link, I earn a small commission at no extra cost to you.
A few important things to know about removing carpet before starting:
Carpet is held in place with staples and carpet tacks. Ours had carpet tacks on the treads and risers near where the risers meet the treads. The staples were all over the place.

Protect your hands from the tack strips and staples with gloves. I'm not normally a fan or gloves, but they are absolutely necessary for this job.
If you have dust allergies, a mask is probably a good precaution as well. I was wheezing after this.
Clear the space to have adequate room. I thought I just needed a little bit of space, but in reality, I needed about 3-4 feet around the sides of the stairs, too.
Tips for Removing Carpet from Stairs
Find a good place to start removing carpet from stairs. I started at the bottom corner of the stairs by using a crowbar to pry the carpet away from the tack strip.
Each piece of carpet was also wrapped around the edges of the stairs and around the balusters, so I had to remove the staples holding it in place from underneath (green arrow below). The staple remover that I used was bought for stripping upholstery, but it made the job so much easier. Apply leverage with the angled tip to pop the staples out.
Cut the carpet where necessary to remove large strips of carpet at once. If your carpet is wrapped around the balusters, it is probably cut in a place similar to the pink lines below.

Where the carpet had walls on both sides, the carpet came up very easily by pulling hard on it. It was one long piece in this area.
Removing the Carpet Tacks and Staples
Use a crowbar to remove the tack strips. Ours were on the treads and the risers. Throw them away as you remove them to avoid accidentally stepping on them.
Use a hammer to pull out stray tack strip nails or hammer in any nails that aren't flush.
Tear out the padding under the carpet. Remove the staples after that. There were layers of staples from previous carpet installations as well. Pulling them out with a rolling motion seemed to work well. Use pliers for staples that are harder to remove. There were a few that I had to dig out. The holes will have to be filled anyways, so what's another one?
Removing staples will take forever. Just when you think you're done, you'll find a few more that you missed.
If your landing also has carpet, you might be left with a similar situation. I still need to go back and cut this portion of the carpet off and remove another tack strip. Then the carpet will be stapled right under the edge of the tread. You can see how we finished this area when we installed our stair runners.
After Removing the Carpet from the Stairs
We love using really strong construction grade trash bags for demo debris. Place it in a large trash can to make cleanup even easier.
We removed all of the demo debris and thoroughly vacuumed the stairs. We also demoed the railings to make way for a new, modern look.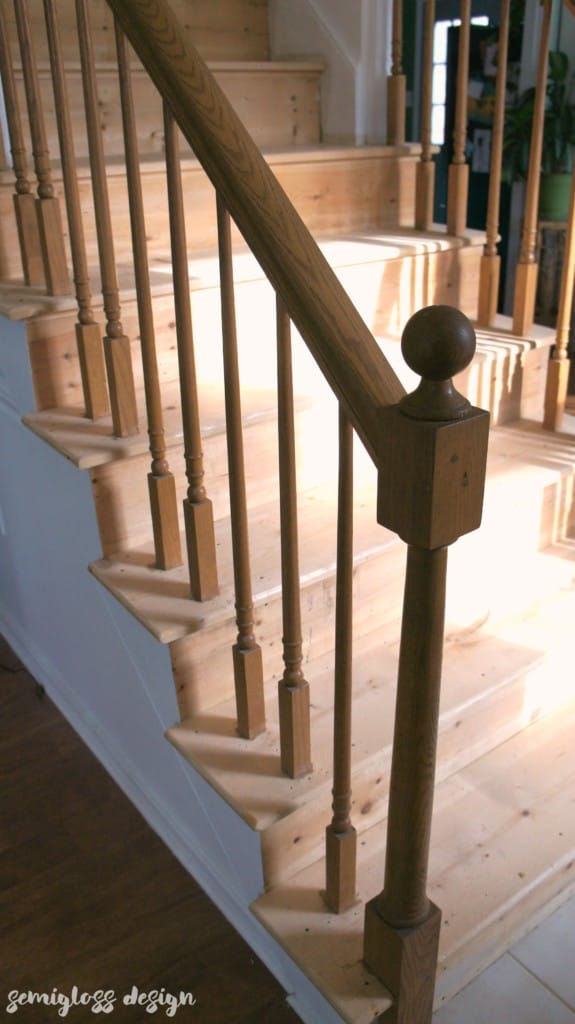 The stairs are now so bright that I keep thinking the hall light is on. It makes me so happy to see the progress. But there's still so much to do.
Still to do:
Caulk seams
Paint trim
Sand stairs
Decide whether to paint or stain the treads
Now that you know how to remove carpet from stairs, is this a project in your future?
Want to see the finished project? Check it out!
Click here to see the finished Staircase Reveal
You might also like:
Pin for Later!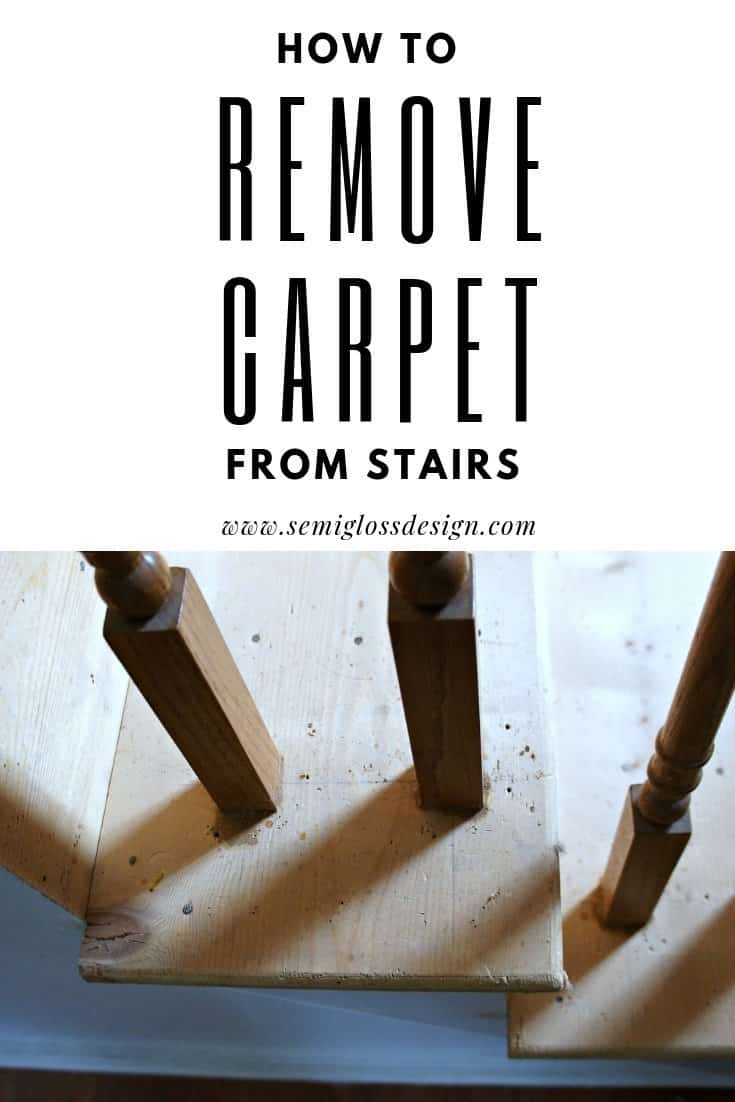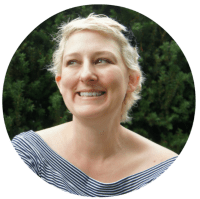 Emy is a vintage obsessed mama of 2 DIYer who loves sharing affordable solutions for common home problems. You don't need a giant budget to create a lovely home. Read more…