How to Build a Simple Table in Just a Few Hours
This simple table is so easy to build and customize to your needs. Using standard 2×4 lumber and basic power tools, you can build a simple table of any size for your home.
If you like building easy furniture, you might also like this daybed, kitchen table, or bench.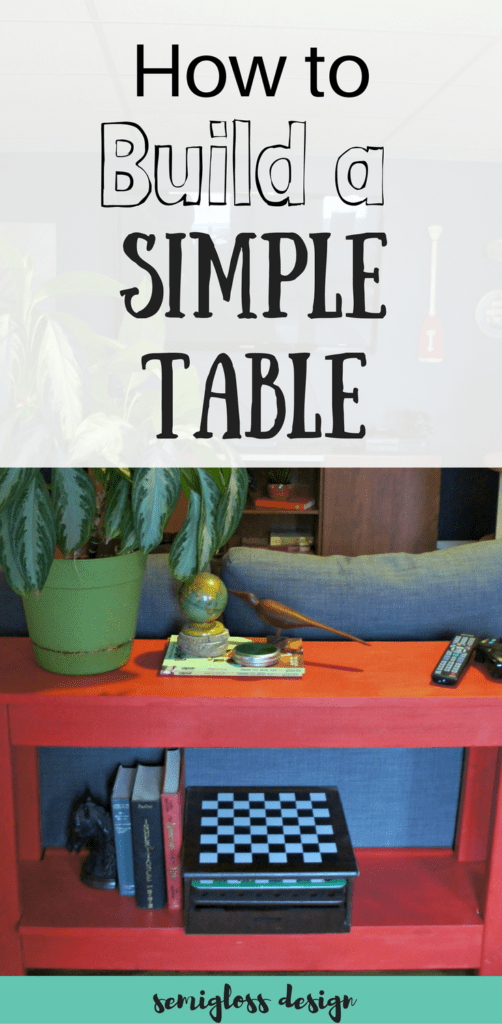 One time I tried to build a different bench and it was a spectacular failure. This was at the beginning of my DIY career and I didn't know enough about building to know what I was doing.
After watching countless hours of HGTV, I was convinced that I could build a simple piece of furniture.
I headed to the hardware store with a vague plan and bought some MDF and had it cut down to size.
When I got home, I learned that MDF sucks to build with and that our drill was too wimpy to drill into it. Still, I persisted and built a bench that leaned to the left and wasn't safe to sit on.
The biggest flaw with the bench was that I didn't understand that the legs should go under the bench. It's so funny to think back on my many DIY failures over the years, but that bench was probably the worst.
Today, MDF is still on my shit list and we now own a much more powerful drill that I recommend to everyone I know. After years of the DIY life, I feel a lot more comfortable in my building skills (maybe a little too comfortable.)
All of those failures taught me so much. They also make my successful builds that much more impressive. Like the table I built a few weeks ago that was done in only a few hours. Today, I'm sharing how to build a table.
About This Table Tutorial
This isn't exact instructions on how to build a table, because one of the best things about DIY is the ability to customize what you want.
I'm sharing guidelines to help you along, so that you can build a table to suit your own needs. This table is pretty easy to build and requires no special skills. If you have a few decent tools and can measure, you can do this.
We've built variations of this table several times already. My dining table, cutting table, and even workbenches in my garage are pretty much the same table. I like this design because it's easy to build, but very sturdy.
Things to Consider for Building a Simple Table
So you want to build a table? There are a few things to consider before you start building your wooden table.
What do you need from your table?
We needed a sofa table for behind our sectional. We needed somewhere to sit a glass of wine and the remote. The height of the back of the sofa dictated the height of the table.
A treadmill takes up space on one side of the sofa and there's a basement pole on the other side of the sofa, so this gave me up to 44″ of space. I also wanted a shelf on the bottom for storage.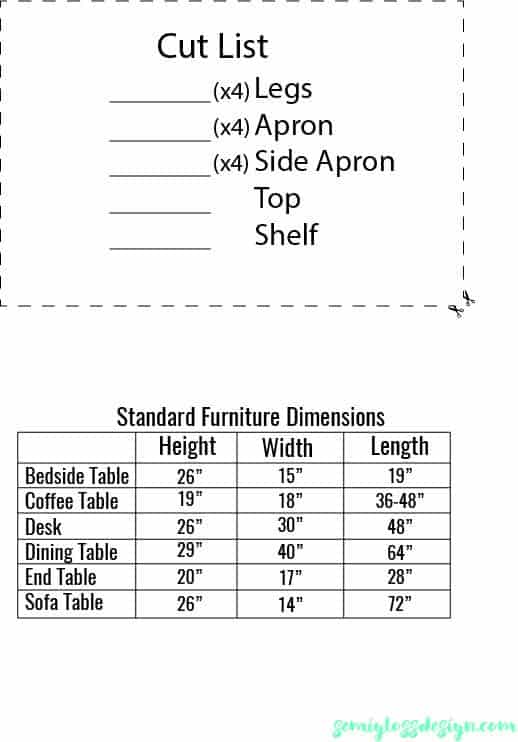 If you need a desk, make sure you leave enough room for your legs. Do you want to squeeze a small filing cabinet under it as well?
If you're building a dining table, your legs need room. You need ample space to walk all the way around the table. A bedside table should be pretty close to the height of your mattress. An end table should be close to the top of the arm of your chair.
It's easier to figure out a size range and work with that.
The other thing you want to consider is what you are using for a top. For my sofa table, I wanted to use a 1×12 because I had one in the garage. This provided the perfect width for the table, so I worked around that measurement.
For my cutting table, I used a precut 2'x4′ piece of plywood, so I worked around that measurement. We joined walnut pieces together to create the top for our dining room table.
We decided to make our table somewhere in the 30″ to 36″ wide range, so we joined enough pieces to make a top that fit that criteria.
If there's a specific size that you want, it can happen, but it's normally easier to work with a size range and see what fits that you can buy easily. Don't make your build harder by having to rip down wood.
What kind of wood should you use for your table?
This table is made of standard lumber from a hardware store, which is pine.
You can use nicer wood for a more upscale look or durable finish. You can also piece the top together with planks.
Use Strong Wood for the Table Base
Unlike my sad bench of old, I recommend at least using 2×4's for the legs. 4×4's also work well for a sturdier table.
All of the weight of the table will rest on the legs, so it's important to get this right. If 2×4's can hold up your house, they can definitely hold up a table. You can also buy pre-made legs for a fancier table.
What do you need to build a table?
This post may contain affiliate links for your shopping convenience. Affiliate links allow me to earn a small commission at no extra cost to you.
Materials Needed to Build a Table:
Deck screws. I love using deck screws despite their cost. There are so many reasons why I love them. The most important reason to use them is that they work well. Deck screws have a long shank that pulls the wood together, making it really easy for newer builders. The star head insures that the drill can grab the screw without stripping it. When selecting your screw size, keep in mind that the screws need to be longer than the wood that it's going into. So for 2×4's, they need to be at least 2 1/2″ long because 2×4's are actually 1 1/2″ wide.
Kreg jig. I like using a kreg jig to make invisible joins. For this table, I wasn't overly concerned with visible screws, but the kreg jig was necessary to avoid drilling super deep pilot holes or joining by screwing at an angle, which I always mess up. The kreg jig makes works perfectly every single time.
Drill bits. Use a drill bit just a little smaller than the screw diameter. I want the screw to do its job, but I don't want my wood to crack. Dewalt bits are my favorite because they last longer and take longer to break.
Drill/driver. I love my Dewalt driver. It's so powerful and makes me feel like a badass. Anything else is a joke. Seriously, once you use this drill, you'll never use another. Plus, it's small and lightweight for wimps like me!
Mitre saw. It makes cutting small pieces of wood so easy. I cut all of my 2×4's in seconds. I also used it to cut my 1×12, though I had to flip it to cut all the way.
Jig saw. The Dewalt jigsaw cuts like butter. It's so smooth and fast that it's possible to get a really clean cut from this saw.
Clamps. I use normal clamps all the time to hold stuff in place, but my favorite clamps are corner clamps. These guys make me look good. They instantly square up a wonky project with no effort on my part.
How to Build a Simple Table
How to Make a Table Base
Decide on how big you want your table. The legs should be close to the finished height of your table. The base should be slightly smaller than the top piece because it looks better with a slight overhang.
Cut all of your wood.

Start assembling the front and back base pieces. Using a kreg jig, make pocket holes to join the apron pieces to the legs. For the bottom apron, you can use a scrap piece of 2×4 to position it in the same place for all 4 legs.

Both the front and back apron pieces should be made now. Now, it's time to join them together using the side apron pieces. Stand the first piece upright and position the side apron in the correct spot. Clamp the wood in place to make it easier to assemble. Drill pilot holes through the front of the leg into the apron side. I've indicated proper places to place the screws in the illustration above.
Building a Table Top and Shelf
When all of the side aprons are attached, your base is built. Now it's time for the top. For my sofa table, I was able to use a 1×12 cut to the right length. Attach with screws through the top into the base. These holes can be filled later. If you don't want visible screws, pocket holes can be used underneath the tabletop. Just make sure that your screws are short enough not to puncture the wood top. Or you can fill the screw holes with wood filler.

For the shelf, I used another piece of 1×12. Use a jig saw to cut spaces for the legs. Remember to leave a gap for the wood to fit as shown in the illustration. This piece will be placed in on an angle, so it needs extra room to maneuver the wood. My wood was 3/4″ thick, so I left about 1/2″ on each side to allow enough room to be lowered down.

When it's in place, screw it in. Don't force the wood if it won't fit. Cut a tiny sliver off until it fits easily.

Sand and finish the table however you want. I painted my sofa table a lovely bright red. (If you're going to paint the wood white, seal it first. Pine will bleed and eventually turn yellow under white paint.)
Variations for a Simple Table Design:
The top apron of the table is what provides stability, so don't remove that unless you provide a similar structure somewhere else. The rectangle (or square) is what will keep your legs from shifting from side to side.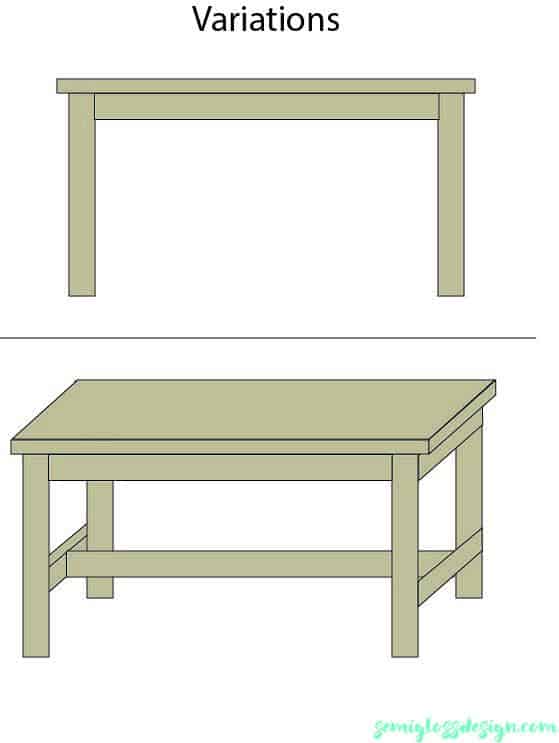 Use 4×4's for legs and don't use the bottom apron and shelf.
Create a farmhouse style table by adding a 2×4 to the middle of the bottom. My farmhouse table was built using this method.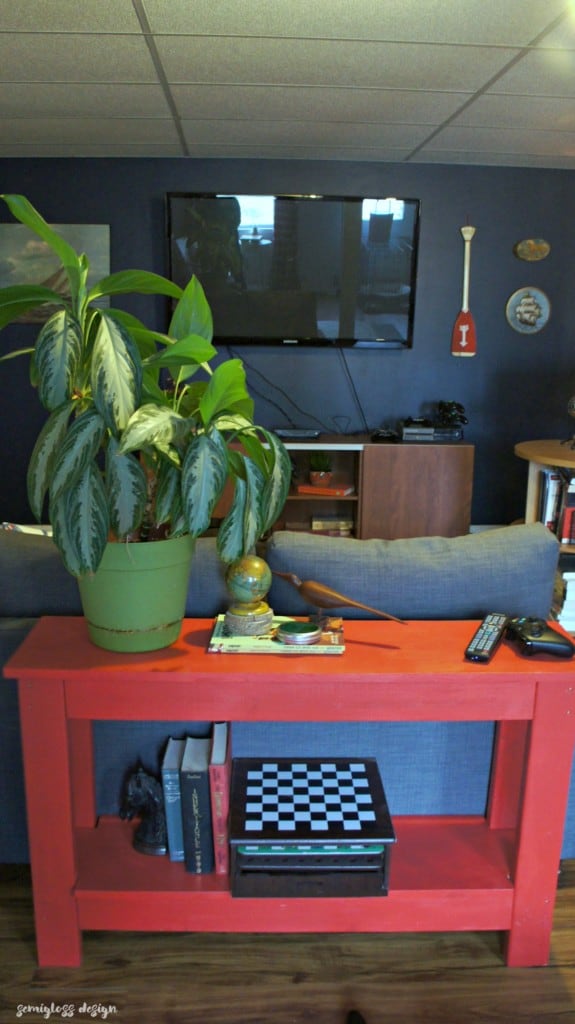 Now you know how to easily make a table of any size. I hope that your first project turns out better than my bench-tastrophe. Have you ever failed miserably at a DIY?
Download a Table Building Guide!
Download this handy cut list and furniture dimension cheat sheet!
Looking for more furniture building projects?
Pin for Later!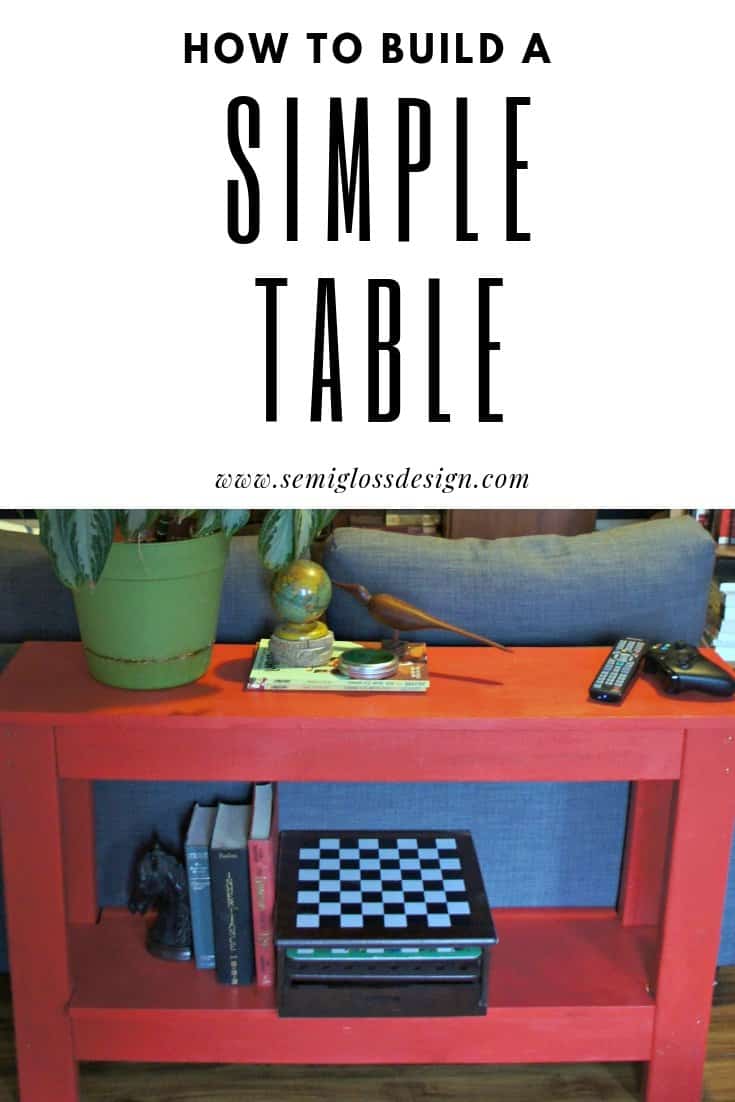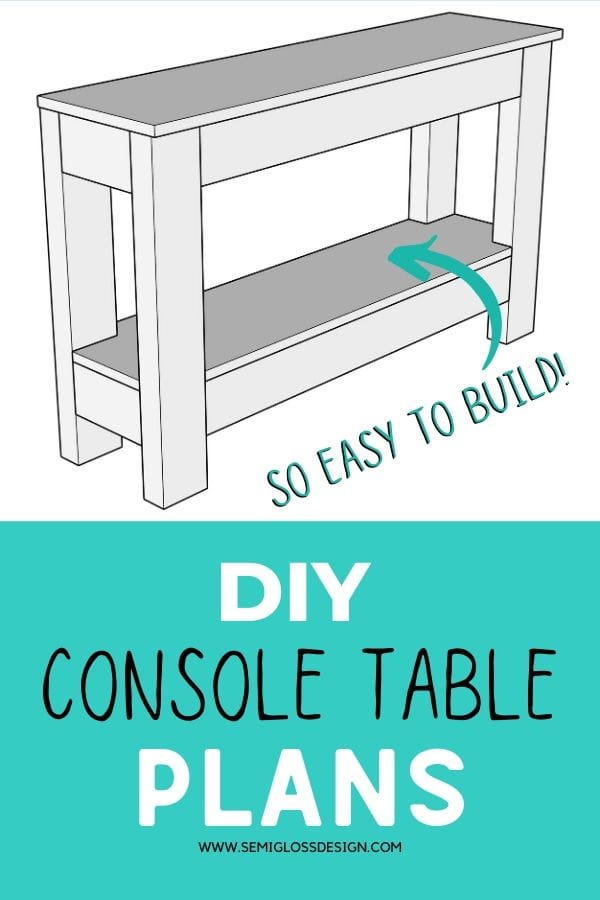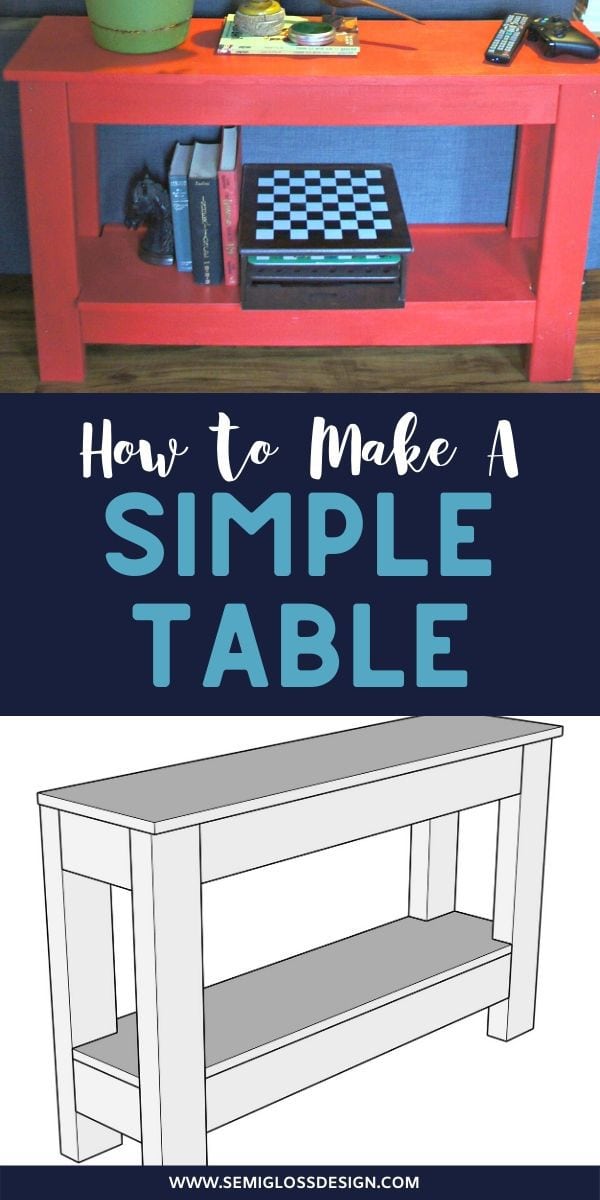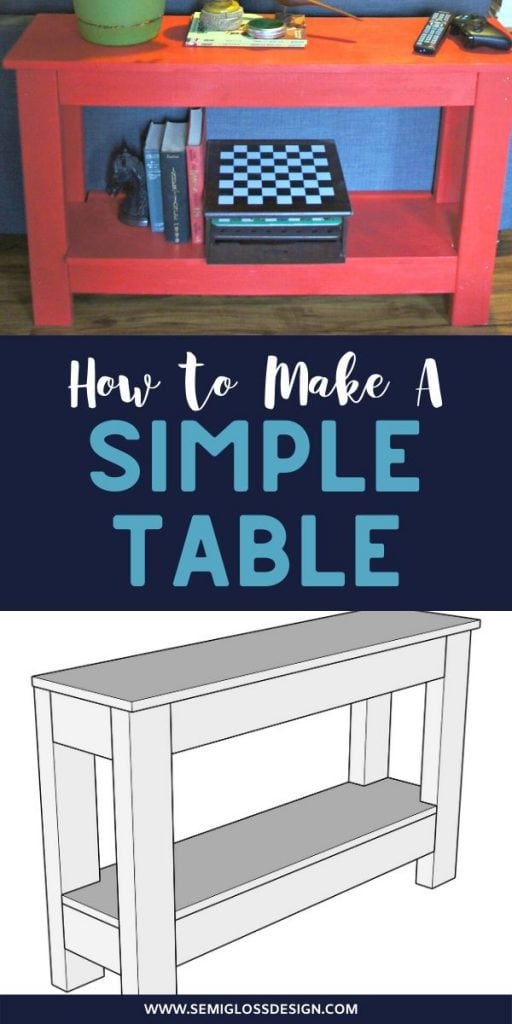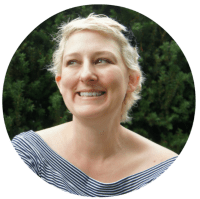 Emy is a vintage obsessed mama of 2 DIYer who loves sharing affordable solutions for common home problems. You don't need a giant budget to create a lovely home. Read more…