How to Paint Vinyl Floors: The Budget Friendly Way to Update Floors
Learn how to paint vinyl floors!
My favorite projects are those that are inexpensive and simple, like installing shiplap, painting cabinets, and staining concrete. They usually involve paint because I am constantly amazed by the power of paint.
Paint can make something ugly look pretty, it can make something dirty look clean! I have a major crush on paint.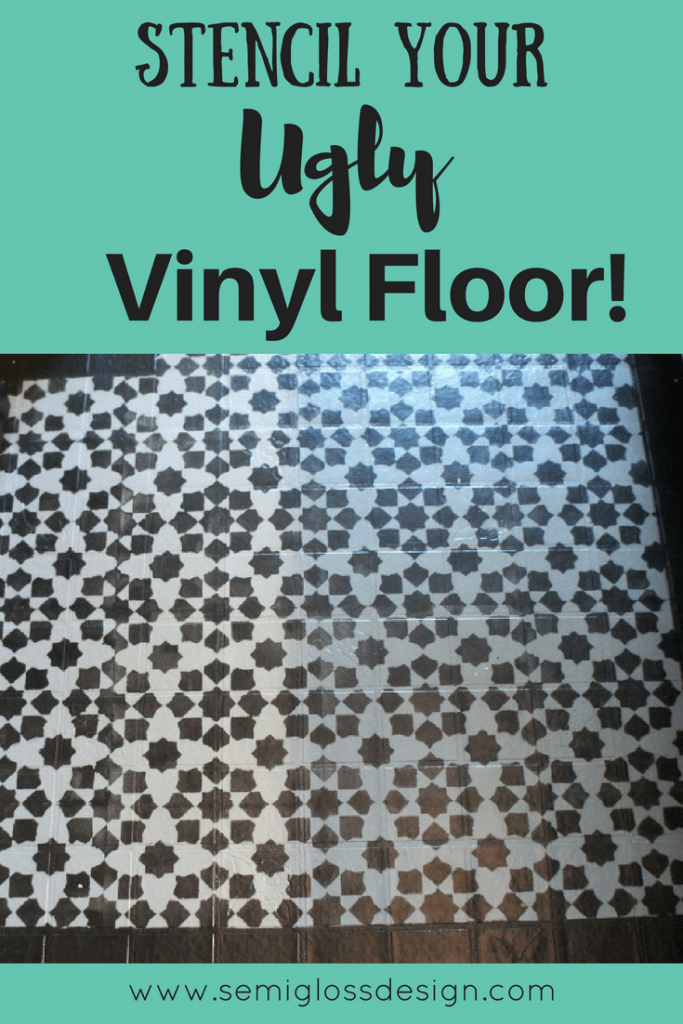 So when my husband told me that he had to go out of town for a few days, I knew that I needed a project! There was only one on my mind.
After painting the room, the floors were still glaringly ugly. Today I'm sharing my tips for how to paint a vinyl floor and add a stencil. This floor stencil makes me smile every day!
Painting Vinyl Floor FAQs
Can you paint vinyl flooring?
Yes! But prep is key for a durable finish. Don't skimp on the prep work! Clean the floor and then clean it some more.
I also recommend a top coat for added durability.
Can you paint linoleum flooring?
Unless you live in a really old house, it's probably vinyl flooring, not linoleum.
To answer the question, yes as long as the finish is a bit dulled. If it's super shiny (and feels waxy), you're going to need to use more deglosser to make sure that it sticks.
Why Should You Paint Your Vinyl Floor?
Painting vinyl flooring is budget friendly. New flooring can be expensive, even for small spaces!
Less mess. Ripping out old flooring is messy. So is installing new flooring.
It's much faster. Laying new tile would have taken about a week to complete! That's a week without a bathroom. Paint is quick for when you want that ugly floor gone NOW.
More options in colors and designs. Floor tile options are pretty limited. Paint colors and stencils are not.
It's an easy way to experiment with pattern. If you hate it, paint over it.
It's fun. Maybe it's just me, but I love a good paint project.
About the Stencil
I chose the Cadiz Tile stencil from Royal Design Studio. They have so many lovely stencil designs to choose from. This stencil looked like the expensive cement tiles that I love so much.
I spent a bit of time researching how to paint a vinyl floor and decided to use a combination of the advice.
If you want to make your own, check out my post on how I made stencils with my Silhouette.
How to Paint Vinyl Floors
Supplies Needed
This post contains affiliate links. By purchasing an item through an affiliate link, I earn a small commission at no extra cost to you.
***Porch and Floor paint is crucial to a lasting paint job! Regular latex paint does NOT sick as well. ***
Prep Work for Painting Vinyl Floors
Thoroughly clean your floors. I started by cleaning the floor as good as I could with sweeping and mopping. When the floor was dry, I swiffered it as well to get any stray dog hairs (because my doggy BFF likes to sit right beside me when I work.)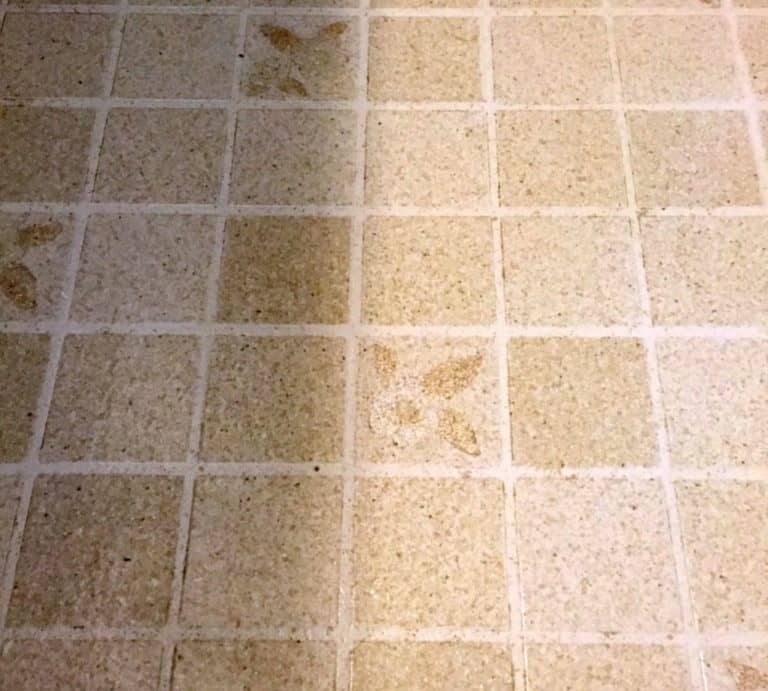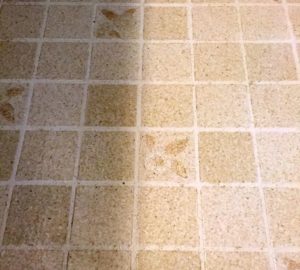 Degloss the floor. This is probably the most important step in painting a vinyl floor! I rubbed the deglosser on the floor and let it dry. It made the floor very matte feeling and dull looking.
I wore cotton socks any time I had to go in there to prevent my skin from sticking and making weird marks. This also helps to keep the floor clean from skin oils.
We have floor vents so I removed the vent to spray paint later. This also helped me paint around the area really well.
Prime the floor. I primed the floor with my favorite primer that I knew would work well. When I painted the cabinet, I accidentally got some on the floor and it was still there despite numerous cleanings. It sticks to everything even if it does stink.
(Use ammonia to clean your brushes and don't use good brushes with this stuff. Chip brushes work fine because the primer self-levels.)
The primer made it look so much better!
How to Paint Vinyl Floors
Paint the background color. Roll on a coat of your base coat or background color. Mine was gray.
Let it dry and paint one more coat for full coverage.
Painting a floor is surprisingly easy and fast!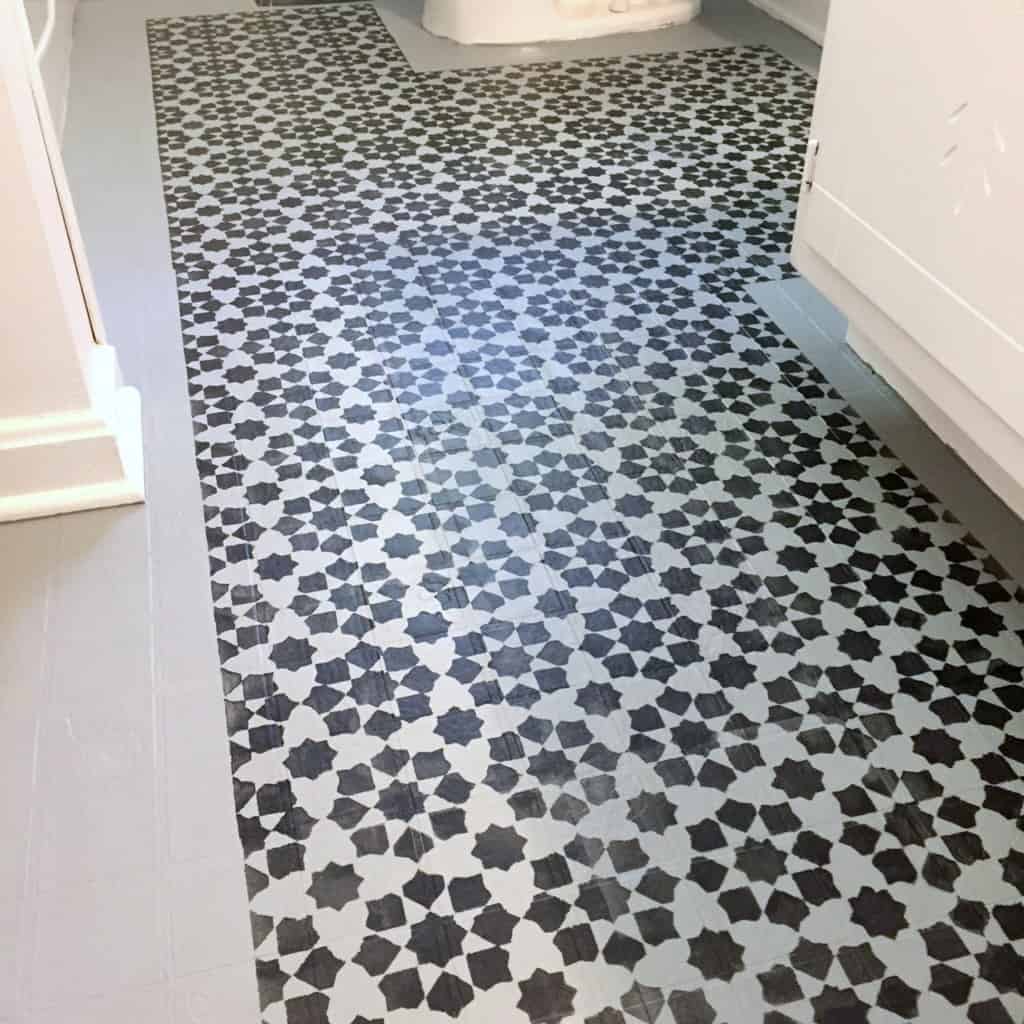 Stenciling the Vinyl Floor
Start stenciling. The next day, I put on some podcasts and started the stenciling part.
You're supposed to place the first one in the middle, but I kind of eyeballed it, aligning it with the "tile" lines on the vinyl flooring.
My first stencil turned out horrible! I had over-saturated the roller. I considered wiping it off with a towel and painting over it, but I persevered.
Using an almost dry roller gives better results than a wet roller. (Use a paper plate or roller pan if needed to remove excess paint.
Keep stenciling until you're only left with the tricky parts and edges.
Don't worry if your stencils aren't perfect. It will look great as a whole. Just use way less paint than you think!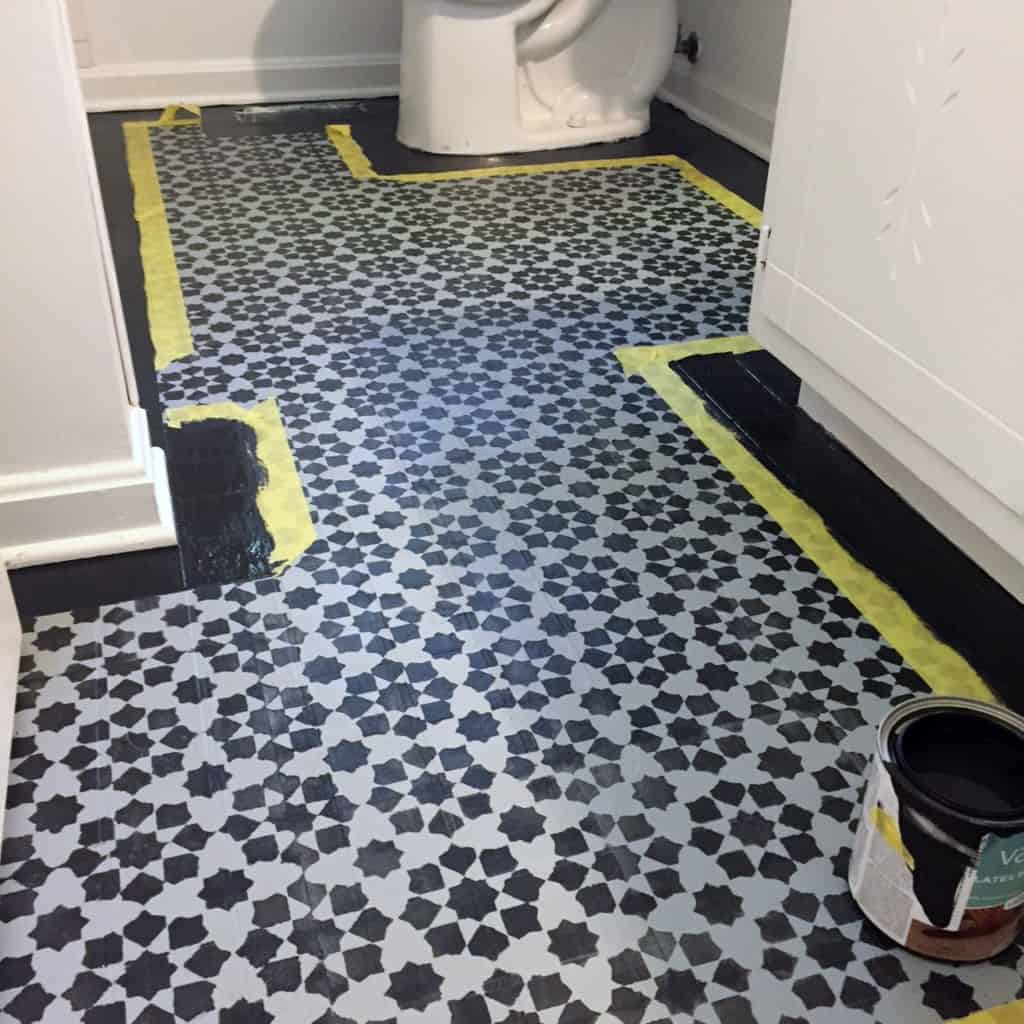 The edges. For the edges, I tried the stencil folding method and it kept slipping and leaving a big mess. I tried free-handing the designs but I decided that I don't hate myself that much.
So I took those mistakes and made them birds. Or a border.
It looks intentional, adds detail, and hides all of the ugly spots. I used tape to get crisp straight lines. I went back and touched up the really obvious mistakes.
When you look at it all together, you can't even notice the bad parts. I was very surprised at how forgiving the pattern was.
I think the texture of the vinyl flooring made it hard to get perfectly crisp lines, but in the end, it adds to the charm. Some of the stencils don't line up perfectly and I kind of like the effect. My stenciled floor is so pretty!
Apply a Top Coat to the Floor
After the paint was thoroughly dry, I used a Swiffer on the floor again to remove any stray dog hairs and applied 2 coats of polycrylic to the floor. Polycrylic is my choice because it doesn't turn yellow and it cleans up easily with water.
I used a brush because I prefer brush strokes to foam roller bubbles. In the end, you can't see the brush strokes anyways. Painting a floor with a paintbrush sounds painful, but it went really fast.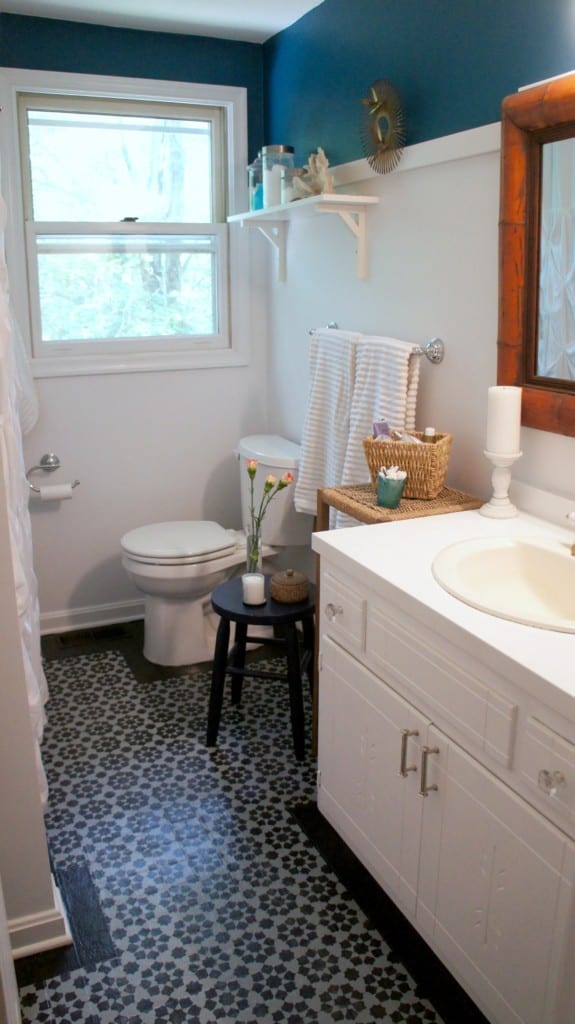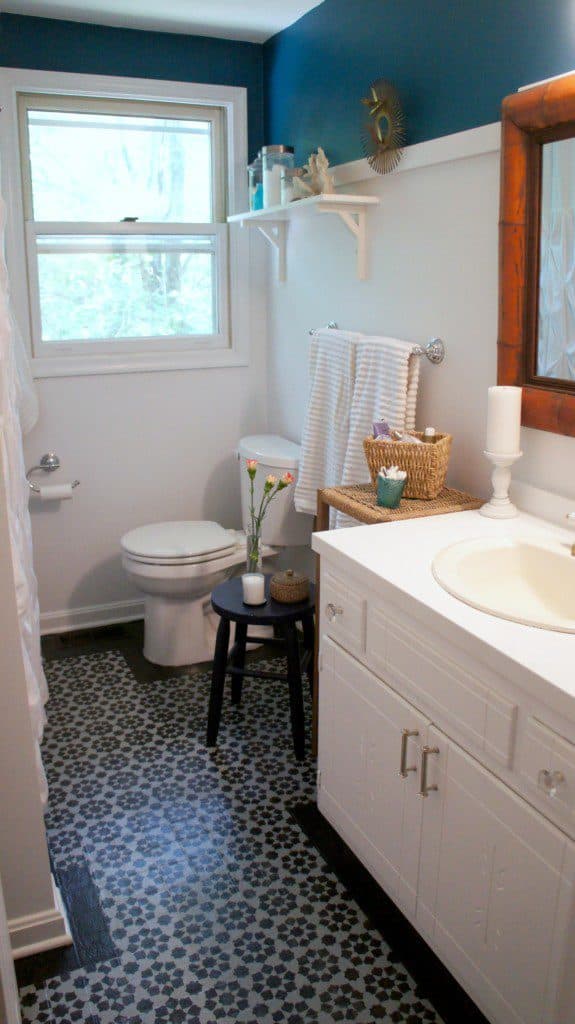 My husband came home and actually liked the floor stencil. I was shocked! It was definitely one of those projects that he would have said no to if I had asked him before I did it.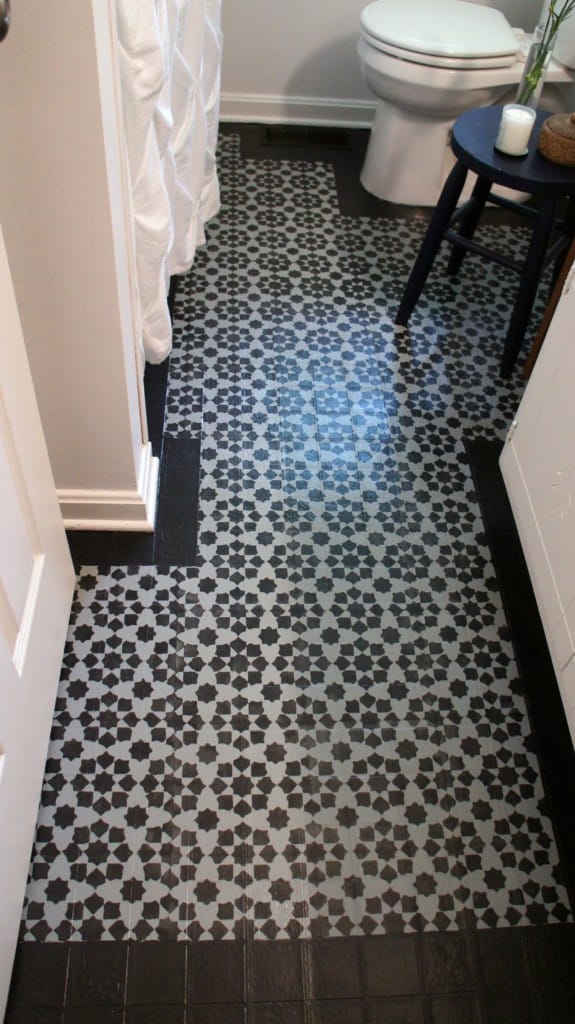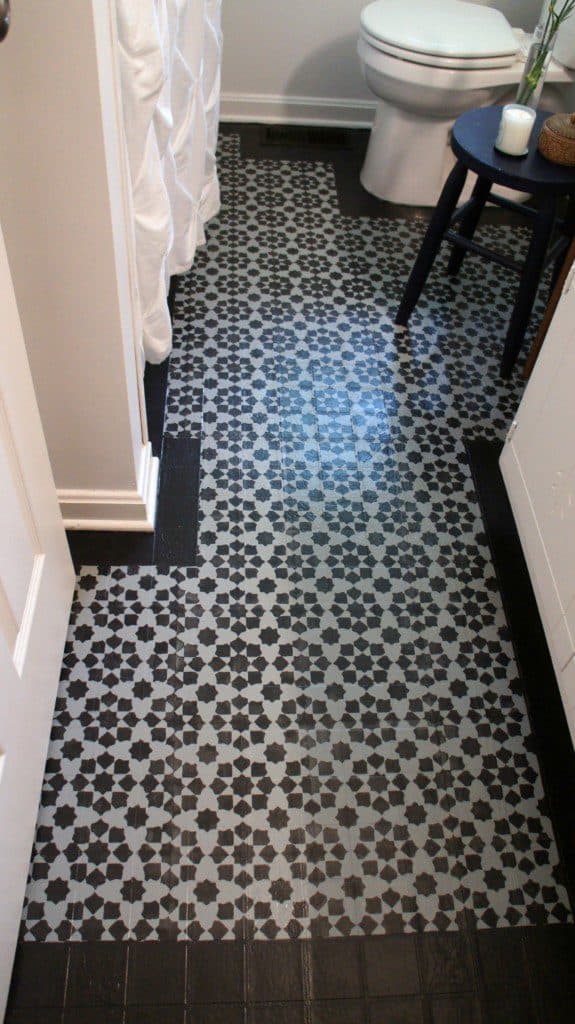 I love my new painted vinyl floor!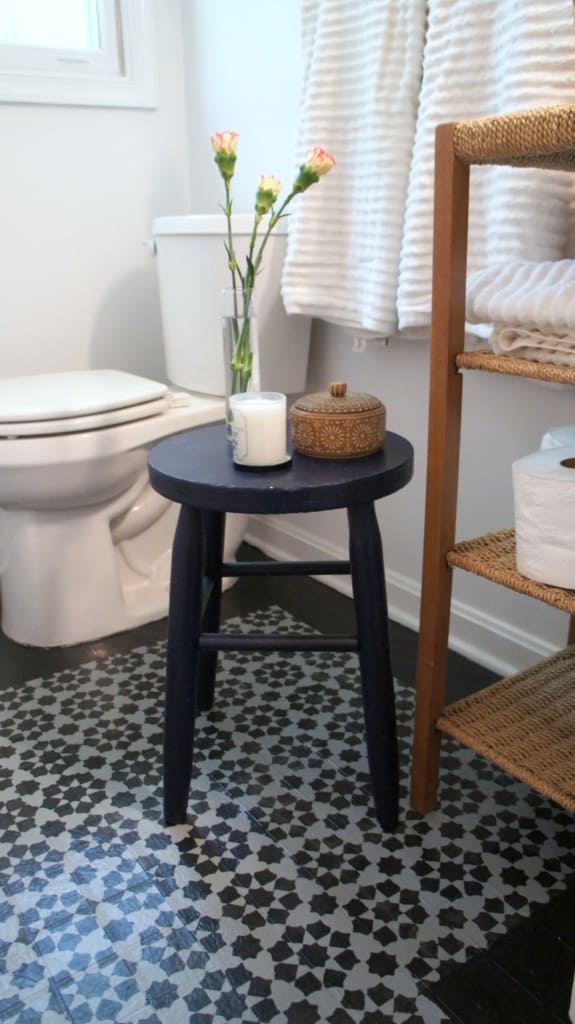 Stenciled floor tips:
A stenciled floor is not going to be perfect so expect some blemishes. All together, it reads as perfect. If you're a perfectionist, a more organic style stencil might make you happier.
Don't overload the roller. It did best when it felt almost too dry.
A good primer will make the paint job last longer. I wouldn't skip this part.
Don't skimp on prep work. It is the KEY to a long lasting finish.
A border is a nice way to not have to deal with the edges.
Choose a time when there will not be many other people around. My husband was out of town, which allowed me to be able to work on the bathroom without worrying about him. Luckily, my kids use the downstairs bathroom.
If you end up hating it, remember: It's only paint!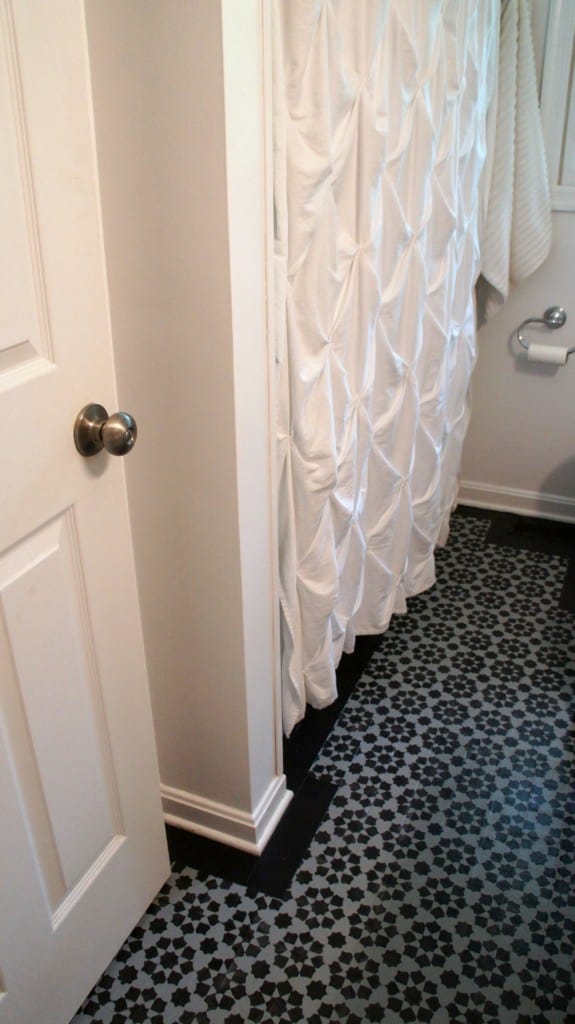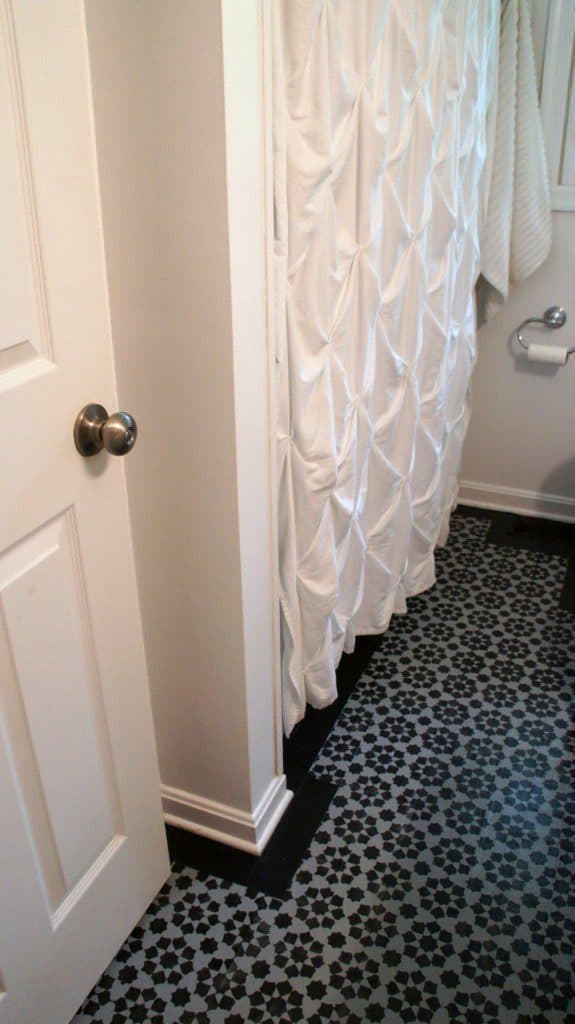 Bonus tip!
Have you ever spilled paint on carpet? I know I have! This project was no exception and I spilled some primer on the carpet.
Did you know that rubbing alcohol takes paint right out of carpet? Yep, even my stinky shellac primer! All you do is pour some on the spot and rub it with a clean cloth until it's gone. It's like magic!
Curious how my stenciled floor is holding up after a year?
Read my update and my thoughts on this project!
If you liked this post, you might also like these posts:
Pin for Later!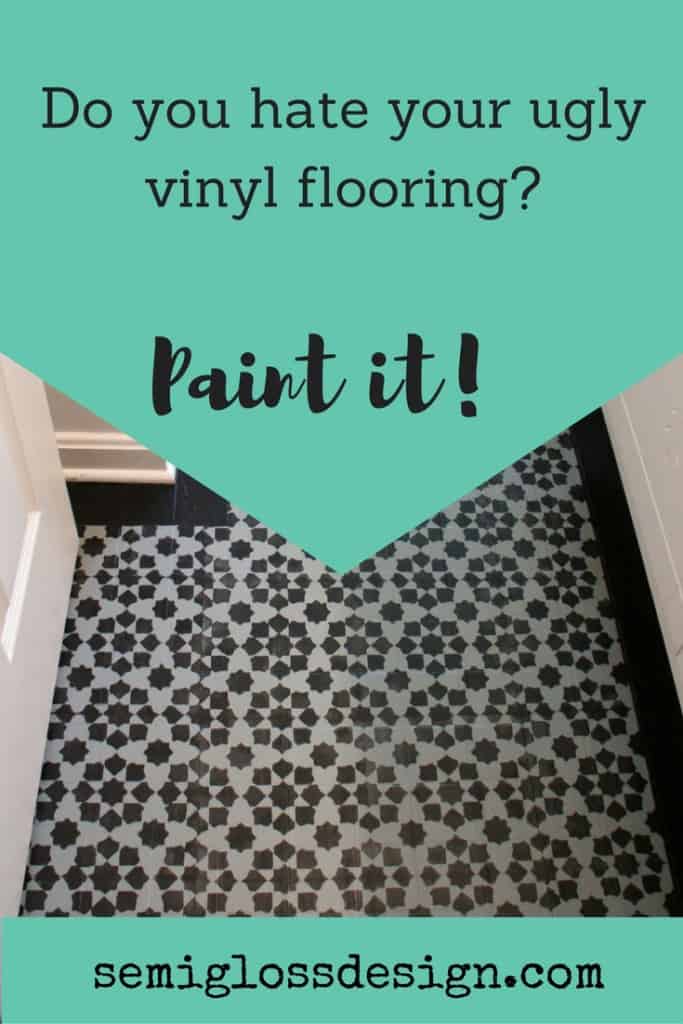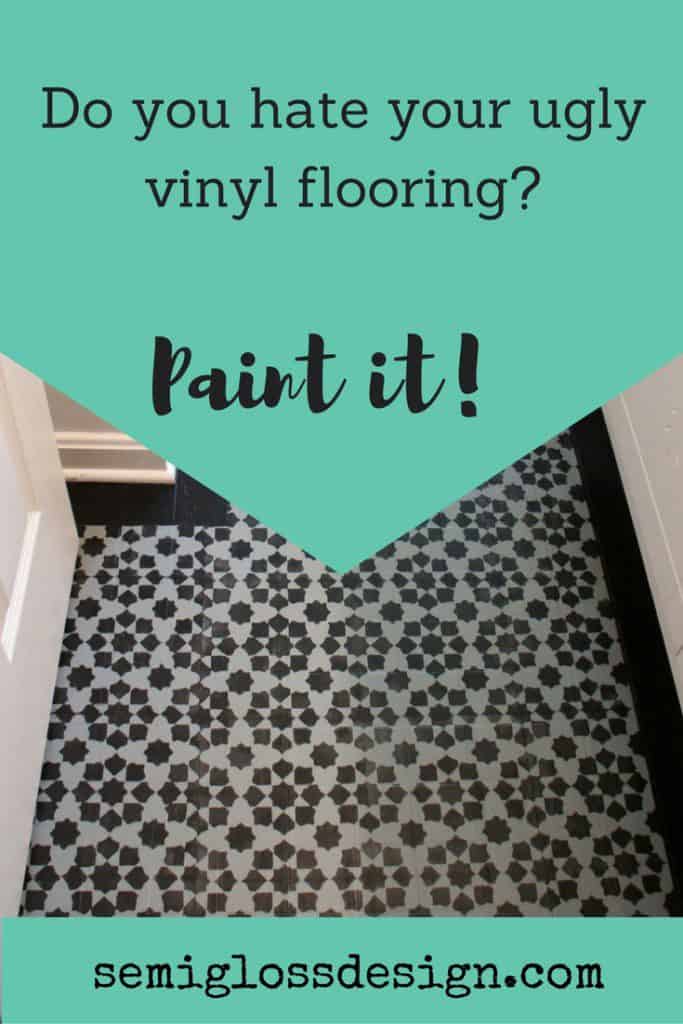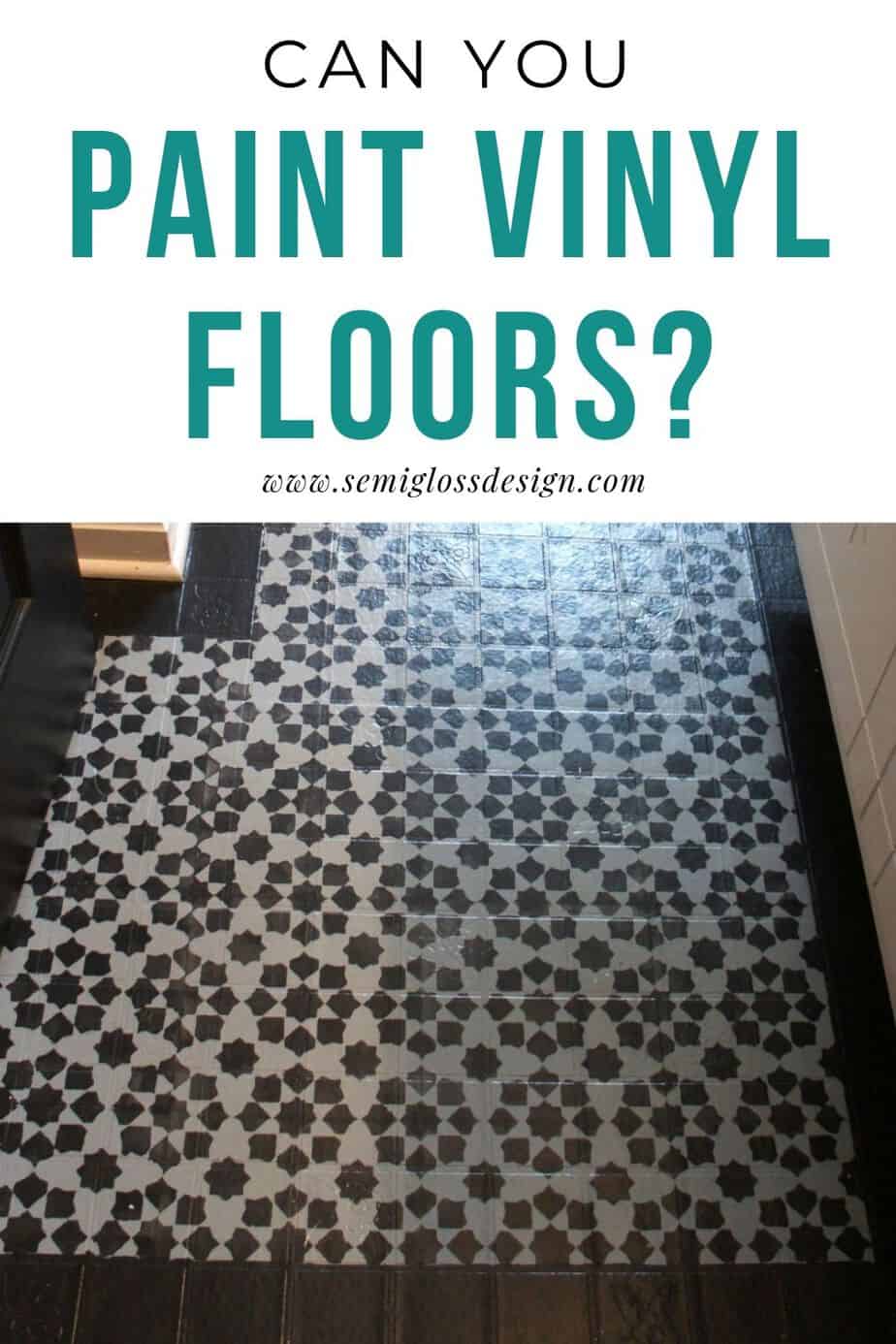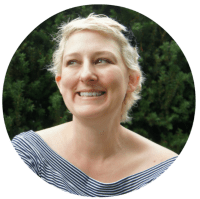 Emy is a vintage obsessed mama of 2 DIYer who loves sharing affordable solutions for common home problems. You don't need a giant budget to create a lovely home. Read more…