How to Paint Furniture White Without Bleed Through
White painted furniture can be tricky! Learn how to paint furniture white without ugly bleed through, brush marks or having to apply a million coats of paint.
If you like furniture makeovers, be sure to check out my ultimate guide to furniture painting.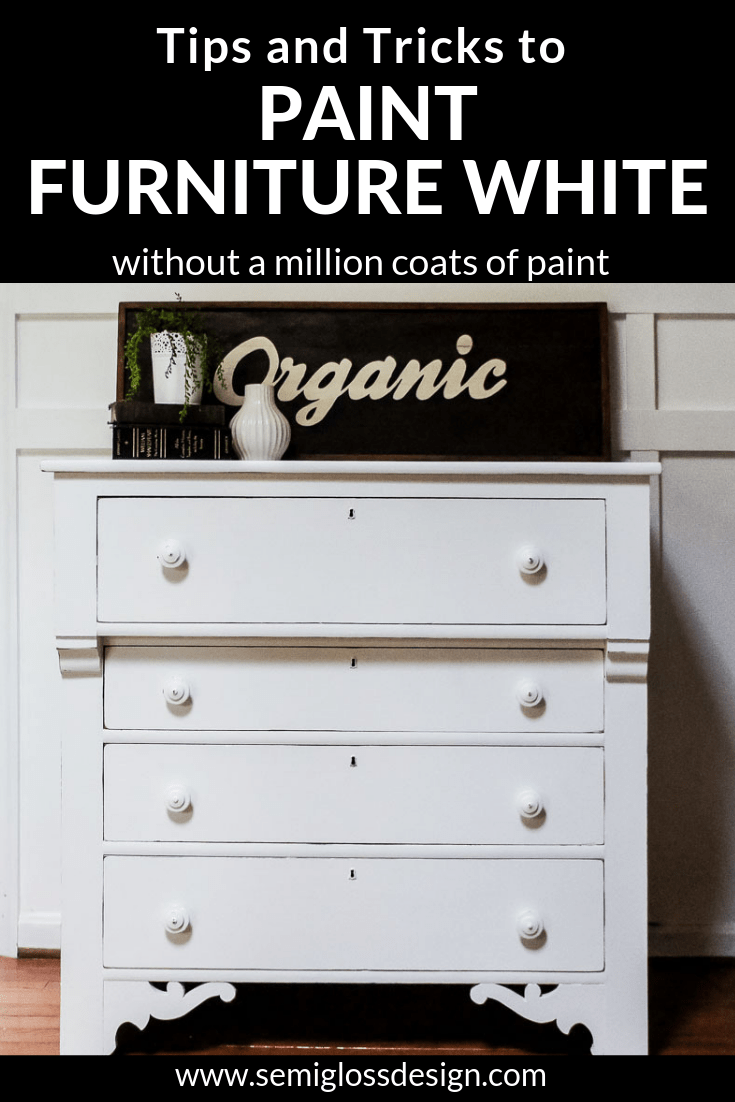 This post contains affiliate links. By purchasing an item through an affiliate link, I earn a small commission at no extra cost to you.
Painting furniture is the fastest way to update old furniture on a budget. Painting a dark piece white can instantly modernize it and add more light to a room. It's also classic and will never go out of style.
Learning how to paint furniture white is a great skill to have if you love rescuing old furniture.
Painted Furniture FAQs
What paint is best for furniture?
This is a hard question because everyone has different preferences. I can tell you my favorite though.
My favorite paint finish for white paint is eggshell. Eggshell is like a flat finish, but with added durability. It's easy to get a smooth finish without brush strokes.
The coverage is spectacular and you still get a nice, matte finish. Plus no top coat is needed. I used Sherwin Williams for HGTV in Ultra White, a lovely white furniture paint color.
It's also more affordable than expensive furniture paints, which makes it perfect for spraying furniture.
How do I prevent bleed-through?
Some woods are harder to paint than others. Cherry, mahogany, and pine are notoriously hard because the wood tannins bleed through light-colored paints. All of your hard work is ruined. But you can seal it first to prevent this from happening.
Paint a thin coat of clear shellac using a chip brush. (It can be soaked in ammonia to clean it.) You might need more than one coat for stubborn spots.
Pay extra attention to visible knots, places where you sanded to bare wood, and anywhere the wood meets another piece of wood (corners.)
Some spots are really stubborn and even after you paint, they will show up. Paint another coat of shellac on those spots. After it dries, paint another coat of white.
The Dresser Before
This dresser had great lines, but needed a little love. It's solid (heavy!!)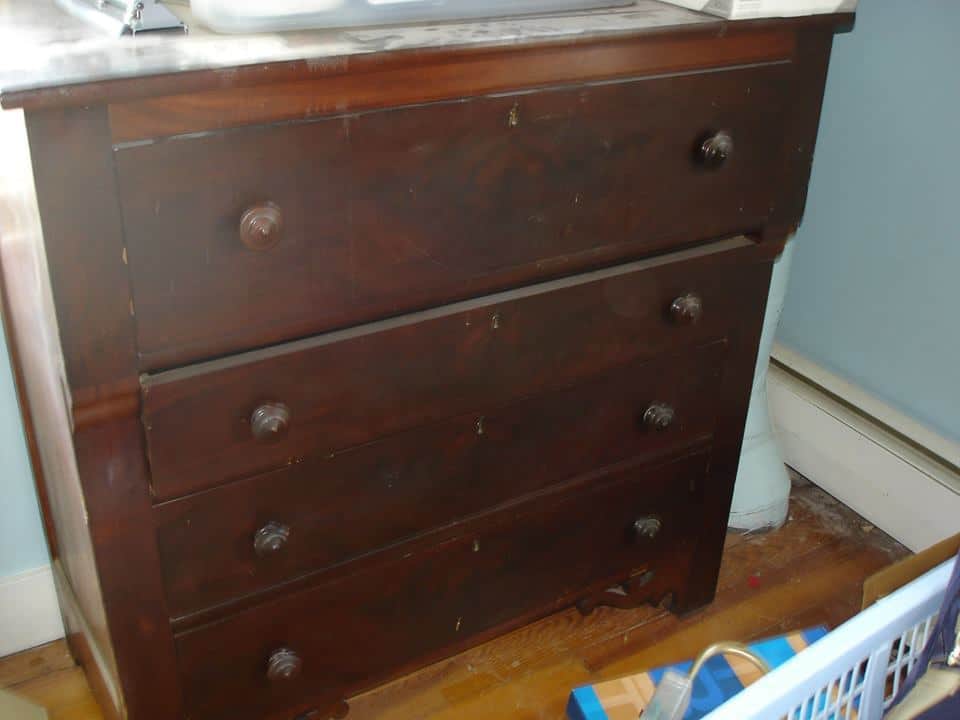 How to Paint Dark Furniture White
Supplies Needed
Prep Work for Painting Furniture White
Remove all hardware.
Clean the furniture thoroughly. I use water with vinegar most of the time. However, if I can tell that it's coated in Pledge or if it's really dirty, I wash it with Simple Green. Be sure to wash it again with plain water to remove any soap. 
Make any repairs needed, like filling holes with bondo if you're switching out the hardware.
Sand with an orbital sander. A light sanding is sufficient unless the furniture piece is super shiny. Then it needs heavier sanding to rough up the surface. Same thing if it's laminate. Although I try to avoid laminate, a lot of nice pieces have laminate tops. Scuffing up the surface ensures that your paint sticks well.

Clean all the dust off of the furniture and let it dry.
Prime dark wood furniture. For this dresser, I used BIN primer to avoid any bleed-through. Apply 1-2 coats of primer.
To Prime or Not to Prime?
I am a huge fan of primers for many reasons. With white furniture, it's even more important. Primer makes it easier to go from dark to white without wasting your expensive paint. It also makes the paint stick better.
White furniture can need up to 6 coats of paint, depending on the type of paint and desired sheen. I prefer 1-2 of those coats to be a primer to save money.
So, which primer do I use? It depends on the furniture.
For laminate pieces, super shiny or pieces that are known to bleed through, I like BIN primer, which is shellac-based. It's smelly but sticks the best. You can use it instead of shellac, but you might need more coats for hard to cover spots.
For all other pieces, I like to use 123 primer. It still helps the paint stick, but it's a much cheaper way to get from dark to white quickly. It's water-based, so you can use a normal paintbrush.
Painting Furniture White
It's going to take several coats of paint to completely cover the furniture. Lighter pieces will take less.
If you want a glossy finish, it will need even more. In my experience, eggshell paint does the best job of covering furniture in the fewest coats. It's still a strong finish and doesn't require a top coat.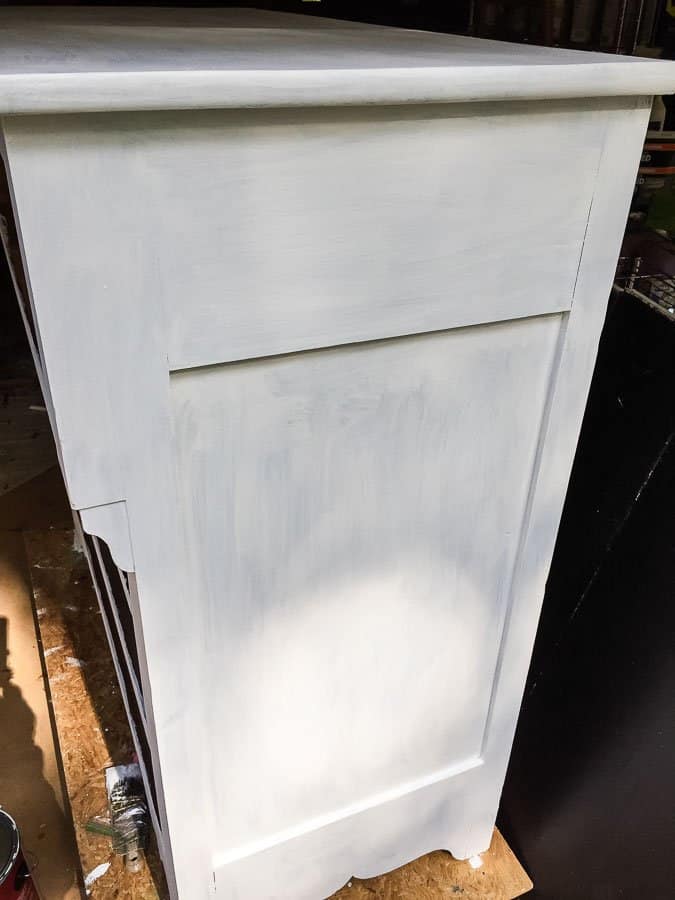 This photo shows the first coat of paint. After the primer, it only took 2 coats of paint, with a little touch up here and there.
To avoid brush marks, choose a good paint brush with soft bristles. I like this purdy paint brush, but for pieces with a lot of details or chalk paint, I like this zibra brush.
Paint on the paint working in one direction. Try not to touch wet paint that is drying. If that means skipping that spot and getting it on the next one, that's a better choice than creating brush marks.
Let the paint dry between coats.
Look at the paint in daylight to see if coverage is thorough.
Repeat coats as necessary.
Distress as desired. With latex paint, the sandpaper method works best.
Applying a Topcoat to Painted Furniture
If you used latex paint, a top coat isn't necessary. However, if it's a tabletop or a piece that will get a lot of wear and tear, err on the side of a topcoat.
Make sure that the topcoat you use is water-based to avoid yellowing your white paint. I find that polycrylic in a matte finish is the best top coat for furniture because it's so easy to use, even in high humidity.
Do not use Spur Urethane because it will cause it to yellow. I learned this the hard way. It seems to draw out tannins through the paint, despite being water-based.
Click to read this guide on applying polycrylic.
My Tips for Top Coats
Use water-based to avoid yellowing. I prefer polycrylic in matte.
Use a brush to apply the topcoat, going in one direction.
Do not touch wet paint that is drying or it will look gooey. If that means skipping a spot and getting it on the next coat, that's the better choice.
I lined the drawers with pretty buffalo check wrapping paper.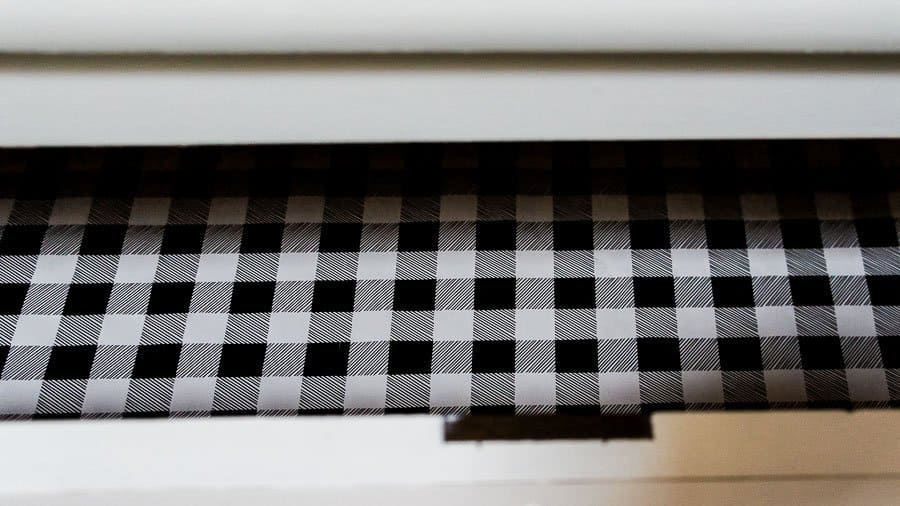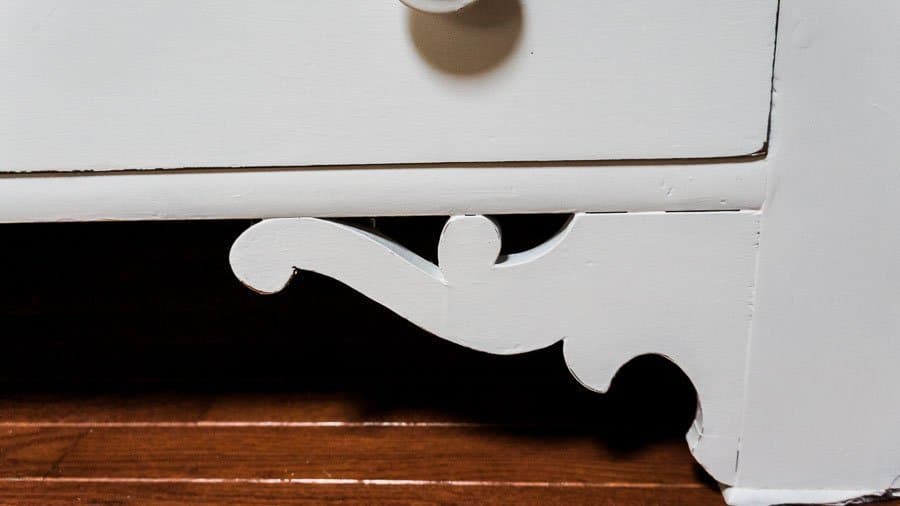 I love how this piece turned out! Are you ready to paint furniture white?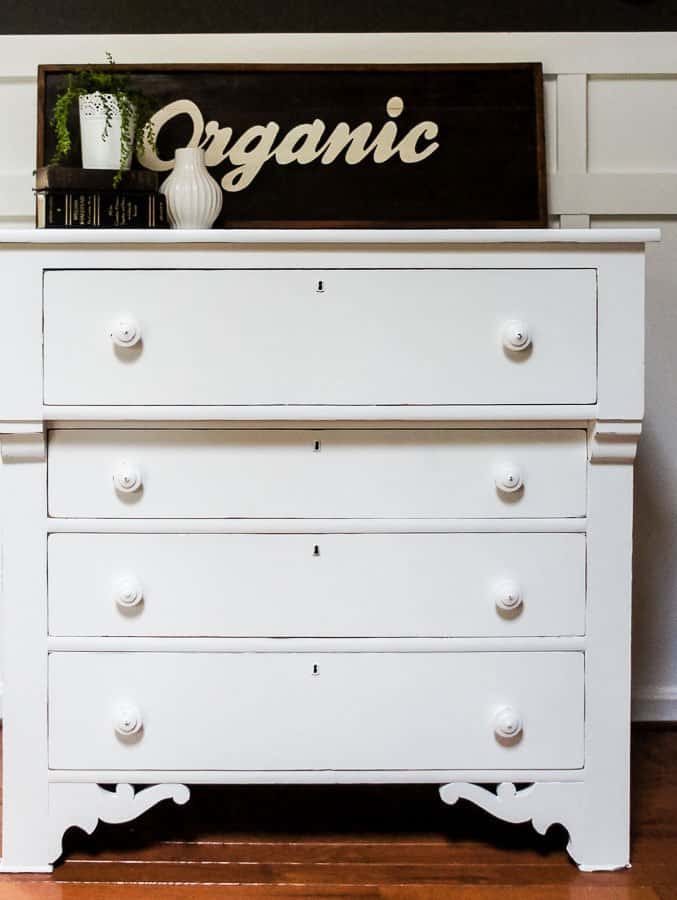 Click here for more furniture makeovers!
Yield: 1
How to Paint Furniture White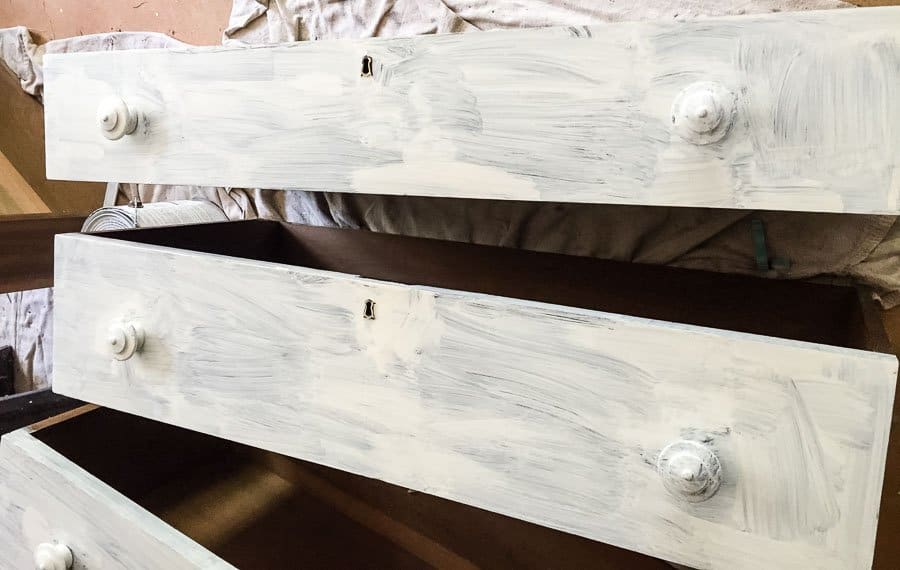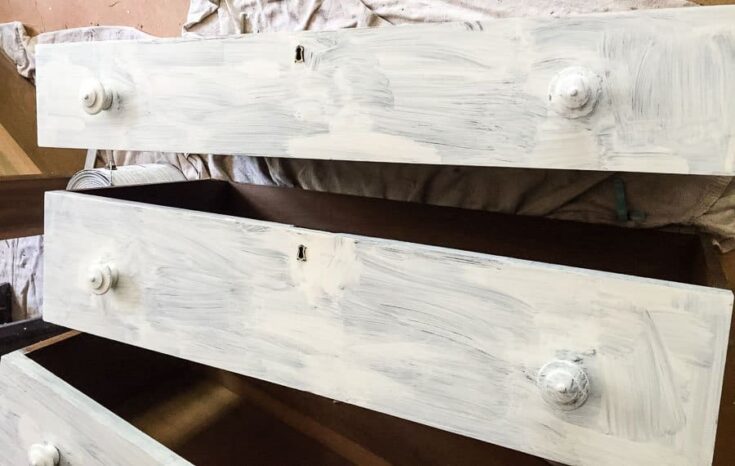 Learn how to paint dark wood furniture white without using a ton of paint. This easy method saves paint, time, AND money!
Total Time
3 hours
30 minutes
Materials
Shellac
Primer
White Paint
Polycrylic
Instructions
Prep the furniture as needed. Remove any hardware and clean well.
Sand wood if needed. Be sure to clean the sanding dust.
If the wood is red or yellow in color, seal the wood with shellac to prevent bleeding.
Apply 1-2 coats of white primer onto the furniture, letting the paint dry between each coat.
Apply 1-2 coats of paint.
When the paint is dry, distress the edges if desired.
Apply a topcoat if needed.
Notes
Priming the furniture before painting will help get the dresser white faster.
Paint in the same direction when using a polycrylic top coat.
Recommended Products
As an Amazon Associate and member of other affiliate programs, I earn from qualifying purchases.
You might also like:
Pin for Later!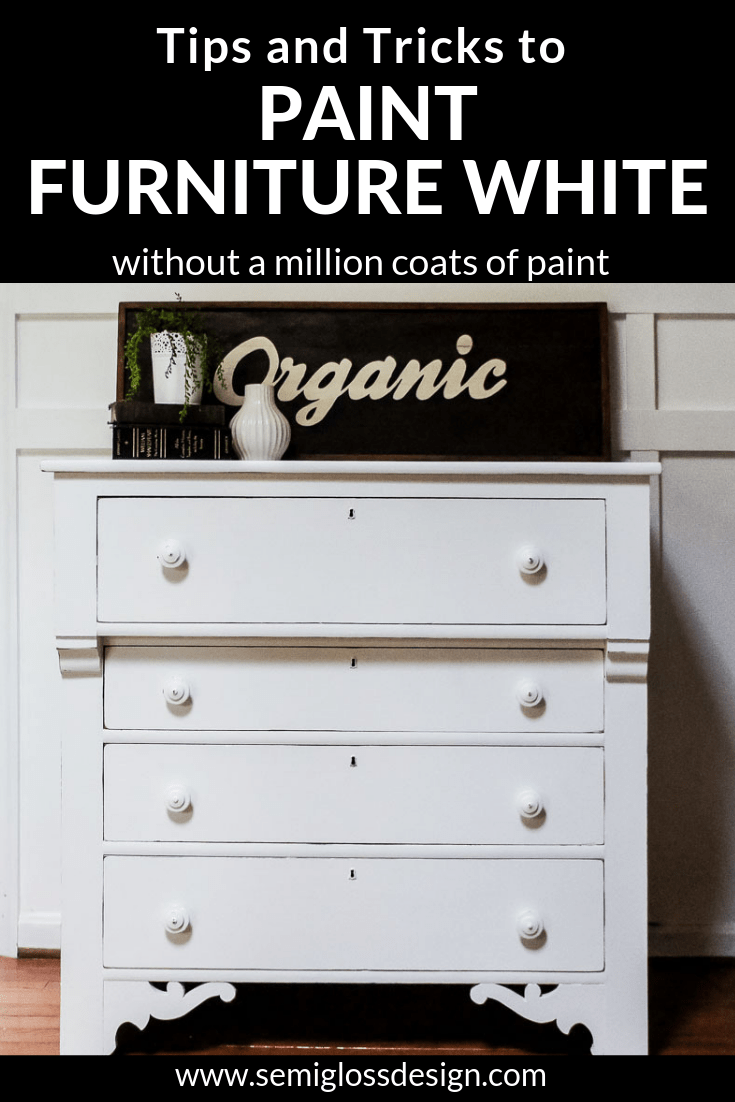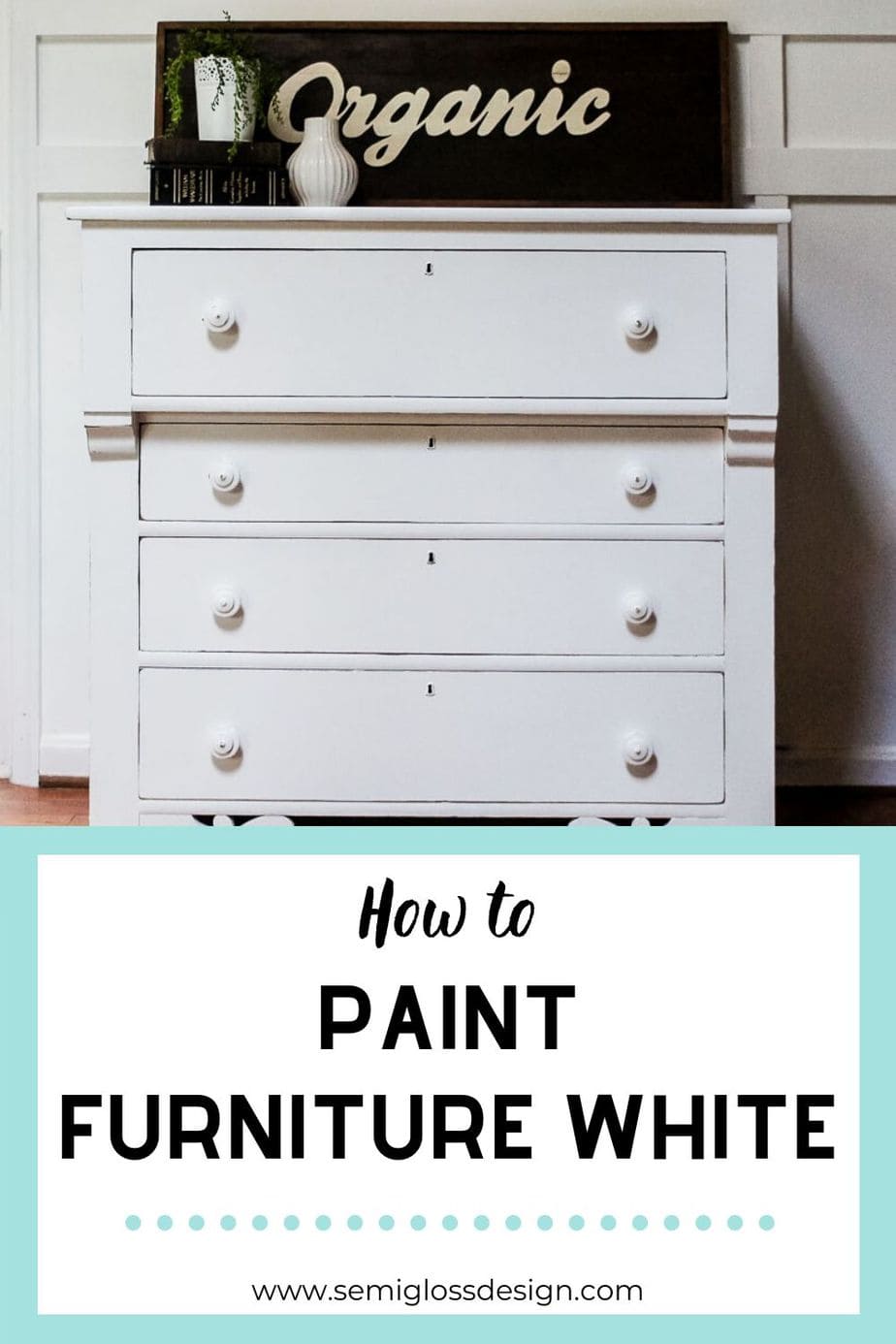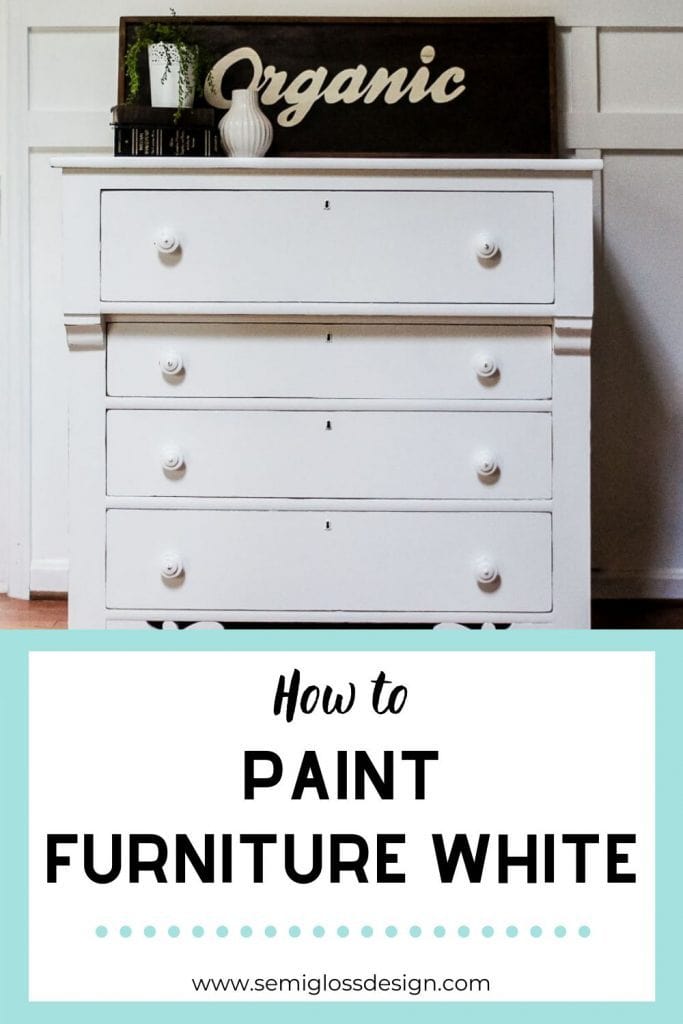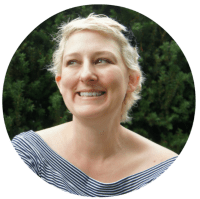 Emy is a vintage obsessed mama of 2 DIYer who loves sharing affordable solutions for common home problems. You don't need a giant budget to create a lovely home. Read more…