How to Install Stair Runners in Just a Few Hours!
Learn how to install stair runners! Now that the carpet has been removed and the stairs are looking good with paint and stain, it's time to add one more layer of style.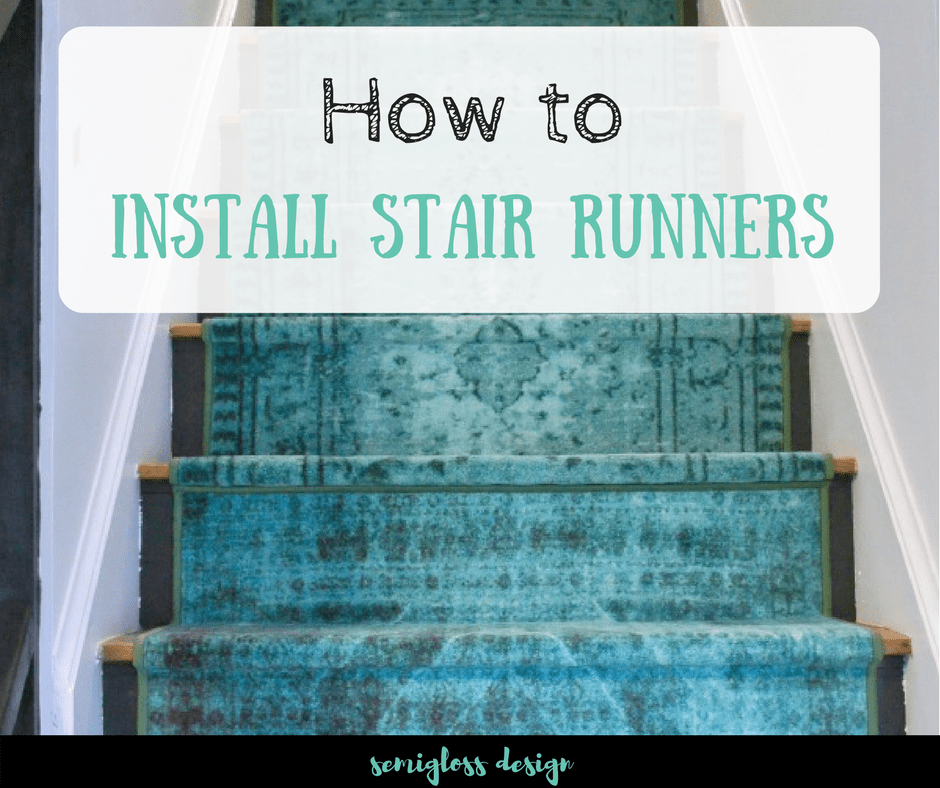 Why are most stair runners so ugly? Have you seen the ones in stores? Even the special order ones aren't great. I'm here to say, "No more crappy stair runners!" Shout it from the rooftops!
But, did you know that you can use regular floor runners on stairs? For a fraction of the price, you can have pretty stair runners. In a few hours, we were able to install stair runners that added a unique look to our stairs.
The ugliest part of our house is now the happiest!
DIY Stair Runner FAQs
What are stair runners?
Stair runners are installed over wooden or tile stairs to provide extra cushion. It is a width of carpet that doesn't cover the entire stairs.
This tutorial uses runner rugs, which are typically used in long spaces such as hallways.
Why add a runner on stairs?
But you might be wondering why we installed runners on our stairs to begin with? Didn't we just rip out the carpet?
The carpet was gross, old and stained. It had to go no matter what.
Without the carpet, the stairs are loud. We have kids and a rambunctious dog, so cutting down on noise is always nice.
It adds to safety. A bare staircase can be slippery.
It's soft underfoot. I'm still amazed when I walk on them first thing in the morning!
To add more color. Not sure if you noticed, but neutrals aren't really my thing.
And lastly, because I prefer a more-is-more approach to decorating. It makes my heart sing and these aqua runners just take the stairs from cool to amazing.
Do you need carpet padding on stairs?
Carpet padding is added to make carpet softer.
I chose not to add it for these runners because they're already pretty thick.
If you use thinner rugs, feel free to add it. Make sure that it's cut a few inches smaller than your width so that it doesn't show on the sides.
What size of staples are used to install a stair runner?
Your staples need to be deep enough to go through the stair runner and into the wood.
For this project, I mostly used 3/8″ x 2/5″ staples, which is a pretty standard size for other projects as well.
The upholstery stapler used a different width, but they were still 3/8″ staples.
Do the staples show on the runner?
No. They disappear into the texture of the runner. I've never noticed a single staple since I installed the runners.
This post contains affiliate links. By purchasing an item through an affiliate link, I earn a small commission at no extra cost to you. As an Amazon Associate I earn from qualifying purchases.
How to Install Stair Runners
Supplies Needed
Staples (You will use a lot! Make sure they go through the rug into the stairs.)
Measuring tape
Note 1: I bought my runners from RugsUSA on Black Friday, but I didn't open them until almost April. They are accidentally two different patterns, but I love the result. Look for sales to get the best price. Home Goods also has good prices on runners.
Note 2: I used 2 different staplers, but it's not necessary. It could have been done with a handheld stapler (it would hurt your hands, but it would still work). I used 2 because I have a favorite but it was too large to fit under the treads. ( I used an upholstery stapler and a regular pneumatic stapler.)
PS. Big thanks to my lovely husband for being my hand and arm model.
How to Install Stair Runners
Our 2nd floor landing has carpet, so we had to address that first. If you don't have a carpeted landing, skip this step. When I removed the carpet from the stairs, I used a utility knife to cut off the carpet, leaving just enough carpet to staple to the bottom edge of the landing. Using a staple gun, attach the carpet to the edge by stapling upwards. You will want to push up firmly to get the staples in. We probably used 20 staples to secure it firmly.

Position the first runner in place. Center it on the stairs. Our runners covered all but almost 2″ on each side.

Hold the top of the runner against where you stapled the carpet and staple along the top edge. The runner that we used was thick enough that the staples do not show at all. Just like with the carpet, be generous with the staples. You don't want the stair runners coming off!

Measure as you go, making sure your runner is staying straight. Staple along the corner where the treads and risers meet. Be sure to staple on the sides as well.

For each tread, fold the carpet over and hold it tightly in place. Staple up into the bottom of the tread.

Continue stapling the runner, changing direction as you go. If you staple one set of steps starting at the right side, start the next set on the left. This helps keep the runner straight. Measure as you go! Your walls will NOT be straight, so try to split the difference.
Continue until you get close to the end. When you get near the end, go ahead and staple it into the bottom of the tread.

Use a utility knife to cut the rest of the runner in the corner.
Installing the Next Section of Stair Runner
Butt the edge of the next runner to the top of the tread and staple in it place, keeping it aligned.

Keep going and repeat the process as necessary. Our stairs needed 2 1/2 runners.
Finishing the Stair Runner Installation
When you get to the end, staple it in place.

Use the utility knife to cut off the excess runner. The cut portion can be covered with a piece of quarter round (which I still need to do.)

Admire your lovely handiwork! Now that I know how to install stair runners, I wish I had more stairs! Wasn't it easy!
Installing stair runners was pretty easy and definitely made a big impact in my home.
Update: December 2019
The stair runners still look amazing. The bright color does a great job of disguising dog hair and dirt.
I worried that vacuuming the runners may eventually damage them, but they still look great.
Want to see the finished staircase remodel?
You might also like:
Be sure to pin this post!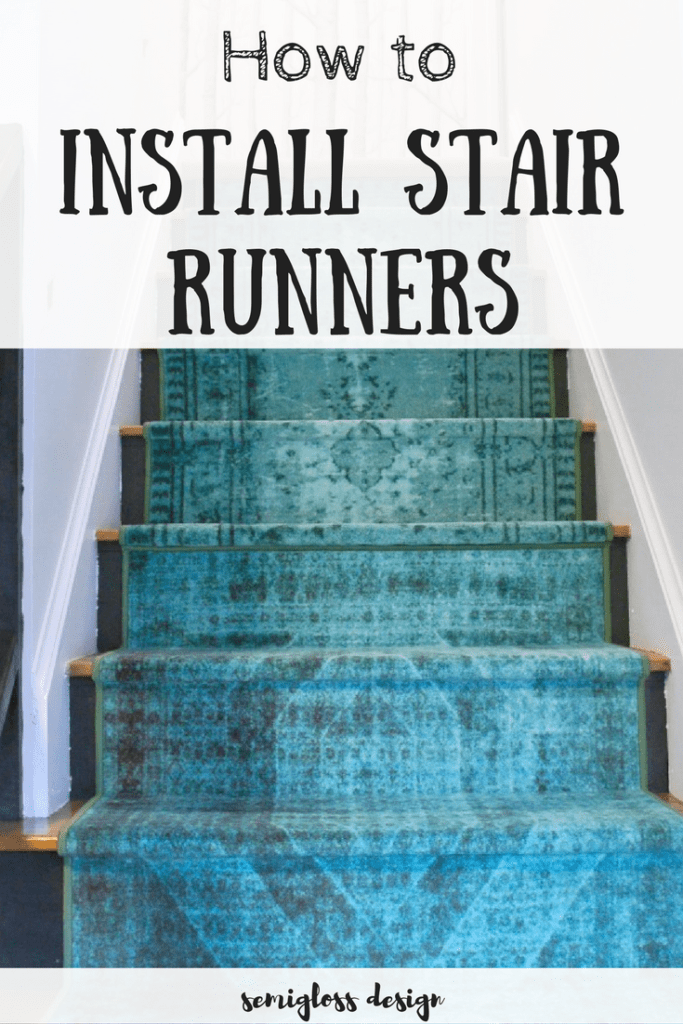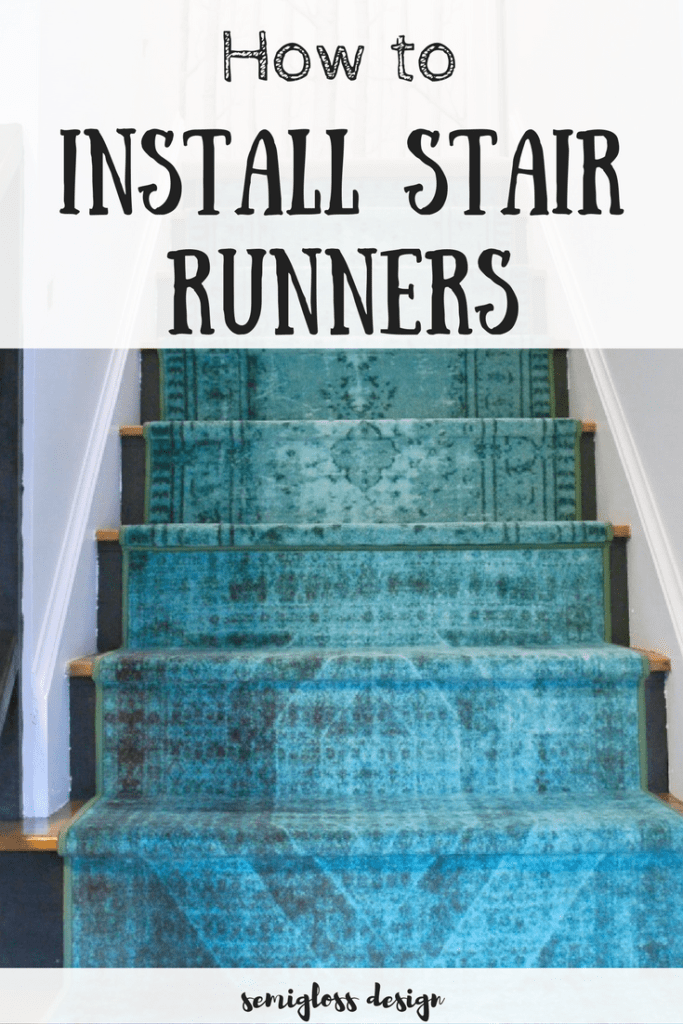 Other staircase posts:

Instagram | Pinterest | Facebook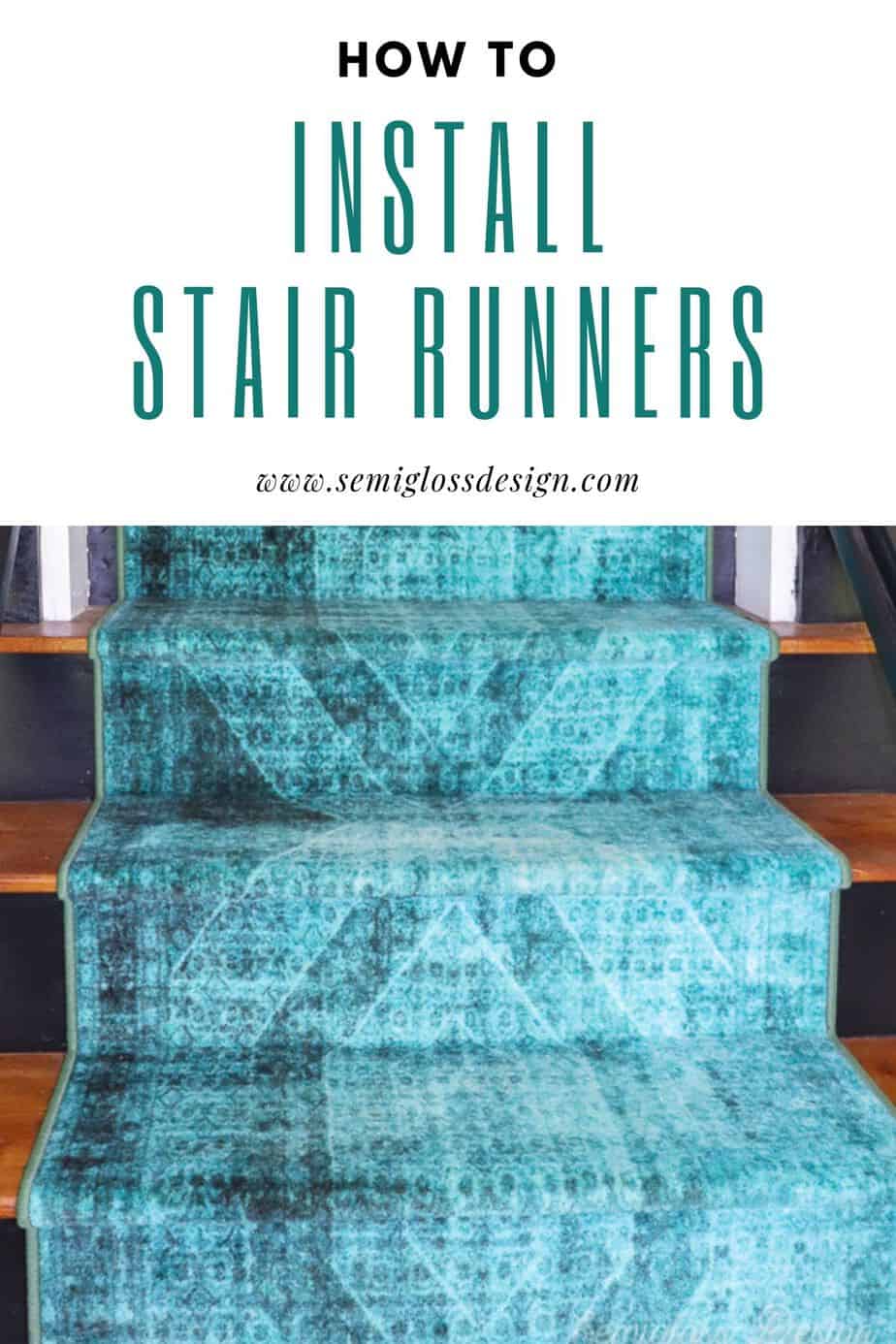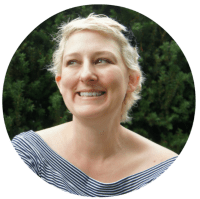 Emy is a vintage obsessed mama of 2 DIYer who loves sharing affordable solutions for common home problems. You don't need a giant budget to create a lovely home. Read more…