How to Paint a Door the Easy Way
Learn how to paint a door! Painting interior doors is an easy way to add a dramatic look to your home without spending a lot of time or money! Make those builder-grade doors look prettier with just a coat of paint!
Painting the doors was part of my staircase and hallway makeover. The entire staircase turned out great if I do say so myself.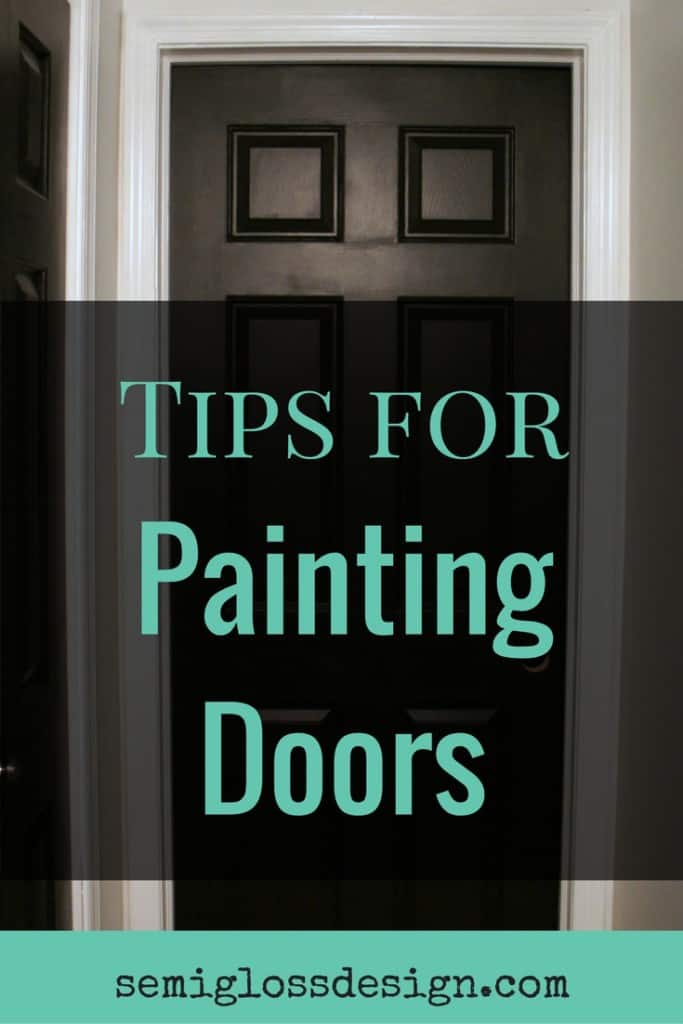 This post contains affiliate links. By purchasing an item through an affiliate link, I earn a small commission at no extra cost to you.
Interior Door Painting FAQs
Can you paint a door without removing it?
Yes, you can paint a door without removing it. Paint the door while it's open. Use a paint guide for the bottom edge to avoid getting paint on the floor. Leave the door open while the paint dries.
Should I use a brush or a roller to paint an interior door?
If you have a paneled door, you need a brush for the inset panels. Using a small roller makes painting the door faster.
I have painted doors using only a brush, as well. It takes longer, but it's doable.
How do I avoid brush marks when painting a door?
To avoid brush marks when painting, keep a wet edge. This means paint next to the paint that you just laid down. If you let it partially dry and paint over it, streaks will occur. Let those spots dry completely and add another coat.
Another way to avoid streaks is to use a paint sheen that isn't as shiny. I like satin because it holds up to traffic and can be cleaned, but is still fairly matte. Glossy paint sheens like semi-gloss will show streaks easier.
What kind of paint should I use for painting a door?
I use latex paint in a satin finish when painting doors. Satin is a nice sheen for doors because it can be cleaned, but it doesn't require a million coats of paint like semi-gloss paint does.
What color should I paint my door?
It depends on what you're going for. I like painting my door colors to add a fun detail to a space. Black is classic but can be overwhelming in a dark space. Colorful doors add a fun punch of color.
I painted the doors on the 2nd floor of my home black for a classic look. The main floor of my home has gray doors, which help disguise dirt and wear. In my basement, I just painted a door pale blue and it's so beautiful.
How do I prepare a door for painting?
Clean the door well before painting. Paneled doors can accumulate dust. Be sure to clean the top edge of the door as well to avoid tracking dust across your fresh paint.
If you are drastically changing the color of a door (from dark to light), use a primer to help you get to a lighter color faster.
If your door has a shiny finish, you may want to lightly sand the door before painting.
You might be interested in learning how to paint French doors.
How to Paint a Door
Supplies Needed
Paint ( I used latex paint in a satin finish)
Paint tray
Screw driver (to remove door knob)
Paint edging tool (to use on door bottom edge)
I painted my doors in Sherwin Williams Tricorn Black, my favorite black paint.
Looking for places to order paint online?
Clean the door well. You don't want dust to ruin your paint job, so wipe the door down with a damp cloth first.
Remove the doorknob. It's not that hard to do and it takes less than 5 minutes. It's much easier than just taping it off. If your doorknobs are ugly, it's a good time to replace them. Even inexpensive, knobs look better than old ones.
Paint sheen is important. Although I love the look of matte paint, it doesn't hold up well on doors. Doors get heavy use and matte paint scratches easily. However, gloss and semigloss paint take forever because of how many coats of paint you will need. I prefer satin for doors. It holds up to regular use, can be scrubbed clean, and covers easier.
Use a paint brush AND a foam roller. As tempting as it can be to only use one, painting doors goes faster when you use both a brush and a roller. The brush is for the recessed areas and the tops and bottoms of the door. The roller makes fast work of the flat panels and edges.
Paint in the correct order. The recessed areas get painted first with a brush. The rest gets painted with a roller, besides the very top and bottom.

Paint the edges if you can see them. I don't think there's any real rule to where to stop a paint color when painting doors, so stop the color where it's going to bother you if it's not painted.
For instance, on the bi-fold doors, I could see white peeking out when they were closed, so that area needed to be painted.
I opened them all the way to paint the edges. I still need to get the edges where it opens, which will be tricky because this closet is small and I run the risk of getting paint on clothes.

Use a paint guide for the bottom of the doors. I use this paint guide under the door to paint the edge.
For one door, there is very little space between the carpet and the door edge, so I left the paint guide there while the paint dried. Don't move it. Trust me. You risk smearing paint everywhere.
(If you do get paint on the carpet, it comes off with rubbing alcohol and elbow grease.)
If possible, wait a few days before replacing the doorknobs. Otherwise, the paint will stick to the doorknob. You'll never notice until you go to remove the doorknob and it rips a lot of the paint off. Again, trust me.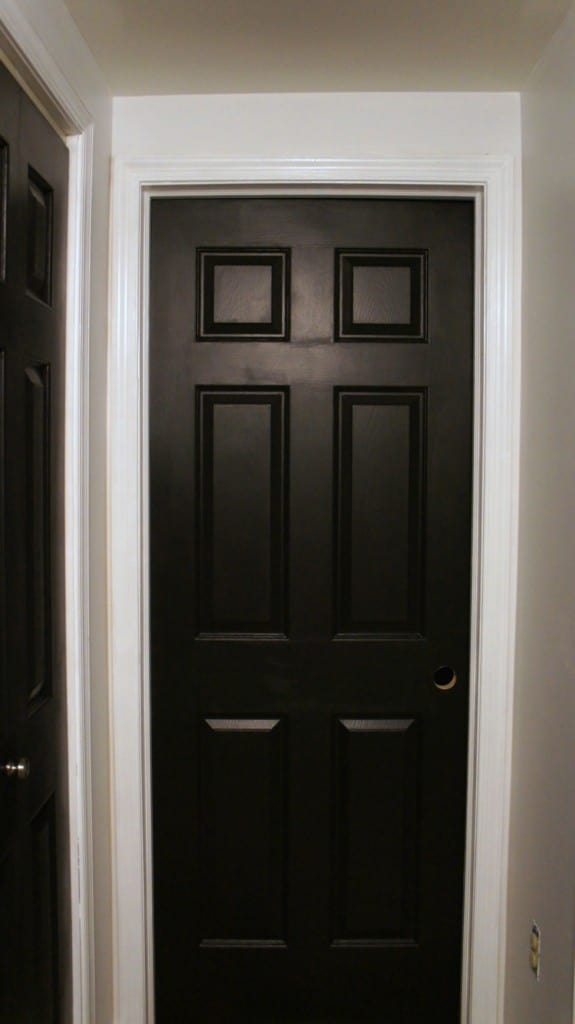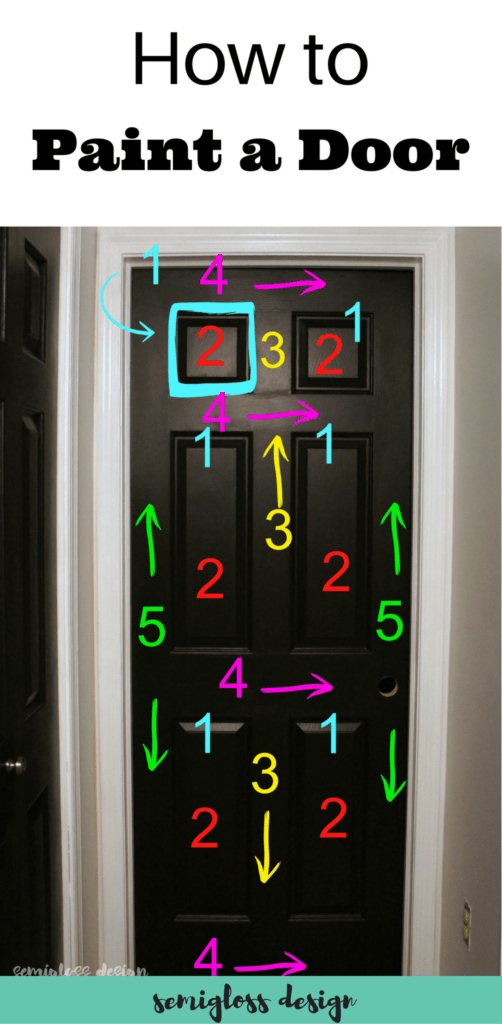 You might also like:
Pin for Later!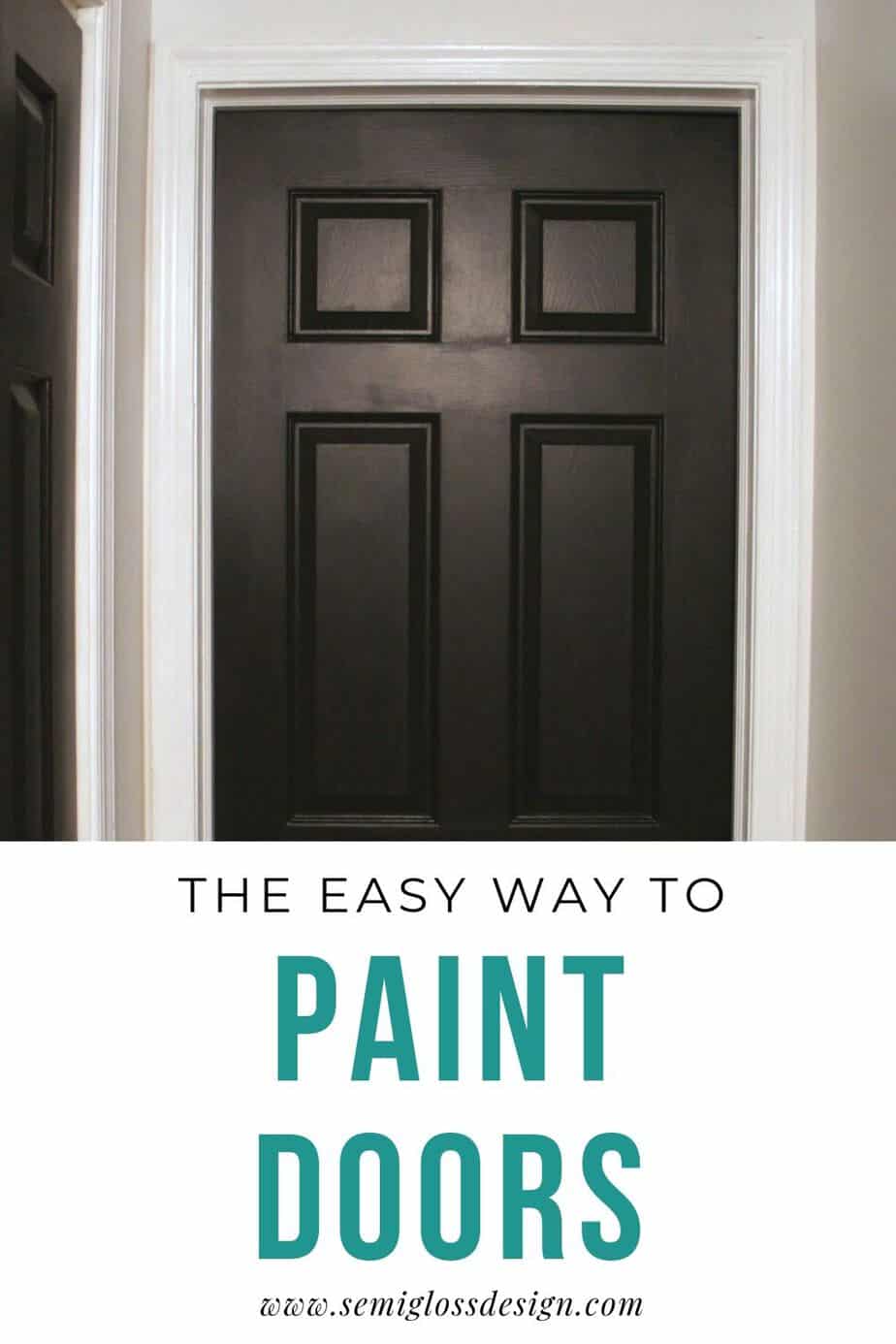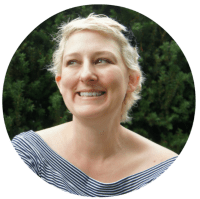 Emy is a vintage obsessed mama of 2 DIYer who loves sharing affordable solutions for common home problems. You don't need a giant budget to create a lovely home. Read more…