Learn how to use HTV on glasses. You might also like this post on how I used permanent vinyl on wine glasses. 
I've also made a cool retro drink pitcher using vinyl.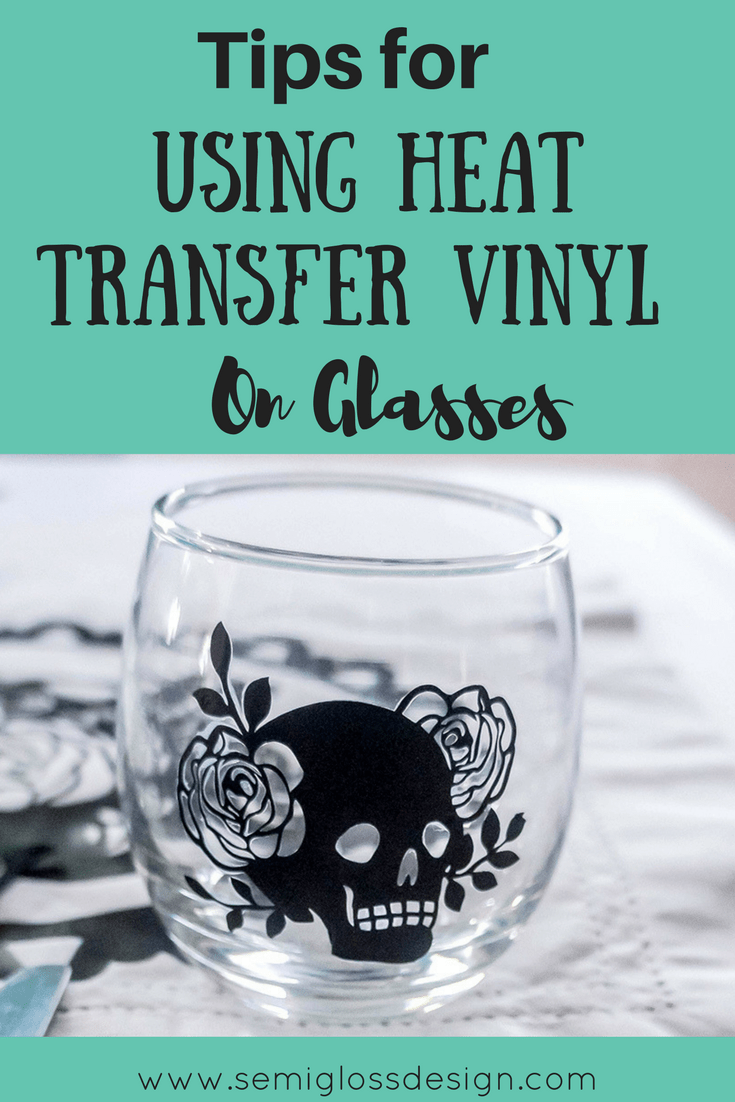 I've always looked at glasses with designs and wondered how they put those designs on glasses. And more importantly, how I could do it myself!
When I learned that I could use HTV on glasses, I was thrilled! For my Halloween tablescape, I made glasses with skulls on them and I learned so much during the process!
Today, I'm sharing my best tips for using HTV on glasses.
Please note:
***After washing my glasses, I learned that the HTV might not stick to the glass permanently. Think of it like a temporary tattoo for glasses.
Some of my glasses still have the designs after several weeks of use and gentle washing. If you want yours to last longer, iron the design on for a bit longer to ensure that it is fully adhered and hand wash your glasses. Do not let them soak in water.
Even if the designs aren't permanent, I'm okay with it. Now I can make other designs for other holidays and occasions without having a cabinet full of specific holiday glasses.***
Check out this post to learn how to use permanent vinyl on mugs!
This post is sponsored by Craftables. Craftables provided me with the heat transfer vinyl for this project, but all thoughts and opinions are my own. I would never recommend products that I wouldn't buy or use on my own.
Tips for Using HTV on Glasses
This post contains affiliate links. By purchasing an item through an affiliate link, I earn a small commission at no extra cost to you.
Supplies Needed
***I used a regular iron because I don't have a mini iron and not many people do. If this is a project that you're going to do a lot or if these are gifts and you want them to be perfect, invest in a mini iron. A regular iron worked, but was a bit awkward.
Semigloss Design is not responsible to any accidents that occur while attempting this project. Do so at your own risk.
Now that the necessary disclaimers are out of the way, just be careful. Irons are hot.
I worked on a space covered in a towel, so that it could keep my glass steady and be nearby in case the glass became hot. That never happened, but I was prepared.
Tips for Your Design
Choose a small, simple design. Since glasses are round, your design should either be small or you should be able to cut it apart.
I chose a skull, which is not able to be cut apart. If I did it again, I would make it smaller.
Measure the area on the glass where you want your design. Make your design a but smaller than that to account for the glass being round.
Need some tips for weeding small designs?
For phrases, space them in a manner that makes them easy to cut apart. When you apply them, cut close to the edges so that you can place them closer together on the glass.
Cutting the phrase apart will allow you to wrap the design around the curves of the glass easier. 
Also, if you do text, make sure you weld it together so that it doesn't cut funny where the letters meet.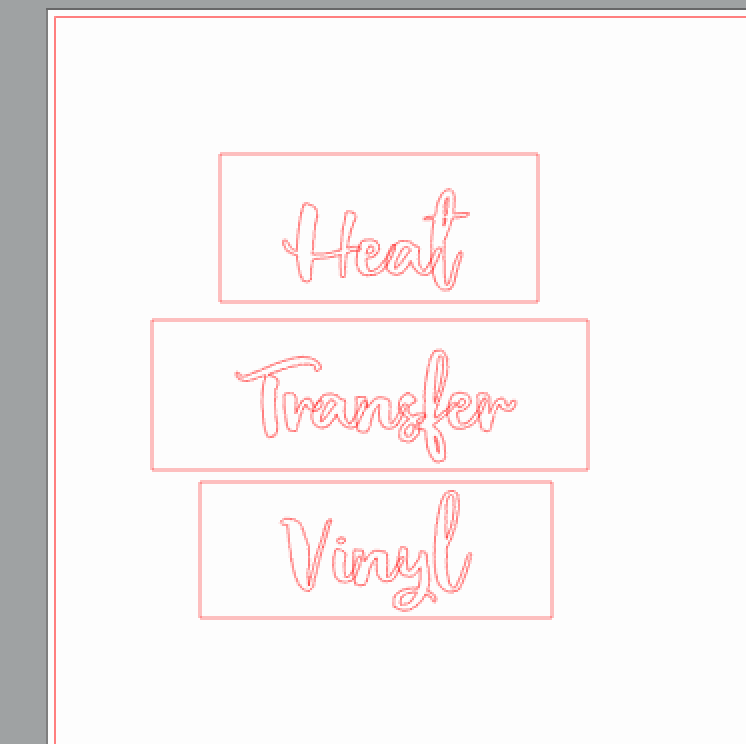 Applying the HTV to Glass
Start with very clean glasses. Use rubbing alcohol on the glass to remove any oil from your fingers.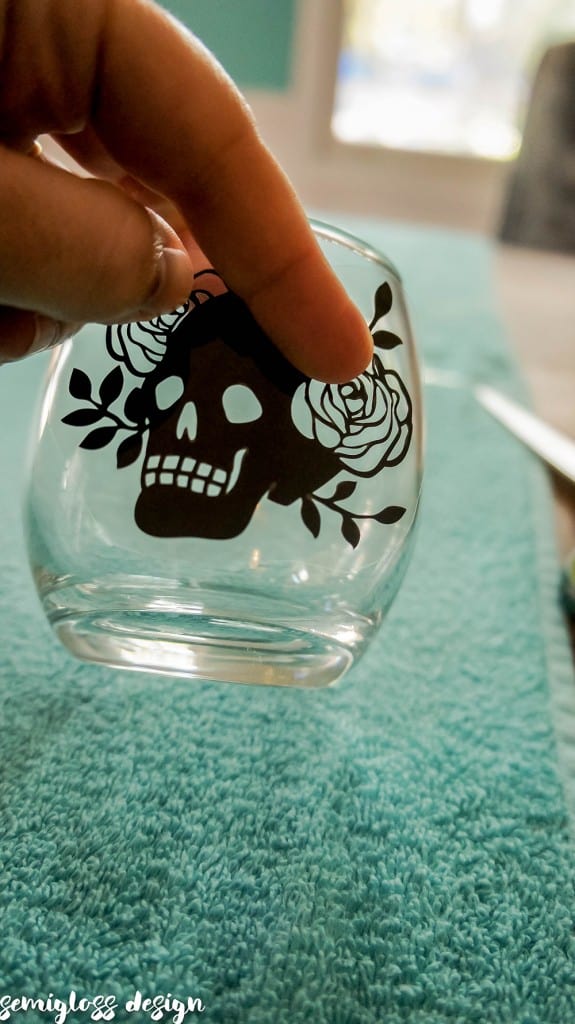 Iron for about 30 seconds. On fabric, you only need to iron the HTV for 12-15 seconds, but glass needs much longer! It needed closer to 30 seconds for each area to adhere.
Normally with HTV, I use freezer paper to protect my iron from the plastic film. It wasn't necessary during this part of the process. In fact, it made it feel dangerous and I couldn't get the vinyl to stick until I removed it.
I would love to try this technique with a mini-iron and see if that helps.
You can tell when it has adhered because it pulls away from the plastic and sticks to the glass.
Pull the plastic off. After you pull the plastic off, cover it with freezer paper and iron it a bit longer, especially the tiny parts.
Care for HTV on Glass
Gently hand wash your dishes after use. Do not let them soak in the water or the design will come off.
Do not microwave.
Do not place in the dishwasher. HTV is not dishwasher safe.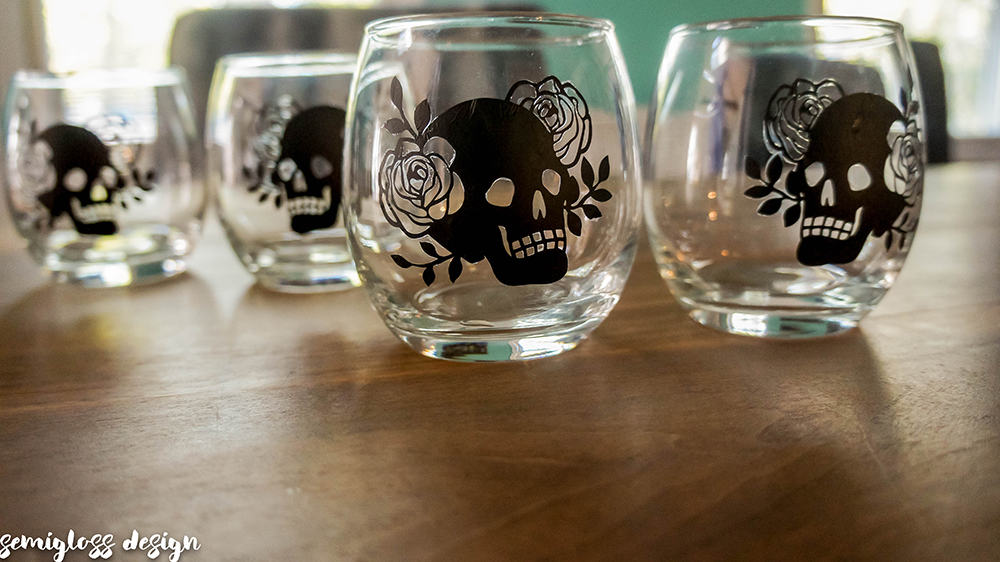 My design was a little too large for my glasses, so they are not perfect. If you look at them closely, you can see wrinkles. From far away, they look fantastic, though!!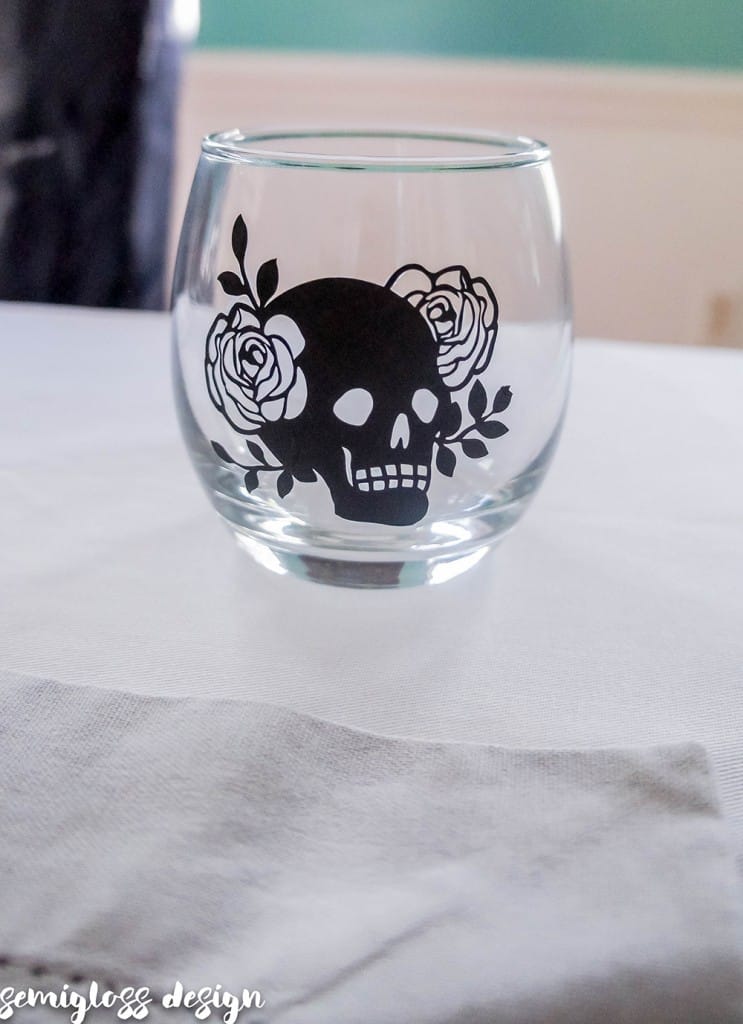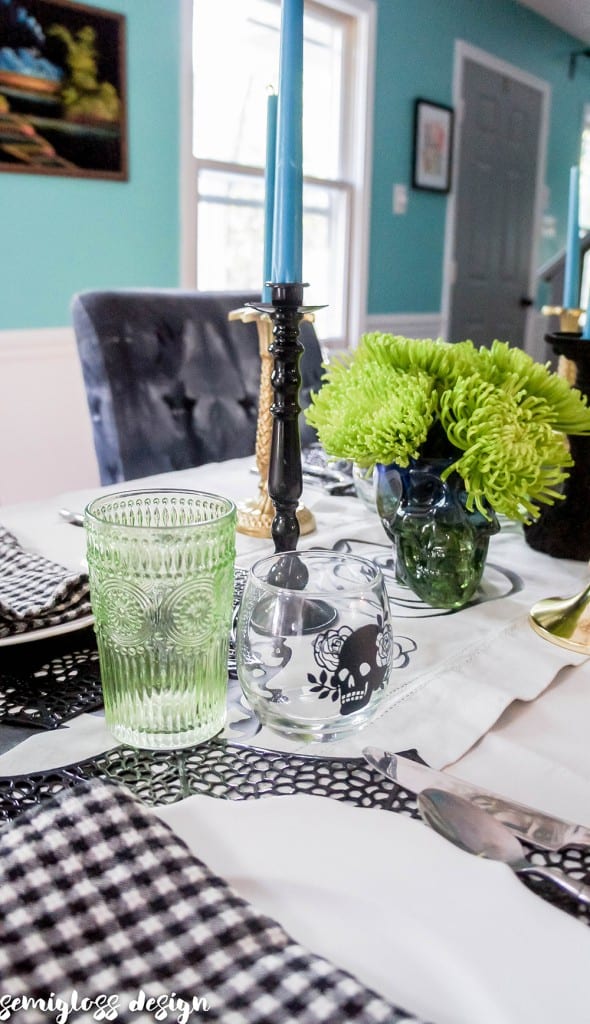 Do you like my table runner? It's made with HTV as well!!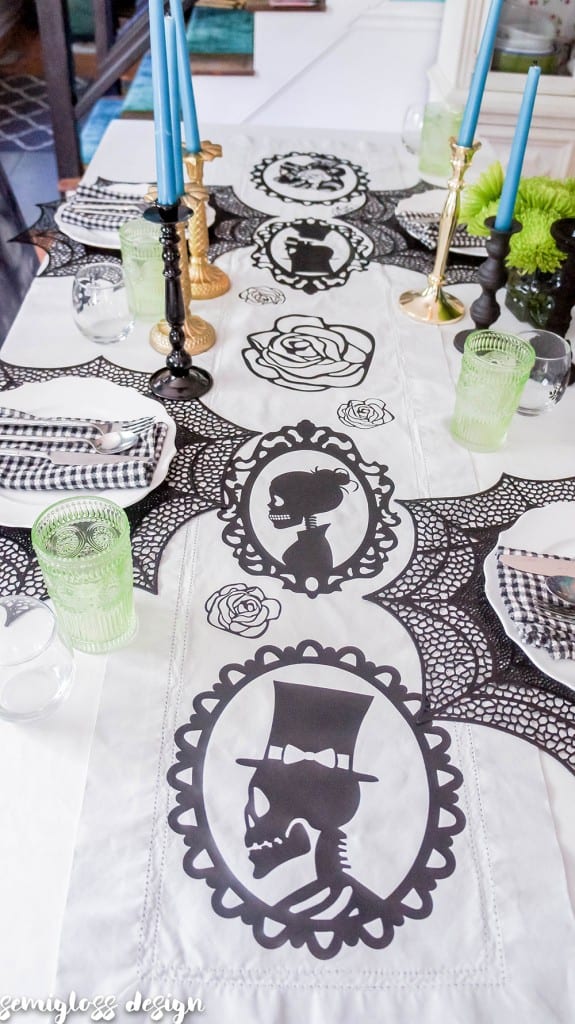 If you liked this post, you might also like:
Pin for Later!