How to Choose a Nail Gun: Pneumatic VS Battery Nailer
Learn how to choose a nail gun!
Power tools are my favorite. Give me a power tool over a diamond any day! I'll take a trip to Lowe's over a trip to Tiffany's!
In my last house, I did my first board and batten room with a hammer and nails. I also used a handheld saw and a miter box. It took me days to complete the cutting and hammering!
Now that we have real tools, I did the same board and batten in a much larger room. What took me days to complete for a tiny powder room, I finished in hours for a much larger room.
One of my favorite tools is my nail gun. They are so cool and so fast, plus you feel like a badass when you use one! Also, they're good for Charlie's Angels type poses. I have both a pneumatic nail gun and a battery-powered, cordless nail gun.
Now that I've gotten the chance to use them for a while, I thought it would be fun to compare the two and help others learn how to choose a nail gun.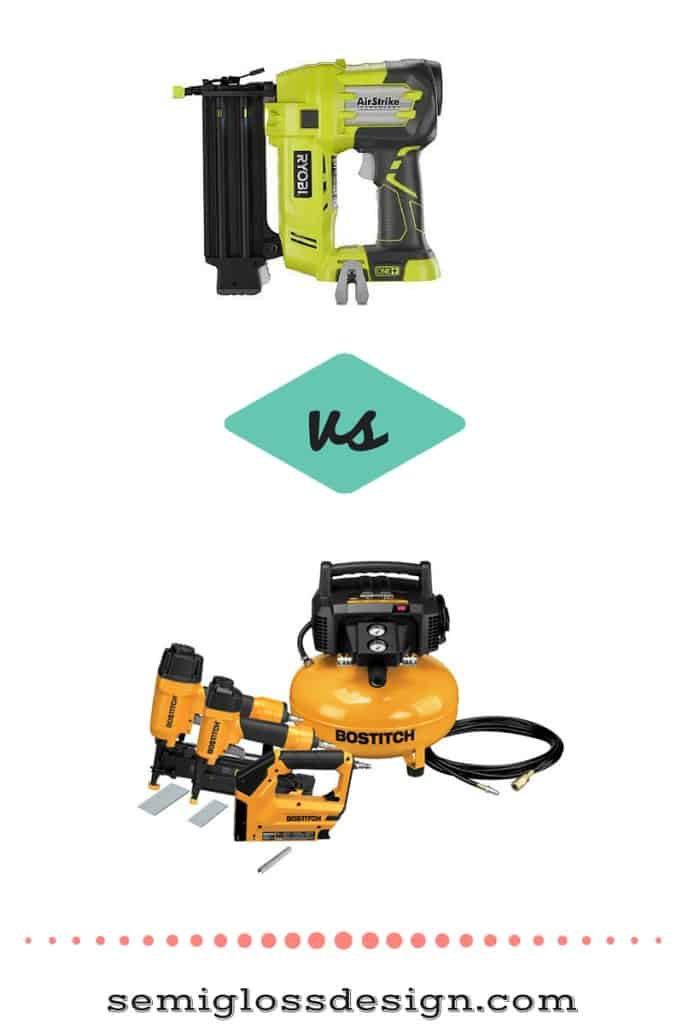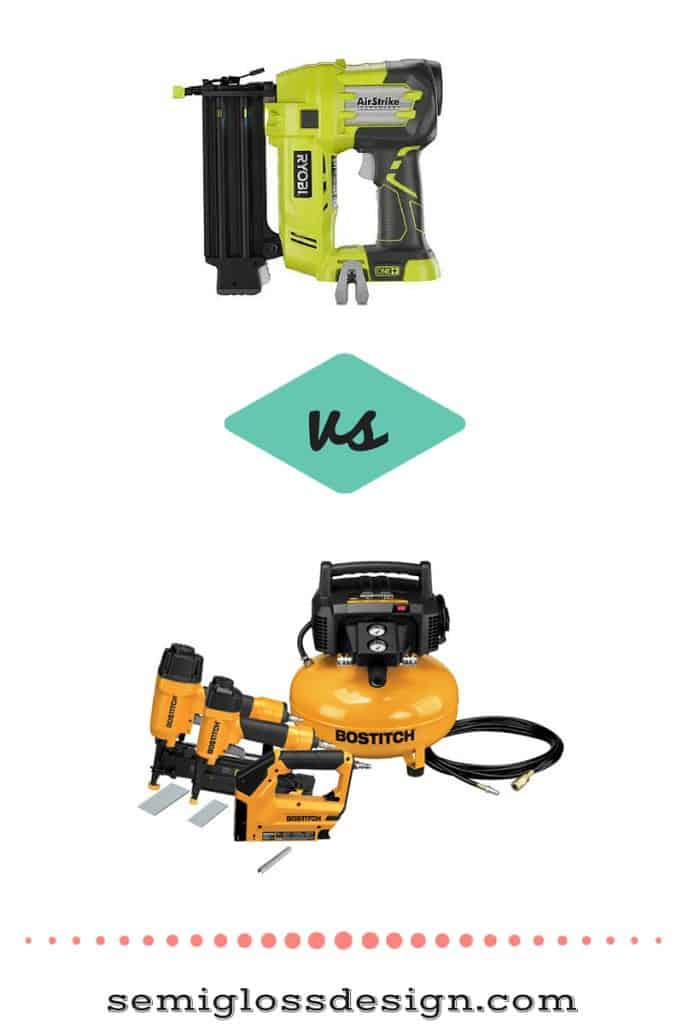 What's the difference between a brad nailer and a finish nailer?
Brad nailers are smaller than finish nailers. They're used for thin trim. We like to use ours for tacking something in place.
Finish nailers are great for heavier trim. They are much stronger than brad nails.
How to Choose a Nail Gun
This post contains affiliate links. By purchasing an item through an affiliate link, I earn a small commission at no extra cost to you.
I have had a Ryobi cordless nail gun for a few years now. Our original one actually stopped working after charging one day, but we bought another one because we loved it so much. For Christmas, I received a Bostitch 3 Tool and Compressor Combo kit.
Ryobi Cordless Nail Gun VS Bostitch Compressor 18g Nail Gun
Intimidation Factor
Nail guns are a little scary if you've never used them. As with all power tools, caution is needed so a little fear can be a good thing to keep you safe. Both nail guns are completely safe. They have a safety mechanism that only allows nails to be shot when pressed against the wood. You can't shoot it like it's a nerf gun.
I find that the Bostitch is still a little scary. It might be because my husband pulled the safety valve without warning me. It made a loud noise and scared me, so that's still in the back of my mind. I'm comfortable using it though. Knowledge about how things work always helps matters. So will time. Update: I'm not afraid of it at all anymore and use it quite comfortably on my own. It was only scary for about the 1st month I used it.
Winner: Ryobi, by a tiny bit. I don't think this is either tool's fault though.
Portability
Ryobi is cordless, so it is clearly the winner for portability. We used it to nail paneling over our fireplace and felt comfortable using it on a ladder. The compressor and hose would have made the job more difficult.
However, I would like to point out that the Bostitch isn't bulky or heavy. It's fairly light and easy to move. The compressor is small, less than 2′ square.
Another feature that I like is that it stores the air and you don't have to leave it plugged in to use it. I always thought it would need to be plugged in and running to use.
Winner: Ryobi, but the Bostitch isn't un-portable.
Ease of Use
I find both nail guns to be easy to use. The Ryobi is a little smaller because it doesn't have the hose attached to it. It can fit in smaller places. I have found a fix to that though. By adding a swivel plug*** to the hose, it should move around a little better.
Winner: Ryobi, by a tiny bit.
Versatility
This is where the Bostitch shines. Once you have an air compressor, you can use even more tools. It comes with a 16 gauge nail gun and a staple gun, but there are so many other tools that you can use with it.
A few on my list are a paint sprayer, a framing nail gun, an upholstery stapler***, as well as accessories*** for blowing up inflatables and airing up tires. It even has an attachment to use as a blower.
Update: We own all of those extra tools except for the paint sprayer (on our list to buy) and they all work beautifully with the air compressor. My husband really loves the air blower to quickly clean things off.
Winner: Bostitch
Speed
Both nail guns are incredibly fast. However, I think the Bostitch is tiny bit faster when you shoot nails rapidly.
Winner: Bostitch
Noise
Neither is as loud as a hammer. The Bostitch has the initial noise of filling the tank, but once it's done, the compressor makes no noise at all. It doesn't even need to be turned on!
The Bostitch is a bit quieter, making only a psst noise when you pull the trigger. The Ryobi makes a slightly louder noise.
How long it lasts before a refill or recharge
The Ryobi might last 4 hours on a good day. It takes 30 minutes to charge.
The Bostitch lasted 4-5 hours before I had to refill it with air. It takes 2-3 minutes for this. Each tool uses a different PSI and amount of air.
The nail gun works at 60 PSI so it doesn't use very much. The staple gun works at 90 PSI, so it uses a bit more.
Winner: Bostitch refills a lot quicker and seems to last longer depending on the tool used.
Summary of Nail Gun Comparison
I love both nail guns. I think they both have their uses.
The Ryobi cordless nail gun is perfect for someone who is newer to DIY. It's an easy tool to use and get comfortable with. It is perfect for trim work.
It's great for working in high or small spaces. It's great if you already own and love Ryobi products. It's great if you like to loan out tools to co-workers. cough*husband*cough
The Bostitch compressor and combo kit are perfect for someone who has ambitious DIY goals and needs versatility.
It's great for people who like tools and the opportunity to buy more tools! It's also great for people who get sick of waiting for batteries to charge.
I hope this helped you choose the right nail gun for you.
You might also like:
Pin for Later!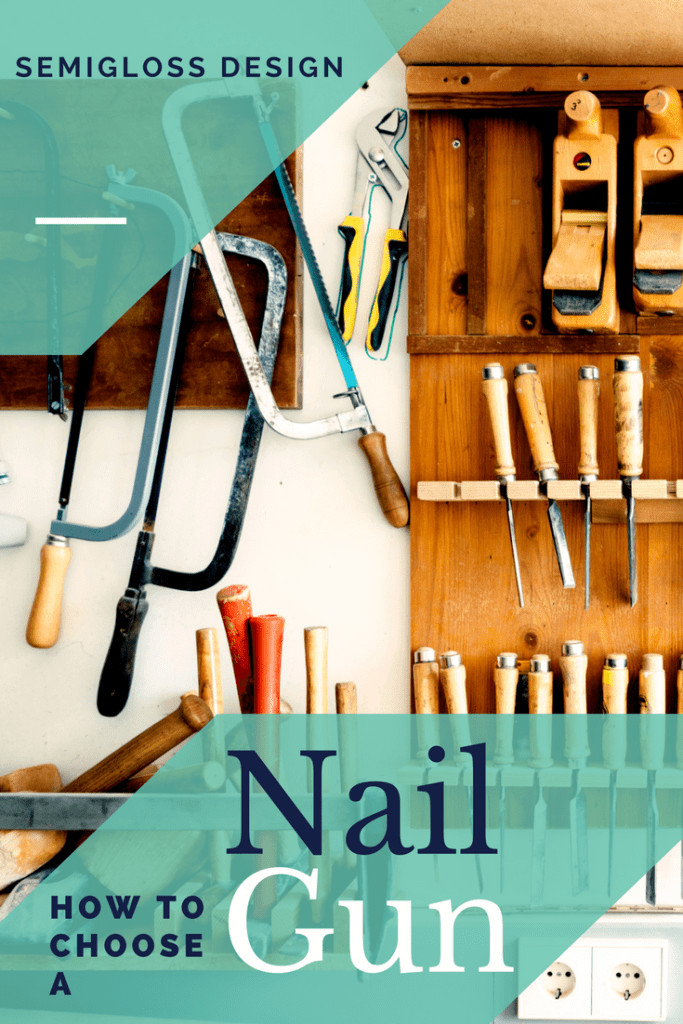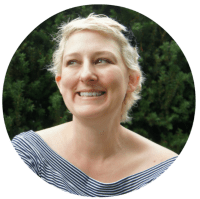 Emy is a vintage obsessed mama of 2 DIYer who loves sharing affordable solutions for common home problems. You don't need a giant budget to create a lovely home. Read more…