How to Build the Easiest DIY Daybed Ever
Learn how to build an easy DIY daybed.
A perfect day for me involves me curling up with a book in a sun filled room on a lazy summer day. To make my dreams comes true, I knew that I needed to add a daybed to my sunroom.
However, I didn't want to buy new materials for it. So a plan was made using existing extra deck wood that we already had laying around.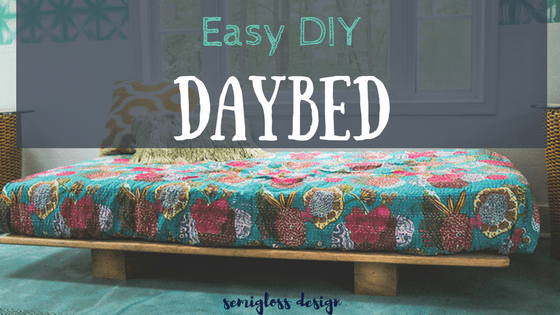 Sometimes the best ideas come from using what you already have.
We were able to make our daybed without spending any money, by using what we already had around the house (besides the bedding.)
If you don't happen to have leftover deck wood lying around, you can use 1×6's instead.
The daybed design is very modern, yet rustic. What I loved most about it was how easy it was! This daybed is perfect for beginners, even if you've never built anything before! If you get the wood cut at the hardware store, all you need is a drill to assemble it.
This is the kind of project that really boosts your building confidence!
Note: Deck wood is pressure treated and generally not advised to be used indoors. The wood that I used has been outside for about 2 years, so all of the chemicals have since worn away. I feel safe using this wood.
Want to see the rest of this room? Check it out here!
What is a Daybed?
A daybed is a cross between a sofa and a bed. It can be used in a living room or a bedroom. They are great for rooms where you want to relax and lounge around.
My version is a simplified platform daybed. For a more complicated bed tutorial, be sure to check out my DIY canopy bed.
Easy DIY Daybed
Supplies Needed
This post contains affiliate links. By purchasing an item through an affiliate link, I earn a small commission at no extra cost to you.
6×6 | 2 pieces cut to 33″ each
Deck boards (or 1×6's) | 7 cut to 72″ (or a bit shorter than your mattress length*)
1×2 | 4 pieces cut to 33″
Screws – (these are my favorite screws to use because they really pull the wood together.)
Twin Mattress*
*Check your mattress dimensions. Every time I google "twin mattress dimensions," it tells me that twin beds are 80″ long. However, the twin mattresses in our home are closer to 72".
How to Make a Daybed
Cut your wood to length. Sand all edges. If desired, stain or paint them.
Lay deck boards face down. This forms the platform, which totaled about 39″ wide.
Position the 6×6 12 inches from the edge.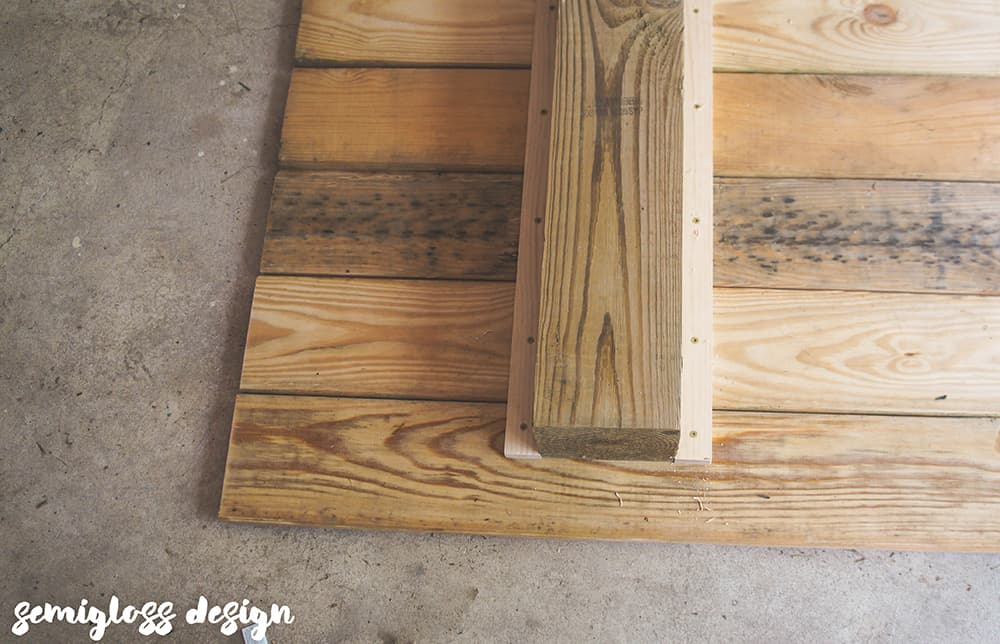 Place the 1×2's on either side of the 6×6 and screw the 1×2's into place, making sure it sits across all of the boards. I screwed them into every board.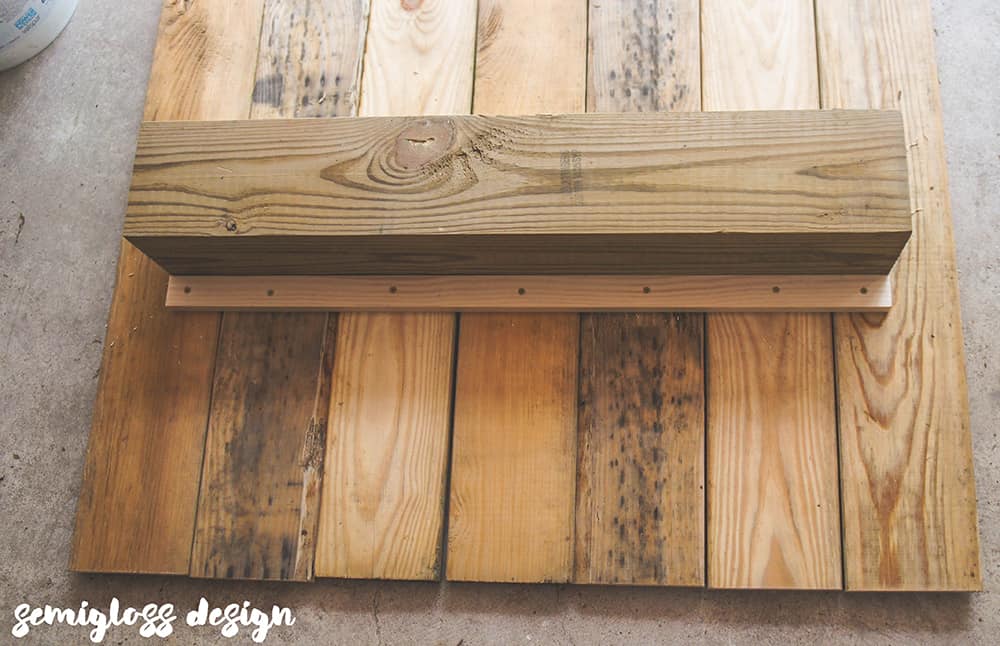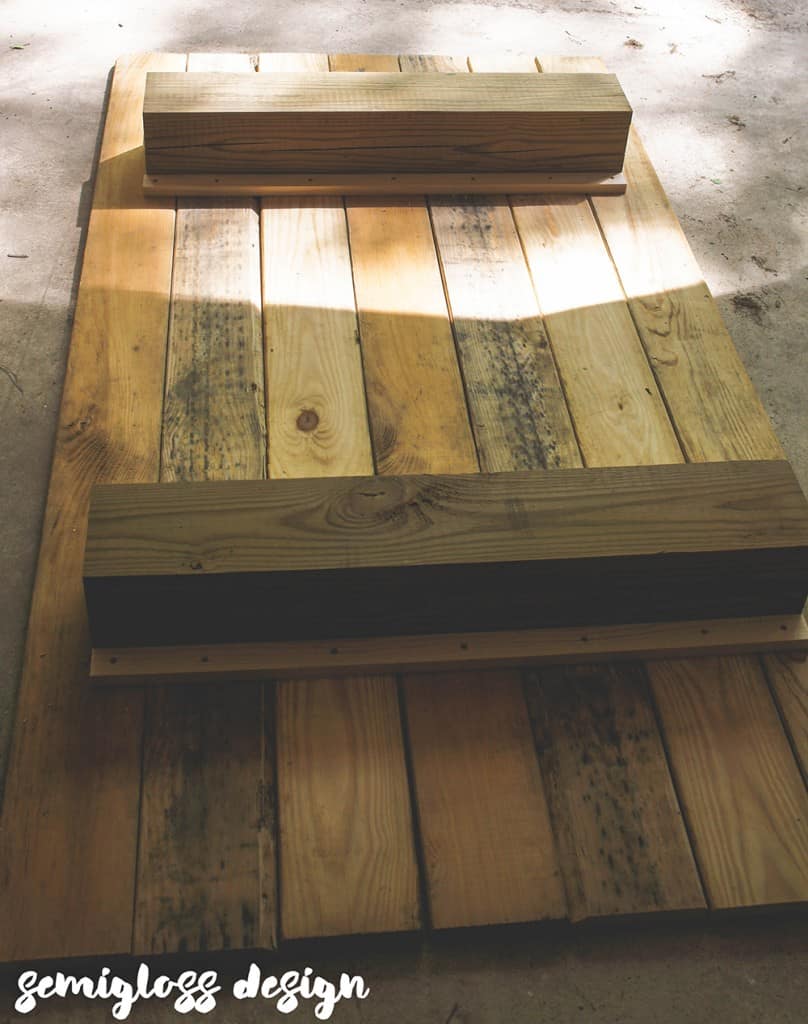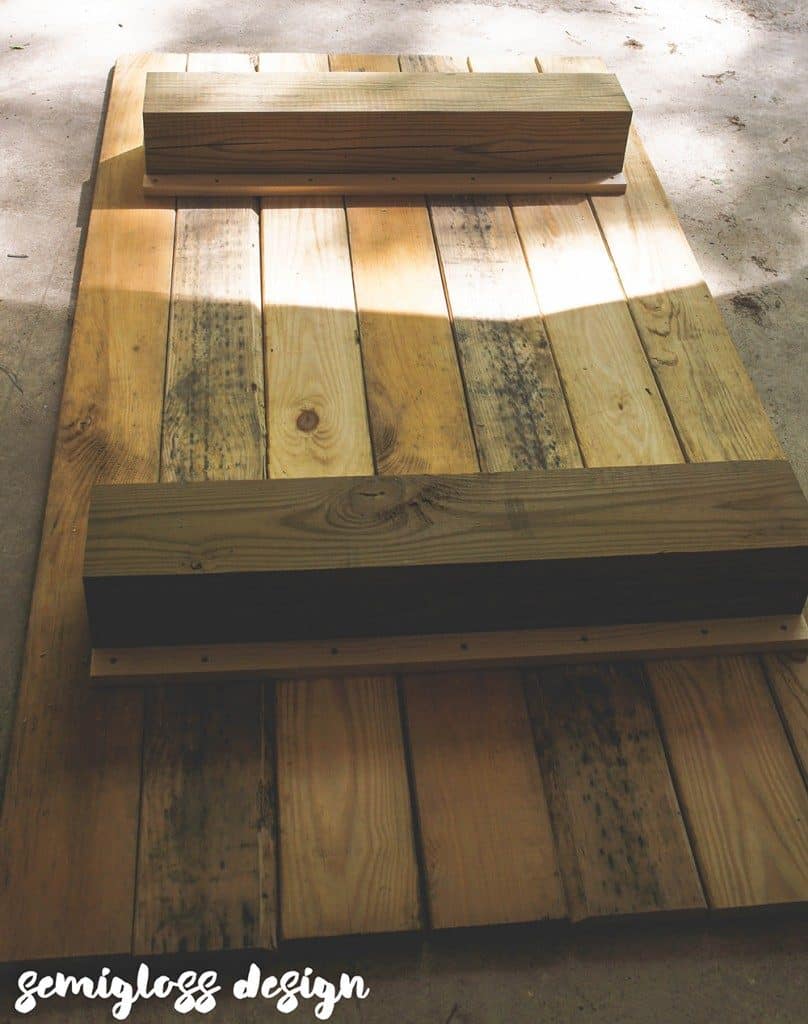 Repeat for the other side. You will have 3 pieces at this point: the 2 6×6 "legs" and the platform made of deck boards and 1×2's.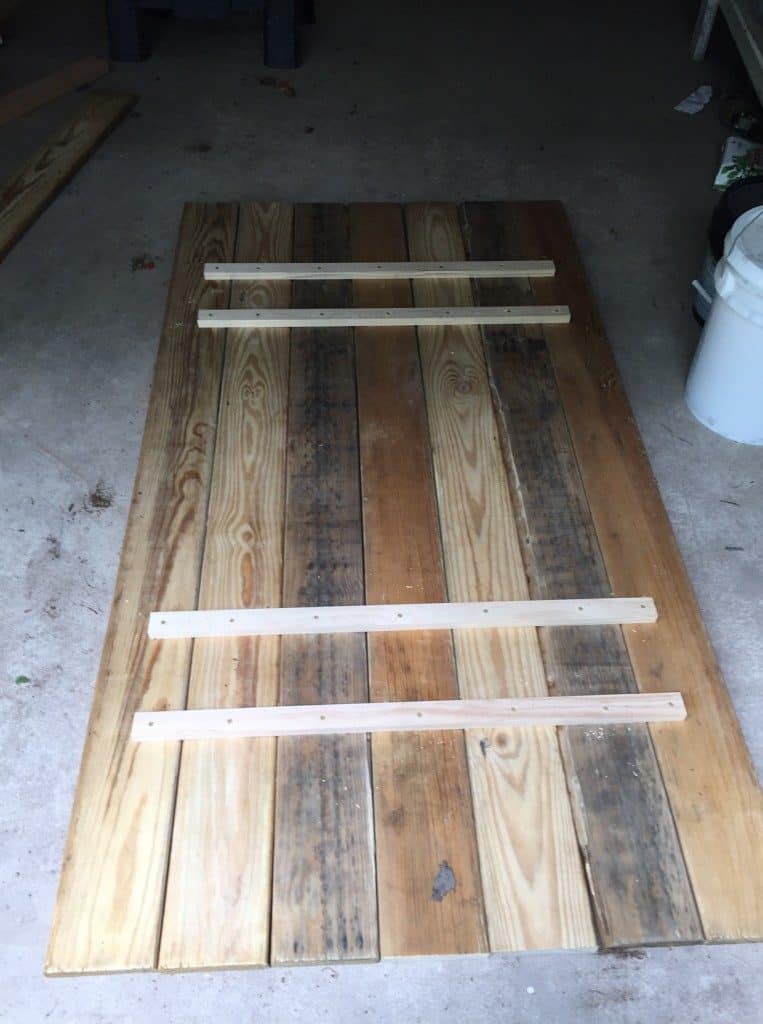 Position the 6×6's in the room where it will live. Try to get the wood roughly in the right place.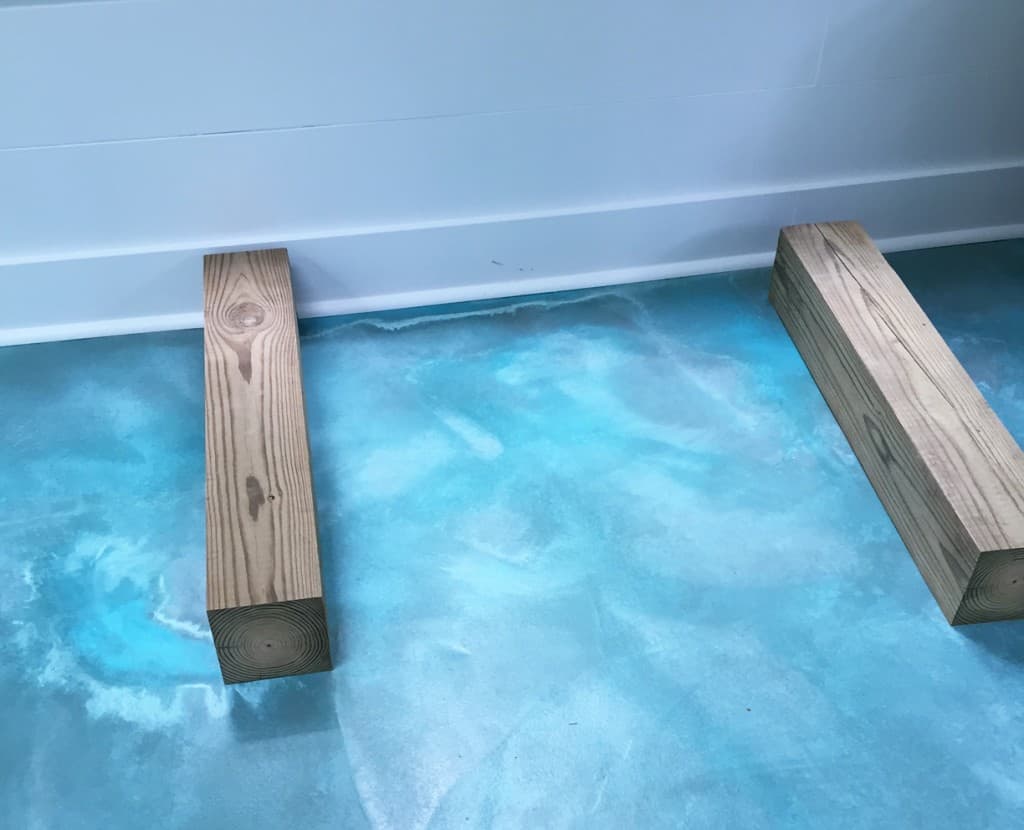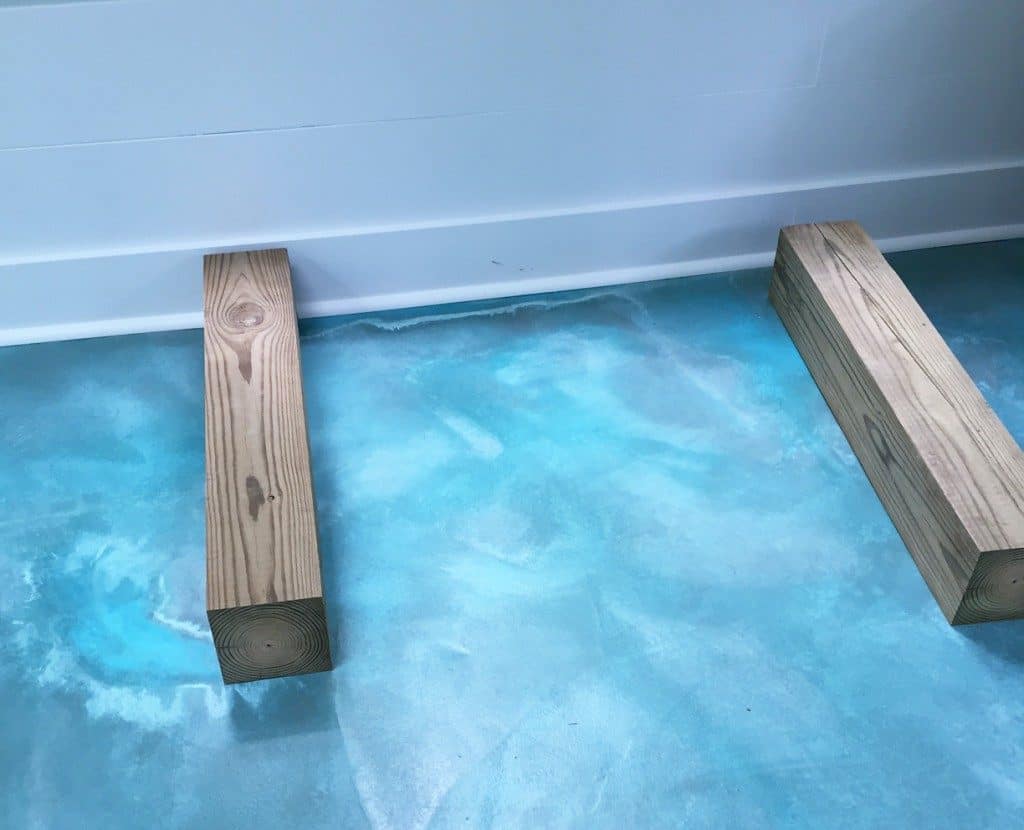 Place the platform on top of the 6×6's, sandwiching it with the 1×2 braces. (It is much heavier than you think.) You will probably have to wiggle it around to get it right.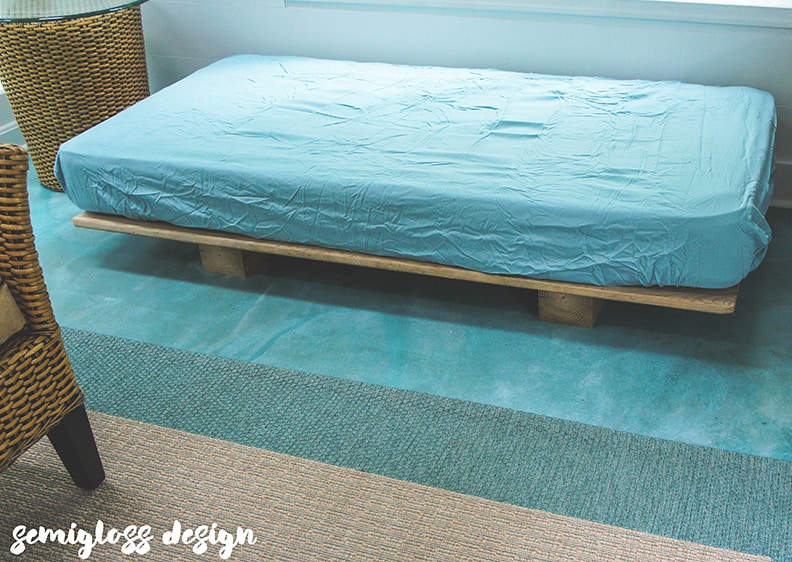 Place the mattress and tada! You have a daybed!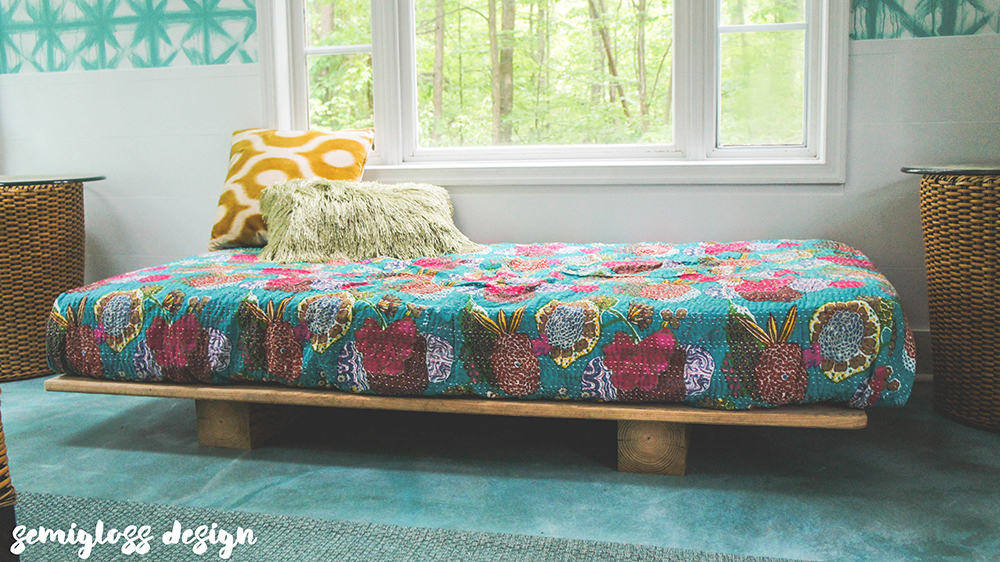 Body pillow
Finishing the Daybed
You can paint or stain the wood if desired. I left mine natural to contrast with all of the color I have in the room.
This easy DIY daybed was so simple to make! We finished it in a few hours and best of all, we didn't have to go to the store for supplies!
I love when a project is this easy, but has this big of an impact.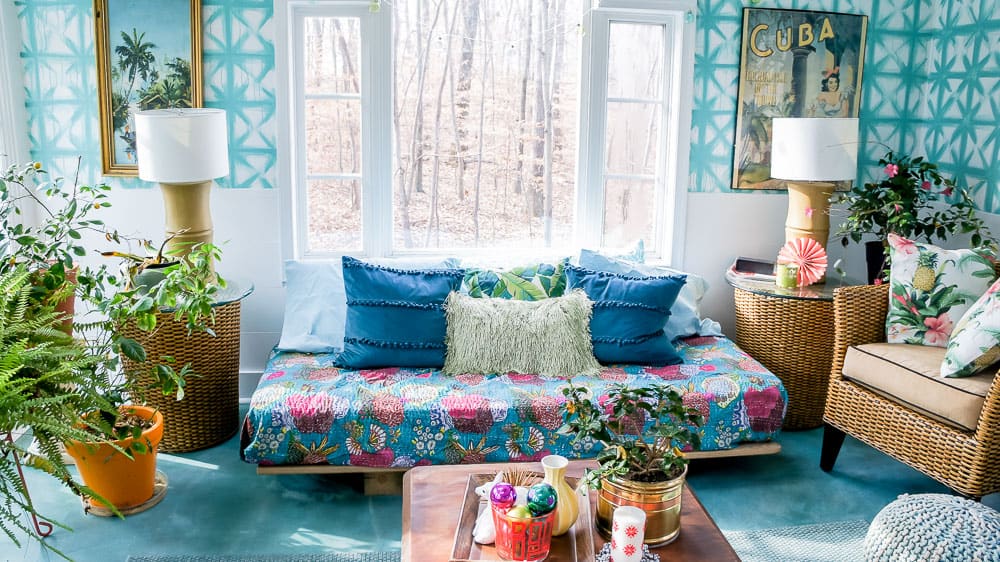 This is the best place to nap in the whole house!
Lots of pillows make it way more comfy. We use 2 regular bed pillows, 1 long body pillow and plenty of throw pillows.
Body pillow | Pompom pillow (similar) | Fringe | Tropical Leaf pillow (similar)
Get Plans to Make this Bed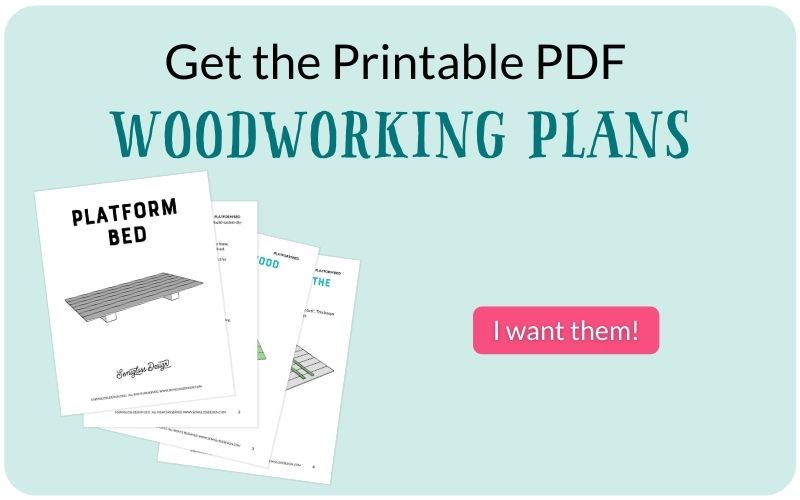 Looking for more easy to build furniture projects?
Be sure to pin this for later!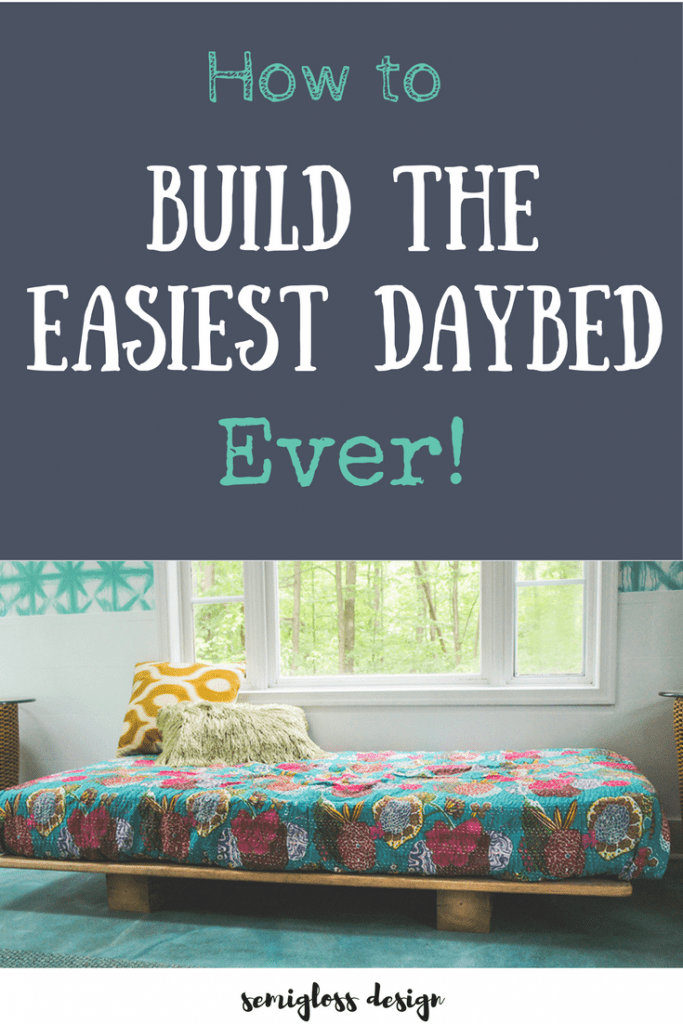 You might also like: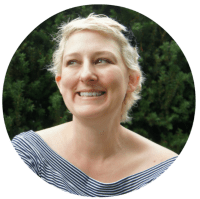 Emy is a vintage obsessed mama of 2 DIYer who loves sharing affordable solutions for common home problems. You don't need a giant budget to create a lovely home. Read more…