How to Fill Holes in a Metal Door
Learn how to fill holes in a metal door. Do you have holes in your door from removing blinds or curtain rods? Get easy tips for repairing the screw holes in your metal door.
You might also like this post on painting exterior doors.
This post contains affiliate links. By purchasing an item through an affiliate link, I earn a small commission at no extra cost to you. As an Amazon Associate I earn from qualifying purchases.
All of the doors in my house are a funky cream color that looks dirty, so they all need to be painted.
However, the exterior doors with windows are filled with holes where blinds and curtains used to hang.
Those holes need to be repaired before I can paint them. Fixing holes in walls is easy, but it takes a bit more work to fill holes in metal.
Luckily, it's still a pretty easy fix.
If you also have a million screw holes in your metal doors, keep reading to see how I fixed mine.
How to Fill Holes in a Metal Door
Supplies Needed:
Mixing surface (I use scrap cardboard so I can throw it away)
Something to mix with (I use small scrap wood or plastic cutlery)
To repair the holes, I'm using one of my favorite DIY products, Bondo. In the past, I've used it for filling holes in furniture, but it's perfect for this too!
If you've never used Bondo, it's a bit messy and stinky, but it's pretty easy to use.
Bondo is a 2-part compound that you mix and apply. It dries to a hard, sandable finish.
Mix a small amount because it dries much faster than you think.
By the way, I've used both kinds of Bondo and I really don't see a difference besides the colors.
How to Remove Screws
If the screws are still in your doors, remove them.
If they are metal screws, you will need to remove the screwdriver bit and use that to remove them.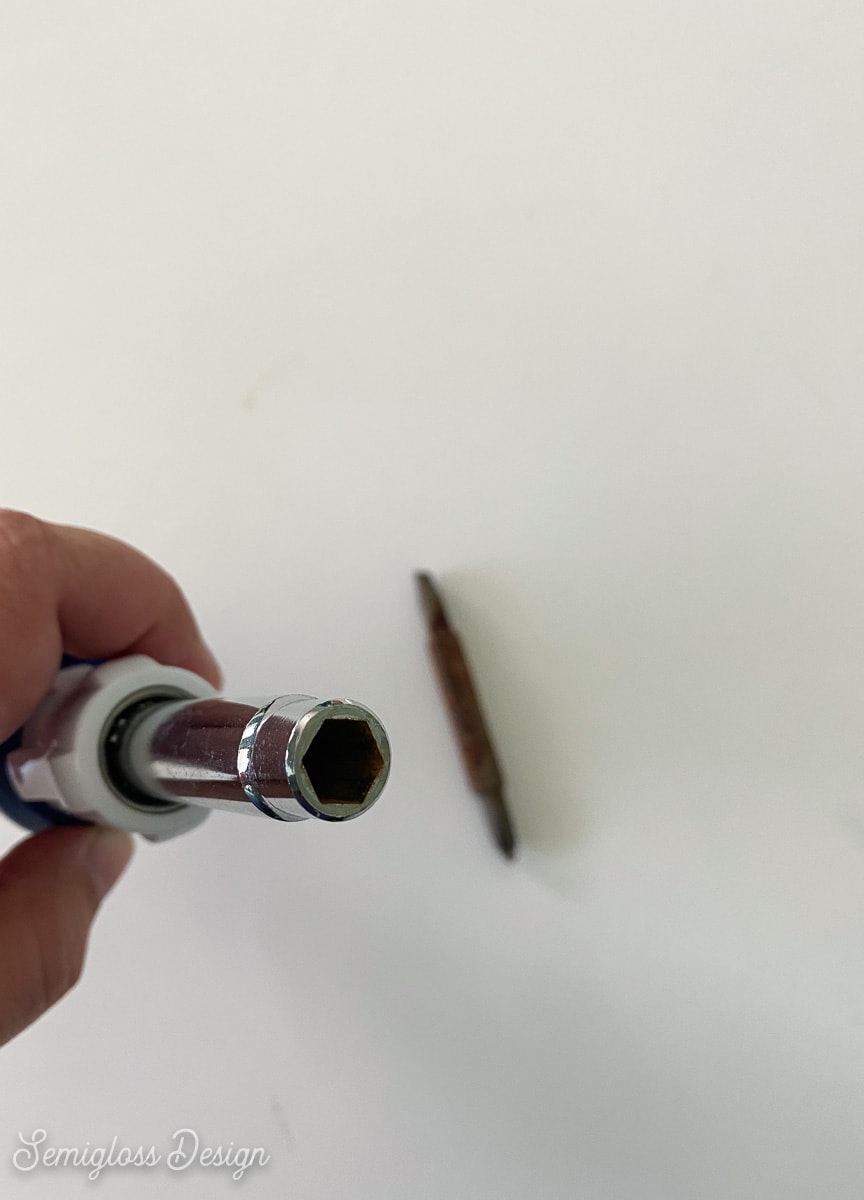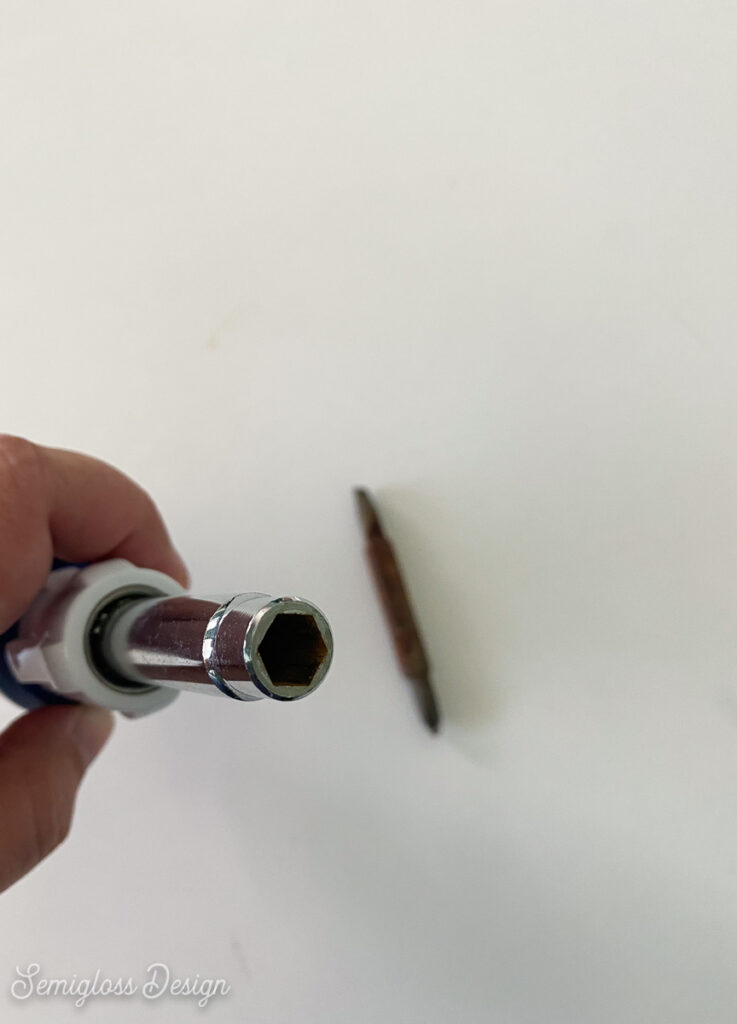 Metal screws have a barbed tip so you might also need pliers to pull them the rest of the way out of the door.
Pliers can also help remove screws that were installed too close to the window trim.
If there are sharp spots on the holes, you can use a chisel (or a metal putty knife) to scrape them away.
How to Fill Holes with Bondo
Start with a clean surface. Wash the door to remove any oils or dirt.
Let it dry.
Mix your Bondo as directed. I mix mine on a small scrap of cardboard or a paper plate.
Use the Bondo spreader to apply it to the holes. Make sure they get filled and then wipe away the excess.
Larger holes may need another coat after it's dry, but for the most part, one coat is enough for small screw holes.
Let the Bondo dry completely. It takes about 15 minutes. It turns a lighter color when it's dry.
Once it's dry, it's time to sand. If possible, open the door to let the sanding dust go outside.
Sand the surface with 80 grit sandpaper to remove any high ridges.
Finish it with 120 grit sandpaper to smooth out the surface. Run your fingers along the edges and see if you can feel where the Bondo is. Sand until it's smooth.
You can also use Bondo to fill in small dents in metal doors.
Prepping the Door for Paint
Now that the holes are filled, it's time to prep the spots for paint. This will also seal in the Bondo smell.
Clean the door again to remove any sanding dust.
Use a good primer over the Bondo repair spots.
Priming is the first step for painting a metal door, so you might as well prime the whole thing.
Now your metal door is ready for paint.
It's never going to be perfect, but after painting the door, the holes will be way less noticeable than if you just left them!
You might also like:
Pin for Later!