Easy Craft Room Organizing Tips
Get these easy craft room organizing tips and get your room in shape this year!
After finishing my craft room last year, I've made a lot of changes to the room to make it function better.
Today, I'm sharing tips for how I organize all the stuff that comes with having multiple crafting hobbies.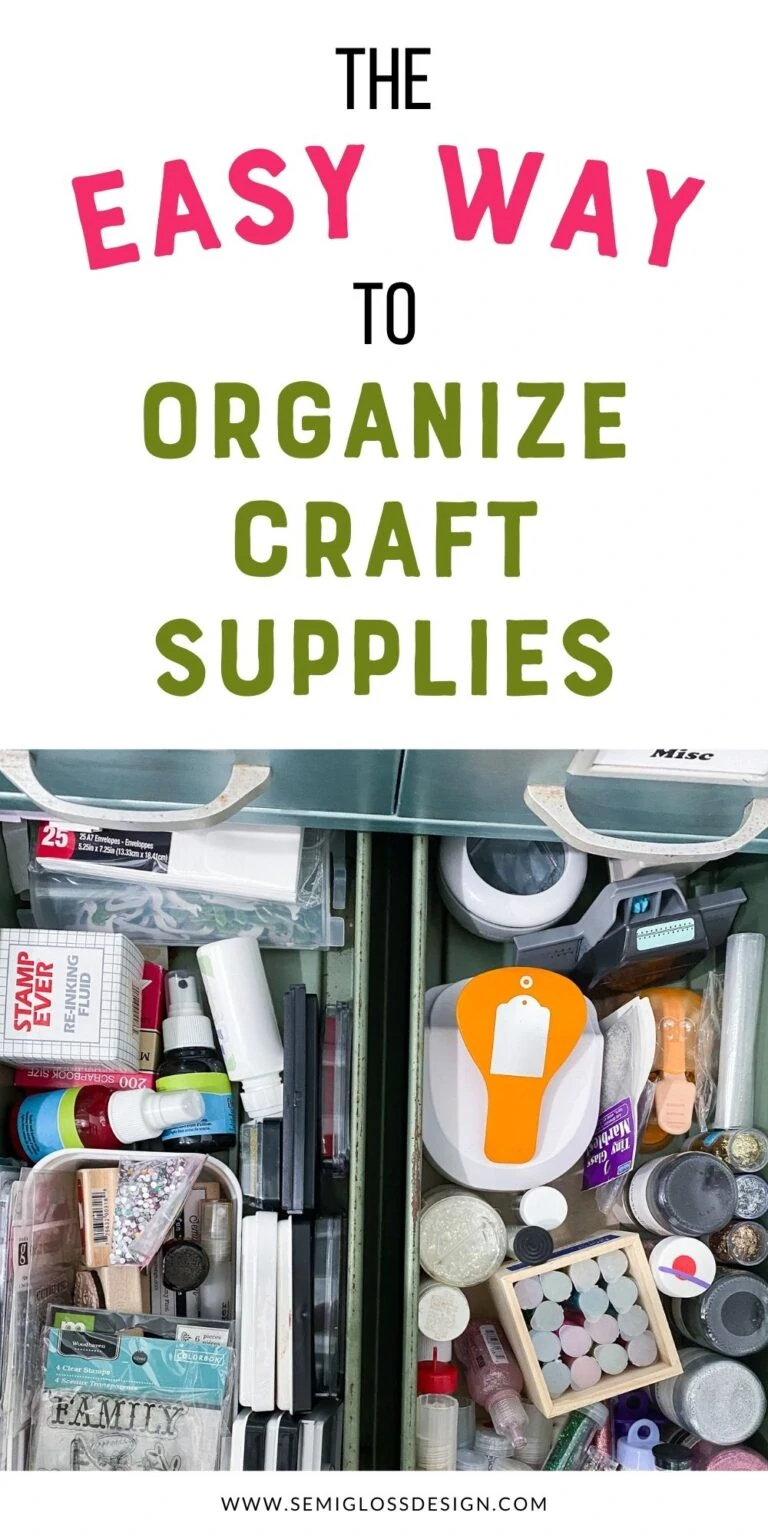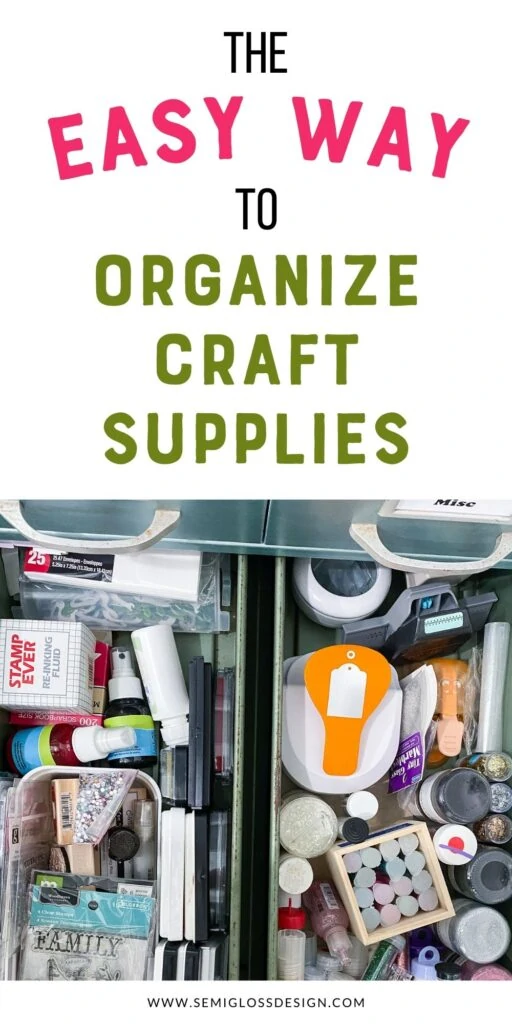 This post contains affiliate links. By purchasing an item through an affiliate link, I earn a small commission at no extra cost to you. As an Amazon Associate I earn from qualifying purchases.
In full disclosure, I had this post completely written, and then I decided to completely reconfigure the room to make space for my computer desk.
It was previously located upstairs, so I moved it into this space to create a more seamless workflow.
I'm loving the changes! But I know it will change even more with time. By next year, it will probably look completely different. (Spoiler alert: it does look different because we moved!)
Almost everything in the room is from IKEA. It seems like a lot, but I've accumulated everything over time. I bought the Kallax shelf about 4 years ago!
You might also like this post on affordable craft cabinets for storage.
Tips for Organizing a Craft Room
There are many things to consider when organizing your craft room. These are some of the ways I categorize my stuff for storage.
Update: We sold this house and moved to a new one. Check out how I organized my crafts in a cabinet here.
Organize by Hobby
This is one of the main ways that I've organized this room. I've tried to keep all of my painting stuff together and all of my sewing stuff near where I sew.
If you only do one type of craft, this is probably much easier for you.
Organize by Type
I recently re-organized my vintage filing cabinet.
Everything was pulled out of the drawers and I made piles according to type. All wooden craft stuff went in one drawer. Same with glues and tape.
Organize by Size
Some things will need to be organized by size. For instance, I have larger machines stored on one shelf of my Besta cabinet.
Large canvases and photography backdrops are stored together as well.
Organize by Frequency of Use
This tip will make your workflow more efficient. The top drawers in my art desk contain frequently used paints. Watercolor papers are nearby and easy to reach.
My excess fabric stash is still in another room though because I rarely use it.
Craft Room Layout
It's important to figure out a good layout for your craft room. I started by assessing what kinds of crafts I like to do and then making areas for those crafts.
For me, I love sewing, Cricut crafts, and painting. Because these crafts are very different, I knew that I needed different areas to work on those.
Painting is a messy craft, so it needs its own area. Sewing and Cricut stuff is (relatively) cleaner, so they can be done in the same space.
Computer Desk and Office Storage
Moving my computer to my craft room makes Cricut crafts way easier to work on.
My desk is made from this Alex drawer unit, a linnmon top, and 2 hilver legs.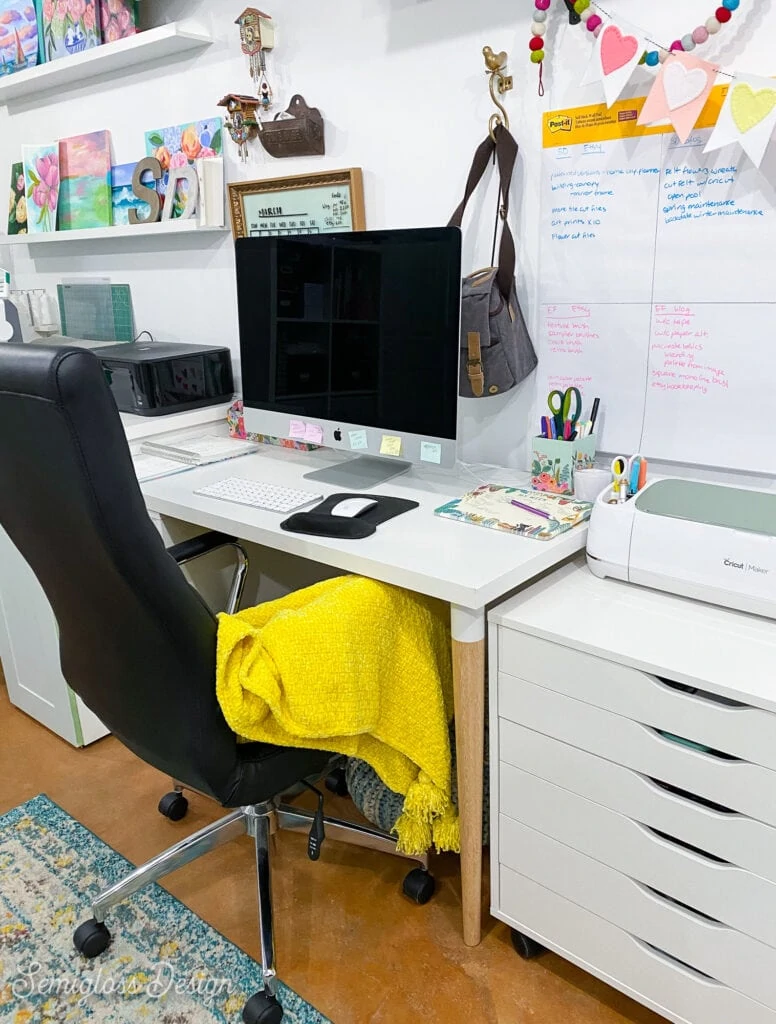 The drawers contain office supplies like pens and post-it notes, as well as lipgloss and lotion. I love having everything I need at hand.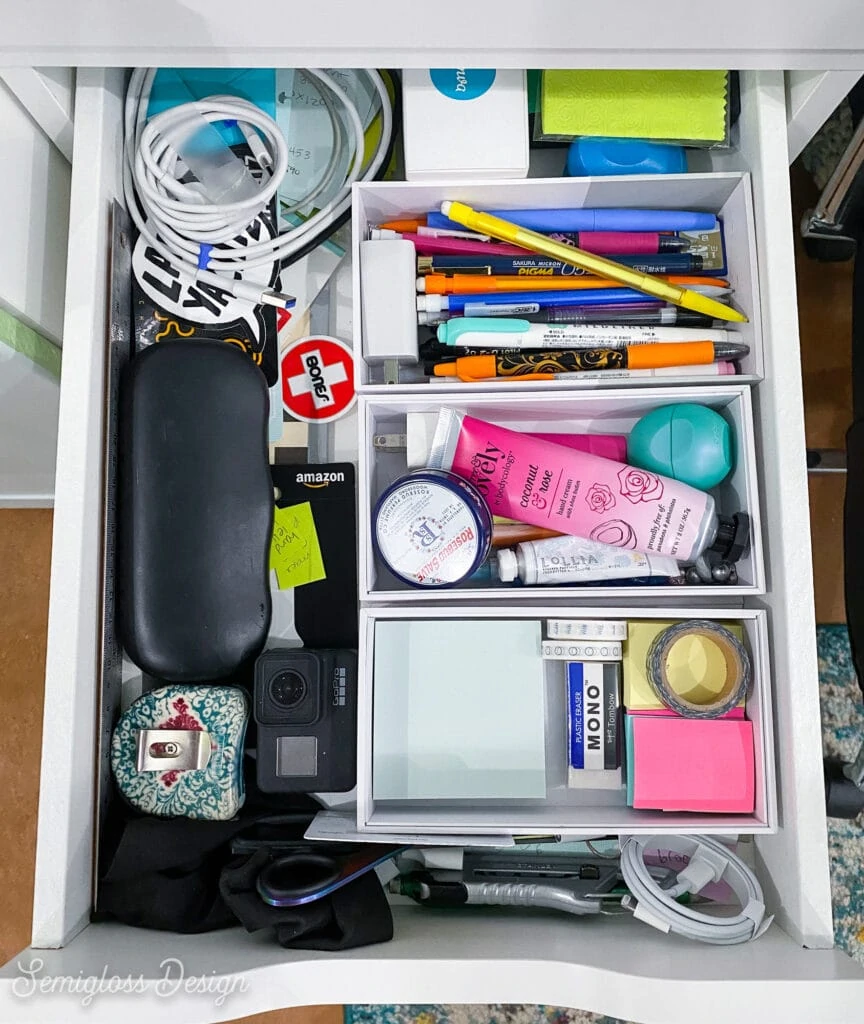 Behind my desk is a DIY dry-erase calendar. I also bought a desk organizer and pen holder from Rifle Paper Co.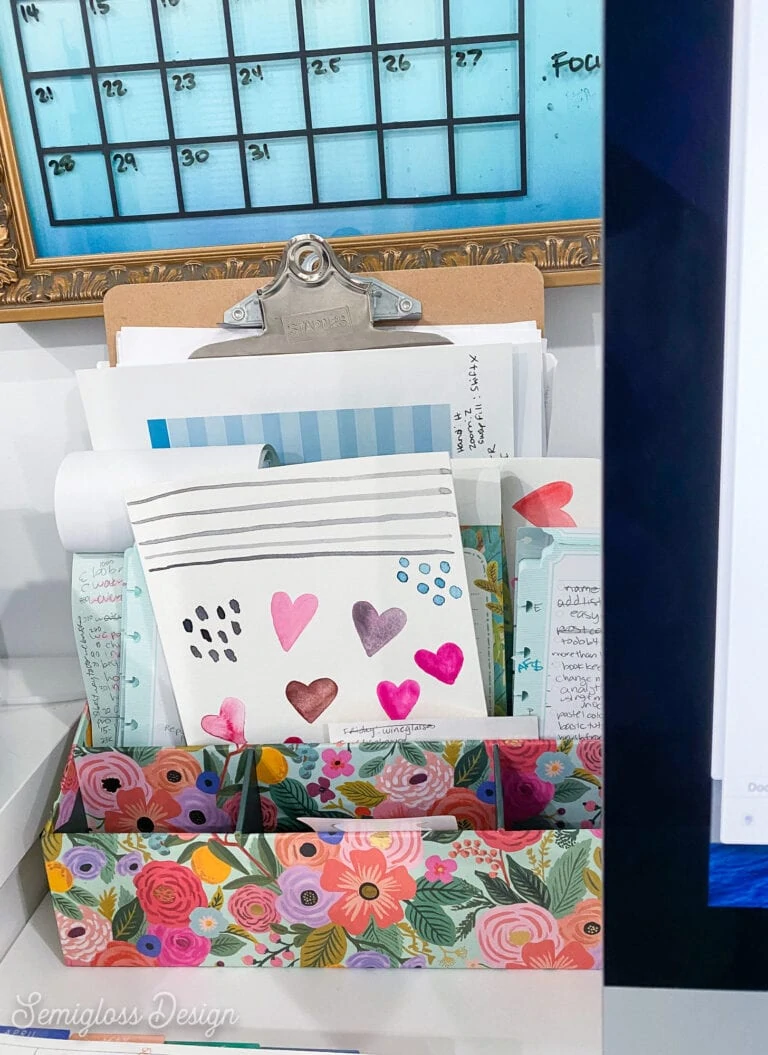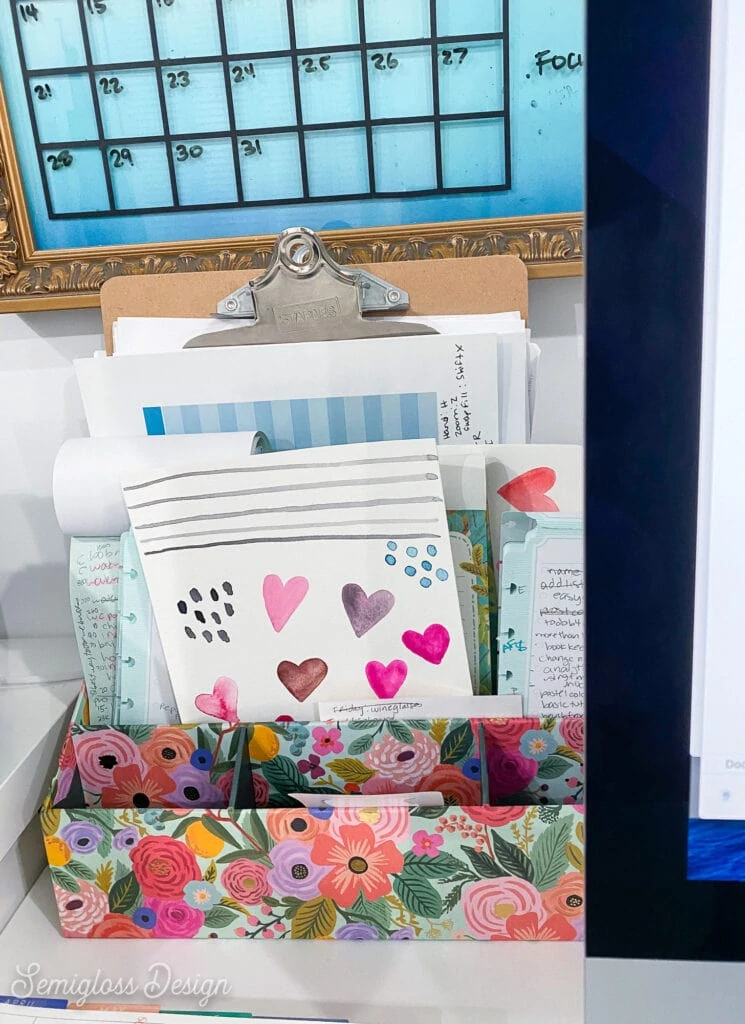 Cricut and Silhouette Storage
Previously, I was using an IKEA cart to hold my Cricut stuff, but I gave it up and store my Cricut Maker on top of an IKEA Alex cabinet now.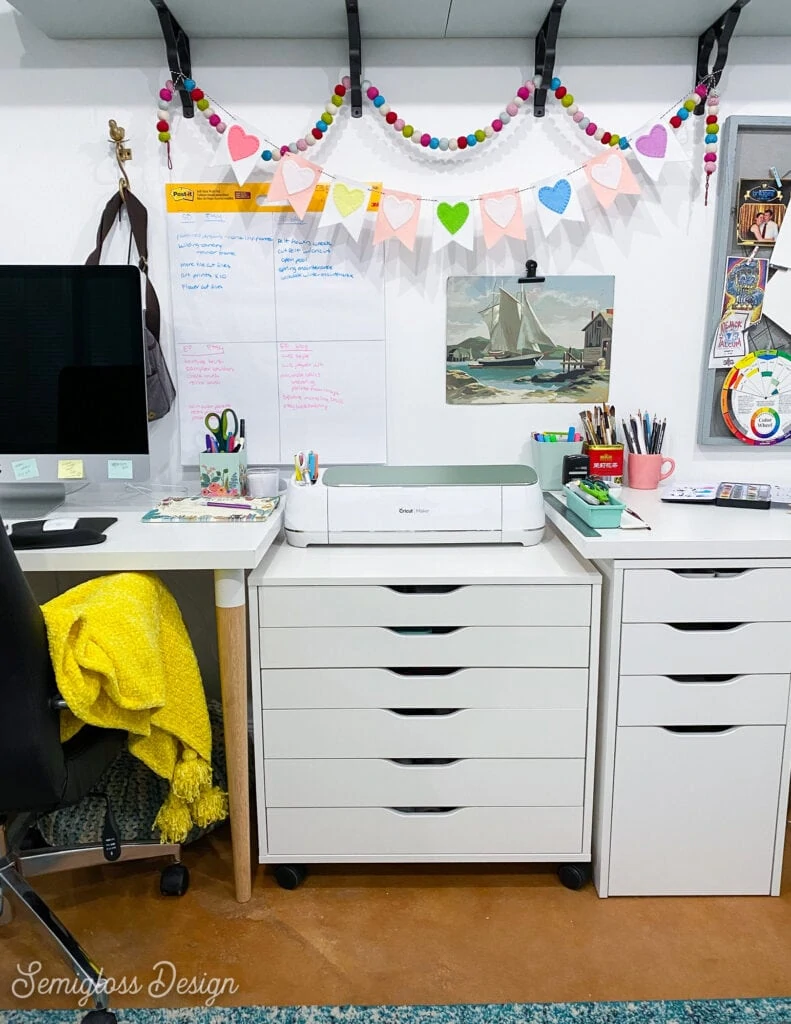 The bottom two drawers contain vinyl (sorted into regular vinyl and iron-on vinyl.)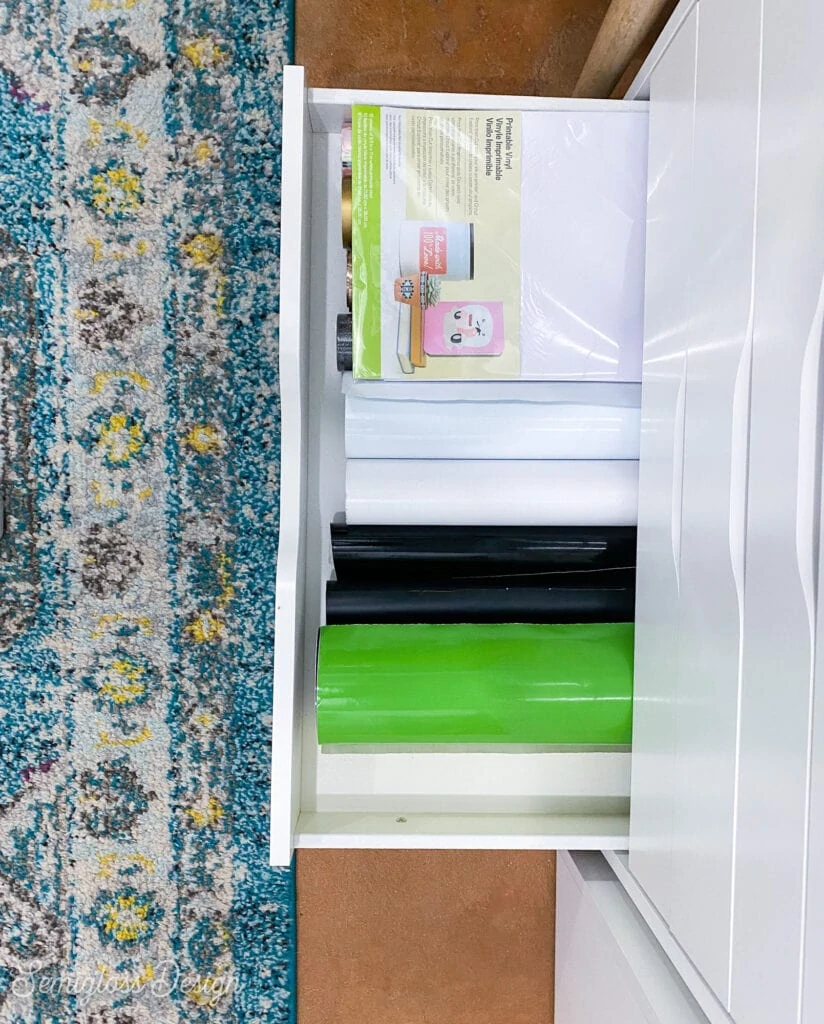 I moved my mats to my pegboard. The Cricut mats have a handy hole in the top that allows me to hang them easily.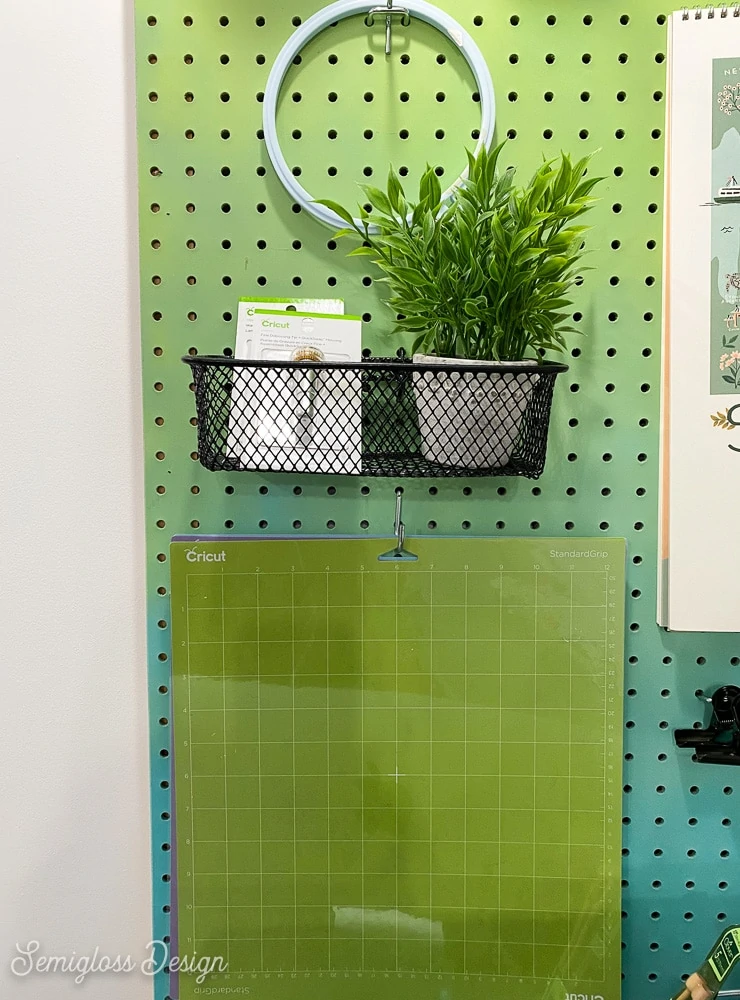 My Cricut EasyPress was moved to a shelf and can be pulled out when needed.
I planned on buying a pegboard to hang over the cart, but IKEA was out of them. I'll have to get one next time I go. For now, though, the mats are only a few steps away.
My Silhouette is on my sewing desk behind my sewing machine. It's there if I need it, but it feels a little redundant to have both machines, so I'll probably get rid of it soon.
Sewing Supplies Organization
I keep a lot of my fabric in an IKEA besta cabinet.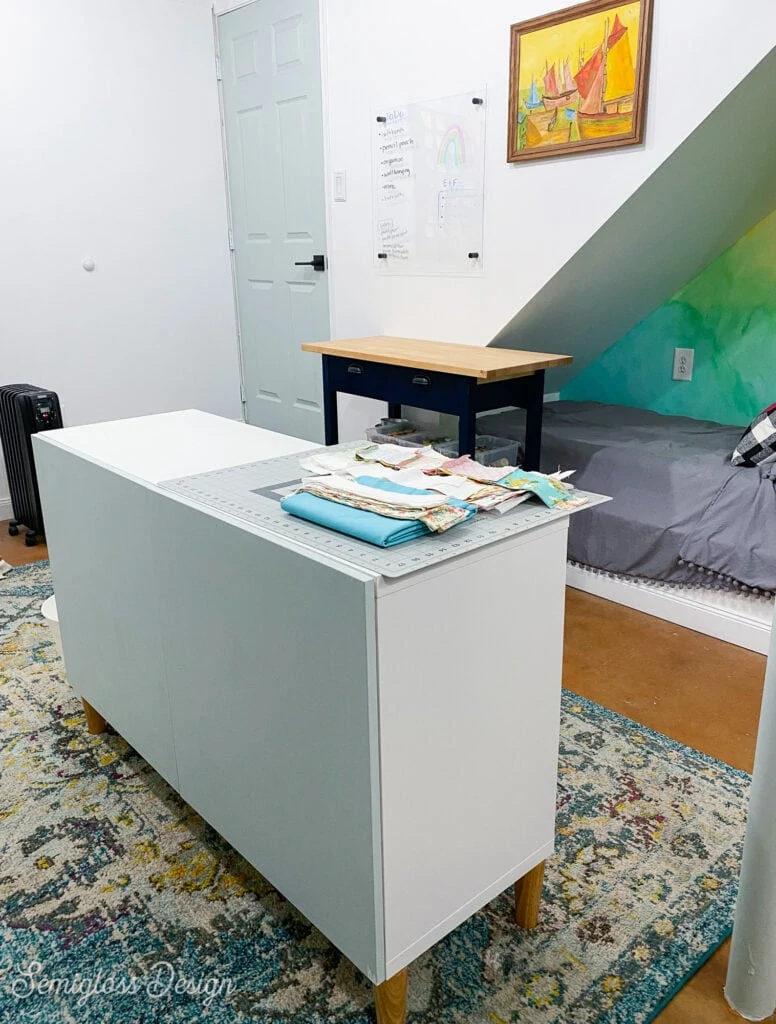 The right side holds quilting fabrics and the left side holds apparel fabric and blanks (napkins and pillowcases.)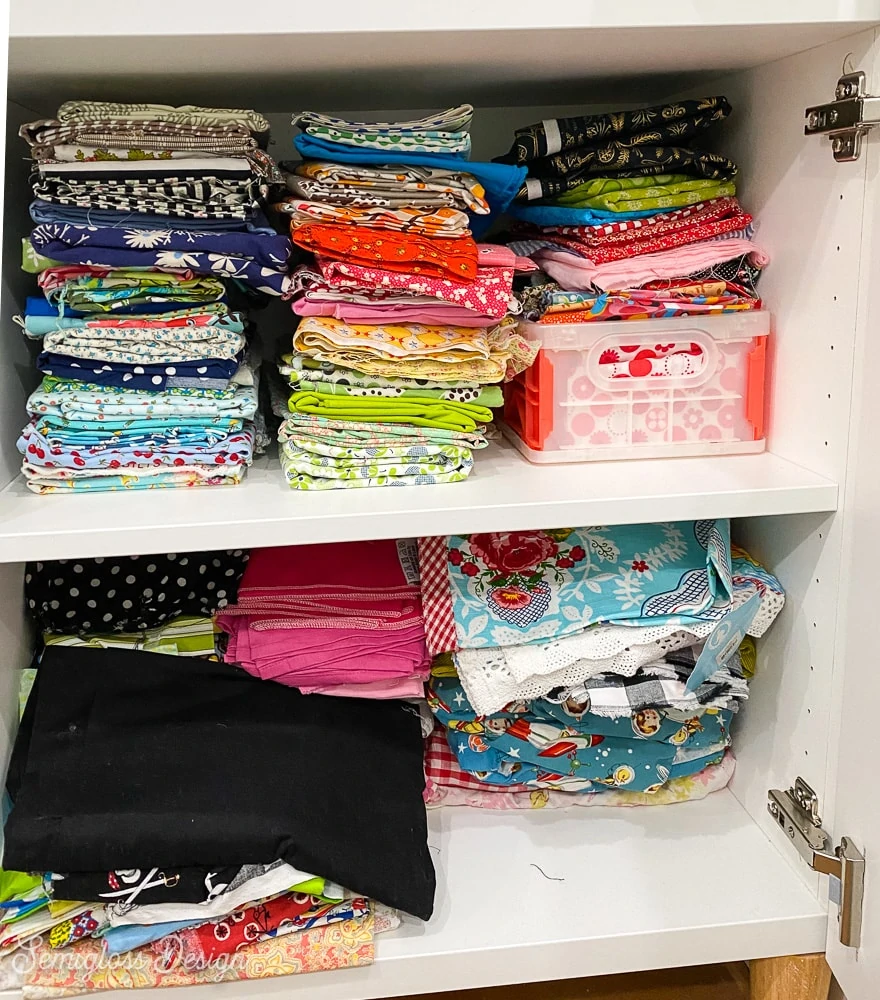 The bottom shelf holds oversized machines like my laminator, Minc, and sticker maker.
I use the top of my IKEA Besta cabinet as an area to cut fabric. (Larger pieces can be cut upstairs on a large table.)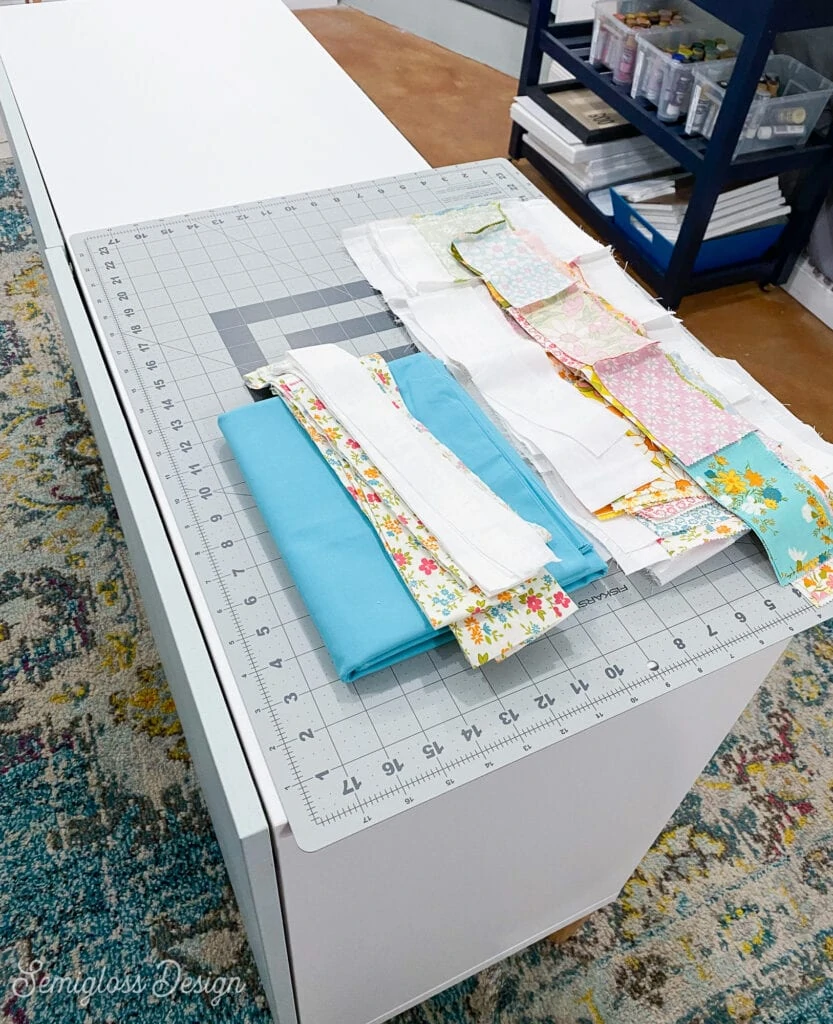 My sewing desk has a pull-out trash can on the right side. The left side has 3 drawers.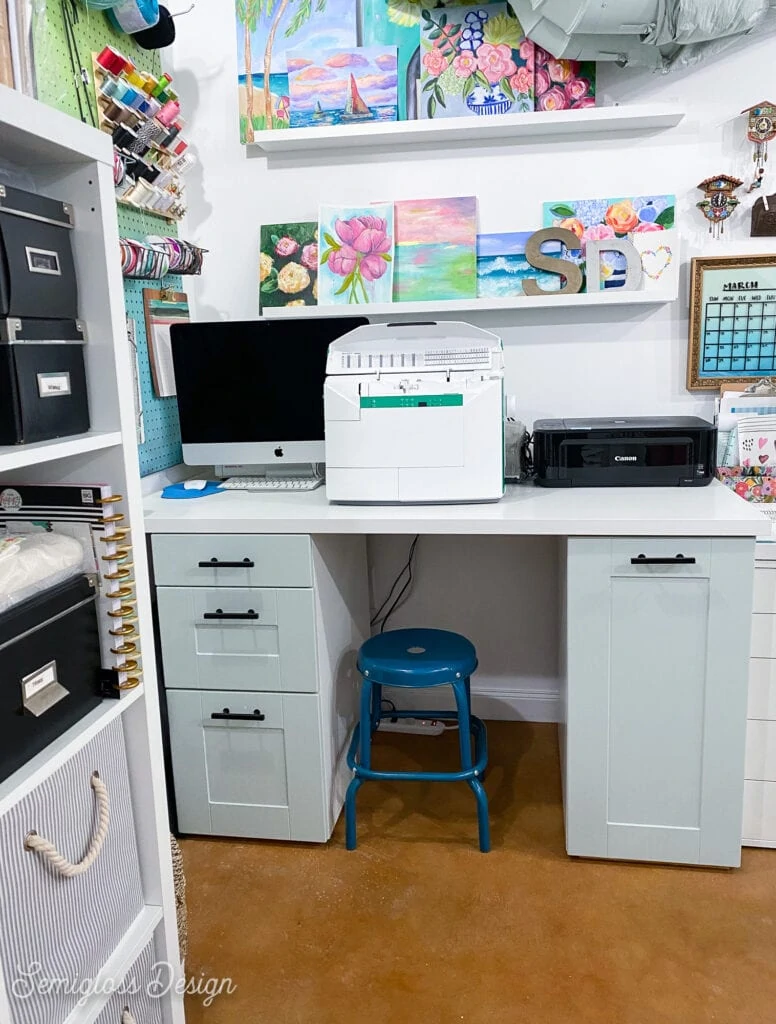 The top is filled with sewing supplies, like scissors, thread, needles, etc.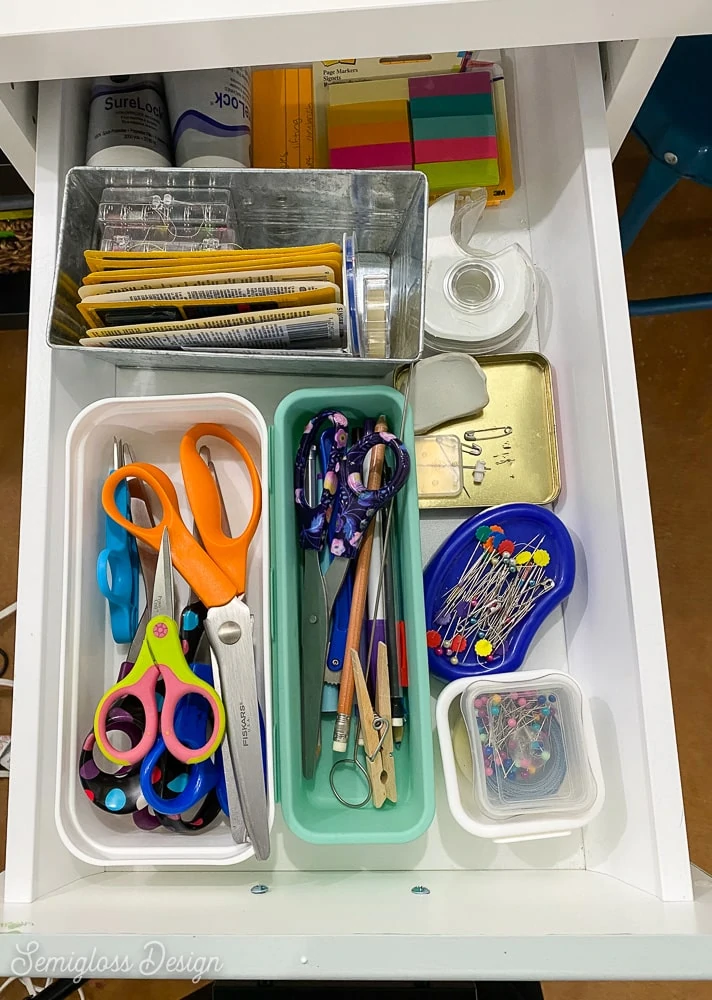 The middle drawer is pretty empty with just a light that needs to be installed, some manuals, and pegboard hooks.
The bottom drawer has some future projects in it.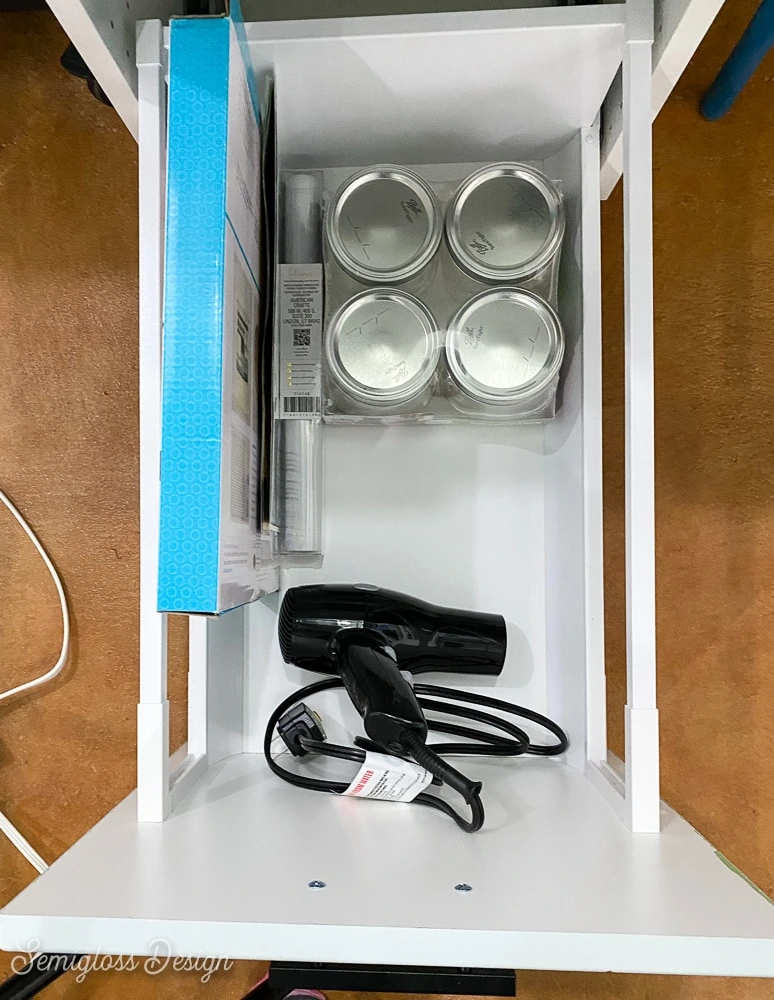 Art Supplies
I have art supplies stored near the places where I use them.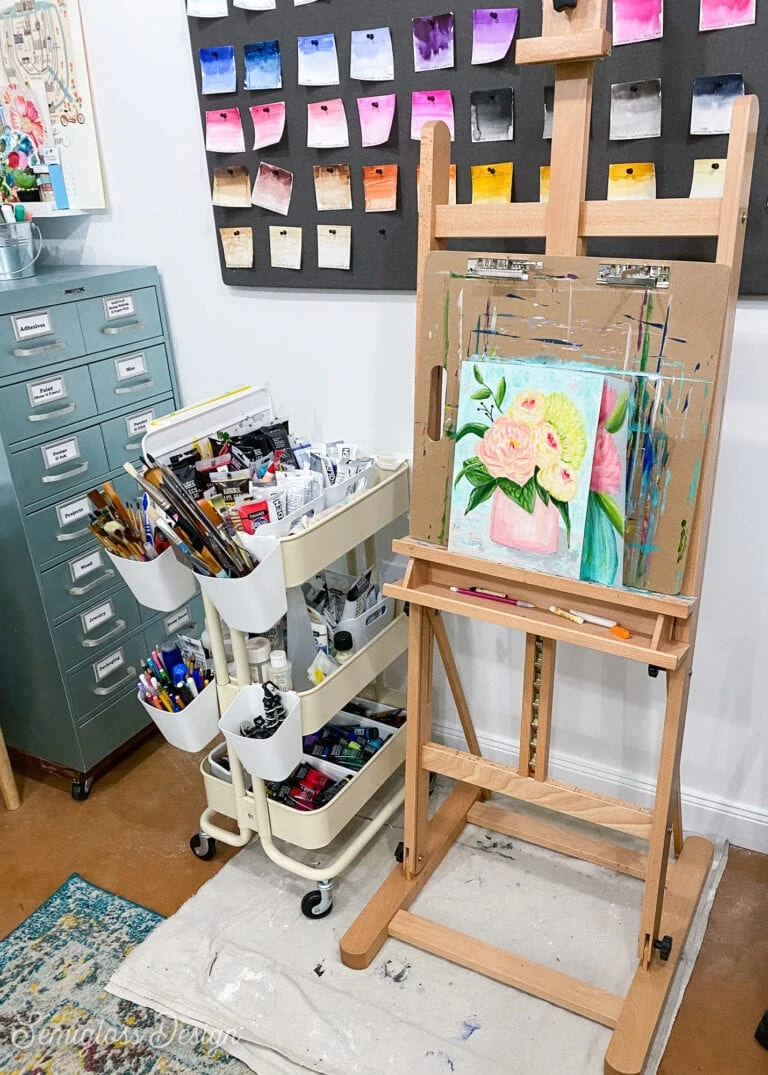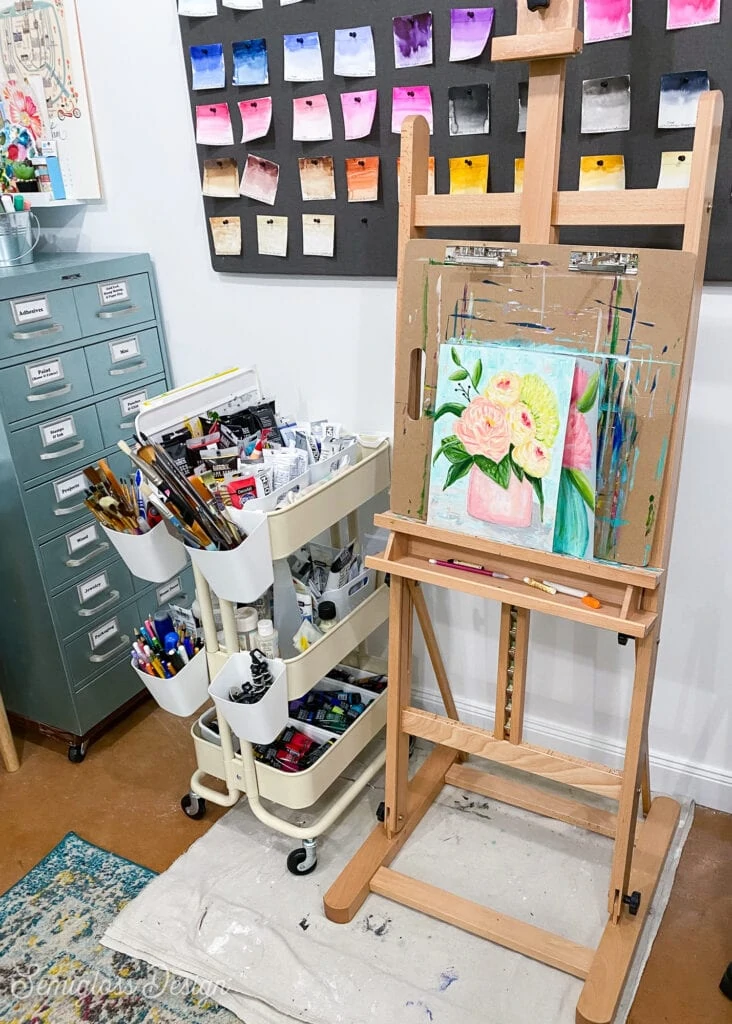 My acrylics are next to my easel in this IKEA Raskog cart.
I used variera boxes to store the large tubes of paint. To make them easier to find, I have them sorted into warm colors, cool colors, and neutrals.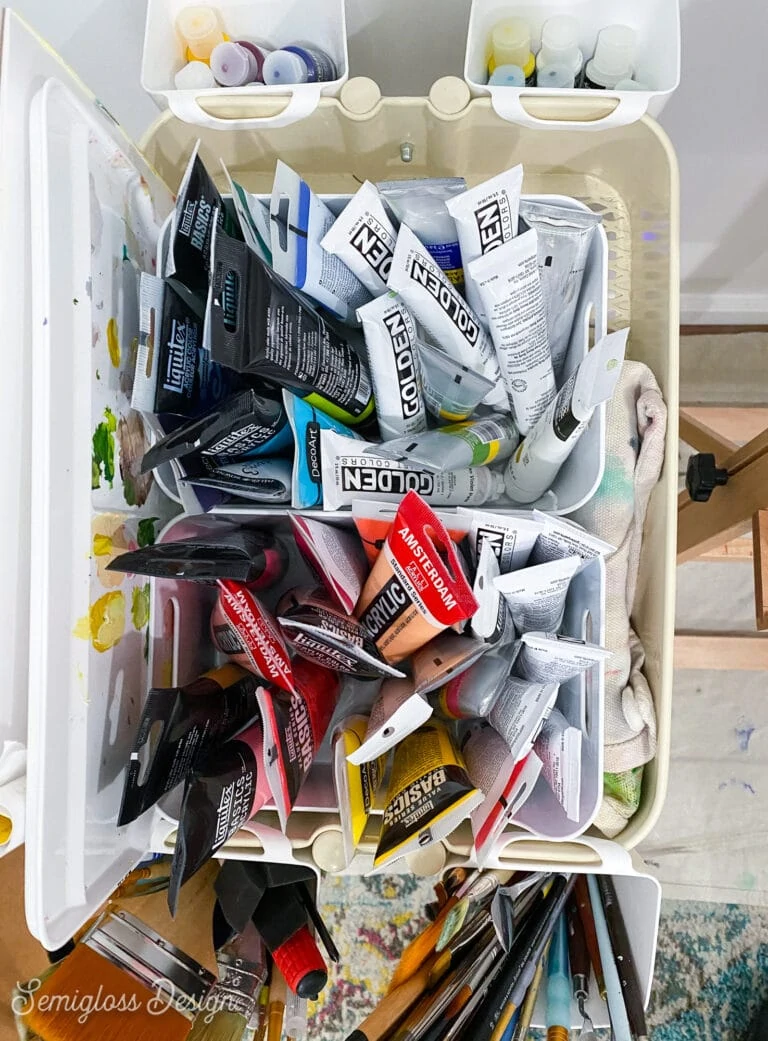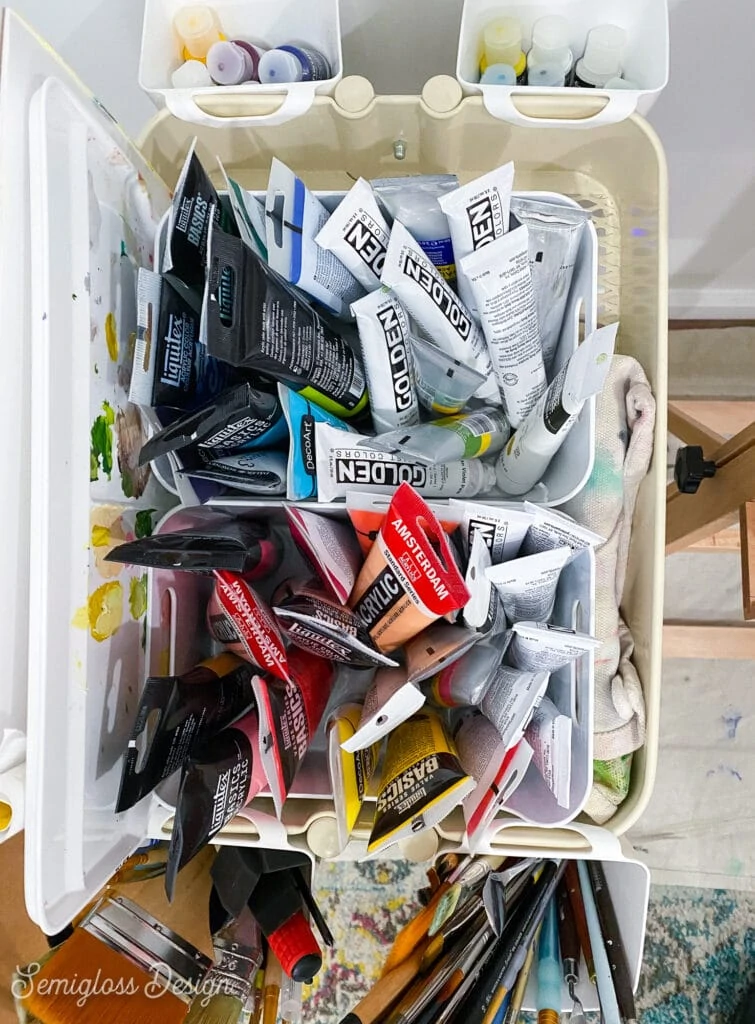 As much as I love the hanging displays of paint tubes, it's just not the way I work when I paint. I know that I would be frustrated by having to pull them off the wall. This is a much easier solution for me, even though it's not as pretty.
The cart also holds other mediums, my brushes (organized by frequency of use), and smaller tubes of paint in the bottom.
Sunnersta bins also hold my acrylic fluid paint. I don't have as many of these, so they fit perfectly here.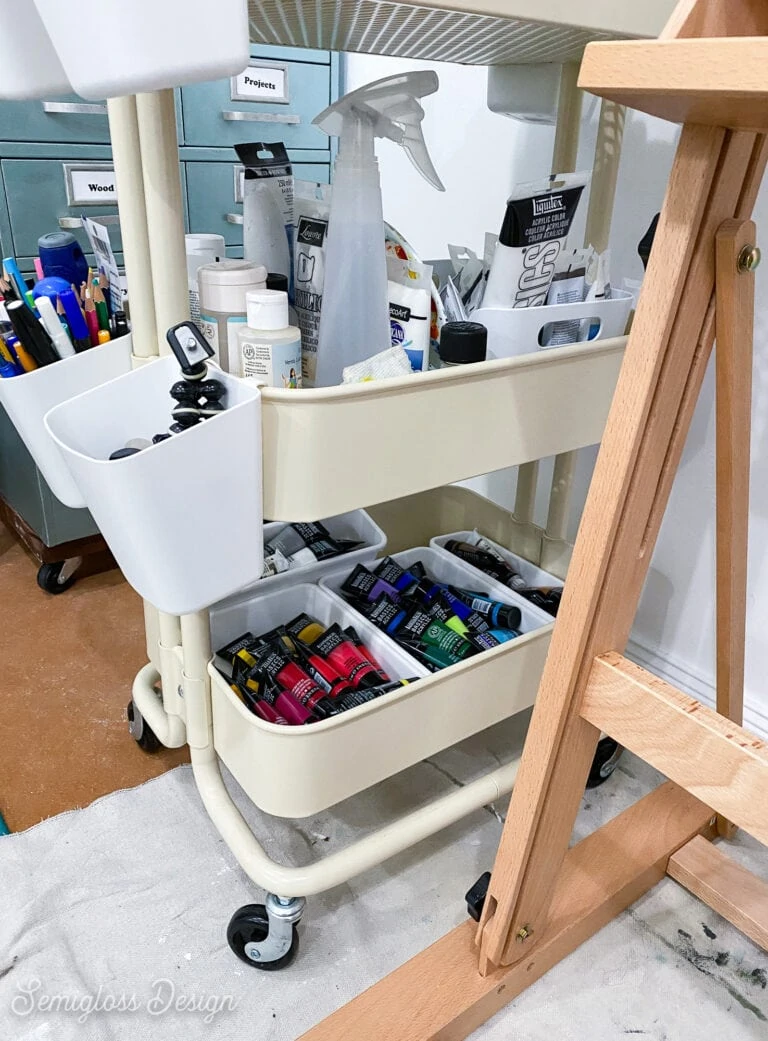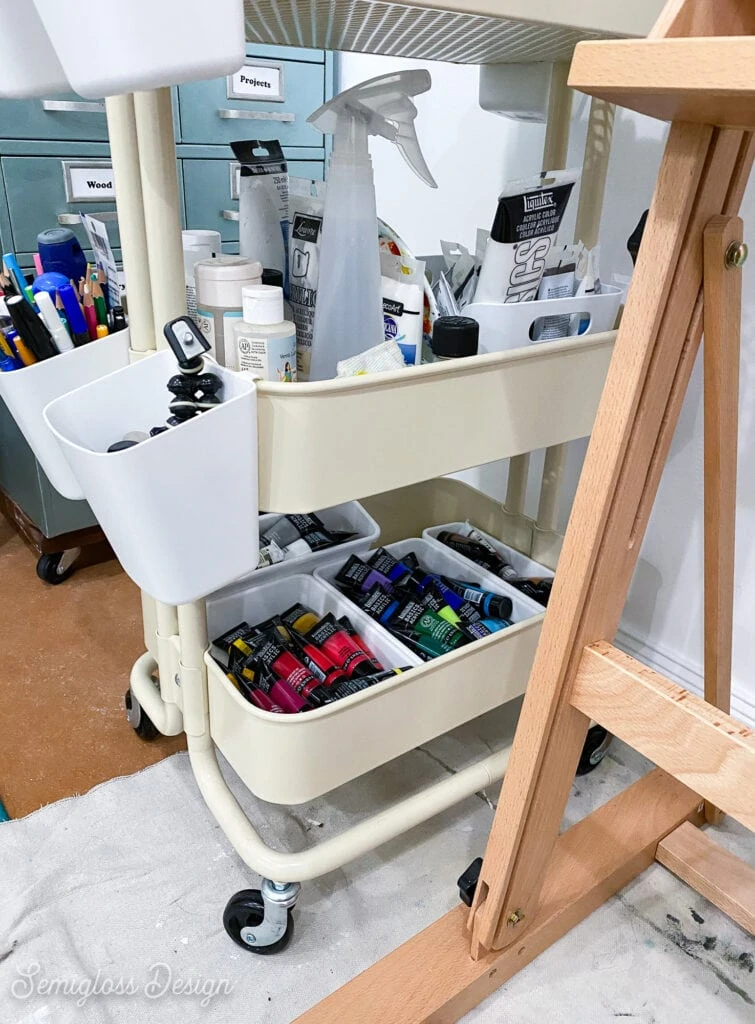 Art Desk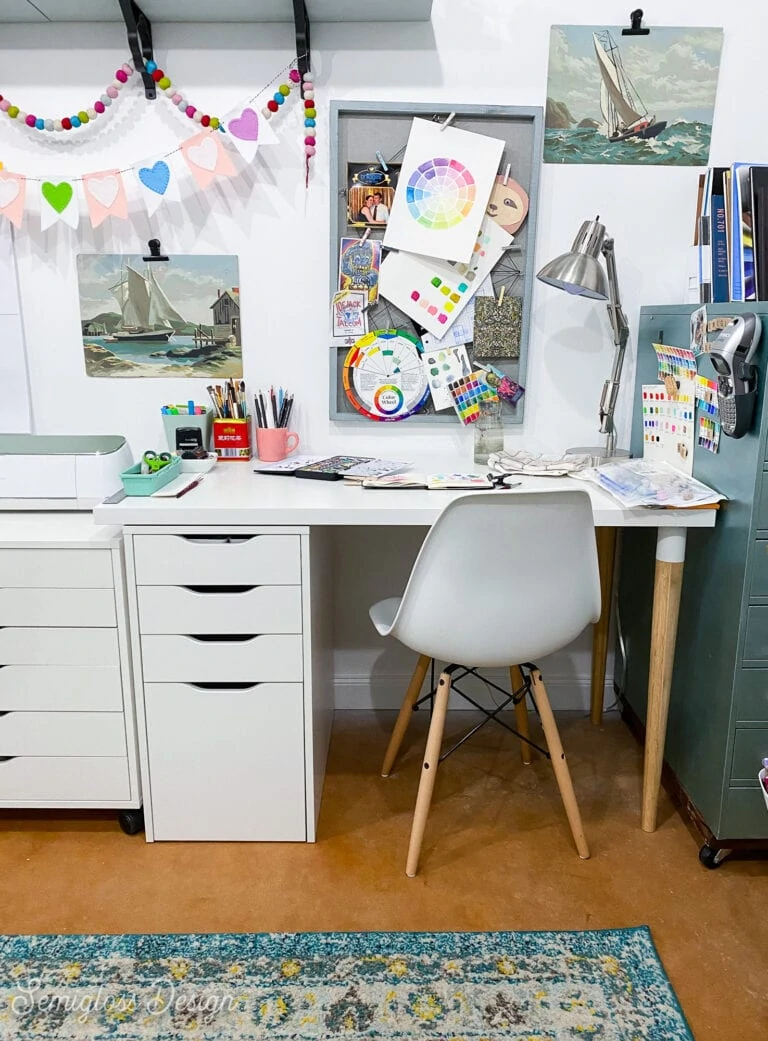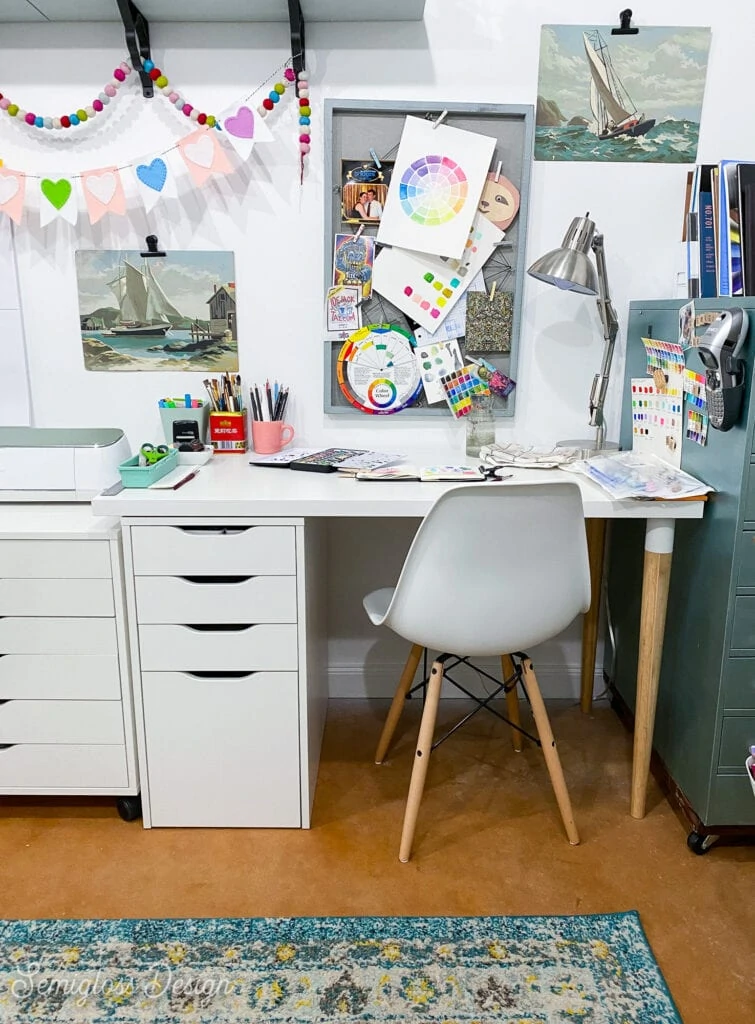 Watercolor and gouache paints are stored in my IKEA desk made from an Alex cabinet, linnmon desktop, and Hilver legs.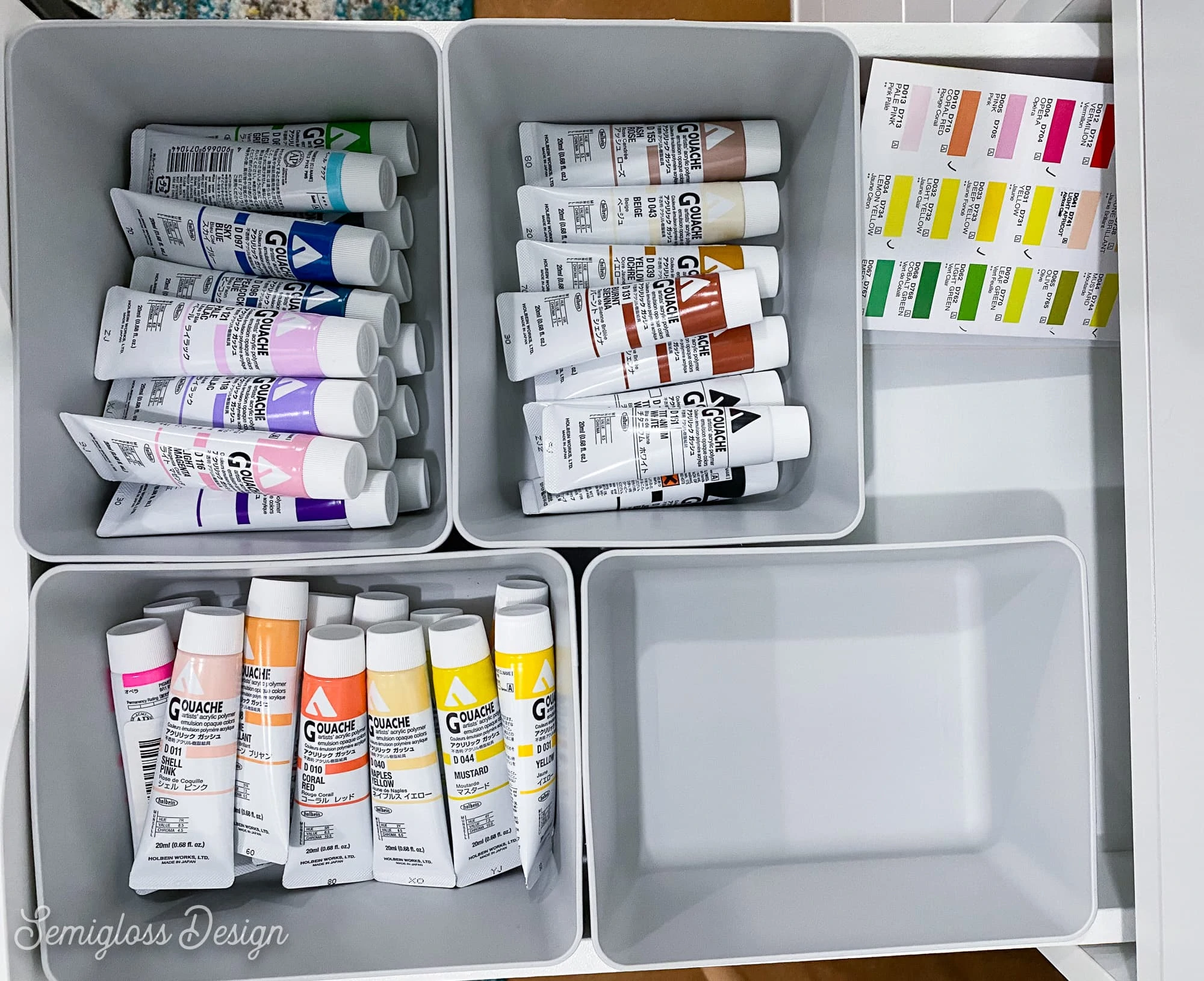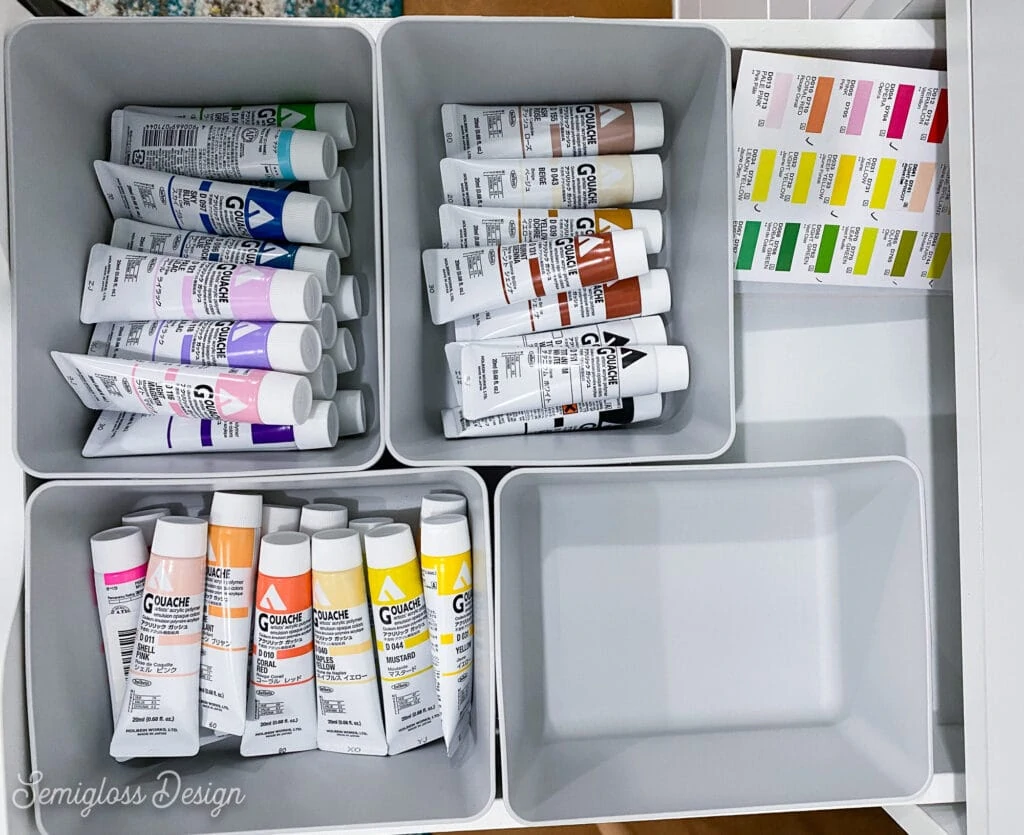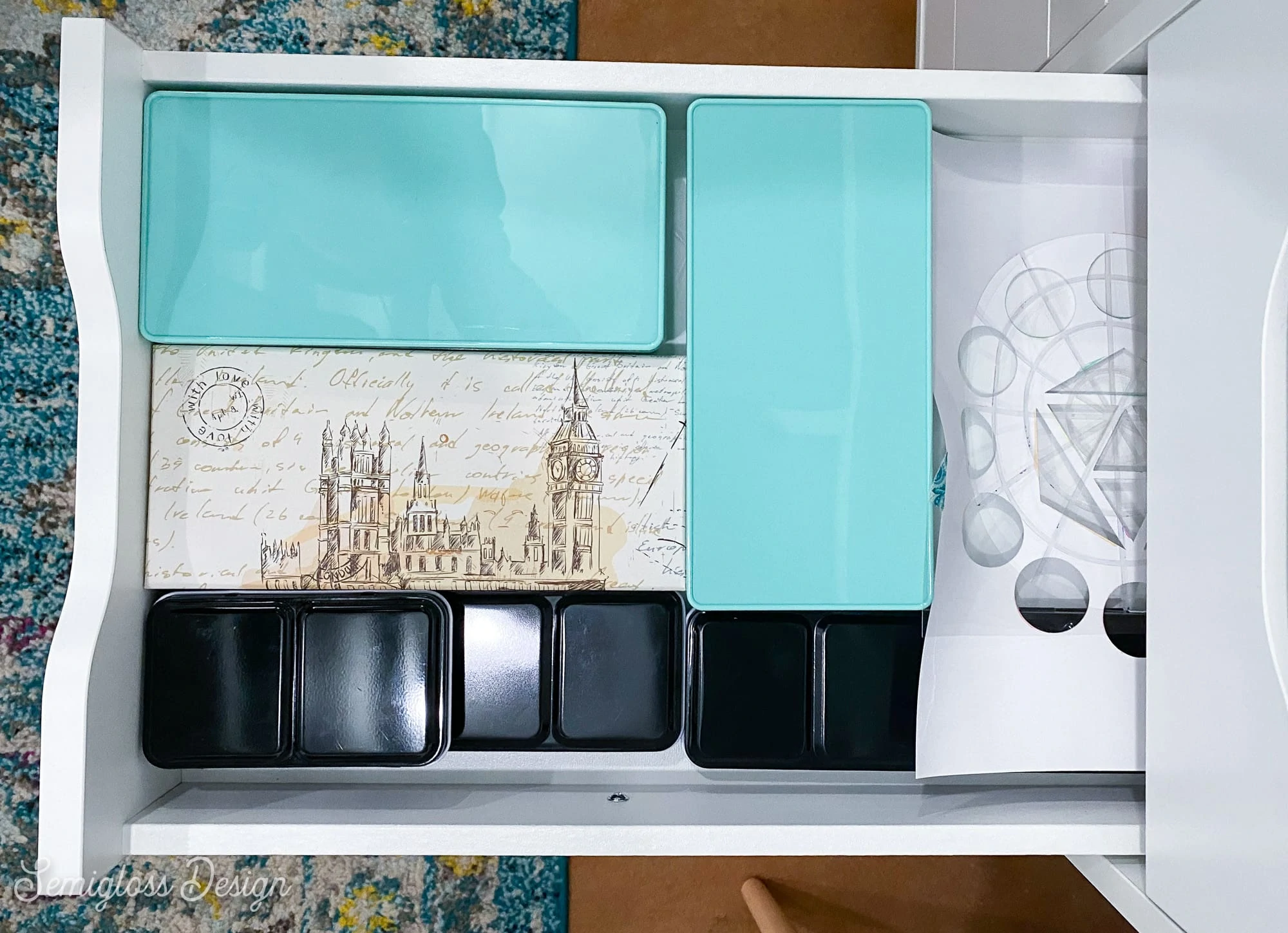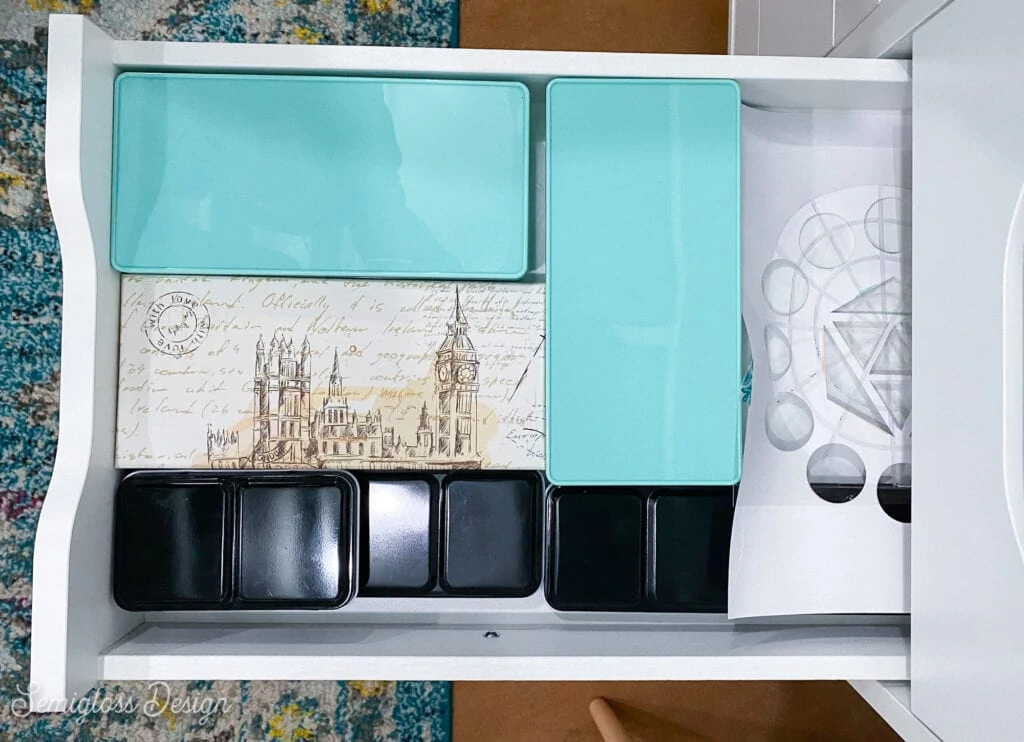 The bottom drawer holds extra canvas boards and canvas paper.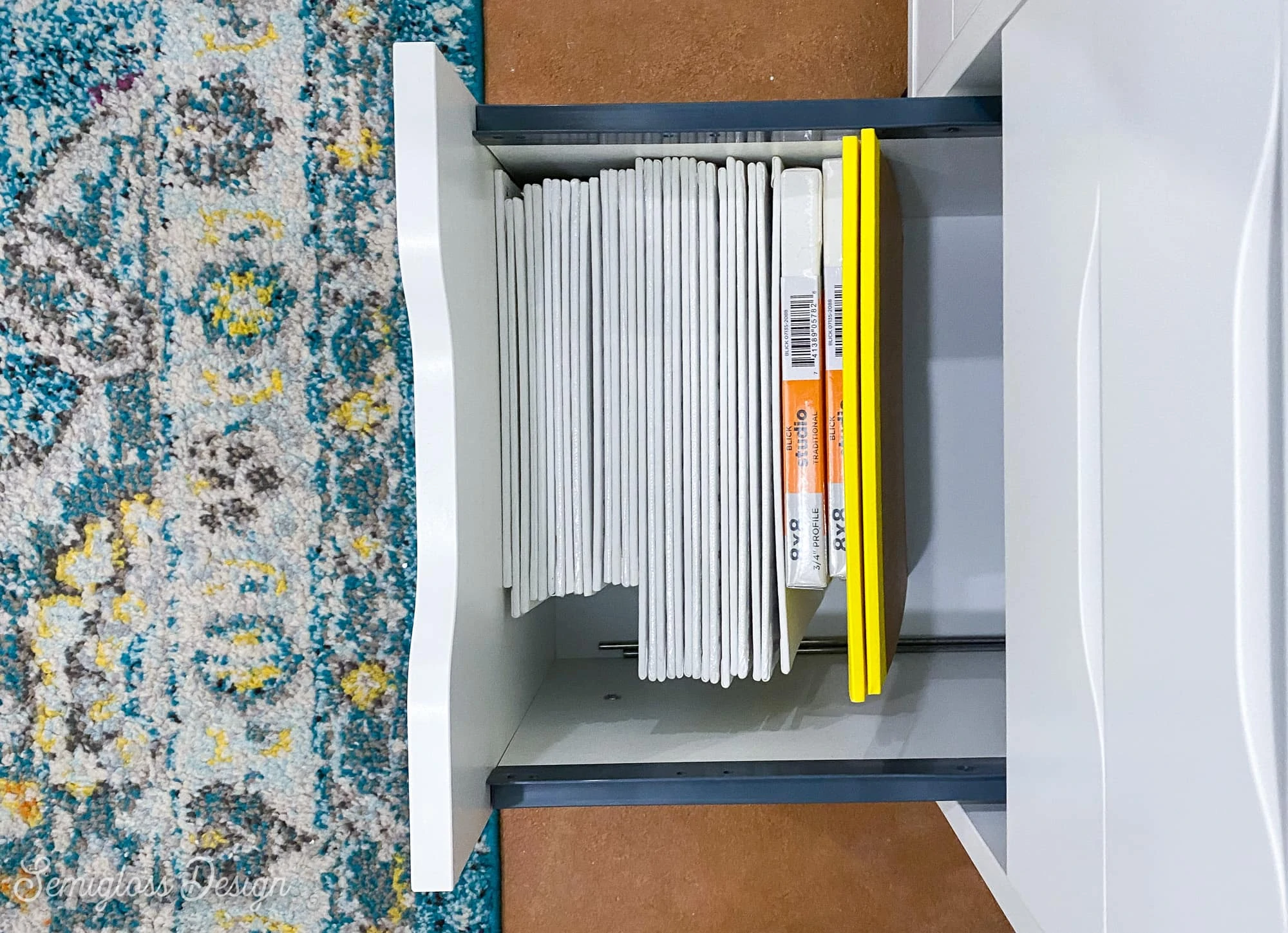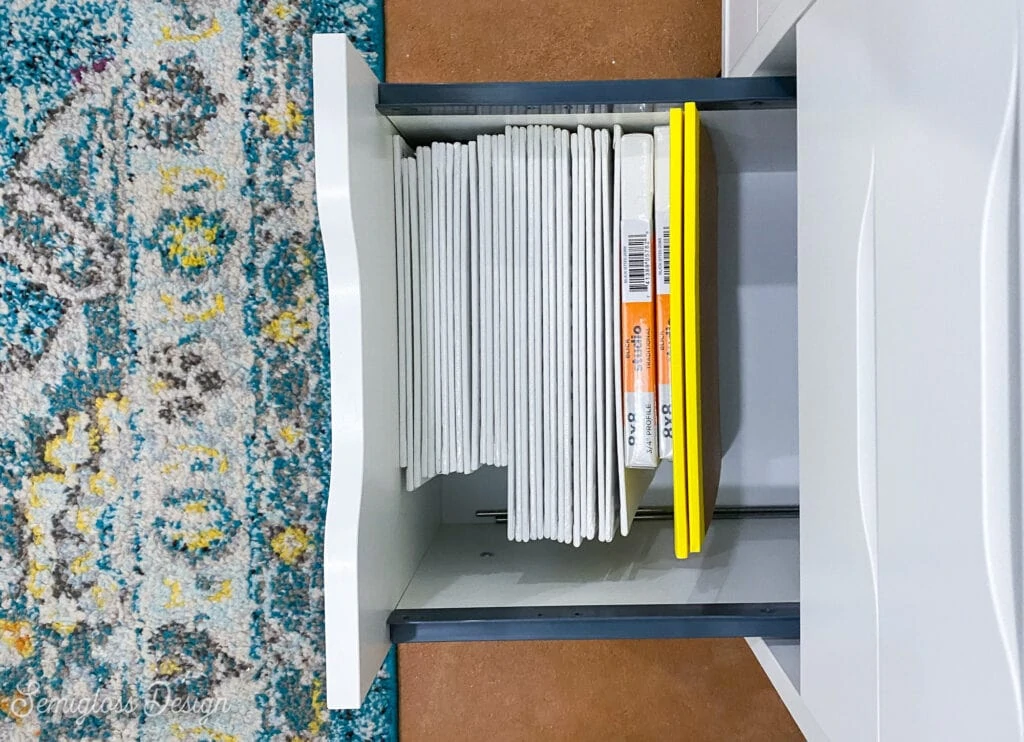 Art papers are stored in this magazine bin. (Time to buy another one!)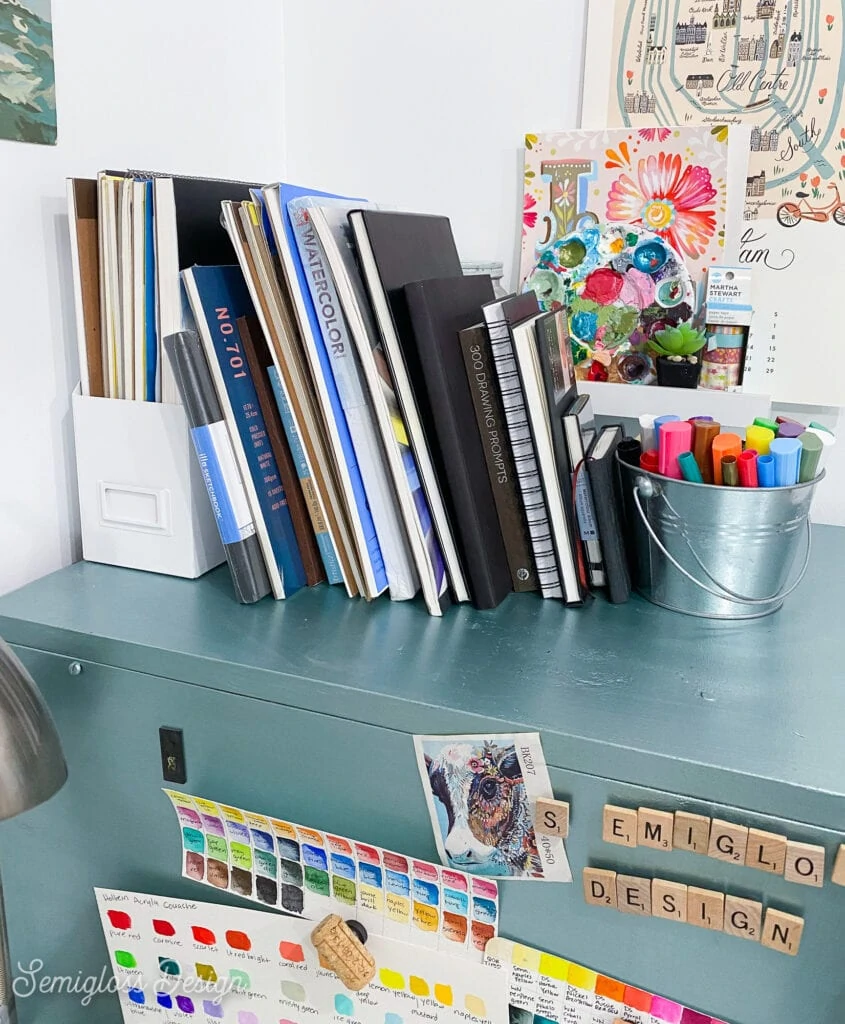 There are more art supplies stored in the low Alex cabinet too.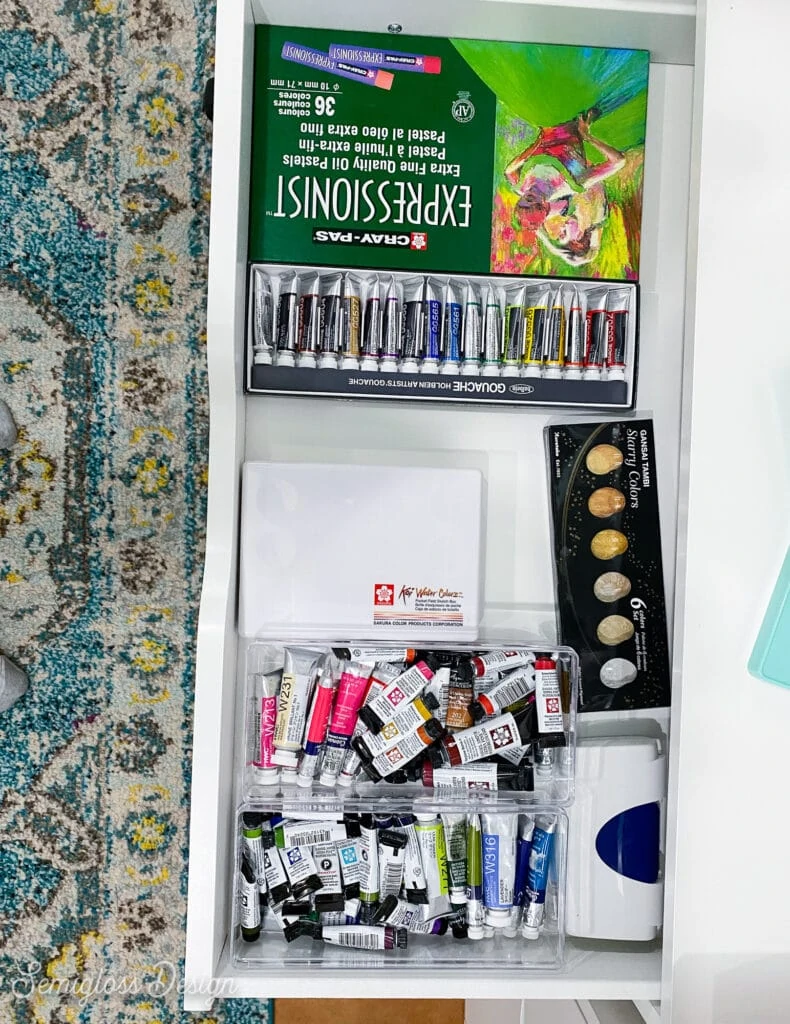 My finished artwork is stored on ledges over my sewing desk and in the low Alex cabinet.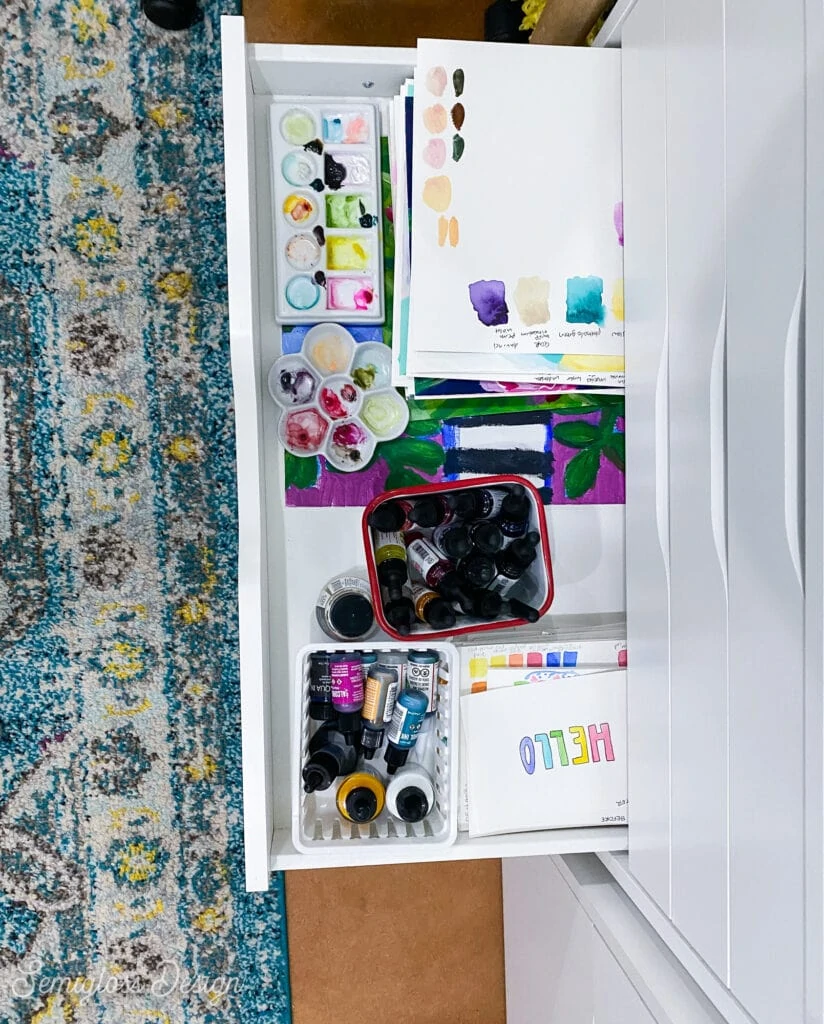 I use another IKEA cart as a paint station to hold my palette and water. The bottom shelves hold larger art supplies, craft paint, and canvases.
It's currently on the same wall as my nap nook, but it can be rolled into place when I need it.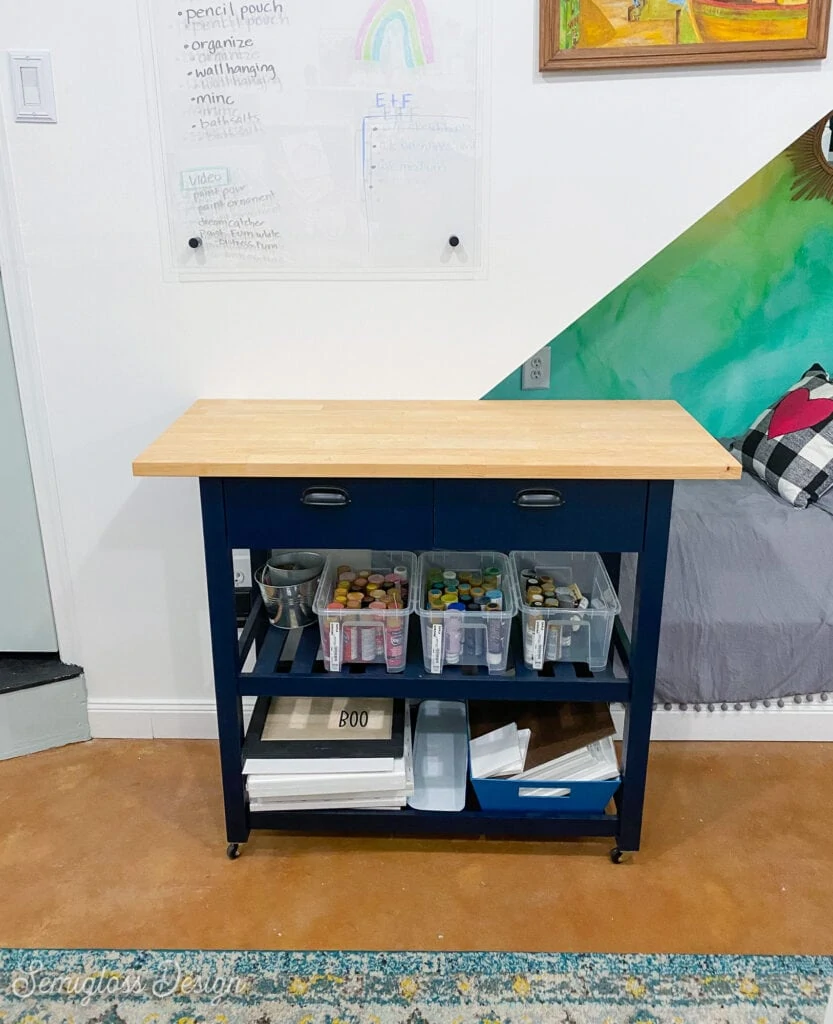 It can double as extra crafting space when needed.
Other Craft Supplies
I store the rest of my craft supplies in an IKEA Kallax shelf, a pegboard, and a vintage filing cabinet.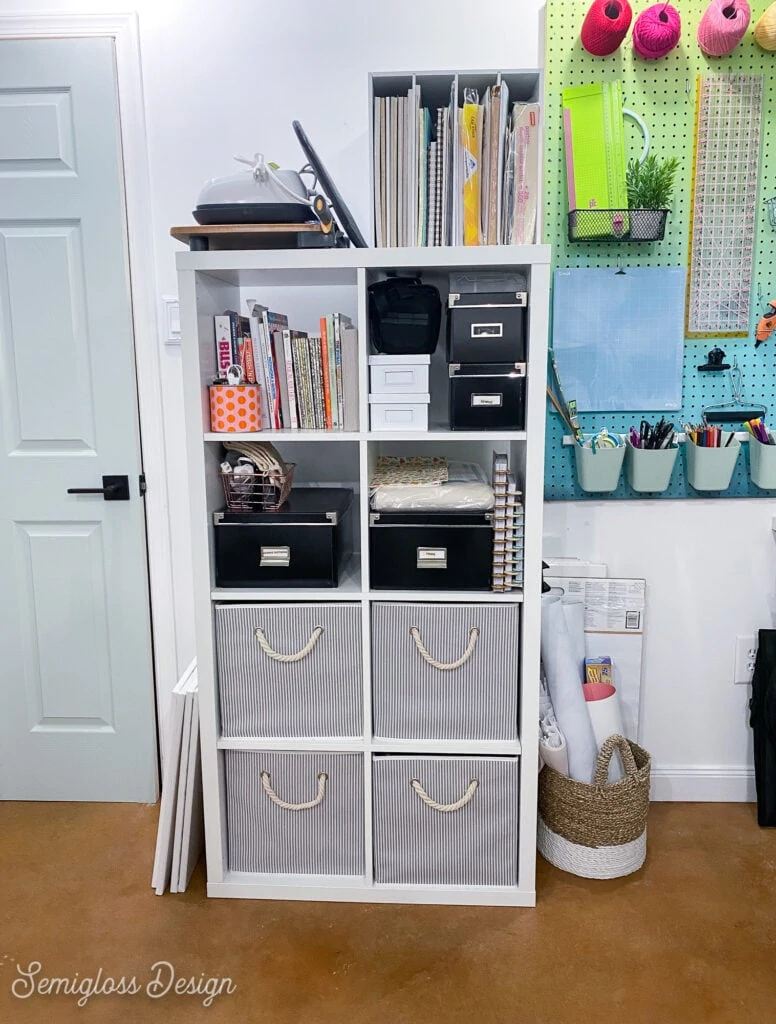 I use a storage cube to hold paper on top of this shelf. It also holds a paper cutter and my EasyPress.
This shelf holds books, a camera case, sewing supplies, and random craft supplies.
The basket to the side holds photography stuff like backgrounds and umbrellas for lighting.
The vintage filing cabinet is filled with things like glues, more paints, and random craft supplies.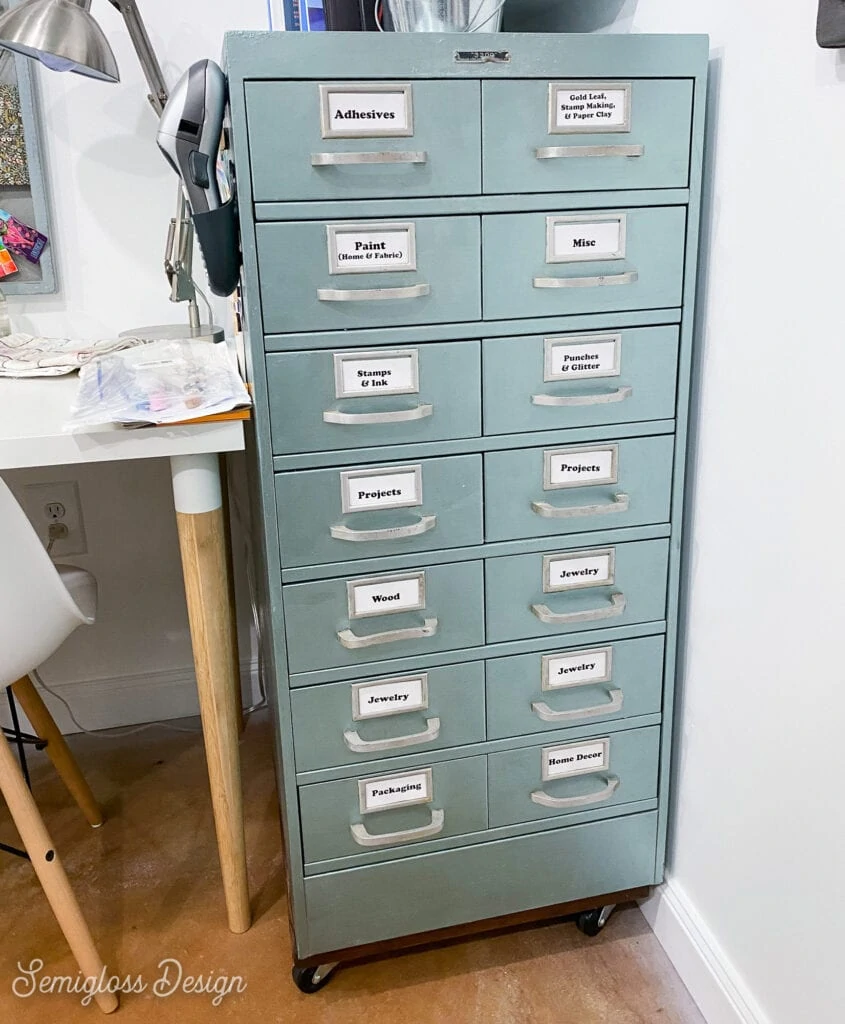 I just reorganized it and things are so much easier to find now!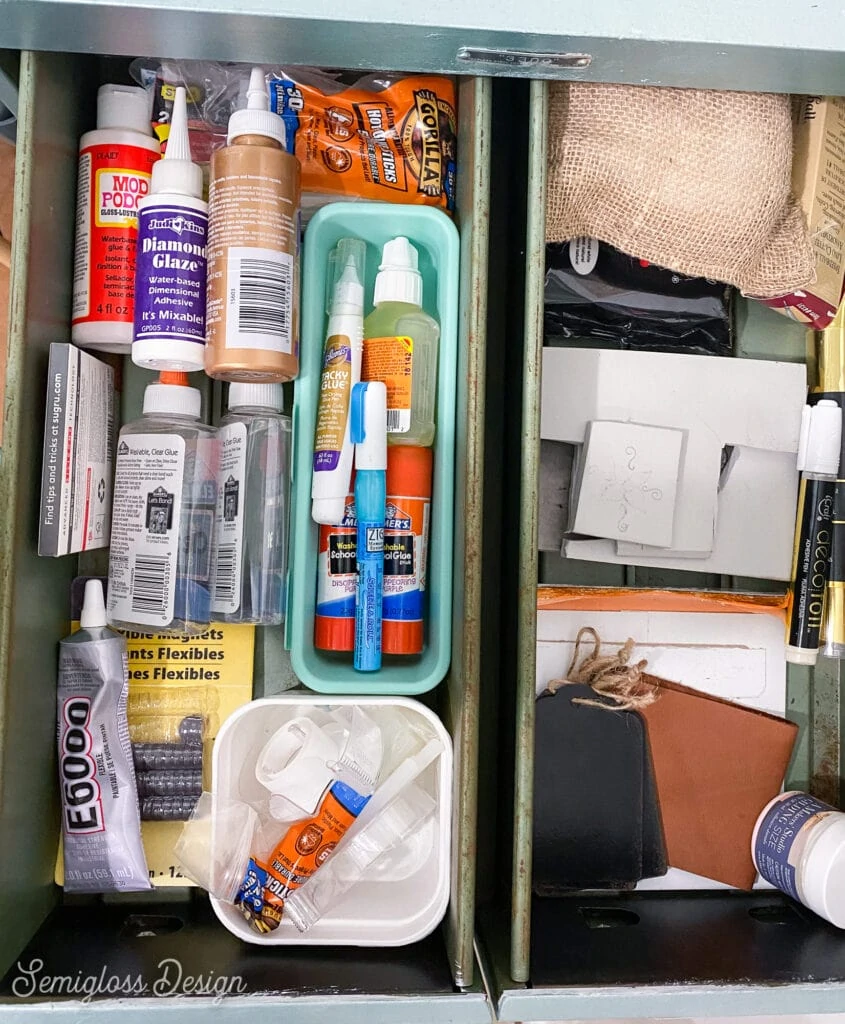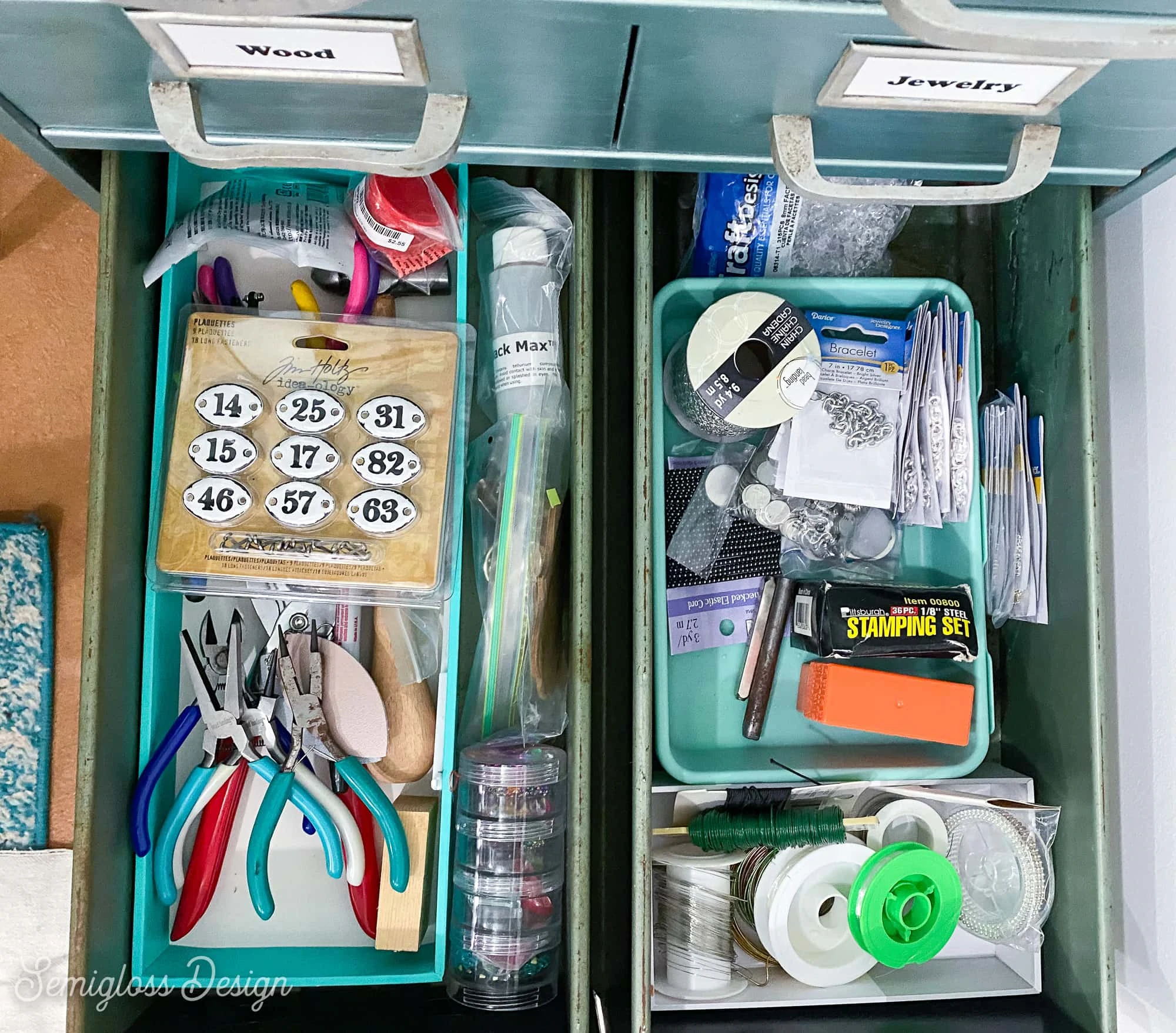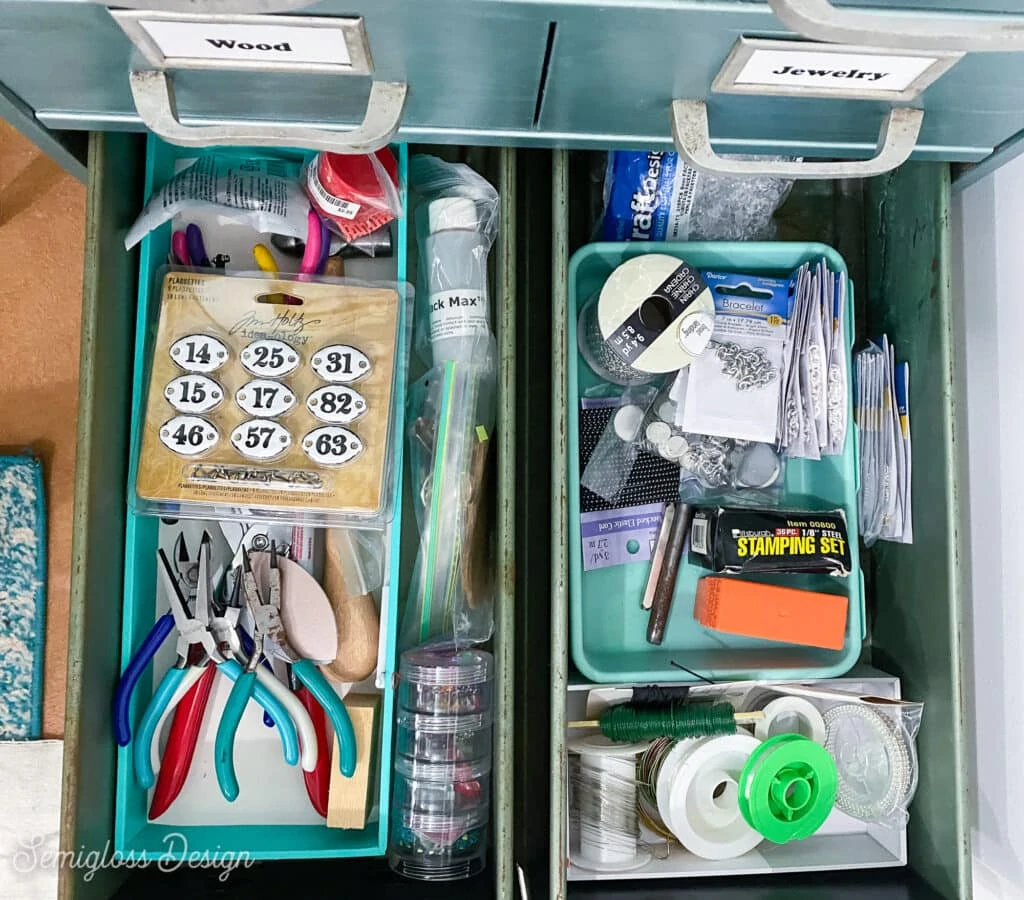 New Project Storage
I used to have a big problem with buying supplies and them just sitting there, waiting to be used. Now I put them away in designated bins until I can use them.
To make sure that I don't forget them, I write down the project ideas on my transparent dry erase board.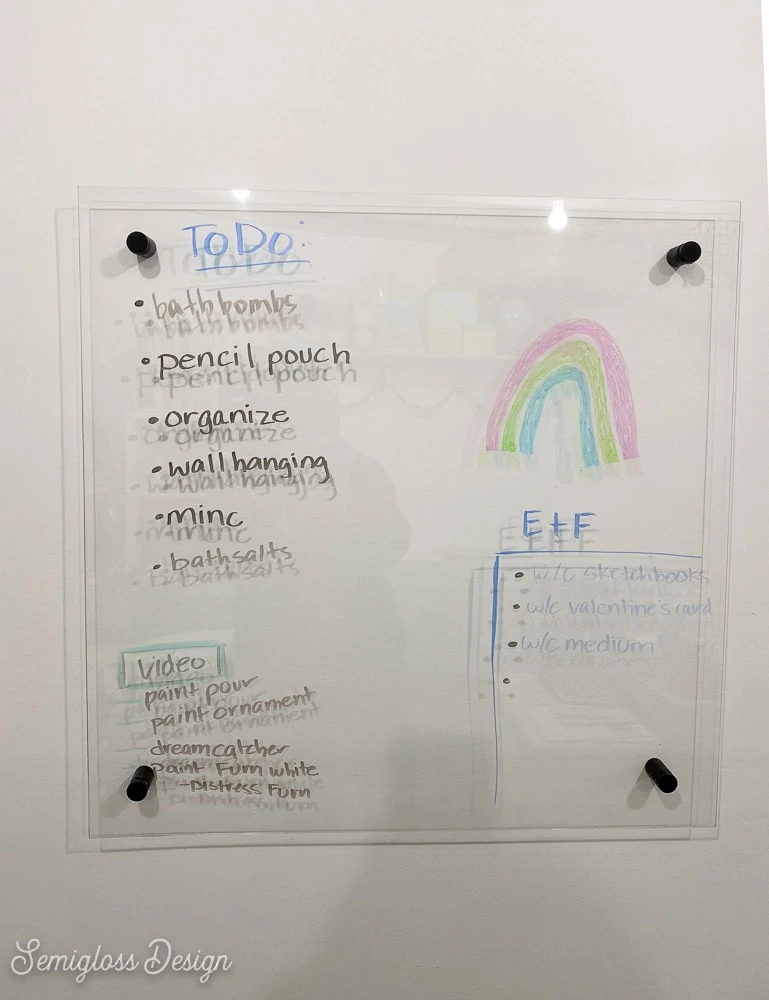 I also recently bought some giant post-it notes to keep track of projects for my blogs and Etsy shops.
I have so many ideas for things, so it's helpful to have them right in front of my face when I work.
What is your biggest struggle when organizing your craft room?
You might also like:
Pin for Later!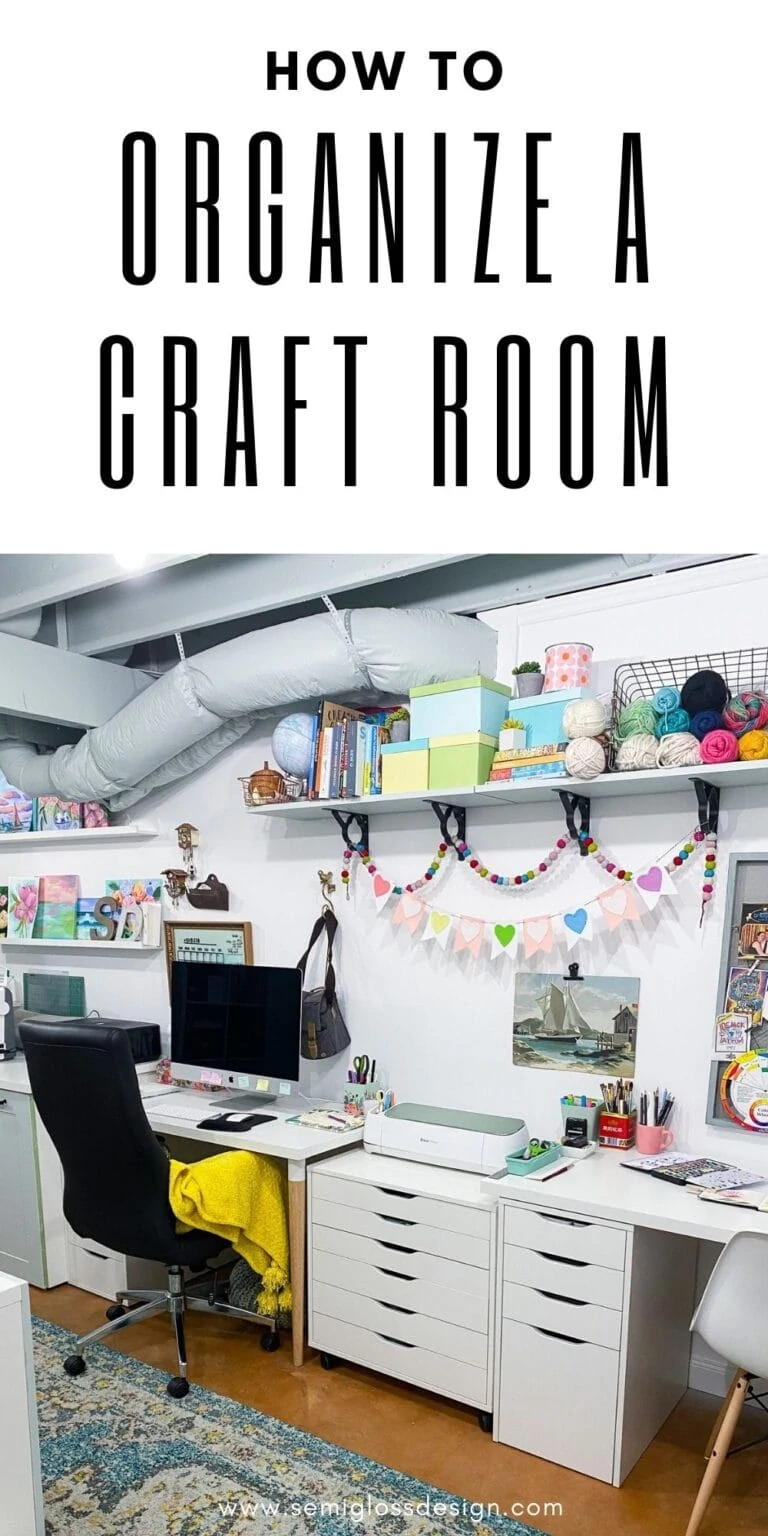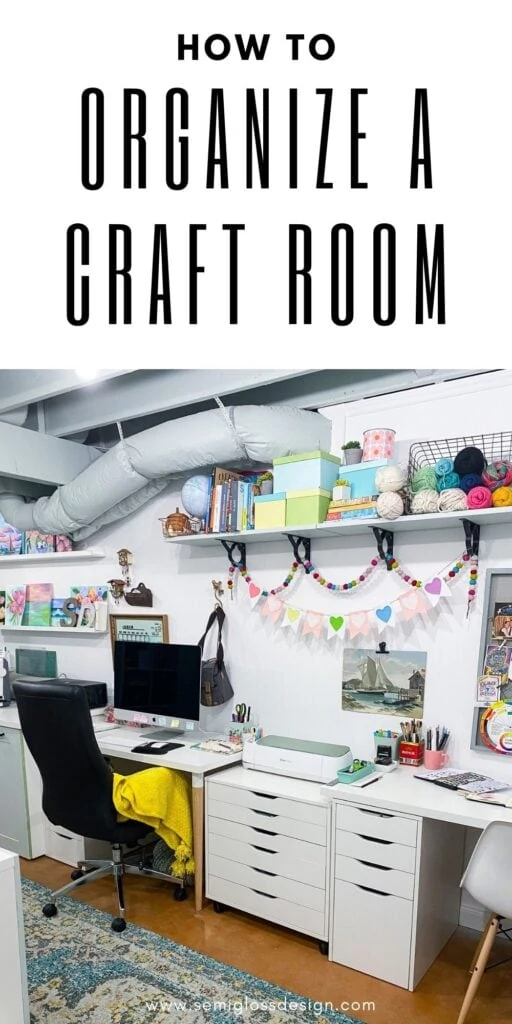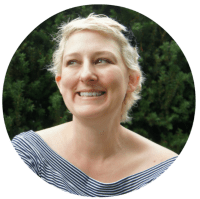 Emy is a vintage obsessed mama of 2 DIYer who loves sharing affordable solutions for common home problems. You don't need a giant budget to create a lovely home. Read more…