How to Hang Pegboard Like an Expert!
Learn how to hang pegboard on a wall the proper way. Pegboard is perfect for storing tools in your garage, but tools are heavy, so you need to make sure that your pegboard is sturdy!
Installing this pegboard was the first step for organizing our garage.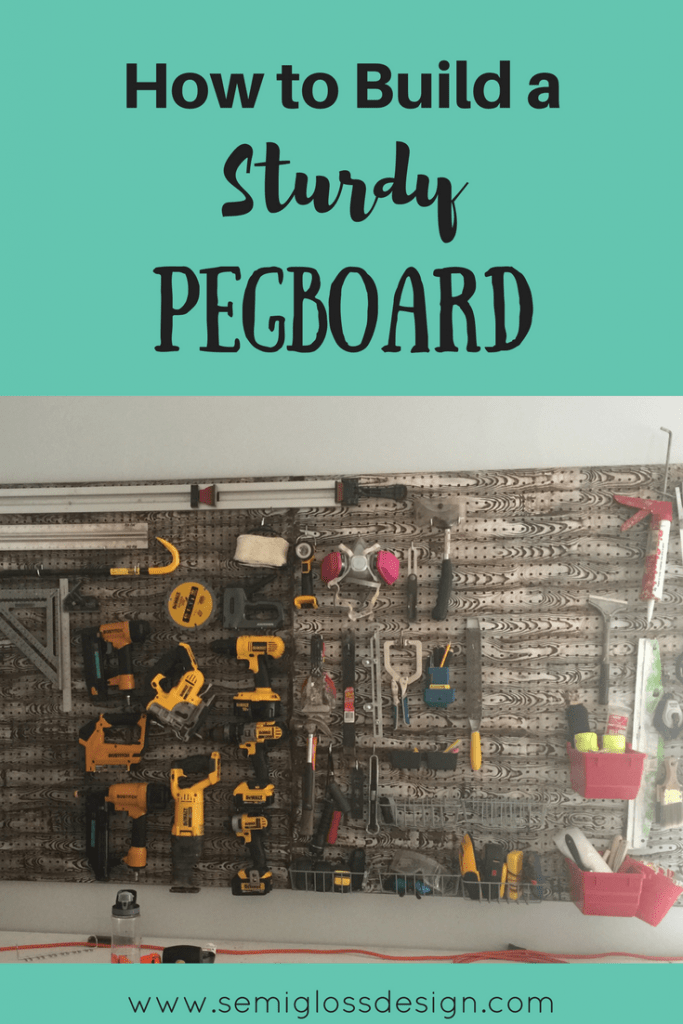 How to Hang Pegboard FAQs
How much weight can a pegboard hold?
According to a quick search on google, a pegboard can hold 100 pounds if properly installed.
Our holds a ton of heavy power tools with no buckling or bowing. It still looks great 2 years later!
Can pegboard be painted?
Yes! I've used both spray paint and latex paint to paint pegboard. The trick to painting pegboard is to use thin coats so that the holes don't get clogged.
We used a fun wood grain pattern on these pegboards.
Our Old Pegboard
Our old pegboard was put up quickly without a lot of thought. It began to sag under the weight of all the tools.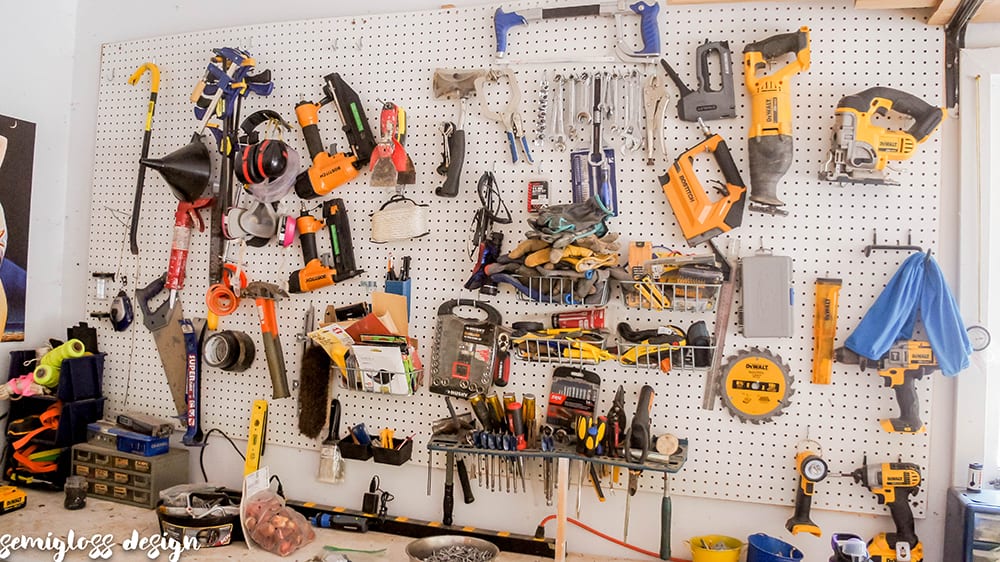 Hubby was totes jelly of my awesome pegboards that I made for my craft space. Who can blame him? 😉 So new ones for the garage were in order.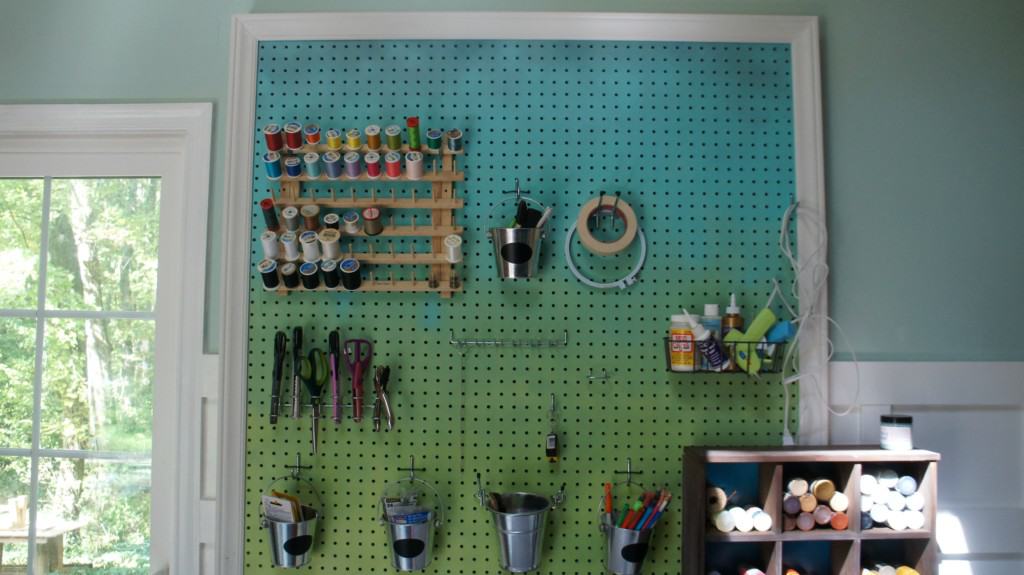 How to Install Pegboard
Supplies Needed
This post contains affiliate links. By purchasing an item through an affiliate link, I earn a small commission at no extra cost to you.
Pegboard***
1×2″s or furring strips (enough for each side)
Screws
Level
Drill or driver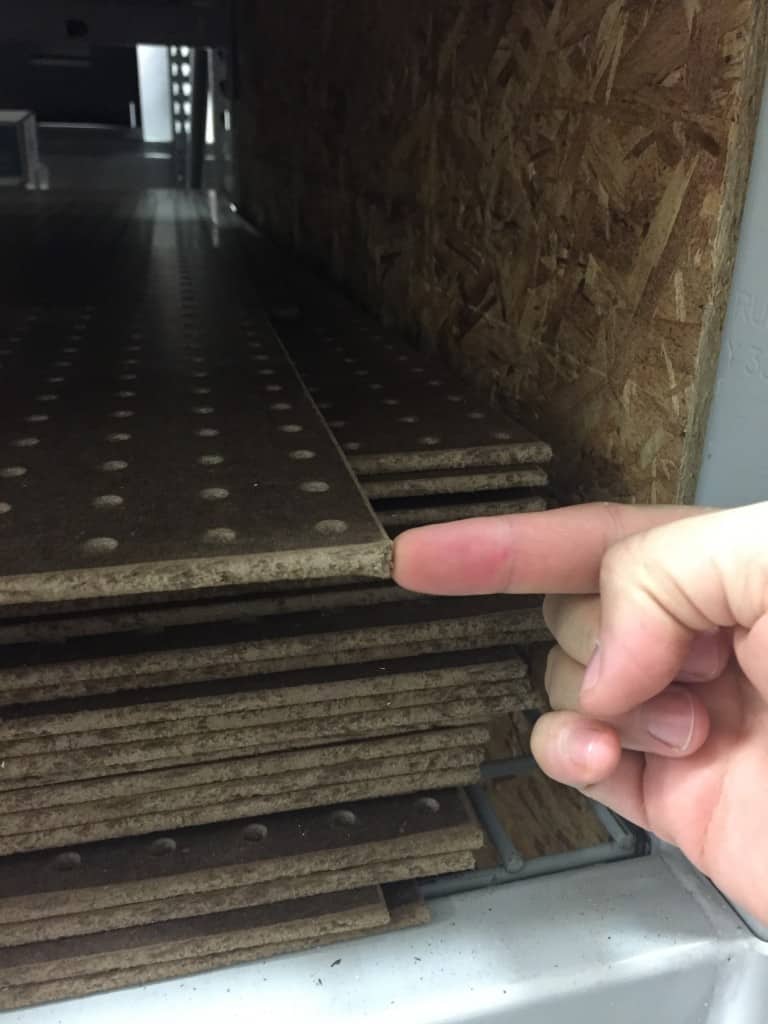 ***While shopping, we found that not all pegboard is created equally. If you want a sturdy pegboard, you need to look for the thickest board you can find! In our store, that meant the 4'x4′ pieces that were not primed.
Instead of buying 1 sheet of 4'x8′ pegboard, we bought 2 4'x4′ pieces because they were so much thicker. This also helps for transport if you don't have a truck! Bonus!
If you use a 4 x 8 sheet of pegboard, you will need a piece of wood in the middle for support.
Prepare Your Pegboard
We started by spraying our pegboard white. I didn't do a full coat because we planned on doing a fun wood grain painting technique over the top anyways.
Once the pegboard was dry, we added our painted wood grain, which turned out super cool. Tutorial for painted wood grain is here. It looks more intimidating than it is. Promise. Two panels took about 30 minutes.

Since we used gel stain, we had to let the wood dry overnight.
How to Hang Pegboard
Pegboard needs a frame to be sturdy. We used 1x2s to make a frame on the top, bottom and sides for mounting the pegboard.
Once it was dry, we flipped each piece over and added a 1×2″ frame around the edge of the pegboard on 3 sides. Since we were joining 2 pieces of pegboard, we centered a single 1×2″ to bridge the center on the 4th side. This adds stability without sacrificing too many holes.

If you use a 1×2″ frame for all 4 sides of each panel, you lose 4 rows of holes total. It's worth it to gain more storage. The wood frame was attached with a nail gun. (This is just to tack it in place. When you attach the panels to the walls with screws, it will be nice and secure.)

Using a level, make sure your panels are straight and screw them into the wall into studs through the 1x2s. If you can't hit studs, use strong wall anchors. Make sure that you leave enough space at the bottom for tools that hang low.

Attach the 2nd panel. Because we used a single center 1×2 brace, it was a tight fit. Butt the pieces as close as you can get them and attach the second panel in the same manner.

Admire your handiwork. It's nice to have a pegboard wall that looks as cool as it functions! Bonus points if you painted it with a cool design! Now that you know how to install pegboard, you can use it everywhere. It's also great for craft rooms!

Fill with tools after you've installed the pegboard. This is the fun part. Notice how much space we gained even though we added larger tools to the space.
Please note that when you buy the thicker pegboard, not all hooks will work 100% with it. Some hooks work better with thinner pegboard. You'll want the thicker prongs.

It's so nice that we're able to work in the garage again. I'm loving how open it feels. My son had a friend over this weekend and his mom commented on how she had never seen such a clean garage. Lady, don't look at the rest of my house!! Eek!
Join me next week to see more progress and learn how I'm organizing this space. Hint: we threw a lot away! 😉
Update: Want to see the garage reveal? Click here!
Garage Makeover Progress
Week 2 | Staining an Old Concrete Floor
Week 3 | This post
Bonus | How to Paint a Wood Grain Pattern
Week 5 | Organizing Tips for a Garage
Week 6 | Adding a Retractable Extension Cord to a Garage
You might also like:
Pin for Later!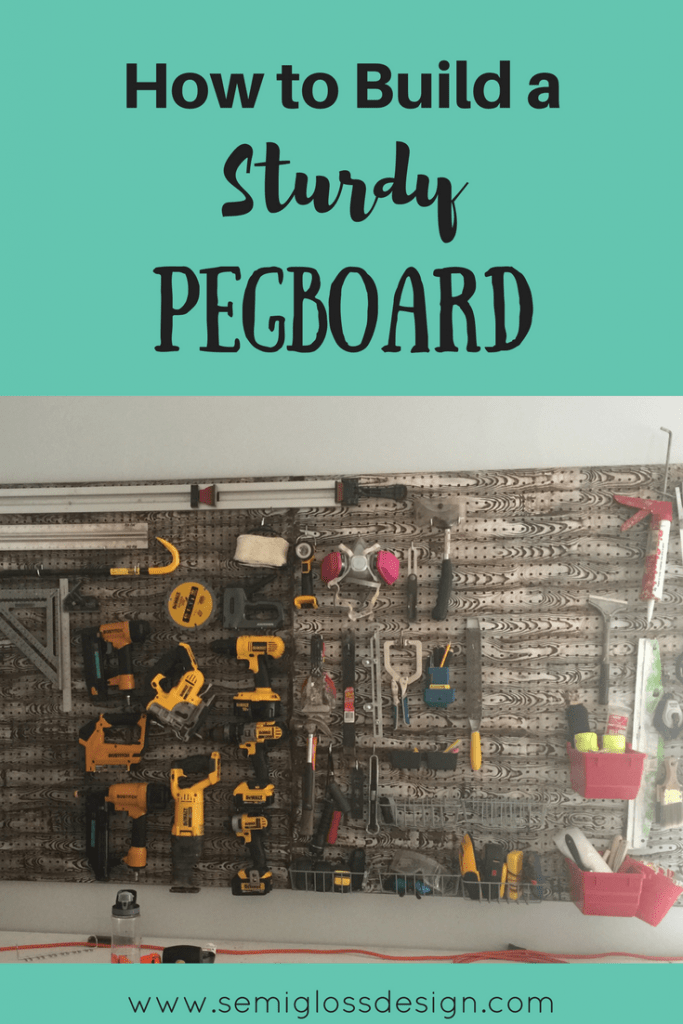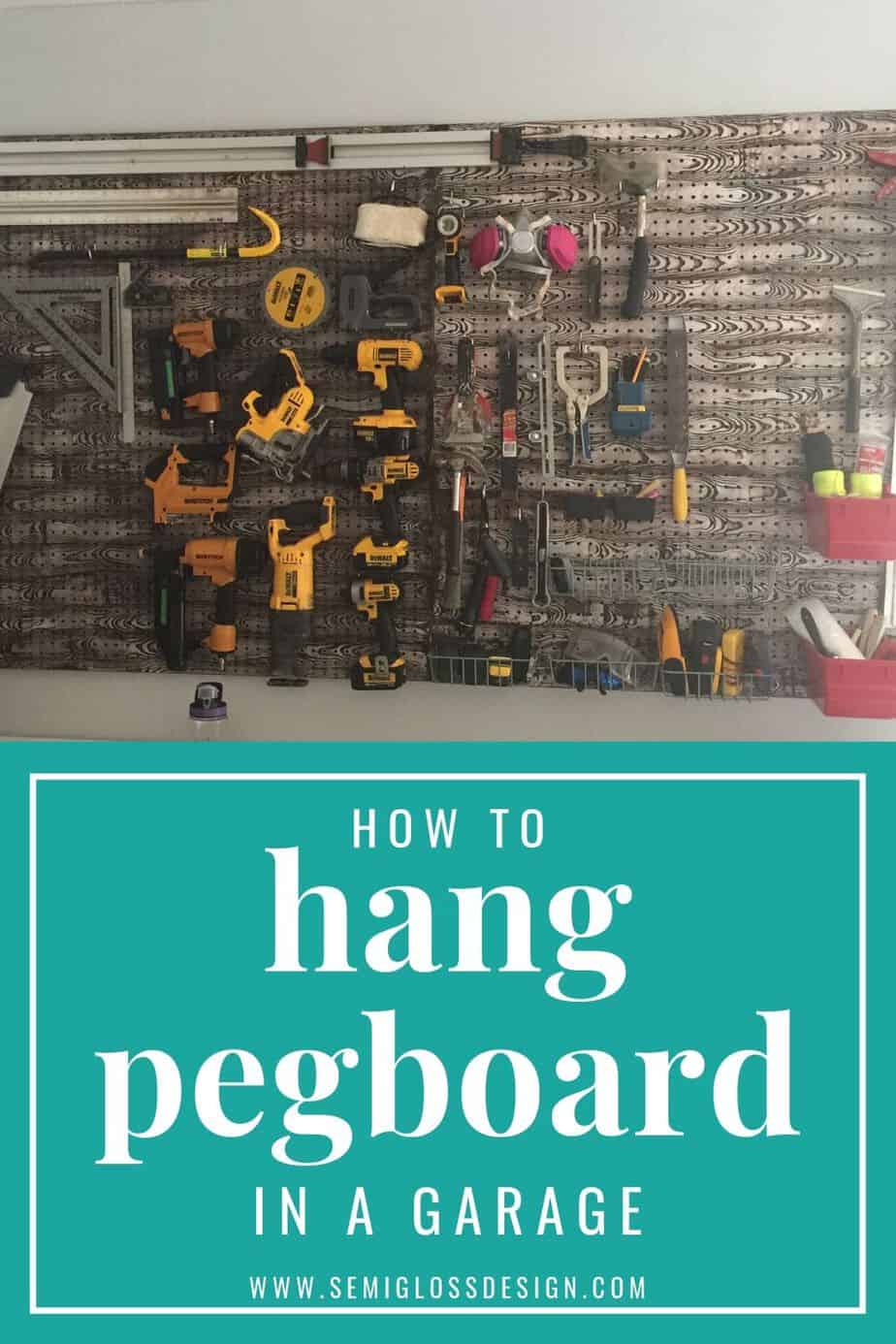 This was a post for the One Room Challenge Guest Participant.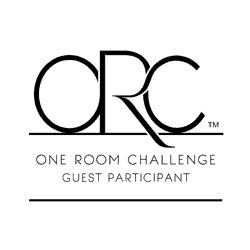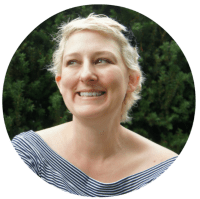 Emy is a vintage obsessed mama of 2 DIYer who loves sharing affordable solutions for common home problems. You don't need a giant budget to create a lovely home. Read more…