Magical Boho Treehouse Reveal
It's week 6 of the One Room Challenge! I've enjoyed it, but I'm glad that it's over. I'm really looking forward to seeing everyone's finished rooms.
Over the past 6 weeks, I've been working on my kid's treehouse to make it a fun space to cozy up in and enjoy a book or a riveting game of Pokemon.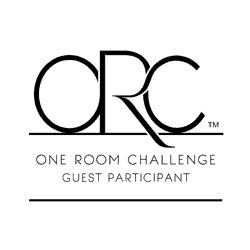 I started with a blank canvas that still needed a bit of work to feel finished. The treehouse needed walls, windows, and a door.
It still needs a window and a door, but it got walls and trim! (Although a door and windows are important items for function, I decided to postpone these items until later.)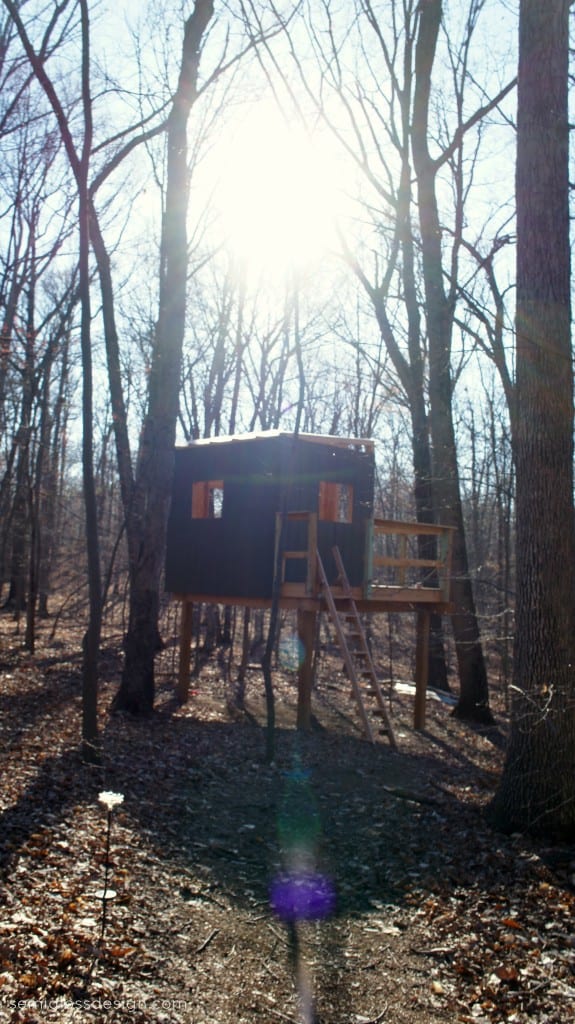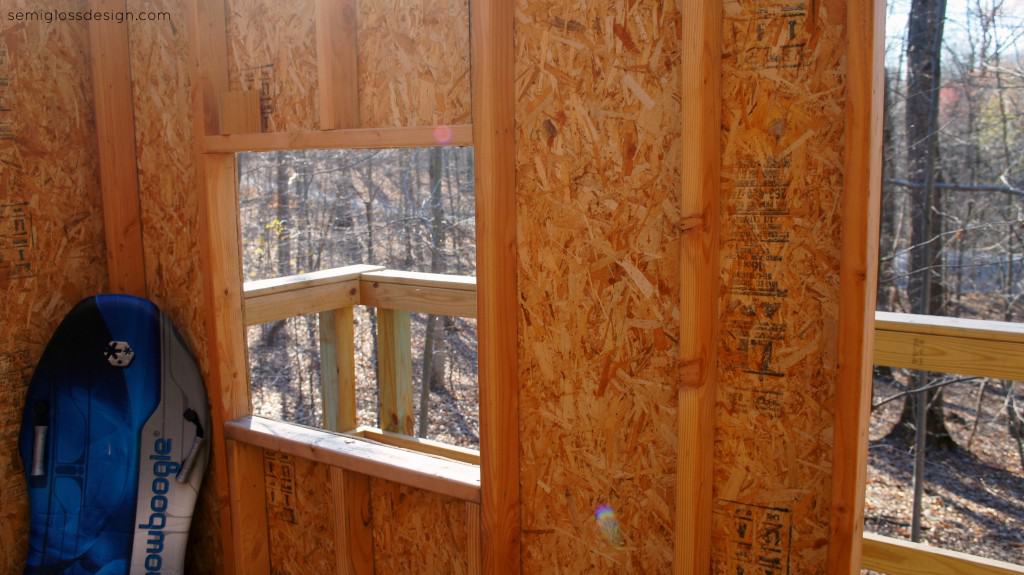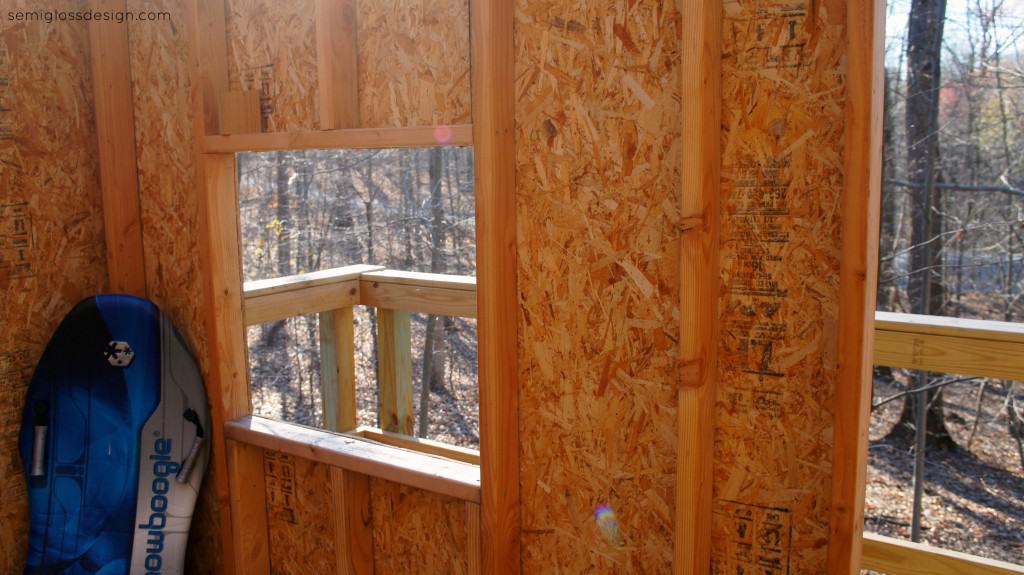 Working on an outside project in the spring can be difficult. We've had so much rain that some projects were put off until later.
There will be a phase 2 where I bring in fun items like a rock wall, new stairs, and possibly a zipline, as well as making the pathway pretty.
I dream of a shade garden and an ivy-covered archway made of branches. Until then, onto the pretty pictures!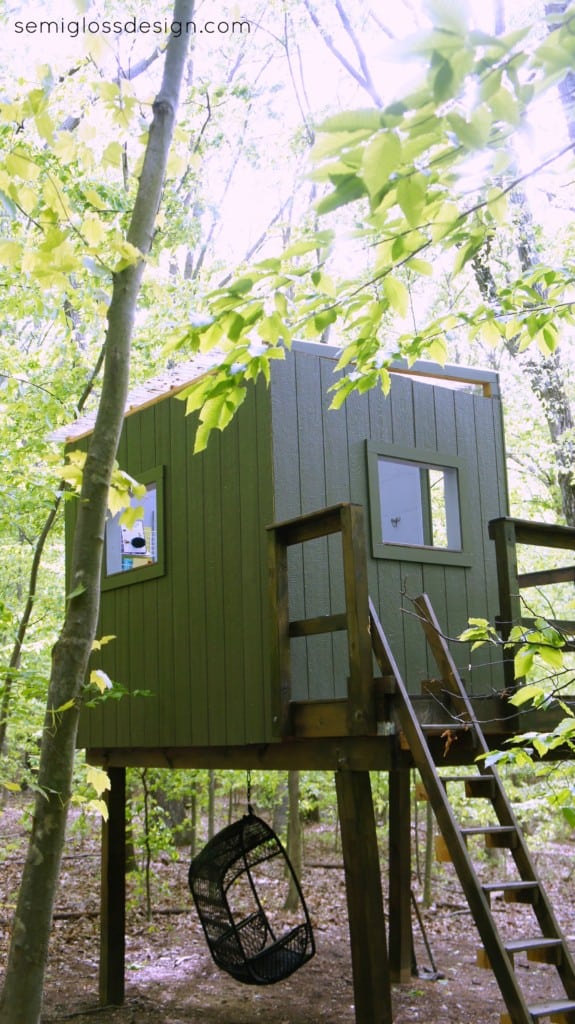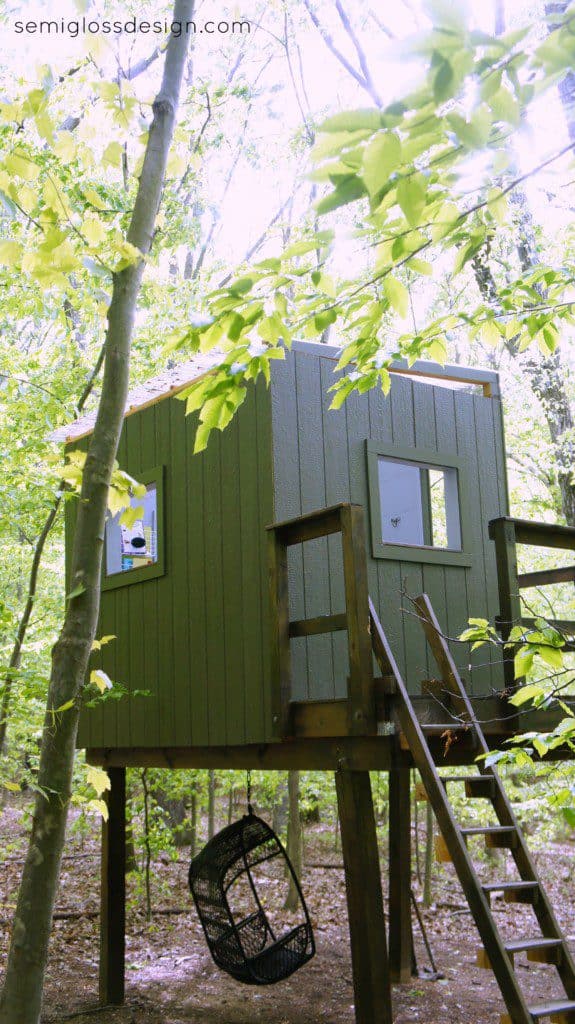 Stained wood railing and support beams make everything blend with the woods a lot better. (I stained the ladder and then was told that it was only temporary and new stairs would be made soon.)
Trim was added to the windows and the 2×4's at the top were painted to blend as well. It makes the whole thing look a lot more finished.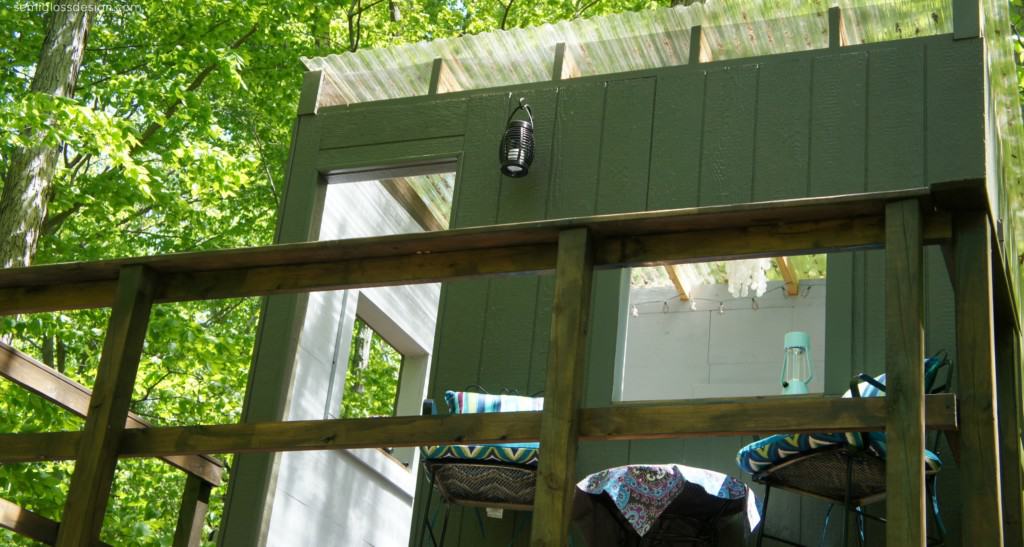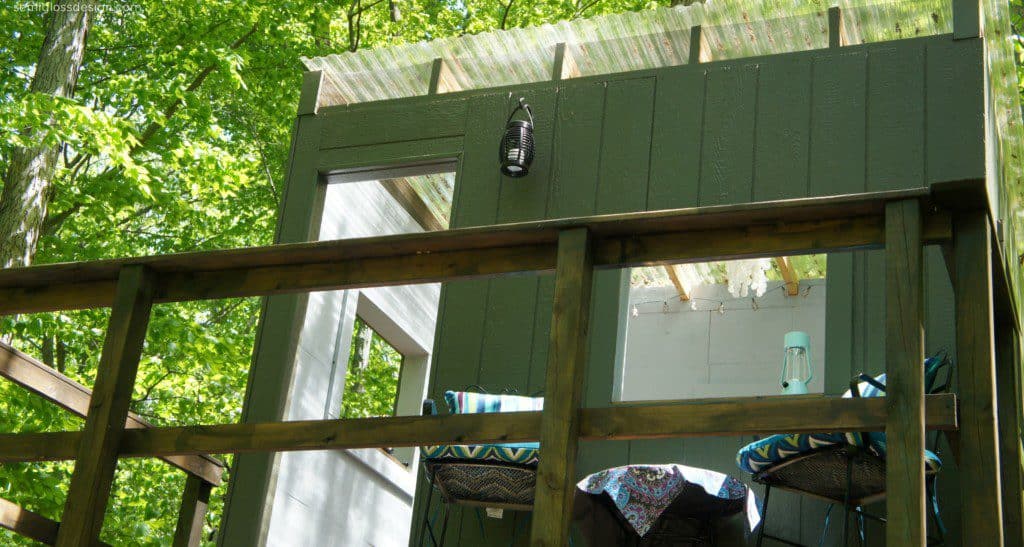 The treehouse has a cute deck area that I wanted to take advantage of since the view from this area is one of my favorites.
I added a cute vintage set that was petite in size. It's now the perfect place to enjoy coffee or wine. I guess the kids will like it too.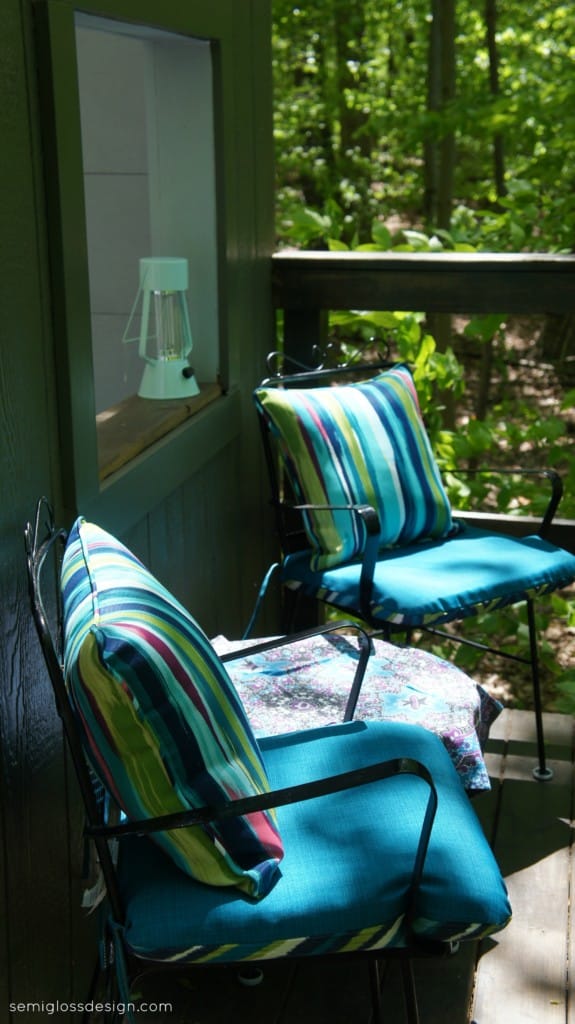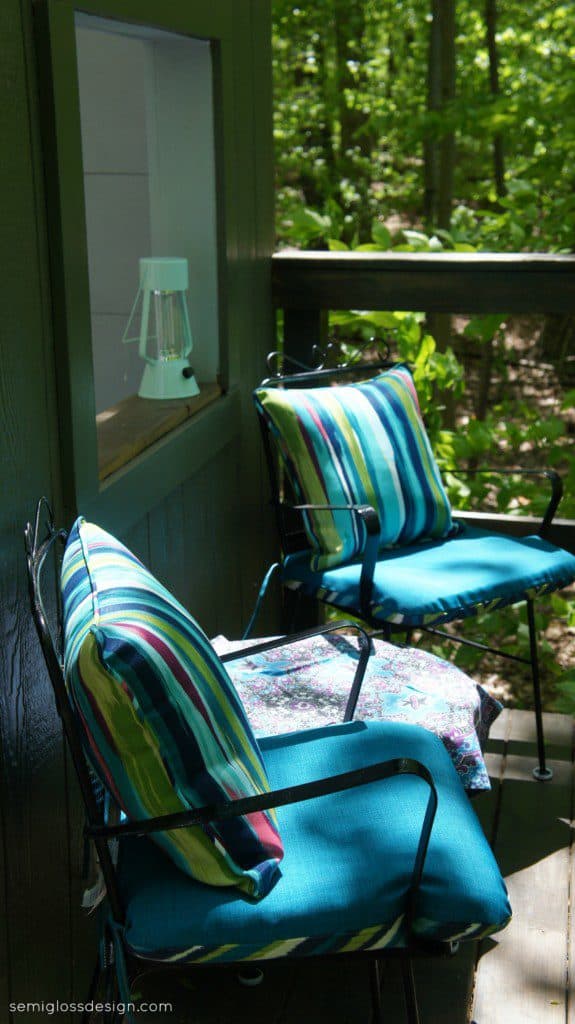 Colorful cushions make the wrought iron seats comfortable.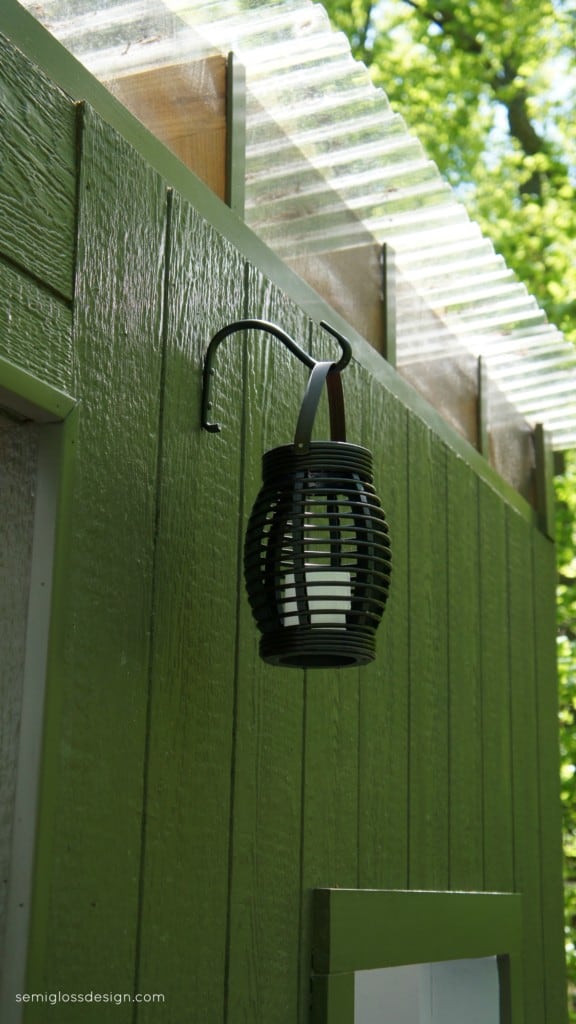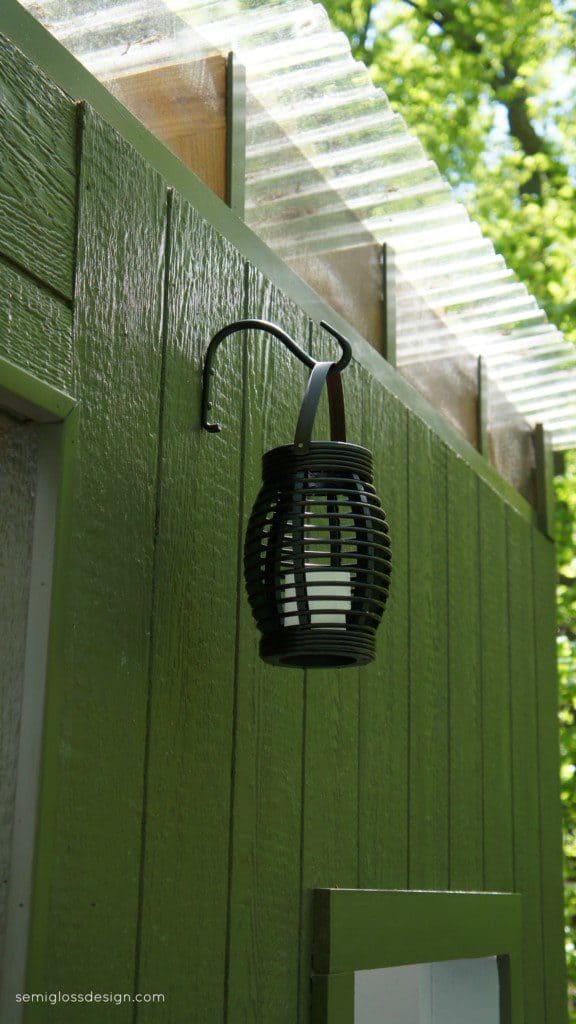 A battery-operated lantern provided light at night. The treehouse is near the firepit and the kids often walk back and forth when we enjoy fires.
Lighting provides a safer journey for them. Solar lights were also added along the deck railing.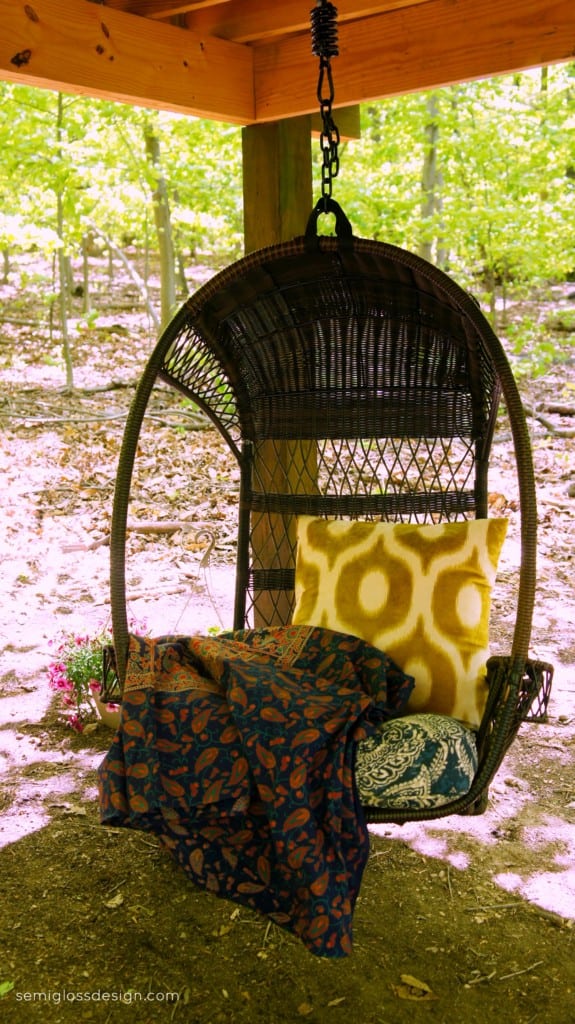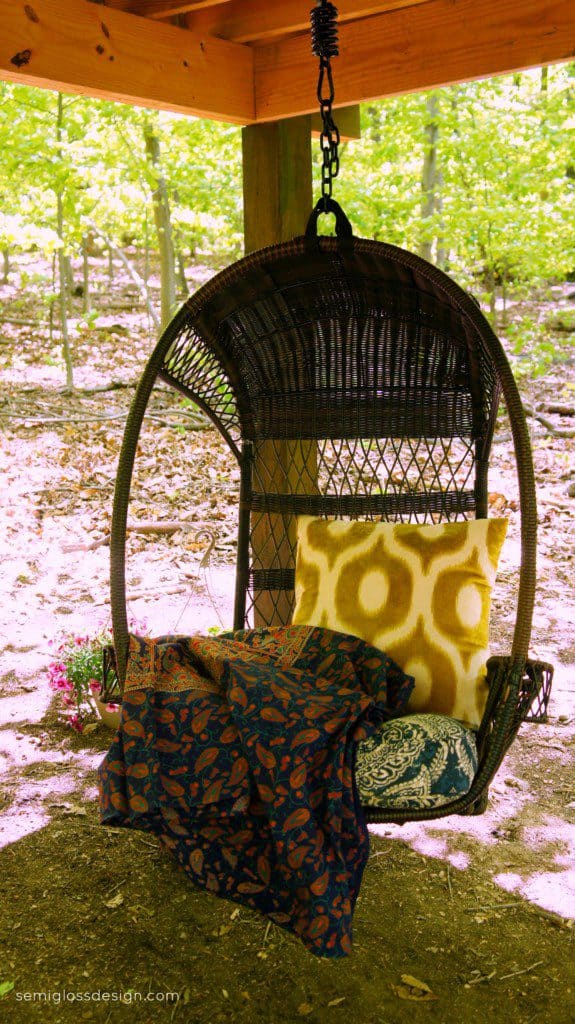 I hung a hanging chair under the treehouse for extra seating. I love this thing! It has a magazine rack on the side and 2 drink holders! It's a fun addition to the treehouse.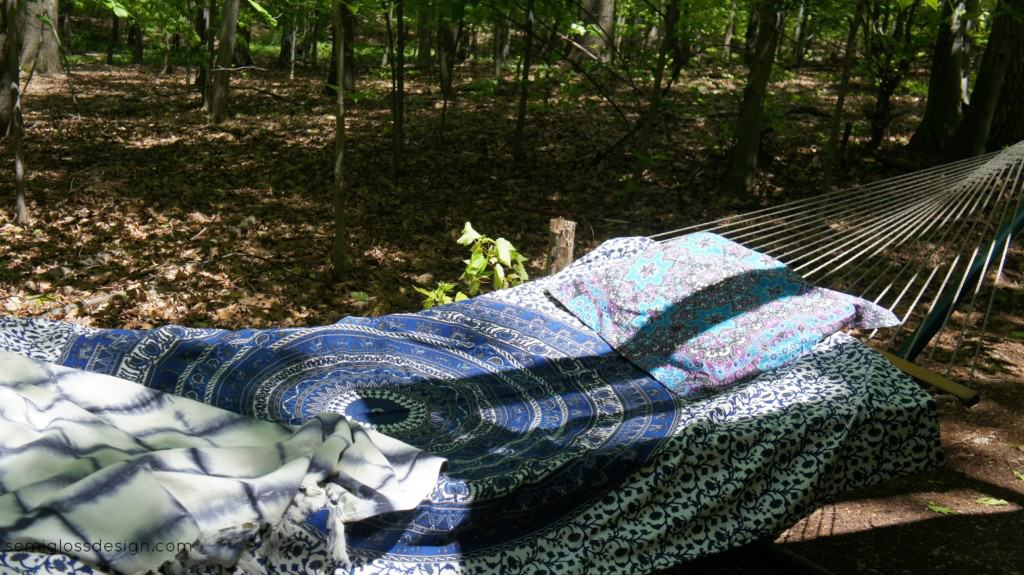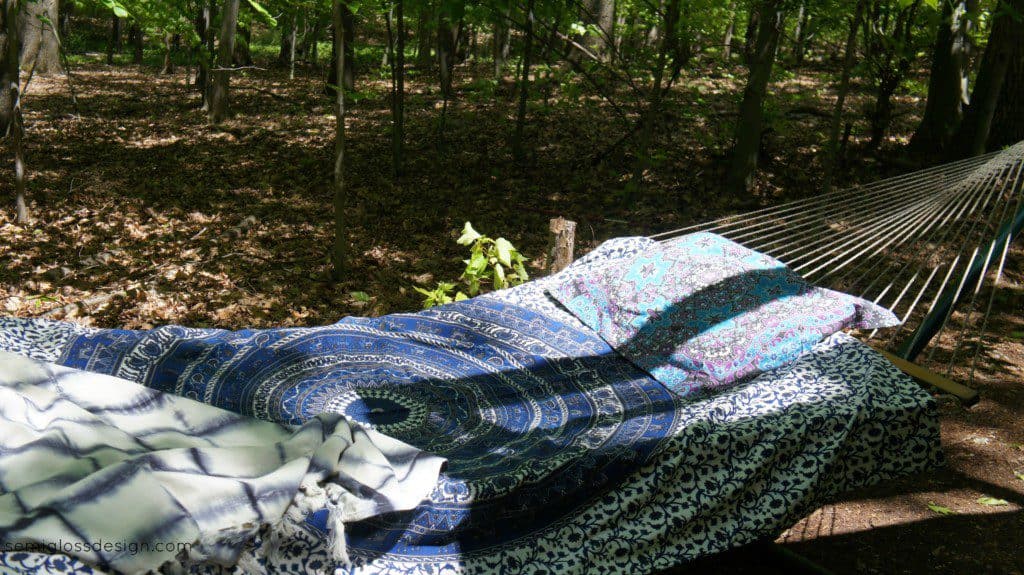 We found a hammock and stand at a flea market and it has been so popular with the kids so far. We've decided that we need hammocks everywhere!
I layered it with fun textiles to make it cozier. They were inexpensive and can be taken in and out to be washed if they get dirty.
My son calls it the "hippie hammock." I call it "mine."


My husband doesn't care for the way that the ropes feel, so this is a nice compromise. A lightweight throw blanket is nice for cooler days and evenings.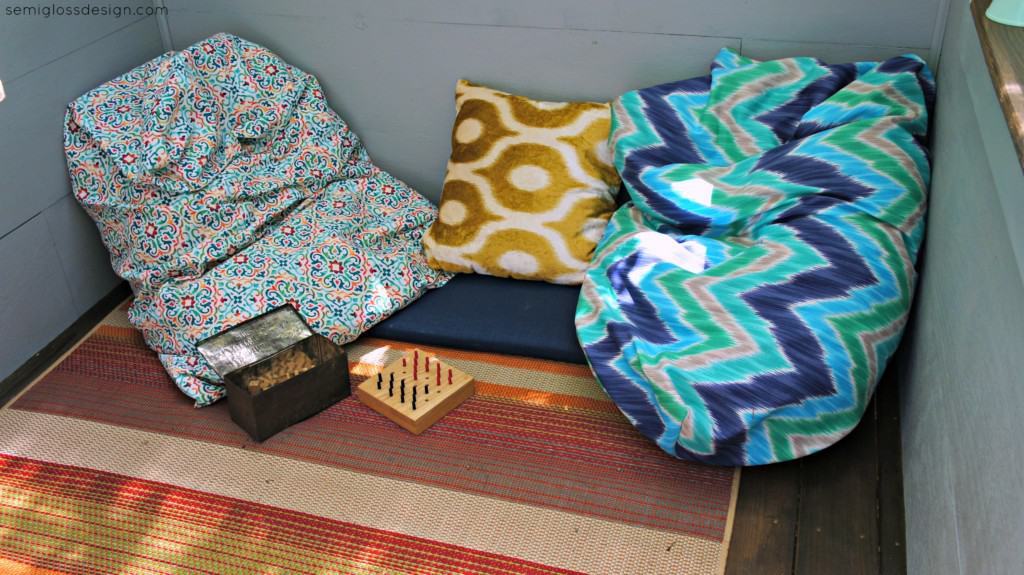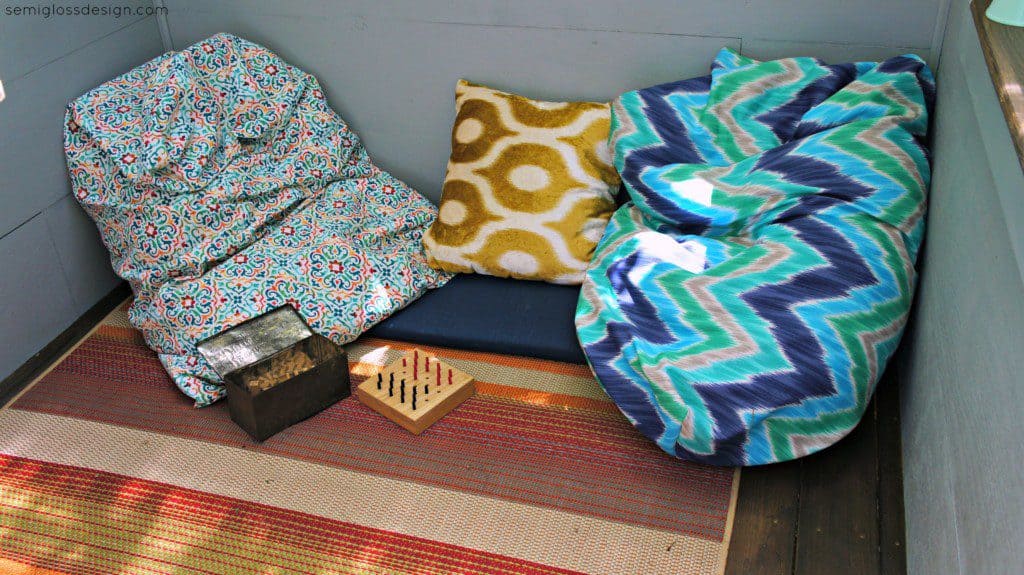 I covered their beanbags with outdoor fabric slipcovers to make them a little more weather-resistant. One of my favorite parts of this: they're no longer in the basement!
(Apparently, if you sit them on top of each other, then sit on top of them, they throw you off of them and make you bust your lip! True story! That was fun to explain to my daughter's teacher. "No, I didn't beat her. Yes, her story is somewhat true.")
A vintage metal box from a dairy holds wooden games that we bought from a flea market.
The rug was a last-minute addition. After constantly tracking mud in while working, we knew that only an outdoor rug would work for this space.
As much as I wanted to add a soft fluffy one, it just wasn't going to be practical. It adds color and a bit of softness for the kids.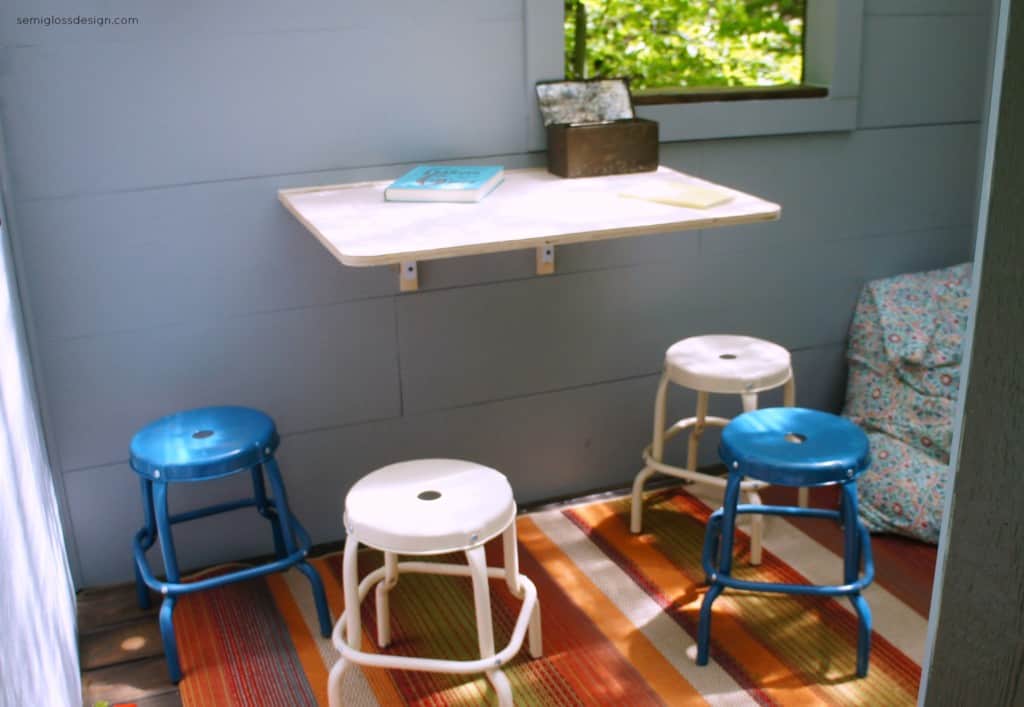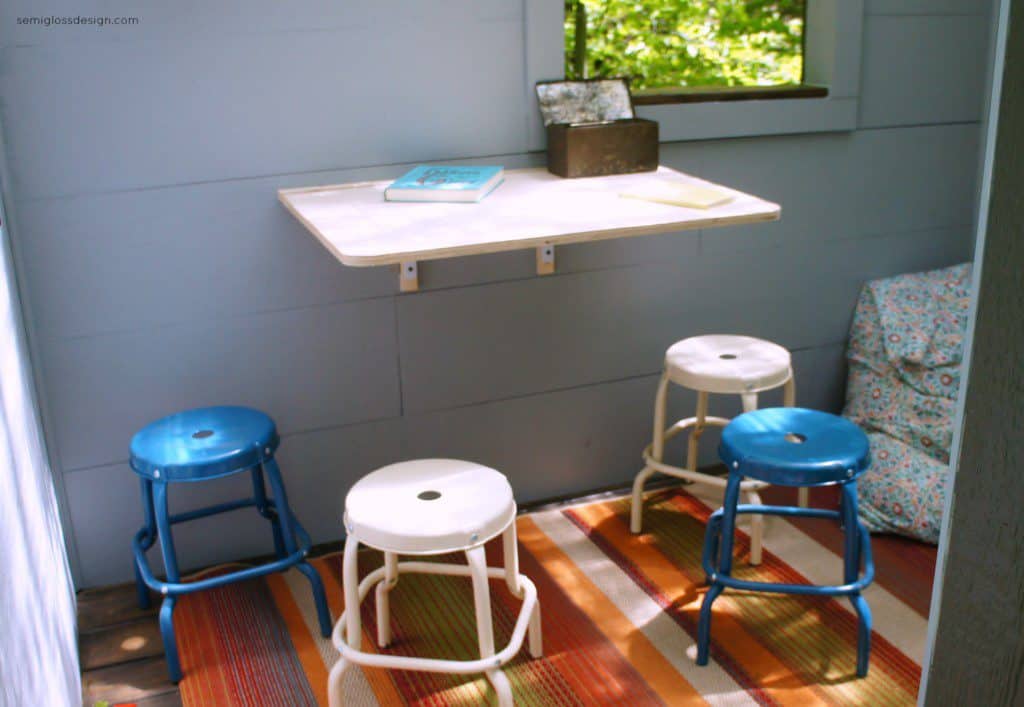 A fold-down table and stackable stools provide seating and a play space for the kids to play games. The table will eventually be painted with chalkboard paint in a fun color.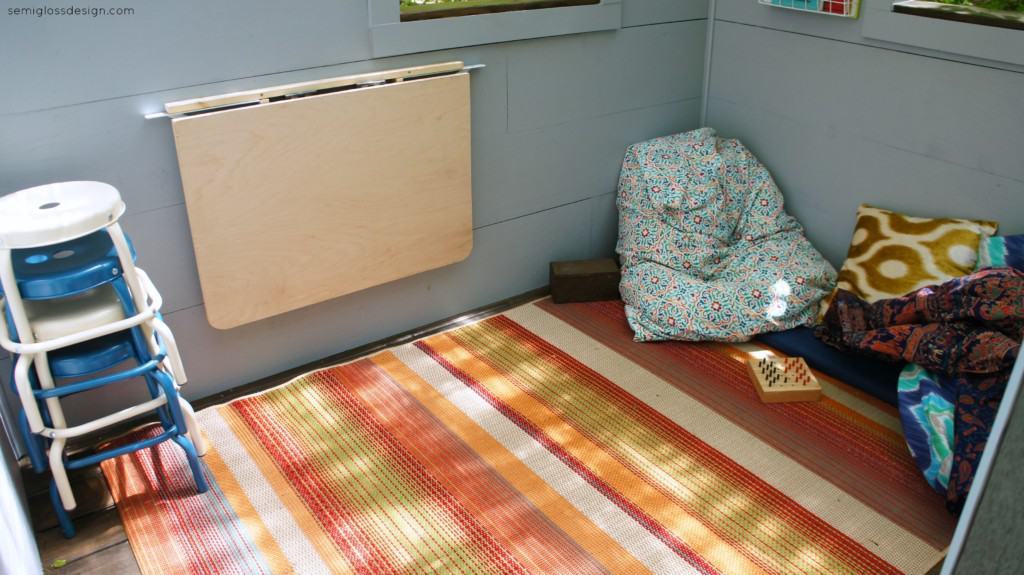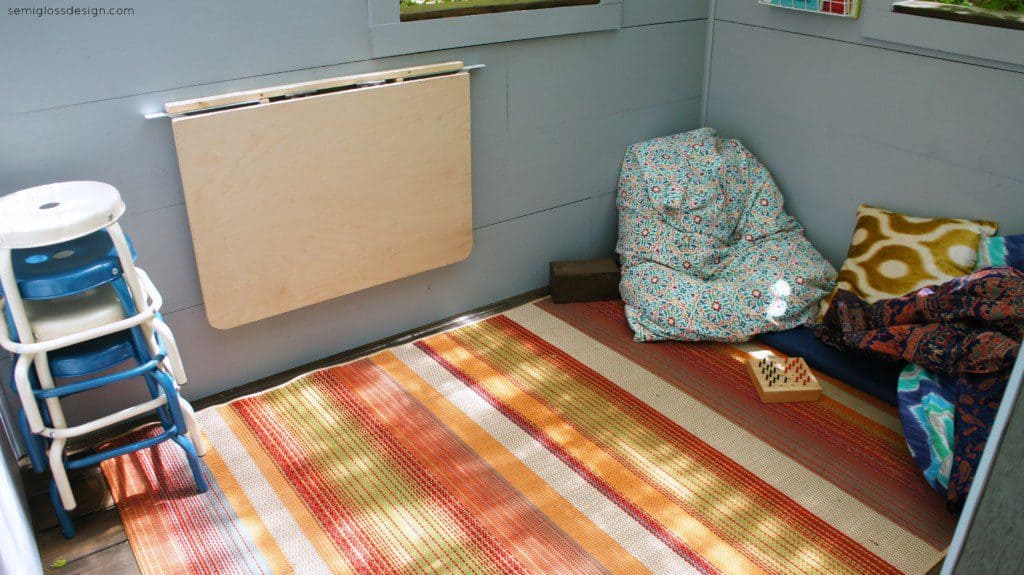 When folded down and stacked, there is plenty of room for sleeping bags. We tried to keep everything moveable for sleepovers.
My son's best friend was always at the forefront of our minds. "Will L fit in here?" At 12 years old, he's already taller than I am.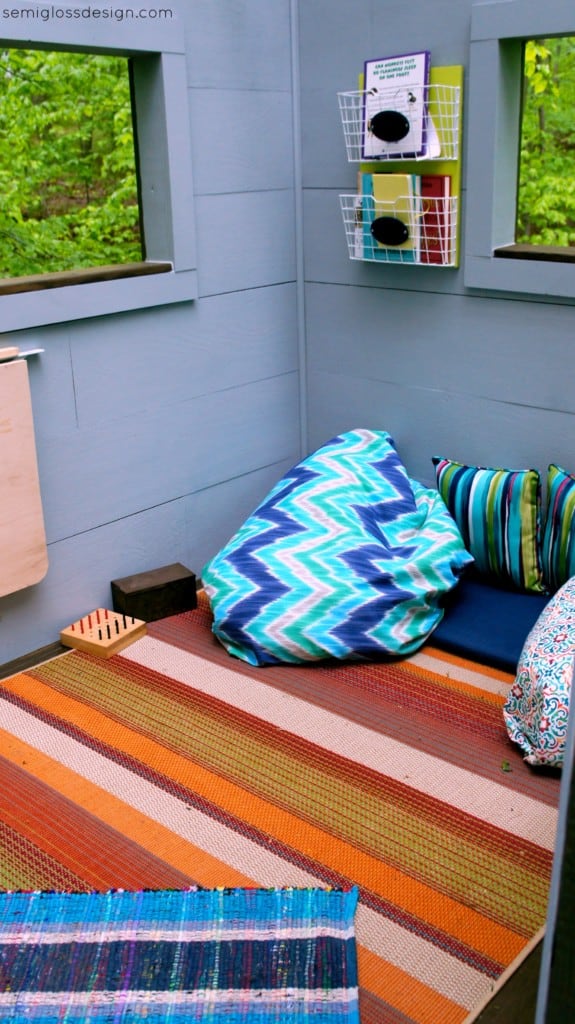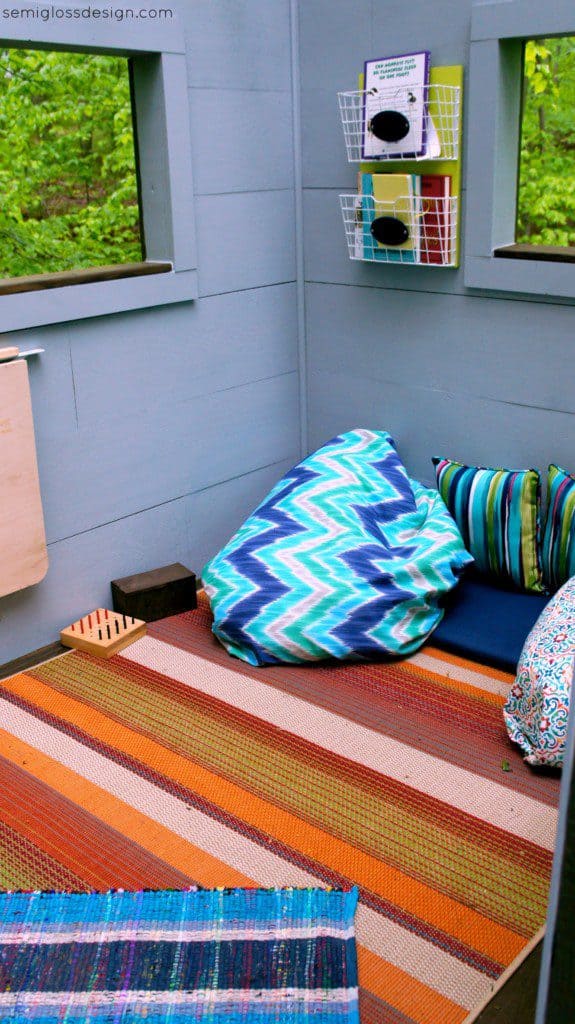 Layered rugs add more color. I want to add more as I find them.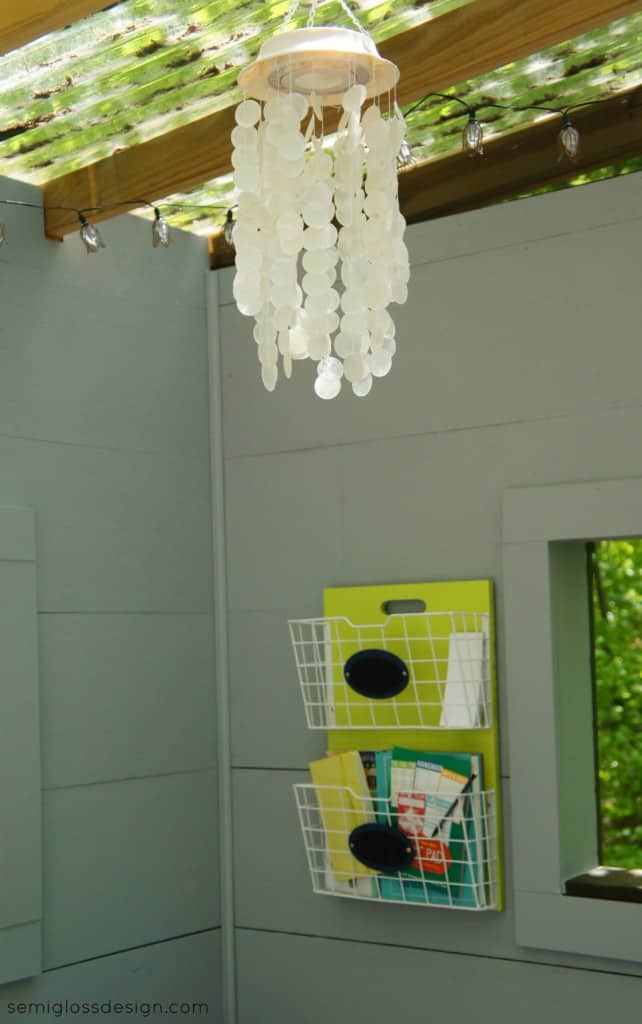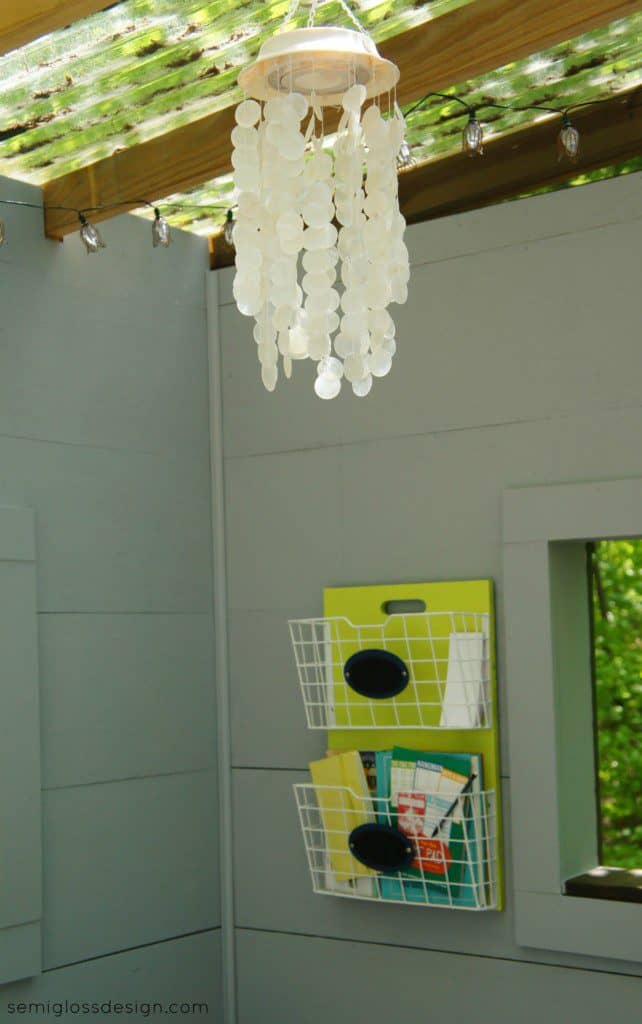 A battery-operated capiz chandelier makes the treehouse glamorous. The shelf holds important books. Solar string lights provide more light.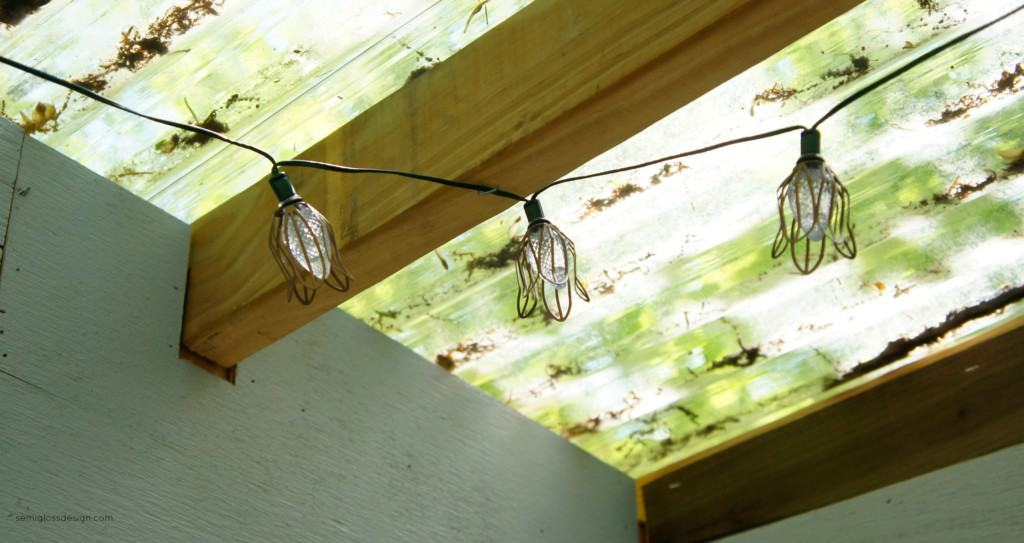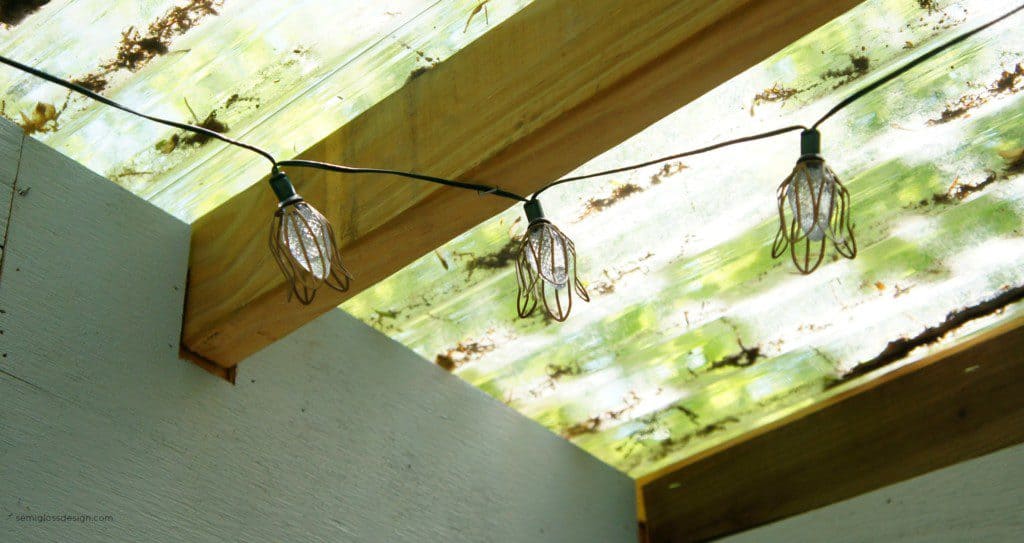 Aren't they pretty?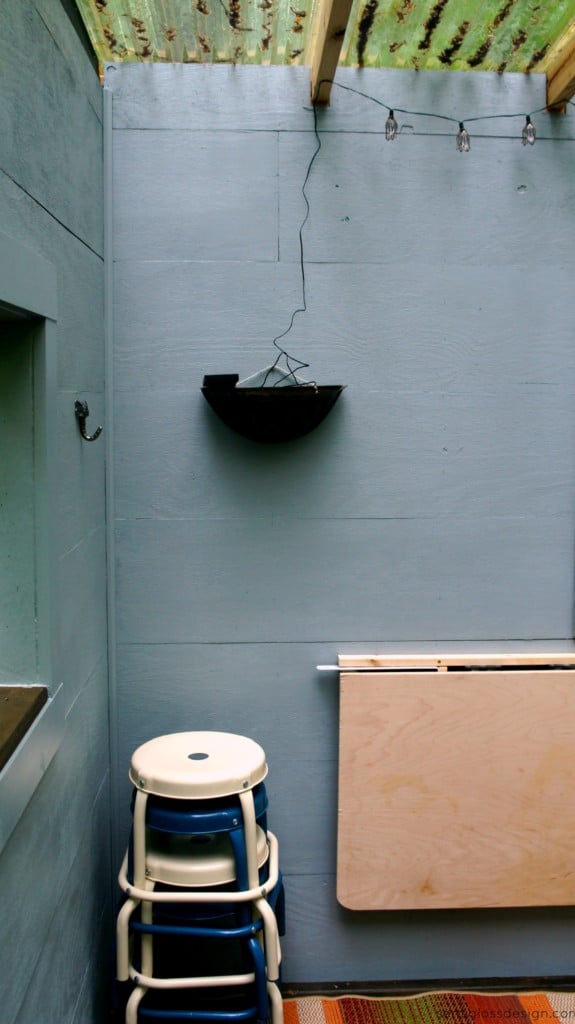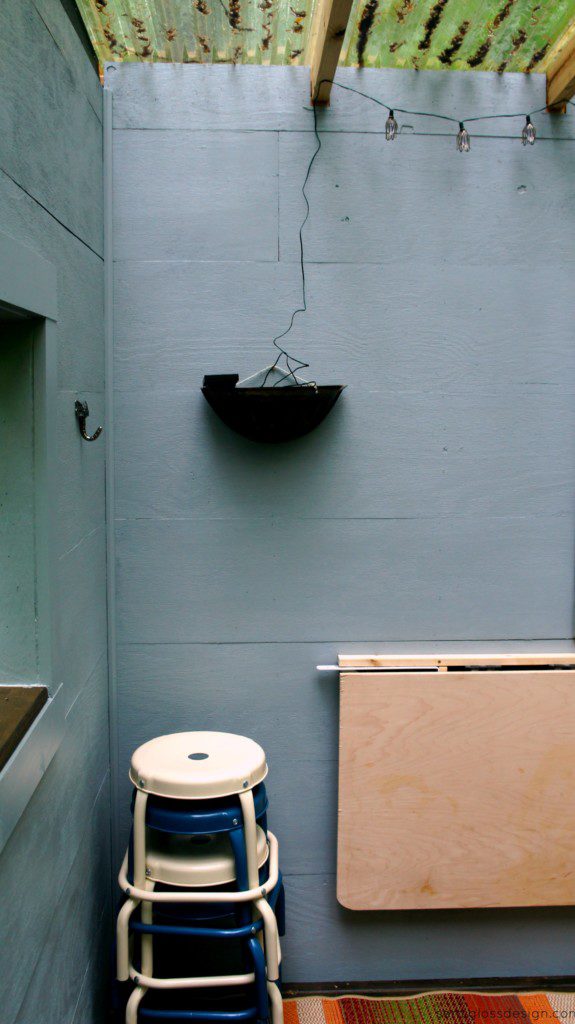 I'm using the brass wall pocket to hold the solar panel for now. It also holds pencils. I need to find something to hide the cord but still expose the solar part to the sun.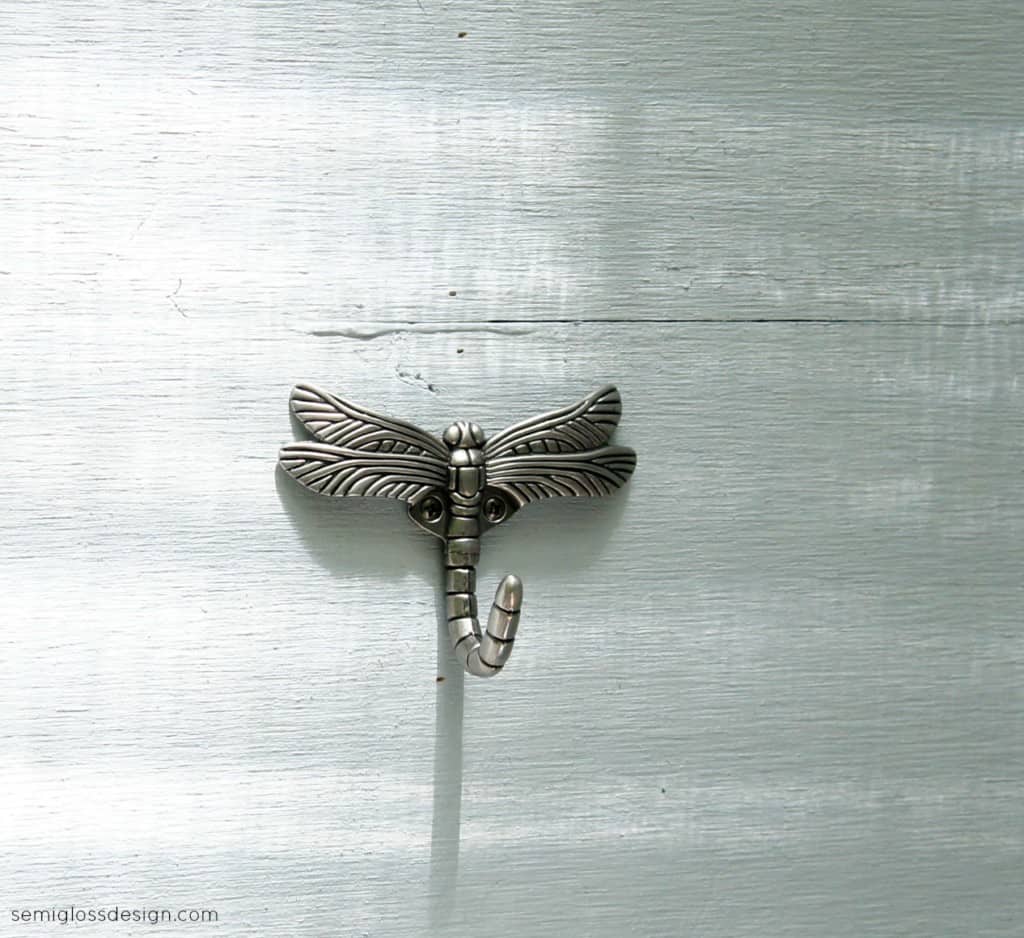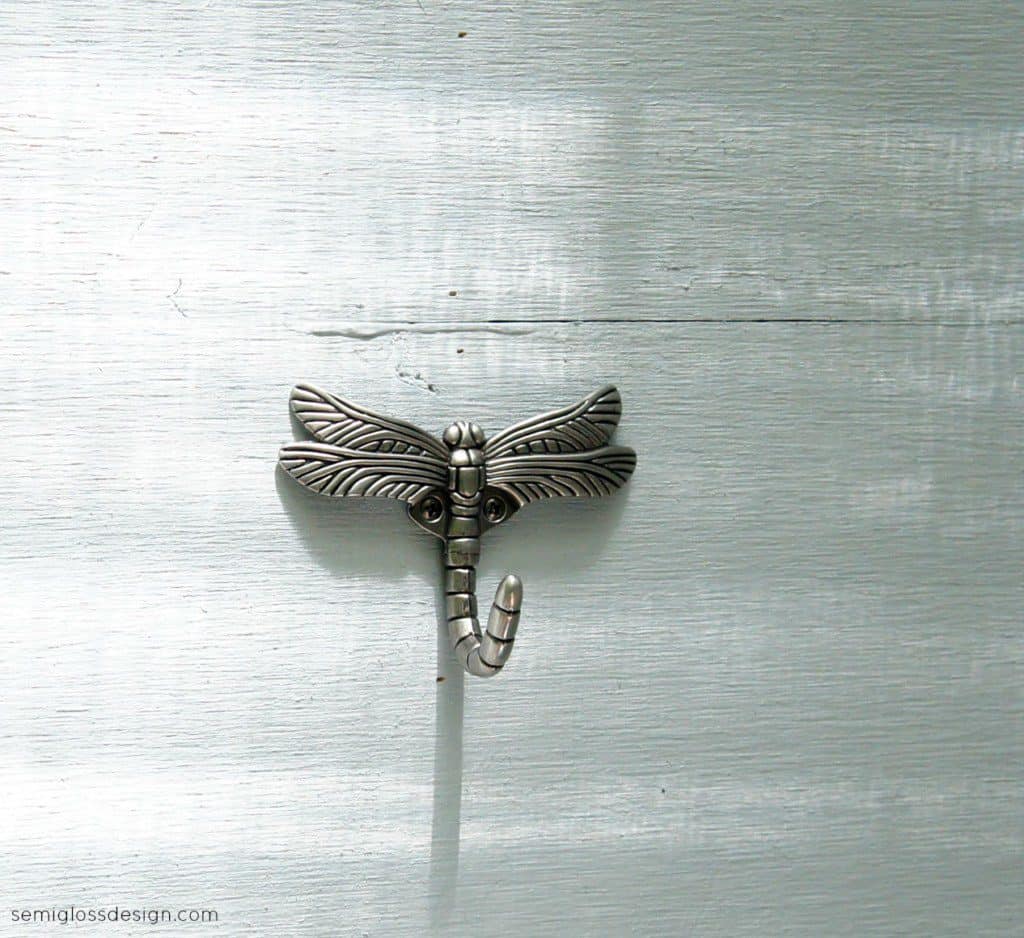 Two dragonfly hooks provide a place to hang jackets or binoculars.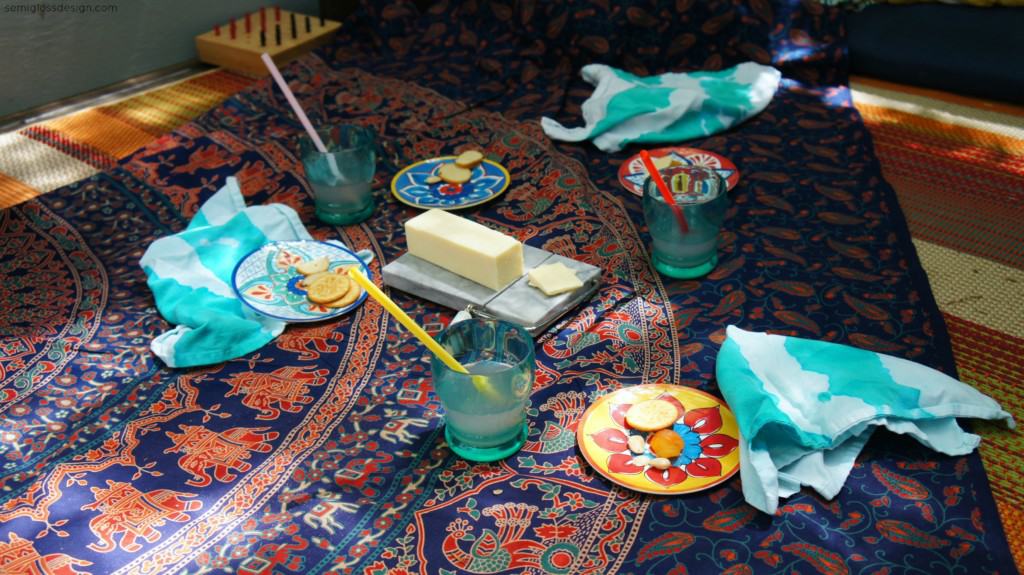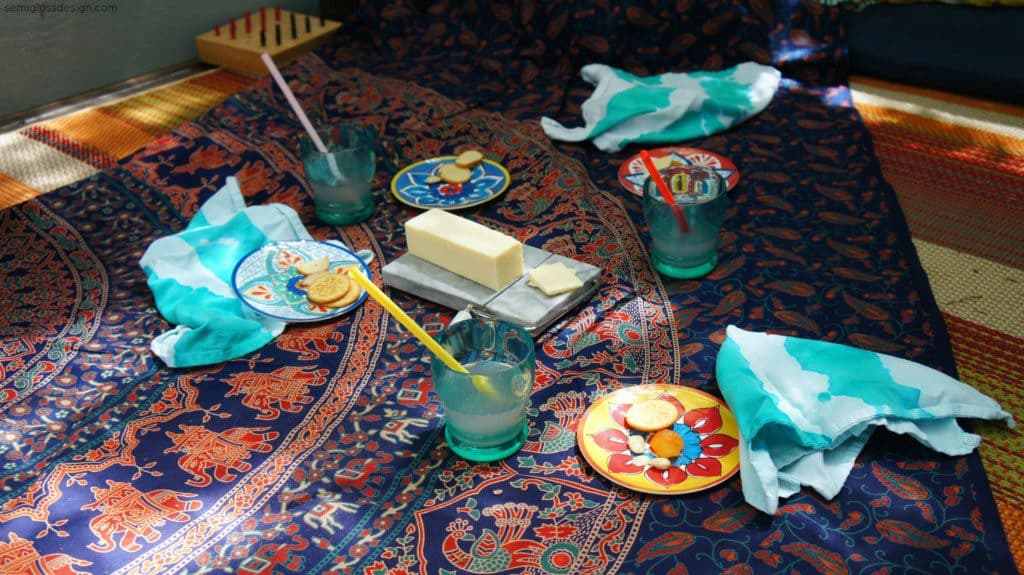 The treehouse was the perfect place for a mother's day picnic. I used a tapestry as a picnic blanket and set out food and drinks. The tapestry can also be used as a lightweight throw.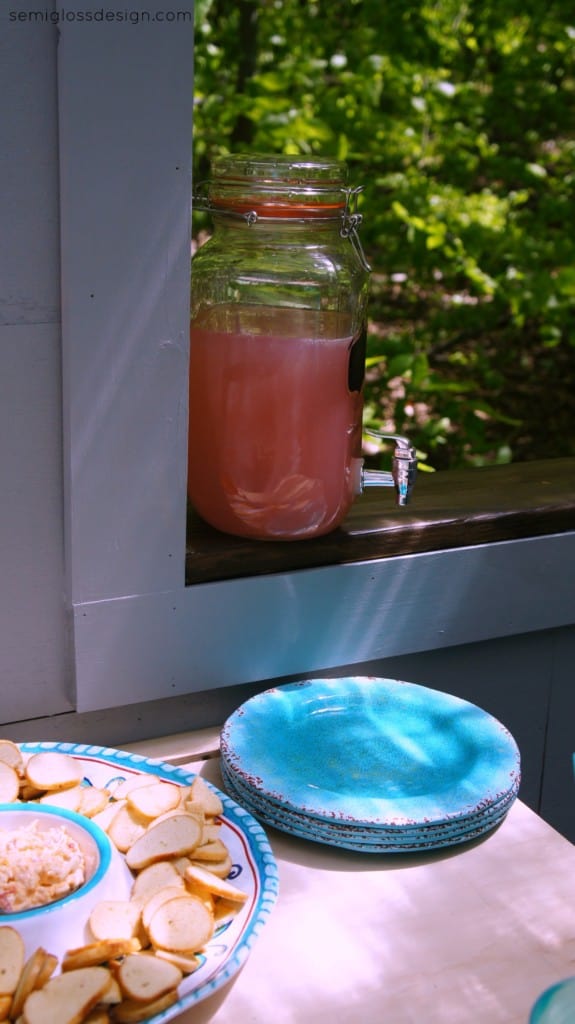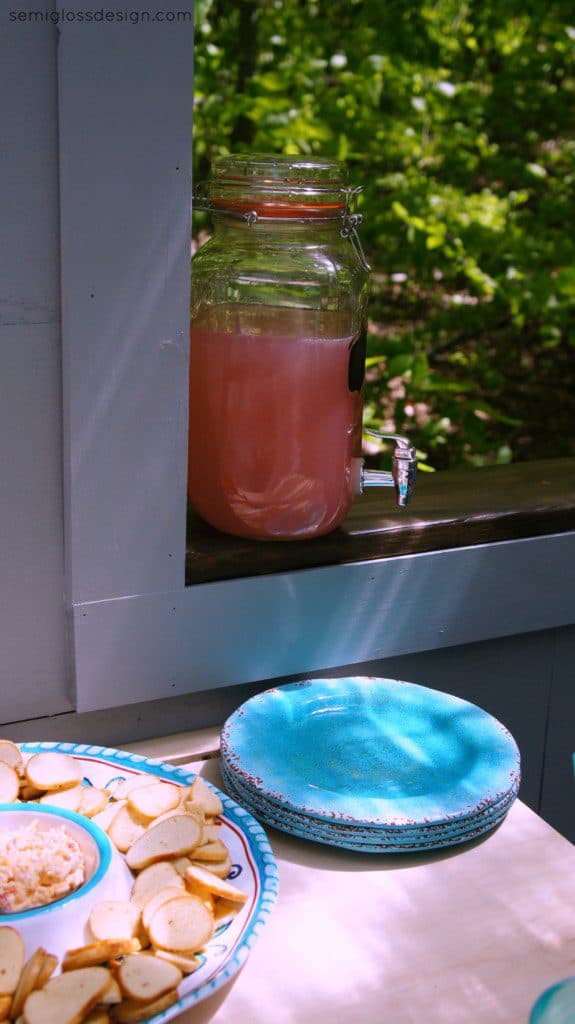 The table was the perfect place to place food and drinks.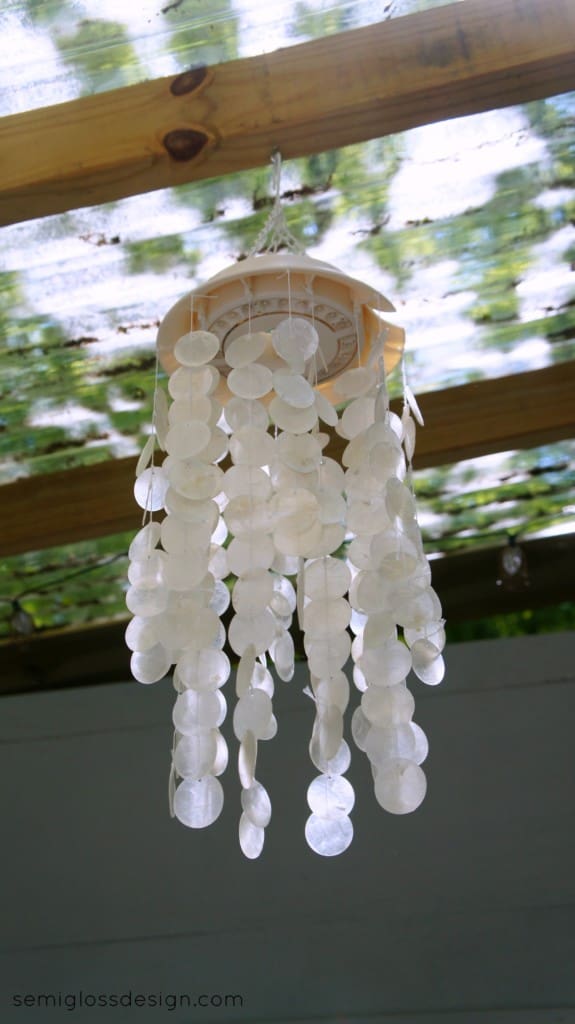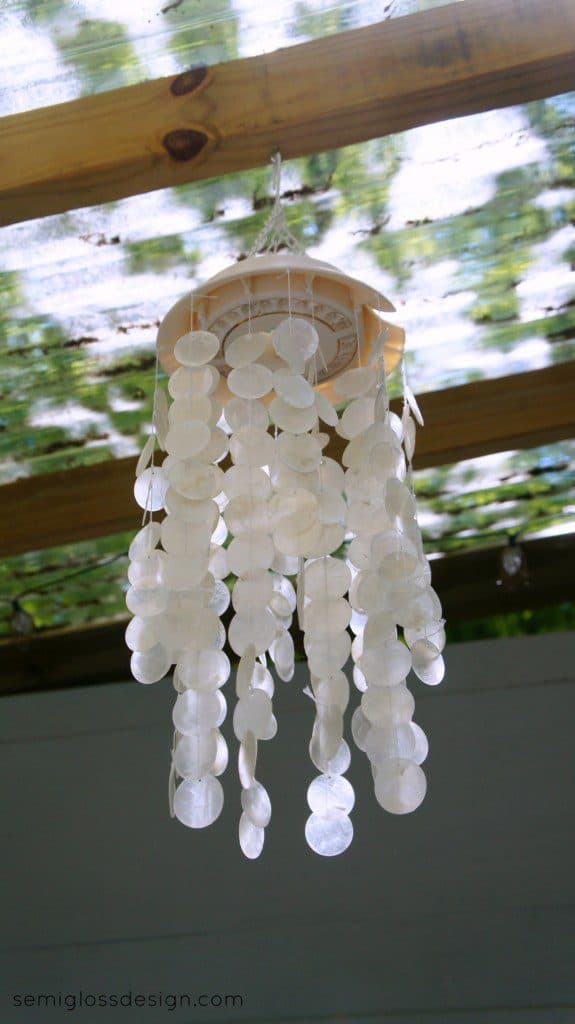 After we ate and cleaned up, we all found our preferred lounging spot and relaxed with books while enjoying the space.
The chandelier makes the prettiest sound when the wind blows. I think the treehouse makeover was a success!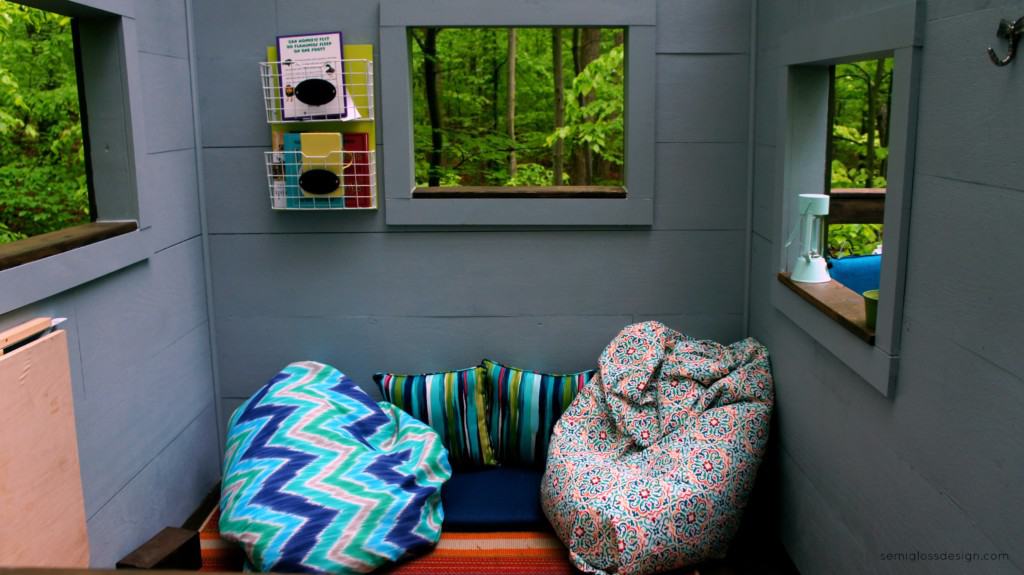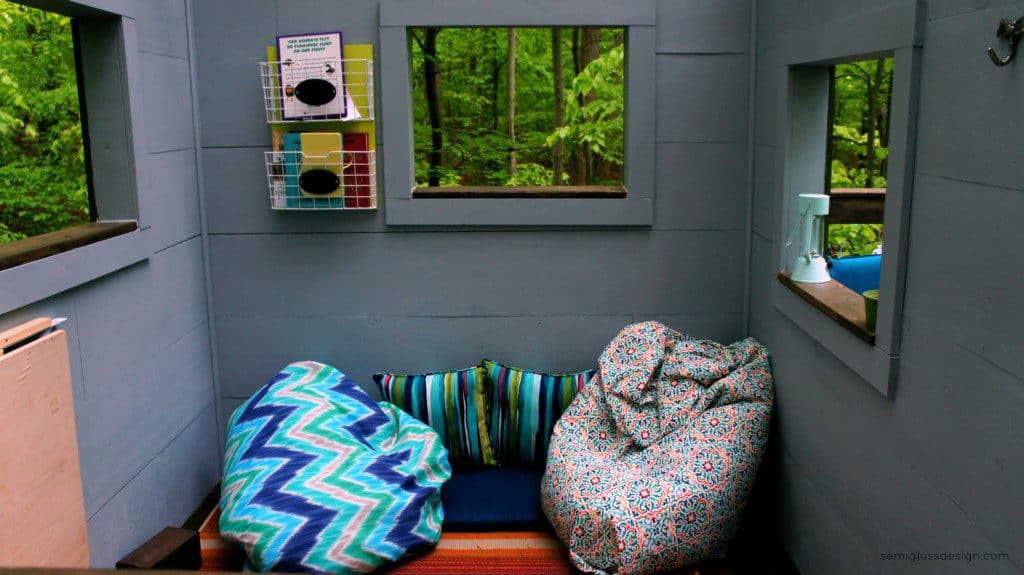 Source list:
Exterior paint color | Valspar Olive Smudge
Interior paint color | Sherwin Williams for Lowes Contemporary Gray
Stain color | Olympic Coffee (I do not recommend this stain)
Patio chairs and table | vintage
Patio chair cushions | Lowes
Patio pillows | Lowes
Black Lantern| Target
Blue Lantern | Target
Pillowcase (used as a tablecloth on the patio table and on the hammock) | Urban Outfitters
Cushion | Pier 1
Tapestry |  (similar) Urban Outfitters
Pillow | Pier 1 (similar)
Hammock (similar) | Pier 1
Shibori Throw blanket | Urban Outfitters
Duvet cover (used as hammock cover) | Urban Outfitters
Outdoor rug | Lowes
Small blue rug | Home Goods
Blue Flamestitch Fabric 1 (bean bag cover) | House Fabric
Red and Blue Fabric 2 (bean bag cover) | House Fabric
Yellow Ikat Pillow | Pier 1 (similar)
Blue Cushion | Lowes
Stools | IKEA
Folding table | (similar) IKEA
Capiz chandelier | Pier 1
Shelf | Home Goods
Solar string lights | Target
Dragonfly Hooks | Lowes
Appetizer plates | Pier 1
Cheese plate | World Market 
Glasses | Home Goods
Drinking Straws | IKEA
Napkins | handmade
Drink dispenser | Wegmans (similar)
Plates | Pier 1
Snack tray | Home Goods (similar)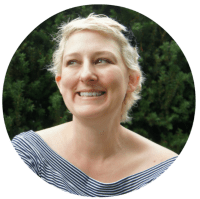 Emy is a vintage obsessed mama of 2 DIYer who loves sharing affordable solutions for common home problems. You don't need a giant budget to create a lovely home. Read more…