How to Plan a Room Makeover
Learn how to plan a room makeover. Create the perfect room with a cohesive plan. No more guessing or hoping styles fit together. Download a printable checklist for planning your room makeover.
You might also like this post on planning a basement renovation.
This post contains affiliate links. By purchasing an item through an affiliate link, I earn a small commission at no extra cost to you. As an Amazon Associate I earn from qualifying purchases.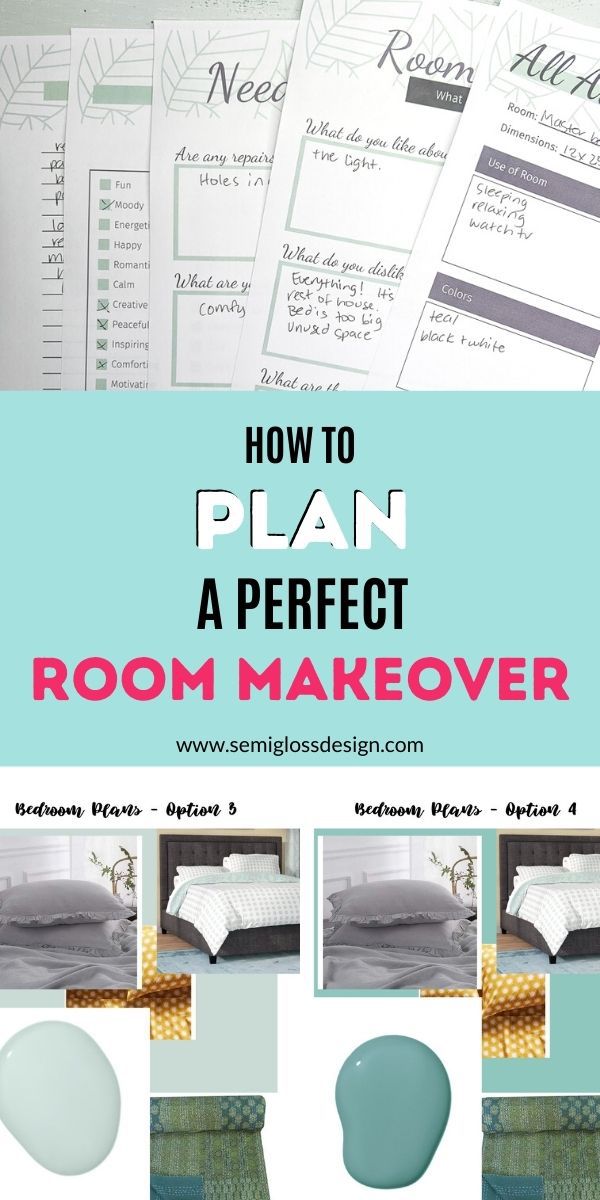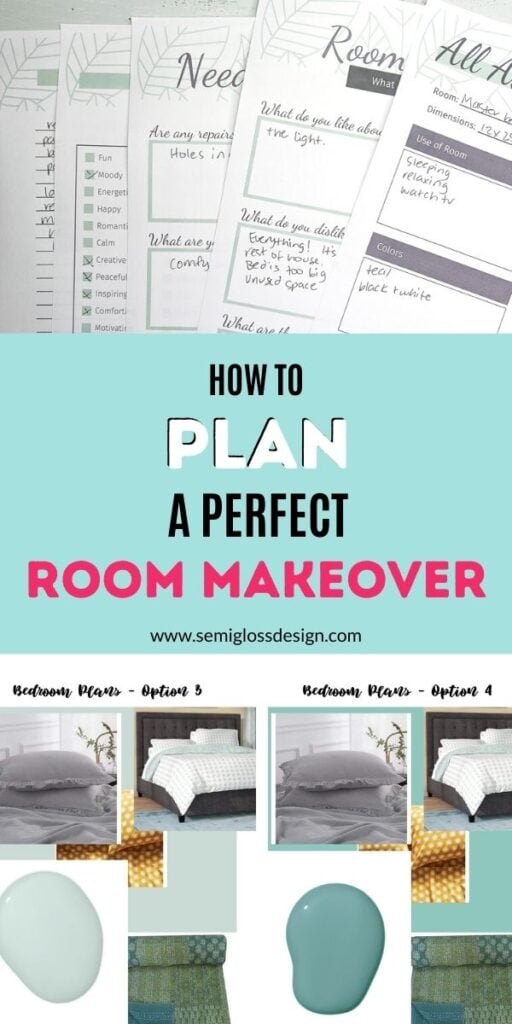 After 6 years, my bedroom is getting a much-needed makeover. When we first moved here, I painted the room and just kind of threw things together. As the rest of my house has changed, our master bedroom feels like the odd duck.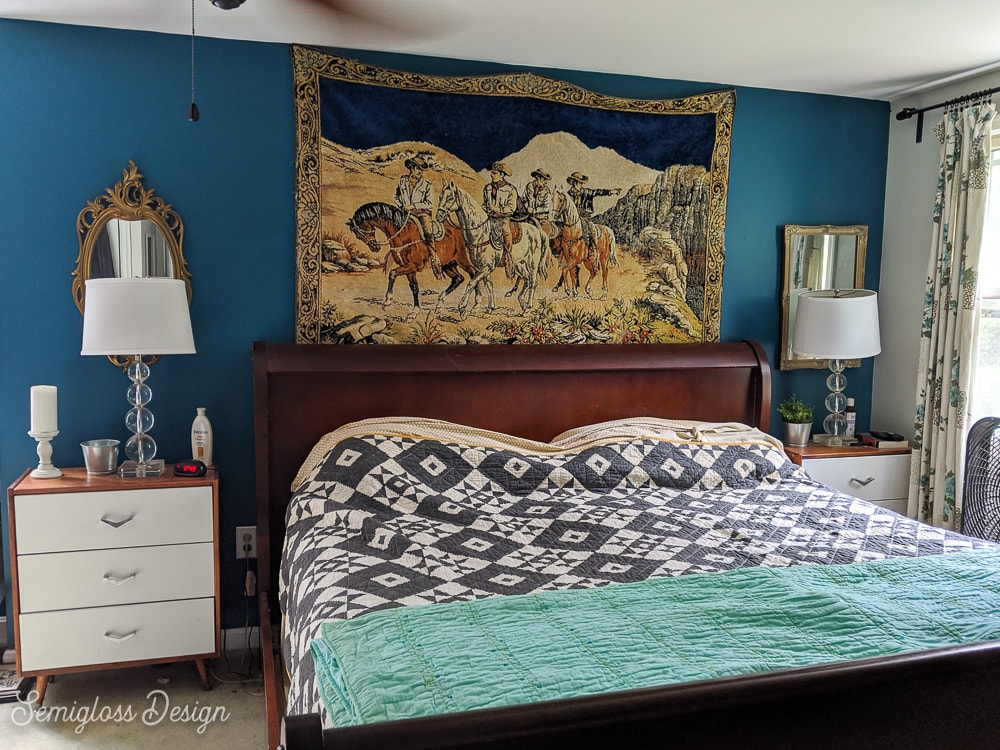 While scheming out the plans for this room, I figured it would be helpful to make a planning guide for other people to explain my process.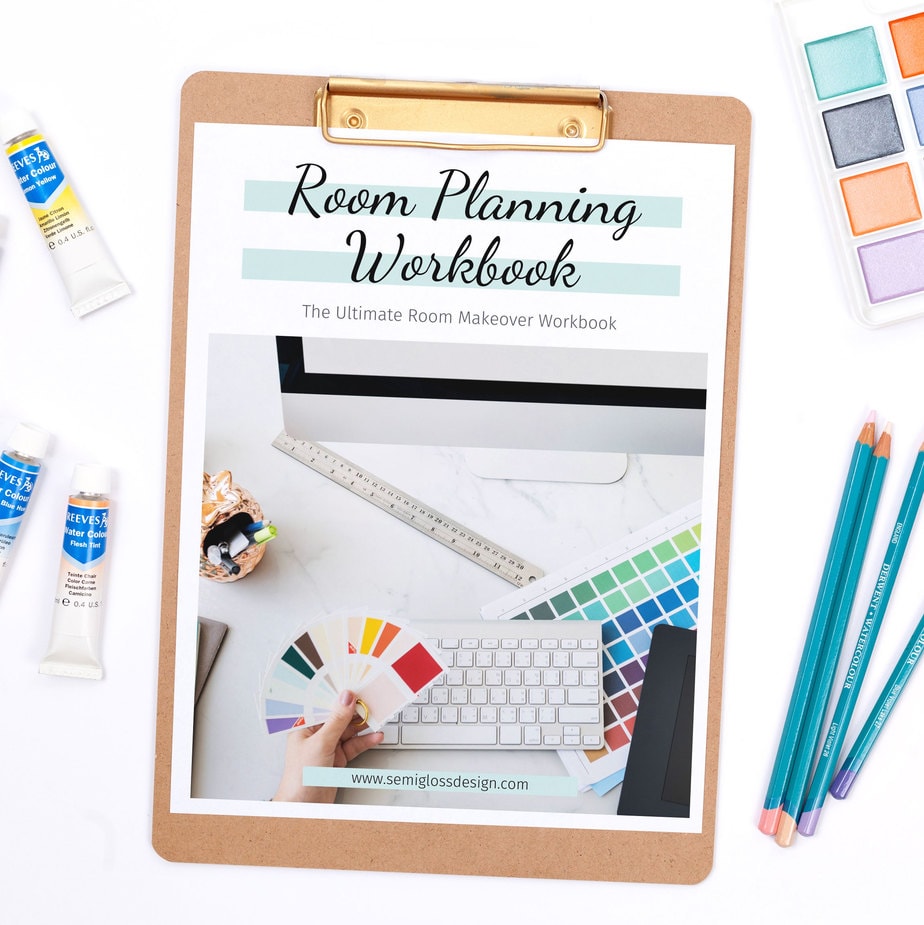 How to Plan a Room Makeover
Identify the basic info about your room, like the size and use.
Make notes of what colors you want to use and what style you like for the room.
Identify what you like and dislike about the room.
Write down your needs and wants for your room. Go crazy with the ideas because maybe you can find a creative way to make it happen.
Gather more inspiration using Pinterest or magazines. You might have other favorite sources too.
Find an inspiration point. It might be a piece of fabric or a piece of art. This will help dictate the colors for your room.
Create a mood board. I like to use Canva and upload photos of items that I'm considering purchasing. If I already own the item, I find a similar style as a placeholder or add my own photo.
Make a timeline if desired. This can just hold shipping timelines for items that you're buying. A timeline can also help you get a room done by a certain date.
Make a to-do list.
Make a shopping list.
Identify every element for your room.
Make a floor plan.
Clean out your room. (You might be interested in my Konmari decluttering checklist!)
Start your room makeover.
Planning My Bedroom Makeover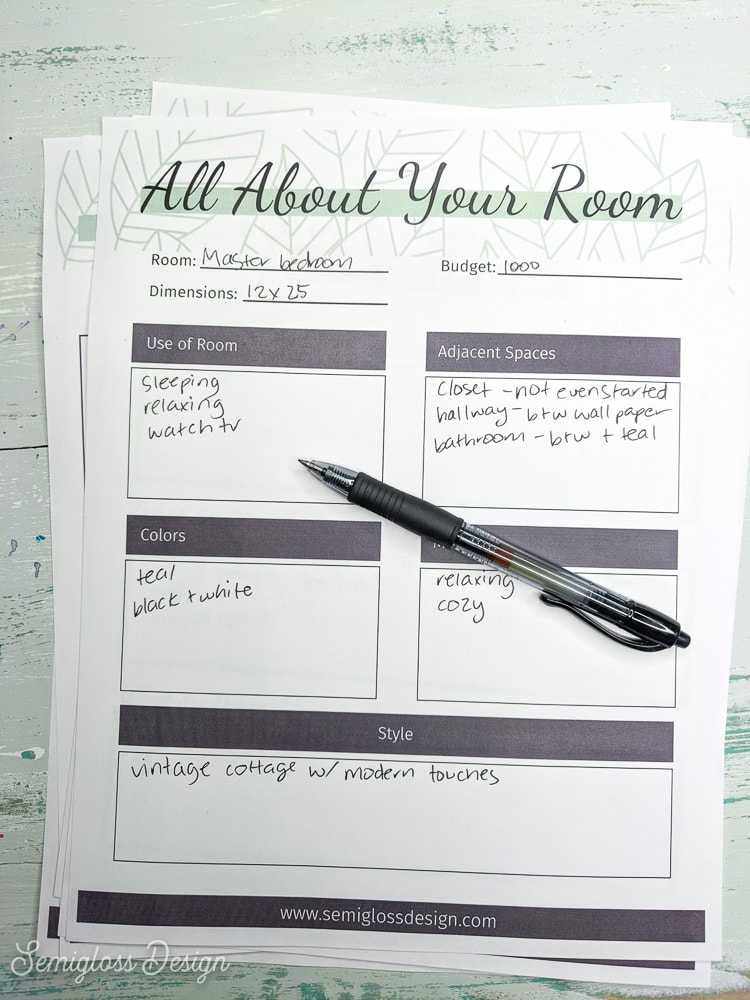 Step 1 – About the Room: The room is my master bedroom. We use our room mainly for sleeping and relaxing. The room is roughly 12 x 25 (though the slanted walls make some of the space unusable.)
Step 2 – Color and Style: I want to use teal with black and white. The style I'm interested in is a vintage cottage style with a modern twist.
Step 3 – Likes and Dislikes: I like the light that comes into the room. I dislike the short walls and the carpet. The bed is too large for the room.
Step 4 – Needs and Wants: The room needs to be cozy and relaxing, so comfortable bedding and feel. I would love to change the flooring and add a seating area eventually.
Step 5 – Gather Inspiration: I've been collecting ideas in a secret Pinterest board for a while now.
Step 6 – Inspiration Starting Point: My inspiration point is this painting that I've been working on. (Check out the DIY floating frame that we built for it!)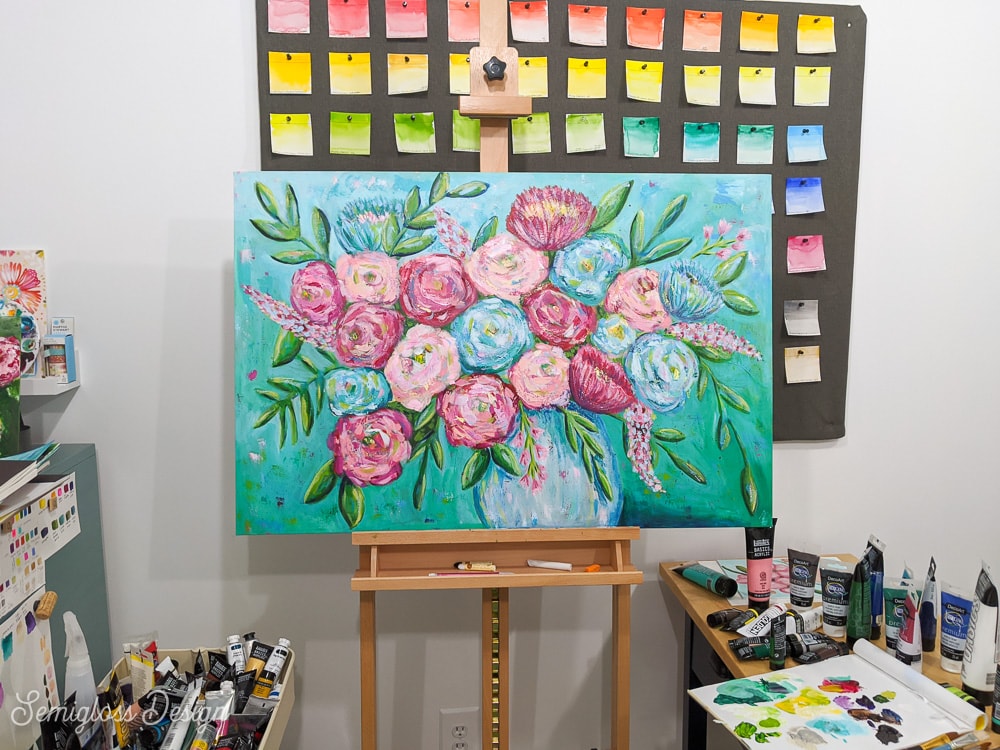 Step 7 – Mood Boards: Using Canva, I made several mood boards to explore color palettes and help my husband visualize what I want.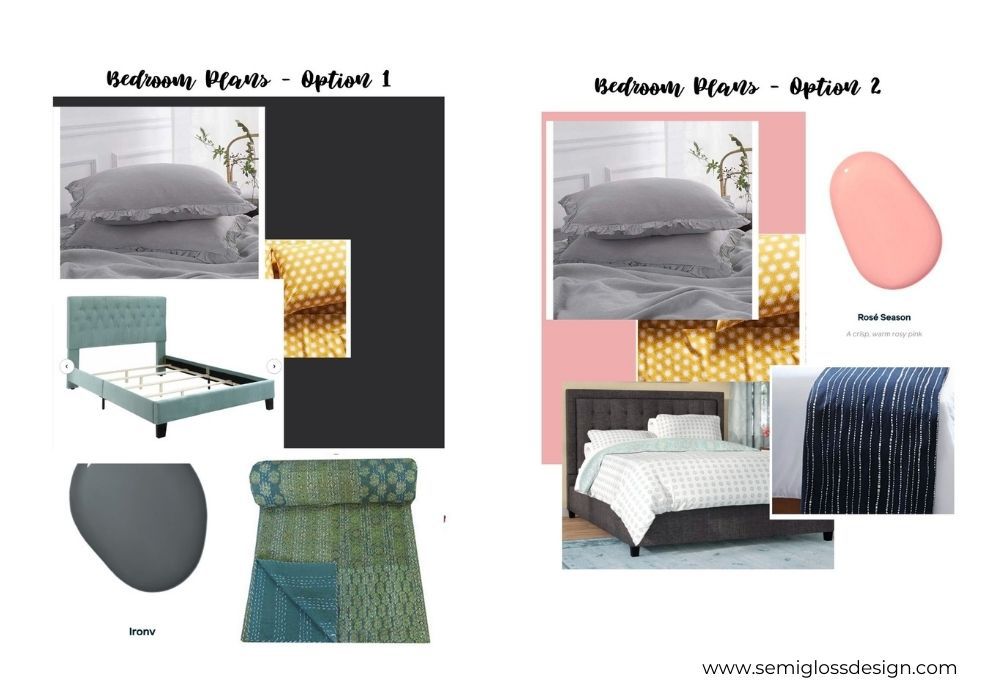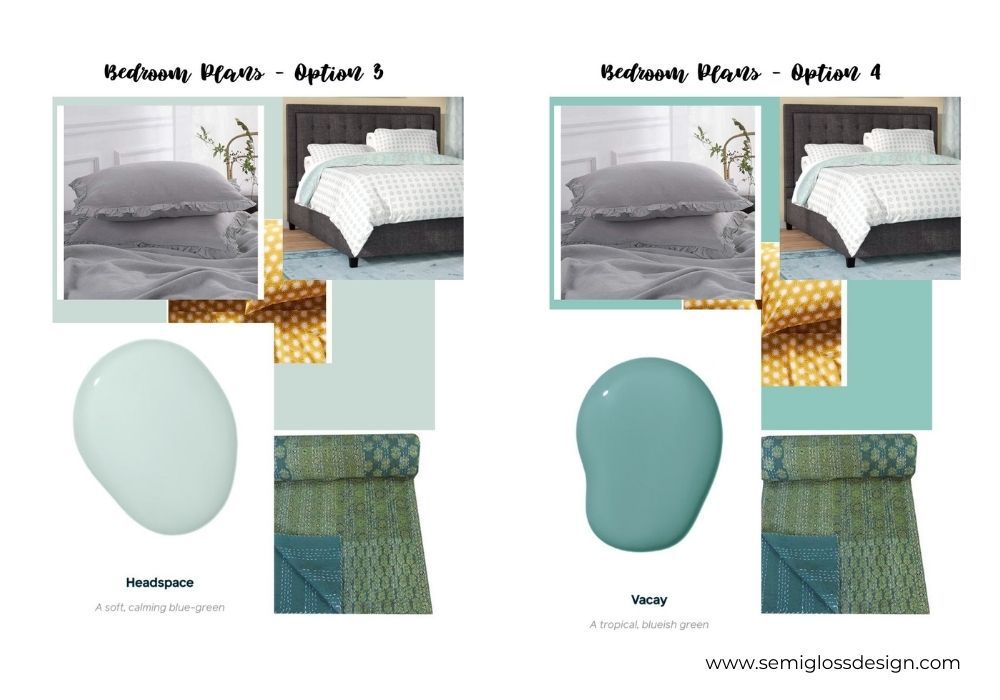 Step 8 – Timeline: I'm not using a timeline currently because I want the room to evolve slowly.
Step 9 – To-Do List: My to-do list includes figuring out the floor (spoiler alert: I ripped out the carpet!), painting the walls, doing a fun treatment to the wall, replacing my bed, and updating my nightstands. I also need to replace my lamps because one breaks all the time and I'm tired of dealing with it.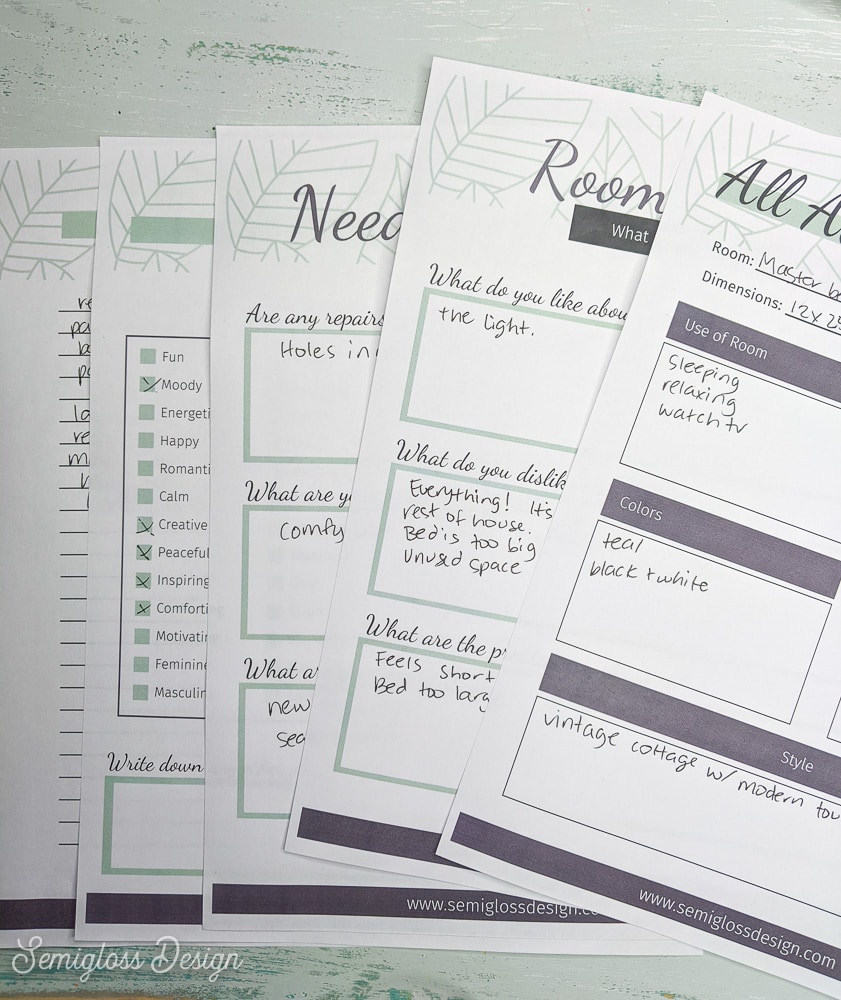 Step 10 – Shopping List: I've ordered this bed and this bedding. I still need to figure out sheets, lamps, and accessories.
Psst. Be sure to check out the finished bedroom here.
Tips for Planning a Room Makeover
Leave some wiggle room in your plans. This will allow flexibility in your purchases. It also helps with your mindset.
For instance, as I've started to work on this room, I've decided to add way less color than I originally intended. Having a flexible mindset means that I'm not upset that my plans need to change a bit.
Flexibility also allows me to have more fun with shopping. I know how I want the room to feel and that will dictate the accessories for the room.
Get a Printable Checklist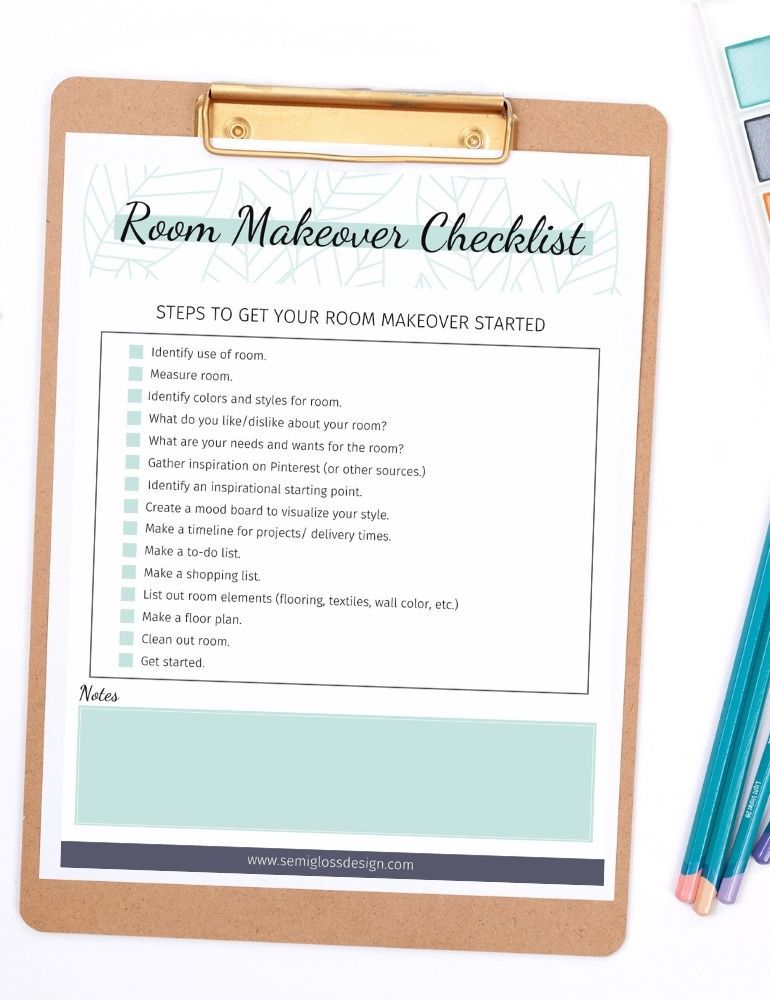 All downloads are for personal use only. Please do not redistribute or sell files.
Join my email list and get a free printable checklist for your room makeover.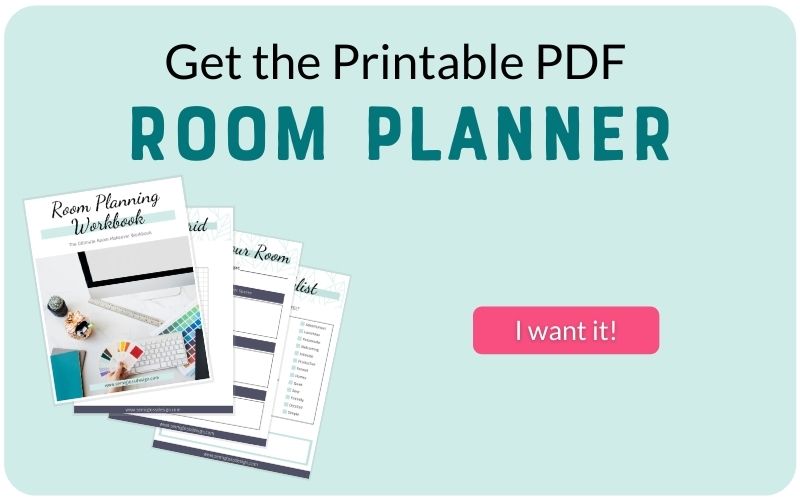 Master Bedroom Makeover Posts
You might also like:
Pin for Later!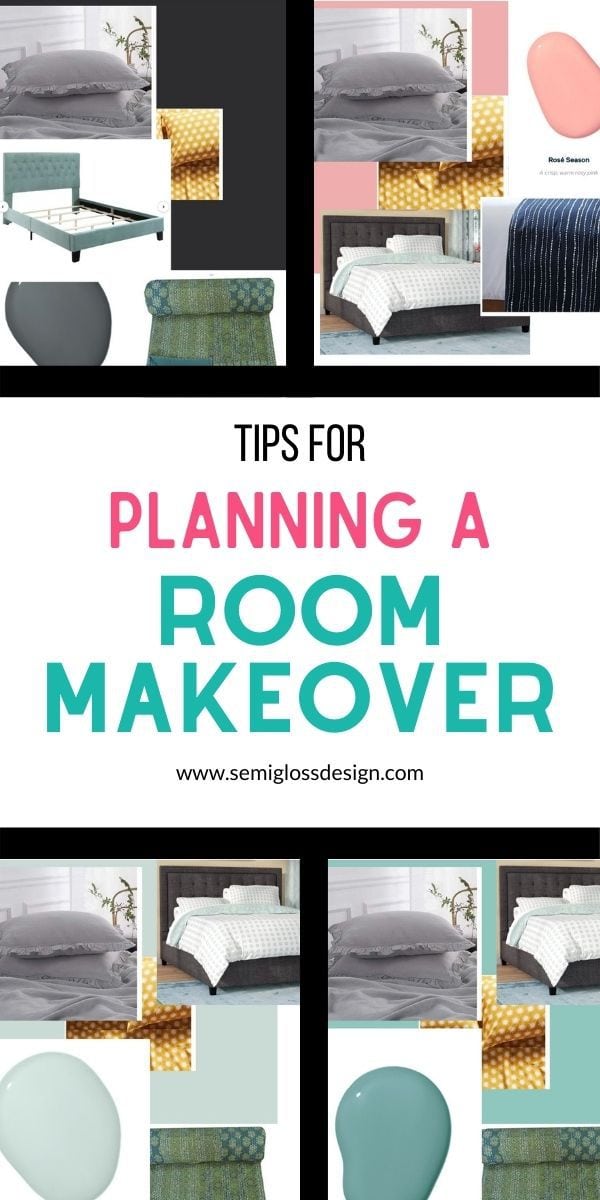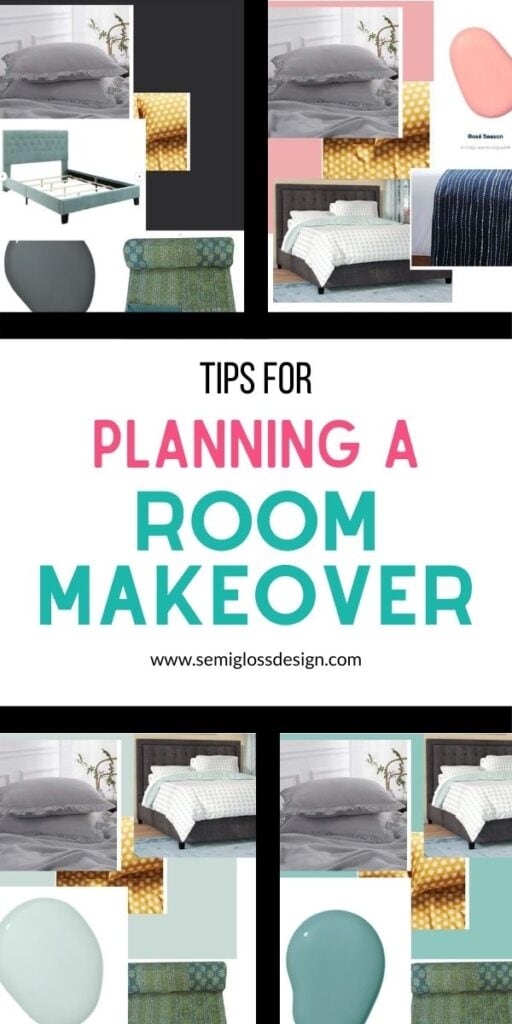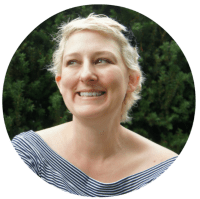 Emy is a vintage obsessed mama of 2 DIYer who loves sharing affordable solutions for common home problems. You don't need a giant budget to create a lovely home. Read more…