How to Paint IKEA Cabinets: The Easy Way
Learn how to paint IKEA cabinets. Painting a slick surface like melamine cabinet doors is easy with proper prep.
You might be interested in how I built a desk using IKEA Sektion cabinets.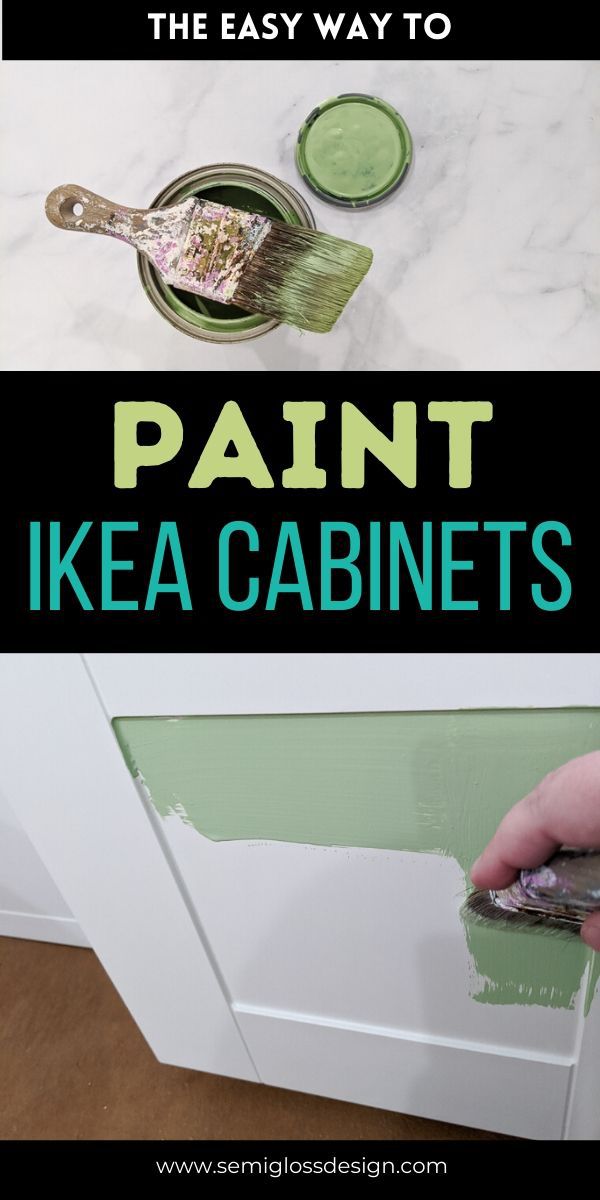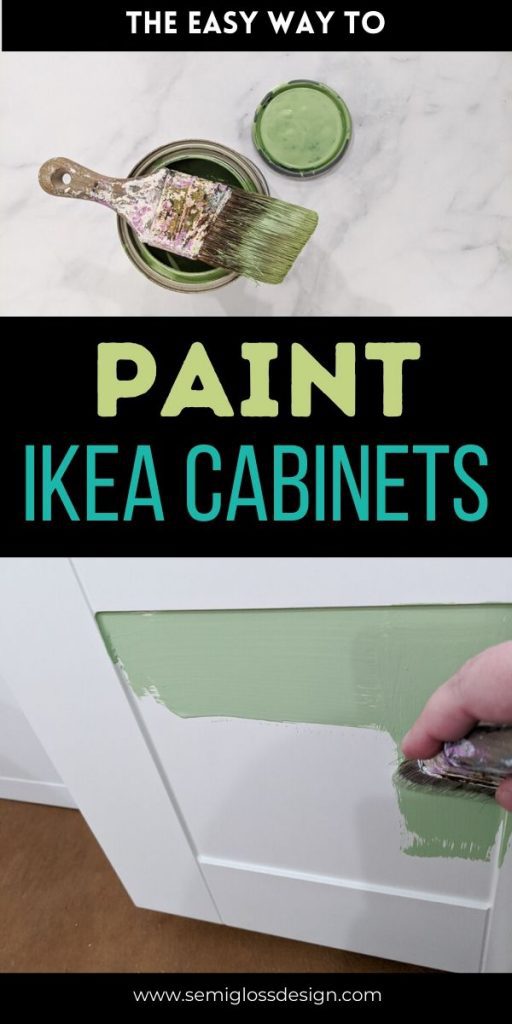 This post contains affiliate links. By purchasing an item through an affiliate link, I earn a small commission at no extra cost to you. As an Amazon Associate I earn from qualifying purchases.
IKEA cabinet doors are made from melamine foil, which is durable and easy to clean, but difficult to get paint to stick to.
Proper prep is key to painting a slick surface like melamine or laminate. This technique works for all IKEA furniture.
I used the same process for painting an IKEA Besta cabinet.
How to Paint IKEA Cabinets
My DIY desk is made from IKEA Sektion cabinets with Grimslov doors. The room felt a little boring, so I decided to paint the cabinets.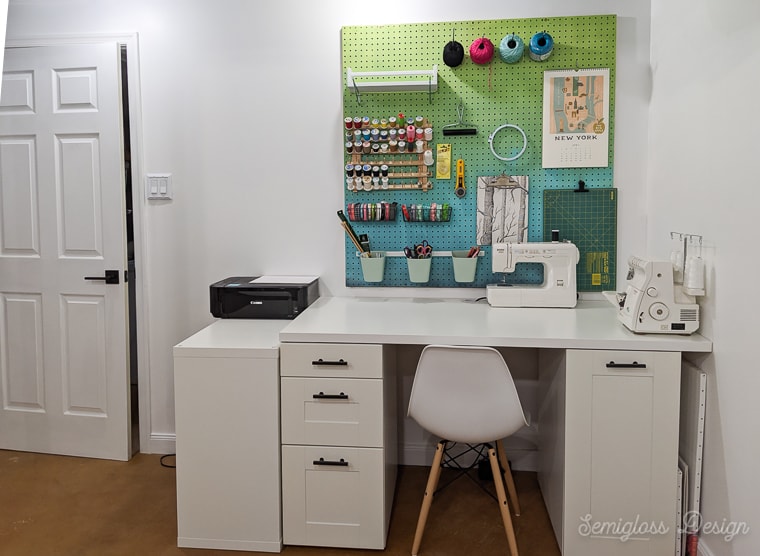 Supplies Needed:
Sand paper
Primer – (This brand is the only one I would trust for melamine.)
Paint
Directions
I left the drawer fronts attached, but you can remove them if you want.
Doors will be easier to paint without being attached. For the drawers, I just pulled them out to different levels to let them dry.
Prep Work
Remove knobs or handles if they are installed.
If your cabinets are not new, be sure to thoroughly clean the cabinet doors to remove grease. I recommend Simple Green for removing grease.
If you're using latex or chalk paint, rough up the surface by lightly sanding. (I used an enamel paint, so I skipped this part.)
Use a chip brush to paint the entire cabinet door with primer. This primer will make paint stick to anything! This is the important part, so don't skip it!
The brush can be cleaned by soaking it in ammonia and rinsing with water.
Painting the Cabinets
I painted the cabinets with Valspar cabinet paint. This paint is a water-based enamel that comes in a semi-gloss finish.
It can be tinted in thousands of colors. The color is Sherwin Williams Haven.
This paint does have a weird smell, but nothing toxic. Just weird. I thought it smelled like stinkbugs, but my family said they only smelled paint.
Paint the inner panel first, being sure to get in the cracks.
Paint the outer rails next.
Then paint the edges.
Check for drips and smooth them with the paint brush.
Let dry.
Apply 1-2 more coats as needed to achieve full coverage. Glossier paints usually need more coats than a flatter finish.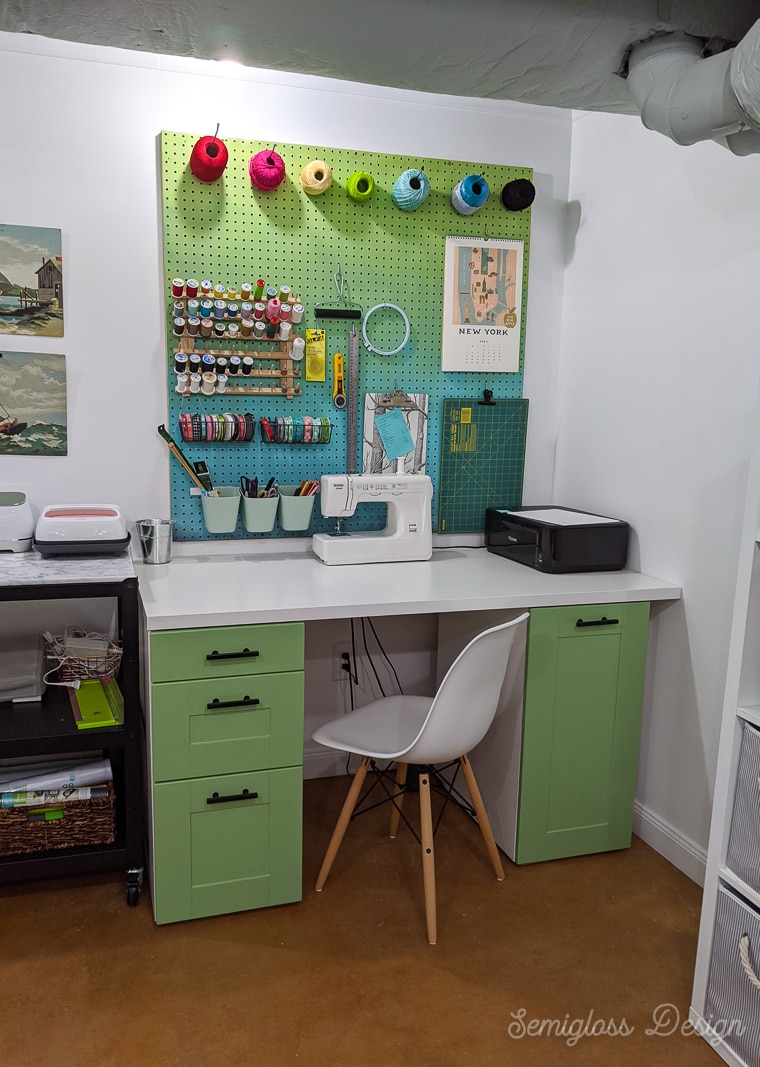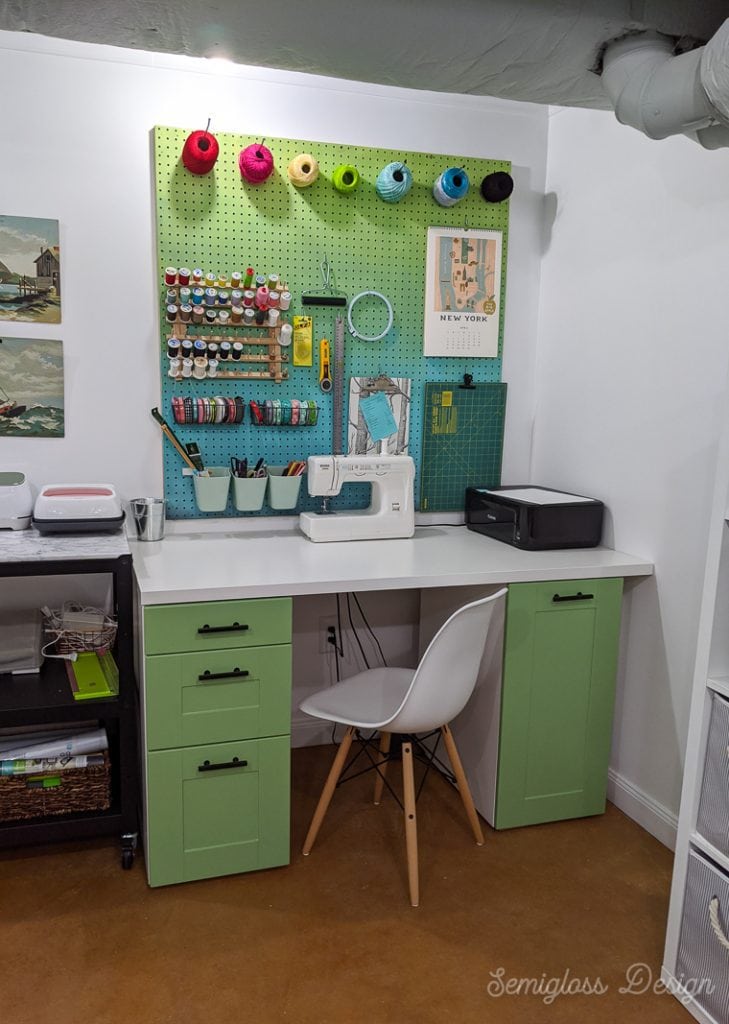 Using Valspar Cabinet Paint
Valspar cabinet paint felt a little tricky to use, but it dried with a flawless finish.
It did a pretty good job at self-leveling, but because of that, it was more prone to drips.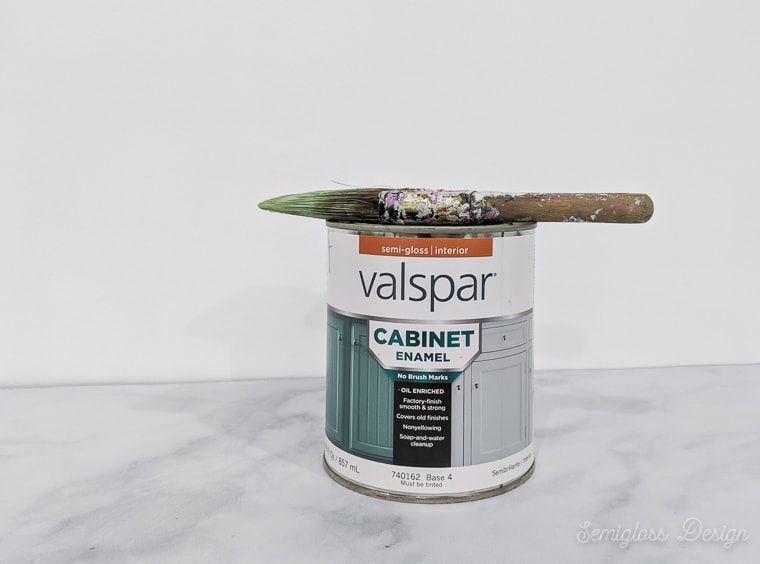 Paints with a higher sheen can be tricky to apply without streaks. Here are my tips for a cleaner finish.
Don't touch paint that is partially dry with wet paint. Similar to polycrylic, let it dry and go back with another coat. Touching partially dry paint can cause streaks.
Apply light coats.
This paint is thin so watch for drips. Go back after every coat and smooth them out.
For best results, use a paint brush with soft bristles, like this angled brush.
Clean up was easy. Just soap and water. It was harder to get off of skin, which I always see as a good thing. If it's hard to get off of skin, it will do a good job of sticking to whatever I'm painting.
Finishing Up
Paint needs at least 30 days to fully cure, even though it feels dry to the touch after a few hours.
For best results, wait as long as possible before handling the drawer fronts or the paint might scratch.
I scratched a drawer front while re-installing the hardware. After 30 days, I plan on giving it a scratch test to see how it holds up.
If it's a horizontal surface that has been painted (like IKEA furniture), wait as long as possible before placing items on it.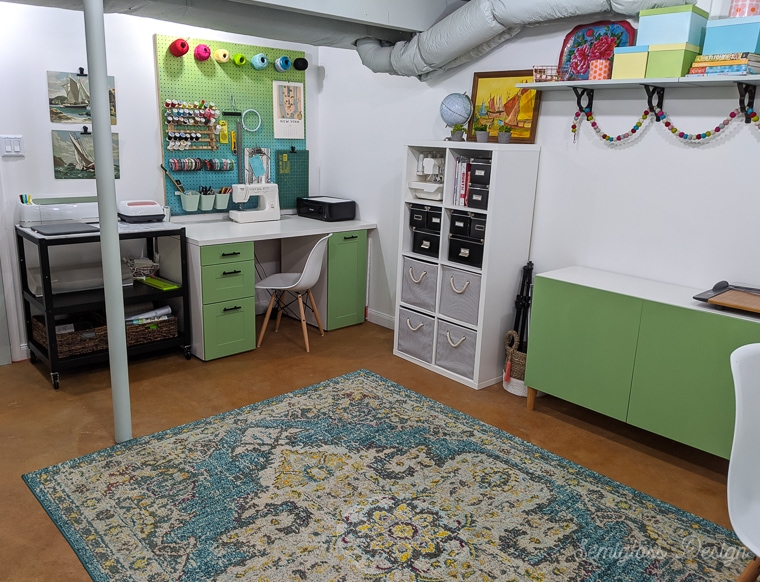 You might also like:
Pin for Later!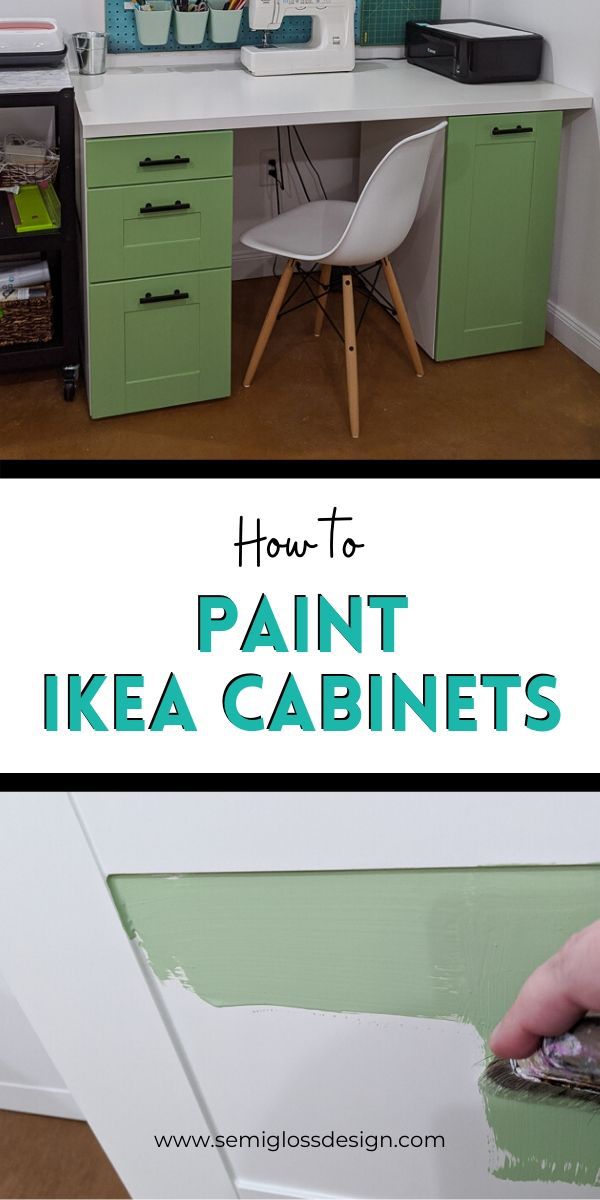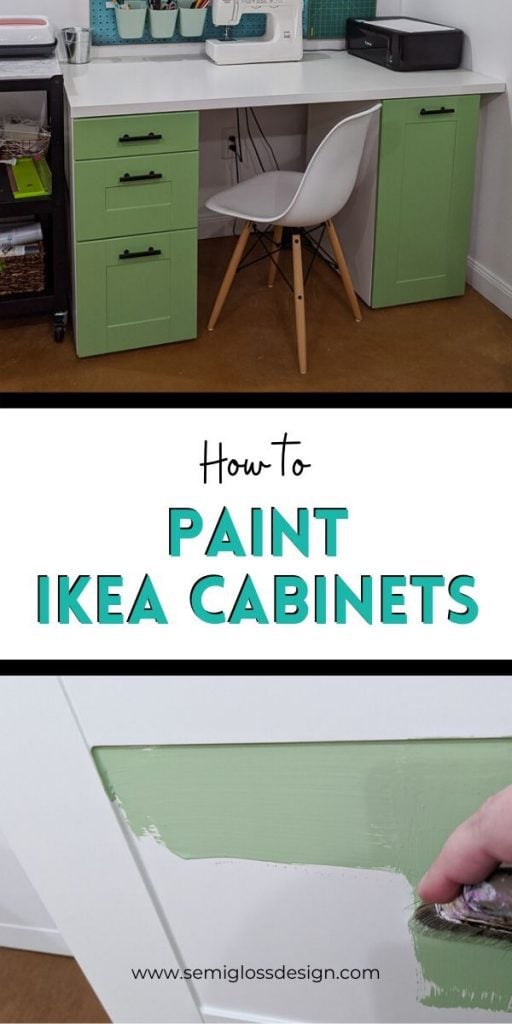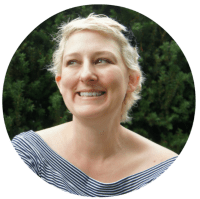 Emy is a vintage obsessed mama of 2 DIYer who loves sharing affordable solutions for common home problems. You don't need a giant budget to create a lovely home. Read more…