Colorful Boho Tween Bedroom Reveal
I can't wait to share this boho tween bedroom reveal today! Six weeks ago, I started this makeover in my daughter's room. I'm thrilled with how it turned out.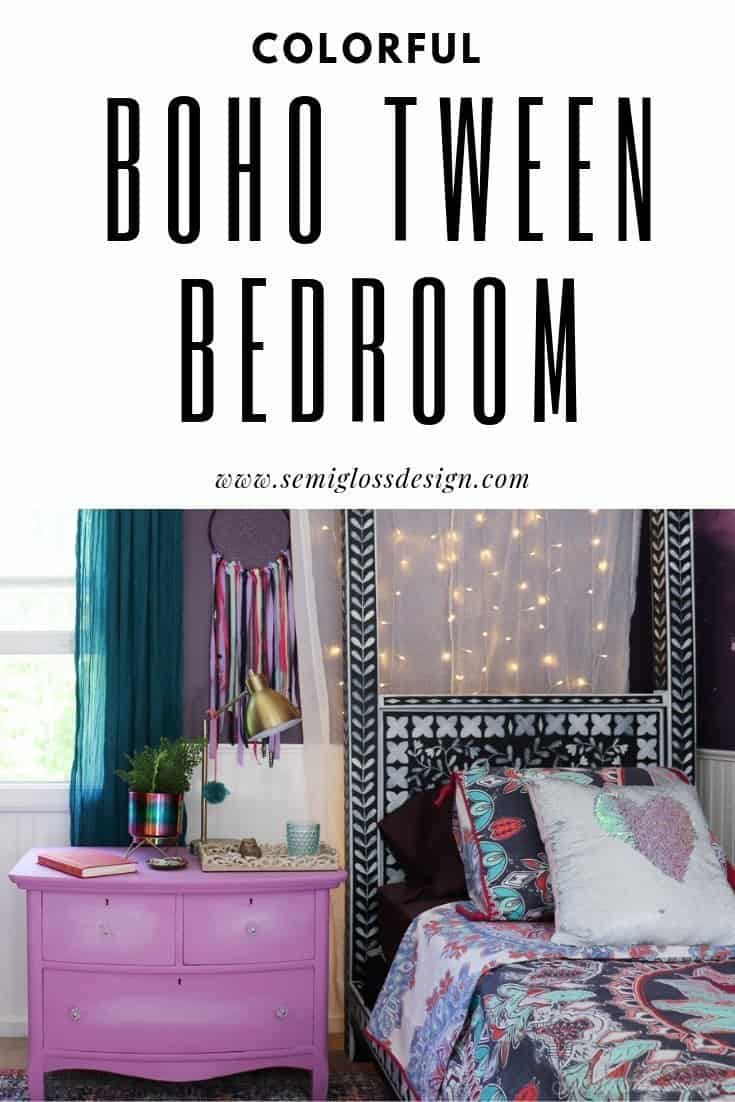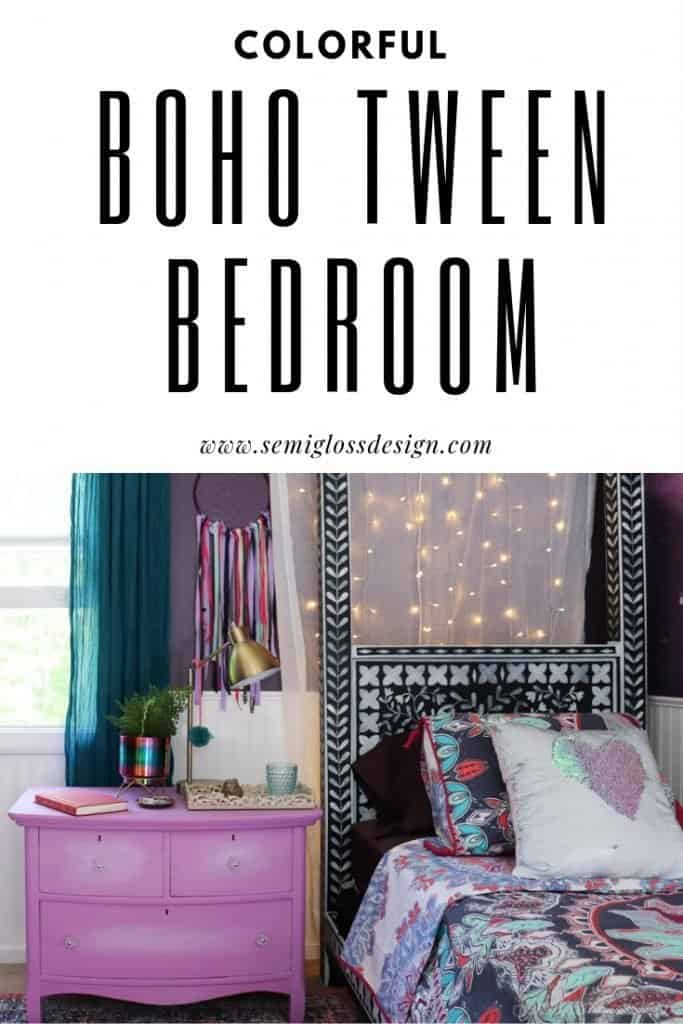 This post contains affiliate links. By purchasing an item through an affiliate link, I earn a small commission at no extra cost to you. As an Amazon Associate I earn from qualifying purchases.
DIY Projects in this Room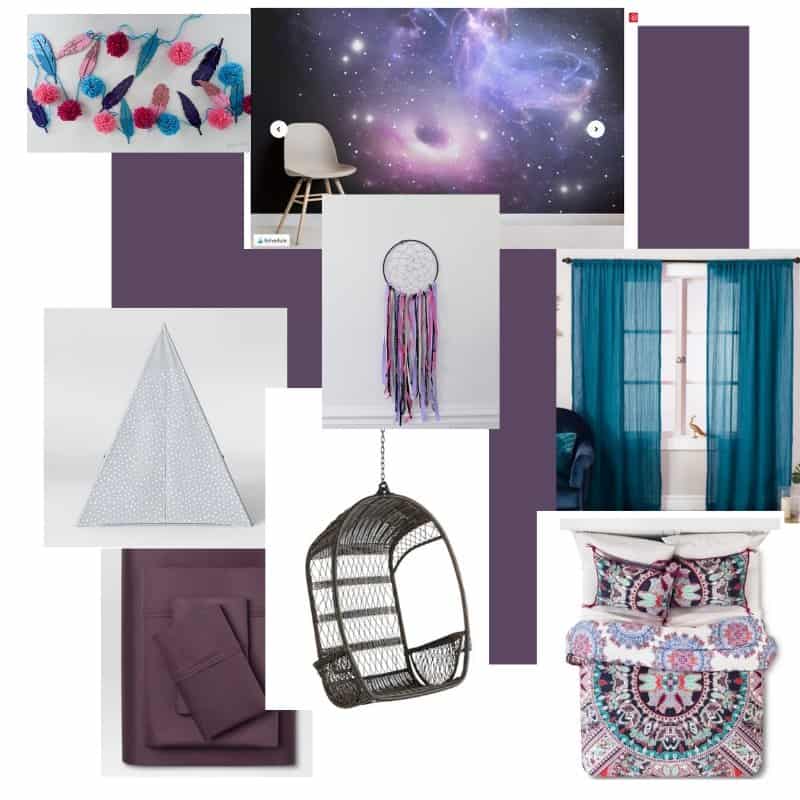 Bedroom Before
We started with a room full of furniture that she had outgrown or didn't use. The room didn't show her vibrant personality. She wanted a colorful room to inspire her artwork.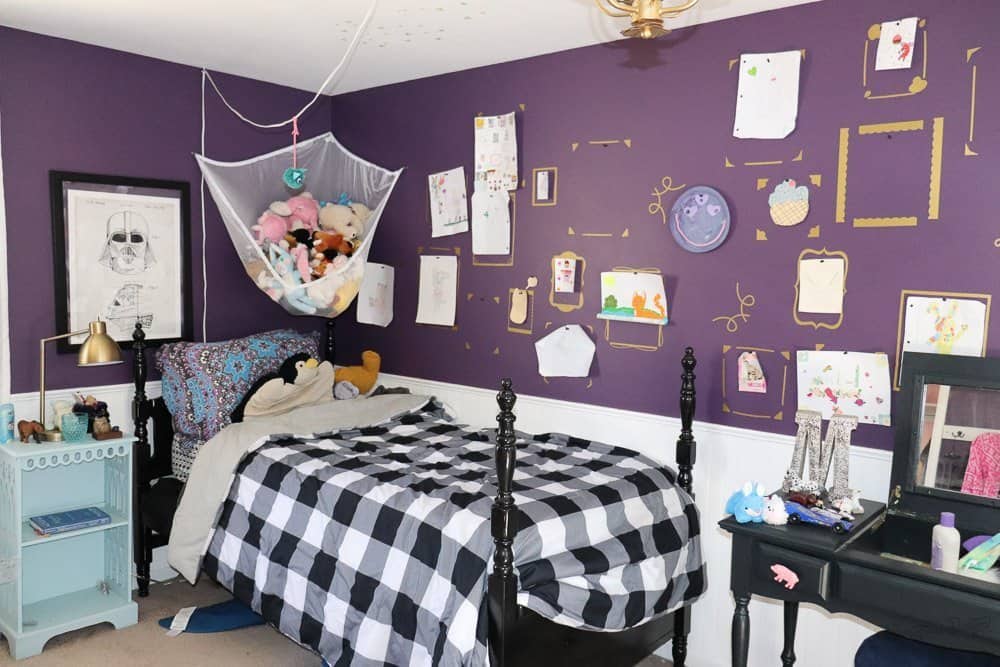 Despite being a very creative person, she never used her desk. It just became a spot to place stuff. She prefers to work on the floor, so I stopped fighting her on it.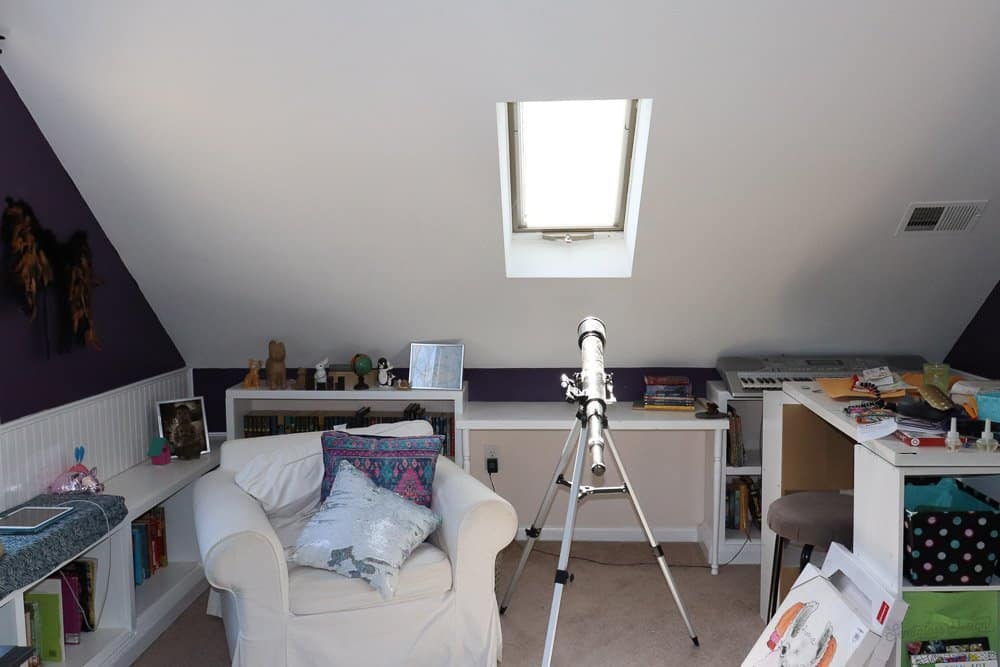 Boho Tween Bedroom Reveal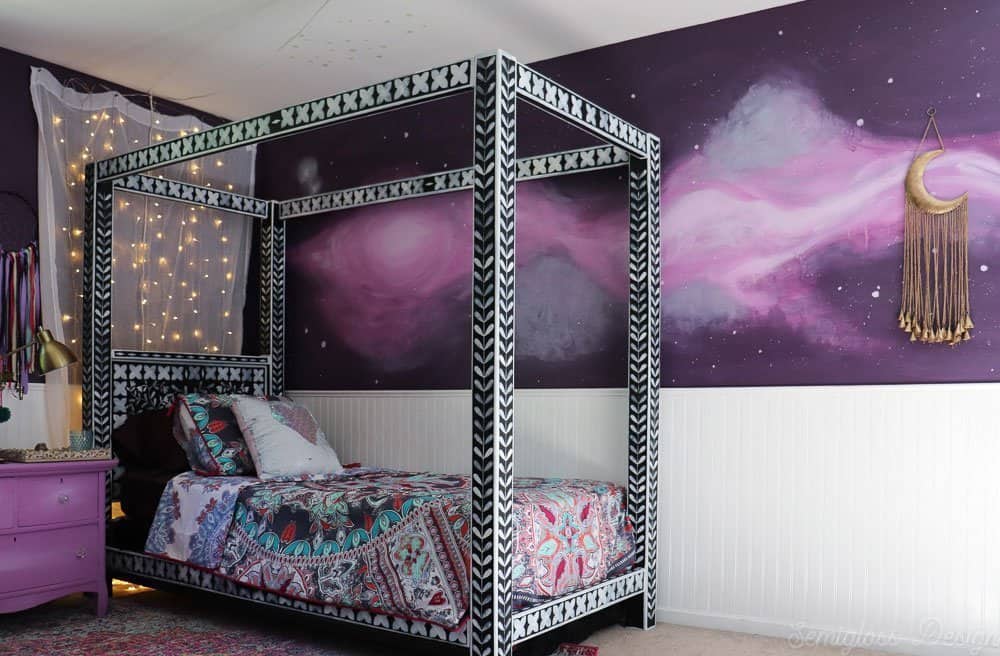 Working with purple is not my favorite. However, it's her favorite color, so we kept it and even added more shades of purple with a galaxy wall.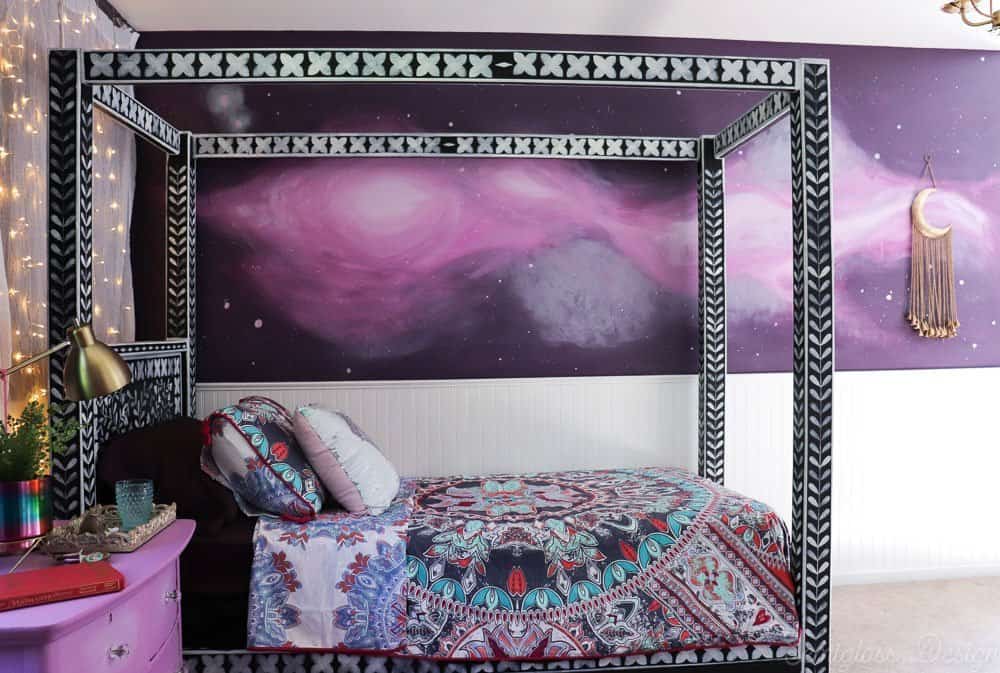 We made her canopy bed dreams come true with this modern canopy bed frame that's sturdy enough even for my craziest monkey child.
I stenciled the bed with a custom bone inlay stencil to make it look more high-end.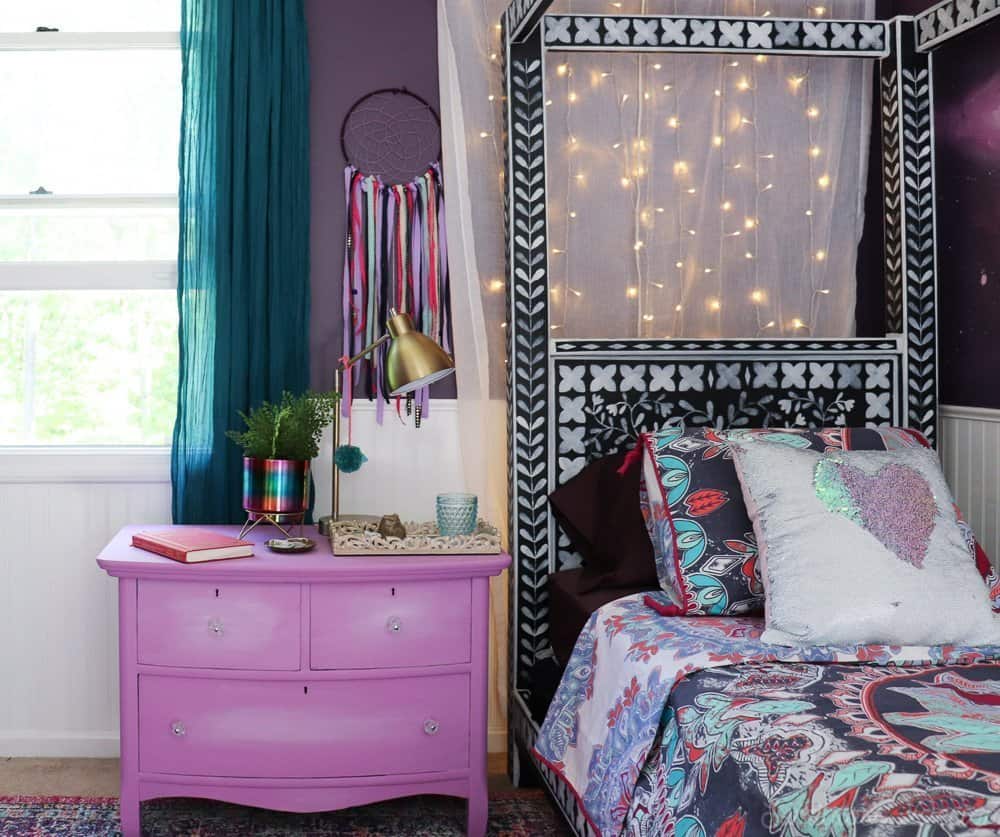 I repainted this small dresser to use as a nightstand. It has plenty of space for her collections, a glass of water, and a book.
Before we started, I had her make an inspiration board on Pinterest. It was full of dream catchers and twinkle lights, so I made those happen for her.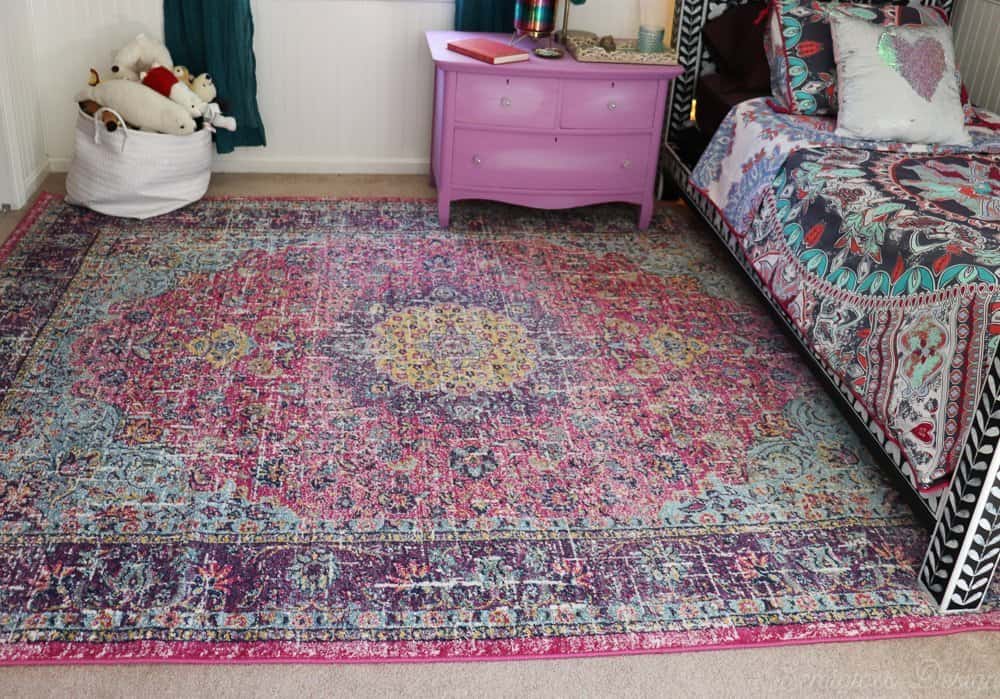 I originally had a pink rug picked out, but my daughter hated it. She loved this rug instead. And I have to admit, it's perfect.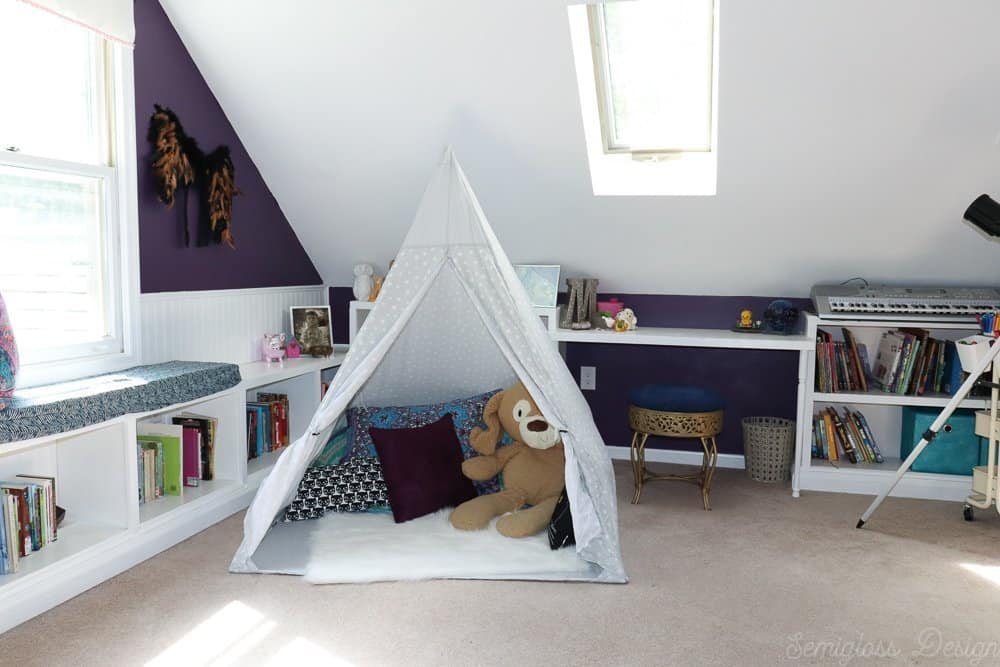 She's the kind of kid who loves playing in cardboard boxes. I'm the kind of mom who can't handle how they look.
A play tent is our compromise. It's filled with pillows and a bean bag, plus a faux fur rug to make it extra cozy.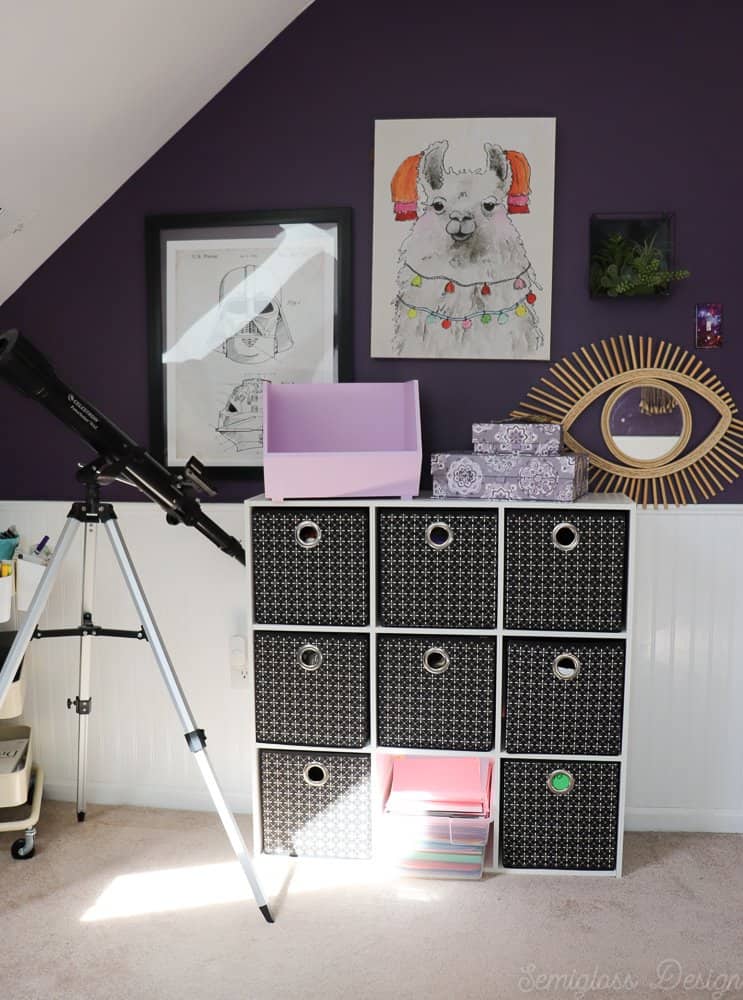 This is her art supply storage, along with the Raskog cart. It drives me crazy when I see a kid's art space with no visible storage.
The truth is, art supplies multiply overnight and not all of them are photogenic. Now, they're accessible but still put away.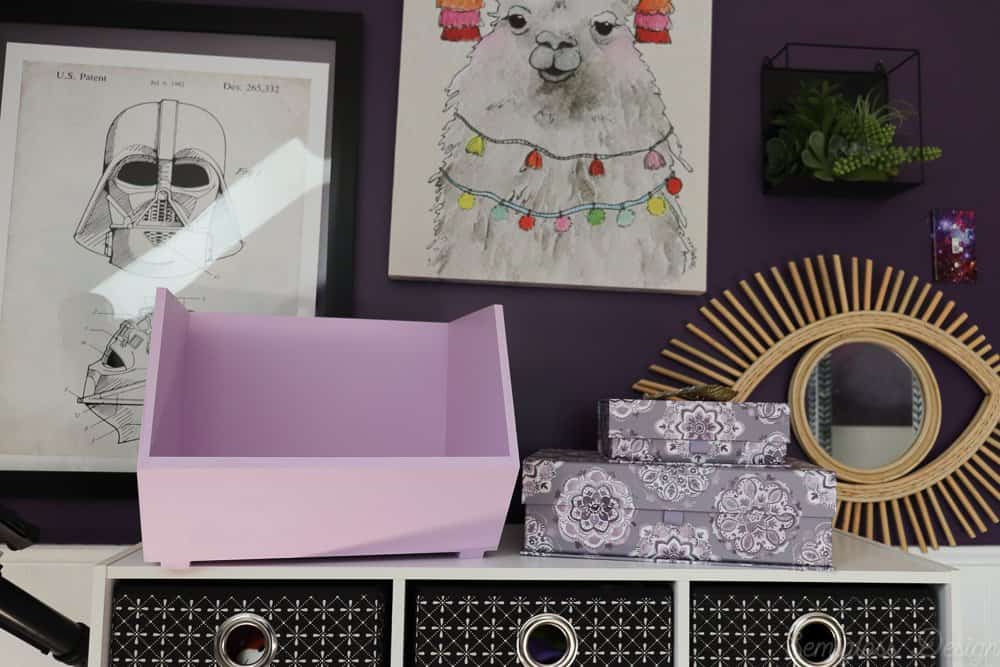 She tends to accumulate art, so this wooden bin is my solution to her growing piles of paper. The purple boxes are filled with her "make-up" and other special things.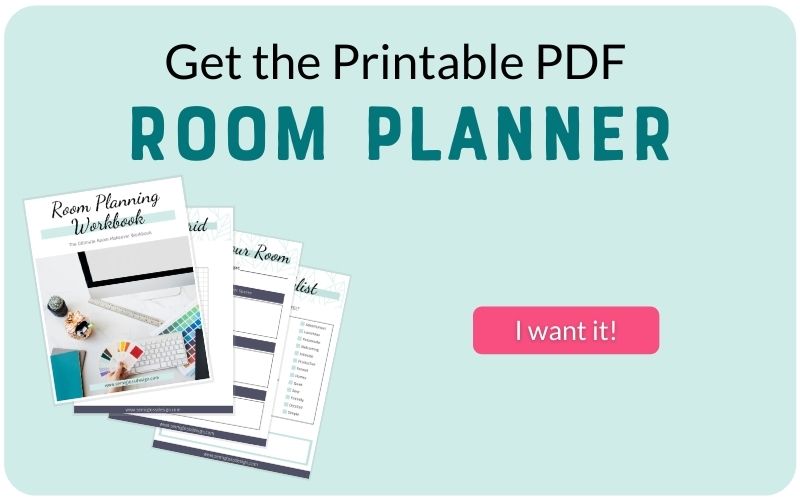 She's had the Darth Vadar poster for a while. The llama picture (similar) and the eye mirror (similar) are new.
I also added faux succulents (similar) to her room. Did you notice that the light switch cover matches her wall?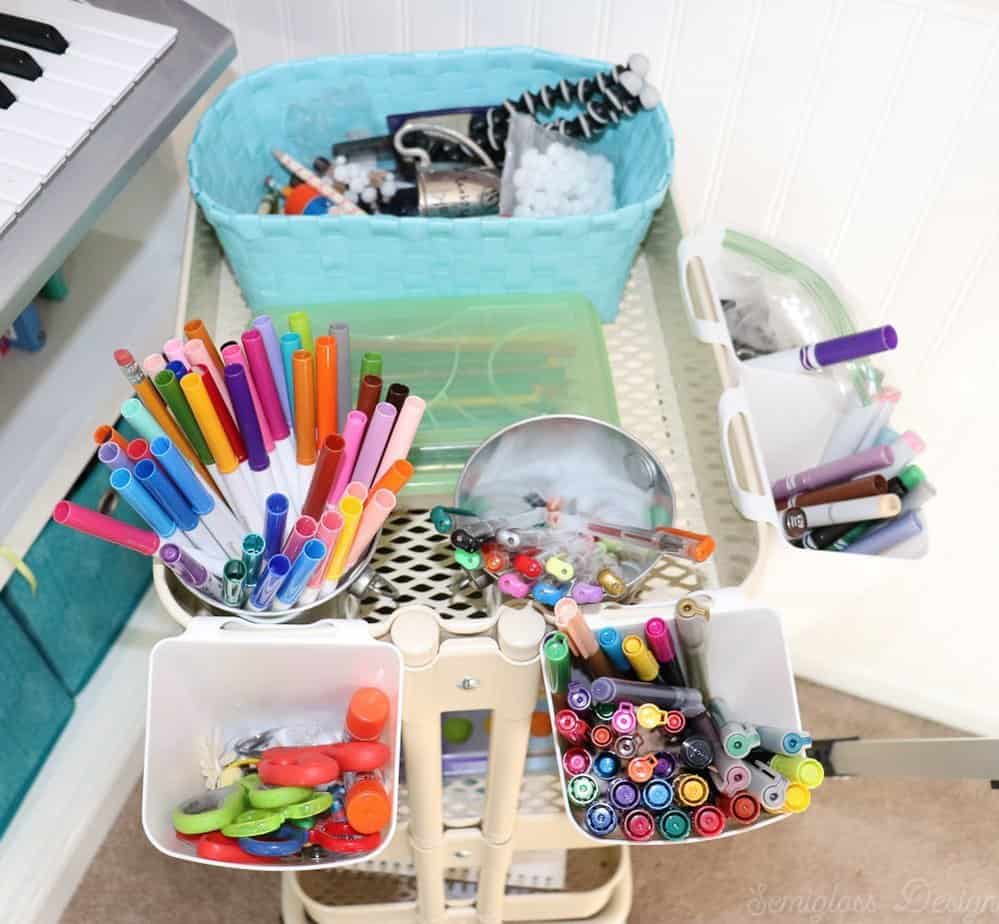 I organized her markers and other art supplies in a raskog cart. There's something so pretty about buckets of markers.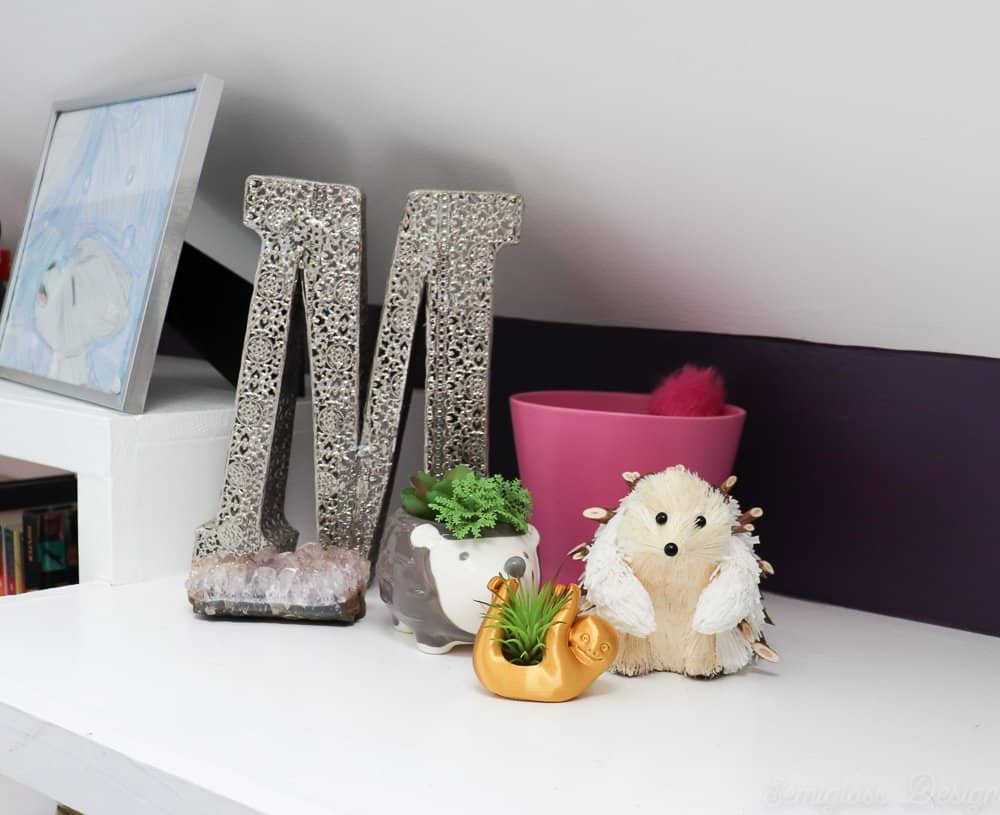 She picked these items out recently, so they got a special place on her built-in desk.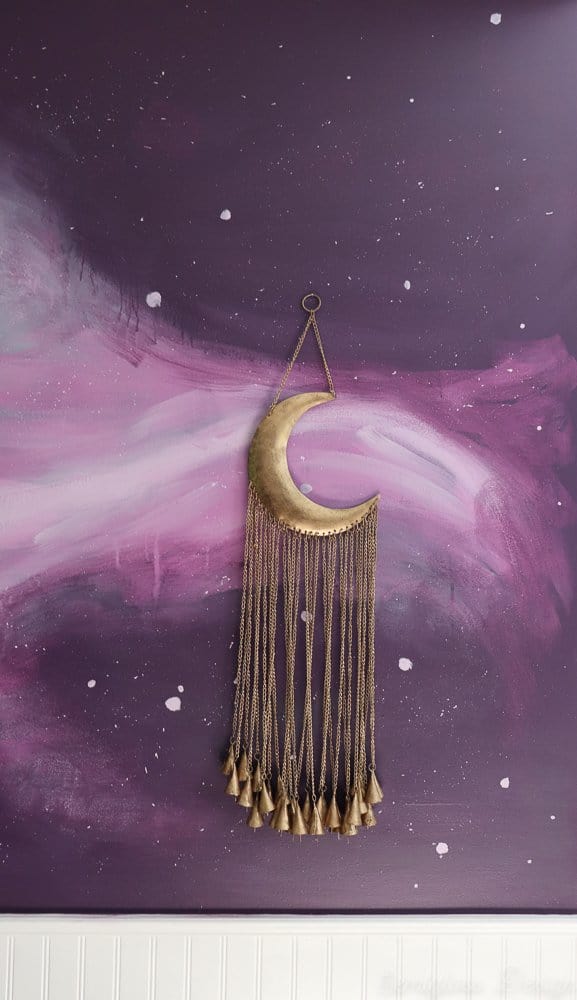 This moon chime is one of her favorite details. She literally gasped when she saw it.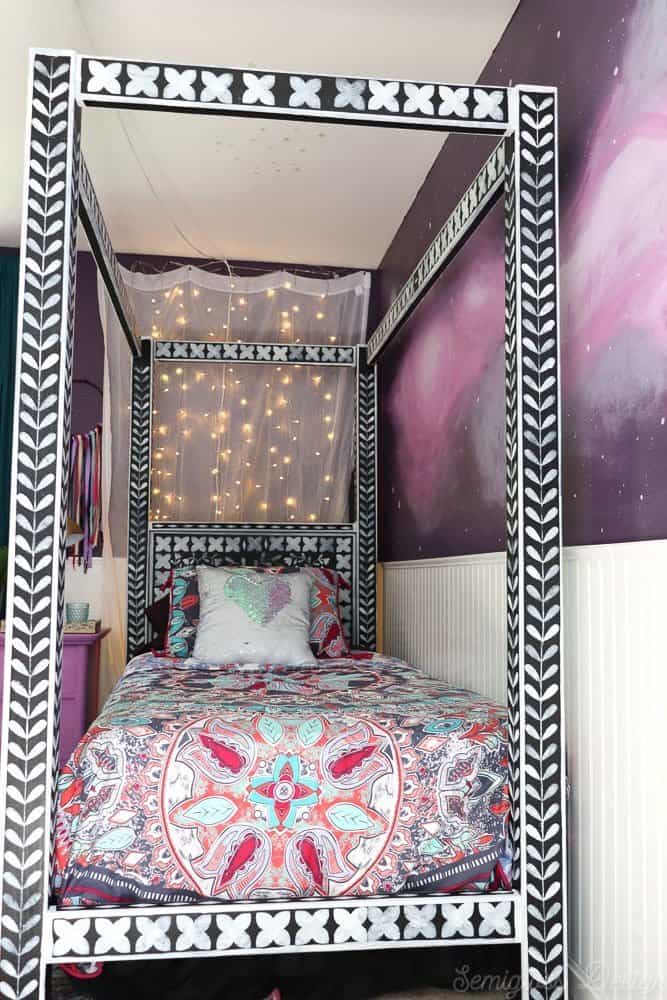 This is my favorite view. Also, it's not a tween room without the ubiquitous sequin pillow.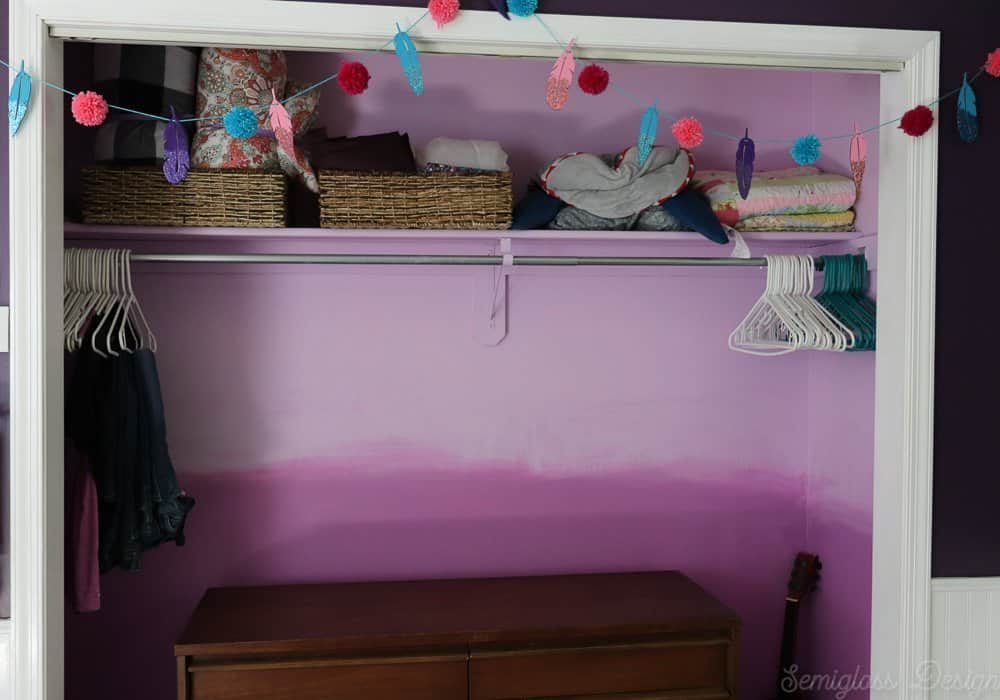 Her closet is so fun with the ombre-painted wall. I hung her boho garland over the doorway too.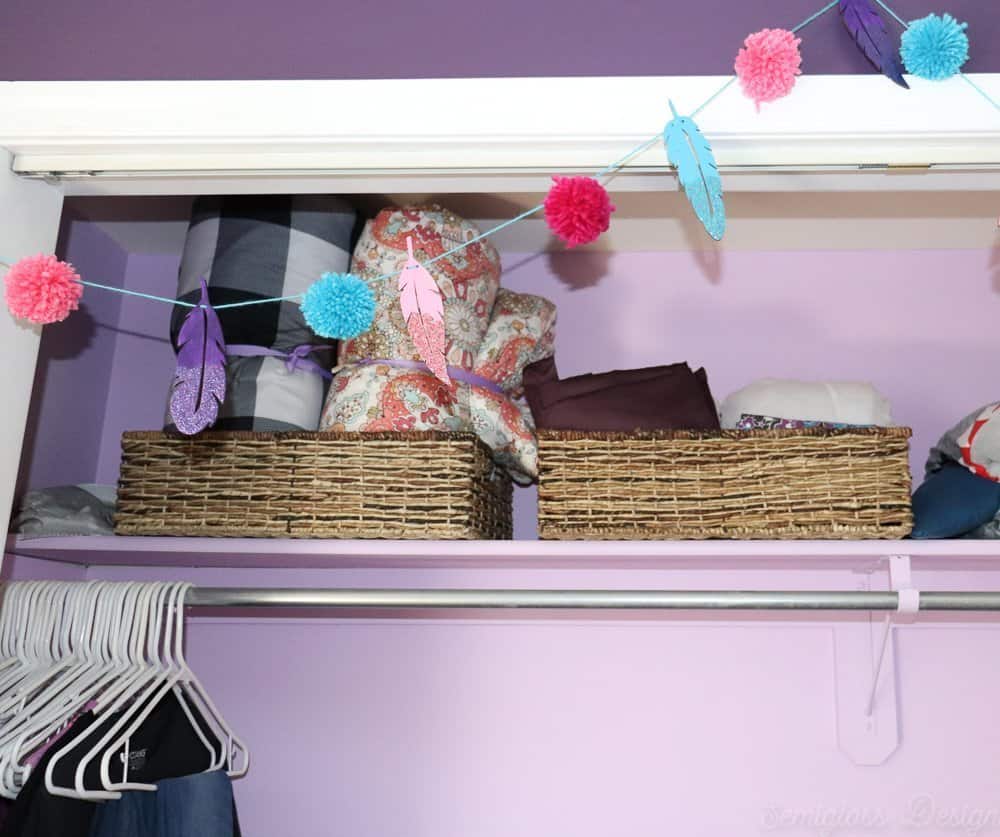 The top of the closet is always a mess with extra blankets. I tied them with ribbon and stacked them in baskets (similar). Now her extra bedding is contained.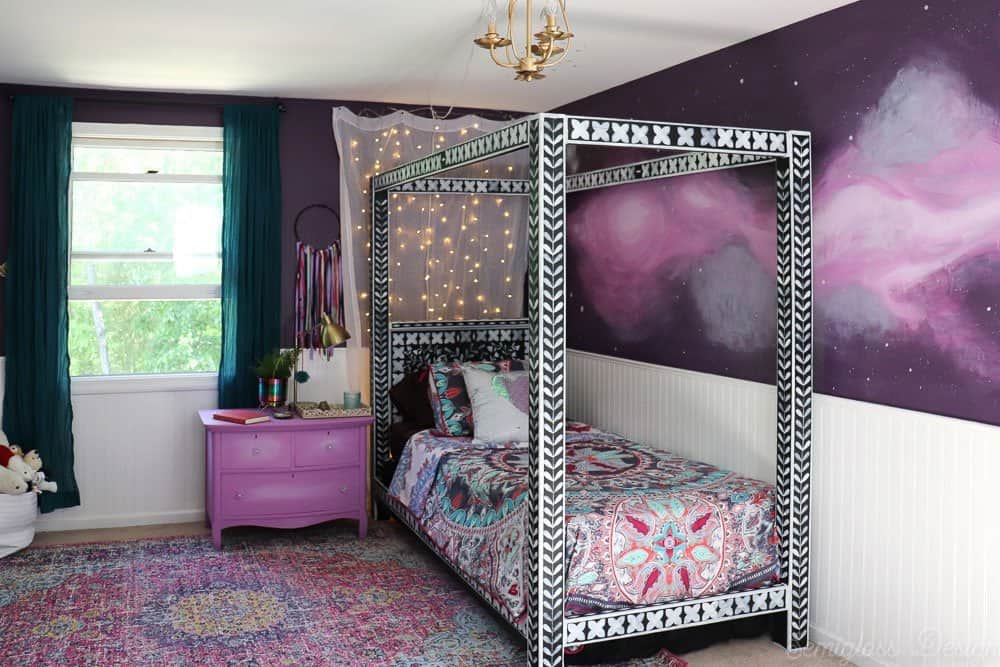 This might be my favorite room that I've ever finished. It truly feels like my daughter and I'm so proud to have collaborated with her.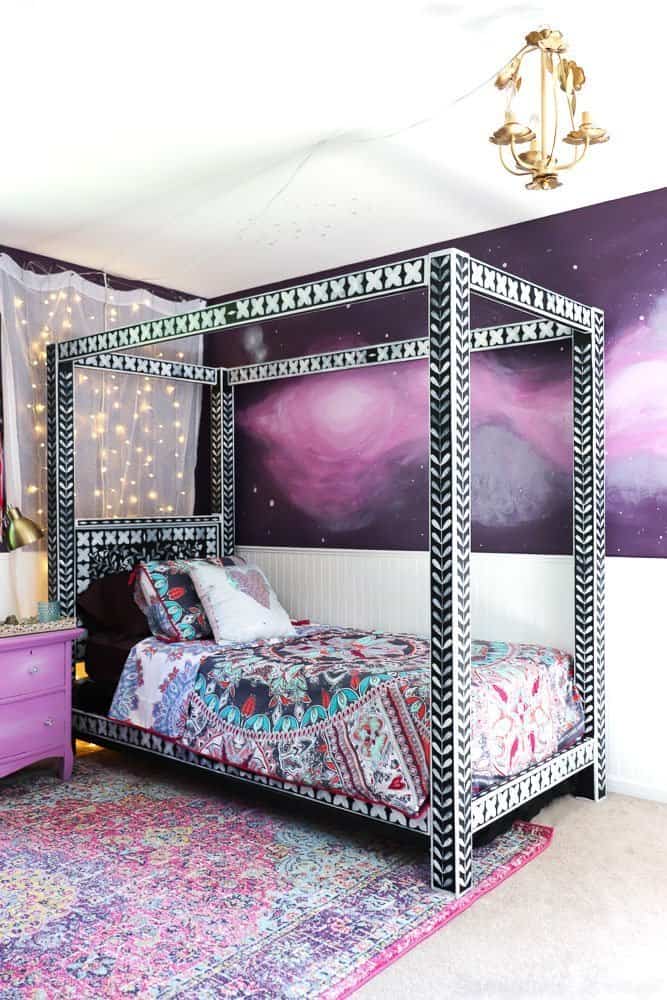 And I'm so proud of how the bed turned out. I've been calling it my Taj Mahal, a dedication of how much I love my sweet girl.
Boho Tween Bedroom Sources
Previous Room Reveals
One Room Challenge Reveals
Previous One Room Challenge room reveals.
Pin for Later!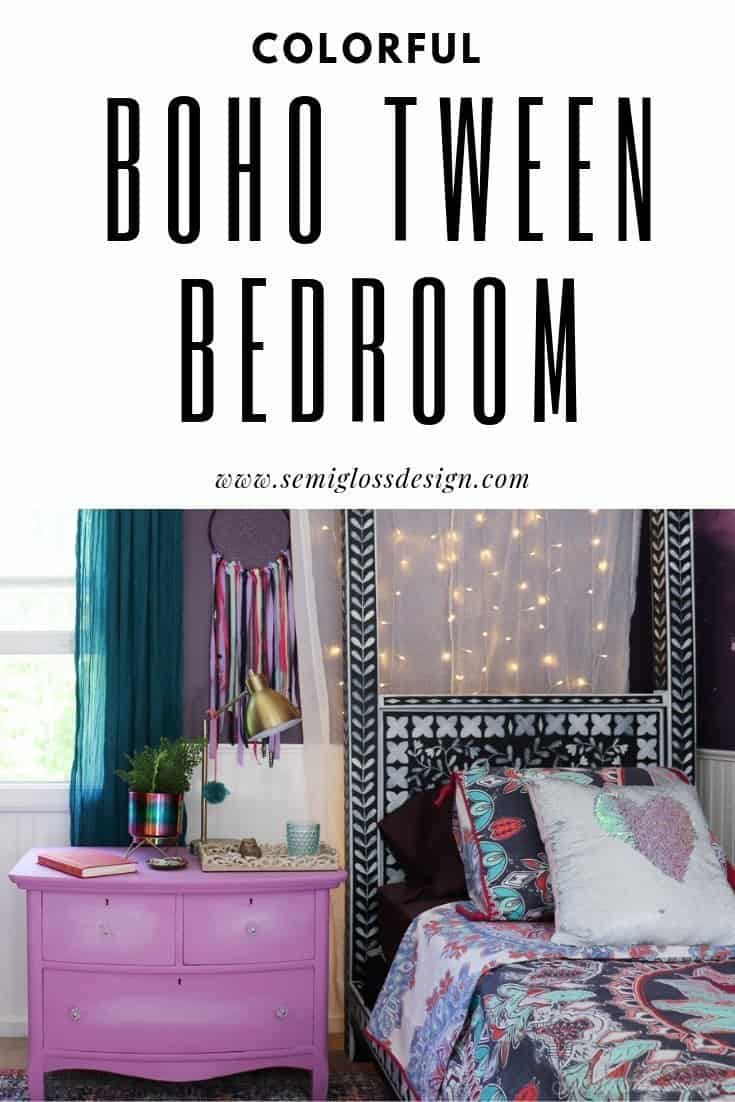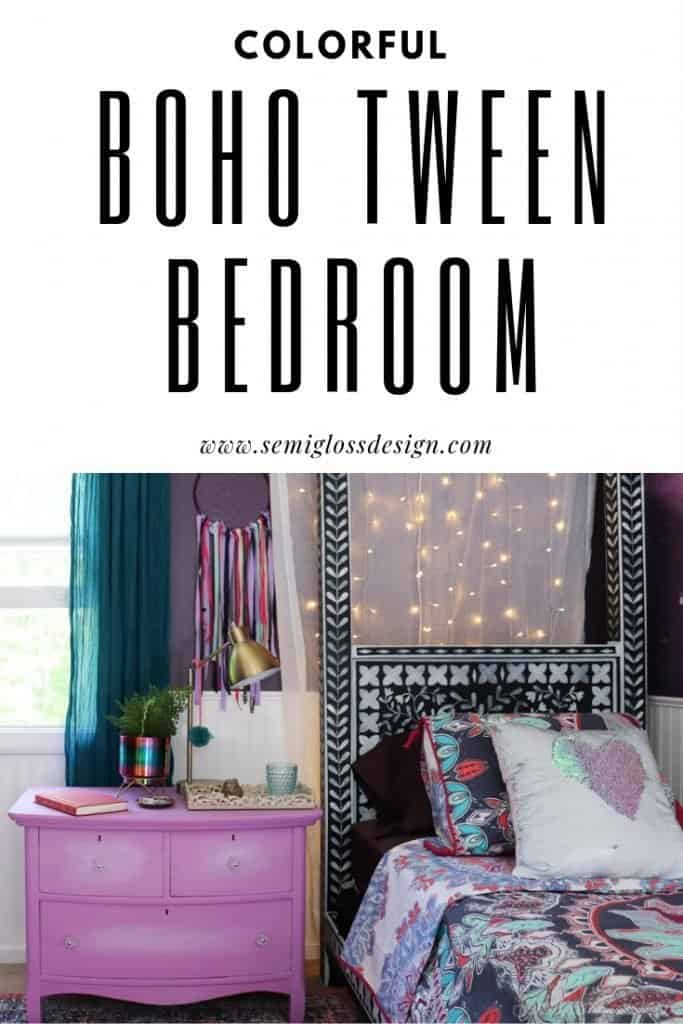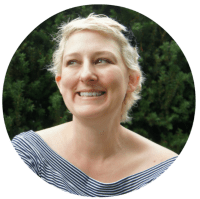 Emy is a vintage obsessed mama of 2 DIYer who loves sharing affordable solutions for common home problems. You don't need a giant budget to create a lovely home. Read more…