Two Raskog Cart Ideas to Organize Your Hobbies
Last week was my daughter's birthday. What do you get for a kid whose birthday is weeks after Christmas? Especially when she doesn't play with very many toys anymore.
But, she does love art! So I made her an art cart and of course that meant buying an IKEA Raskog utility cart.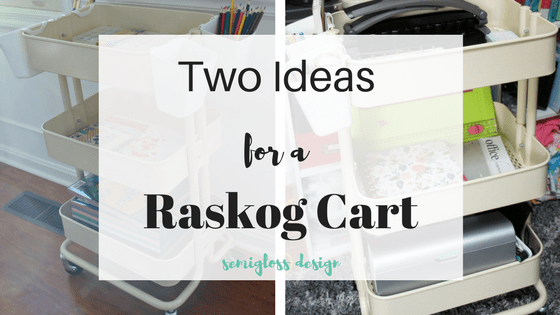 This post contains affiliate links. By purchasing an item through an affiliate link, I earn a small commission at no extra cost to you.
And if you're going to trek out to IKEA to buy one Raskog cart, you should buy yourself one too! So today, I'm sharing 2 raskog cart ideas for organizing our hobbies.
You might also like this IKEA utility cart turned Cricut storage!
About the Raskog Cart
The IKEA raskog is well loved on Pinterest, but did you know that it only comes in sucky colors now? Brown, cream and dark gray. What happened to the aqua? So my carts will be spray painted as soon as we get warmer temps. I chose cream because it will be easier to spray paint over.
Assembling the IKEA raskog was pretty easy. There were no allen wrenches involved, so that's a first in IKEA history. Each cart took about 30 minutes to complete. I give it 2 out of 5 question marks over the IKEA stick figure with a sad face (you know the one.)
Raskog Cart Ideas for Hobbies
Raskog Cart Ideas: Art Cart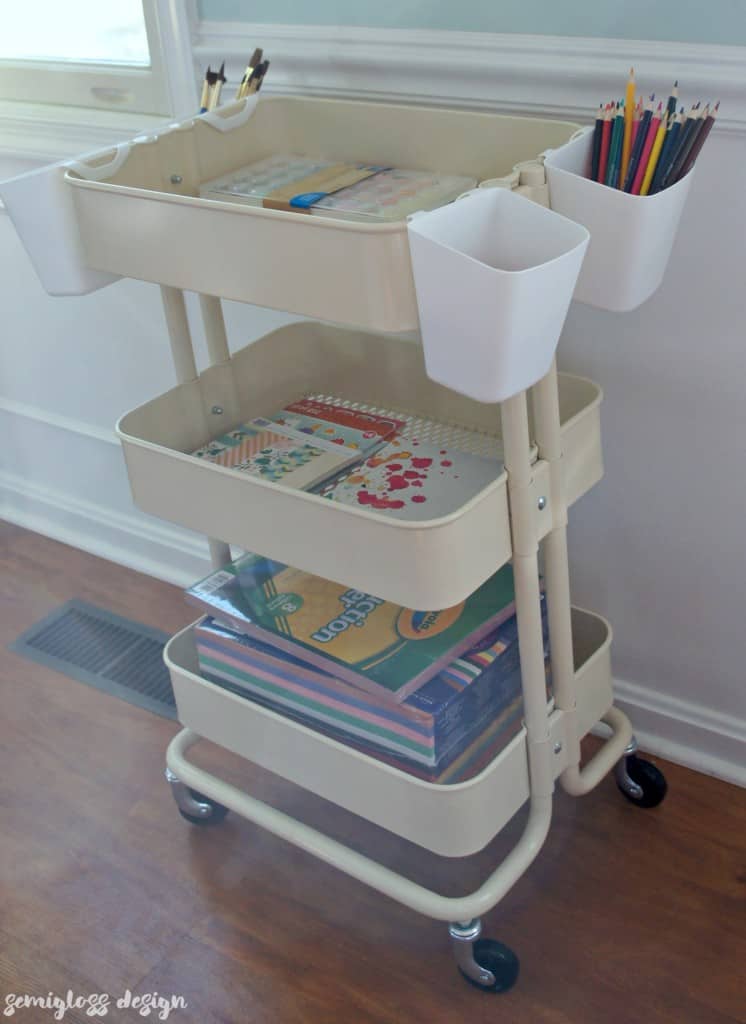 Like a dream come true, right? I would have loved a gift like this when I was a kid!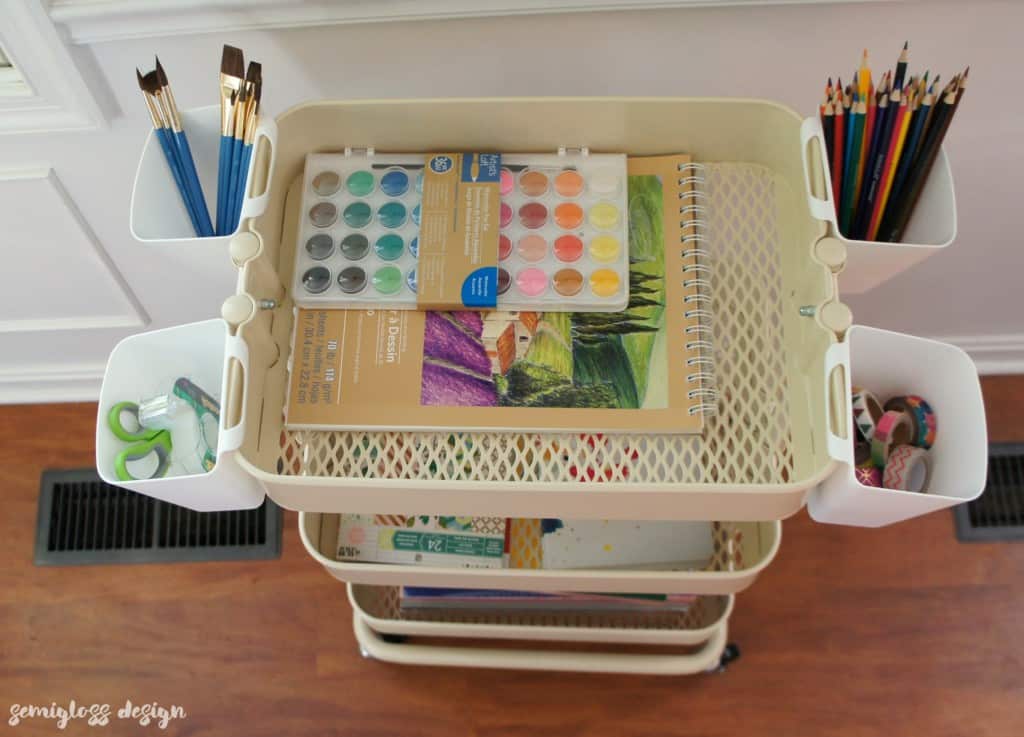 The top rack was made even better with the addition of Sunnersta container for storing small supplies. Now paint brushes, scissors, colored pencils and washi tape can have their own compartment. Seriously, these containers are less than $1 a piece, so you should buy like 20 of them! The top rack holds watercolors and a sketchbook. She can add her markers to this area as well.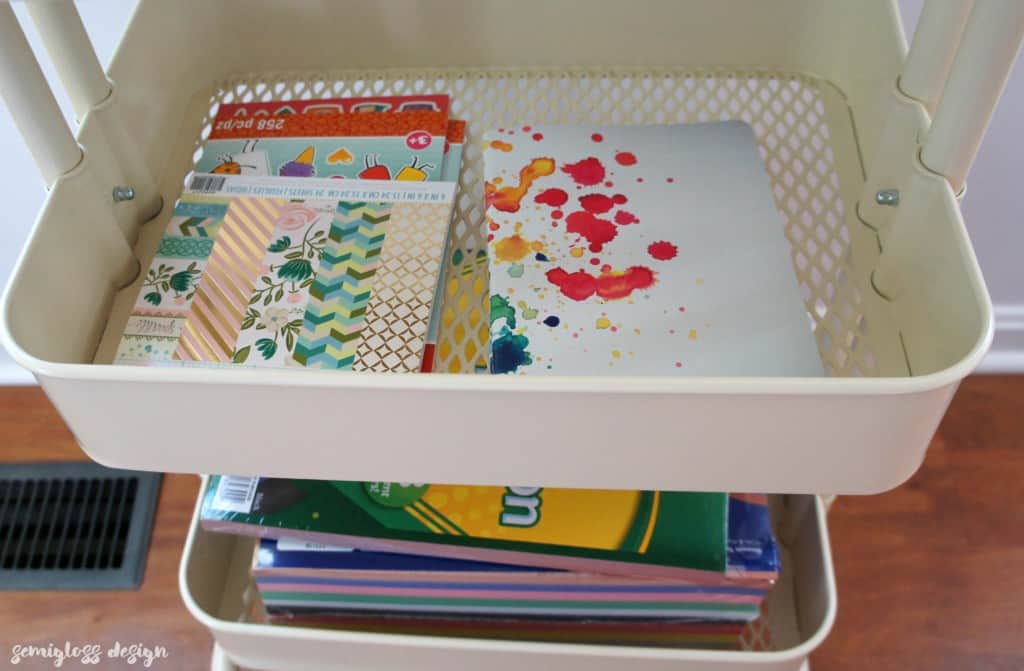 The second rack holds fancy paper, sticker packs and art journals. The stickers were probably the biggest hit!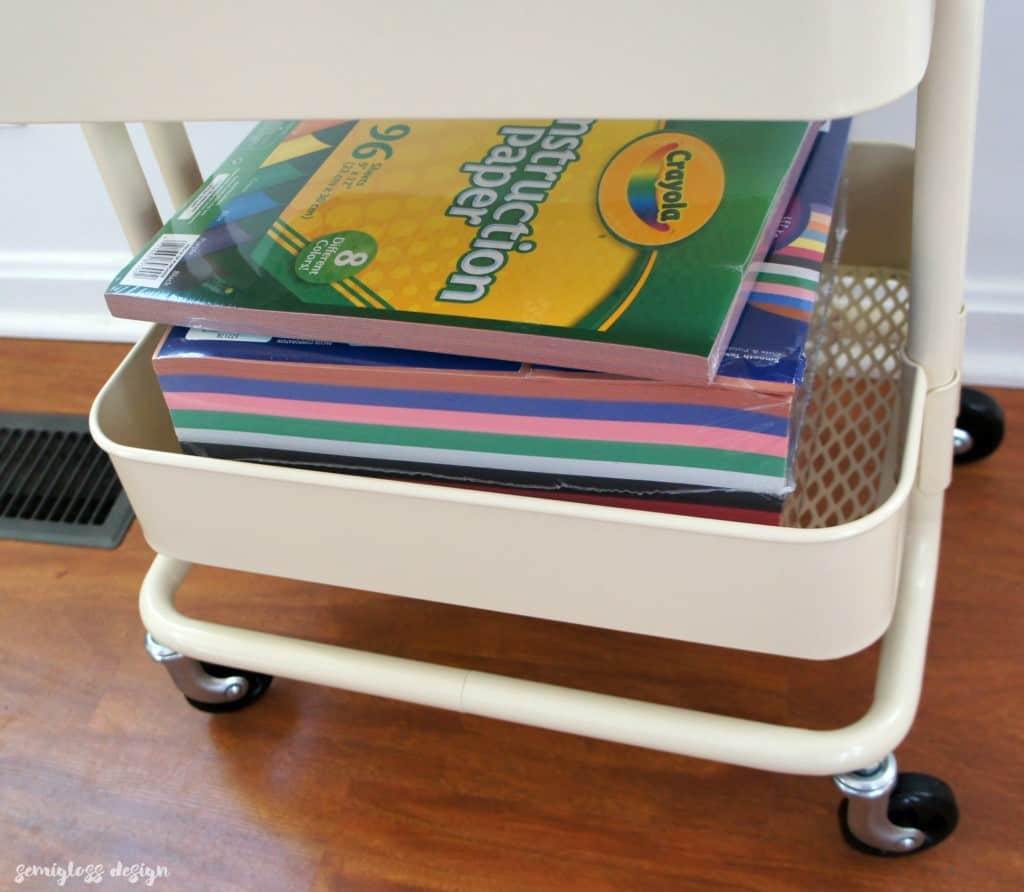 The bottom holds a small pack of construction paper and the biggest pack of construction paper ever! Thanks Costco!!
Raskog Cart Ideas: Planner Cart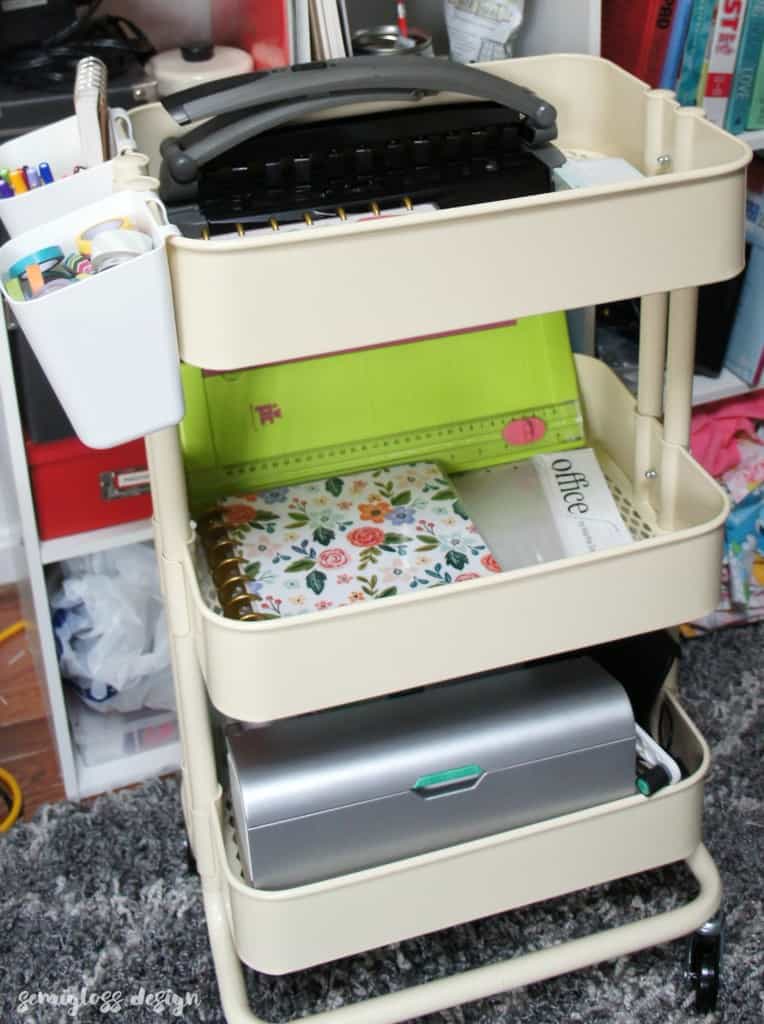 And now for my planner cart. No more filling my coffee table with planners and notebooks! Now I have a roll-y cart! I've been working in my craft room lately, so I can roll this close to my desk for easy access. But if I want to work on the couch again, it will easily roll to the living room.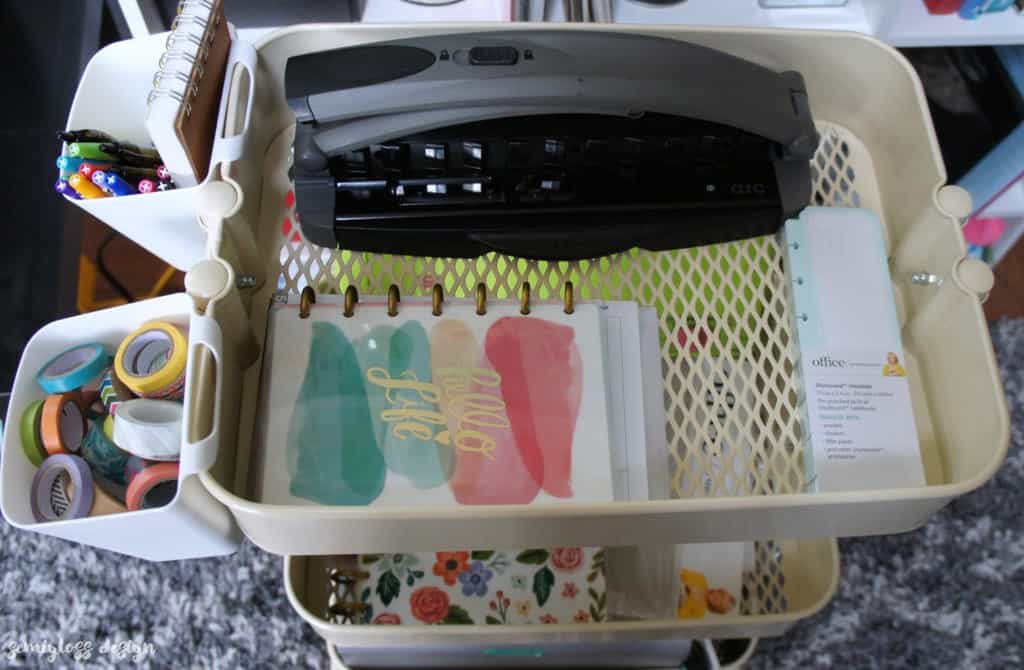 I also used a few Sunnersta containers. One holds pens and a sketch pad and the other holds washi tape. The top rack of the shelf holds a disc hole punch, smaller paper inserts and the mini Happy Planner.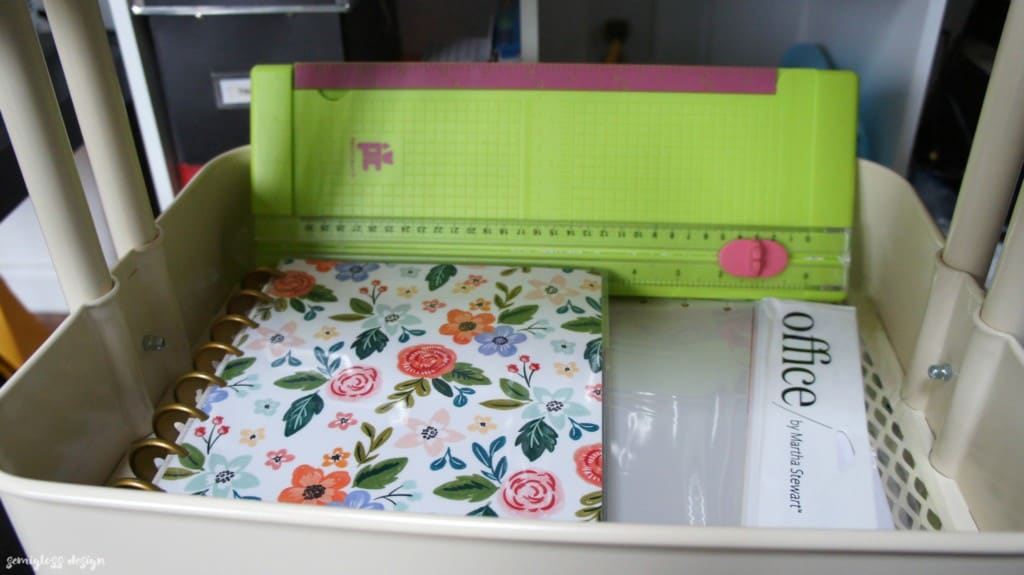 The next layer holds a paper cutter (similar), another planner and more inserts and special printer paper.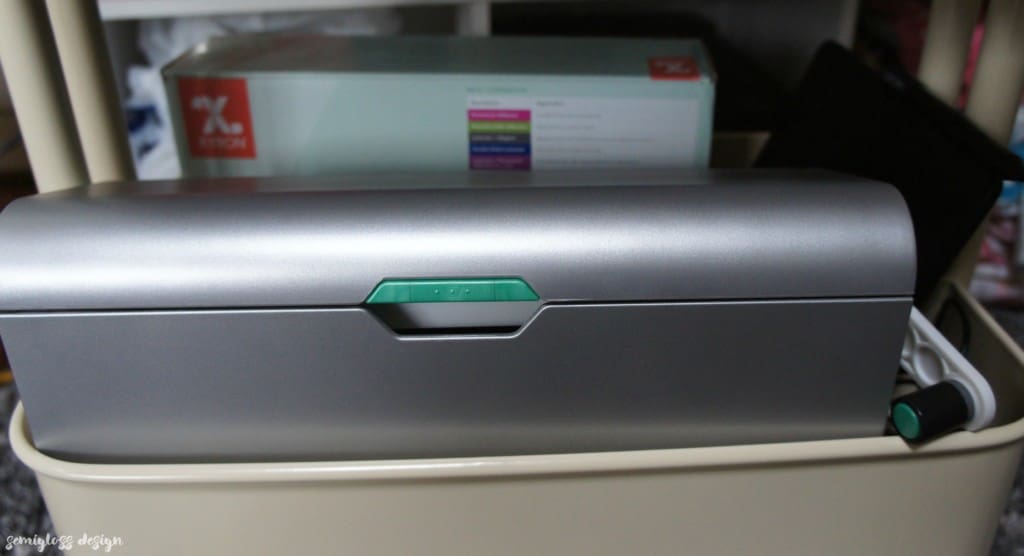 The bottom rack holds my xyron sticker maker, laminate refills and my wacom tablet.
Other Ideas for a Raskog Cart
Makeup or nail polish storage
Plant stand
Baking (or other kitchen related) storage
Bar cart
Cleaning caddy
Guest room storage (extra towels, books, toiletries for guests)
Bathroom storage
Office supplies
Pantry storage
Other craft storage (knitting or sewing)
Kid's toys
Books
Baby diapers and clothes
As a night stand or side table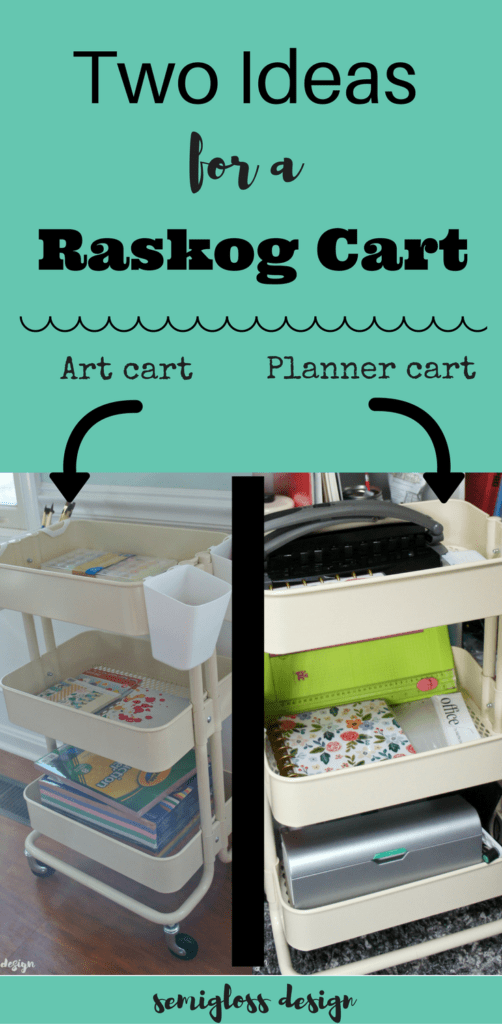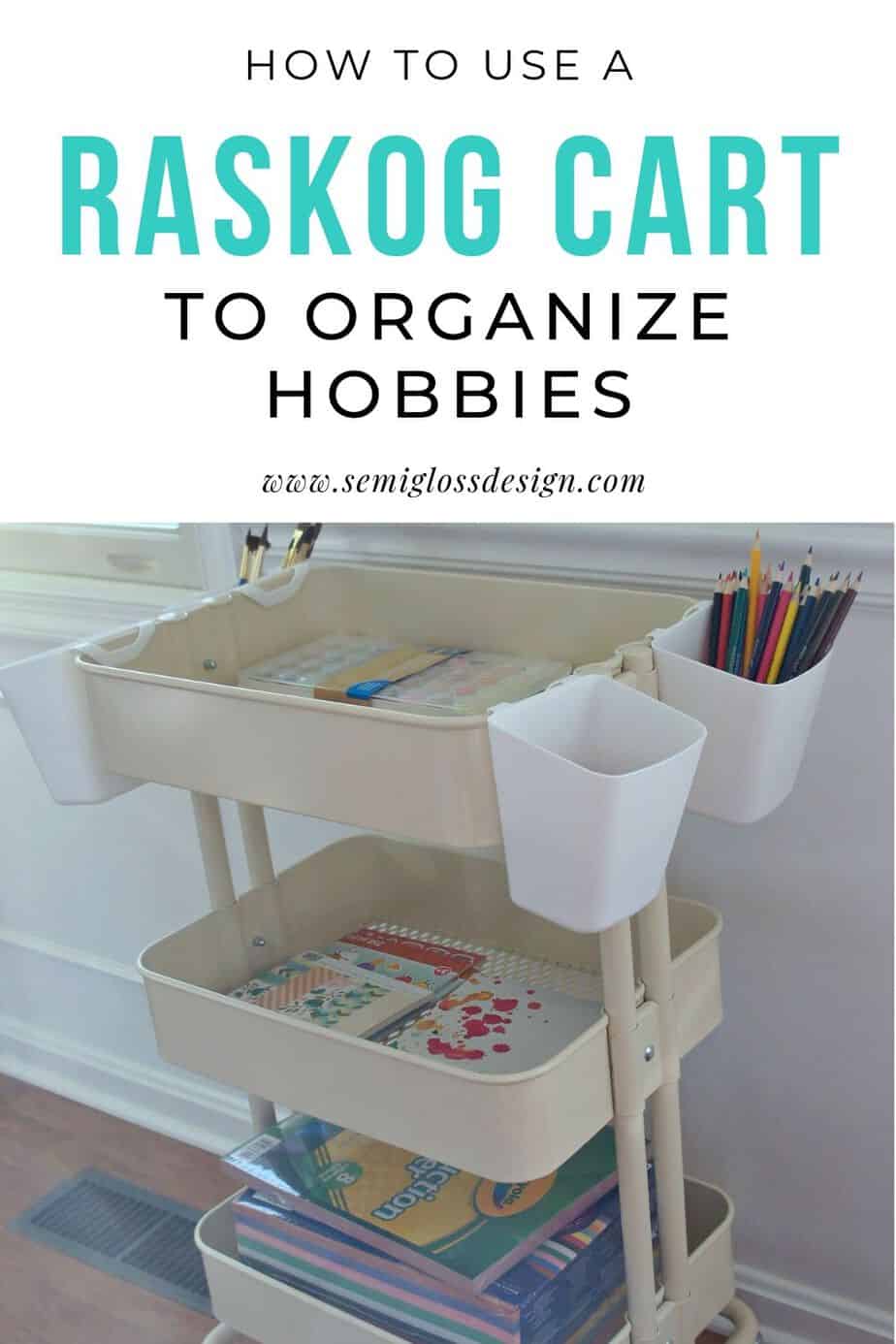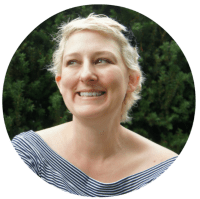 Emy is a vintage obsessed mama of 2 DIYer who loves sharing affordable solutions for common home problems. You don't need a giant budget to create a lovely home. Read more…