Beautiful Affordable Upholstered Beds
These affordable upholstered beds are perfect for updating your bedroom on a budget. Get high style at a price that won't break the bank.
You might also be interested in this post about the best sheets from Amazon.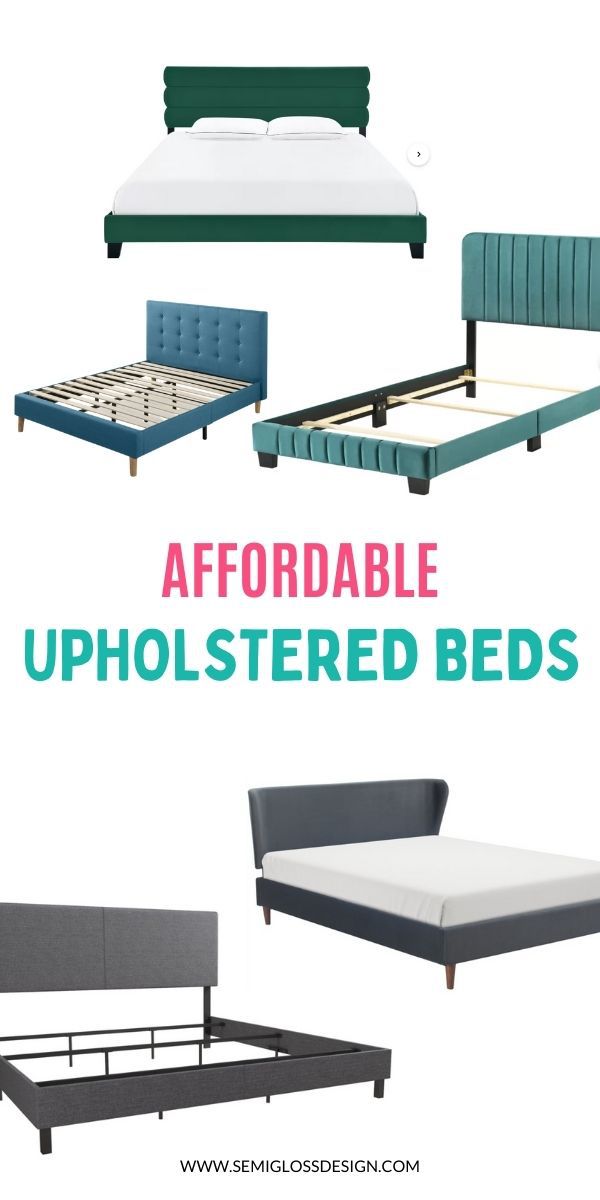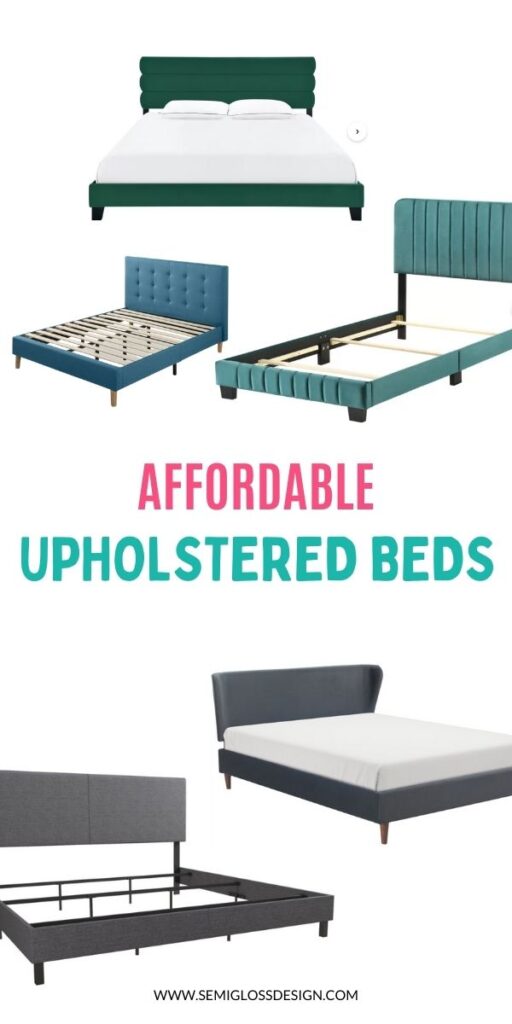 This post contains affiliate links. By purchasing an item through an affiliate link, I earn a small commission at no extra cost to you. As an Amazon Associate I earn from qualifying purchases.
Buying furniture can be difficult, especially if you don't live in a big city. Our local furniture stores consist of overpriced furniture that looks like it has been sitting there since 1989.
IKEA is always an option, but the styles are limited.
So I often rely on buying furniture online. Buying furniture online can be scary, but I'm here to share some tips with you to make it easier.
Tips for Buying Furniture Online
Always read the reviews where possible. Before a large furniture purchase, I always read through the reviews. Look at both the negative and positive reviews for the best perspective. A lot of the time, the negative reviews have nothing to do with the actual product.
Beware reviews about bed bugs. I've seen so many of them lately that I'm convinced that they're all fake. There's just too many of them. If you see the same comments on every furniture piece of that type, I ignore them and decide that they're fake.
Look for reviews about use and comfort levels. For beds, I look for uncomfortable questions about "withstanding bedroom activity". For chairs, I look for weight limits.
Look at multiple websites. If you have a hard time finding reviews for a specific product, try to find the same product under a different name. Wayfair, Amazon, and Overstock often sell the same products under different names. You might even find a better price!
Buy from a mattress company. If you're buying a bed frame, I highly recommend buying a bed from a small mattress company. The bed frames are made to make the mattress look the best it can, so they are usually fantastic quality. (I bought a bed from Zinus and I'm so in love with it.)
Pay attention to dimensions. When in doubt, get out the measuring tape and see how big it really is. This will save you from unpleasant surprises when they deliver your furniture.
If the company offers upgraded delivery for a fee, there's probably a reason why. I didn't get it and my bed weighed over 150 pounds. It was delivered on a day with "torrential downpours" forecast, so you can imagine how fun it was for me and our teenage son to struggle to get a huge 150 lb box into the house on our own…
Be aware that unfortunately, your furniture may need to off-gas for a few days. It has been sitting wrapped in plastic for a while and it takes a while for the smell to go away. Opening the windows helps a lot.
If you're buying an upholstered bed, consider a bed without a full footboard if you have a small room. You will visually gain so much space. My bedroom looks like it's several feet larger than it used to be.
Affordable Upholstered Beds – Neutrals

Affordable Upholstered Beds – Bright Colors

The Upholstered Bed That I Chose
After a lot of research and planning, I chose this gray upholstered bed. I love the minimal design so much.
All of the bedrails were packaged inside of the headboard, which I thought was a really interesting way to package furniture.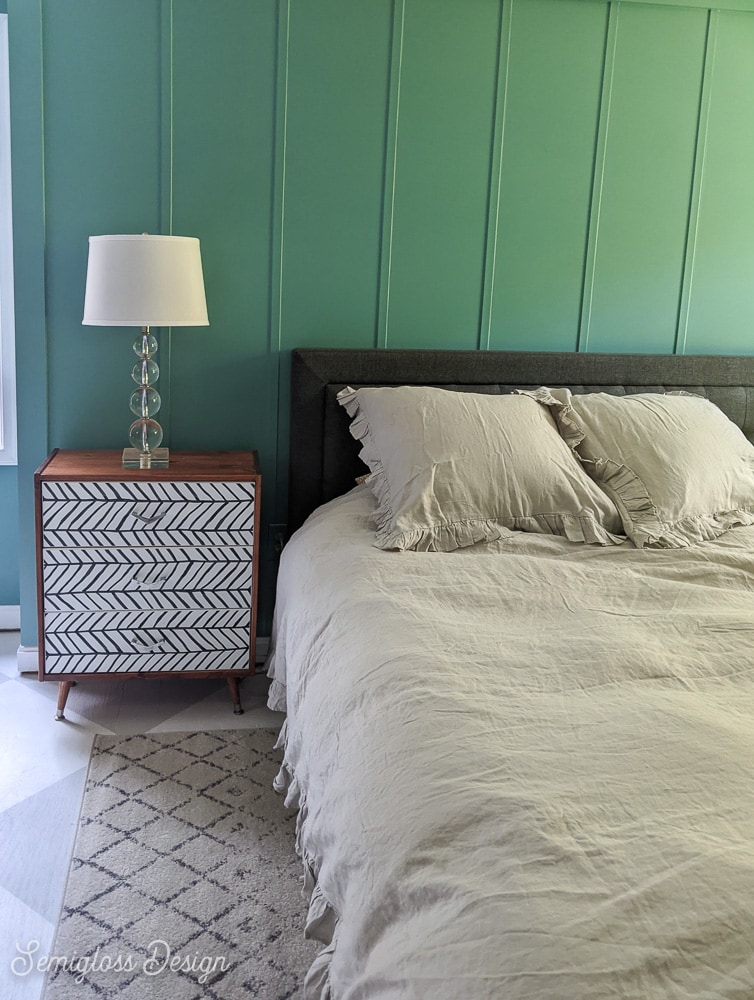 The bed came with an actual ratchet to put it together. Before the bed was even 100% assembled, I knew that it was going to be super sturdy.
I used to rearrange furniture like a crazy person as a kid, so I've put together my fair share of beds. This bed is the nicest bed that I've ever assembled.
This is a platform bed, so no box springs are required. I didn't even realize how bad the box springs were until now. I swear, this bed has breathed more life into our very old mattress!
The upholstered headboard is perfect for lounging in bed and watching scary movies.
After living with a sleigh bed for so long, I was seriously worried about bumping my toes or knees in the night, but so far, no problems.
I'm really impressed with this bed!
You might also like:
Pin for Later!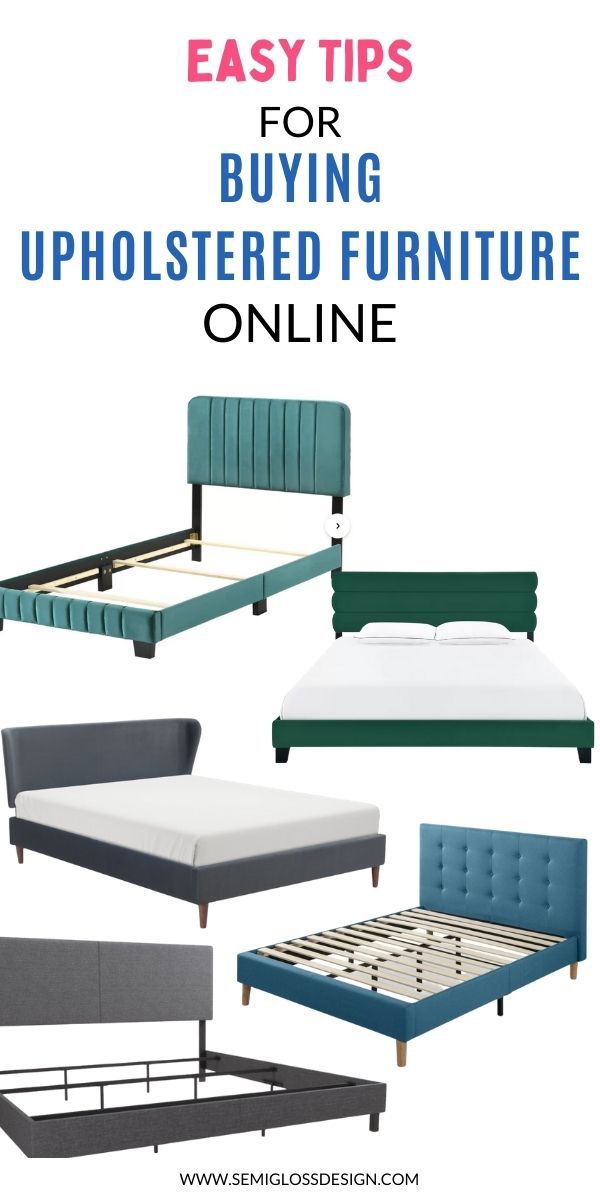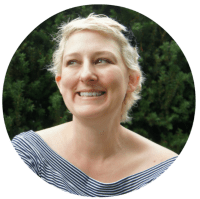 Emy is a vintage obsessed mama of 2 DIYer who loves sharing affordable solutions for common home problems. You don't need a giant budget to create a lovely home. Read more…