ORC: Moonrise Kingdom Inspired Bathroom Reveal
It's the reveal week for the One Room Challenge, so it's pretty much like Christmas day in blog land! There are so many beautiful rooms to check out.
Today, I'm sharing my Moonrise Kingdom-inspired bathroom that I've been working on for 6 long weeks.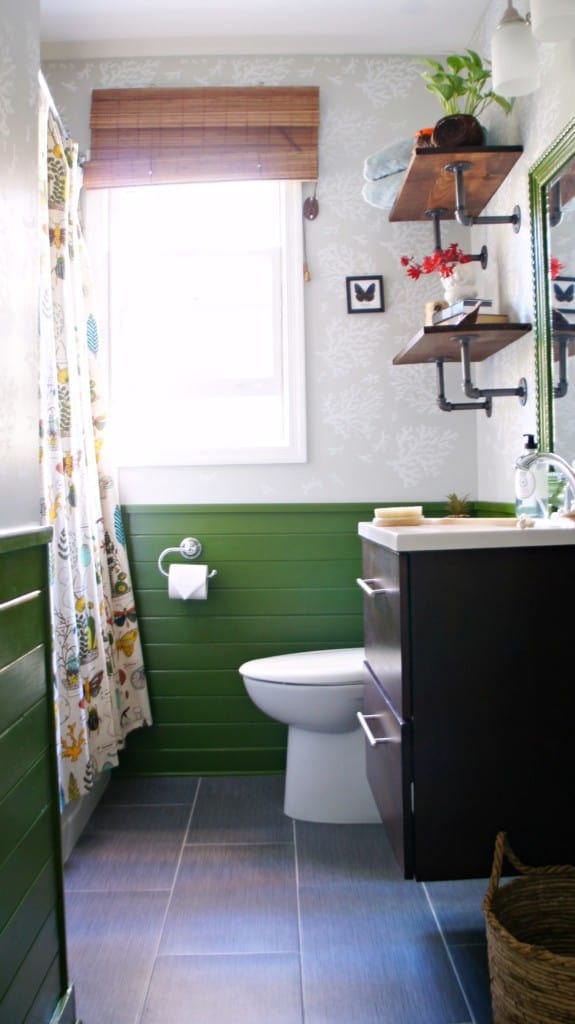 If you're new here, we bought our house in central Maryland about 2 years ago. We've been working non-stop to update it and make it feel more like us. In the spring, we completed our kid's treehouse and now we've completed a bathroom!
Week 2: Shiplap in a bathroom and tile progress
Week 3: Shopping purchases
Week 5: How to build industrial pipe shelves
Bathroom Before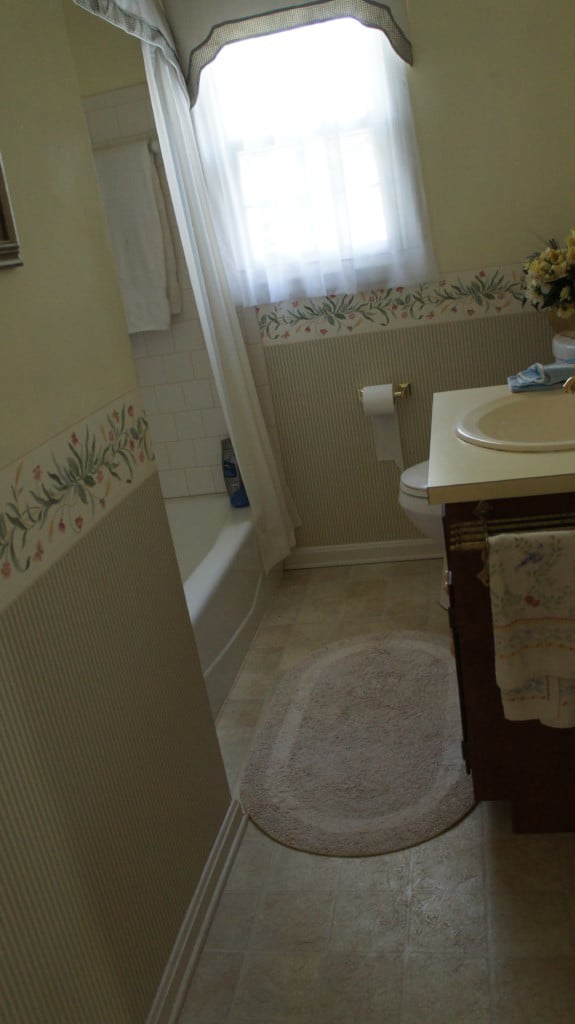 When we first bought the house, it was filled with wallpaper and dark wood tones. Luckily the tub and tile were nice and in good condition. White tile in a tub is always going to be a good thing.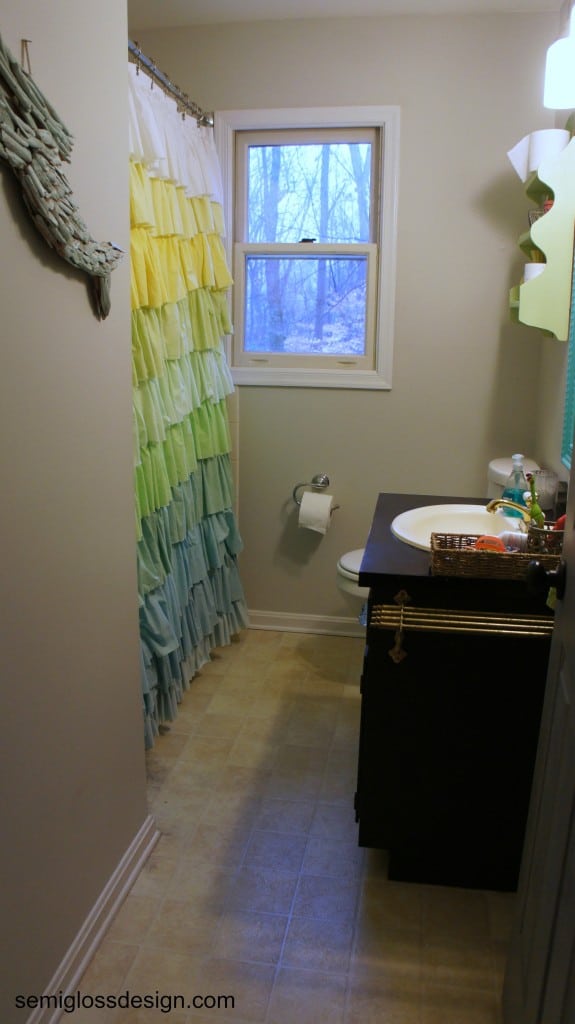 I made some temporary changes by removing the wallpaper and painting. We eventually replaced the vanity, so we were left with a hole in the vinyl flooring where the old one used to sit. This hole combined with messy kids meant that it needed to be fixed.
Moonrise Kingdom Inspired Bathroom Plans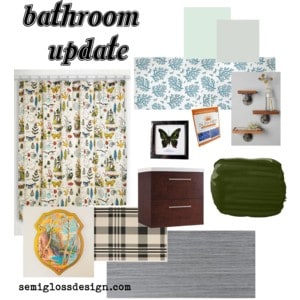 The bathroom plans were inspired by the lovely kitsch of Camp Wandawega and the colors from the movie, Moonrise Kingdom.
Bathroom: After
It's come such a long way!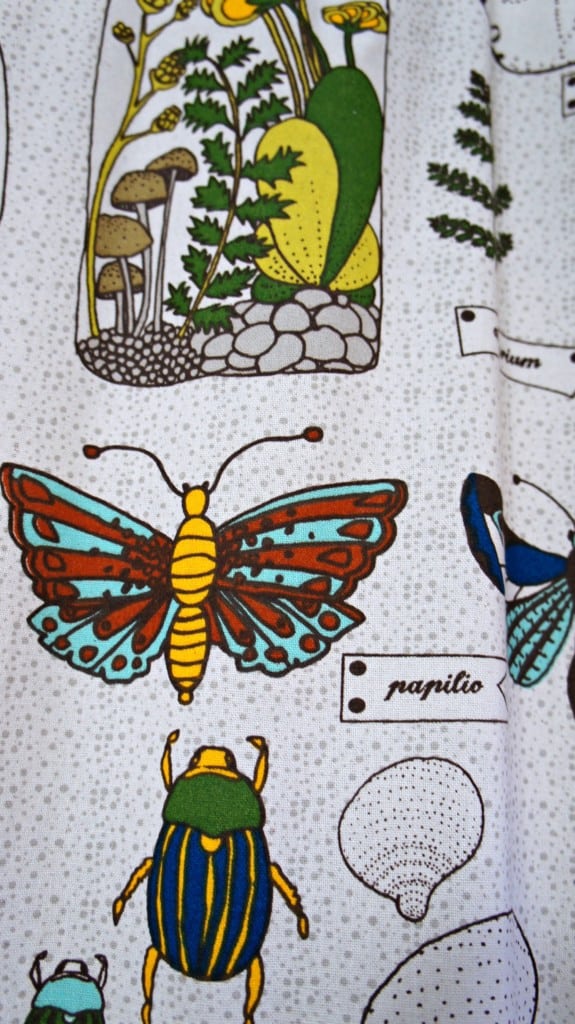 The shower curtain was my starting point. The details and colors are so perfect. To me, it's almost like a big piece of art.
Bonus feature: you can learn the Latin names for flora and fauna while in the bathroom!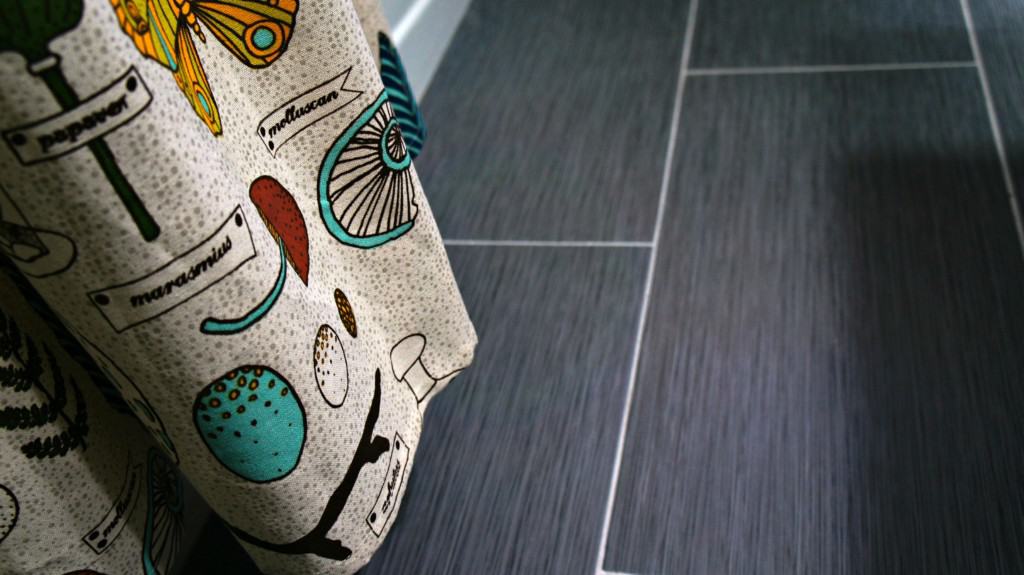 I love the shower curtain so much with the tile. The tile has subtle stripes that remind me of linen. It's so much better than the gross vinyl flooring from before.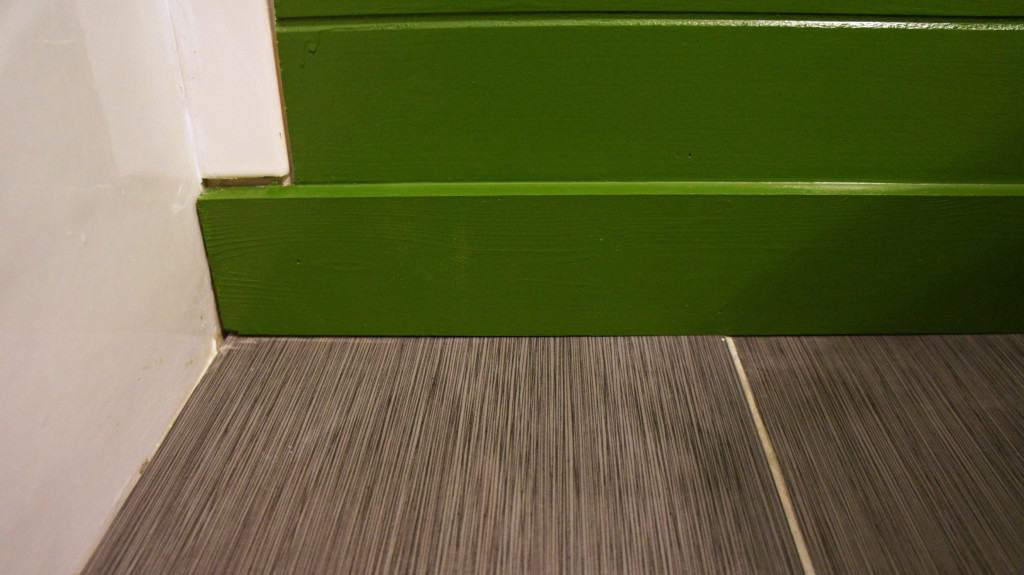 The tile always looks clean, even though we have black lab that sheds like crazy.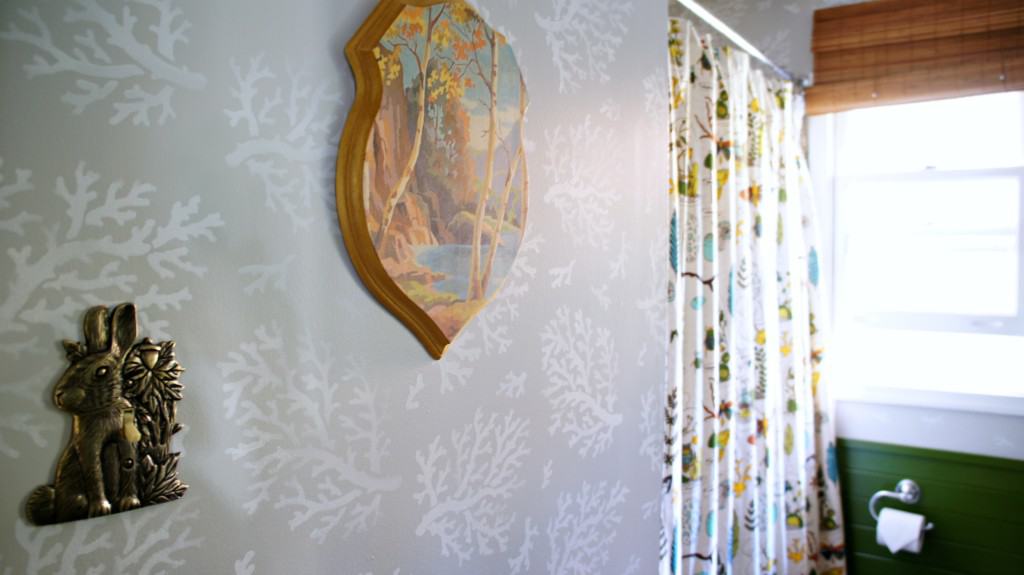 The stenciled walls provide such a happy backdrop for all of the other elements.
The bunny light switch never fails to delight me. An item that is used this much should be beautiful!
The paint by number art is so amazing. The picture is printed on the wood and the edge is painted a lovely shiny gold.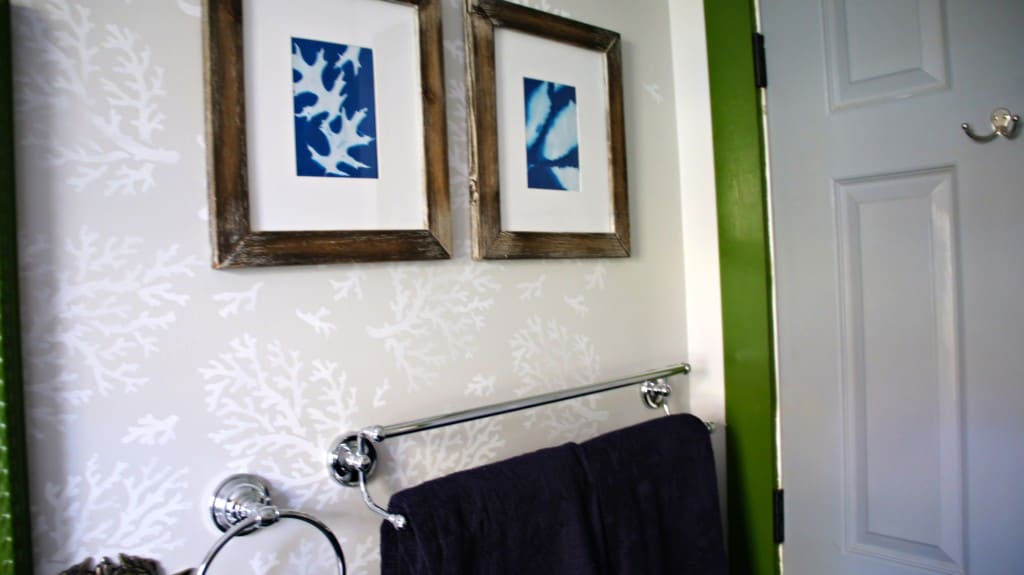 I made the sunprint art with leaves from the trees in my backyard. The paper turned such a pretty color of blue! The art is meaningful and will always remind me of autumn in Maryland.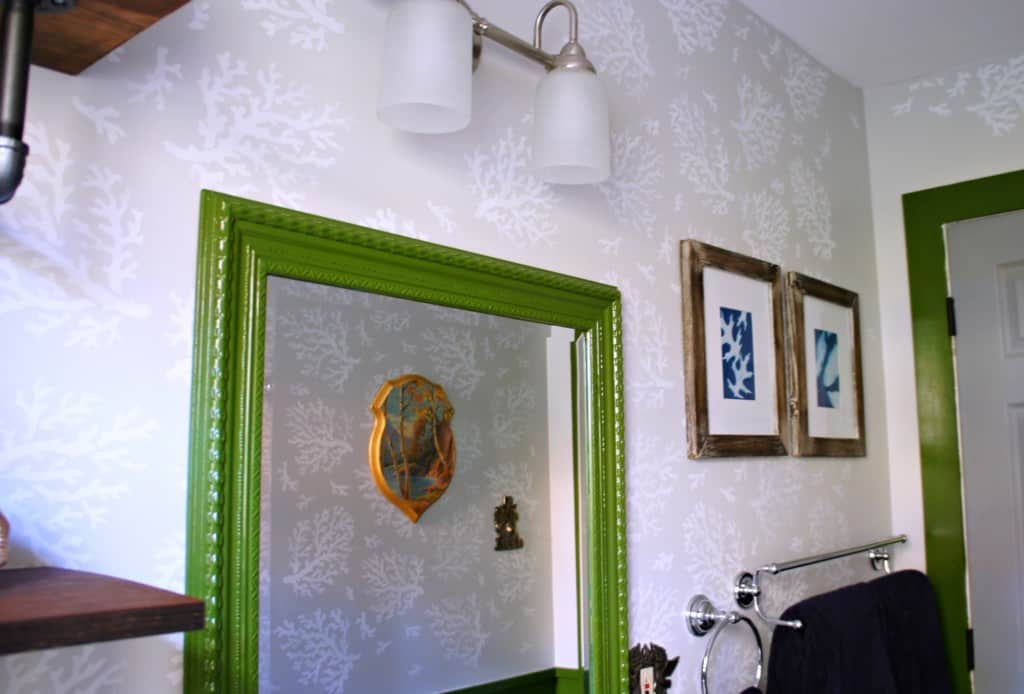 I painted the existing mirror green to match the shiplap. I like how you can see most of the art in this picture.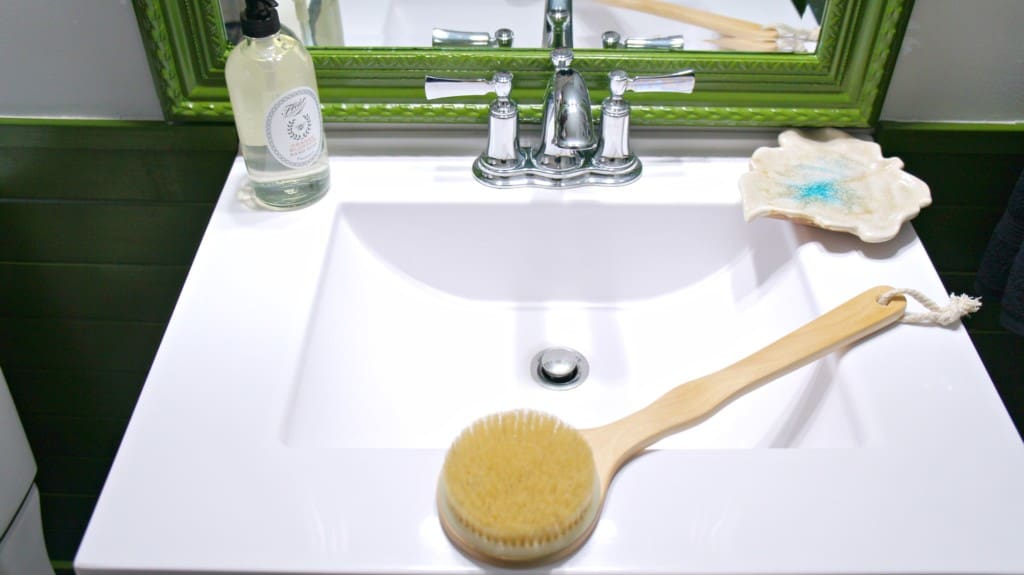 The leaf plate is a thrift store find. It has the prettiest crackle in the glaze. It's there to hold random hair bands, bracelets, and stray Legos.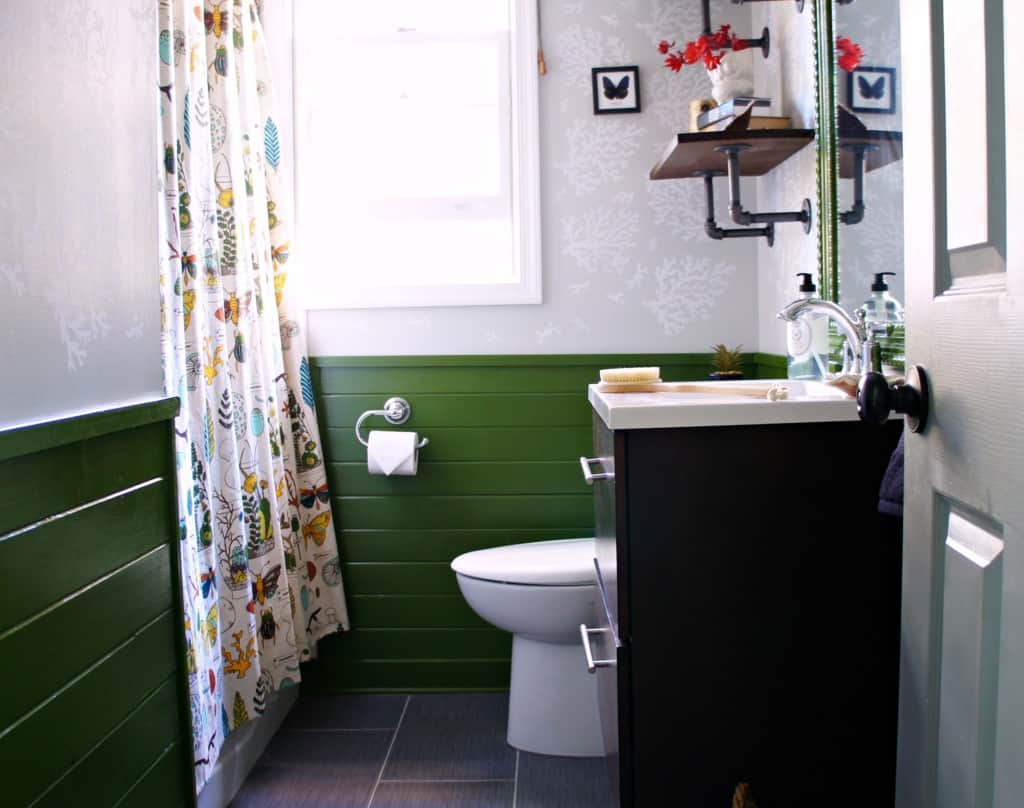 The new toilet is so easy to clean (I'm sure moms of boys can appreciate that!)
The industrial shelves add storage as well as a place for display. It's my mini cabinet of curiosity! We also added bamboo blinds to make guests feel more comfortable.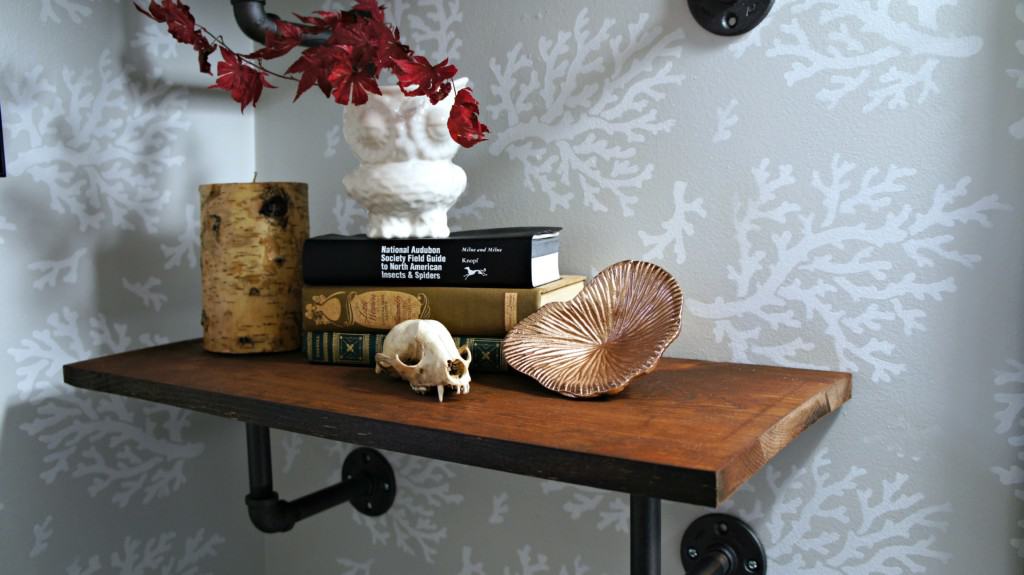 I added a few fun items for display here, like this skull that my dog brought me. Isn't she sweet?
I'm so glad that this bathroom is finished. (We must be crazy because we're starting another one this weekend! From scratch! Like there aren't even walls built yet… Eek!)
Be sure to check out the reveals from the featured designers and all of the guest participants as well!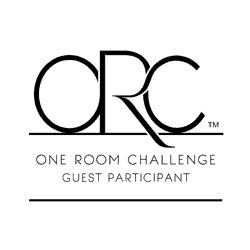 Moonrise Kingdom Inspired Bathroom Sources:
This post contains affiliate links. By purchasing an item through an affiliate link, I earn a small commission at no extra cost to you.
Wall color: Benjamin Moore Wickham Gray
Shiplap paint color: Ralph Lauren Felt Green
Door paint color: Sherwin Williams Flannel Gray
Coral stencil | Tips for Stenciling Post
Vanity (similar)
Light switch and electrical plate
Pipe shelves | Tutorial
Shower curtain
Sun print art paper | Tutorial
Frames | Home Goods (similar)
Mirror |Home Goods (similar)
Towels
Glass mushroom | Home Goods
Snail planter | Vintage
Owl planter | Home Goods (similar)
Gold mushroom
Audubon Field Guide to Insects
Unidentified animal skull | gift
Basket | Home Goods (similar)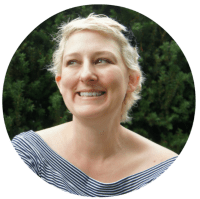 Emy is a vintage obsessed mama of 2 DIYer who loves sharing affordable solutions for common home problems. You don't need a giant budget to create a lovely home. Read more…