The Easy Way to Build Industrial Pipe Shelves
Industrial pipe shelves are easy to make and are perfect for small spaces like above the bathroom toilet. Add extra space with these rustic shelves.
I feel like there are certain DIY projects that I must do to get out of my system and pipe shelves was one of those. I love the look of pipe in my home, like my copper pipe handrail!
They were pretty easy to assemble, but I was surprised at the cost. If you go to pay and feel bad about spending so much on a shelf, check out these from Anthropologie!
You just saved yourself a lot of cash! It's all about perspective! We changed the design a bit, to be ya know, functional. I mean, I know we all have jars of water with dead flowers in them to display, but I also need storage for towels and toilet paper.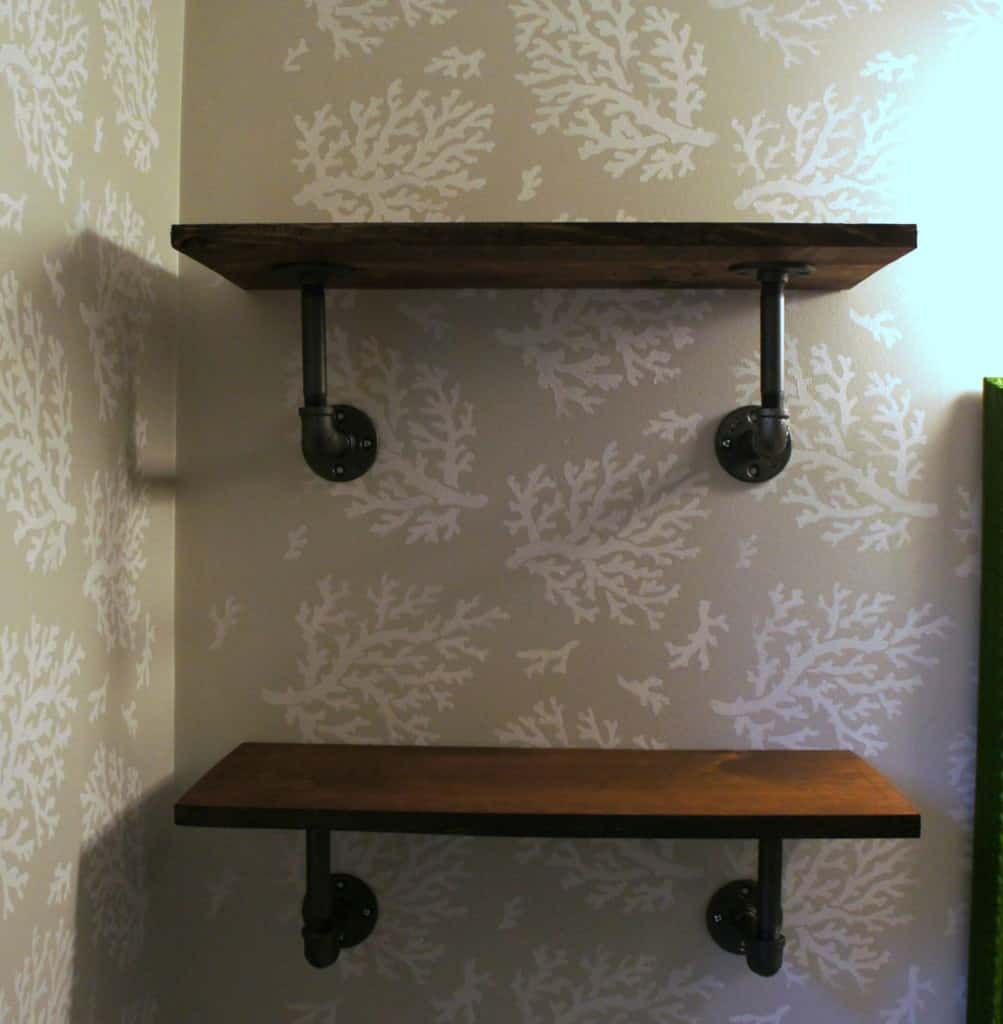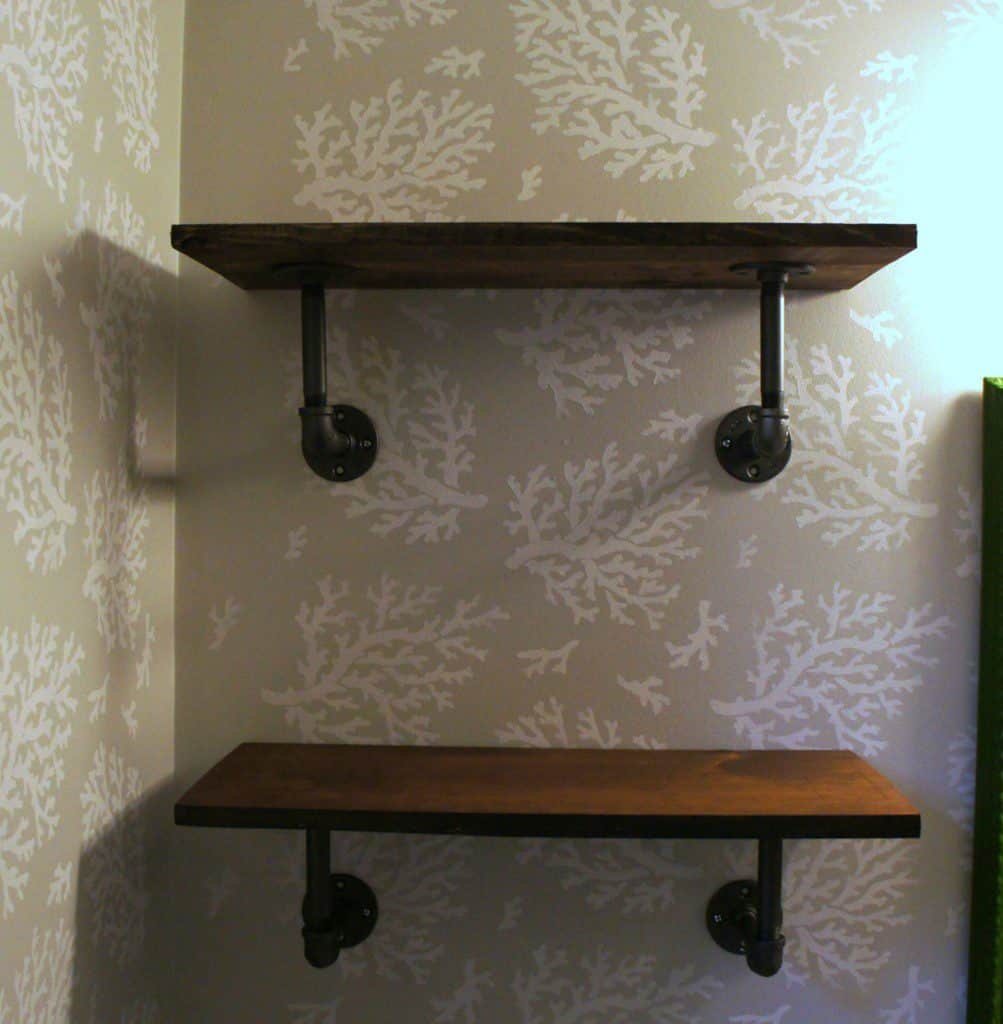 DIY Industrial Pipe Shelves FAQs
What kind of pipe is used for industrial shelving?
Galvanized pipe is used for industrial shelving. It's heavy-duty and makes great shelf brackets, plus it has a cool industrial look.
What kind of wood is used for shelves?
Standard pipe lumber can be used for shelves. We used a 1×12 for our shelves, but 2x12s can be used for a thicker shelf.
Keep in mind that 2x12s are generally pressure treated and cannot be stained for about 6 months until it dries out completely.
How much weight can a pipe shelf hold?
According to the internet, pipe shelves can hold 140 pounds.
For best results, don't place the brackets any farther than 16″ apart. Use wall anchors where necessary or make sure to install the pipes to studs in the walls
How do you keep metal pipes from rusting in a bathroom?
To keep metal pipes from rusting in a bathroom, the pipes must be sprayed with clear spray paint before installation. Apply several coats of spray paint for the best results.
You can also use black spray paint or a metallic color to change the color of the pipe.
How do you degrease metal pipes?
You can degrease metal pipes by washing them in hot water and dish detergent. Dawn dishwashing liquid does a great job of degreasing the metal pipes.
Let the pipes dry completely and seal them with clear spray paint.
How far apart do you hang shelves?
Shelves should be hung a minimum of 12″ apart. We hung our shelves about 18 inches apart to accommodate the pipes.
How to Build Industrial Pipe Shelves
Supplies: (per shelf: 2 brackets per shelf)
Wood for shelves (I used 1 x 12's. The wood needs to be at least 8″ wide)
Wood stain
Wall anchors (I like these because they're so easy to use)
Laser level or level
Hammer
Drill
Screws
Dawn dish detergent
The pipes can easily be found in the plumbing section of your local Lowes or Home Depot.
Prep Work for Using Galvanized Pipes
When you remove the pipe pieces from the packages, they are greasy and gross! Run a sink full of soapy water and wash each piece. Some have more grease than others and will need more soap to remove the grease. I like Dawn because it really does cut grease. Rinse and let dry.
The grease is to keep the pipes from rusting and you just removed that! So it's important to coat the pipes with something to keep them nice and clean. I spray-painted mine with metallic spray paint because it's very similar to the original color. (Also my hardware store was missing ONE stinking piece that I needed so I had to buy it in silver. Spray paint made all of the pieces match.)

While the spray paint is drying, cut your wood to length and stain it. I used a combination of stains to get a pretty color. This was my trick to avoid going to the store.
Installing the Pipe Brackets
When the pipes are dry, assemble the brackets into L pieces. Leave a flange off of each bracket (it's easier to just install the flanges first and then screw the rest of it on). This part was so easy that I had my son do it. He finished in less than 5 minutes.
Use the stud finder to see if there are studs where you want to place your brackets. My wall had none in convenient places, so we needed anchors.

We used a laser level and lined up a flange on the wall. We marked where the holes needed to go and installed the anchors. These are so easy. You hammer them in a tiny bit and then use a drill to screw them in the rest of the way. No pre-drilling is needed! We only used 2 anchors per bracket and chose to install them on the horizontal axis of the flange to distribute the weight evenly. 

Then we replaced the flange on the wall and screwed it into the wall with the anchors.

We repeated steps 6 and 7 until all of the anchors and flanges were installed. Then we installed the bracket parts. Note! Be sure to leave enough room between the wall and the bracket for maneuvering the bracket. Luckily there are so many pieces that you have plenty of room for error.

If you install 2 shelves, make sure that you leave plenty of space between each shelf. We left 12″ between the wood on the bottom shelf and where the brackets begin for the top shelf. This gave us almost 18 inches of space between the industrial pipe shelves. It seems like a lot, but it will nice to have plenty of room.
Place the shelf on the brackets and screw it into place, using short screws so that it doesn't puncture the wood.
Ta-da! You have amazing industrial pipe shelves!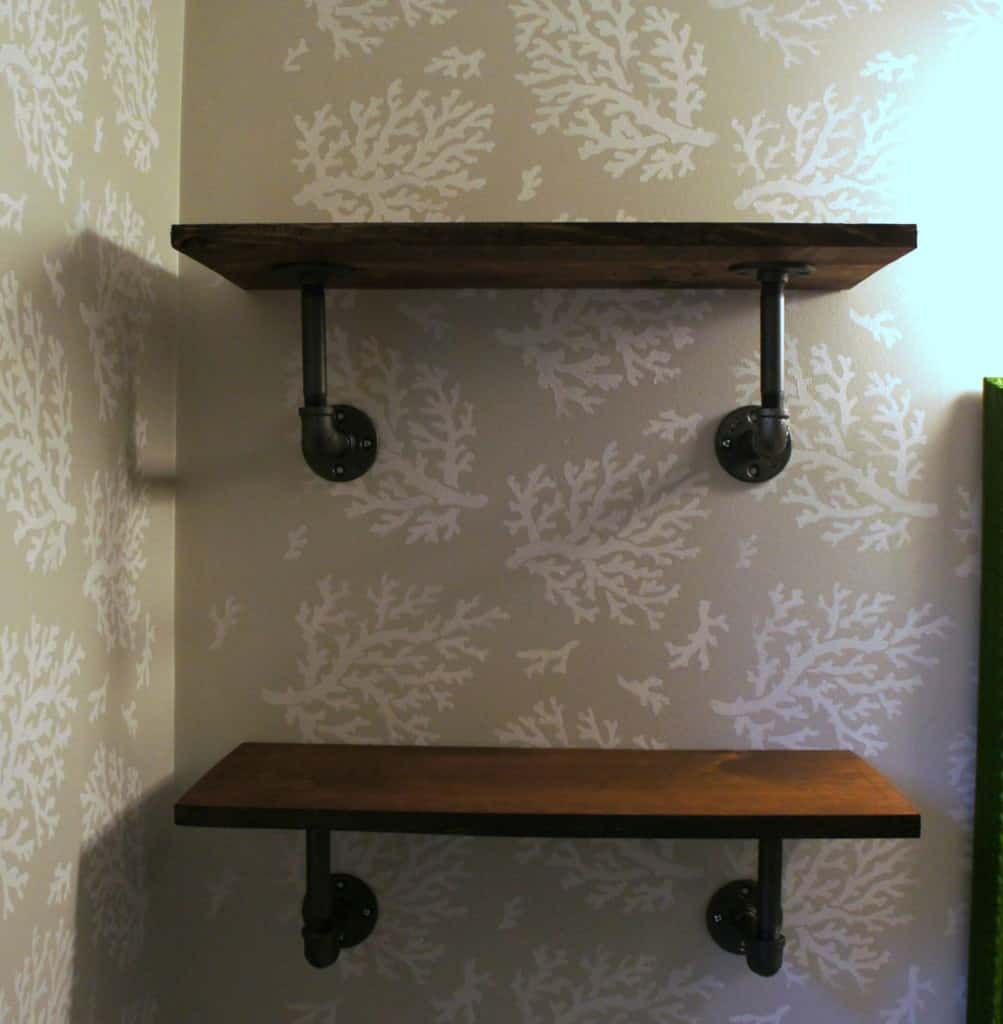 Pin for Later!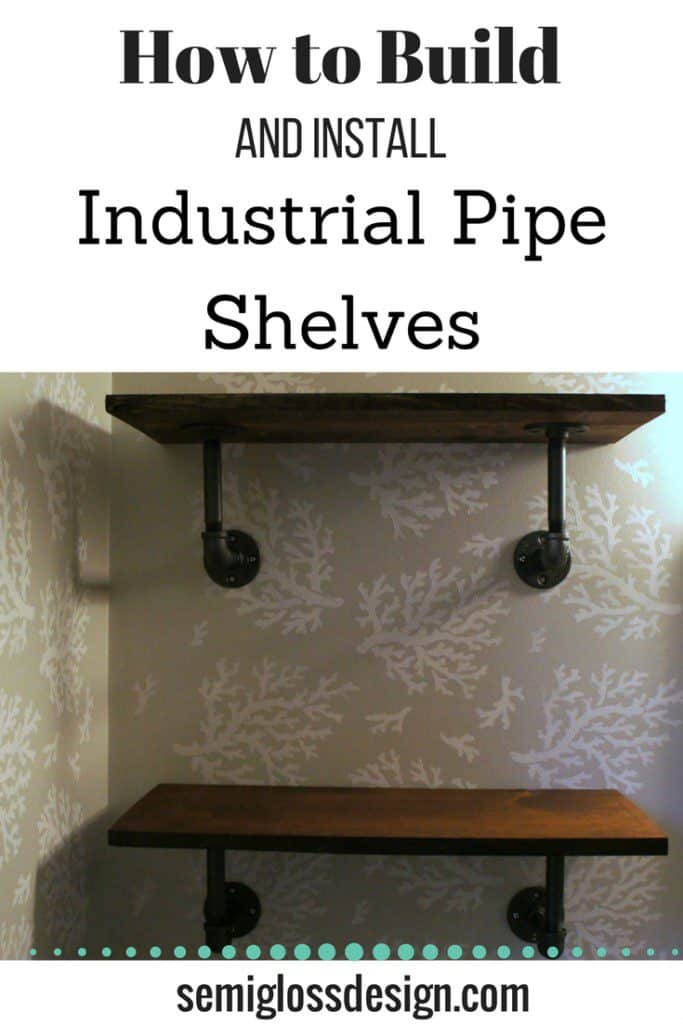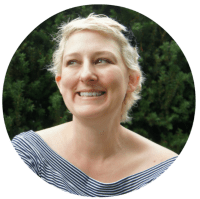 Emy is a vintage obsessed mama of 2 DIYer who loves sharing affordable solutions for common home problems. You don't need a giant budget to create a lovely home. Read more…