It's week 5 of the One Room Challenge and the end is in sight. I've been revamping my main floor bathroom and it's almost done. The final items came in the mail today and just need to be installed. I'm ready for this bathroom to be done so that I can relax work on another bathroom. Haha! This week my husband helped me install the industrial pipe shelves that I love so much.
I feel like there are certain DIY projects that I must do to get out of my system and pipe shelves was one of those. They were pretty easy to assemble, but I was surprised at the cost. If you go to pay and feel bad about spending so much on a shelf, check out these from Anthropologie! You just saved yourself a lot of cash! It's all about perspective! We changed the design a bit, to be ya know, functional. I mean, I know we all have jars of water with dead flowers in them to display, but I also need a place for towels.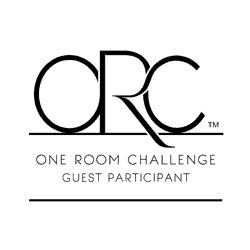 Catch up here:
Week 1 | Week 2 | Week 3 | Week 4
I've only strayed from this a little. The room is looking pretty much like this at the moment: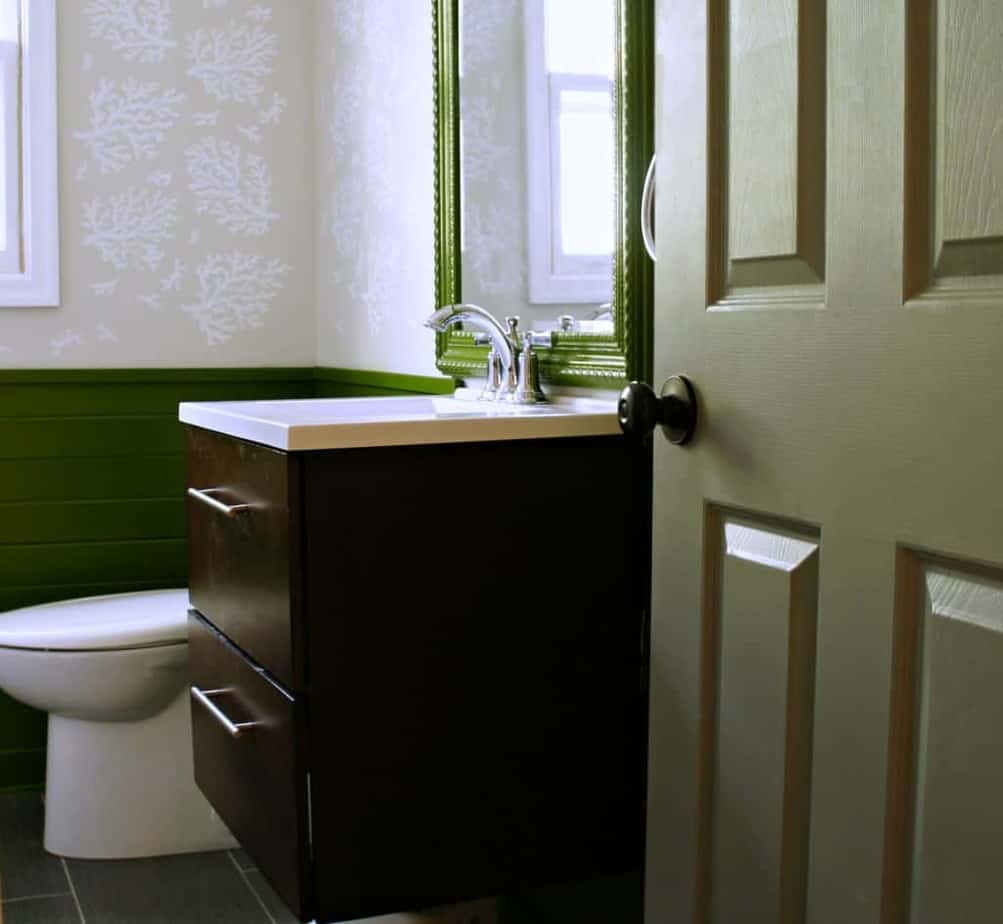 Except, now there's pipe shelves installed. Let's get to that fun project.
Supplies: (per shelf: 2 brackets per shelf)
Wood for shelves (I used 1 x 12's. The wood needs to be at least 8″ wide)
Wood stain
Wall anchors (I like these because they're so easy to use)
Laser level or level
Hammer
Drill
Screws
Dawn dish detergent
How to Build Industrial Pipe Shelves
When you take the pipe pieces out of the packages, they are greasy and gross! Run a sink full of soapy water and wash each piece. Some have more grease than others and will need more soap to remove the grease. I like Dawn because it really does cut grease. Rinse and let dry.
The grease is to keep the pipes from rusting and you just removed that! So it's important to coat the pipes with something to keep them nice and clean. I spray painted mine with metallic spray paint because it's very similar to the original color. (Also my hardware store was missing ONE stinking piece that I needed so I had to buy it in silver. Spray paint made all of the pieces match.)
While the spray paint is drying, cut your wood to length and stain it. I used a combination of stains to get a pretty color. This was my trick to avoid going to the store. There's a lot of that from me, lately.
When the pipes are dry, assemble the brackets into L pieces. Leave a flange off of each bracket (it's easier to just install the flanges first and then screw the rest of it on). This part was so easy that I had my son do it. He finished in less than 5 minutes.
Use the stud finder to see if there are studs where you want to place your brackets. My wall had none in convenient places, so we needed anchors.
We used a laser level and lined up a flange on the wall. We marked where the holes needed to go and installed the anchors. These are so easy. You hammer them in a tiny bit and then use a drill to screw them in the rest of the way. No pre-drilling needed! We only used 2 anchors per bracket and chose to install them on the horizontal axis of the flange to distribute the weight evenly.
Then we replaced the flange on the wall and screwed it into the wall with the anchors.
We repeated steps 6 and 7 until all of the anchors and flanges were installed. Then we installed the bracket parts. Note! Be sure to leave enough room between the wall and the bracket for maneuvering the bracket. Luckily there are so many pieces that you have plenty of room for error.
If you install 2 shelves, make sure that you leave plenty of space between each shelf. We left 12″ between the wood on the bottom shelf and where the brackets begin for the top shelf. This gave us almost 18 inches of space between the industrial pipe shelves. It seems like a lot, but it will nice to have a plenty of room.
Place the shelf on the brackets and screw it into place, using short screws so that it doesn't puncture the wood.
Ta da! You have amazing industrial pipe shelves!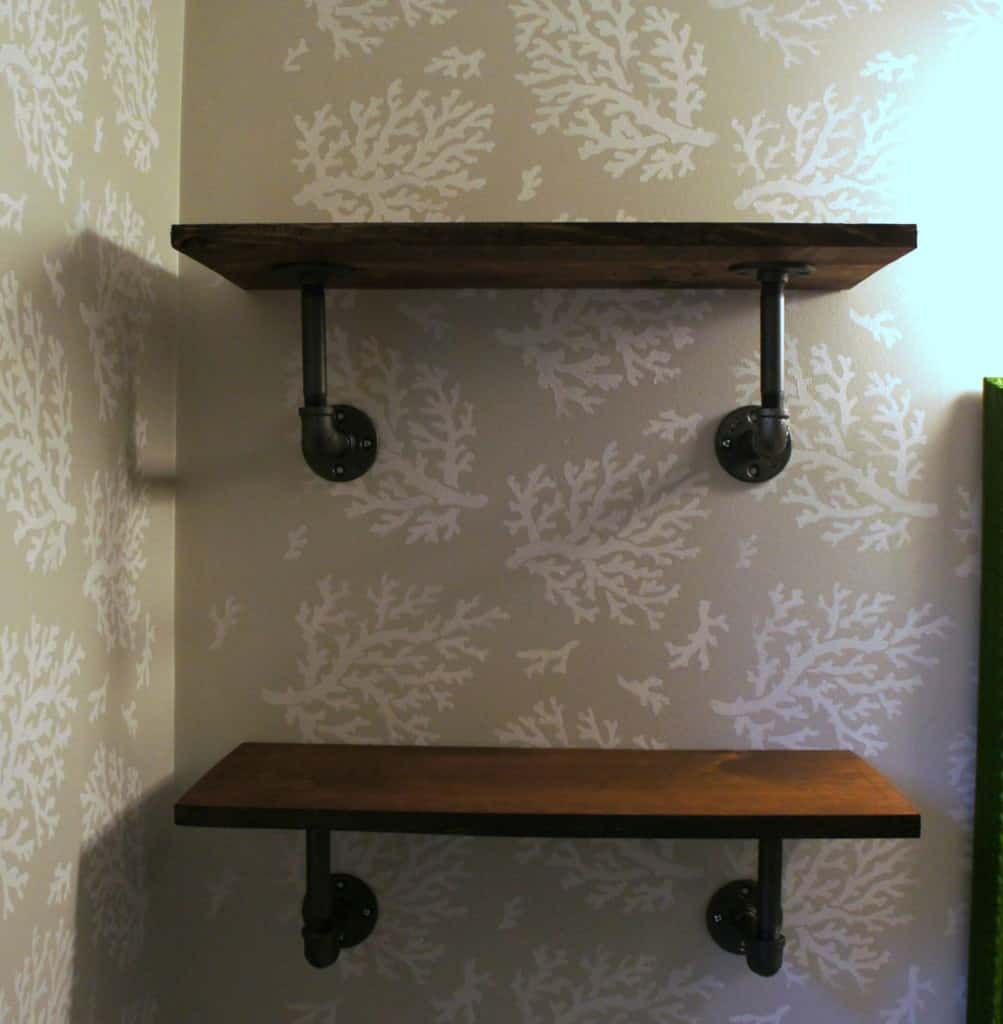 Be sure to check out the One Room Challenge participants and the 200+ linking participants! It's starting to get so good! I can't wait for next week!!
Follow along on instagram for behind the scene sneak peeks! And occasional fall foliage pictures.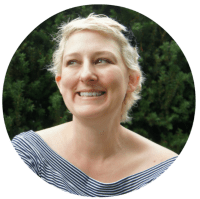 Emy is a vintage obsessed mama of 2 DIYer who loves sharing affordable solutions for common home problems. You don't need a giant budget to create a lovely home. Read more…