Home Tour: Before and After
The beginning of June marked our 2 year anniversary of living in our current house. The road to this point was a long one. We had lived in a townhouse for 6 years and knew that it was time to move to somewhere with more land. We knew that we would be uprooting the kids, but it still felt worth it. The neighborhood that we previously lived in was very beautiful. I loved the pond and sidewalks that provided a lovely place to run. I miss that part of it the most.
We looked at a variety of houses before coming to this one. My favorites were the mid century ones. To me, they are the ones that "got away." Almost all of the houses we looked at were in this area of town. It's rural, but still close enough to the city that we don't feel isolated.
I thought it would be fun to do a before and after of our house. All of the before pictures were taken with the previous owner's stuff in them. They had lovely taste, but our style is very different.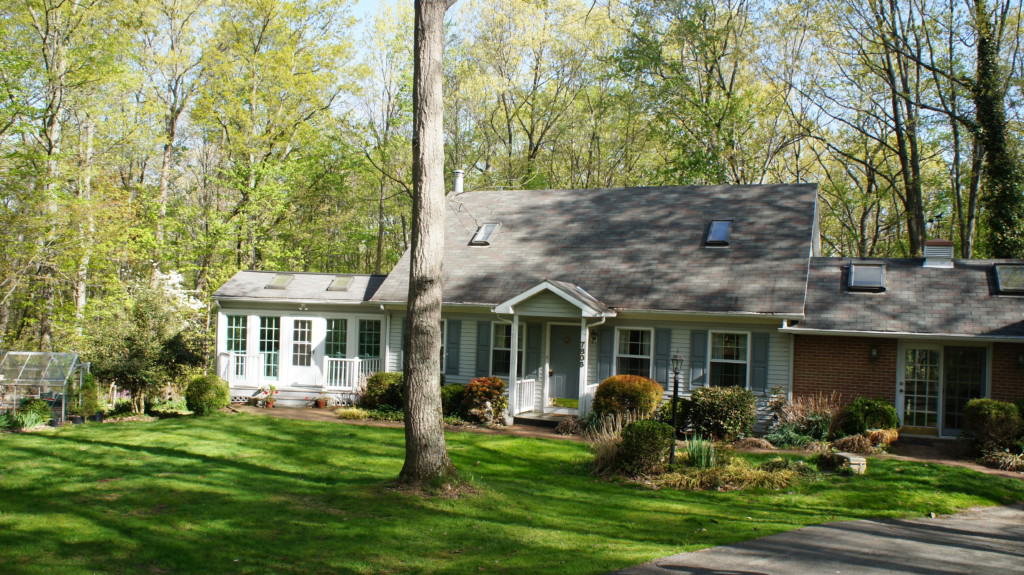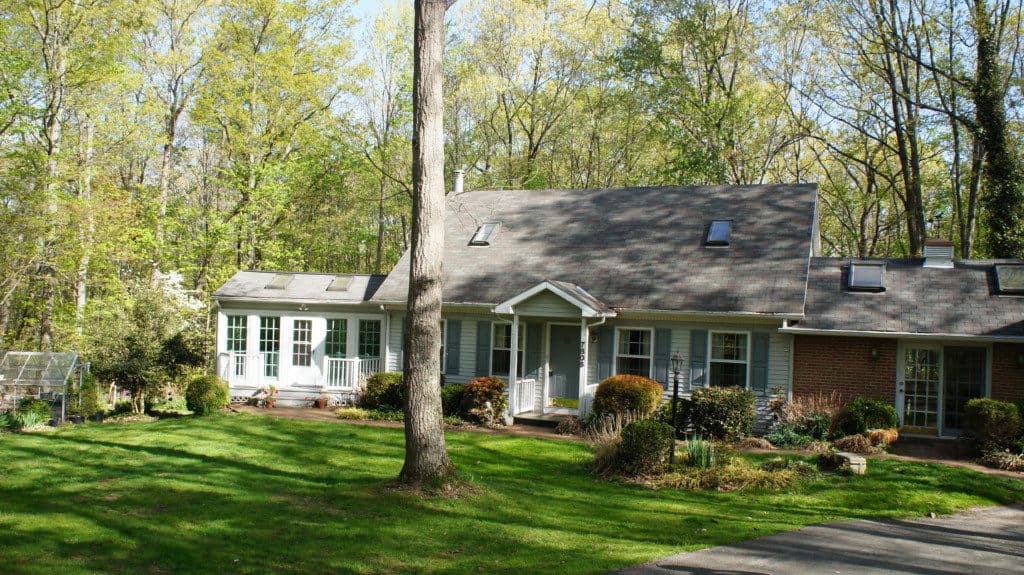 The house itself is very pretty and we were instantly smitten. One walk through the backyard and we were hopelessly in love. We've cleared out a lot of the bigger plants to simplify the house. I've painted the doors (the shutters still need to be replaced or painted.) The brass door plates were removed to avoid harassment from insane cardinals who were constantly knocking on the door or dive-bombing the house.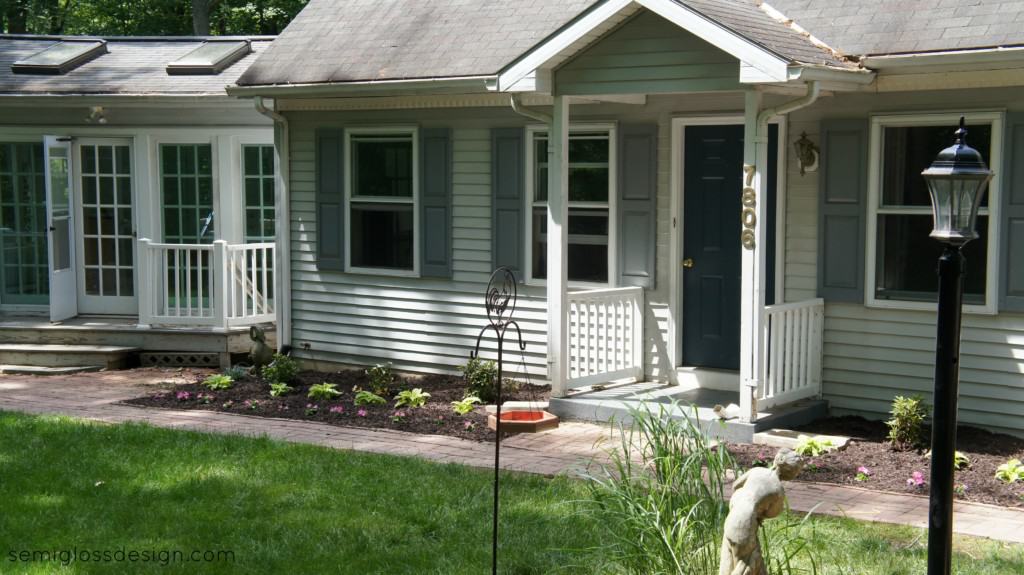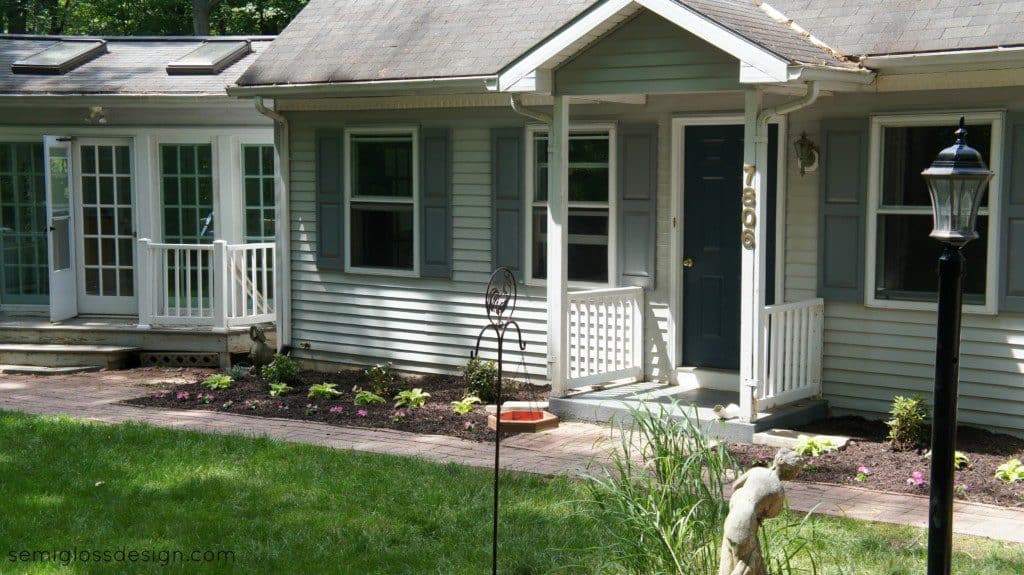 The First Floor
The Living Room BEFORE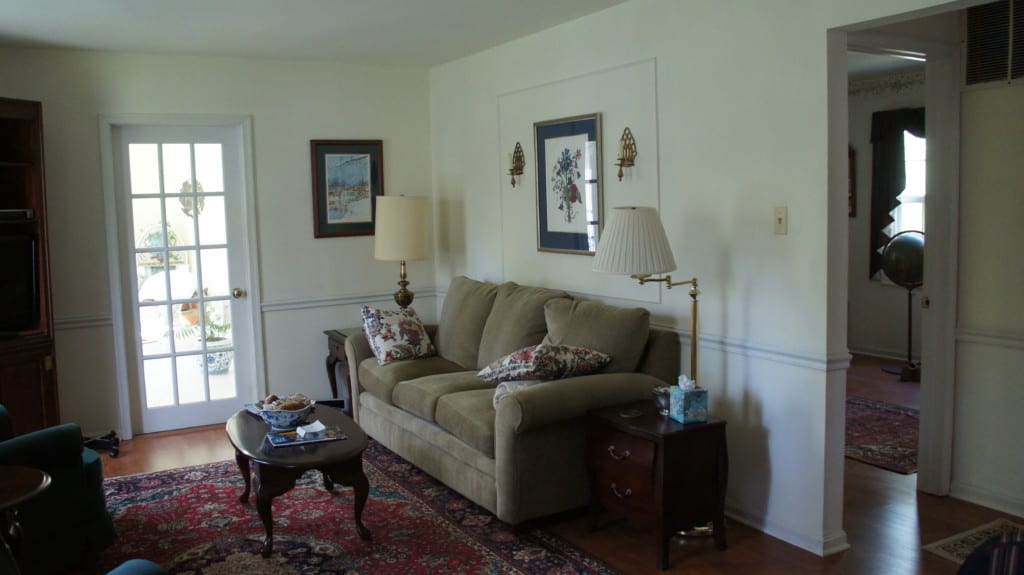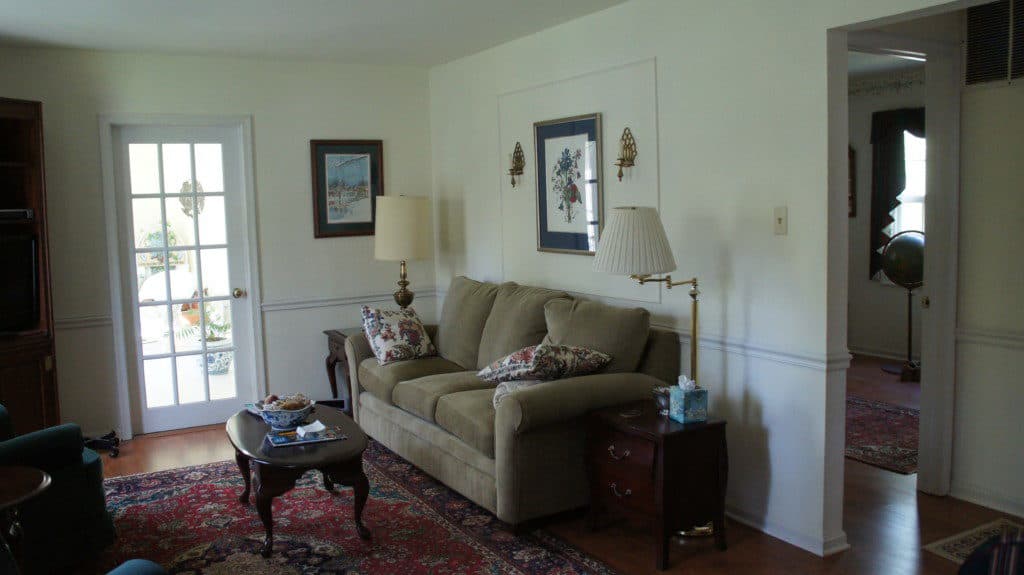 I removed the picture moldings and painted the top halves of the walls a lovely aqua (Benjamin Moore Galt Blue.)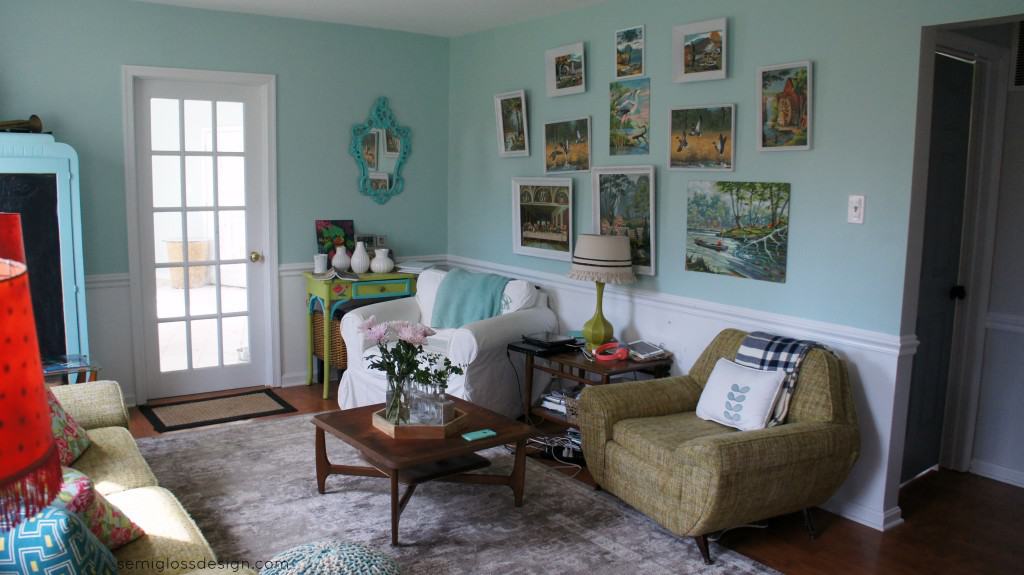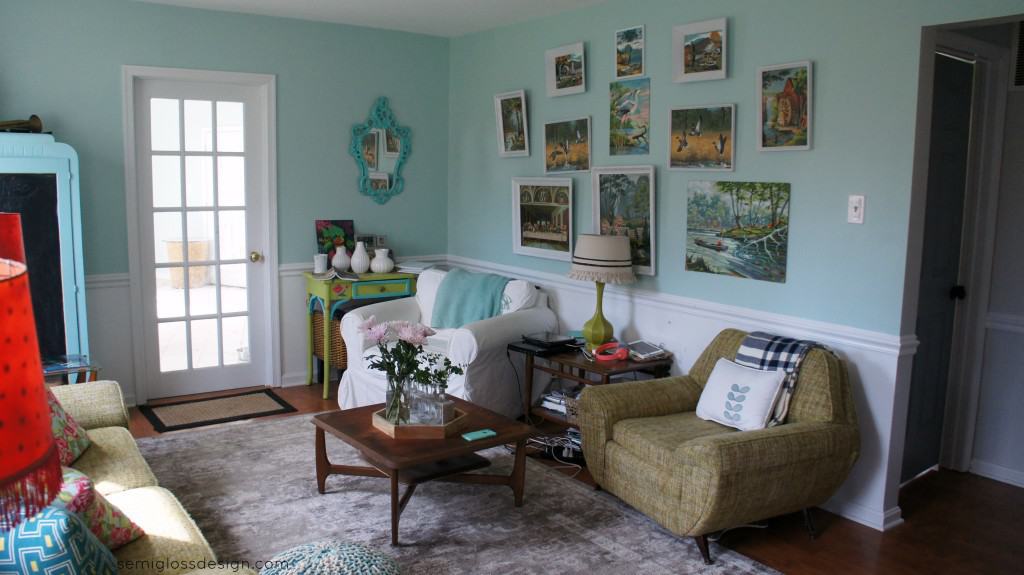 A collection of paint by numbers now hangs in here. Most of my furniture is vintage, either thrifted or from craigslist. The sofa and green chair will be recovered one day. The white IKEA chair will be replaced in the very near future. The aqua cabinet in the corner holds linens. This whole room will be getting an update in the nearish future. Some of the furniture will move to accommodate other pieces that need to moved. The French door takes you into the sunroom.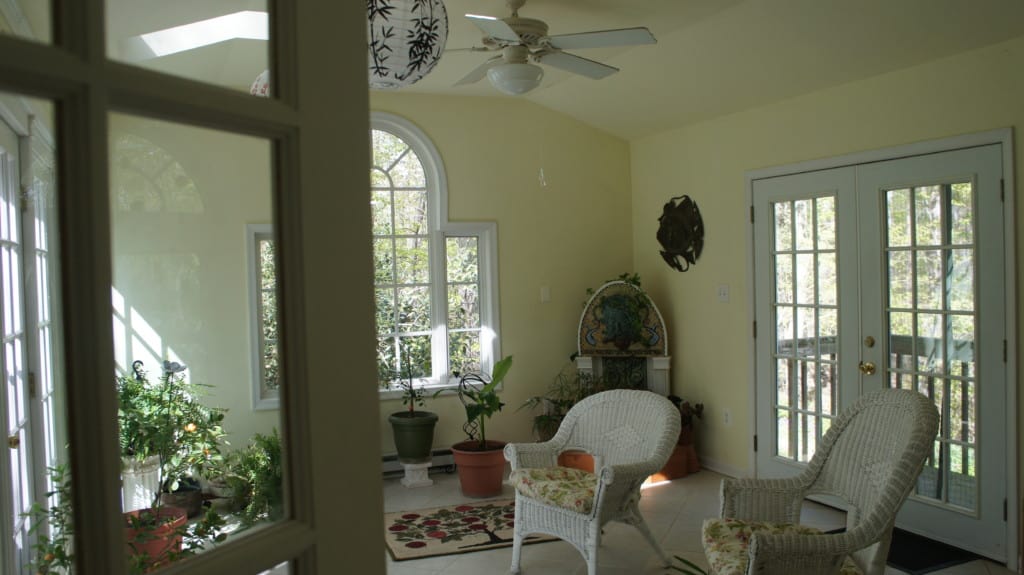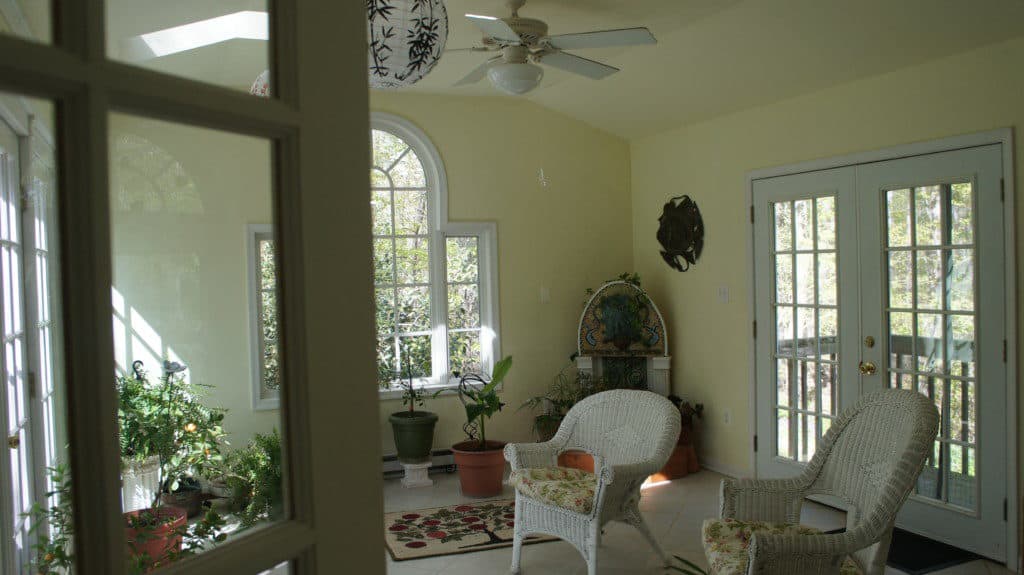 Sunroom BEFORE
Sunroom DURING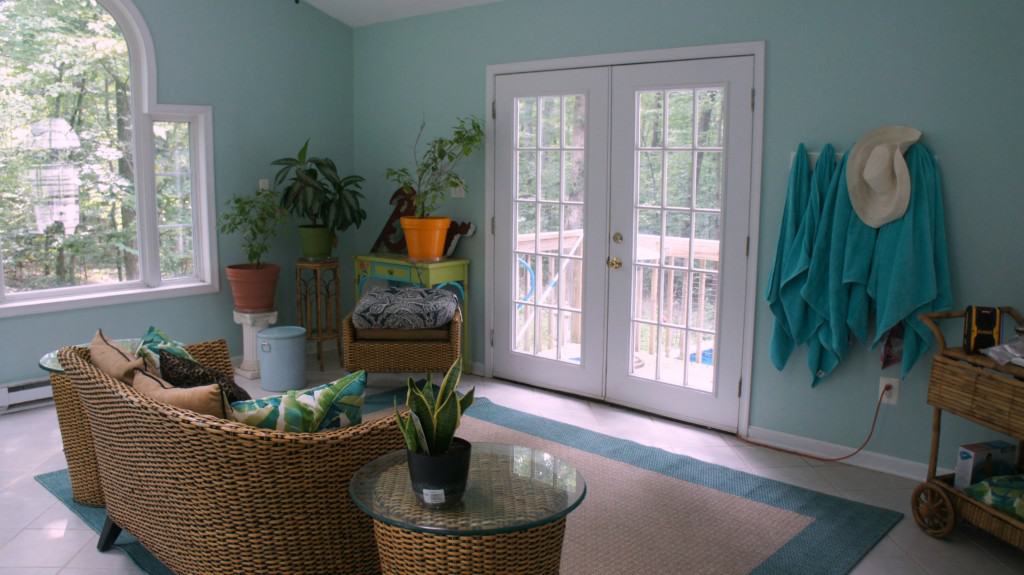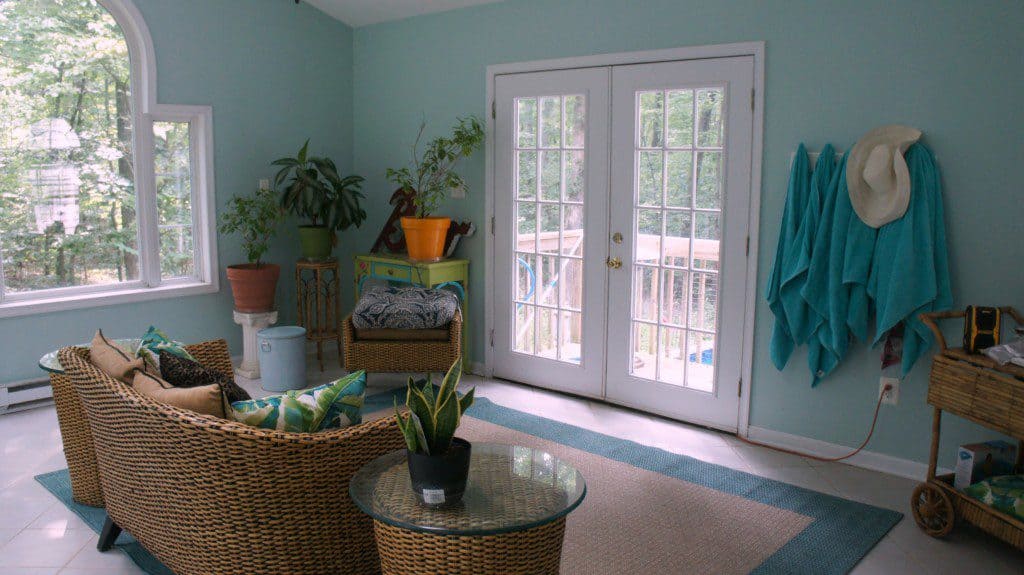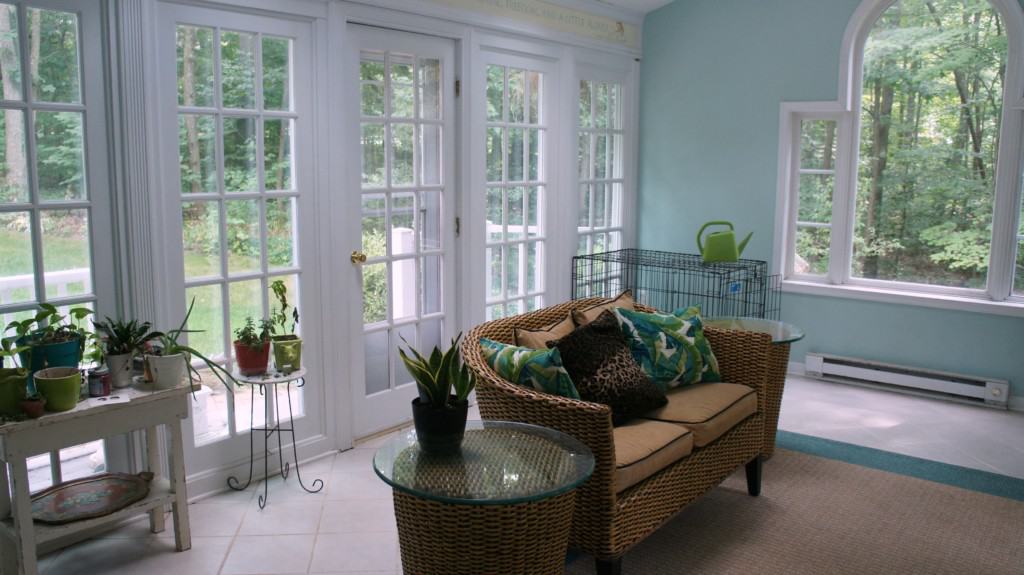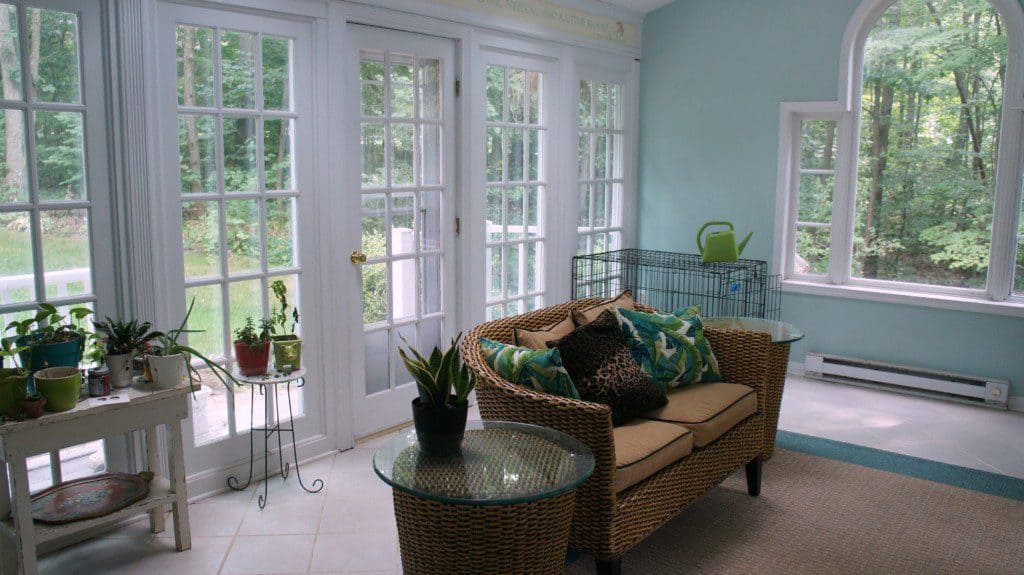 This room needs a ton of work still. The dog damaged the drywall in several areas and they are in the process of being repaired. Also, I'm not sure the grout was ever sealed. This is after cleaning it for several hours. I'm going to just use that grout paint stuff. The room will be repainted, but I haven't figured out what color yet.
At my children's insistence, I kept the quote that was painted above the windows.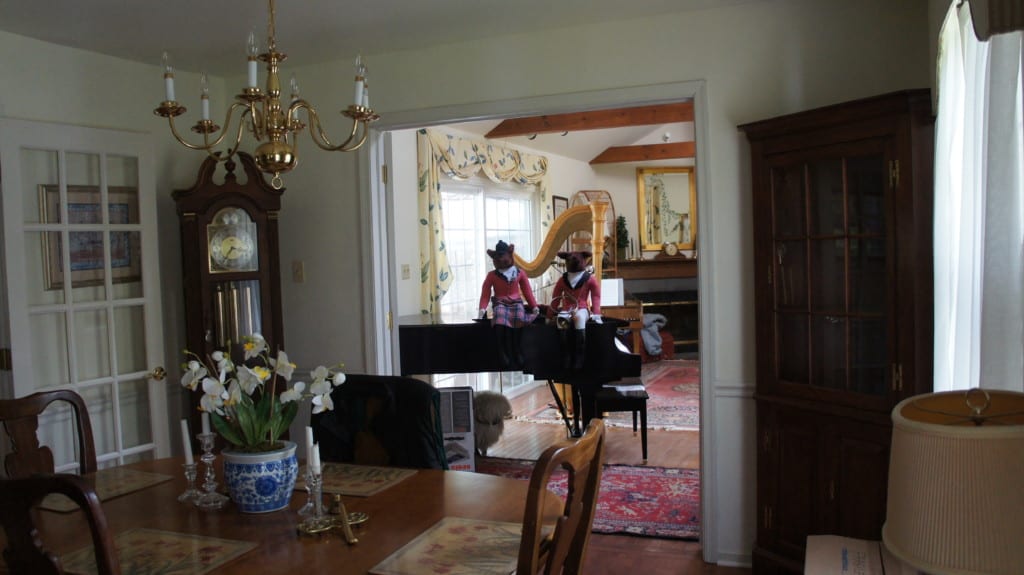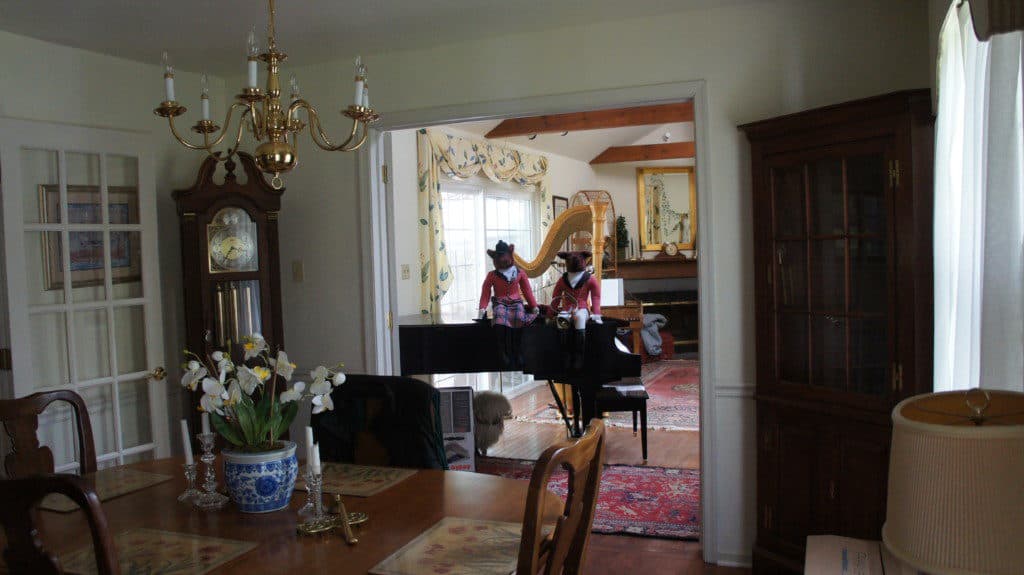 Dining Room BEFORE (And also a look into the family room.)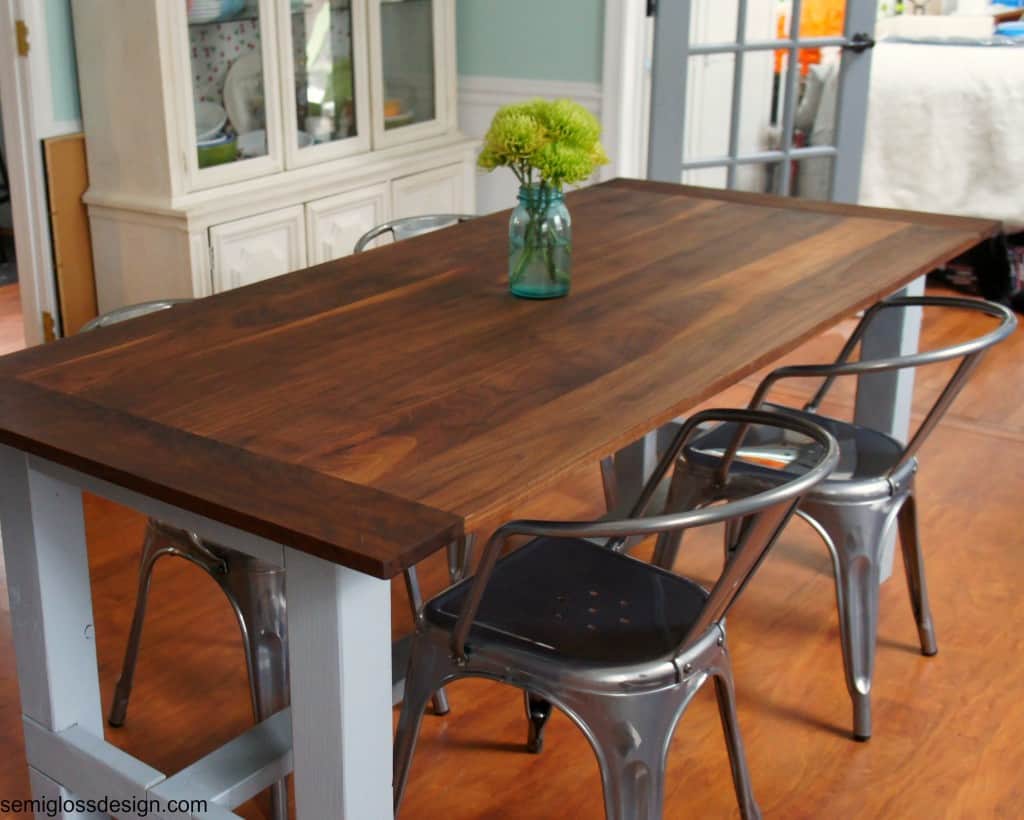 Dining Room AFTER.
We replaced the light fixture with my vintage tole chandelier that I bought in Italy. It's one of my prized possessions. My husband made the table and the chairs are from Target. This room will have some small changes coming. The china cabinet will be moved to knock out that wall for the fridge. This will cause other pieces to be moved as well.
Another family room BEFORE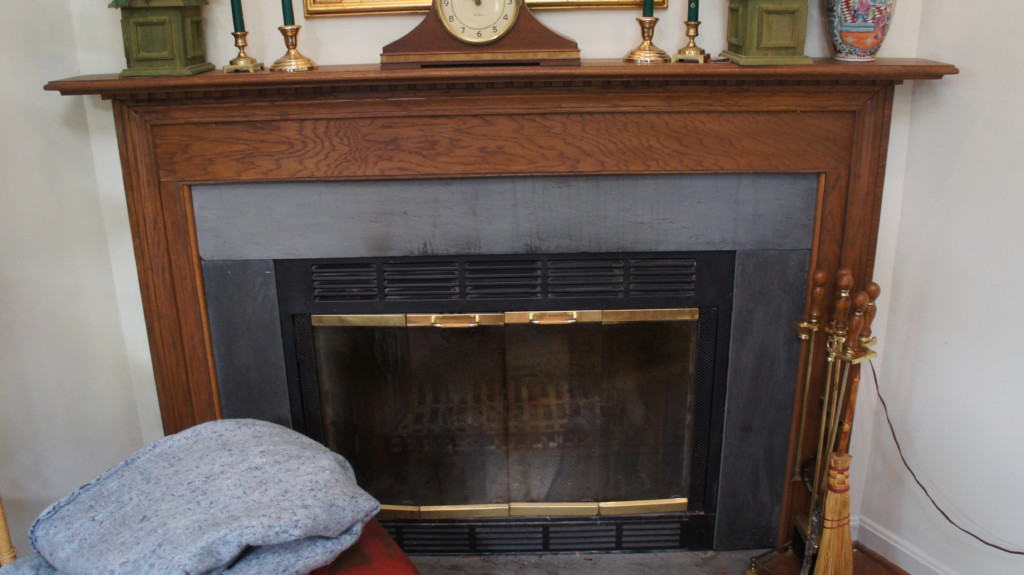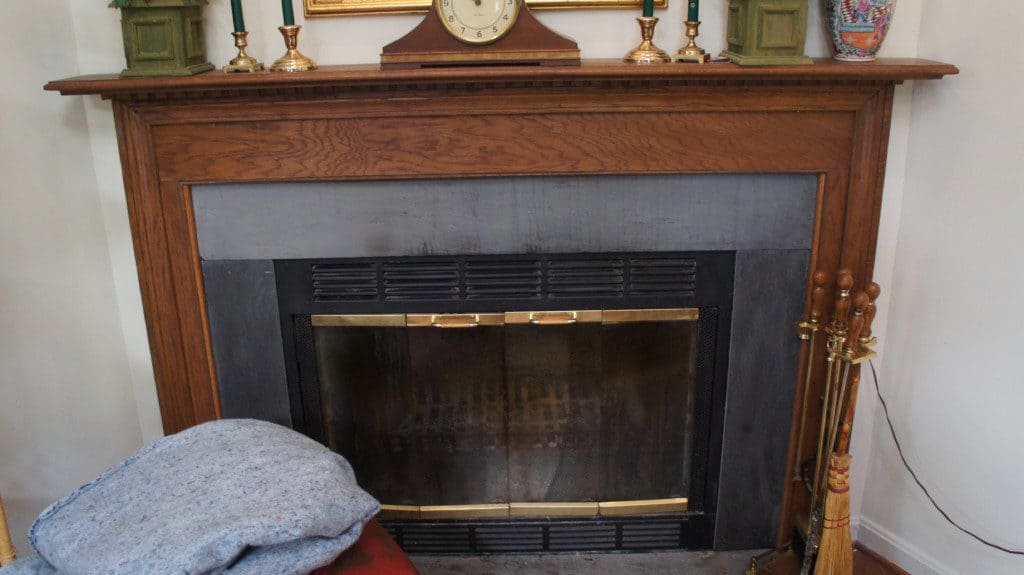 Family room DURING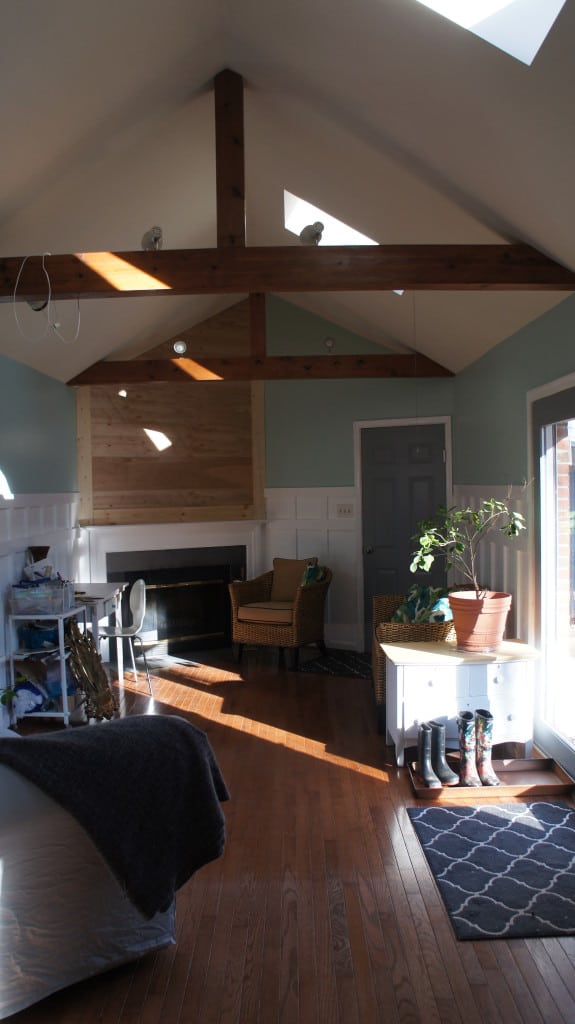 This room is hard because it's so narrow and has doorways that dissect it. It is normally a junk room. One day I hope it's beautiful AND used. Right now, it's not. It doesn't look like this right now. Most of this stuff has been moved to other rooms and it is currently holding 4 chairs that are patiently waiting to be recovered.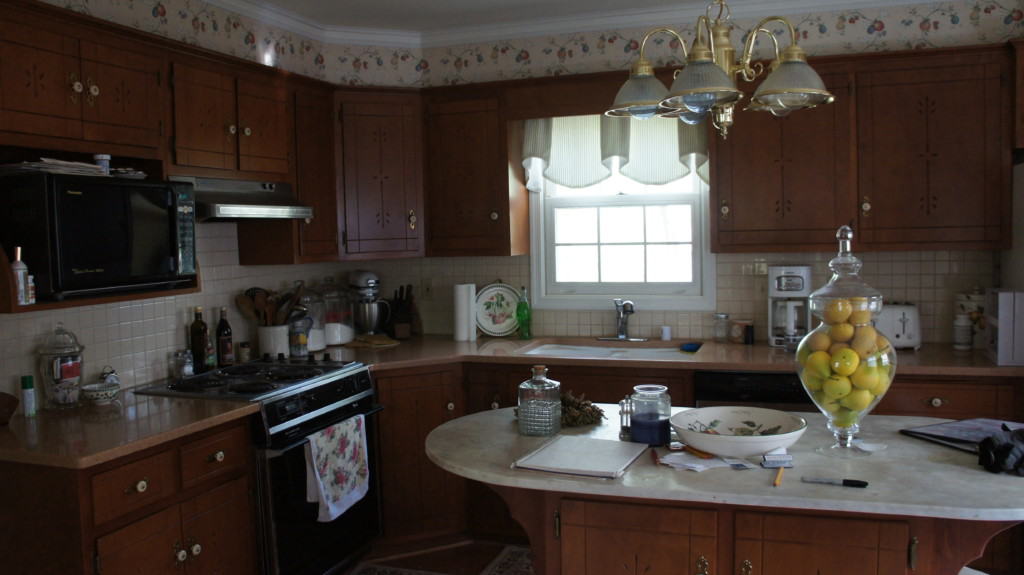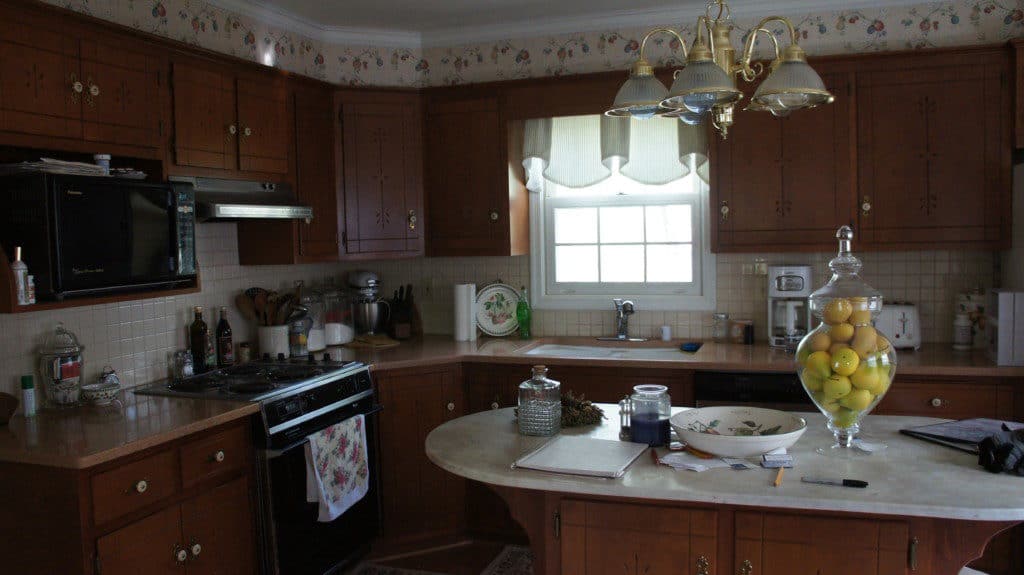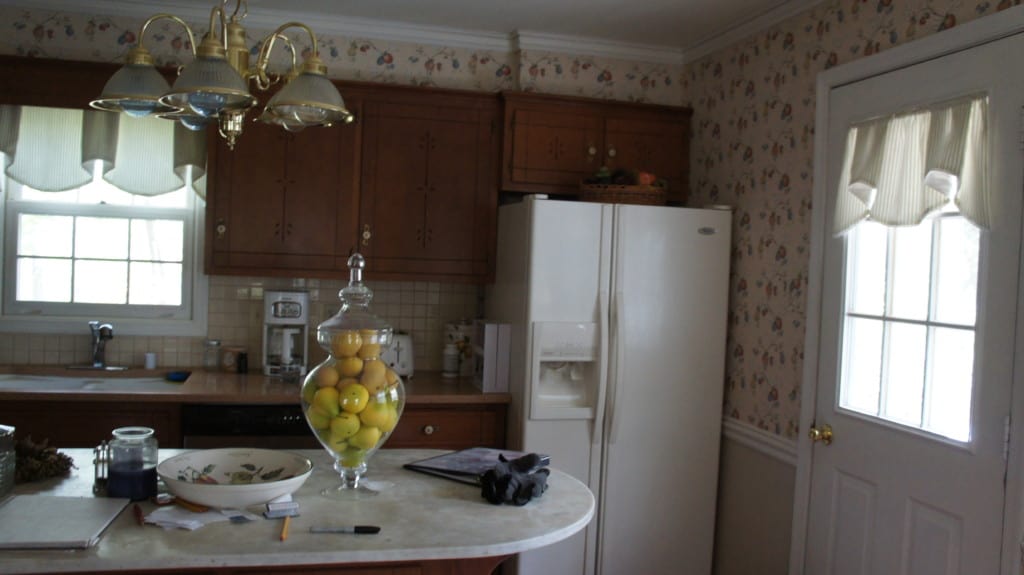 Kitchen BEFORE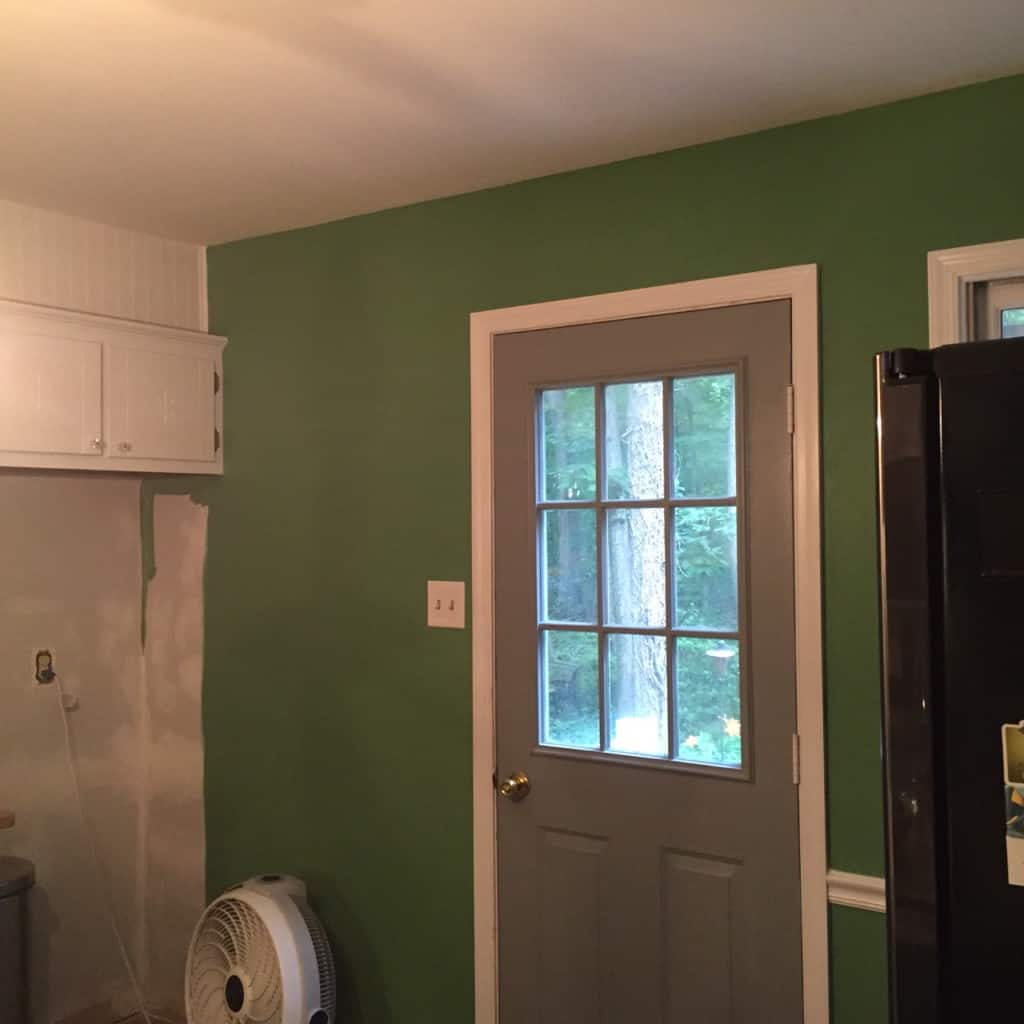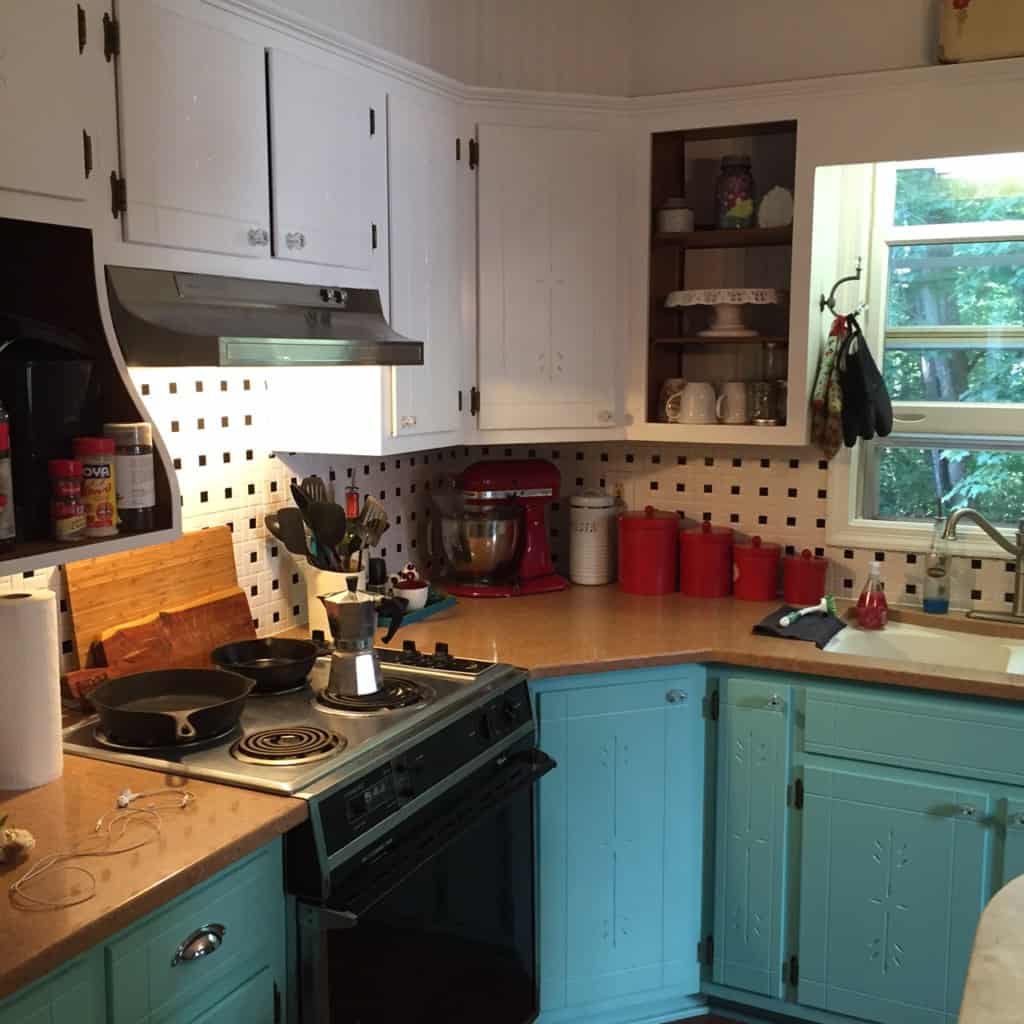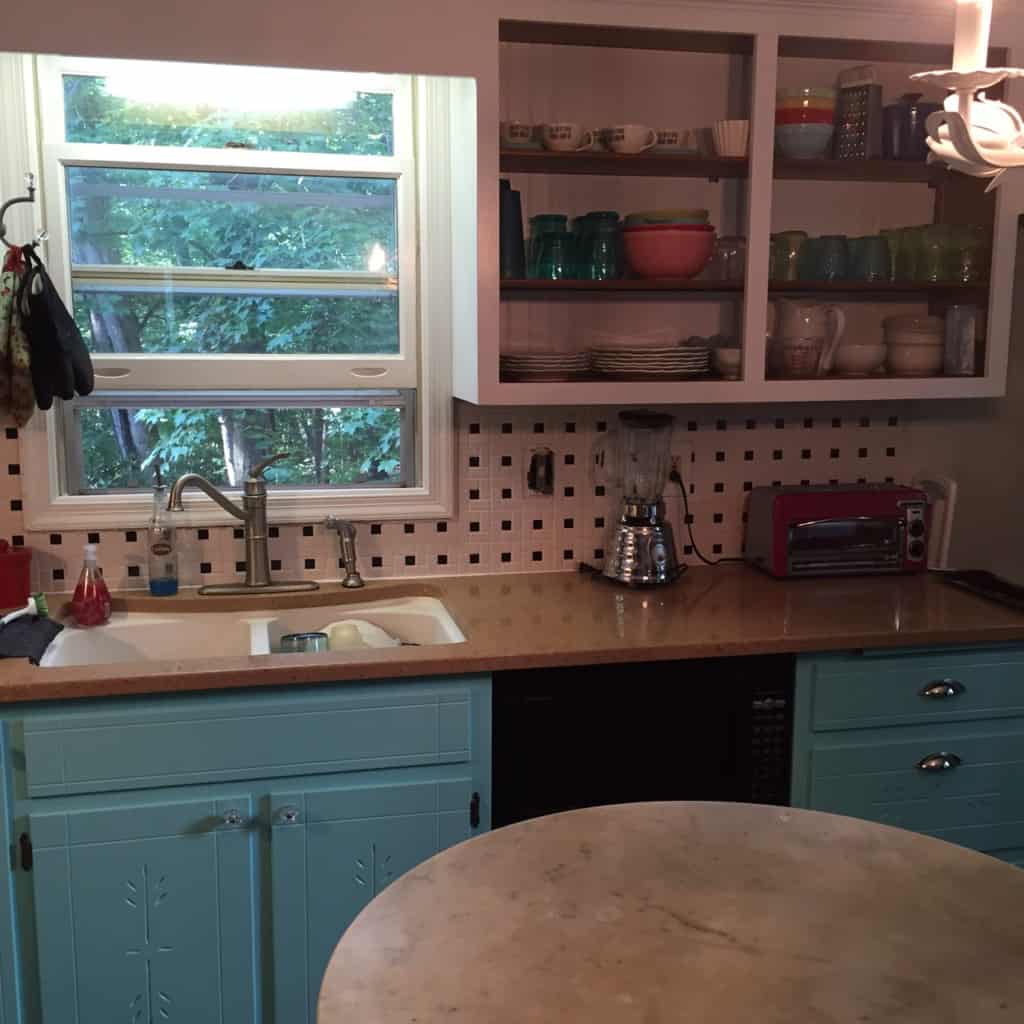 Kitchen DURING
I am currently doing a RE-Refresh if you will. I spent countless hours removing that wallpaper (5 layers total!!), priming and painting the cabinets and walls to give it a fresher, lighter feel. It is definitely a happy place, but it doesn't fit my overall vibe that I want for the house, so it's getting refreshed again. I'm adding built in storage and the bottom cabinets will eventually be painted gray. I removed the old backsplash and replaced it with a cute white and black one.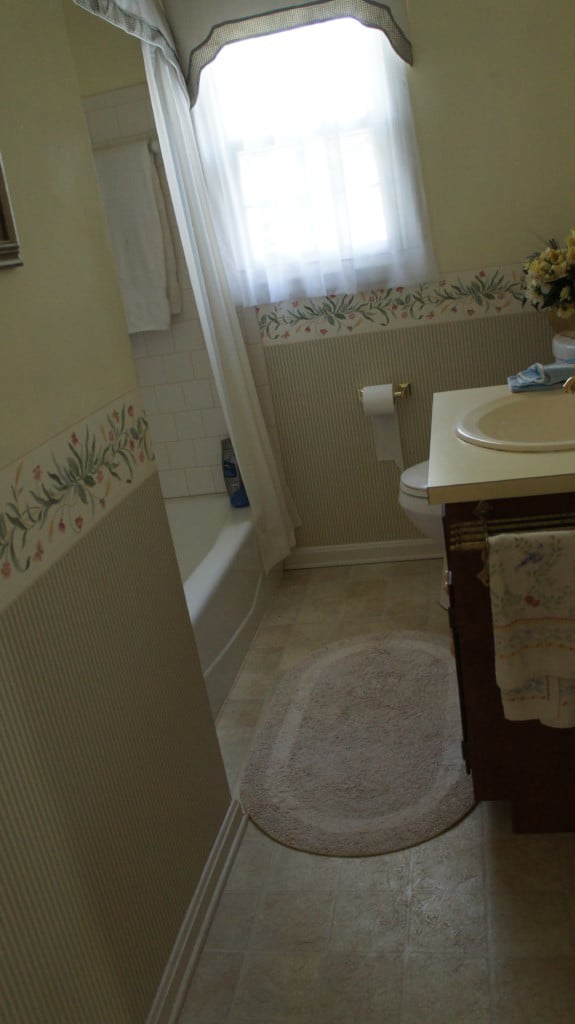 First floor bathroom BEFORE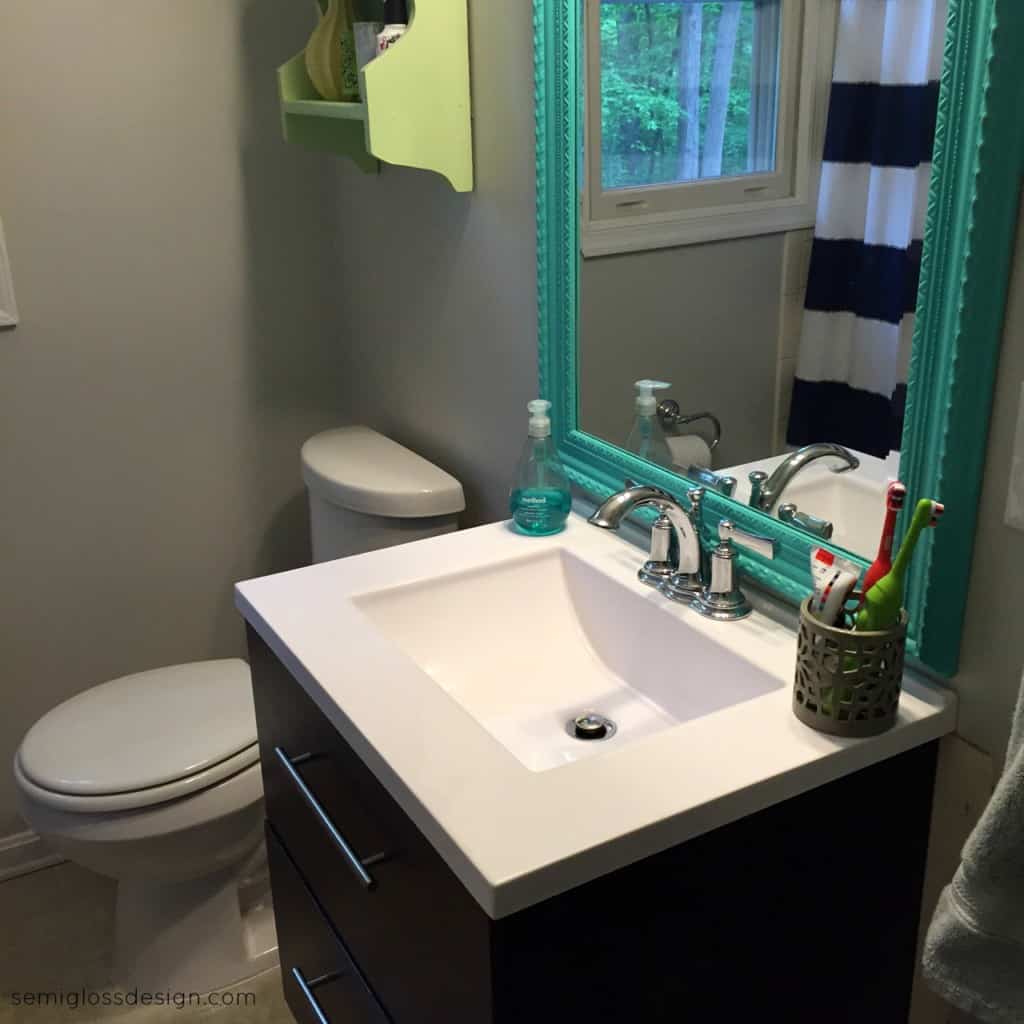 First floor bathroom DURING
I removed all of the wallpaper and painted the room in Benjamin Moore Wickham Gray. We recently replaced the vanity and faucet, which means the floor is next.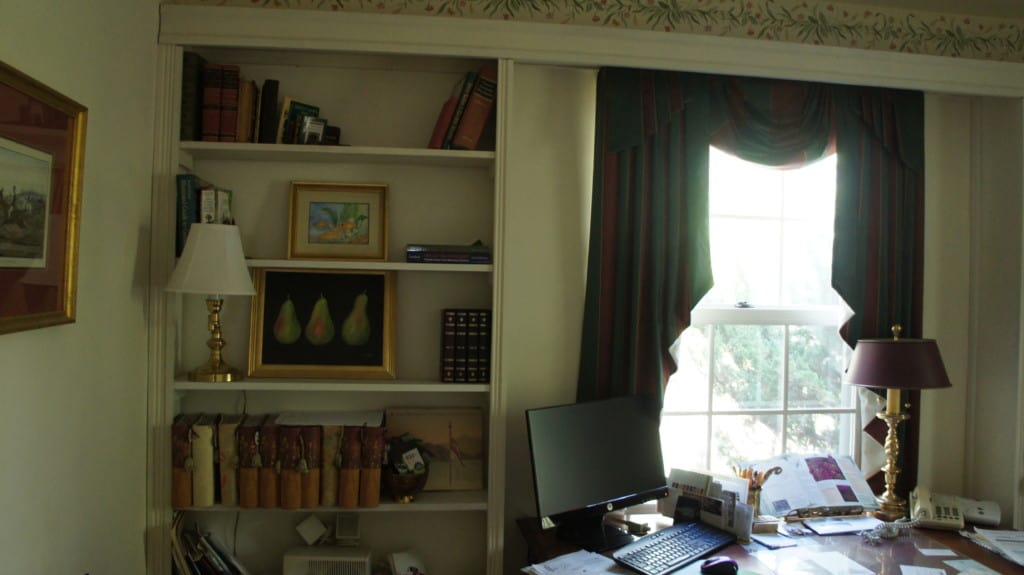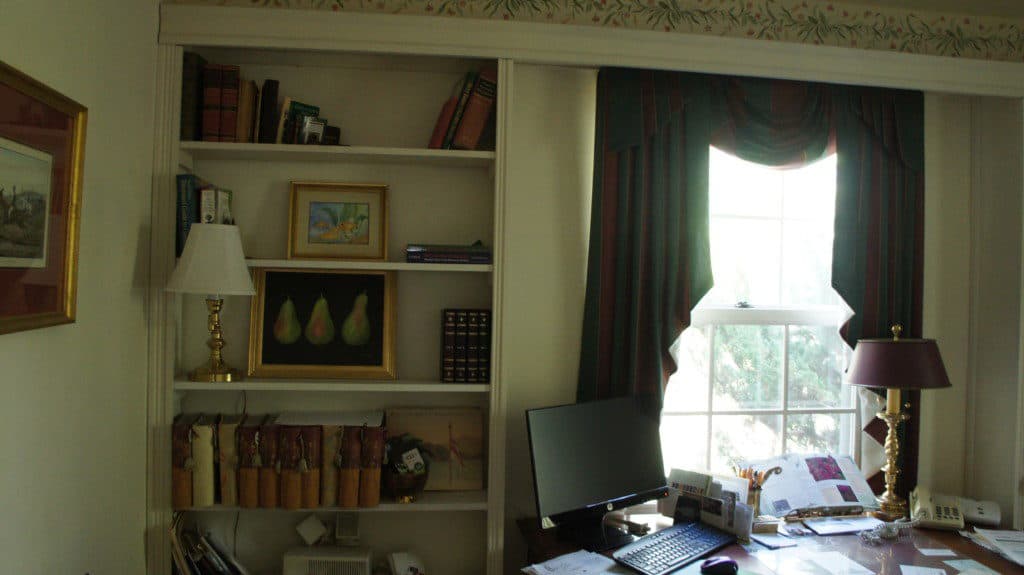 Office BEFORE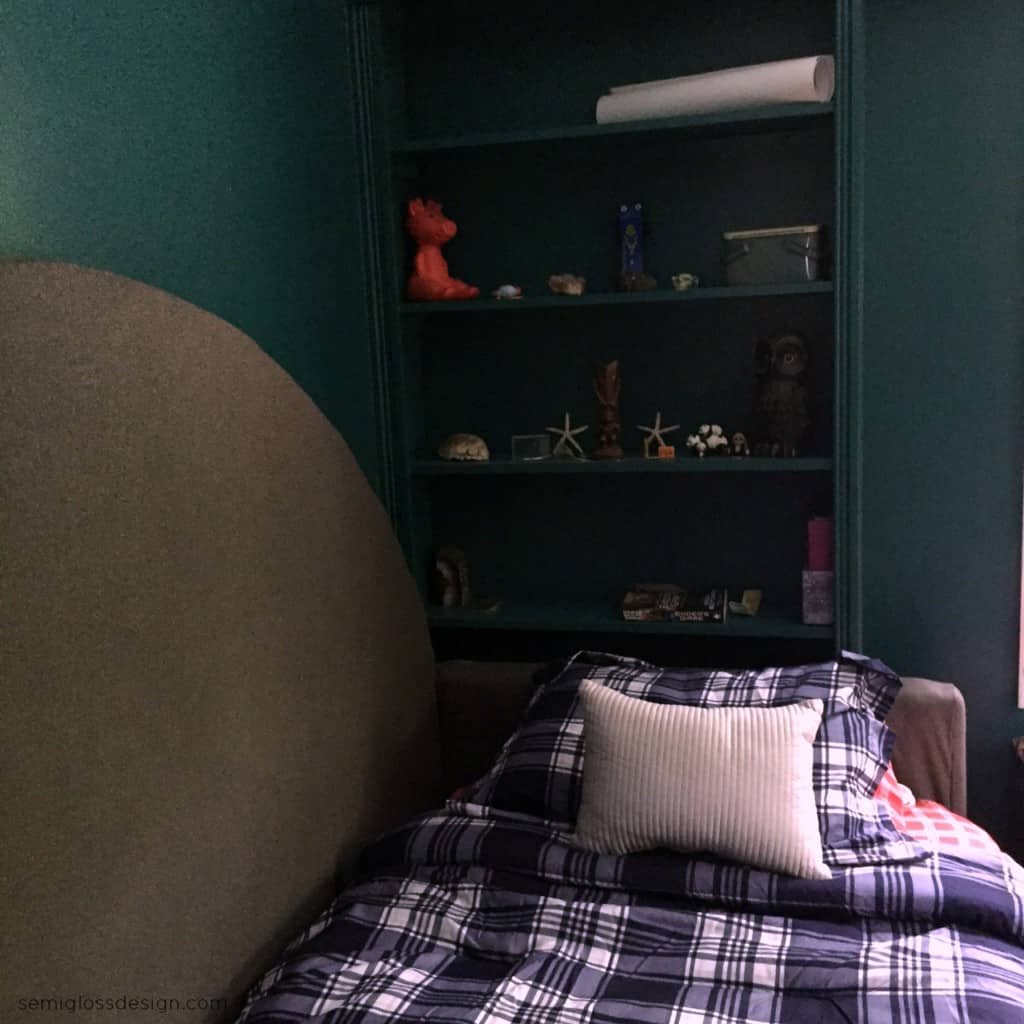 Son's bedroom DURING
Another room that isn't finished. Are you sensing a trend? This room was painted in Behr Billards, which is such an amazing color. It's a cozy space for a tween boy.
Backyard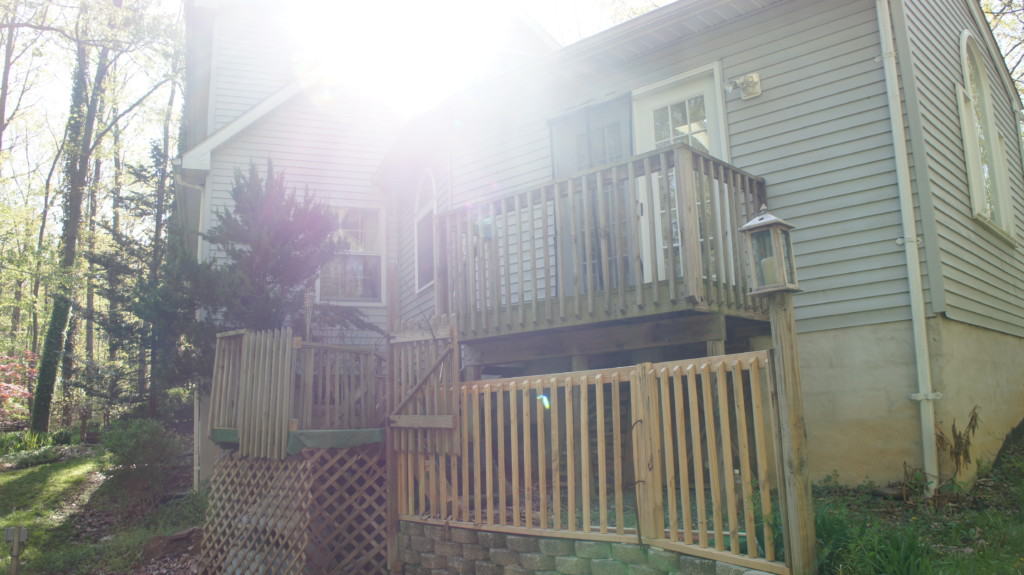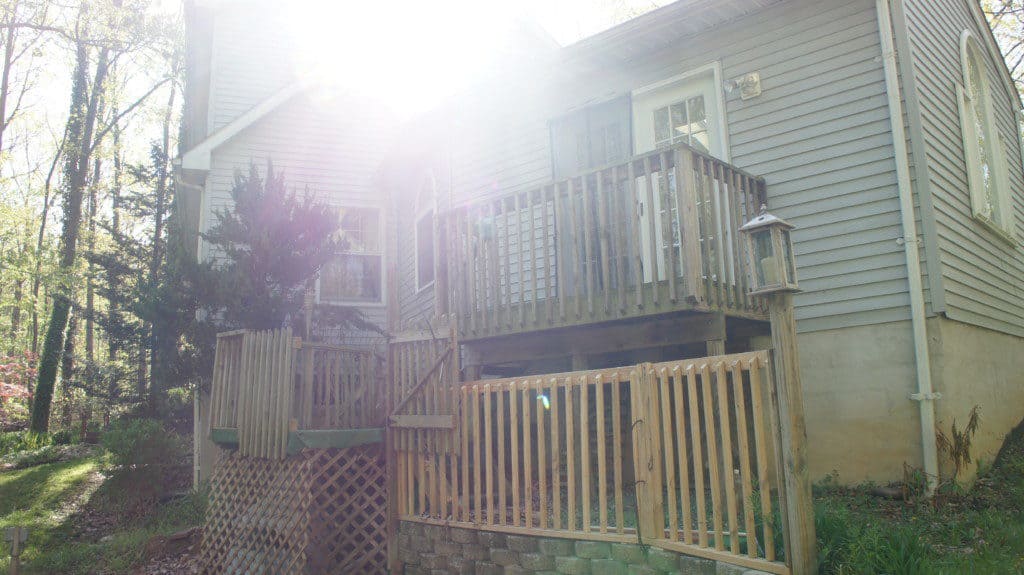 Back deck off of sunroom BEFORE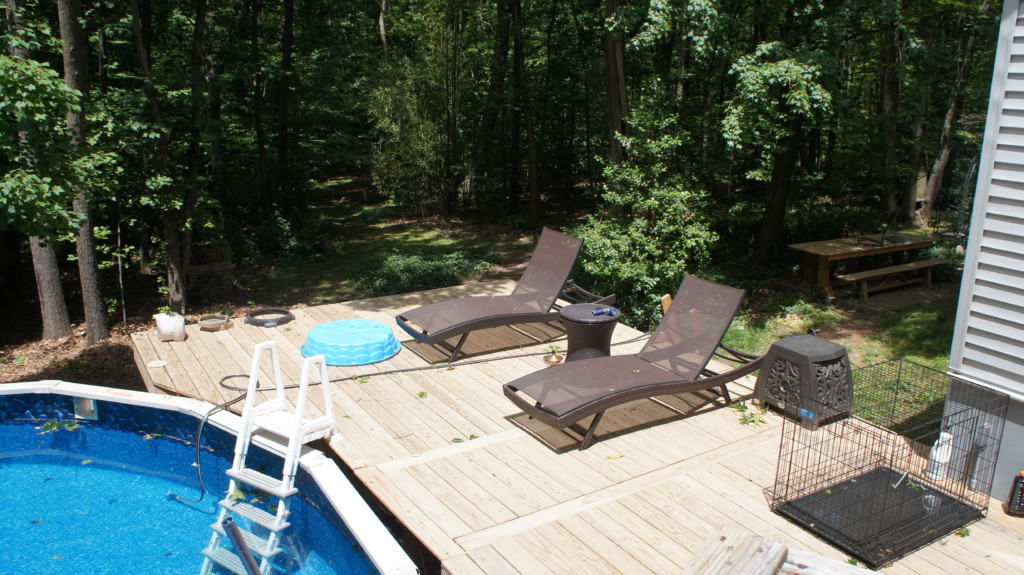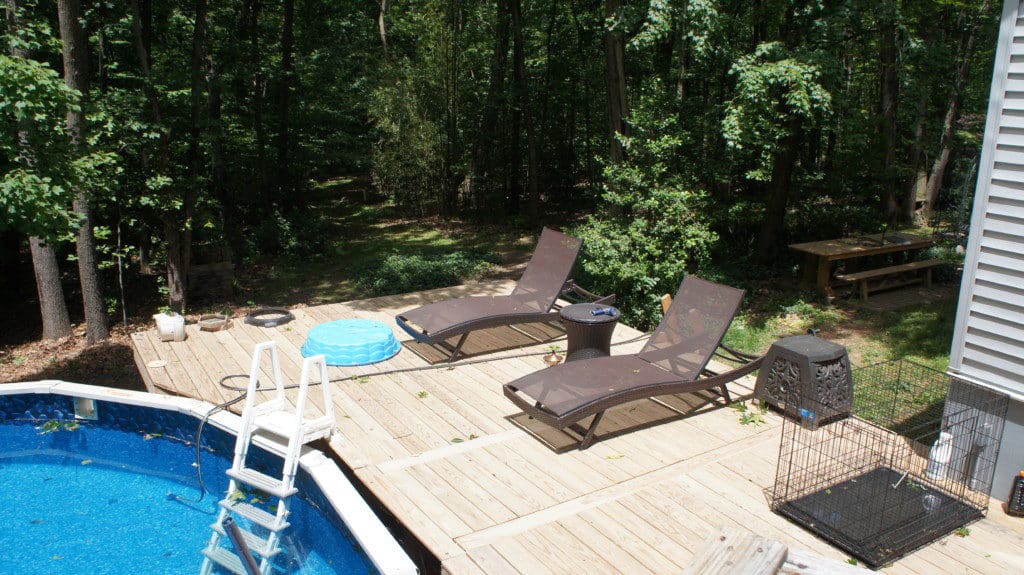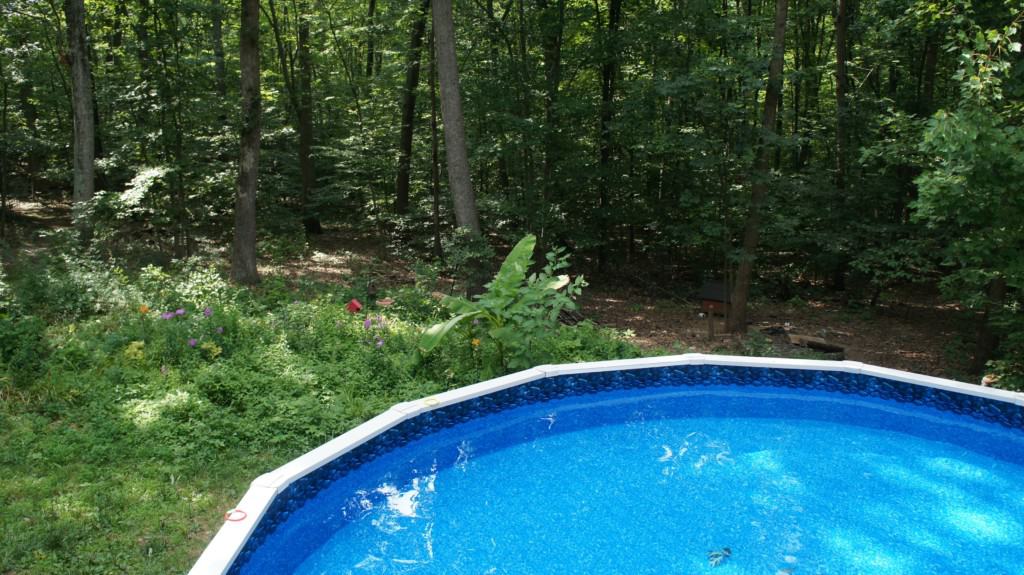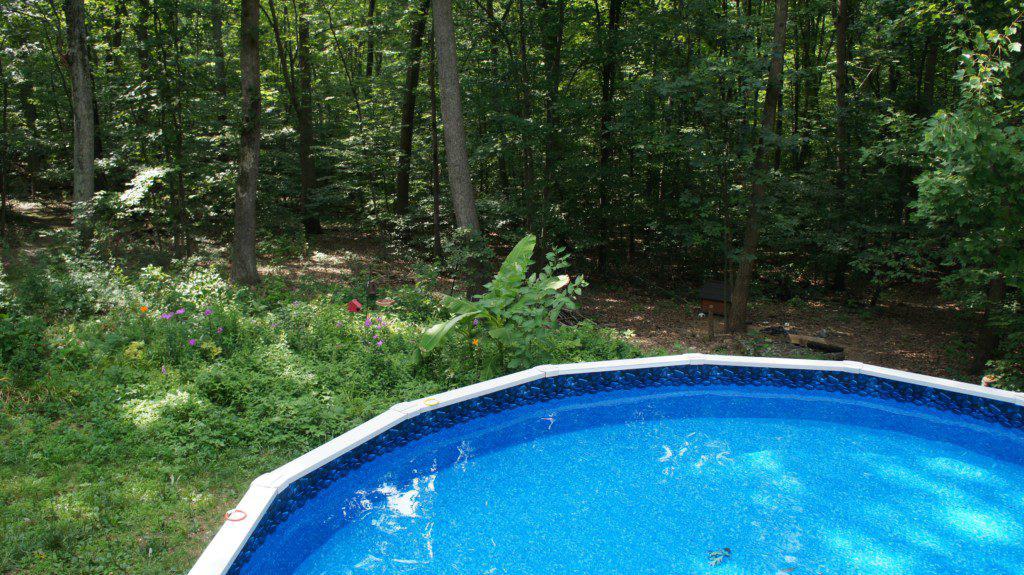 Deck AFTER
We tore down the old one, because frankly it was dangerous. It was replaced by the biggest deck known to man that we built with our own hands. It still needs railing and to be stained. We love this area so much in the summer. We added an above ground pool that gets used nearly every day between May and September. This was taken on a day after a storm hit.
The treehouse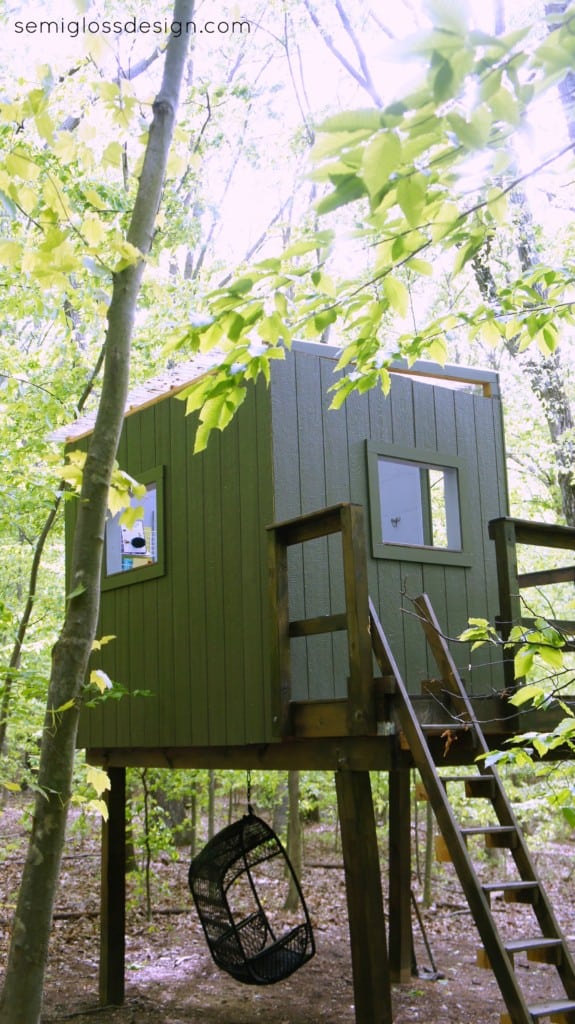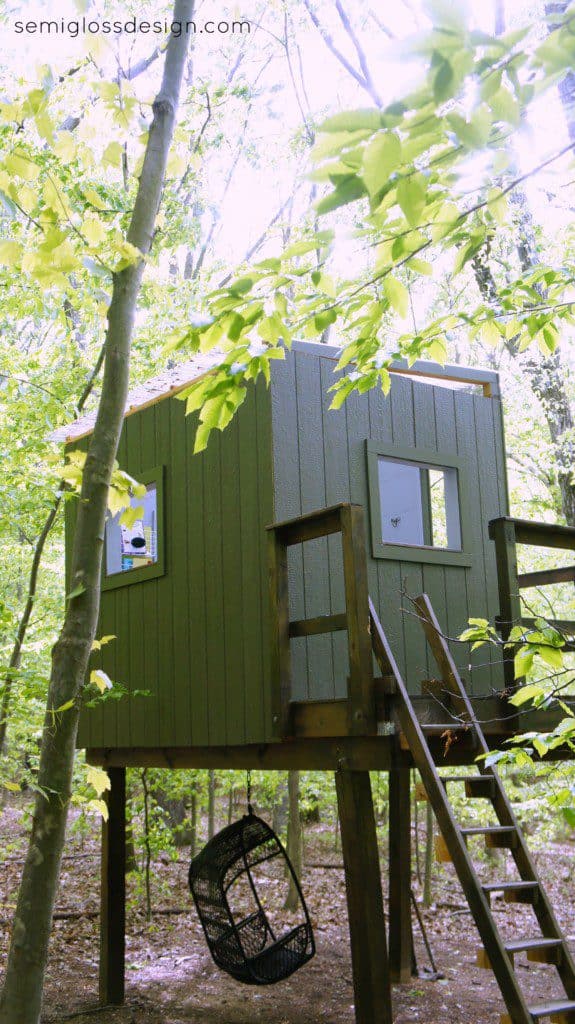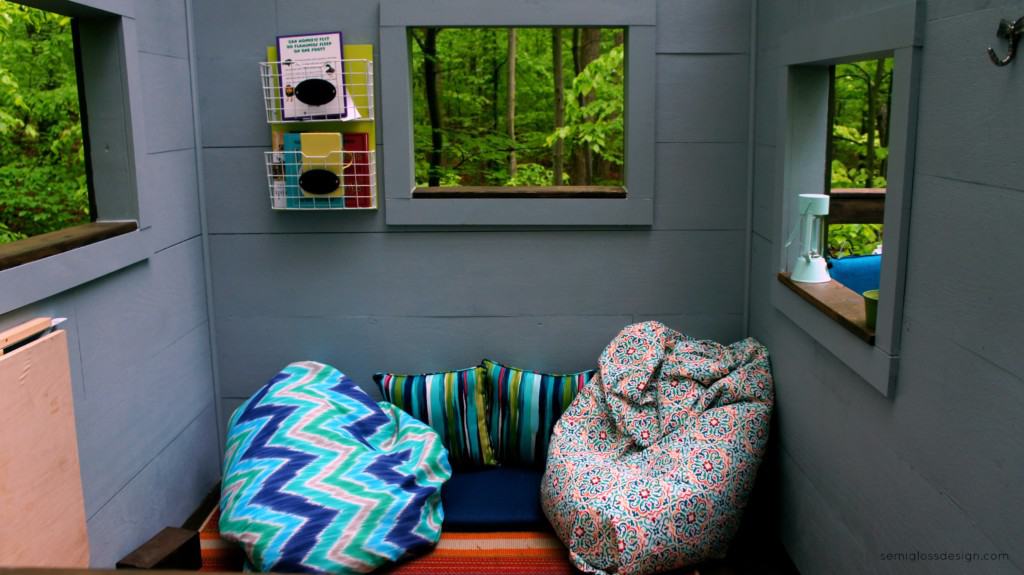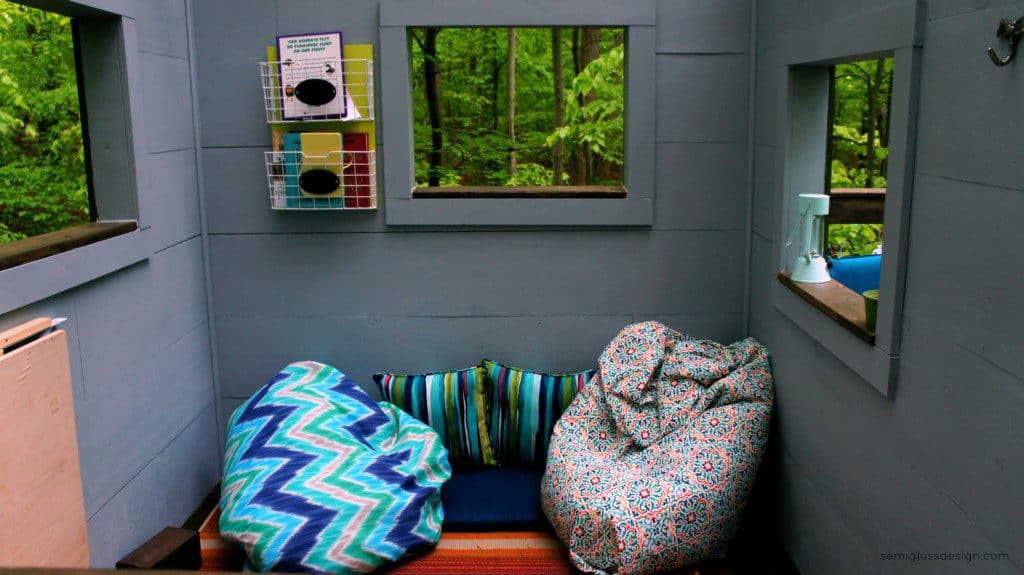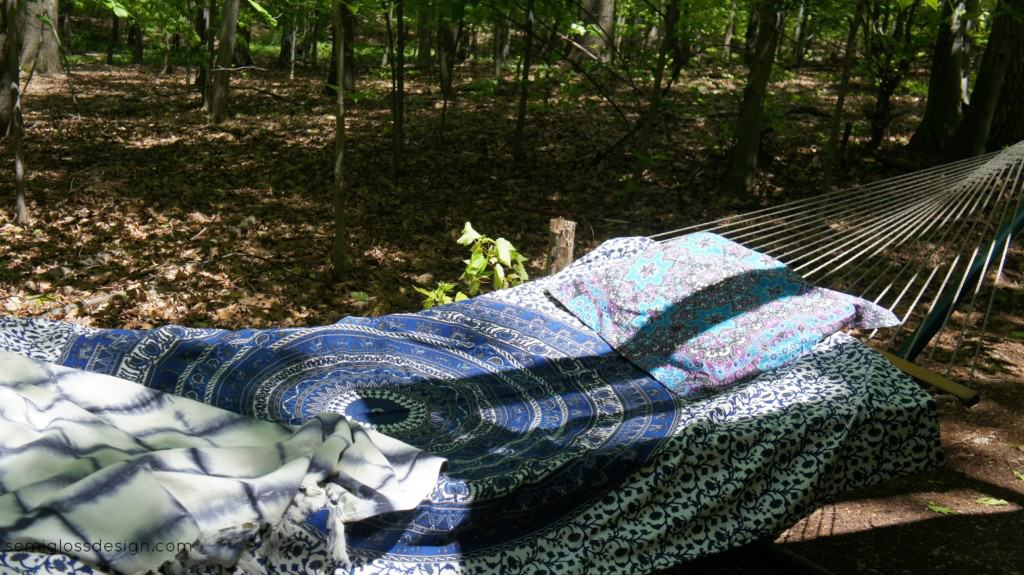 We mostly finished the treehouse this spring. When your house is surrounded by woods, a treehouse is a must. I wish I could say that my kids use it all the time, but sadly they do not. Maybe we should make the wi-fi work out there or something.
Second Floor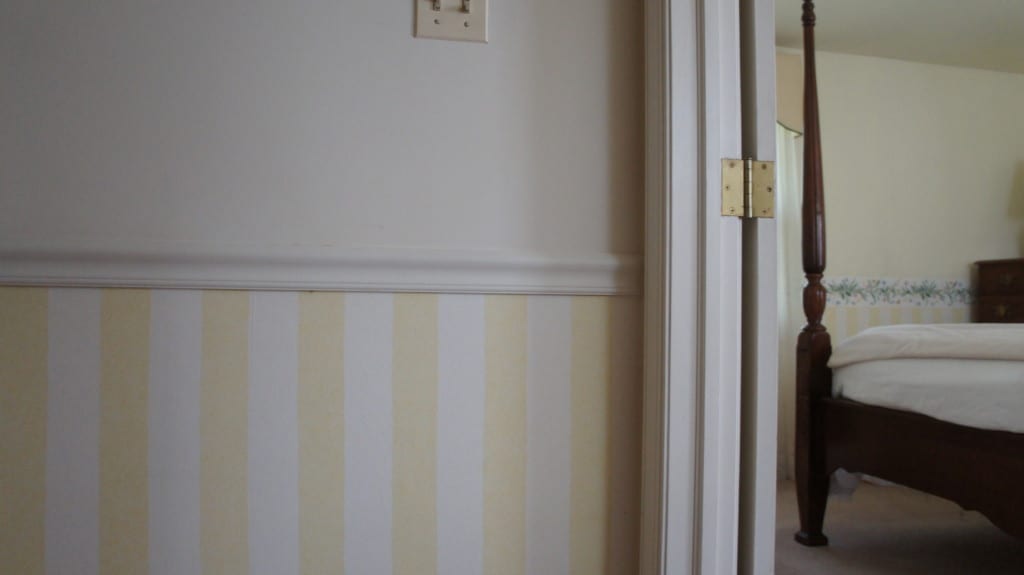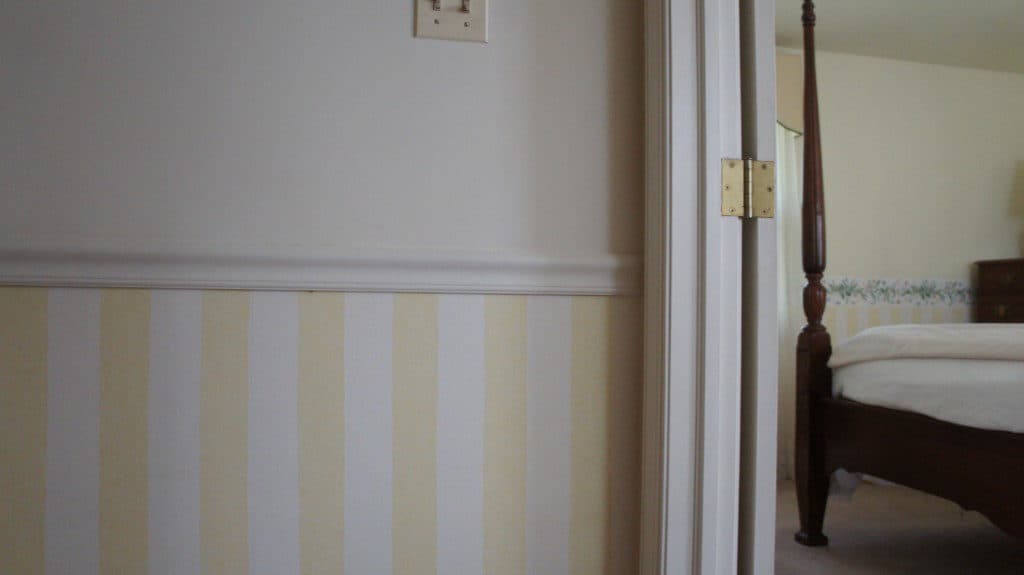 Upstairs Hallway BEFORE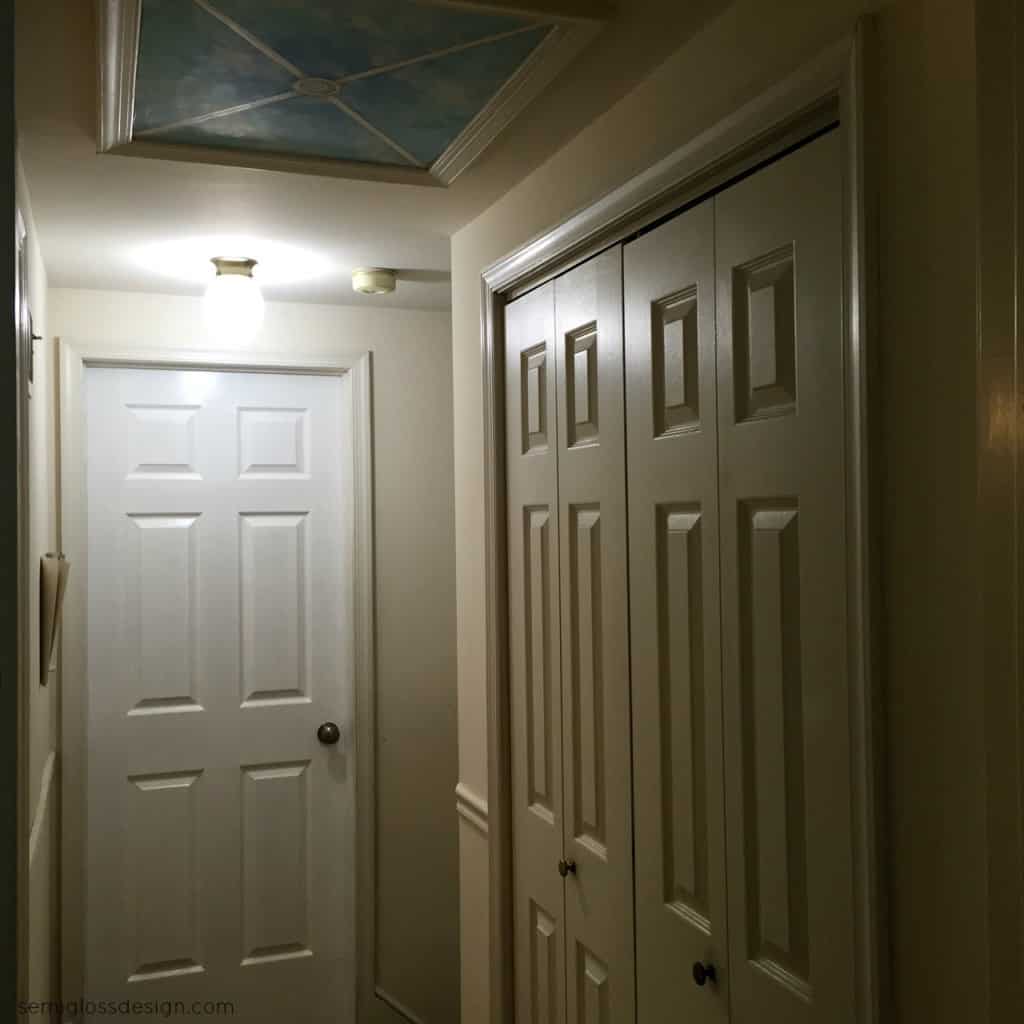 Upstairs DURING
I've removed wallpaper and that's it. Everything needs to be painted. The stairwell is going to be a pain to do, so I keep putting it off.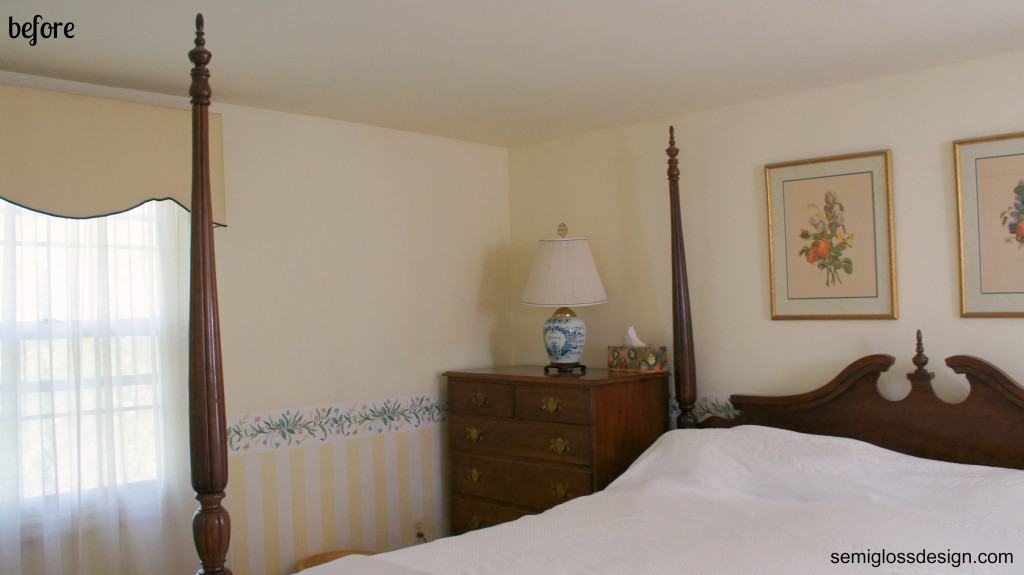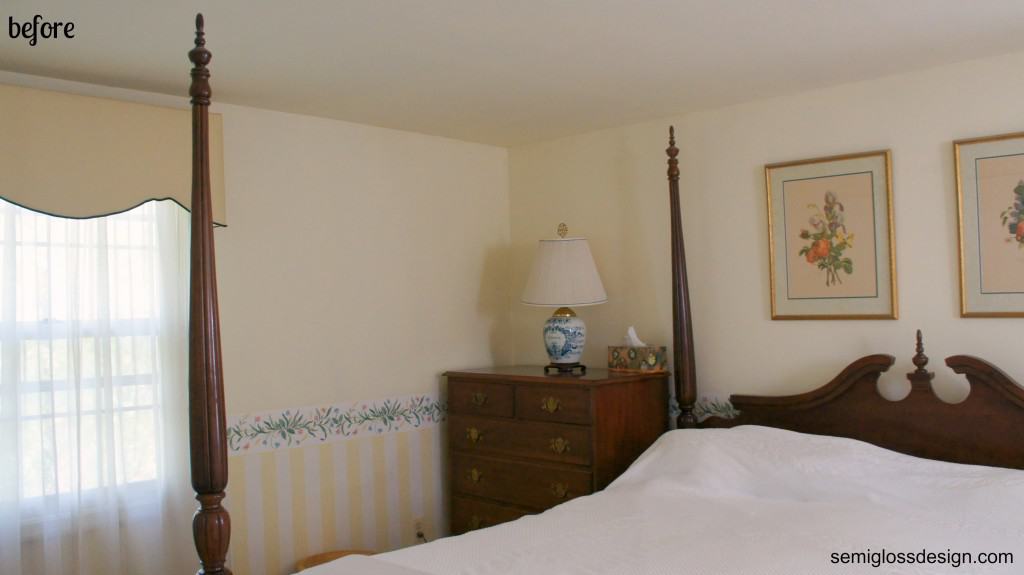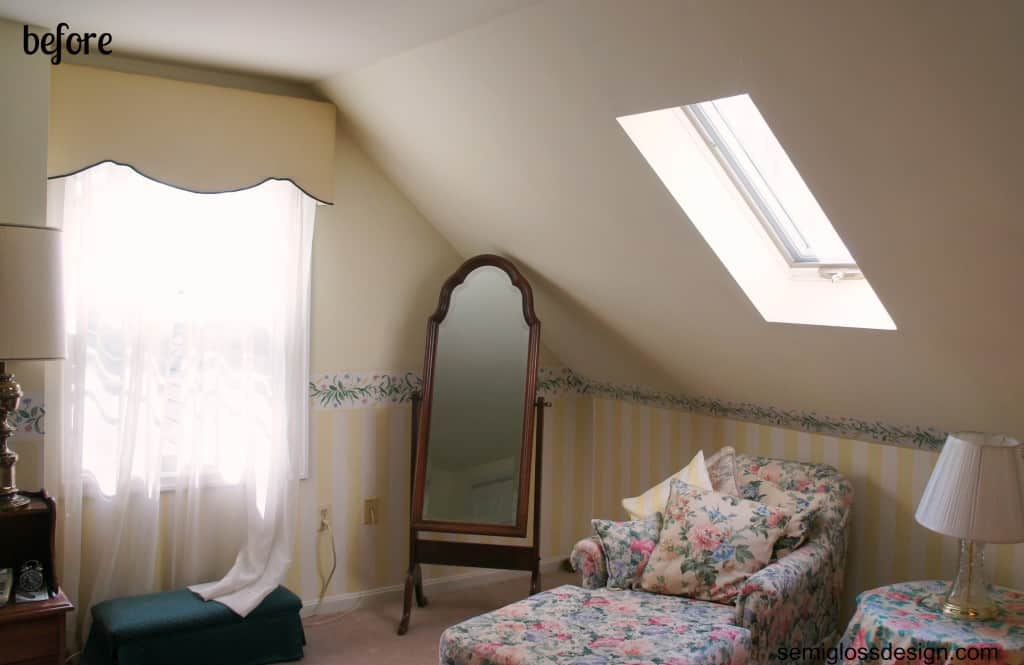 Master bedroom BEFORE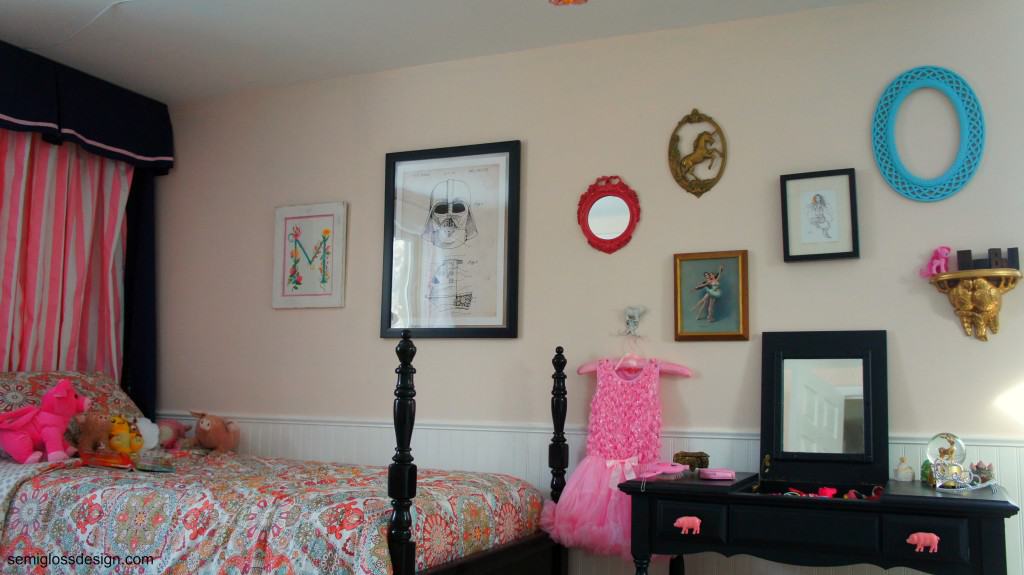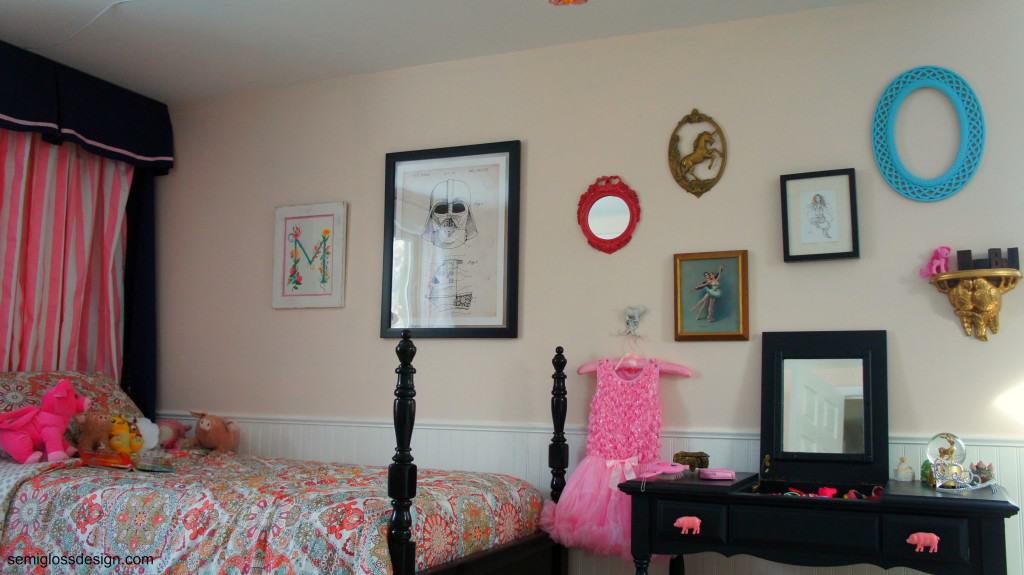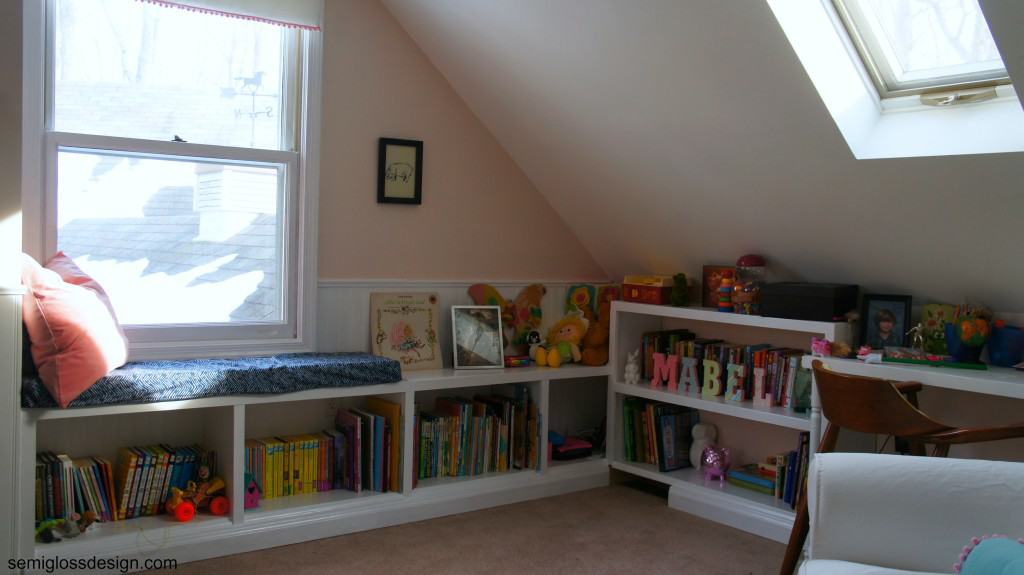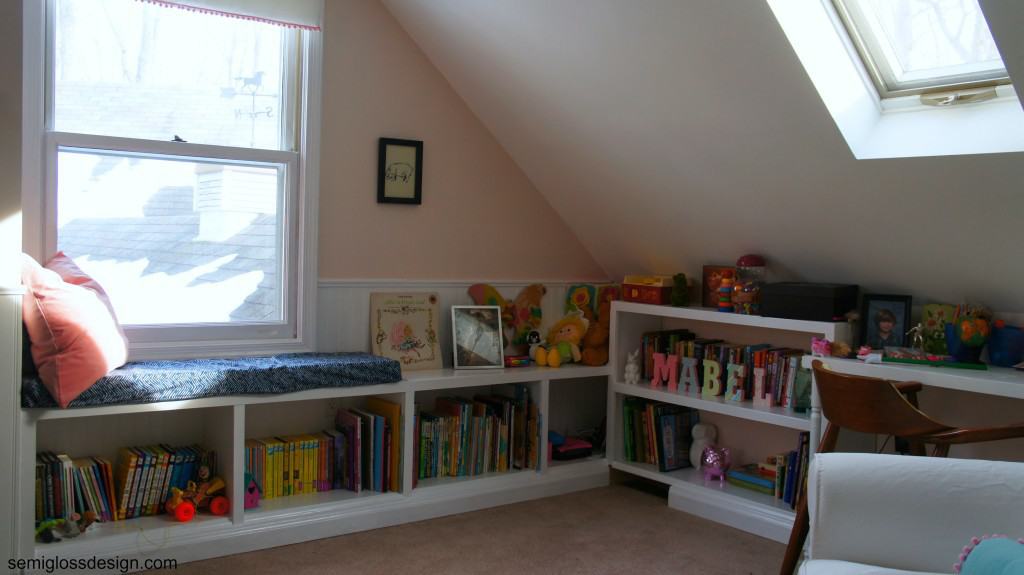 Daughter's room AFTER
More wallpaper removal and lots of paint. I made built-in bookshelves and window seat, plus a desk. It's never this clean anymore, but it's the perfect space for a little girl to create and make messes in.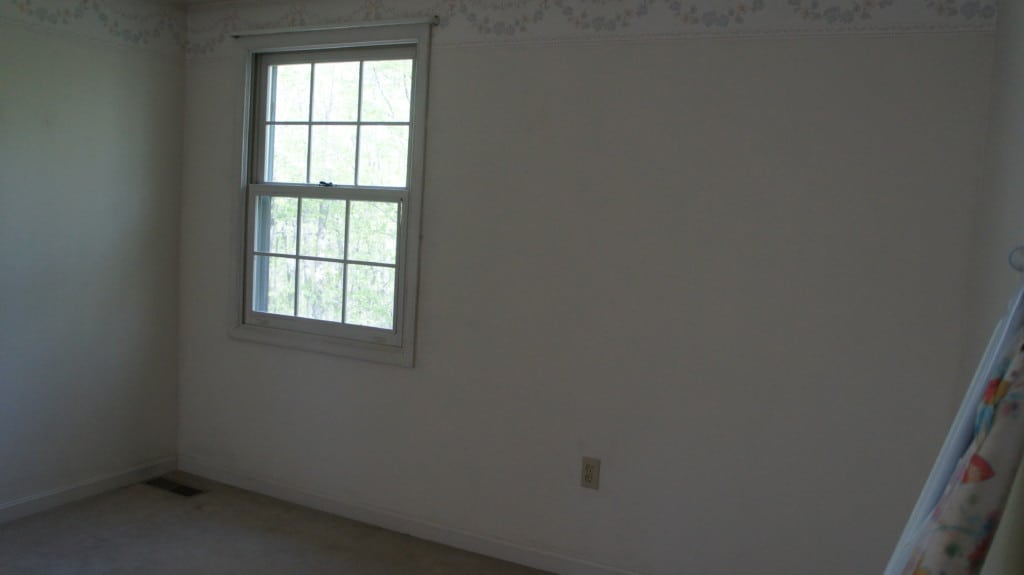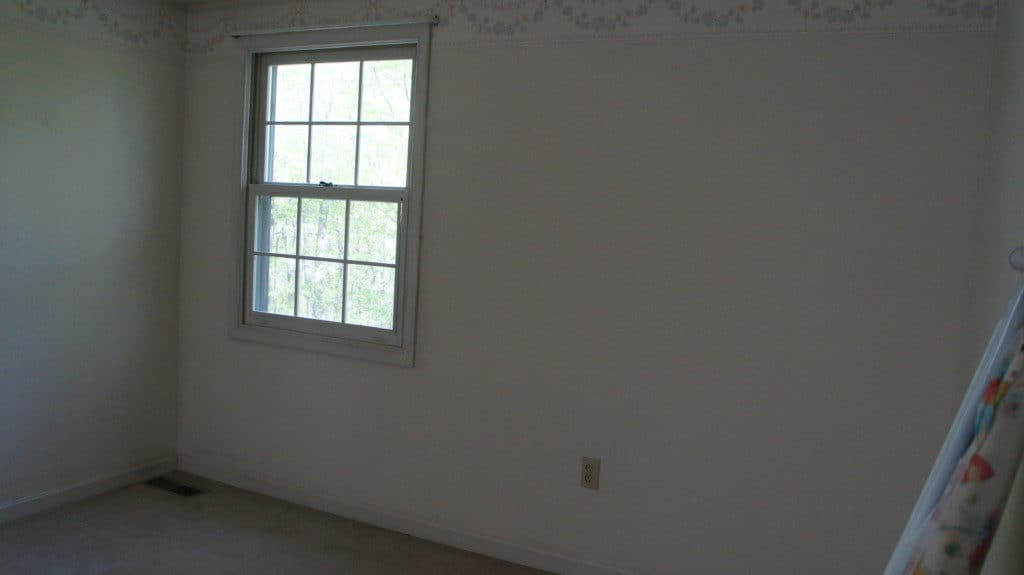 Bedroom BEFORE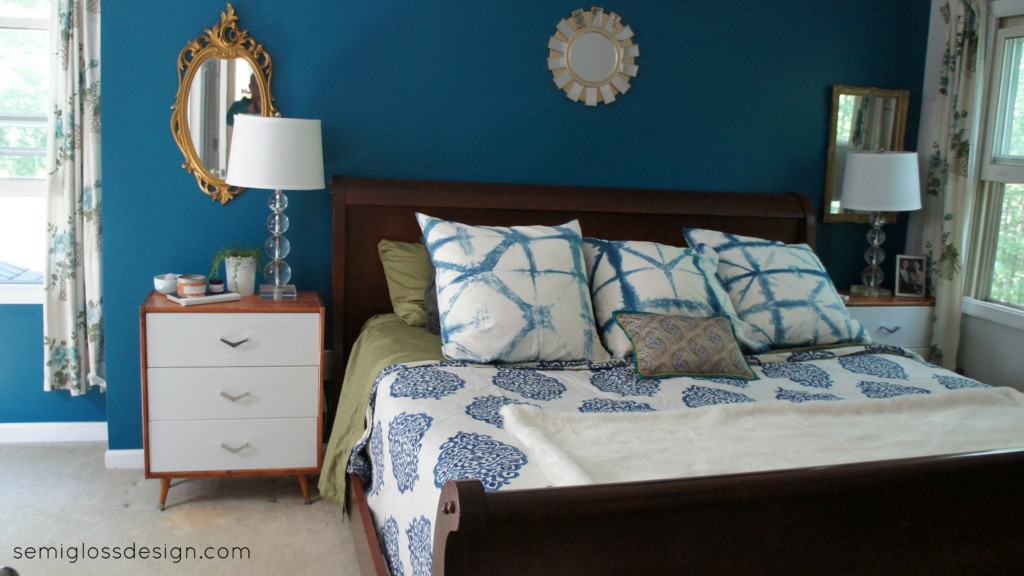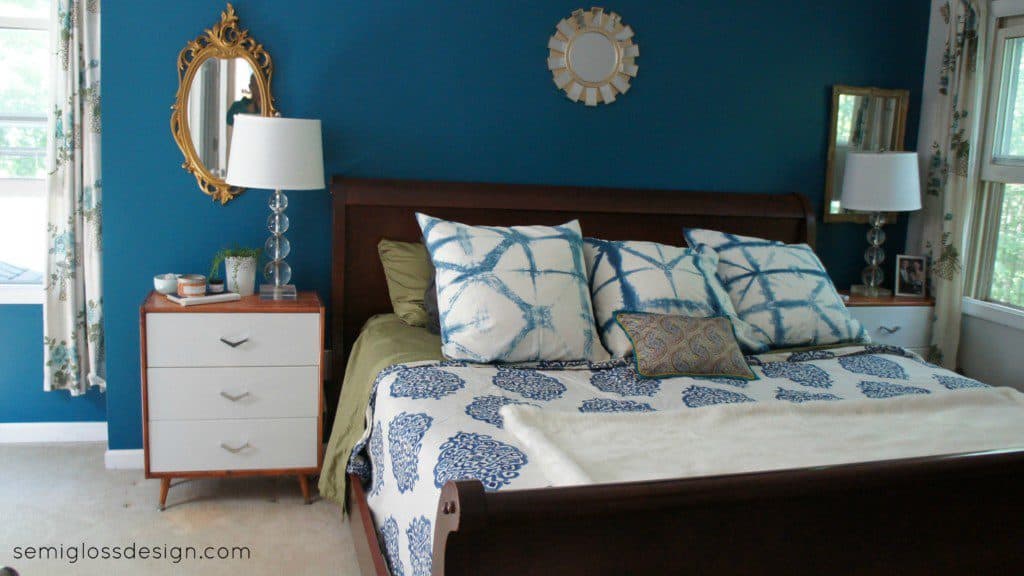 Master bedroom AFTER
We made this bedroom the master bedroom, because it's a bit larger and has this bonus closet area that is currently a mess.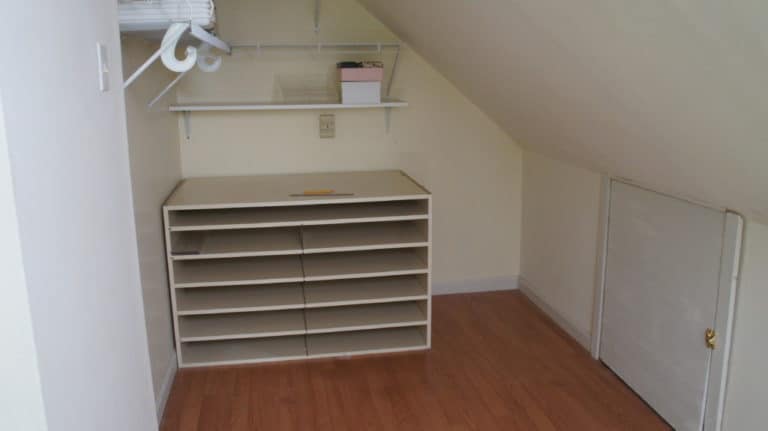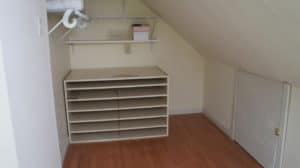 The walls are painted Behr Peacock Tail and Benjamin Moore Wickham Gray.
Second Floor Bathroom BEFORE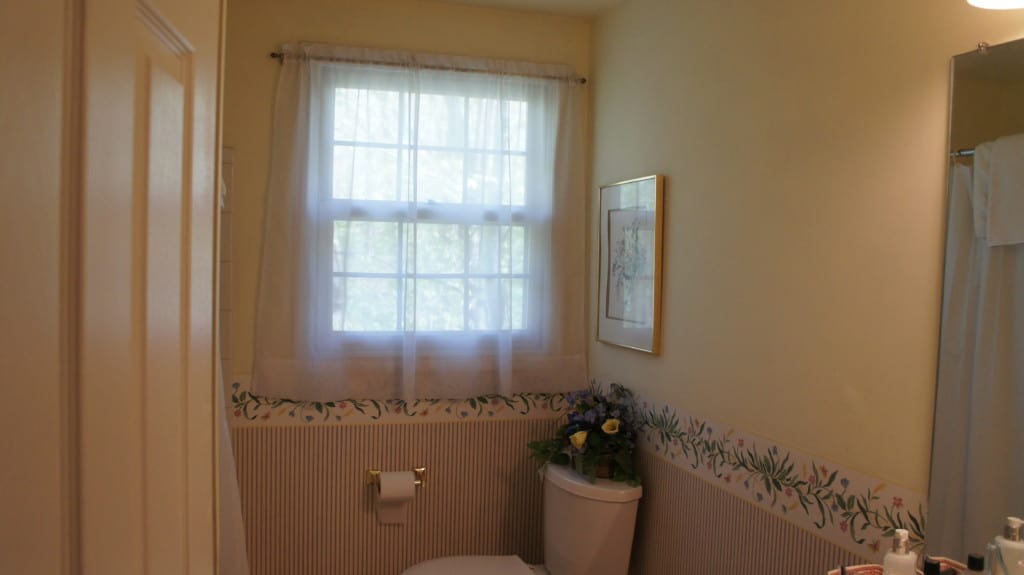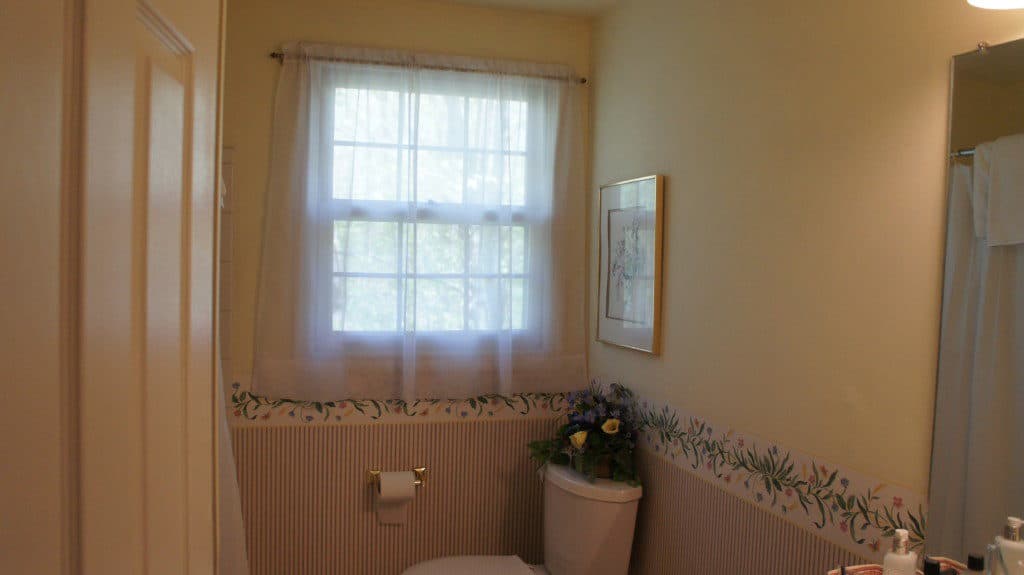 Second Floor Bathroom DURING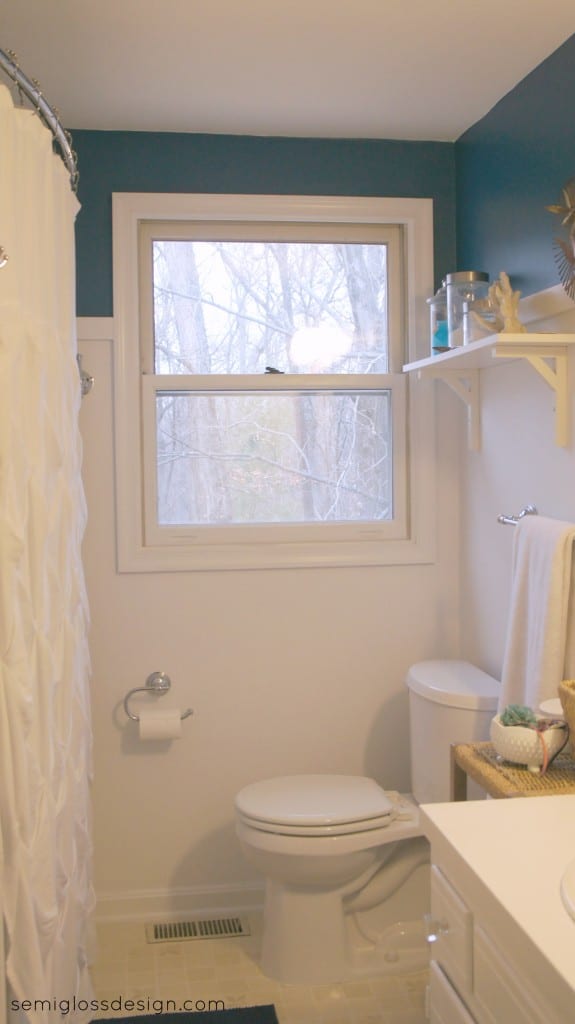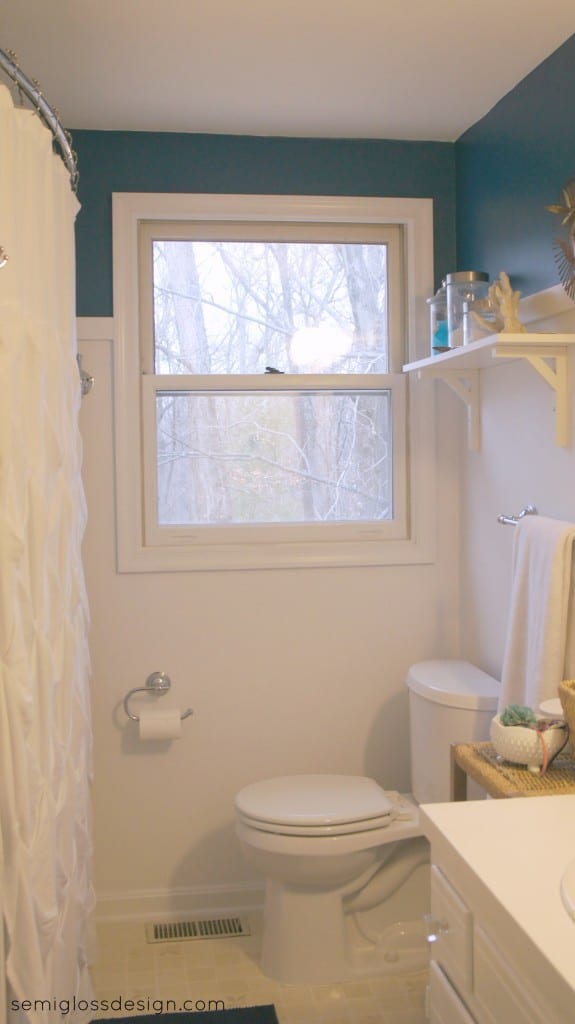 We removed even MORE wallpaper and painted some more. I wanted to plank the walls, but was talked out of it because we want to change the vanity eventually. I painted the area white that I would have planked and the top part Behr Peacock Tail. The vanity was painted white, as was the laminate counter. I paint pretty much everything that I can. The floor is next (sneak peek)!
The Basement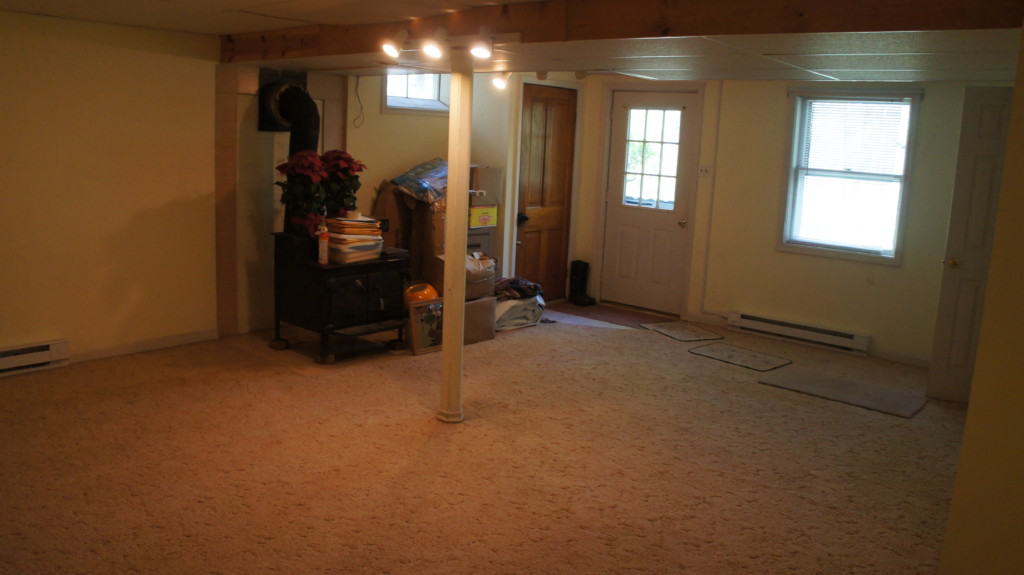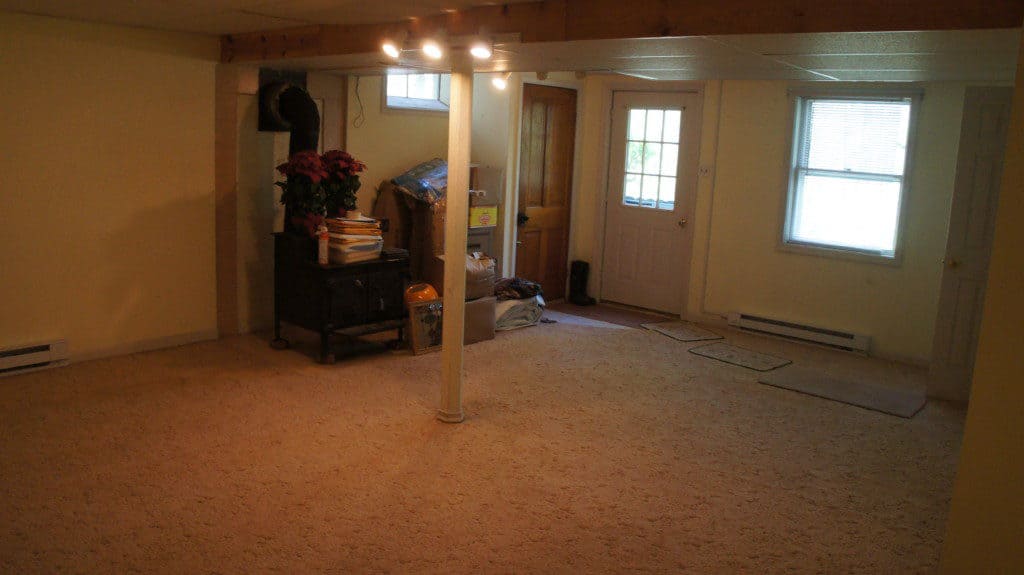 Basement BEFORE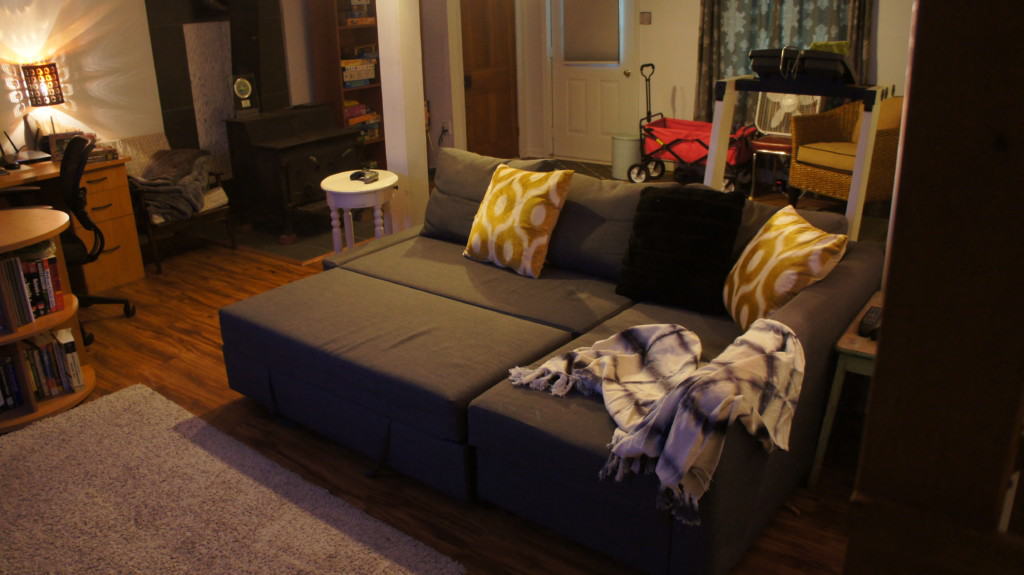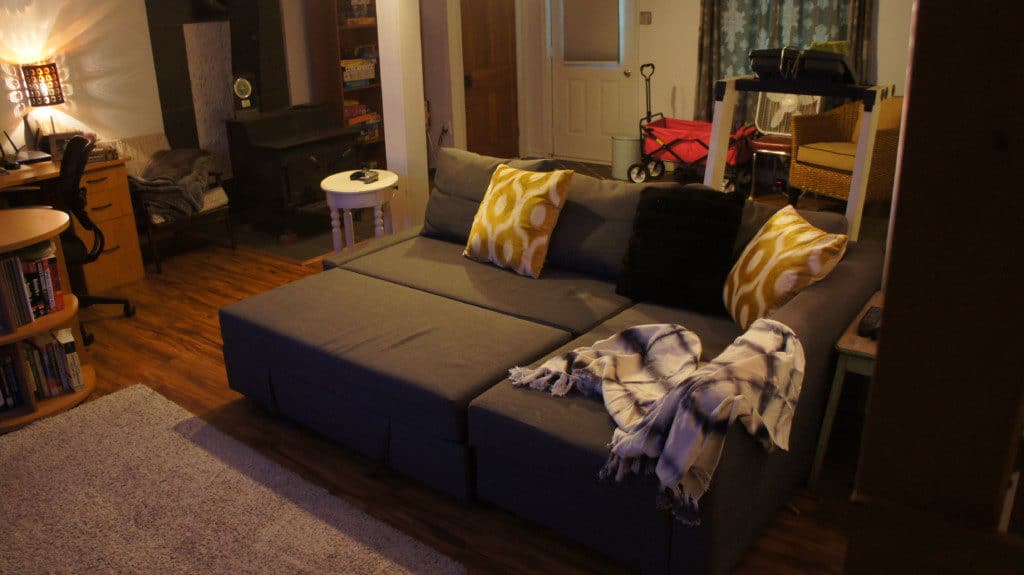 Basement AFTER
The carpet before could only be described as Poodle. It was ripped out and this room stayed empty for about 6 months while we took care of some water issues. The floor was replaced with vinyl tile to withstand any moisture that might occur. This room is very multipurpose and gets a ton of use. The couch is super comfy and it stays in bed formation pretty much all the time for really comfy TV time. The desk gets used for minecraft or something. It's ugly, but it serves it's purpose. The room also serves as my home gym. I'm pretty much the only one who uses the treadmill, but I love it. I bought it used from craigslist and my husband hated me for a few days because it weighs 500 pounds. Worth it.
The wood burning stove is so amazing during the winter. It used to have pink tile, but we tore it out and replaced it. We're still looking for a metal piece to cover insulation on it.
The other half of the basement is too ugly to show. It used to have a bathroom in it. It's currently filled with junk, a hole in the ground (from the bathroom) and the laundry area. It's also where I work on my dollhouse. It will eventually be lovely as well. Just not any time soon.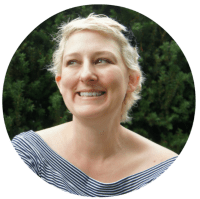 Emy is a vintage obsessed mama of 2 DIYer who loves sharing affordable solutions for common home problems. You don't need a giant budget to create a lovely home. Read more…