Adorable Pink and Navy Girl's Bedroom
My daughter's room makeover took longer than I thought it would. I am thrilled with the results and more importantly, so is she. So far my ulterior motives of getting her to keep her room cleaner are working!
I'm going to start with the true before pictures. These were both taken with the previous owner's furniture in them. They used this bedroom as a master bedroom.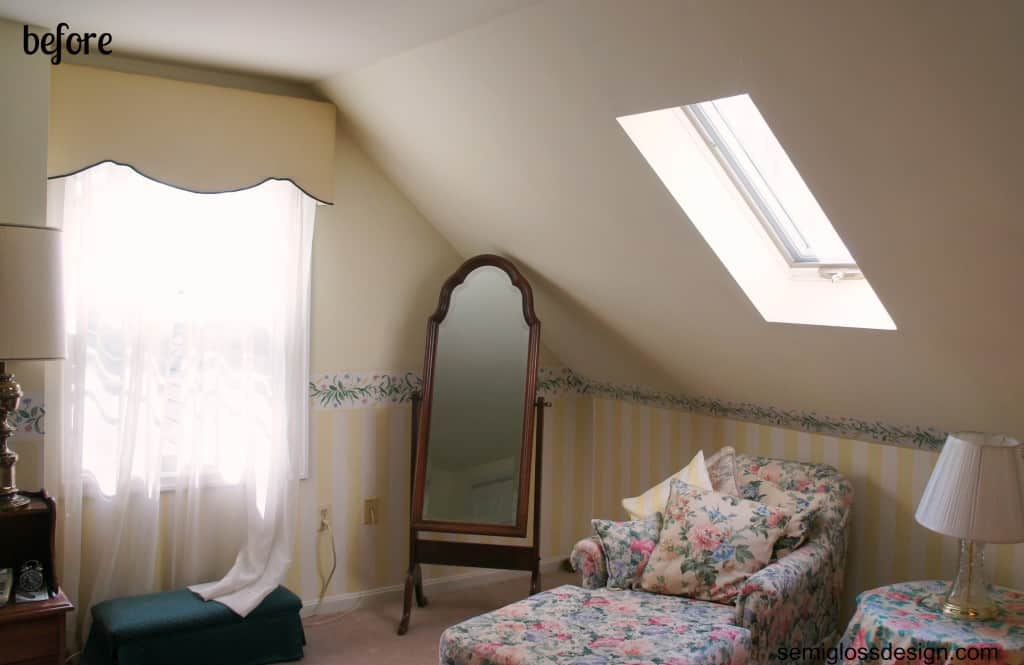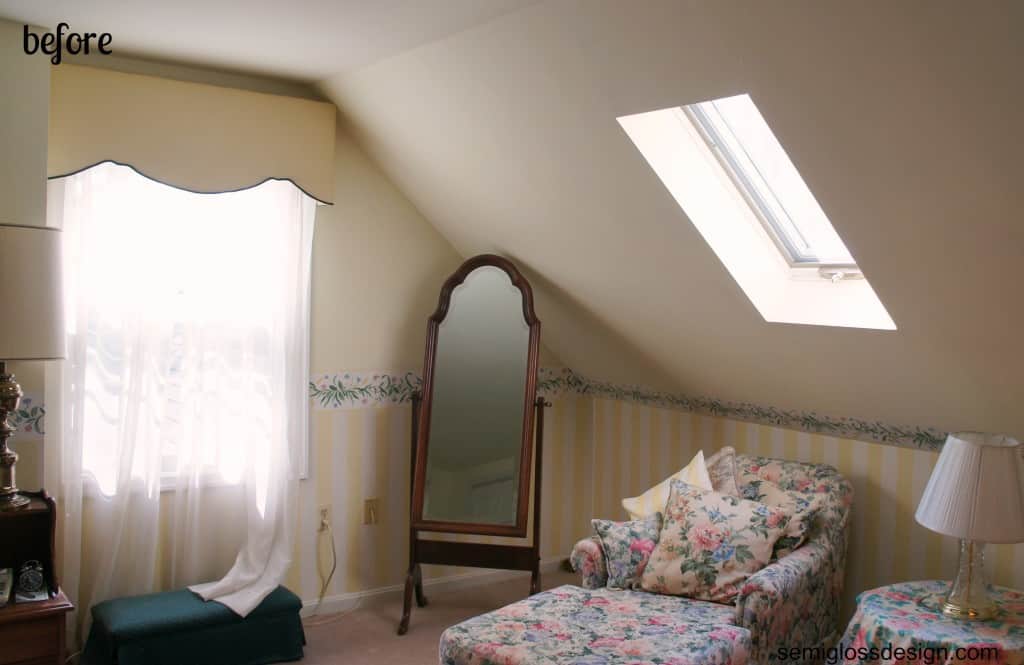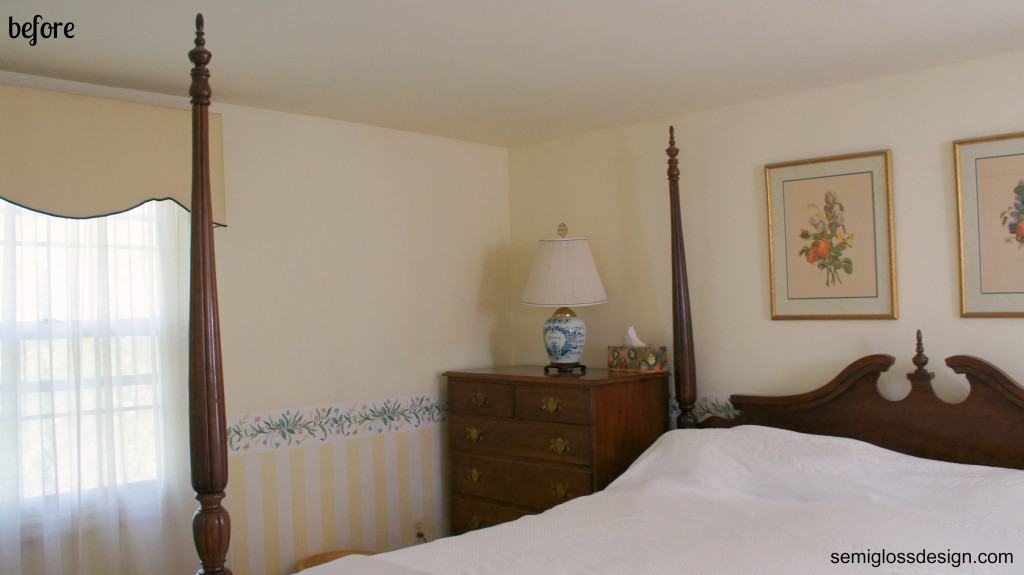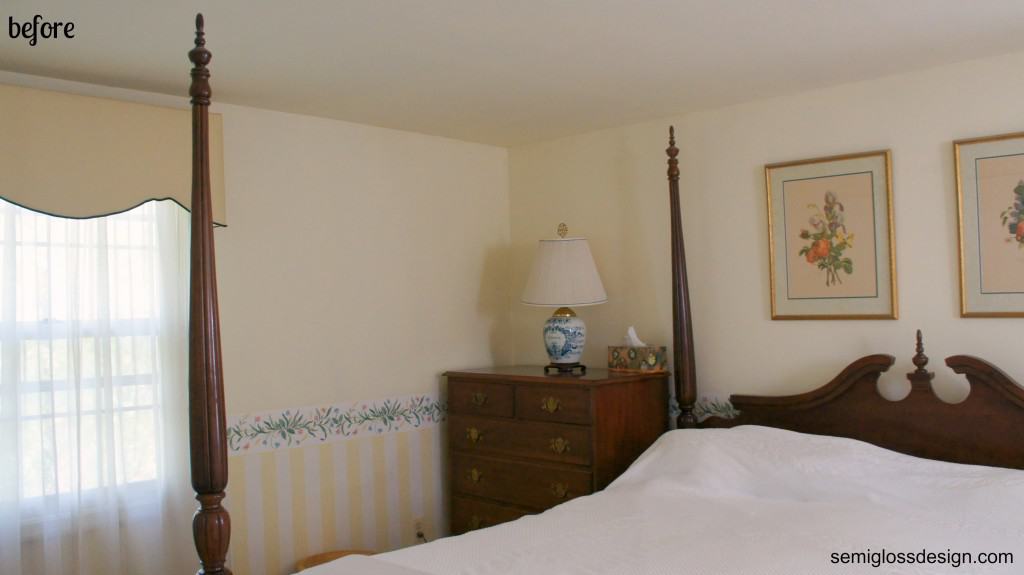 I will never put down the previous owner's taste, because I found it quite lovely, for them. But it's definitely not my style. We removed the wallpaper when we first moved in. The walls were painted green and the ceiling was blue.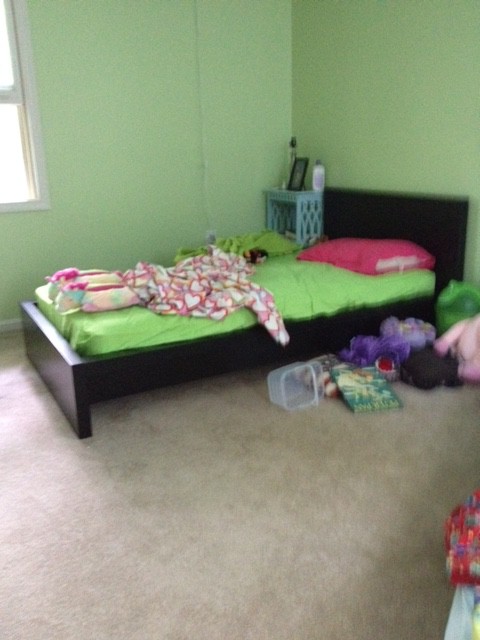 This is the only picture that I have of the room. My daughter took it with my phone to send to her previous teacher. She was really proud of it at this point.
The green was not my favorite, so I'm glad it's gone. I'm sure that you will agree that the pink is much brighter and happier.
Here's the after pictures.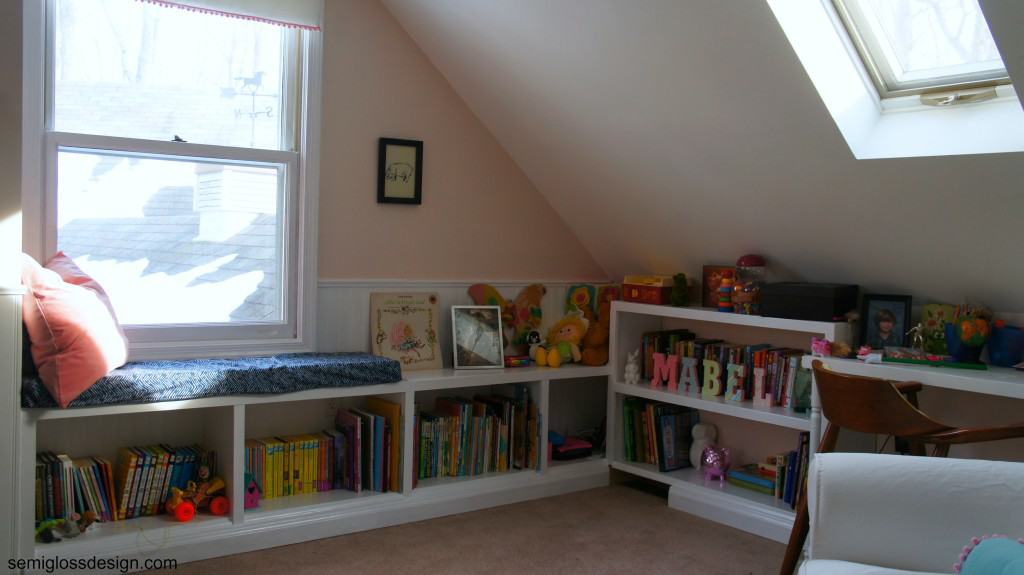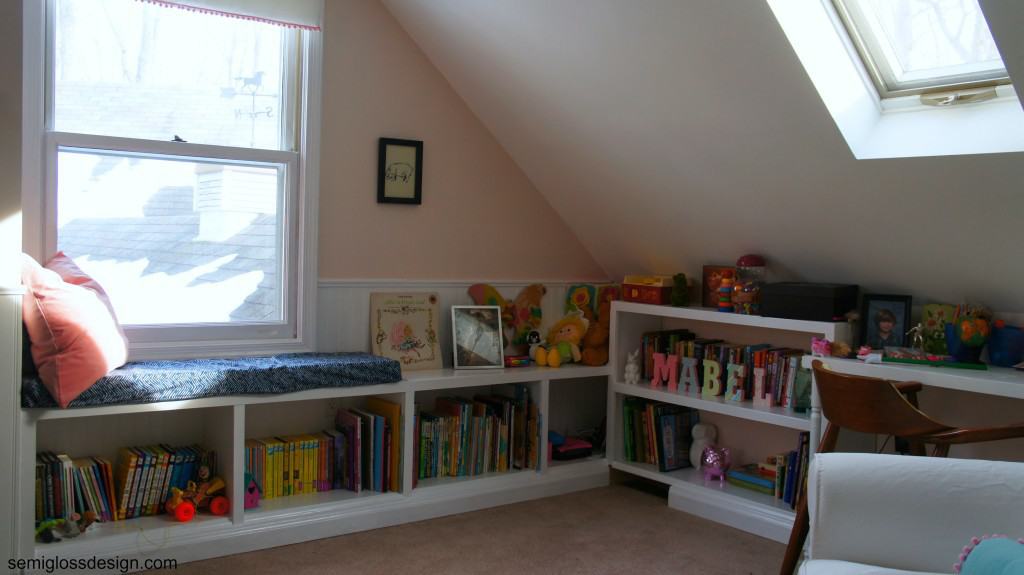 My daughter's room is painted Champagne Pink by Valspar. I painted the ceiling with ceiling white and the trim was painted with off-the-shelf white Valspar paint. I built the window seat, bookshelves and desk. They were simple boxes, set on 2×4 bases. I added trim and painted them. I also added beadboard wainscoting around the room.
The greatest compliment came from my son who told me that it looks like it has always been there. She has plenty of storage place for her books. The hidden shelf is used for her Lego builds in progress and art supplies. I made the window seat cushion. The fabric is Premier Prints Cameron. It's a nice fabric with a slubby texture. I'm so glad that I have extra so I can make new pillows for the living room!
The pink pillow is from IKEA. The blind is from IKEA and I sewed pompoms to the edges for details. Curtains won't work with the window seat being there, but I wanted some softness on the window. The pig picture is from Chartreuse and Co and is actually an old flash card.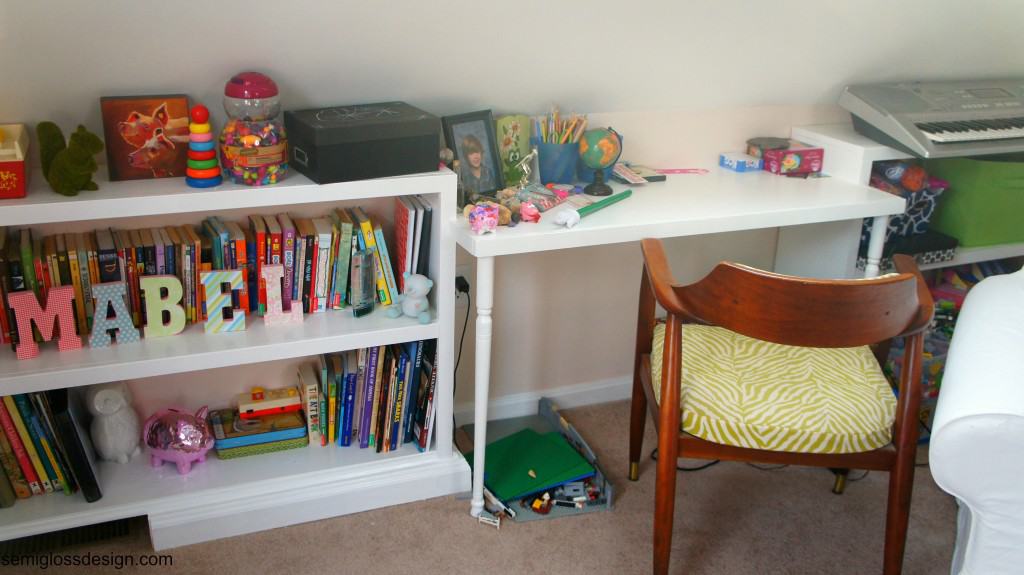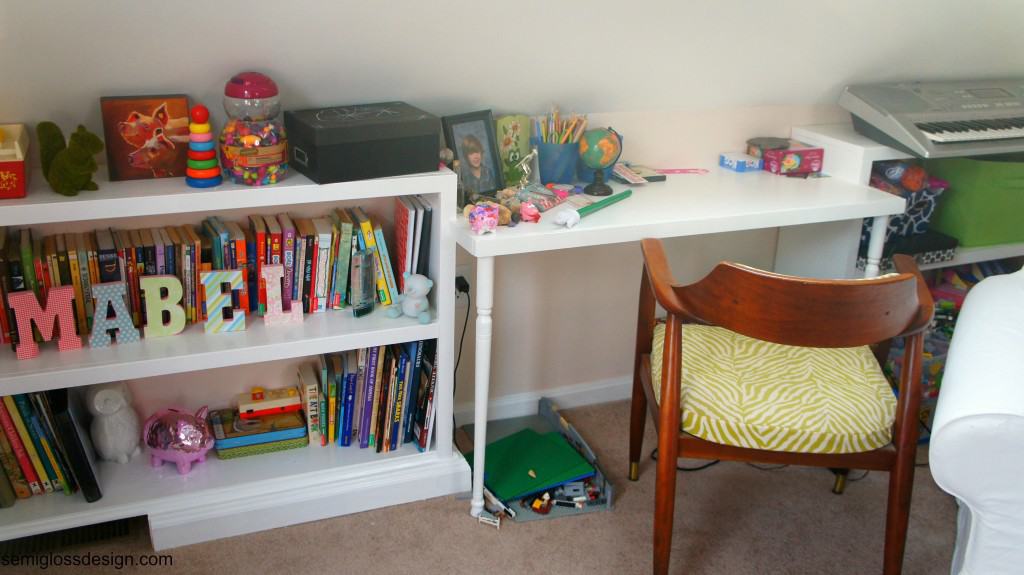 The desk holds her rock collection and various trinkets, but there's still plenty of room to draw. The chair is a vintage find that I found years ago when our town did bulk trash. I recovered it with lime green leopard print fabric years ago. I might change it again if I don't find a better desk chair for her.
The globe was bought at Sweet Clover. My daughter asked for a globe so that she could look at where places are when she runs across them in books. The lego set on the ground is a castle in progress. There was no way I was going to disturb it.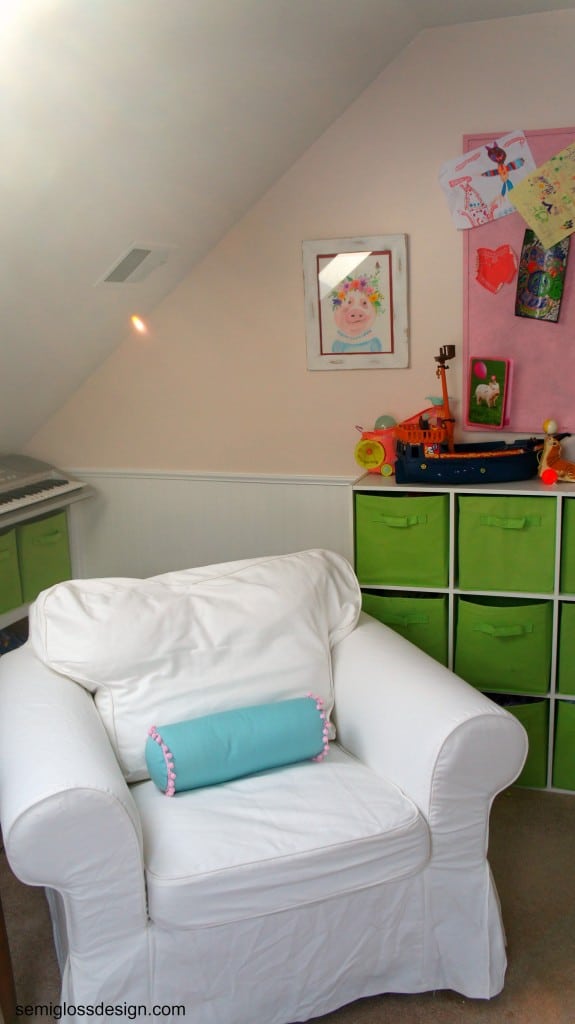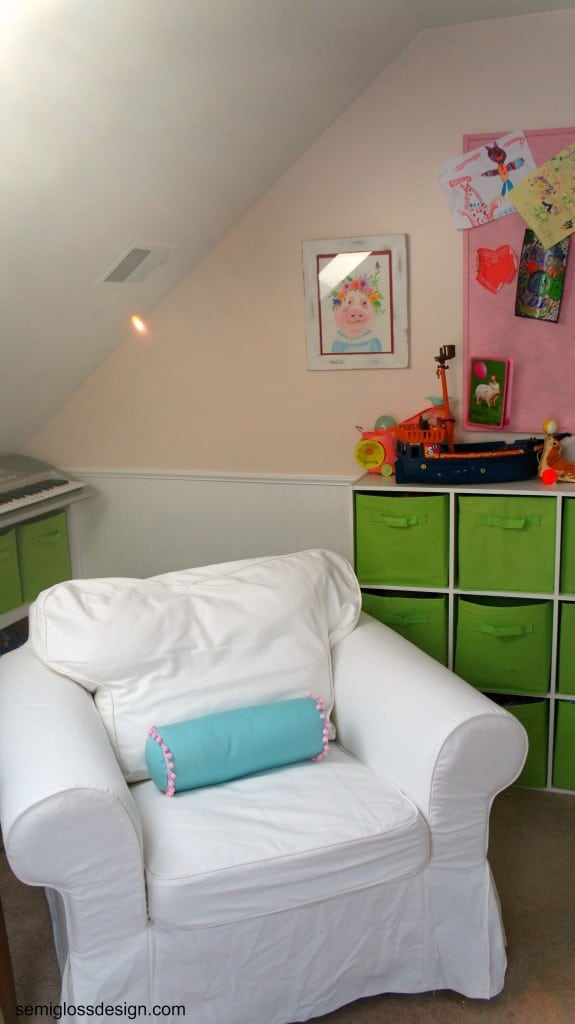 We moved an old IKEA Ektorp chair to my daughter's room for another spot for reading. At this time of year, her room gets amazing light and I find myself in there using this spot. I made the pillow with leftover fabric and pompom.
The shelf was something that I had hoped to get rid of, but she has too many toys and isn't quite ready to part with them just yet. I painted the pig picture on the wall. She has a cork board to put special momentos and drawings.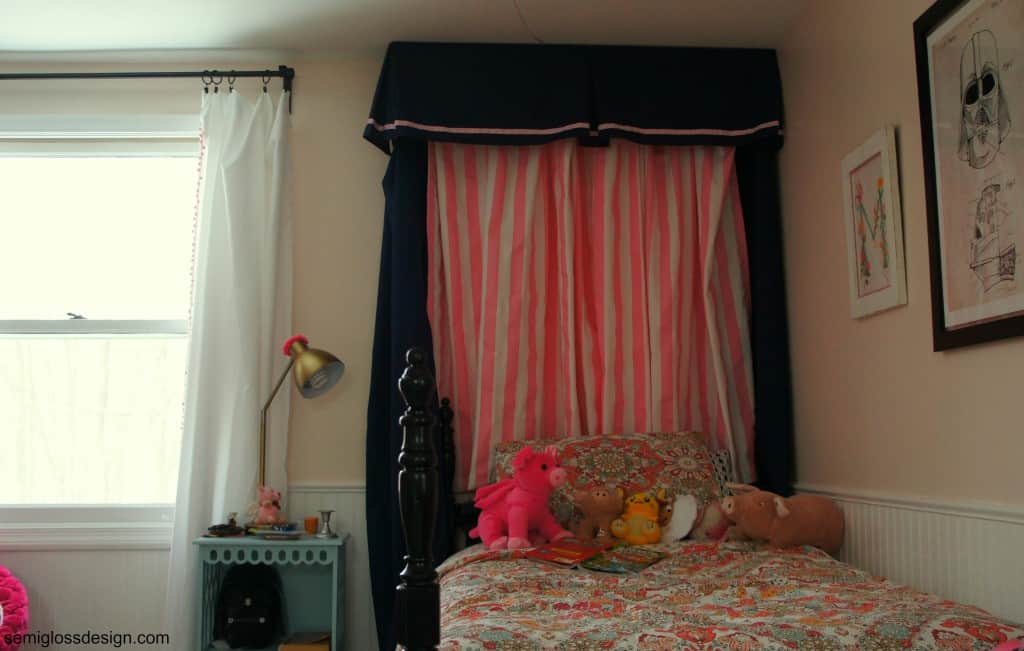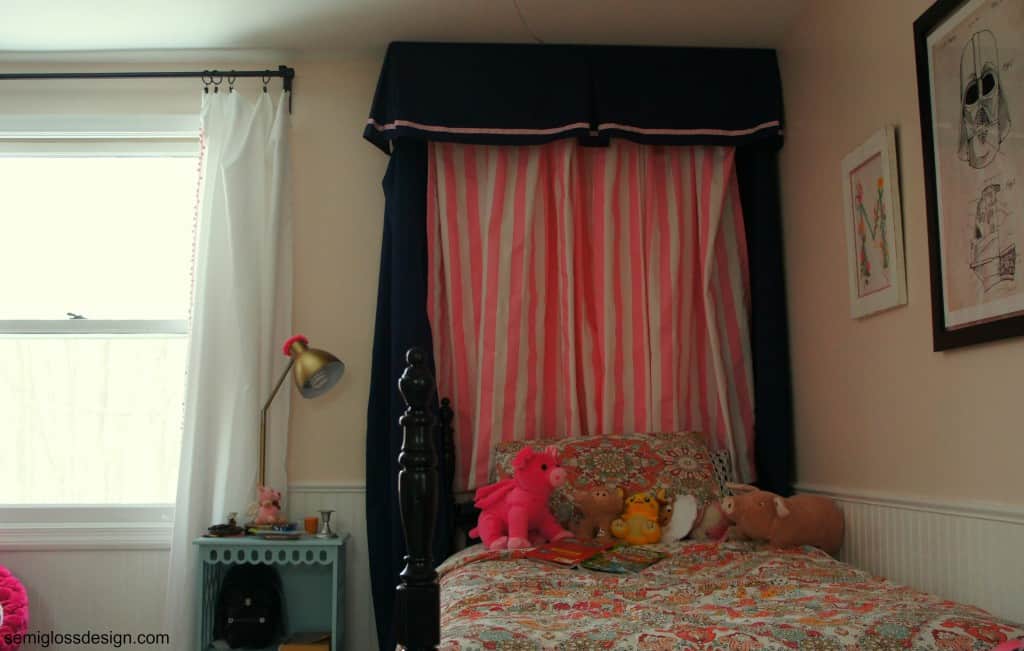 Here's her bed, all pretty and filled with her best friends. I made the canopy, which you can read about here. It helps to disguise that the window is so off center. The lamp is from Target, decorated with a crochet flower. The bed was a craigslist find that I painted. The nightstand was bought years ago at The Christmas Tree Shop.
The curtains were bought at Home Goods, just plain white curtains, that I embellished with pompom trim. The M art was painted by me. The Darth Vadar poster was bought at Sweet Clover. I like that there is still plenty of room at add more items to the wall as we find them. Can you tell she likes Darth Vadar and pigs?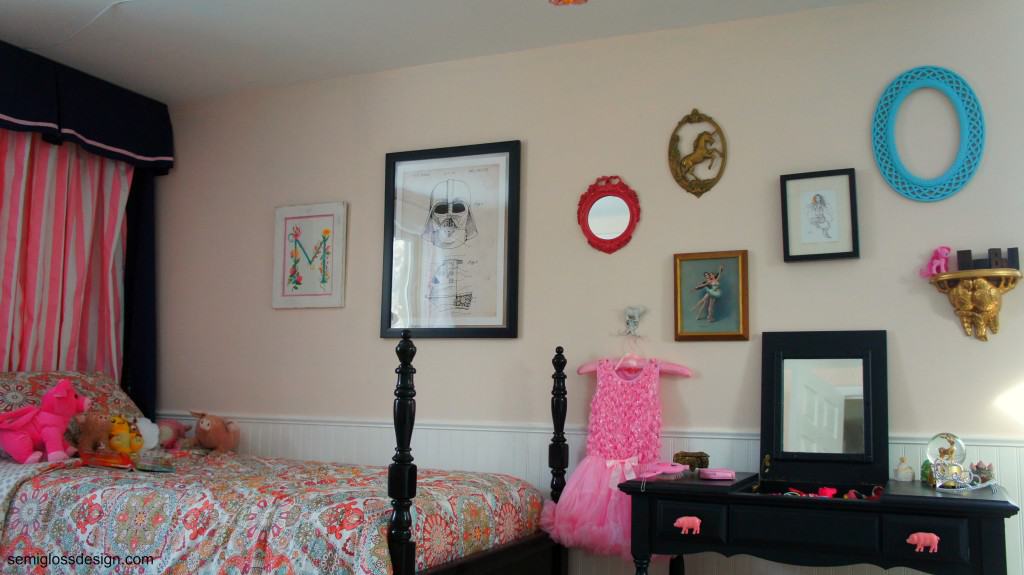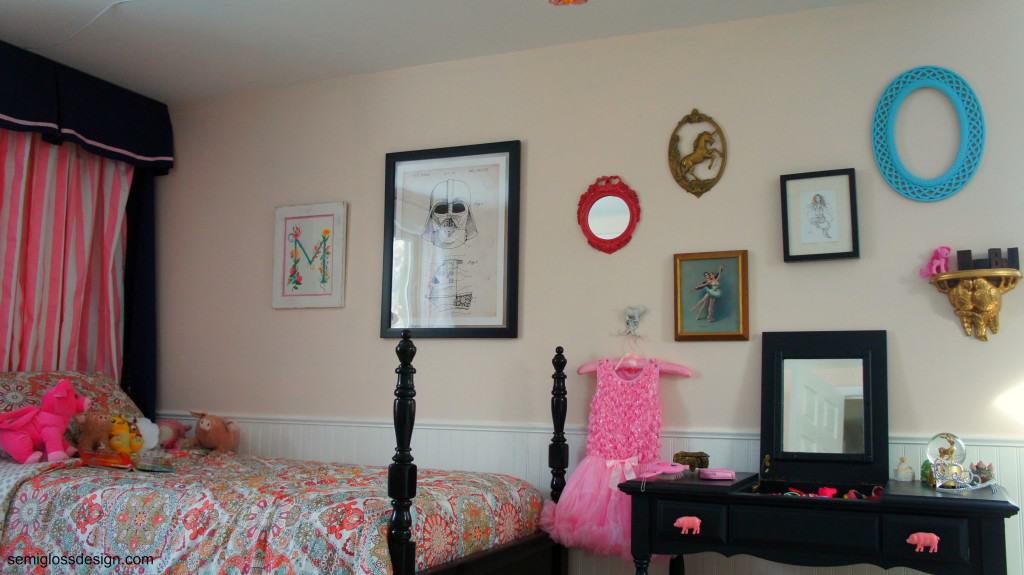 I updated her vanity by painting it Nein! Nein! Nein! Ok Fine! by OPI (Clark and Kensington Paint) from Ace Hardware. I love this color so much. It's the perfect dark blue. I love a paint line from nail polish colors. I often look at my nail polish and think about the colors as paint.
The pig drawer pulls were bought at Chartreuse and Co, but painted pink. The pig hook came from Joann. Most of the art is vintage. The mermaid print was bought in Hawaii a few years ago.  The dress was a Home Goods find.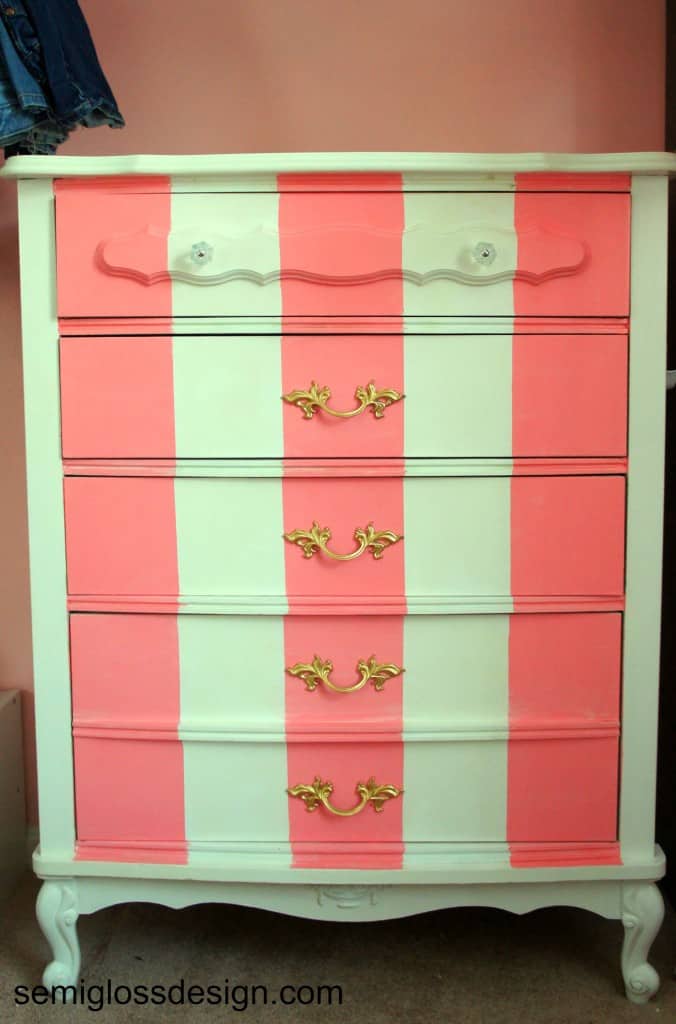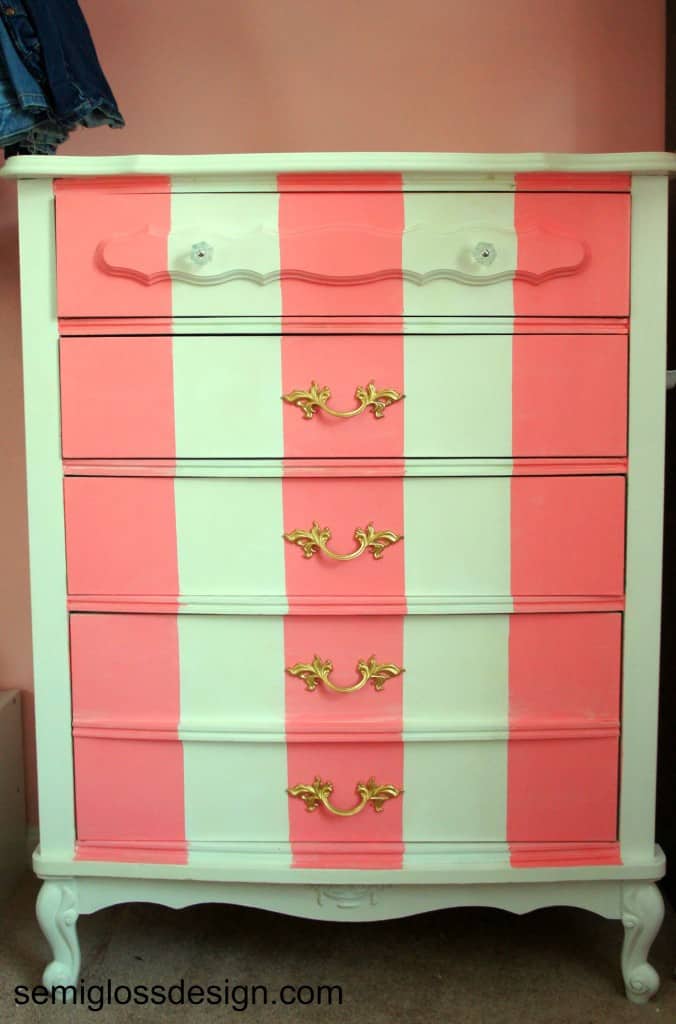 I also painted her dresser. It was just white before. I used Powder Room from American Paint Co that I bought at Sweet Clover (I don't see this pink color on the website anymore, so maybe they discontinued it? Too bad, it was a nice pink.) The coverage on this paint was amazing!
I spray-painted the handles gold and added glass ones to the top. I think they were from Lowes. This is in her closet, which still needs work. We removed the doors that never got shut and it opened the room up more.
A few of my favorite details in my daughter's room: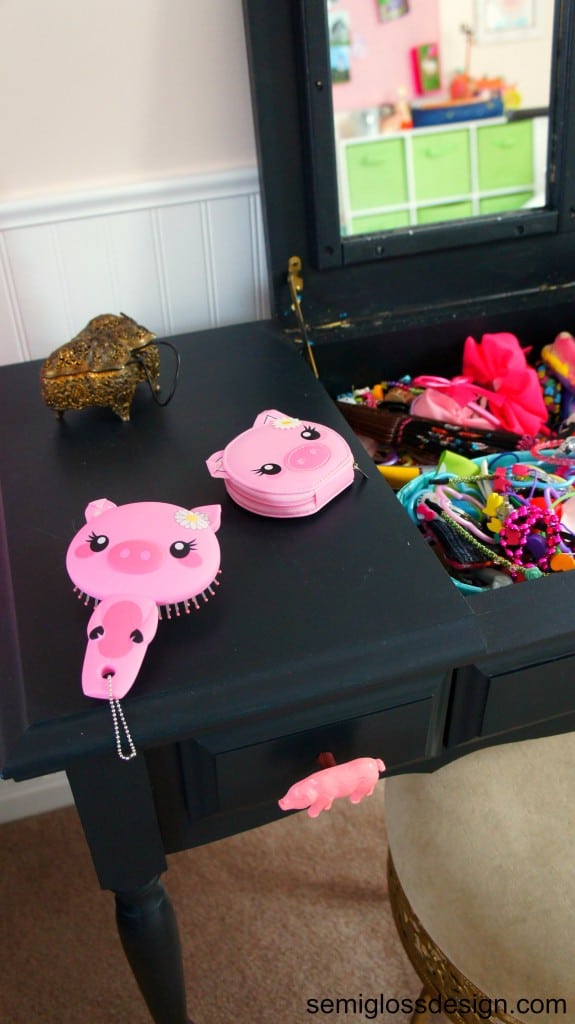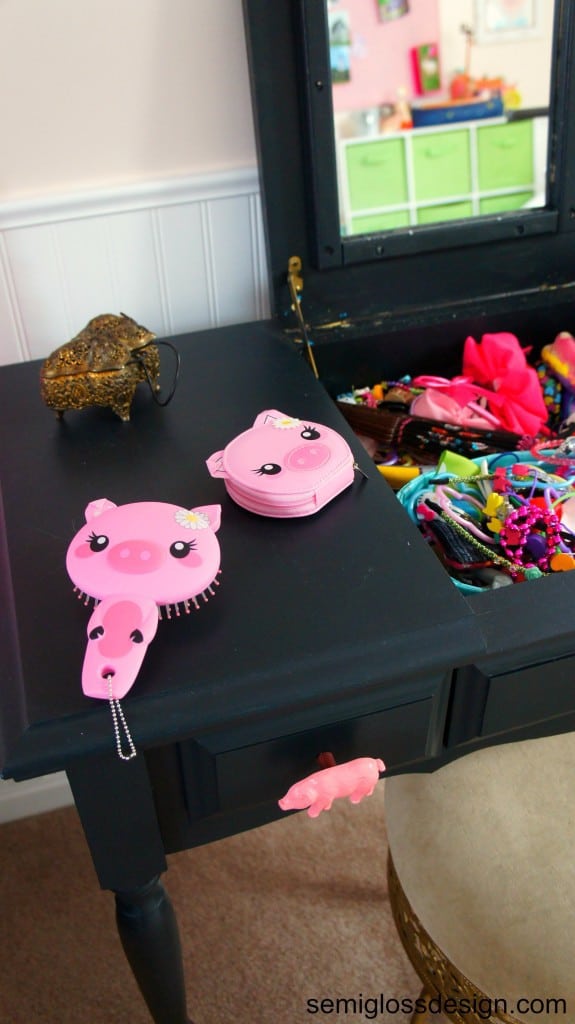 Pig brush and manicure set from Claire's via Toys R Us. Our Toys R Us has a mini Claire's in it, saving me a trip to the mall!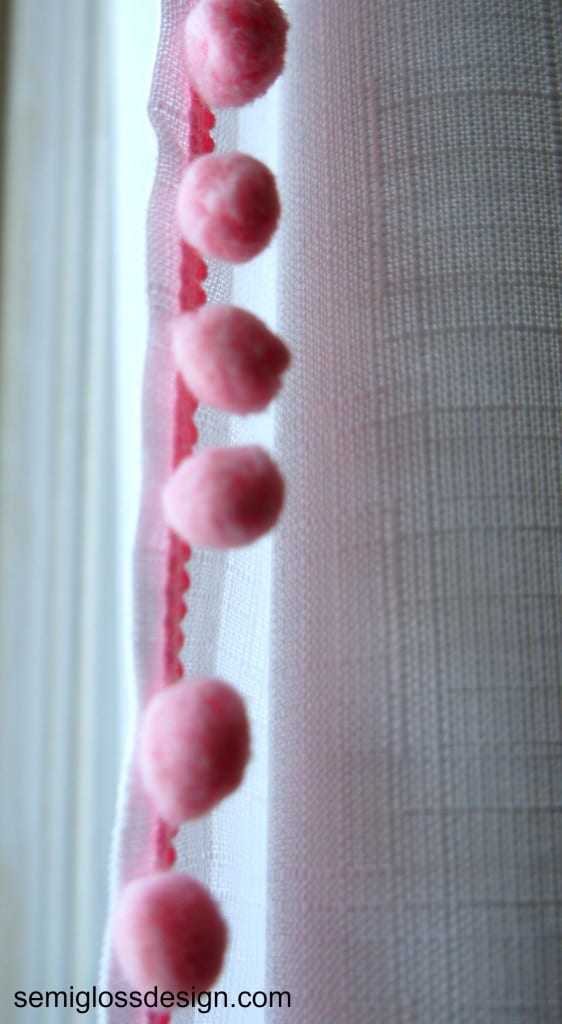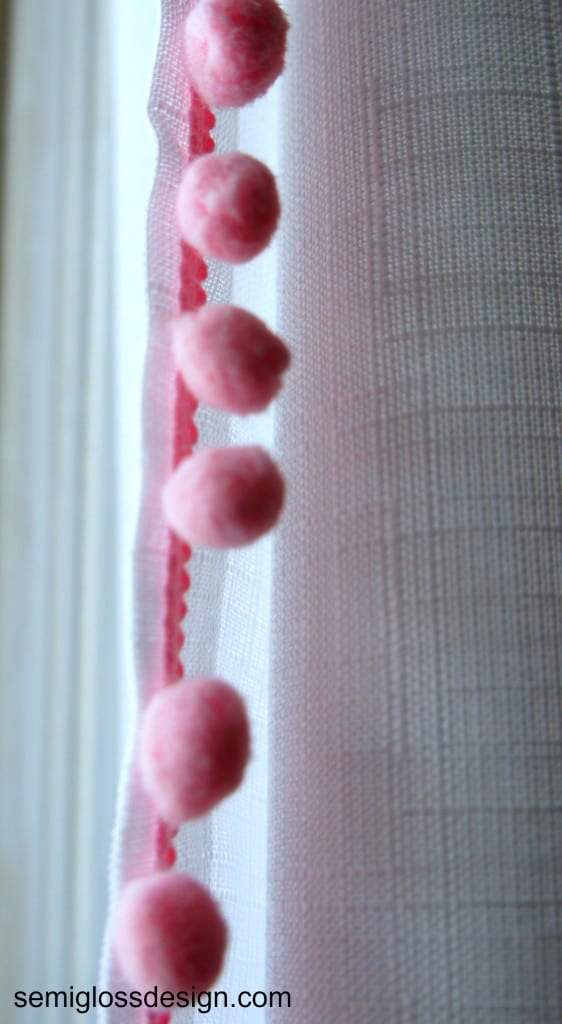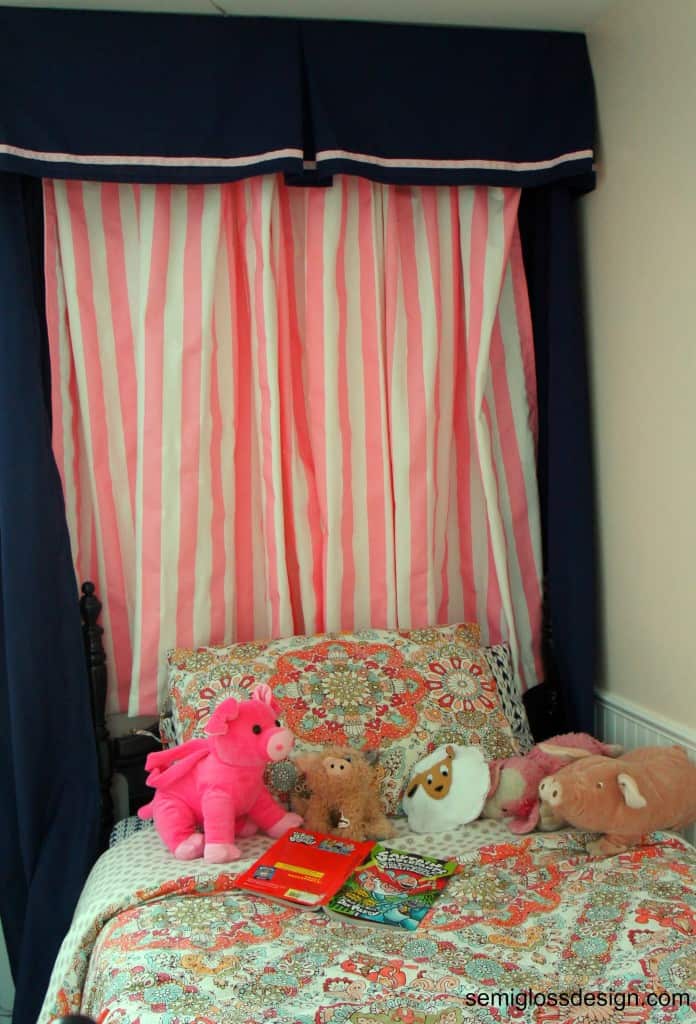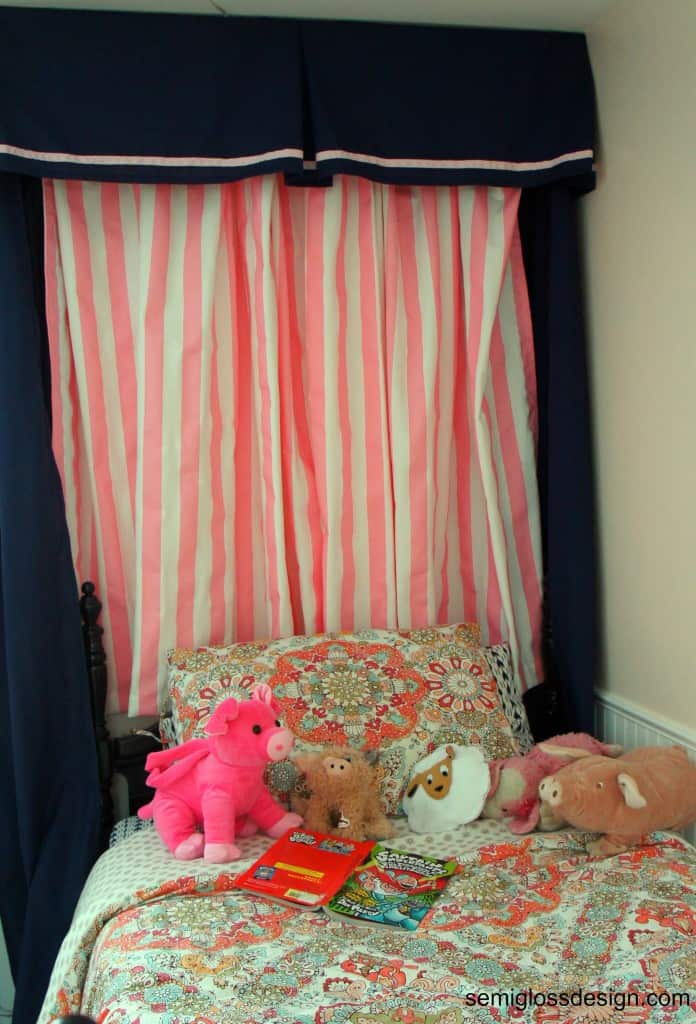 I am very happy with the way her room turned out. There are a few tiny things that I still need to do, such as hang a magnet board on her door and hang her clock. But I'm calling it done. Next up is a mini update for my son's room. Hopefully, we'll get to the bathroom soon. Life keeps getting in the way.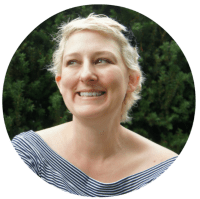 Emy is a vintage obsessed mama of 2 DIYer who loves sharing affordable solutions for common home problems. You don't need a giant budget to create a lovely home. Read more…