Our New House: Six Months In
Today I'm sharing the progress that we've made in the 6 months that we've lived in our house.
You can see how the house looked when we first moved in here.
This post contains affiliate links. By purchasing an item through an affiliate link, I earn a small commission at no extra cost to you. As an Amazon Associate I earn from qualifying purchases.
It's really hard to move to a new house after working on our old house for so many years. It's like starting over.
There are so many things that I want to do and it feels like I've gotten nothing done so far.
So this post is to remind me how far I've come and maybe inspire others who are also struggling with getting stuff done in a new (or even old) home!
So if you're feeling frustrated by your lack of progress, pull out the photos that you took (or the listing photos) and see how far you've come. It can be really motivating to keep going.
We've been in our new home in Florida for about 6 months and it's finally starting to come together.
This house is a bit hard to work on because the weather here is so nice. In Maryland, we spent the weekends working on our home.
But here, we find ourselves wanting to spend the weekends in the pool or exploring.
We live really close to the Weeki Wachee state park and we really love kayaking there.
It's one of the most beautiful places I've ever been to. It's actually the inspiration for my house.
I mean, look at those colors!
I'm adding lots of aquas, blues, and greens with a few touches of pink here and there.
Our House After Six Months
There's not a single room in my home that I consider done, but it's getting closer. I hope to finish a few spaces in the next few months.
We had new flooring installed in all of the rooms besides the bathrooms. It really makes a difference in how the house feels.
The Entryway
Nothing has really changed in the front. I added some hibiscus to the front garden, but they're in a bit of shock from transplanting them, so I'm not going to show that.
I've shared a little of the entry in my post on how to paint a scalloped wall. I'm still waiting to get the light installed, paint the doors, and add a bigger rug.
My Craft Area
This area is in a state of transition while I work on my office space. I've shared a bit in my post about a craft cabinet.
This area needs a bit of tidying still and I plan on reworking the art desk.
The large table in the room needs to be refinished and I plan on getting new slipcovers for the chairs.
The Kitchen
I outlined my kitchen plans here and I'm really excited to get started on the Phase 1 makeover.
I just finished painting the laminate cabinets.
The Dining Nook
I painted this room and the adjacent living room in SW Waterscape.
Eventually, I want to add banquette seating, some kind of window treatment, and a new light.
The Living Room
I haven't done much in here besides paint. But I love how this room feels.
Eventually, we will swap this couch with a larger sectional. It also needs a rug and eventually a cuter ceiling fan.
We also plan on adding a beverage fridge and bar area where the record player currently sits. (The door goes out to the pool, so this is the perfect place.
The Primary Bedroom
I haven't done much in here either. We removed the wallpaper border and painted the walls white because I couldn't decide on a paint color.
We also replace the vertical blinds.
I bought this wallpaper mural that still needs to be installed and I hope to figure out the rest of the room from there.
The Primary Bathroom
I painted the walls and the cabinets in here. It's amazing how paint can really update a space.
I also added much-needed hardware and rugs.
The Kid's Bathroom
This space needs to be gutted eventually.
It's the ugliest in the house, but for now, I made it cuter by painting the walls, adding new hardware, and painting the vanity cabinet.
I also made art for the walls.
I want to swap the shower curtain with something a bit bolder. The light will be changed when the electrician comes.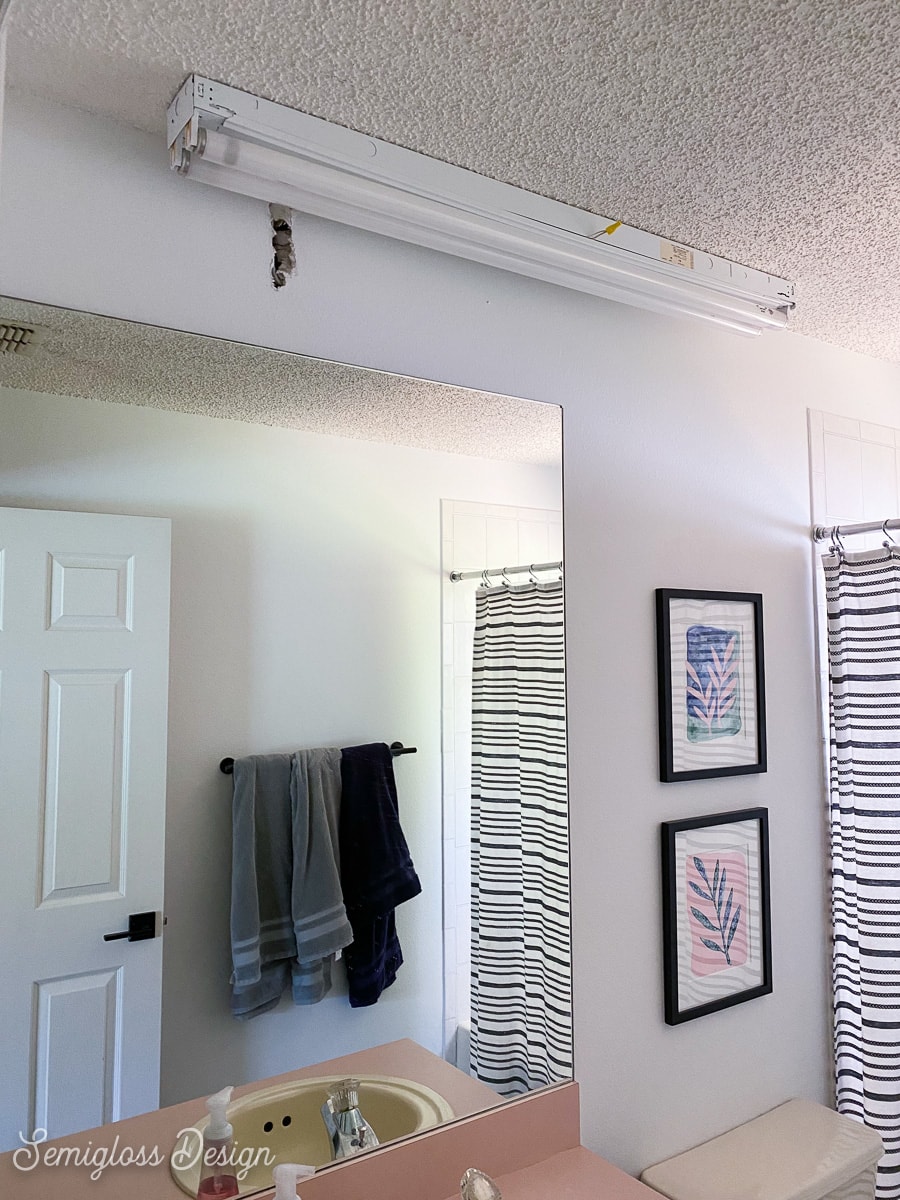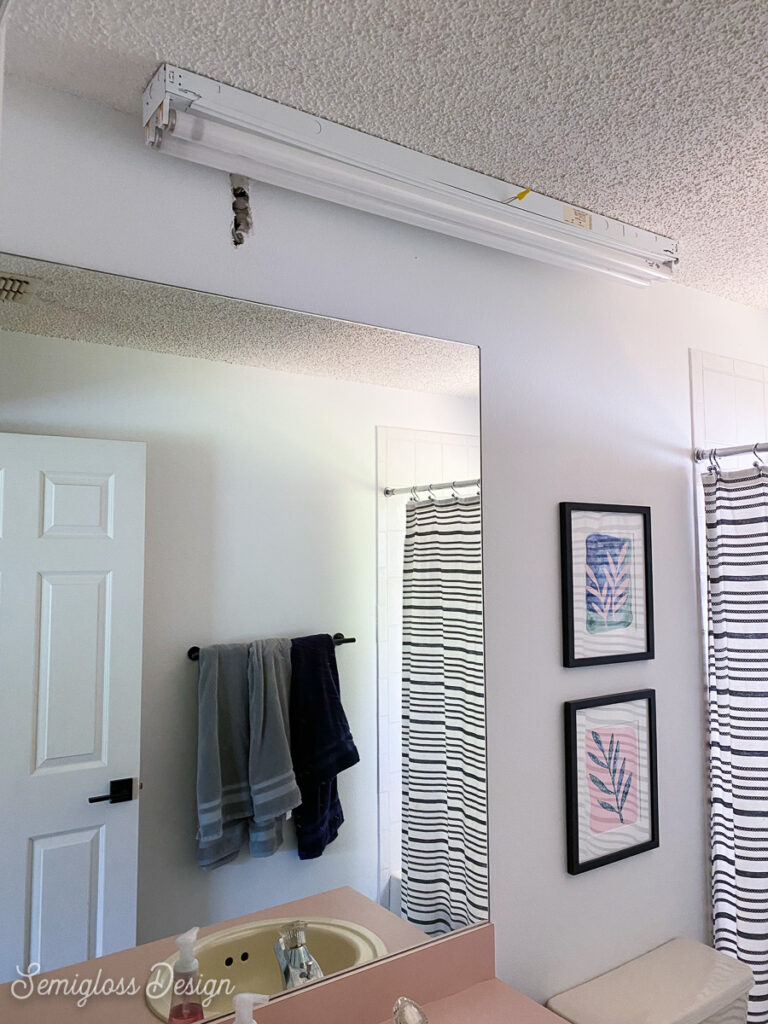 The Pink Mystery Room
The pink room was demo'd to become my office space. It currently sits empty awaiting the electrician to install a light fixture.
I'm also adding wallpaper and a wall-to-wall desk.
I just finished this room. Check out my colorful boho office makeover here.
My Husband's Office
This room was bright green and had a wallpaper border. We removed the border and painted the walls white.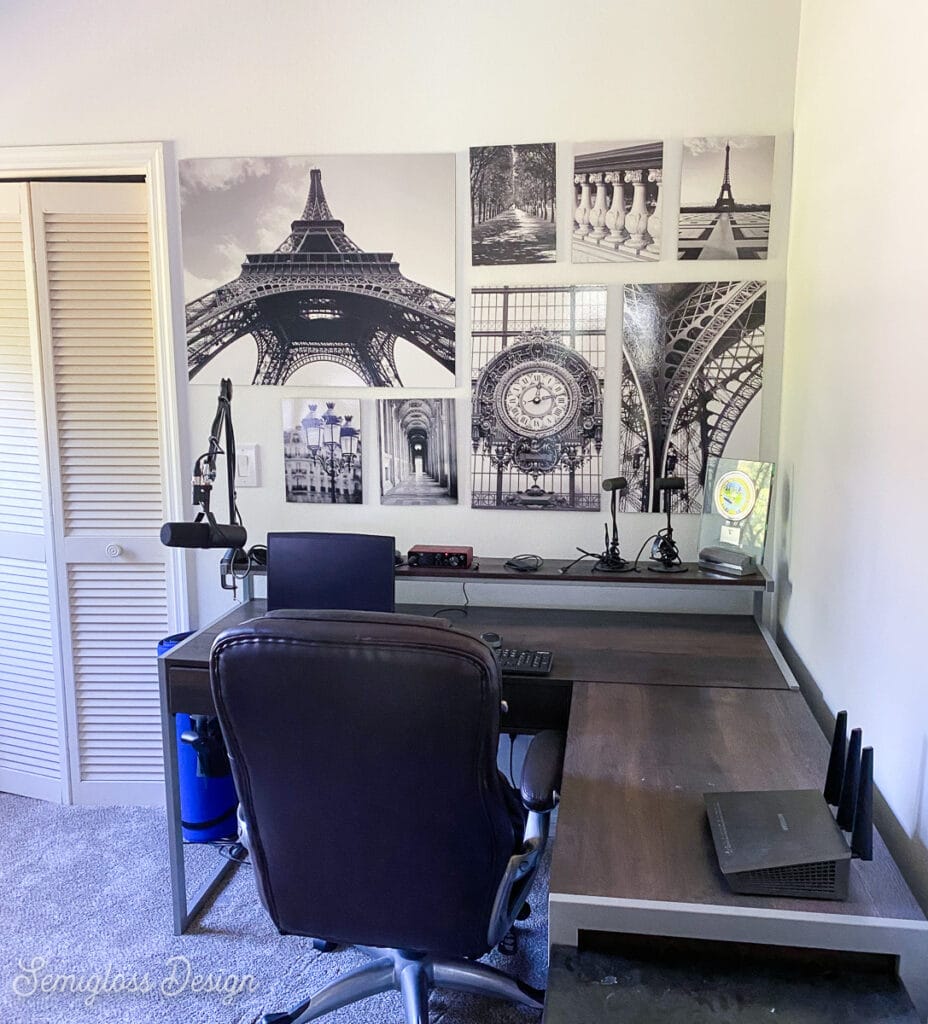 He has since decorated the office with travel art from IKEA.
Screened-In Pool Area
We bought new furniture when we moved in. Since then, we've added a ton of plants and a gas firepit.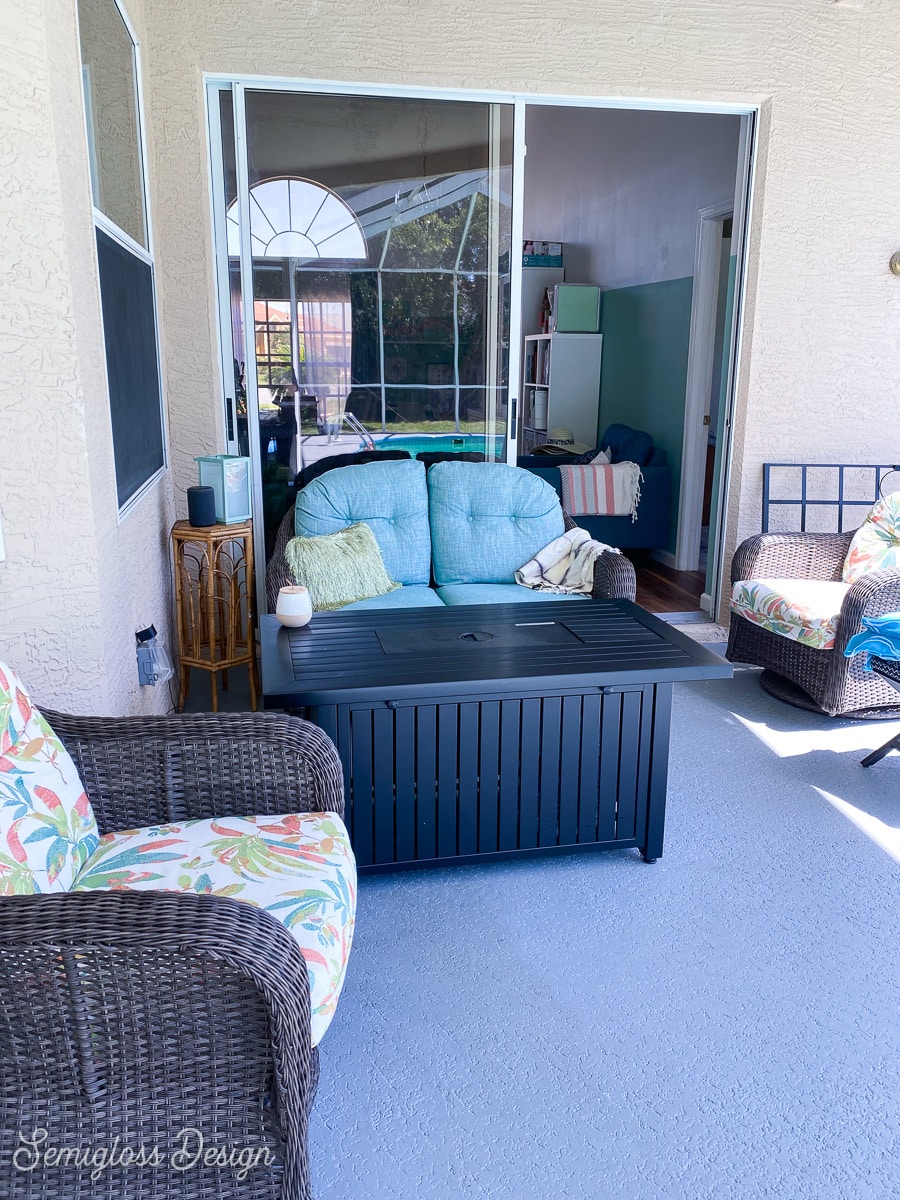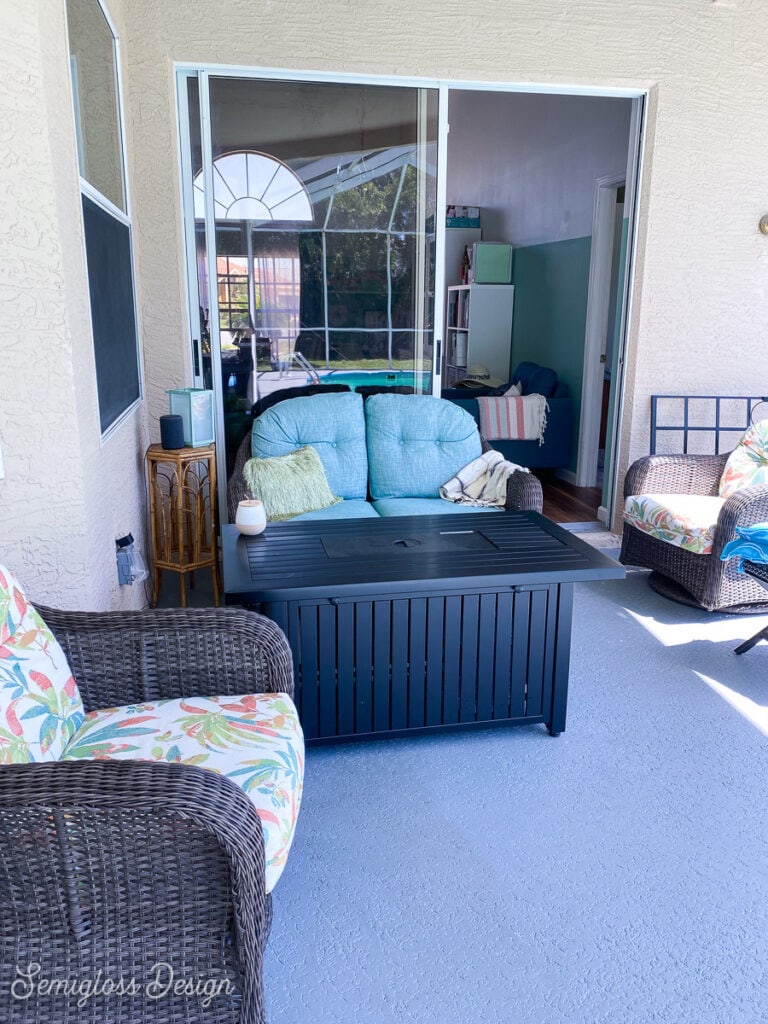 I still want to add more plants, a rug (mainly for my dog), and a ceiling fan.
Next year, I'm hoping to get the pool resurfaced.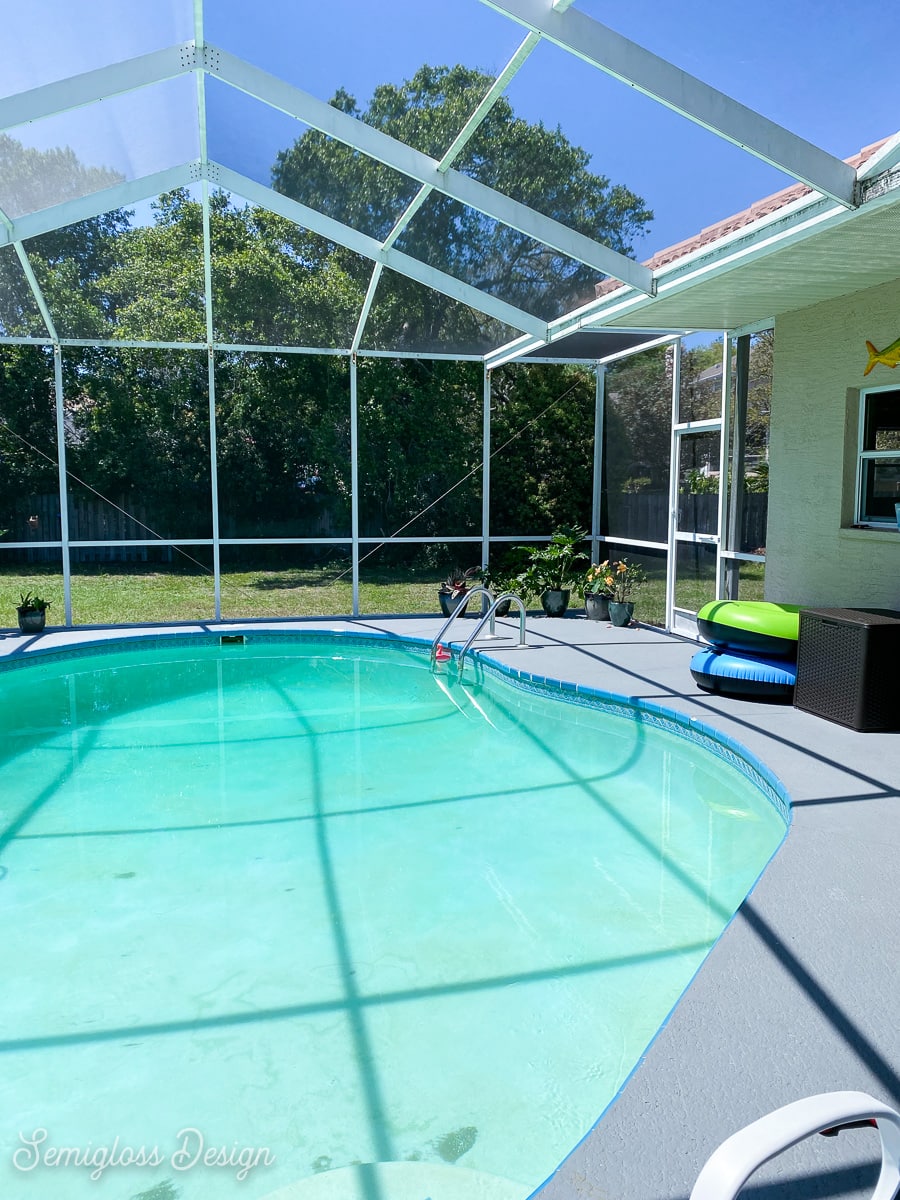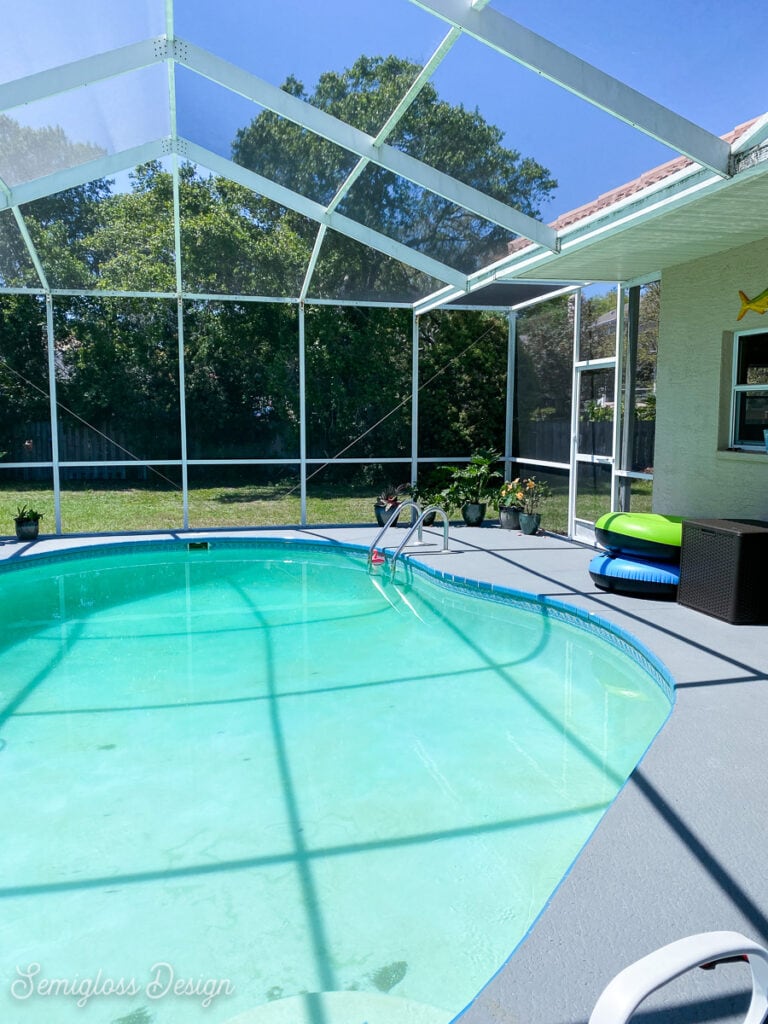 This area is our favorite place to hang out.
The area outside the screen against the fence is going to become a butterfly garden.
House Projects This Year
As I've already mentioned, we're giving the kitchen a small makeover and fixing up my office space.
Besides that, I plan on giving the blue bathroom a makeover. It's pretty cute, so it won't take much. Right now, it hasn't been repainted yet though.
I plan on painting, adding a wainscotting, a cute wallpaper, and a cute shower curtain.
I will probably do more, but for now, those are the projects that I'm planning for.