One Room Challenge: Bathroom Update
It's time for the One Room Challenge again and I'm so excited to get started. I participated in the spring and redid my kids' treehouse. This time around, I'm working on my main floor bathroom.
This is the only bathroom on the main floor of our house, so guests use it, as well as my children. I've done a few small updates to it since we moved in, like updating the light fixture and adding new hardware.
We also updated the vanity and faucet in April. It still needs so much work, as you will see.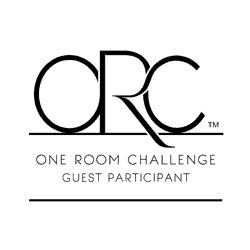 Bathroom before pics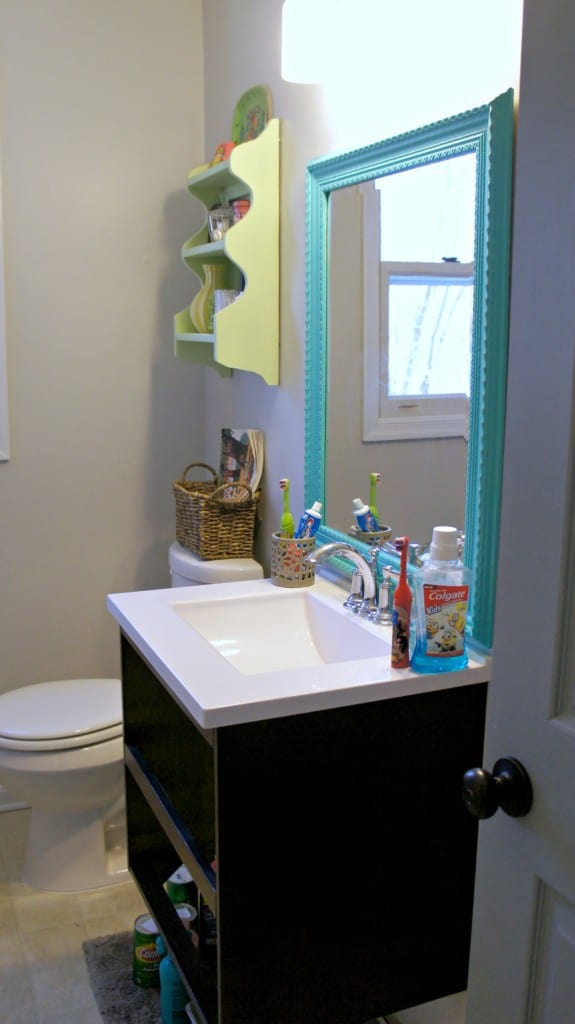 This was taken right after we installed the vanity and we were trying to figure out how to make the drawers work with the plumbing. It has drawers now.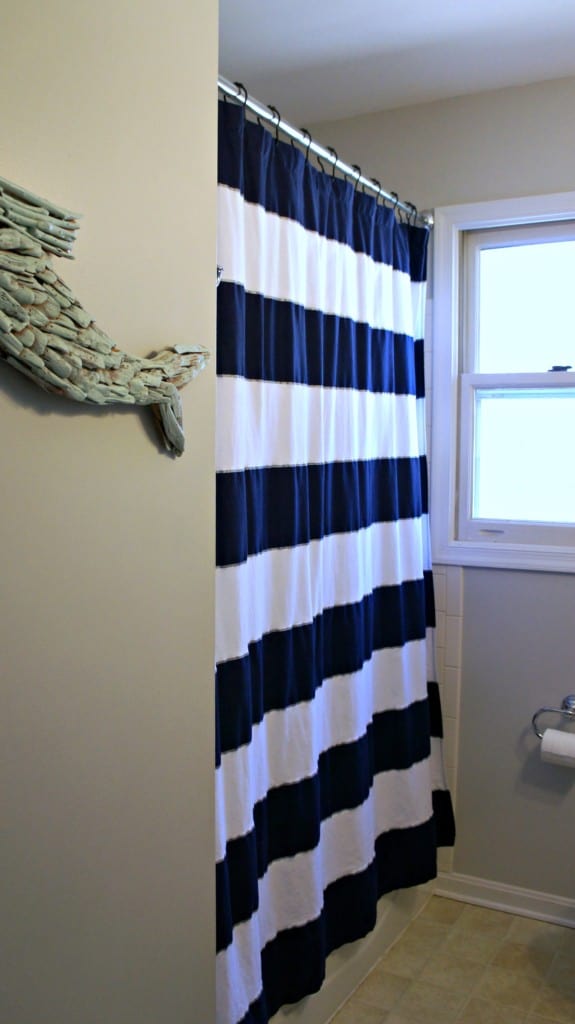 So not totally horrible, but not great either. I cropped out the possible mold spot. You're welcome.
Problems with the bathroom:
Very little storage. The vanity only has 2 small drawers, so there is still nowhere to put cleaning supplies and toiletries. Plus, the vanity top is small so it doesn't have room for them either. But we love the vanity because it opened up a very narrow walkway. We're going to build some recessed storage.
We need a new floor, like yesterday. The pictures make it seem better than it is. It's gross and has a big hole where the old vanity used to sit. #classy
Sick of boring wall colors and decor. Wickham Gray, you just don't do it for me. Neither does the driftwood mermaid.
Toilets and kids = gross. We need a toilet that's easy to clean. We're going to install one that doesn't have exposed pipes.
We have no neighbors behind us, but it has occurred to me that maybe our guests don't enjoy feeling exposed by the window. Bamboo blinds will be added.
We started the demo over this past weekend because bathrooms are always more complicated than you want them to be. Plus the discolored vinyl had me thinking that the floor might be hiding an ugly surprise.
It turned out that the original vinyl had a thin sheet of wood on top of it (with 5 million long staples) and then a new layer of vinyl. Guess what happens when water is trapped between 2 layers of vinyl? Yep! Mold happens. And rotten wood. We got lucky that the subfloor wasn't destroyed as well.
Removing the layer of paper backing was another thing we had to tackle. (Our house was built in 1988 so most likely asbestos free. If your house was built prior to 1980, test it before removal.) Our scraper was gouging the floor all up, so we turned to the internet for alternative methods.
I read about sealing the paper with something called Armstrong floor sealer. Our hardware store didn't carry it, but it did carry a sealing primer.
We went with that. I figure that if soaking it in water and scraping at it doesn't remove it, thinset isn't going to loosen it either.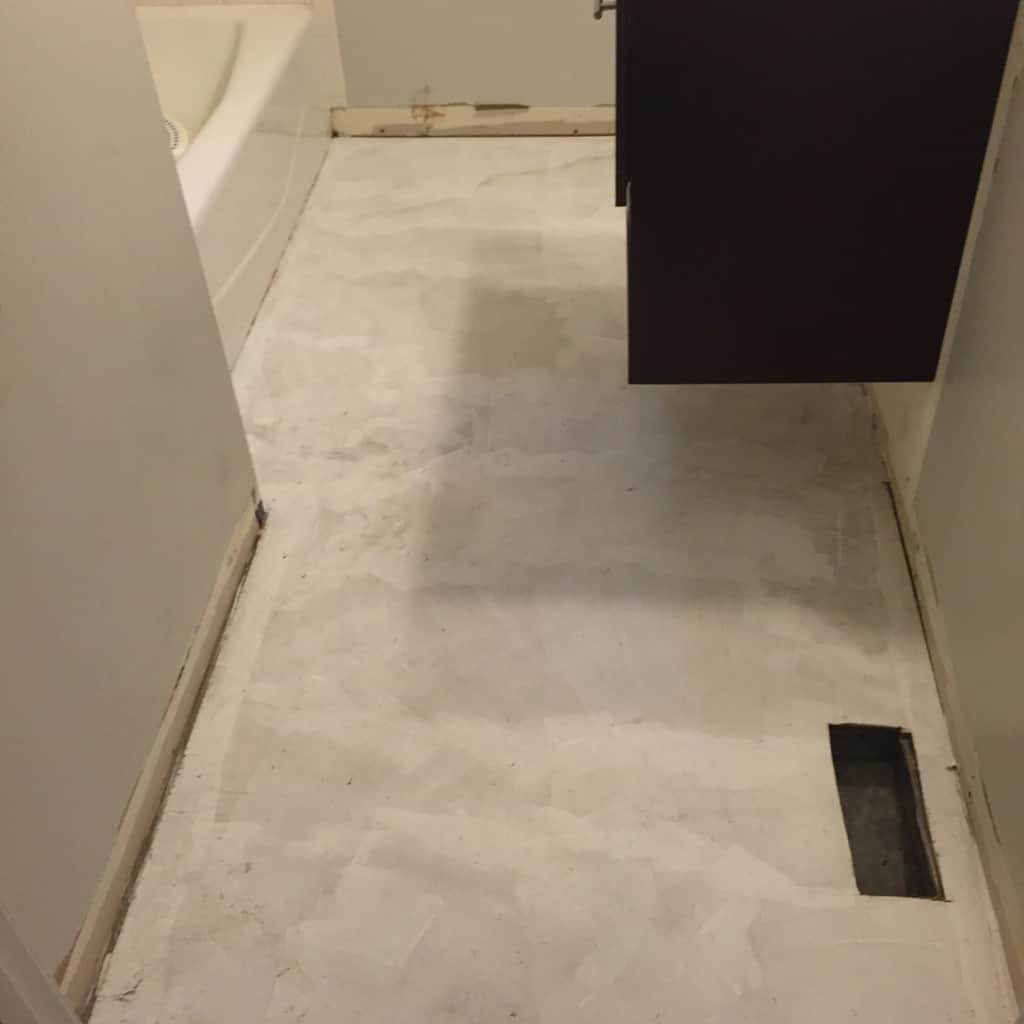 So the floor is primed and ready for tile. It's going to be so pretty.
Bathroom Update Plans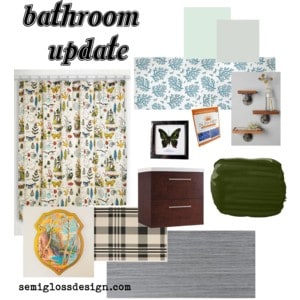 I was really inspired by Camp Wandawega and Moonrise Kingdom. The design is full of color, pattern and fun.
This shower curtain was the starting point. It's pricier than I would normally spend on a shower curtain (I'm super cheap!), but it's worth it. It's also kid-approved.
A bold patterned shower curtain obviously needs more pattern on the walls. I plan to use this stencil but in a subtle tone-on-tone way. I know I live 4 hours from the beach, but the coral is so pretty. It's almost branch-like.
I love the look of pipe shelves and have been dying to make some for my house.
Some fun DIY cyanotype artwork will happen, plus some taxidermy butterfly art.
Green lower paneled walls beneath the stenciling. I knew that I wanted a dark color for paneling and I'm so glad that I thought of green.
We already installed the vanity. I wouldn't buy it again, so I can't recommend it. It's a pain to install.
The tile is large and gray with pretty black stripes on it. It looks like menswear and I'm super in love with it. We also used it in our basement under the wood-burning stove.
I'm considering a plaid rug. It needs to be washable though. This bathroom gets used a lot.
Paint by numbers are my favorite, so I want to do something with them in this bathroom.
This makeover has me so excited! A big thanks to Linda at Calling It Home for hosting and organizing the One Room Challenge. I can't wait to see all of the other amazing transformations.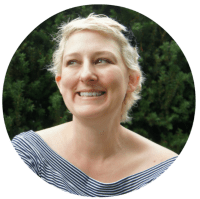 Emy is a vintage obsessed mama of 2 DIYer who loves sharing affordable solutions for common home problems. You don't need a giant budget to create a lovely home. Read more…