Just wanted to stop in for the week to say that this will be the only post this week. I'm taking the rest of the week off to spend time with my family over Thanksgiving. Also, I've started a super fun project that I'm so excited about. I'm not good at sitting still, so another room makeover is on the way. Today I'm sharing the plans for my stairs and hallway.
But first, I need to be honest about something. About a month ago, I broke up with my house. It was a necessary step because I believed that we were moving. So I emotionally detached from my house and started planning all of the boring changes I would need to make to sell my home. Obviously green shiplap and coral stencils aren't for everyone. I hated the process because I hate boring. It would be so easy to copy everything that I see on pinterest, but I really love making my home unique. I want something that no one else has! That's why I love vintage so much. Not very many people own a green Kroehler sofa from the 1950's or a vintage cowboy tapestry.
Anyways, we decided it was a horrible idea to move and changed plans. Luckily, my house took me back and we're in our honeymoon phase. We're staying in Maryland and I have to be a big girl and deal with the bitter cold. Yeah, I know if you live north of me, you're laughing. But this is the farthest north that I have ever lived. I grew up in Houston! The best part about staying (besides my friends here) is that I get to work on fun projects for my house with no regard to resale value! I hope you stick around while I fall madly in love with my home.
When we bought this house, the only thing we did to the hallway was remove the wallpaper. We left the sky mural on the attic door. We haven't even changed the light fixture. Stairwells are intimidating because: heights! I'm afraid. Working on a ladder can make my knees weak at times. So makeshift scaffolding to paint the stairwell has little appeal to me. Also, I knew that I wanted something fabulous. It's such a small space and it's crying for something fun.
Plans for my stairs and hallway
***This moodboard was created with the intentions of showing my husband, not for the blog. I've added sources where possible for ideas.***
Black doors. In a tiny space that has 4 doors, they shouldn't be ignored. However, I don't want them to be a focal point either. Painting them black meets that criteria. I already had satin nickel knobs in the space, so they couldn't be gray like downstairs. I want to be able to see the doorknobs. Plus, the black will go great with the other elements. Painting doors black is an easy DIY project that can change the look of a room! (They currently need 1-2 more coats of paint and they look lovely already!)
Woods wallpaper.
OMG. I love this wallpaper. I've loved it since I first laid eyes on it. I just got the sample in the mail and it's a work of art. *Insert heart eye emoji* The wallpaper will go on the hallway walls upstairs. I know it's been used before, but the heart wants what the heart wants.
Ps. That link is the best price that I've ever seen for this expensive wallpaper. 
Shiplap stairwell.
The stairwell walls are getting shiplapped. I love the texture it brings to a space. Did you see
Kari's stairwell
? It's gorgeous! Kari does a really good job of making neutral decor not boring.
I'll probably layer my vintage kitsch art collection on top of the shiplap. Painting the wood beforehand should make it easier to install. (This is where I'll be batting my eyelashes real pretty at my husband so he does the scary parts for me.) (
source
)
Copper handrail. Right now, we have a plain oak handrail. I'm considering switching it out for copper. It's fairly inexpensive and I love the way it oxidizes with use. My husband is a bit concerned about it not being up to code, but I want it so bad. My preliminary research states that it only has to be "graspable," so it sounds like it works. 😉 Winning!
Black stair risers and stained treads.
I hate carpet on my stairs. I have a black dog and beige carpet. It always looks dirty, so the carpet has to go. I'm not sure what we will find under the carpet, but they seem to have actual risers (unlike my basement stairs which were built with junk lumber.) If it's bad, I'll just paint them black. (
source
)
Gray tile in entryway. At the foot of the stairs, we have white tile by the front door. Once again, black dog + light color = gross. These are just the areas where it bugs me the most. I know there's dog hair in other places too. 😉 Good thing she's worth it.
Fun colored runner. Have you ever looked at the stock options for stair runners at the hardware store? Ugh. Not good. So I plan to use some inexpensive runners for a bold look.
Wire railing.
I'm ripping out the oak banisters and baluster in exchange for a much more modern approach. So simple stock lumber and wire railing. I'm
using this tutorial
, with a few changes based on what I could find in my hardware store.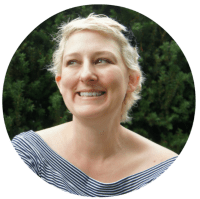 Emy is a vintage obsessed mama of 2 DIYer who loves sharing affordable solutions for common home problems. You don't need a giant budget to create a lovely home. Read more…