DIY Lazure Painting Mural: Rainbow Watercolor Effect
Lazure painting is a beautiful way to add color to a wall. Learn more about this fun watercolor effect to create your own rainbow mural.
This technique is very similar to my ombre wall. You might also like my tutorial on painting a geometric accent wall.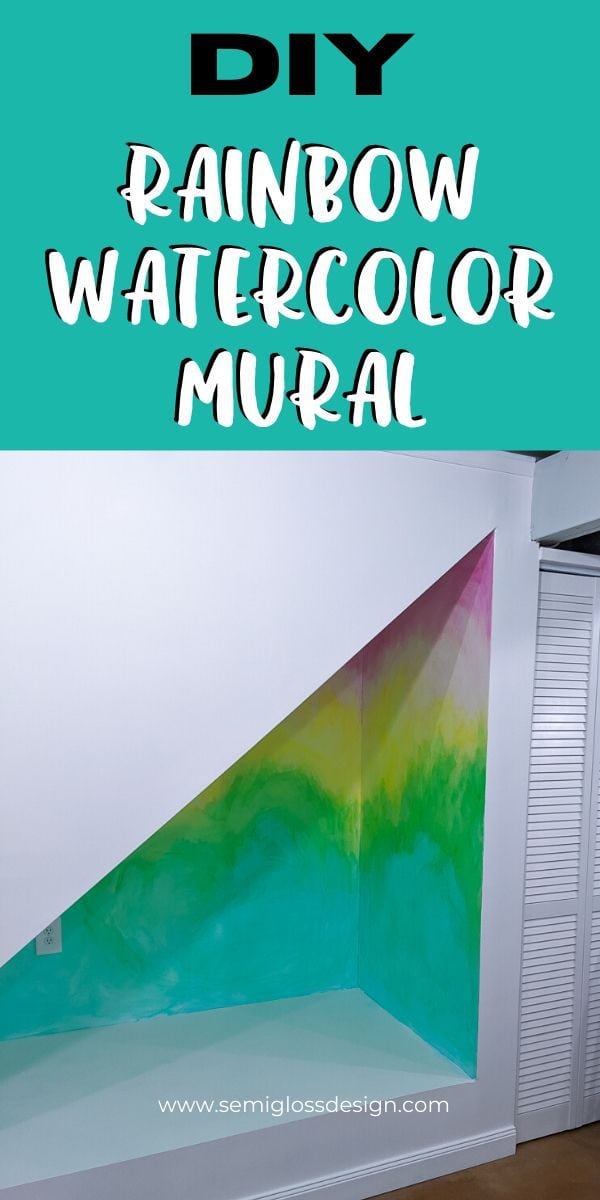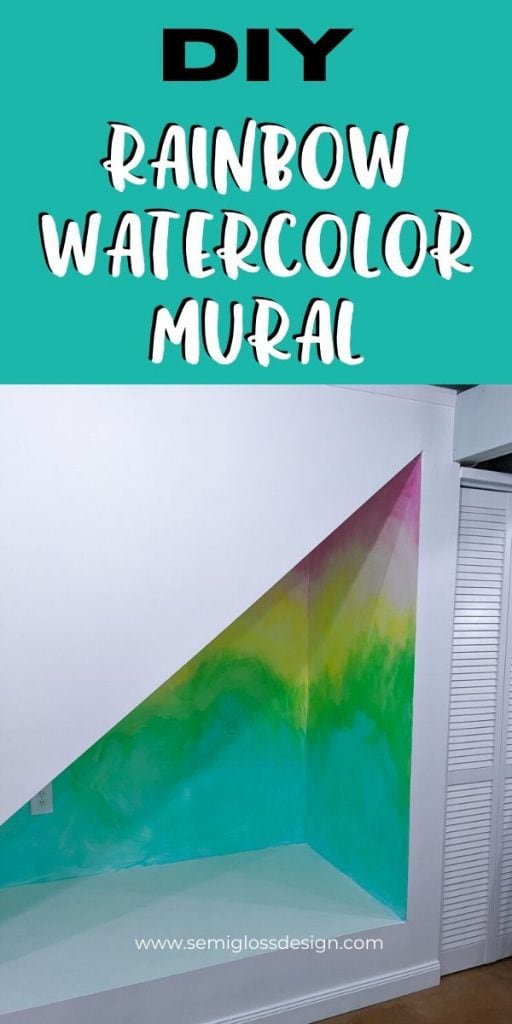 This post contains affiliate links. By purchasing an item through an affiliate link, I earn a small commission at no extra cost to you. As an Amazon Associate I earn from qualifying purchases.
When I was getting started, I knew that this was either going to be a mess or a masterpiece. Maybe a mess-terpiece?
Most of the resources for this technique are over 10 years and written by people who also love to rag-roll paint, if you get my drift. Let's just say that blogs were a different thing in 2006.
A lot of the tutorials suggest buying an expensive kit, complete with DVDs of how to do the technique. I don't even think we own a DVD player anymore…
This is probably more of a Faux Lazure painting technique and I'm okay with that. My version is much brighter, but it's in my craft room where I want all the color. I'm super happy with how my lazure mural turned out.
You may notice that I skipped the colors orange and purple for my rainbow spectrum. That's because I don't like those colors. This technique allows you to customize it to how you want it.
To see more of this room, check out my basement craft room reveal.
Lazure Painting FAQs
What is lazure painting?
Lazure painting is a technique that uses transparent layers of blended paint, similar to watercolors. It is typically done in the pastel version for a soothing effect. Lazure is often done in Waldorf schools.
You really don't need any special skills for this technique beyond basic color theory – knowing which colors look good when blended together. (Go in rainbow order if you have no clue what I'm talking about.)
(By the way: my version is much brighter but similar effects can be achieve by using lighter colors or less paint in the mixture.)
What is needed for lazure painting?
You need white walls, some kind of glaze and paint. I used artist acrylics because they contain a lot of pigment and are relatively cheap (compared to something like watercolor paint.)
You also need brushes, the more the better! And paint cups for mixing. I also used water to dilute my mixtures even more. Water can also help lighten a color if you use too much paint.
The last thing I used was a spray bottle to re-wet spots that were drying too fast.
How to Paint in the Faux Lazure Style
Supplies for Lazure Painting
*I've read that you can also use Floetrol with water instead of glaze, but I didn't get a chance to test it.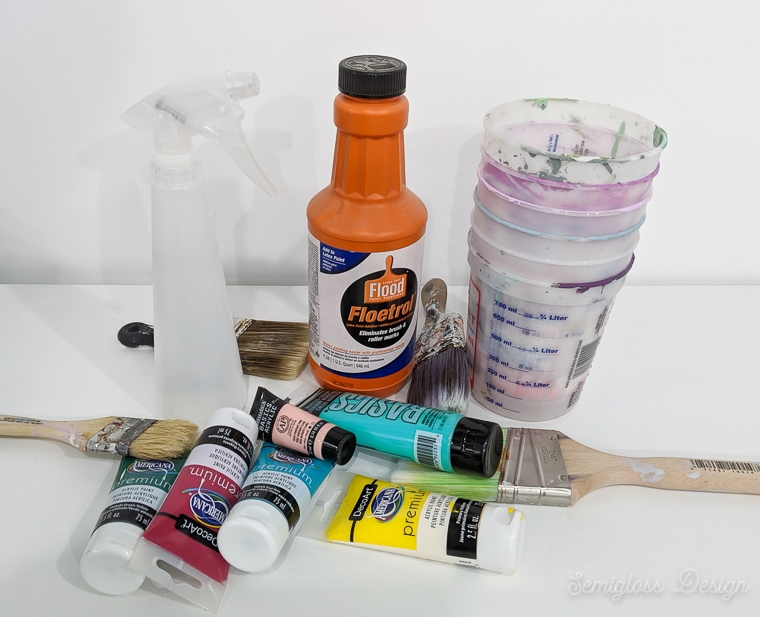 ** For this technique, I loved the brush texture of junky chip brushes. They blended the colors better than fancy paint brushes.
Directions
Note: Since this technique uses transparent paint, it's best to start with pure white walls. A satin finish is the best paint for this technique.
I used Sherwin Williams High Reflective White for the entire room, so that's what this space is painted with as well.
Step 1: Mix Your First Color
I started with yellow as suggested in other tutorials, but I should have started with the pink first. When you start with yellow, you start in the middle of the colors and everything is dry by the time you get back to the pinks.
Also, most tutorials suggest working with a team of people to work on the wet edges, but this space is so tiny that I barely fit. If you're working in a larger space, have a few assistants.
(I have measurements listed below, but I didn't measure anything.)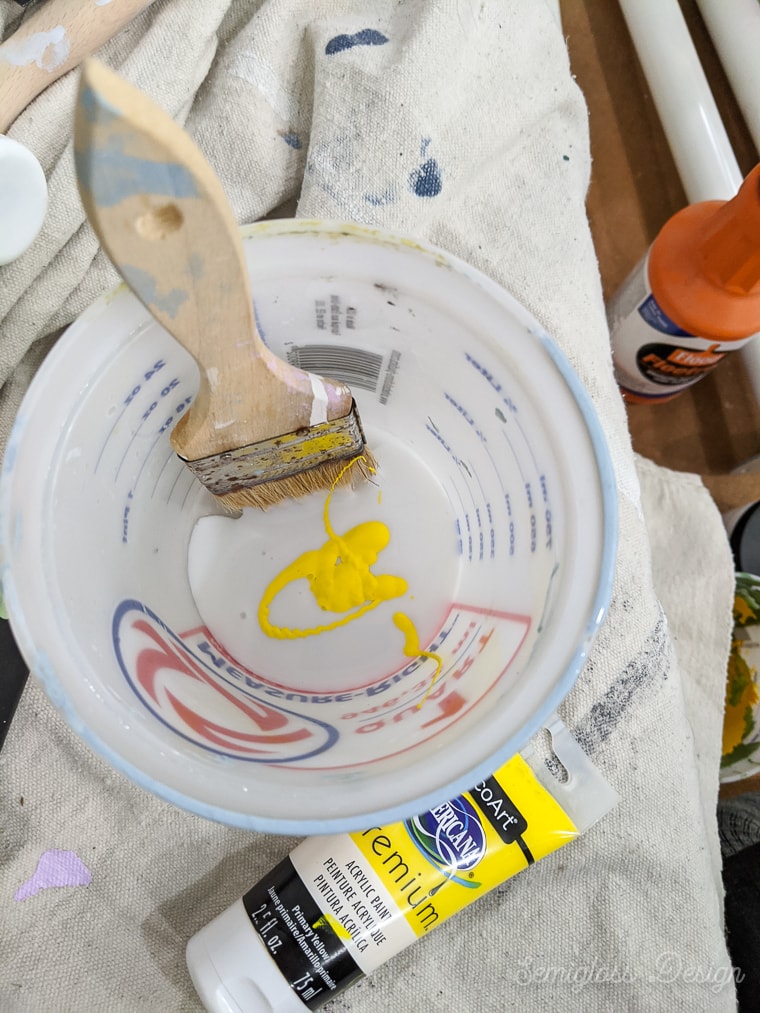 Pour about 1/4 cup glaze into a cup and add some paint. Use less paint for a pastel version or choose a pastel color to start with. Add a bit of water to dilute the mixture.
Step 2: Paint Your First Color
Paint an organic shape on the wall. You don't want a circle or square of paint. The paint should be transparent, not a solid coat.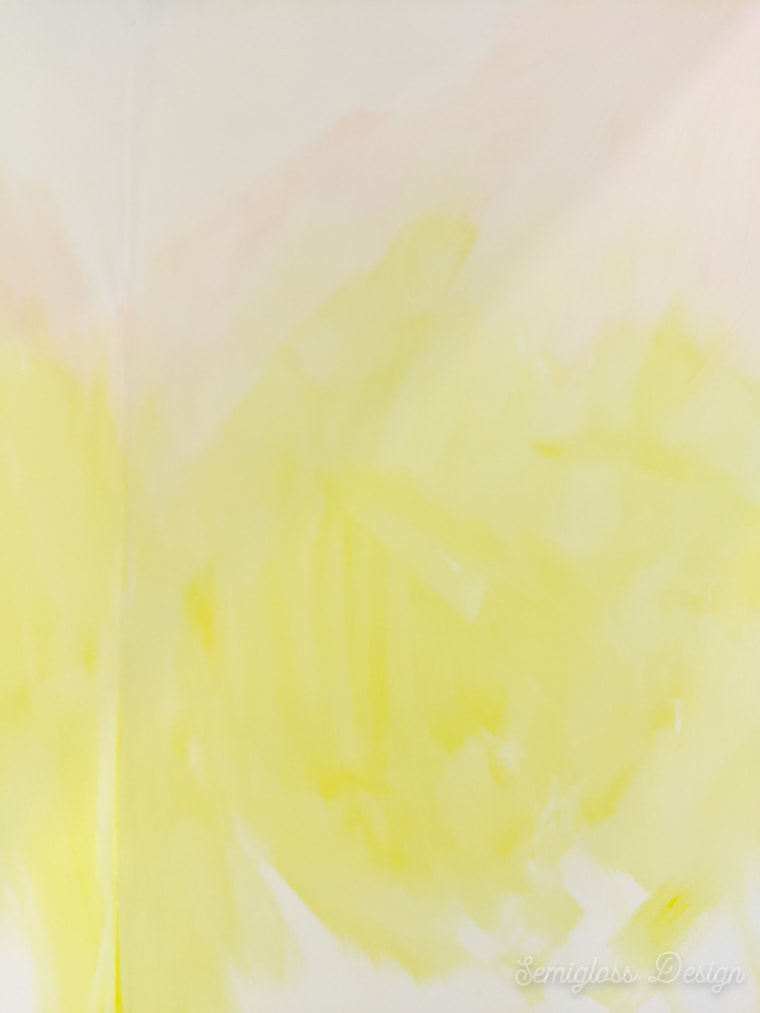 Step 3: Blend the Paint
Use a clean brush and blend the color to a smooth (but transparent) coat. Blend the edges into the white walls. If the paint is too wet, it may be beading up, more than blending. Come back to it when it's a little dryer and blend some more.
Step 4: Mix and Paint Your 2nd Color
Your 2nd color should come next in the color spectrum.
Paint your 2nd color onto the wall, blending with the 1st color where they meet. Use a dry brush to blend more effectively. If your dry brush gets too wet, you can wipe it off with an old towel or on your drop cloth.
If the paint feels too dry, use a spray bottle to re-wet sections. This also creates cool drippy effects that are not part of the lazure technique, but cool nevertheless.
It is possible to overwork a spot. The paint starts looking muddy and gets a weird texture. It might even lift up. If this happens, let it dry and come back to it later. Then add a more diluted layer of paint and blend the edges well.
Step 5: Repeat Steps 2-4
Keep painting, changing colors as needed until you're done.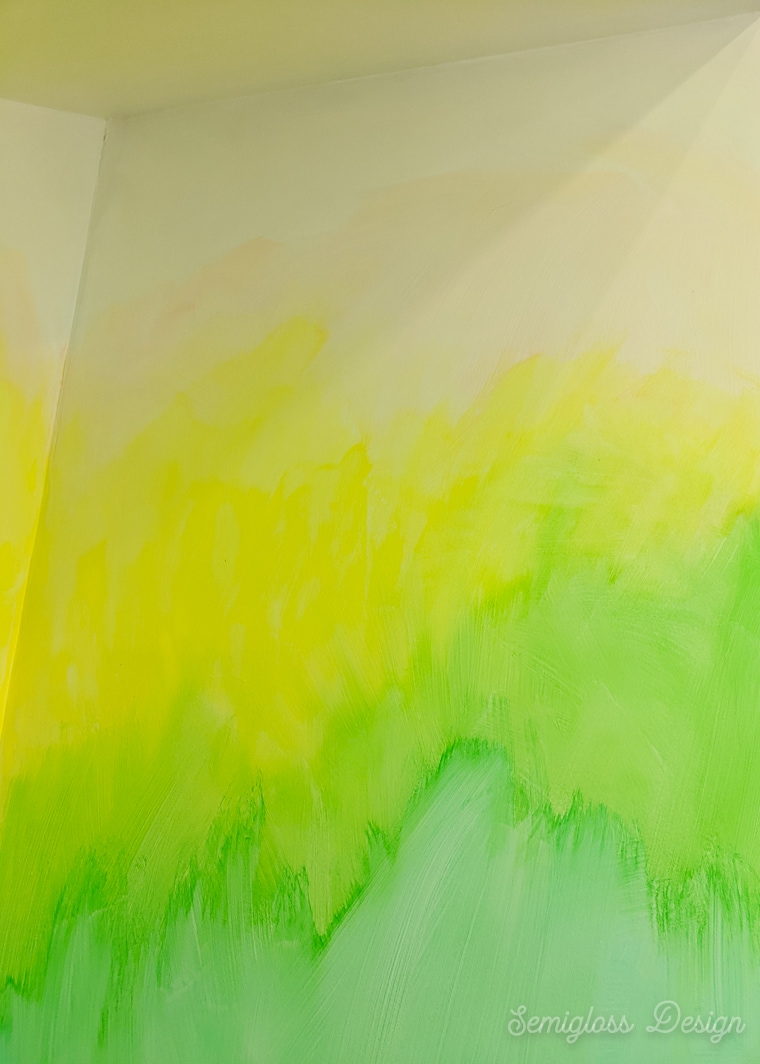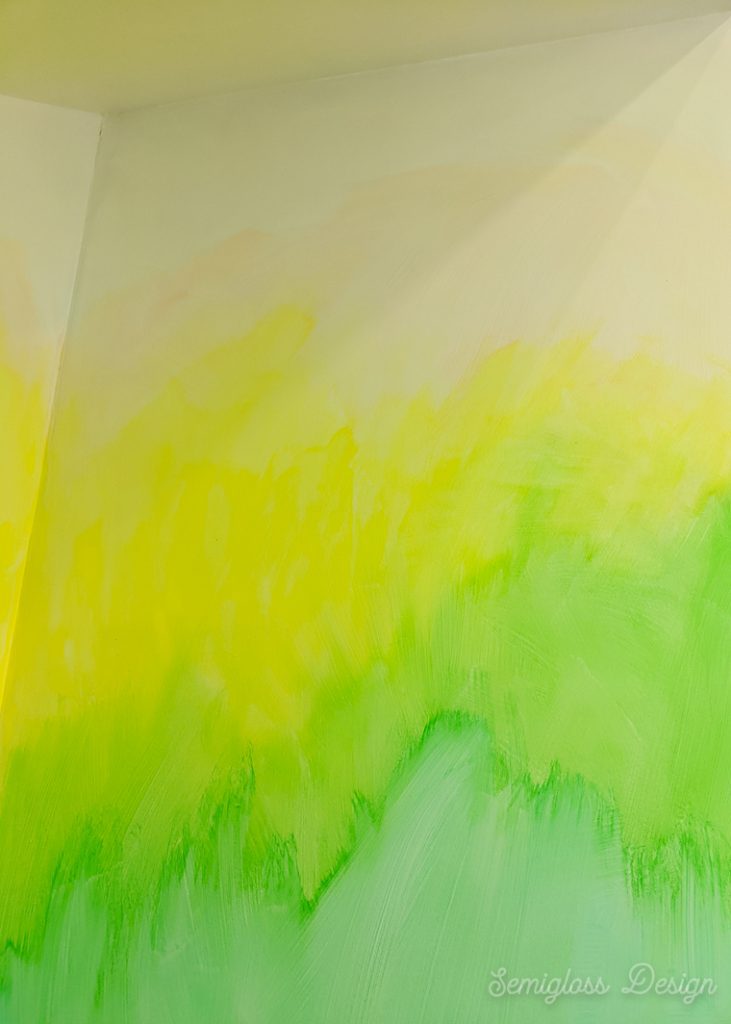 (My camera battery died while filming this tutorial, so I paused for about an hour and my paint dried in between. Don't do that. It's best to work with a wet edge.
A light blue is added at the bottom after the aqua color. A magenta color was added above the pale pink.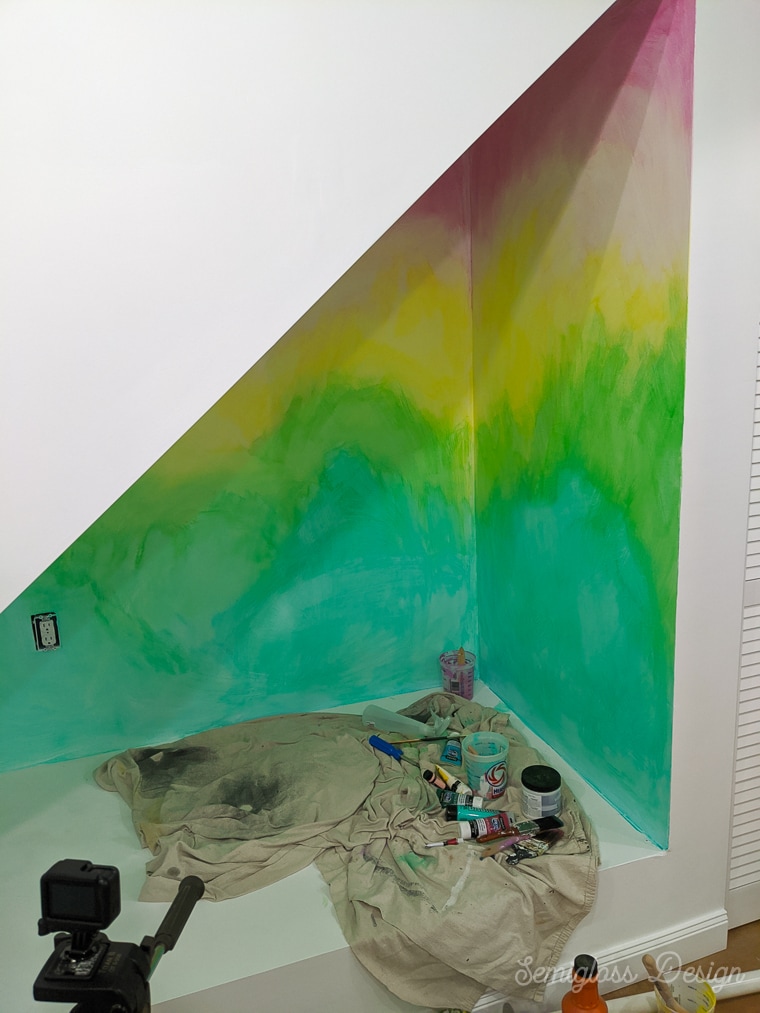 If you colors aren't vibrant enough, you can add a second layer, but it does reduce the transparency.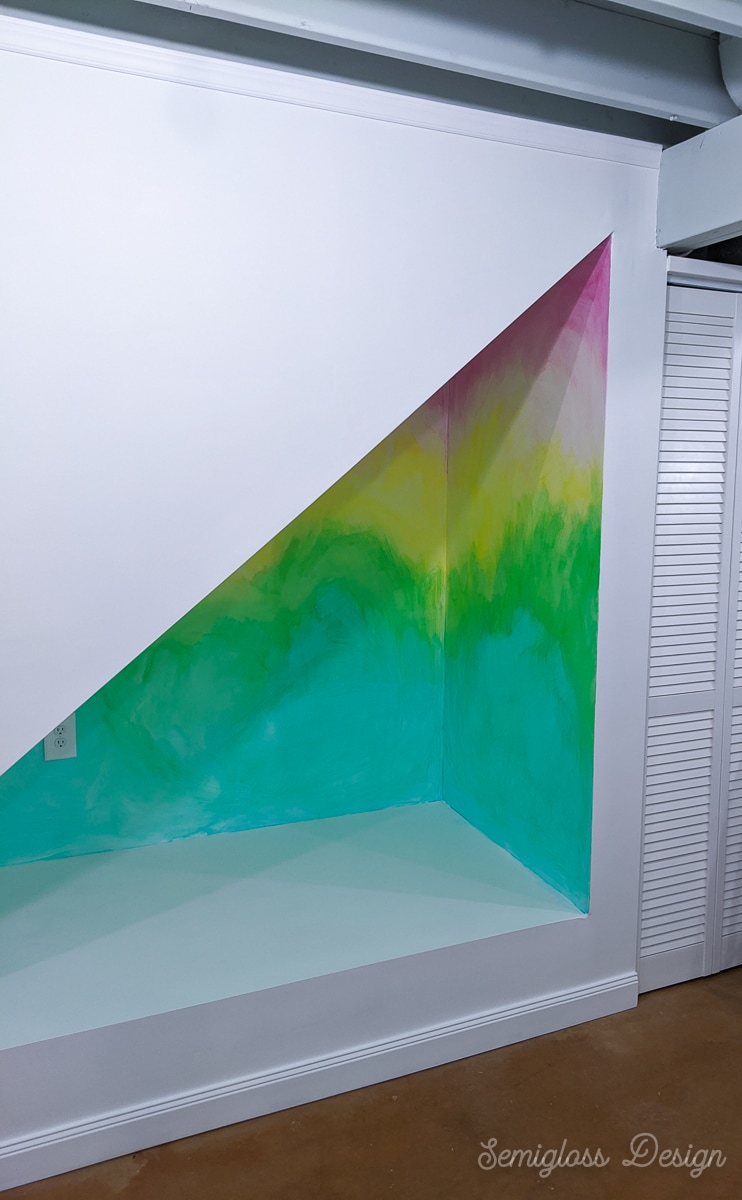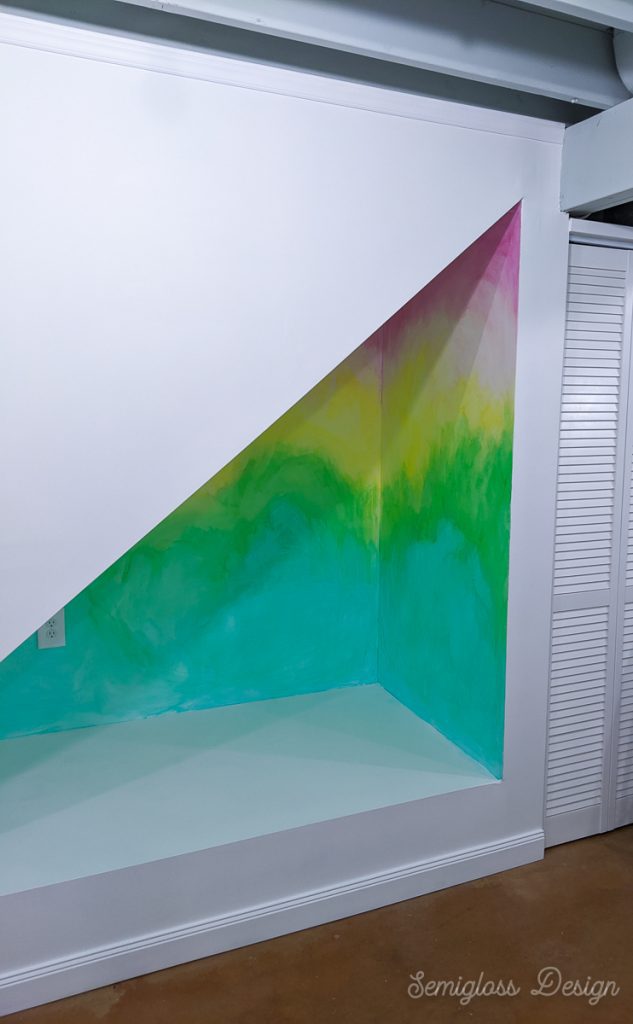 I LOVE how it turned out.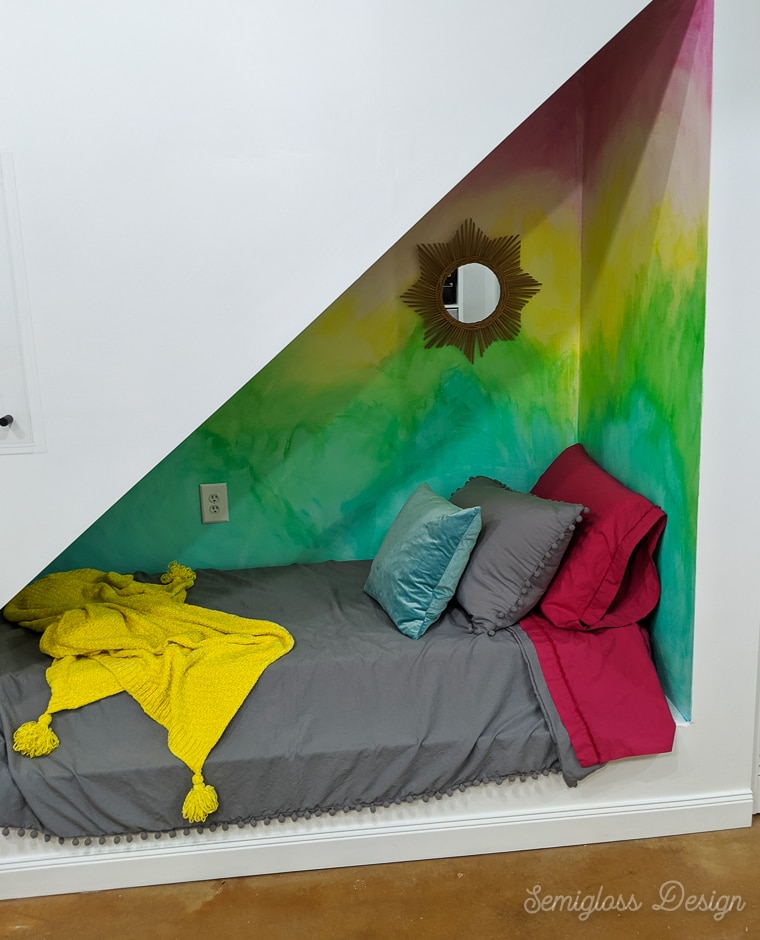 Be sure to check out my finished craft room to see more of this space.
DIY Lazure Painting Technique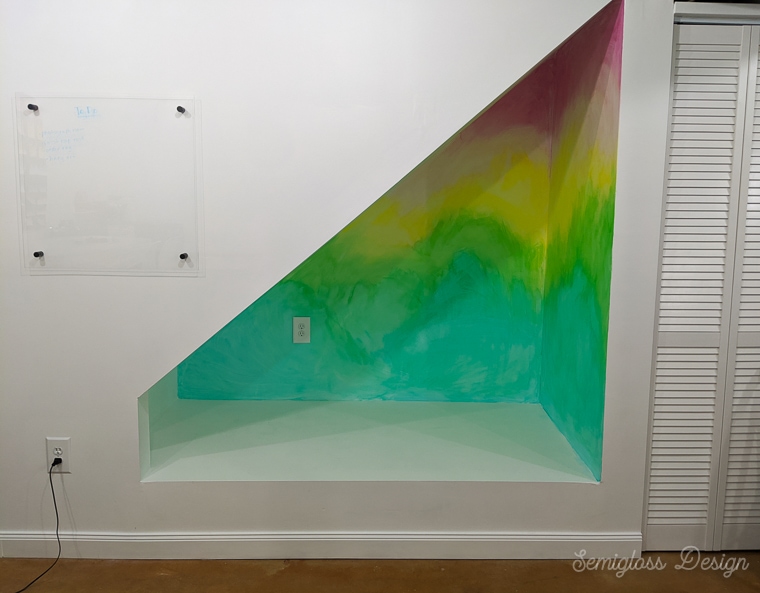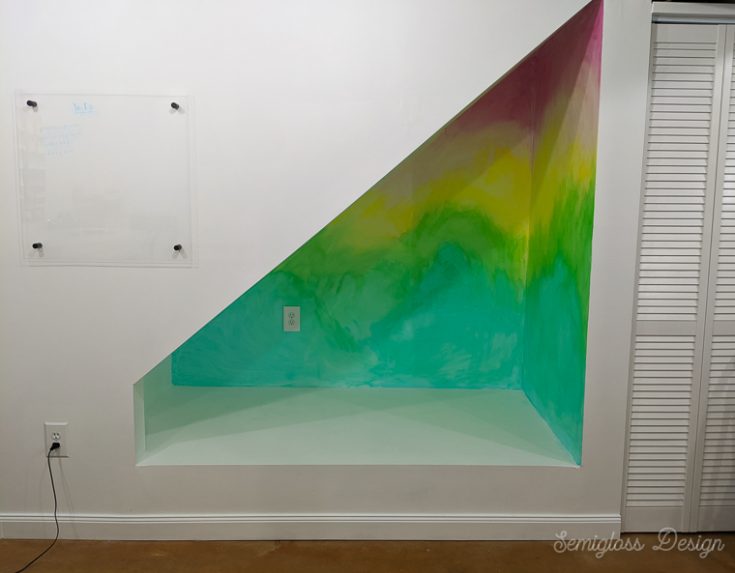 Get the look of lazure painting with this easy tutorial. Make your own rainbow watercolor mural using this each technique.
Total Time
2 hours
5 minutes
Materials
Glaze
Acrylic Paints
Paint Cups
Water
Spray Bottle
Tools
Paint brushes (one for each color, plus 1-2 for dry brushing)
Instructions
Mix your first color. Combine about 1/4 cup glaze with about a teaspoon of paint. Use less paint for a lighter color or choose a pastel version of paint. Mix it up. Add a bit more water to further dilute the mixture (this can also make a lighter color.)
Paint a portion on the wall being in an organic shape. You should have no sharp edges.
Use a dry brush to spread the paint around, blending the paint into the wall as you go.
Mix your 2nd color and paint in the same manner, blending with the first color.
Keep going with your colors until your wall is covered.
Notes
You can use Floetrol and water instead of glaze
Paint can be layered for a more vibrant effect.
Recommended Products
As an Amazon Associate and member of other affiliate programs, I earn from qualifying purchases.
You might also like:
Pin for Later!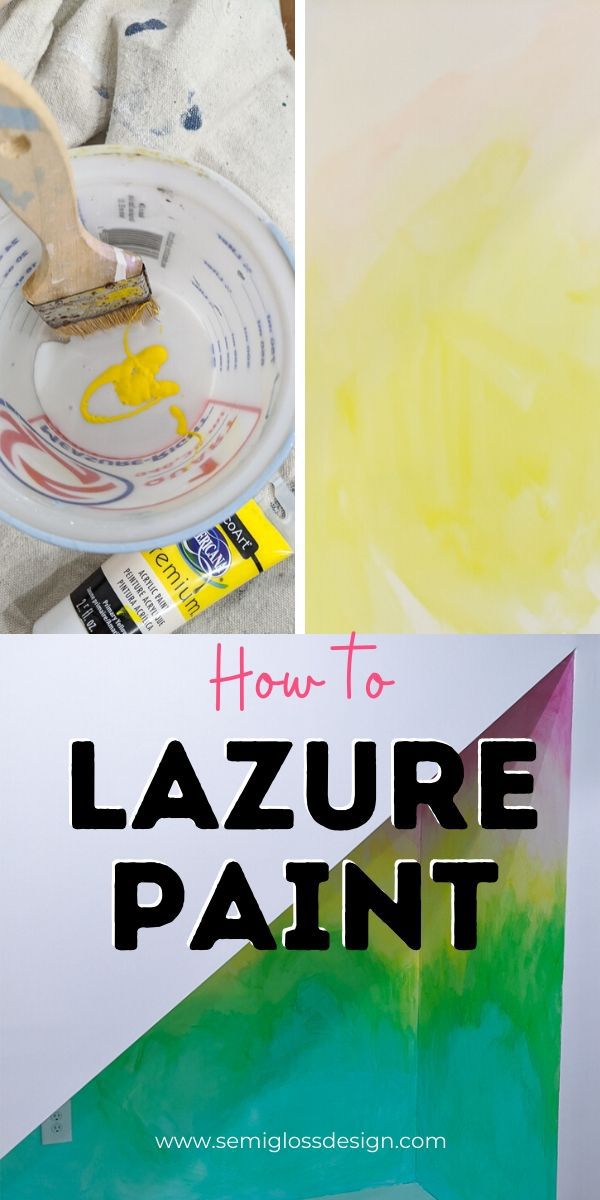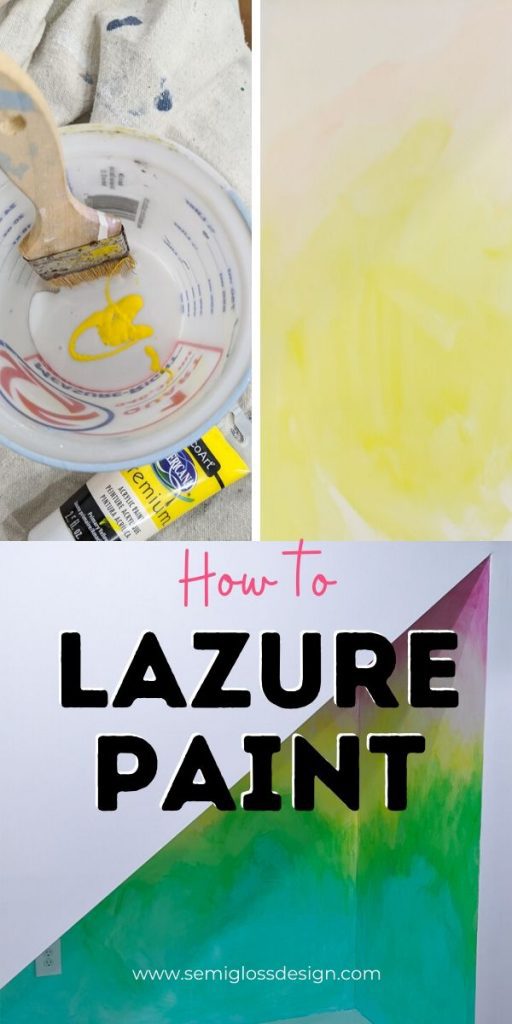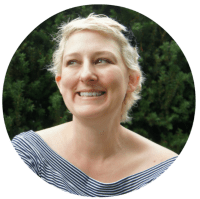 Emy is a vintage obsessed mama of 2 DIYer who loves sharing affordable solutions for common home problems. You don't need a giant budget to create a lovely home. Read more…