How to Paint a Geometric Accent Wall
A painted geometric accent wall is an easy way to add interest to a boring wall.
This easy DIY painted wall features a modern pattern of abstract triangles in a monochromatic color scheme.
It's so easy to customize the colors to match your home!
You might also like this post on how to paint a galaxy mural.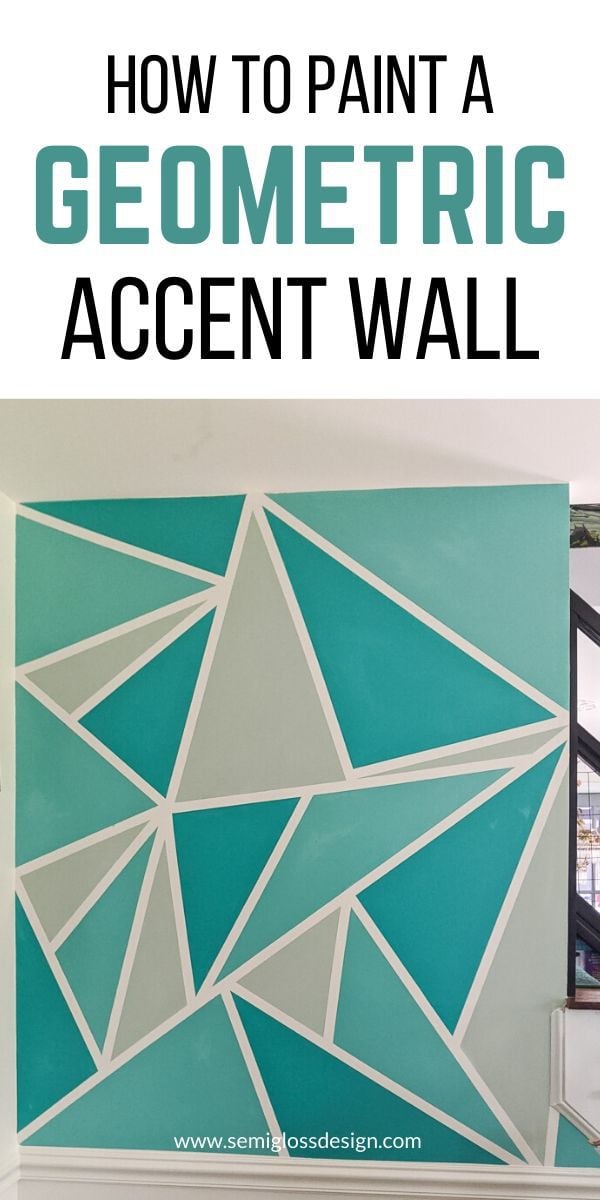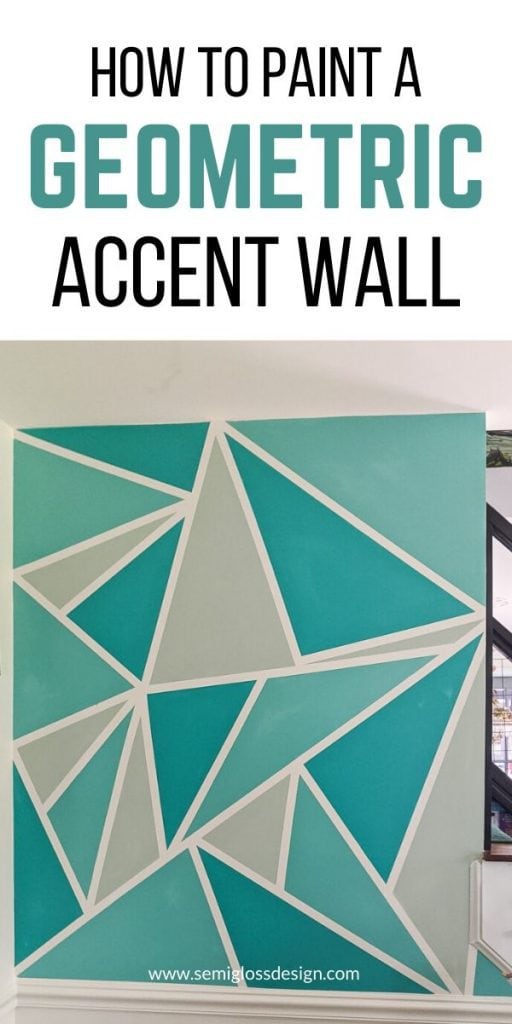 This post contains affiliate links. By purchasing an item through an affiliate link, I earn a small commission at no extra cost to you. As an Amazon Associate I earn from qualifying purchases.
I haven't picked up a paintbrush since I finished my craft room a few months ago, so this project was much-needed paint therapy for me.
I get that some people hate painting, but for me, it's absolute bliss. My husband considers painting pure torture, though.
Painting a geometric accent wall was the perfect project because it was quick and easy.
The wall I painted was only about 4′ wide and I only painted the top 5 feet above the chair rail. I was able to finish the whole project in one day.
People have opinions on accent walls and I'm here to say: do what makes you happy.
This corner is in my living room and probably doesn't make a lot of sense next to the wallpaper panels.
But I don't care.
I stare at this wall for countless hours a day and it makes me so happy now. My desk area finally feels super inspiring.
Geometric Accent Wall FAQs
Which wall should be your accent wall?
In general, an accent wall should be the wall that you want to call attention to. It's a good idea for it to anchor large furniture (like behind a sofa or a bed) or have a feature that you want to call attention to (like a fireplace or windows.)
However, you can also throw the rules out the window and do what you want. That's what I did in this case.
I painted a small wall behind my desk since I spend so much time there.
What tape do you use for a geometric wall?
I used 3M painter's tape for this project. In the past, I've also used Frog Tape. Personally, I see no difference in how they work. I even tested it when I painted my floor in a checkerboard pattern.
Just make sure that you use a low-tack painter's tape and remove the tape right after applying the last coat of paint (while it's wet.)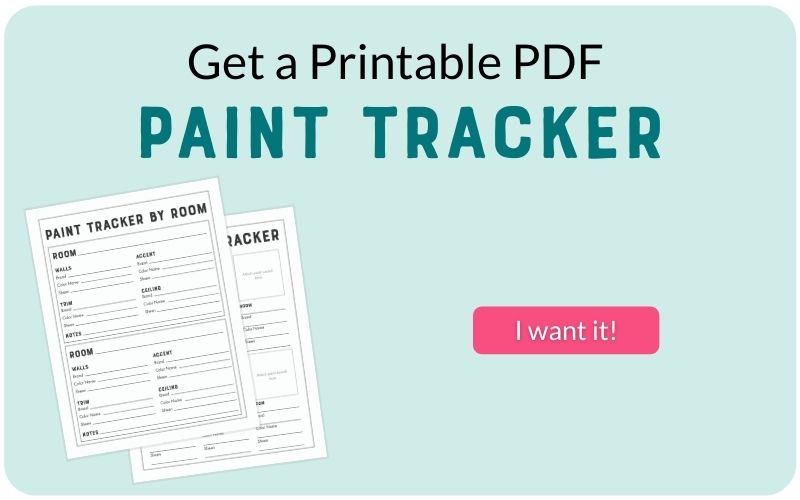 Painting a Geometric Accent Wall
Supplies Needed:
Paint (the current color of your wall and the 2-3 colors for the shapes)
Roller (if your wall is big)
I used paint that I already had in my garage. If you don't have paint already, save money with paint samples or by buying a quart instead of a gallon.
I chose 3 colors in the teal family, but you can choose however many colors you want. You can also choose colors in different families for a brighter look.
The colors I used are Dark teal: Sherwin Williams Laguna Blue, Medium teal: SW Cooled Blue, and the Light teal is SW Sea Salt. The base color is Behr Alabaster.
This entire wall was painted with brushes since it was small. If your wall is large, use rollers to save time.
This uses WAY less tape than I thought it would! Unless your wall is really big, one roll of tape is probably plenty.
Directions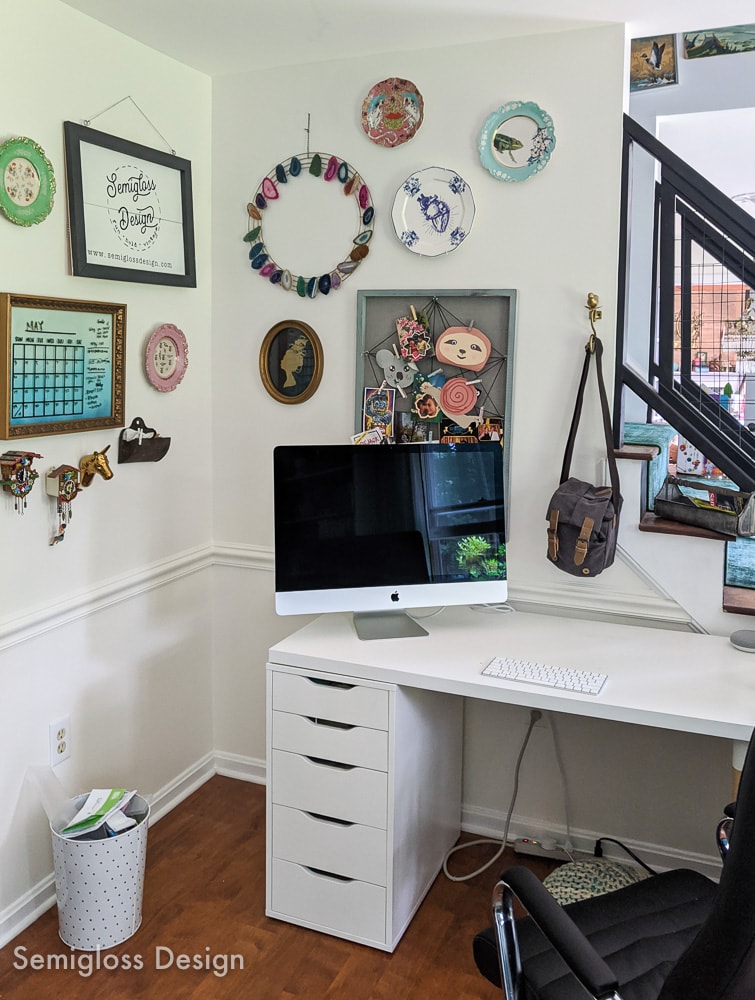 Step 1: Prep your walls. Remove all the artwork and nails. Fill the nail holes with spackle and let dry. Then sand and prime those spots.

If you skip priming, it will result in funky spots on your wall where the spackle absorbed too much paint.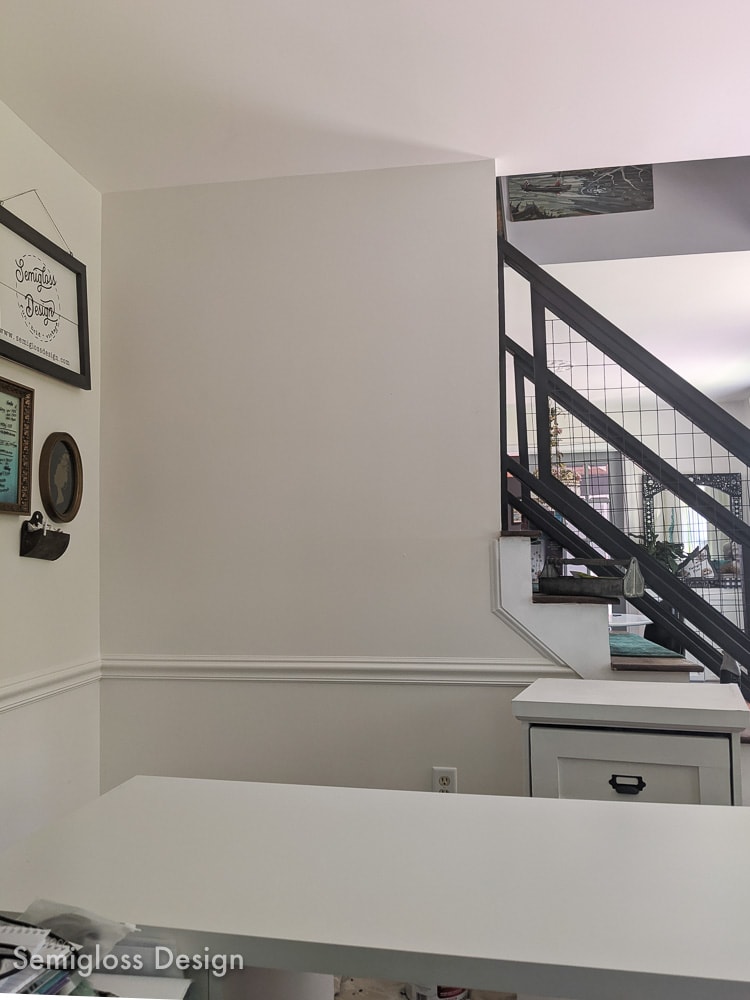 Step 2: Tape off your design. As you go, make sure that no area looks too uniform.

You want a variety of shapes and sizes. I chose to make all of my shapes triangles, but you can make yours have 4 sides if you want.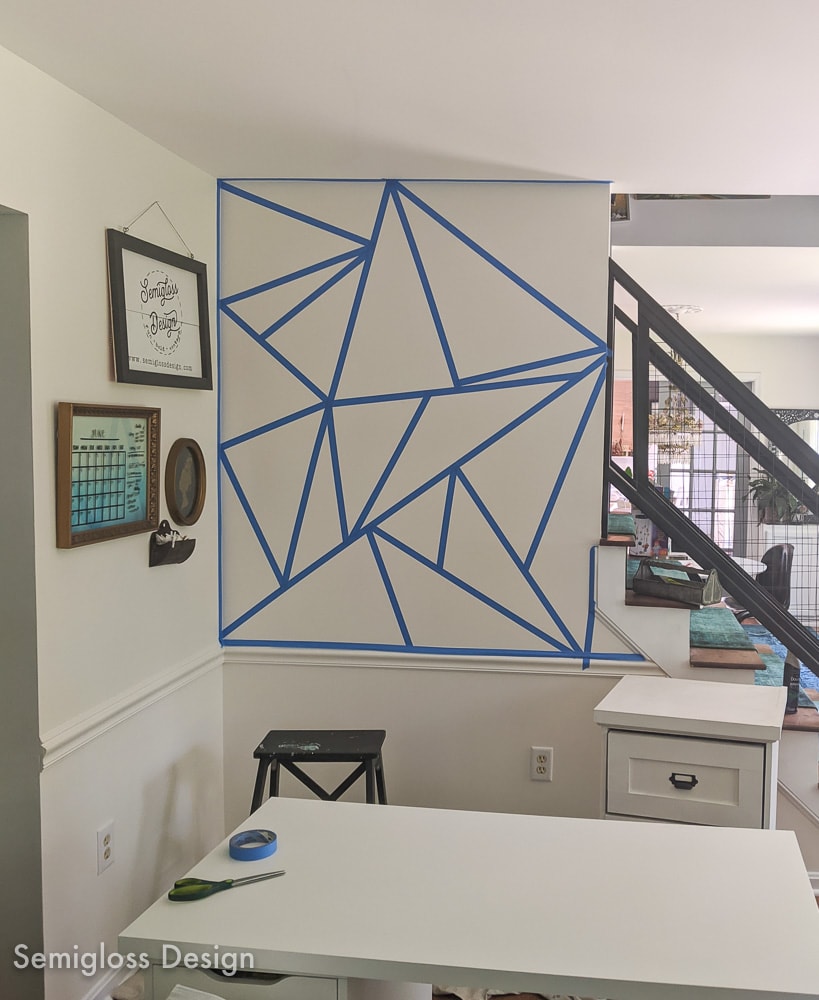 Step 3: (Optional if you don't want any color touching.) Figure out how you're going to paint each shape. I took a photo of the taped wall and opened it in Procreate on my iPad.

Then I colored each shape. During this process, I realized that I needed to split a shape into 2 so that the colors wouldn't touch.
Step 4: Mark the first color using small bits of tape. As you paint, you can remove the small bits of paint, saving them for the next color.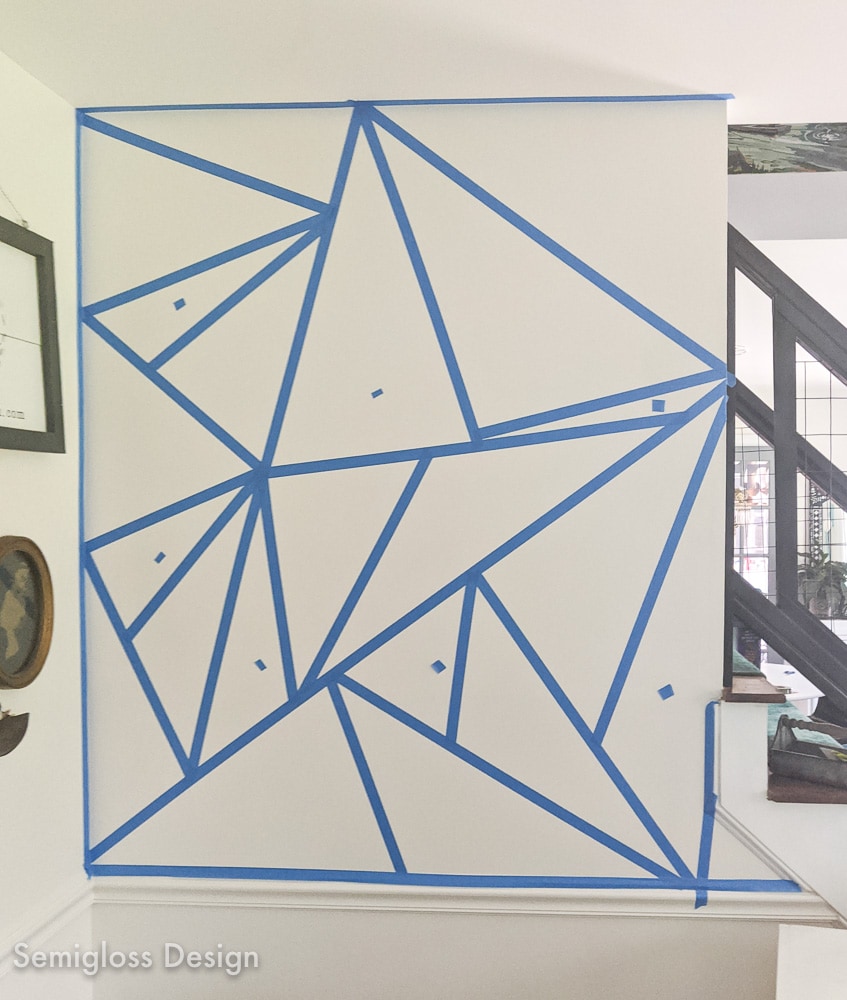 Step 5: Seal the edges of the tape. Paint your existing wall color over the edges of the paint to seal the edges and get a crisp line from the paint. If any paint bleeds, it will be the original wall color!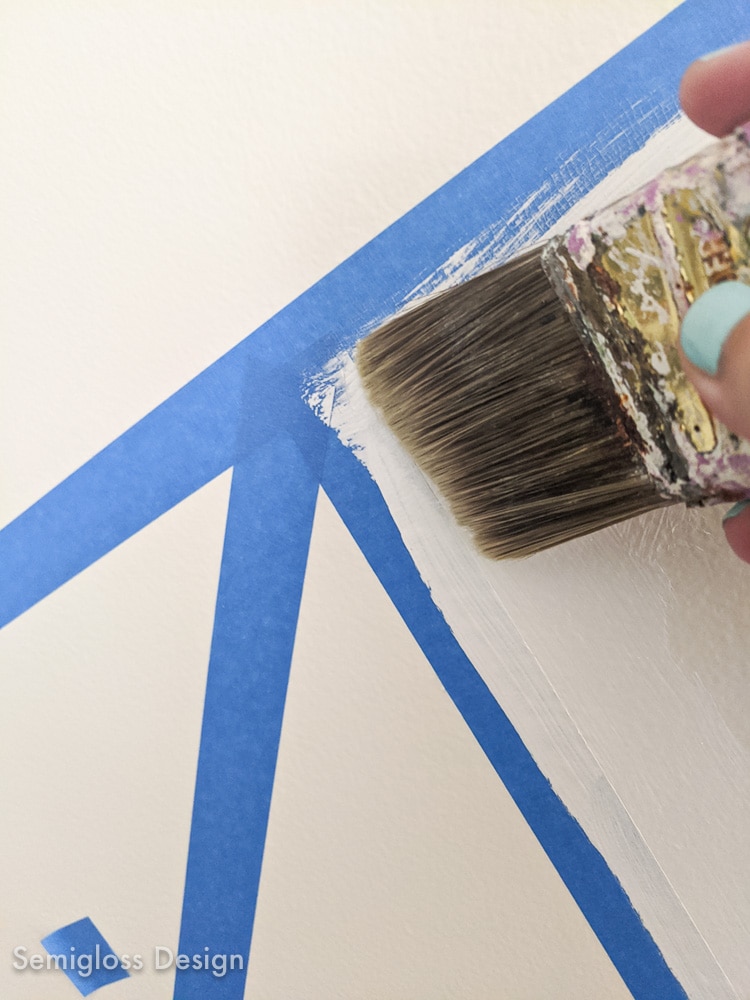 Step 6: Paint the first color. Continue with your colors until you're done.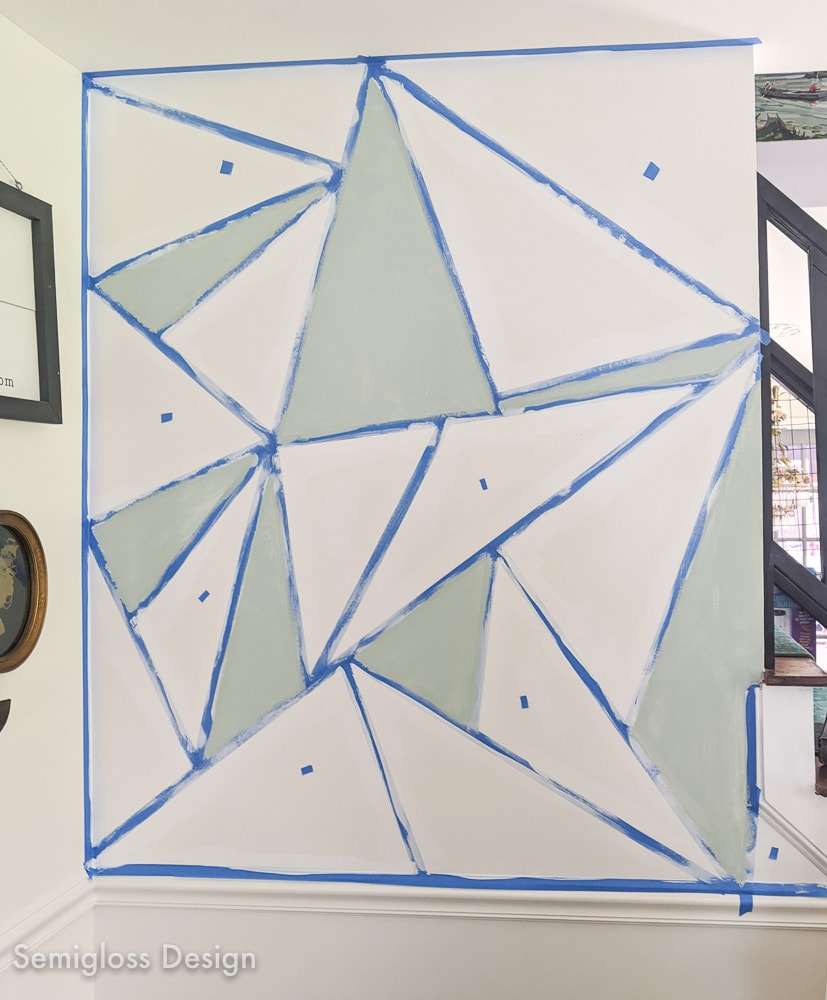 Step 7: Let the paint dry.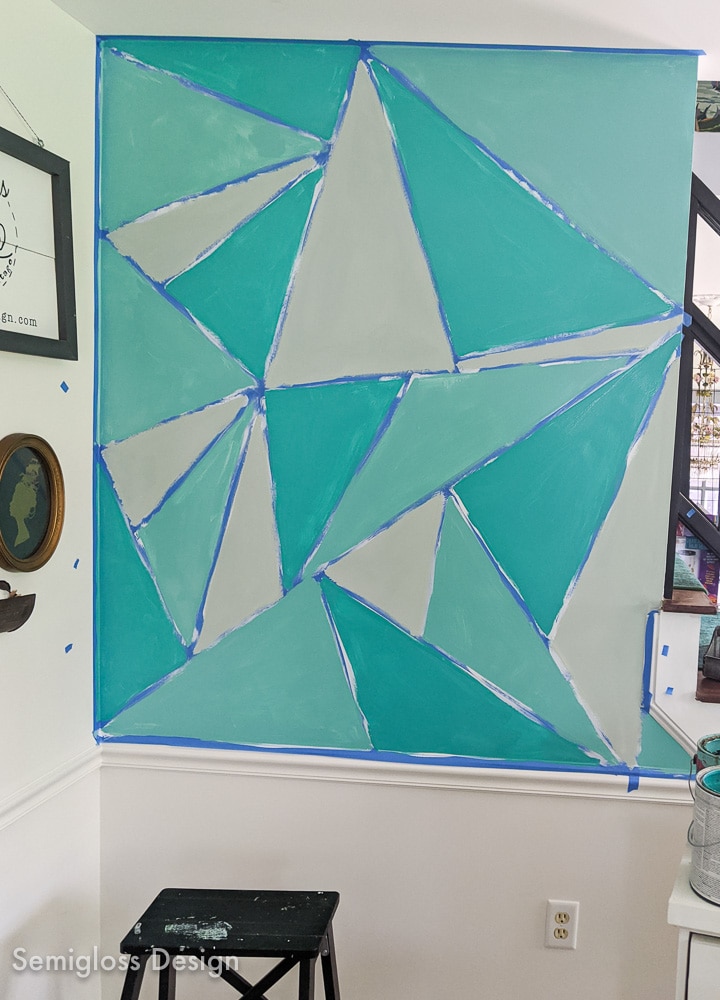 Step 8: Paint the 2nd coat of paint onto each shape.
Most colors cover well in 2 coats of paint. If your color needs more coats, keep going.
Step 9: Remove the tape while the paint is still wet. This prevents the tape from adhering to the wall and removing the paint with the tape.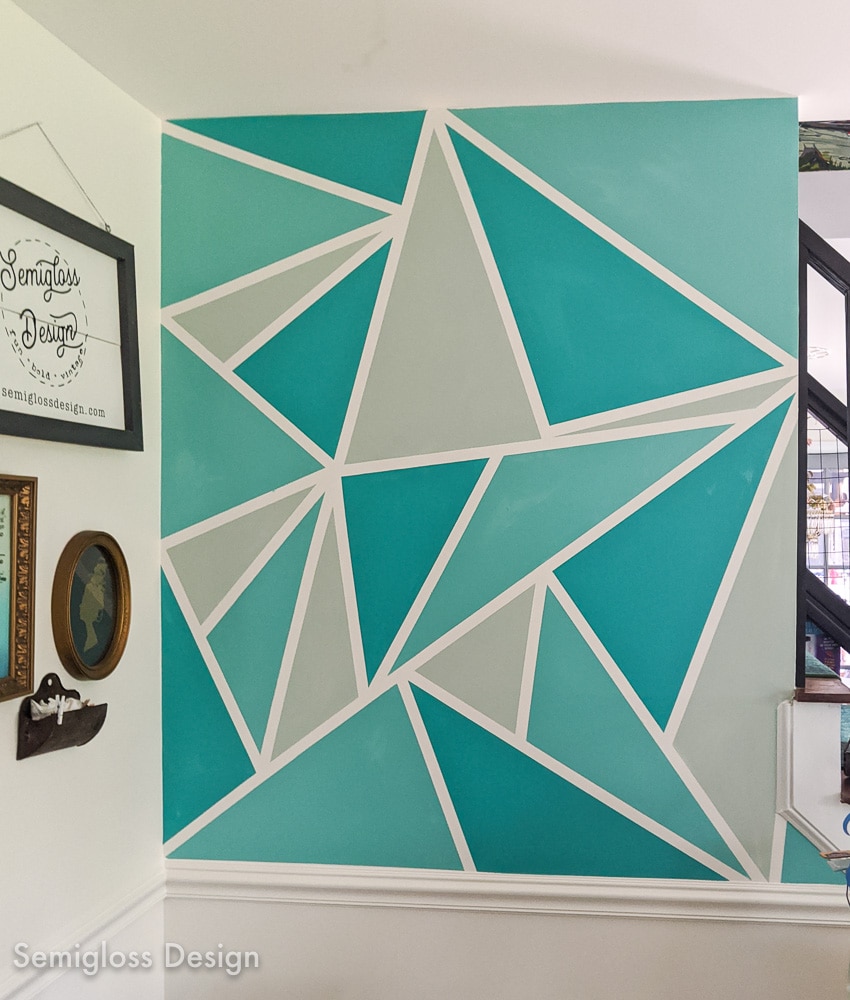 Ta-da! You're done!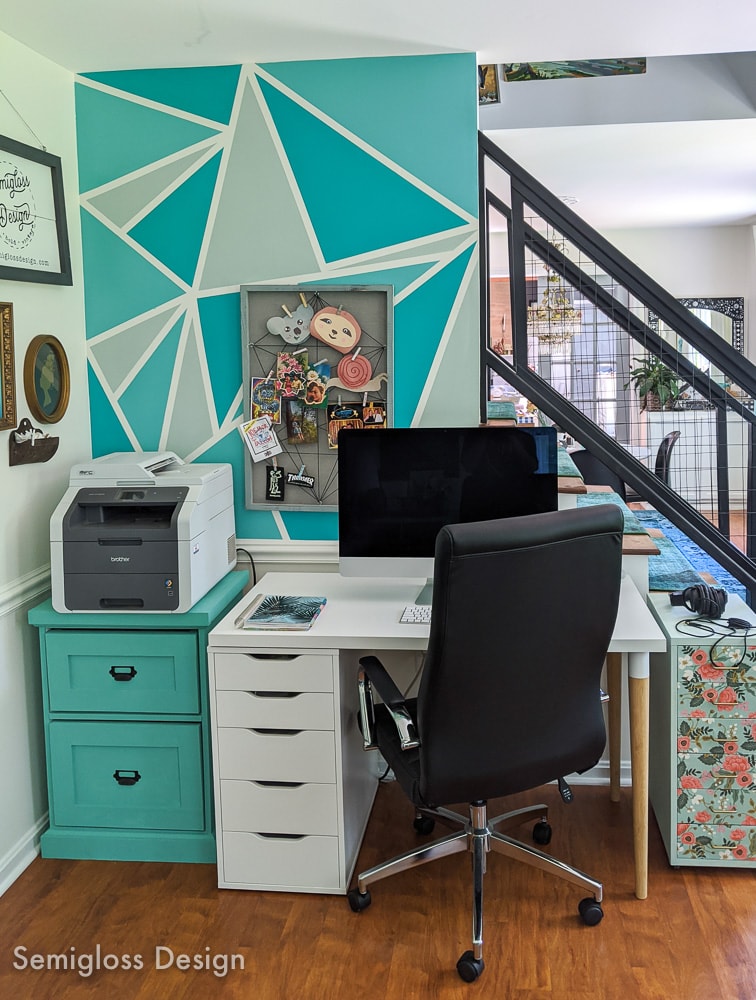 And here's how my office space looks now. I also took the time to repaint my filing cabinet. This space is now SO inspiring to work in!
So tell me, do you love painting or would you rather stick a needle in your eye like my husband?
Yield: 1
Paint a Geometric Accent Wall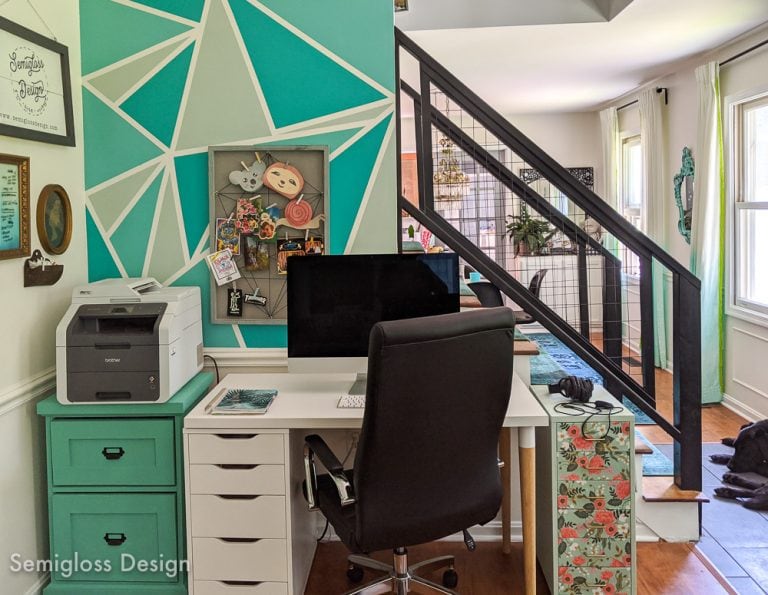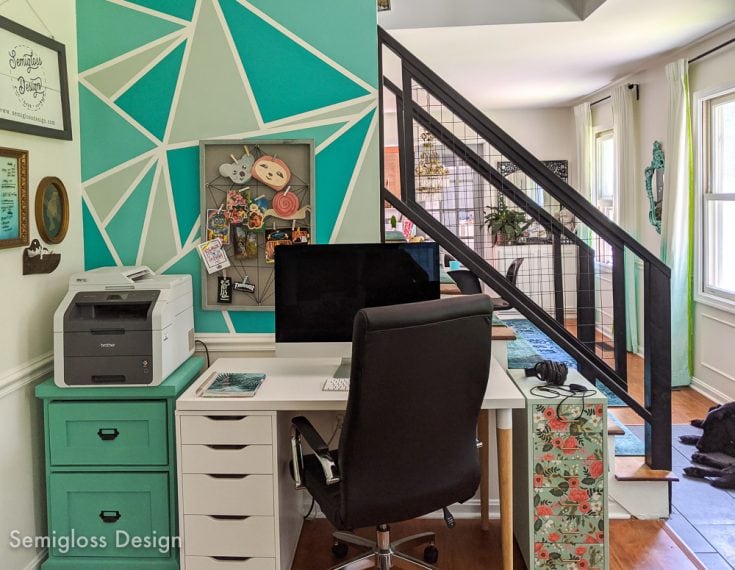 Learn how to paint a geometric accent wall. This project is a quick and easy way to add interest to a boring wall using only tape and paint!
Total Time
3 hours
10 minutes
Materials
Paint (in the color of your wall, plus 2-3 colors for the shapes)
Spackle
Primer
Painter's tape
Instructions
Prep you wall by making any repairs needed. Remove nails and fill with spackle. Let dry and sand.
Prime any spots that you filled with spackle.
Touch up base paint as needed.
Tape off your design. I wanted all of my shapes to be triangles, but yours can have 4 sides if you want.
Paint the edges of the paint with your current wall color. This seals the tape to get crisp lines.
Let the paint dry.
Paint the first color. I marked the shapes with small pieces of tape so I wouldn't get confused.
Paint the 2nd color.
Paint the 3rd color.
Let the paint dry.
Do a 2nd coat as needed.
Remove the tape while the paint is wet to avoid damaging your walls.
Recommended Products
As an Amazon Associate and member of other affiliate programs, I earn from qualifying purchases.
You might also like:
Pin for Later!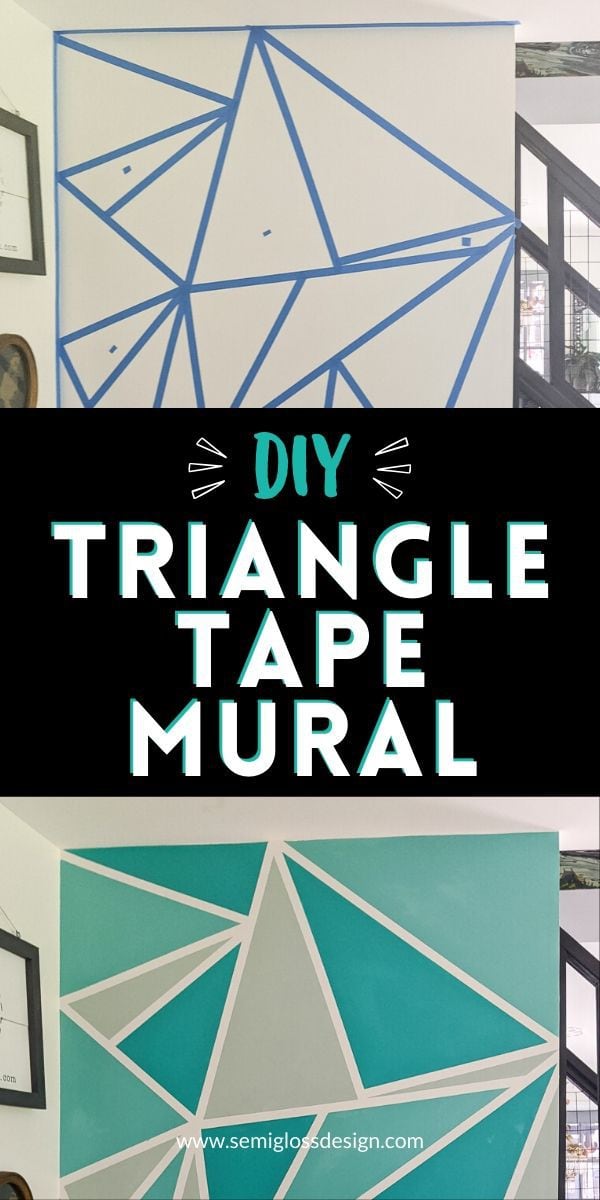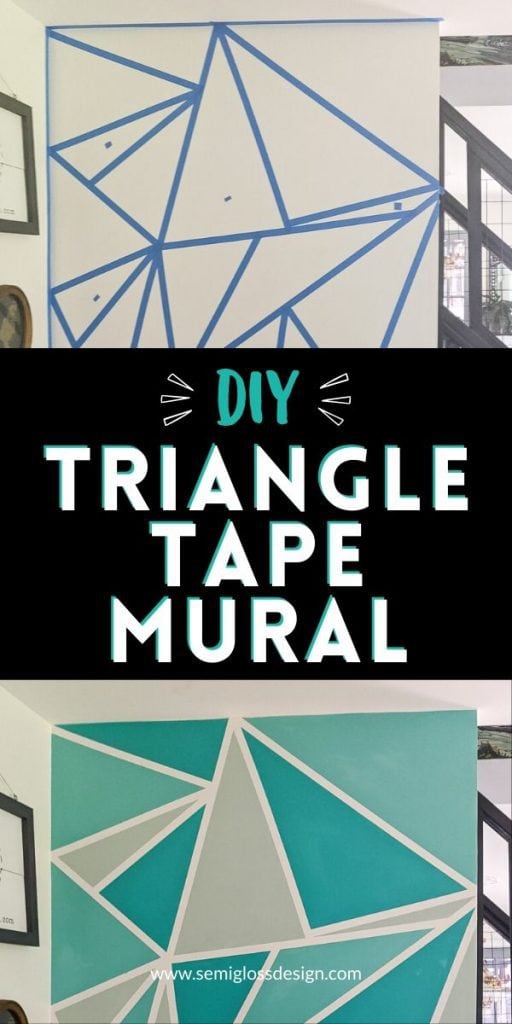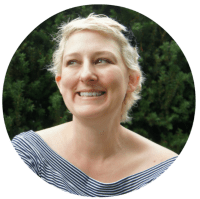 Emy is a vintage obsessed mama of 2 DIYer who loves sharing affordable solutions for common home problems. You don't need a giant budget to create a lovely home. Read more…