The Beginners Guide to Painting a Room Like a Pro
Learn how to paint a room for beginners. Painting a room is the easiest way to change the look of your home. It's an affordable DIY technique that is perfect for beginners.
You might also be interested in learning how I picked the perfect white paint for my room.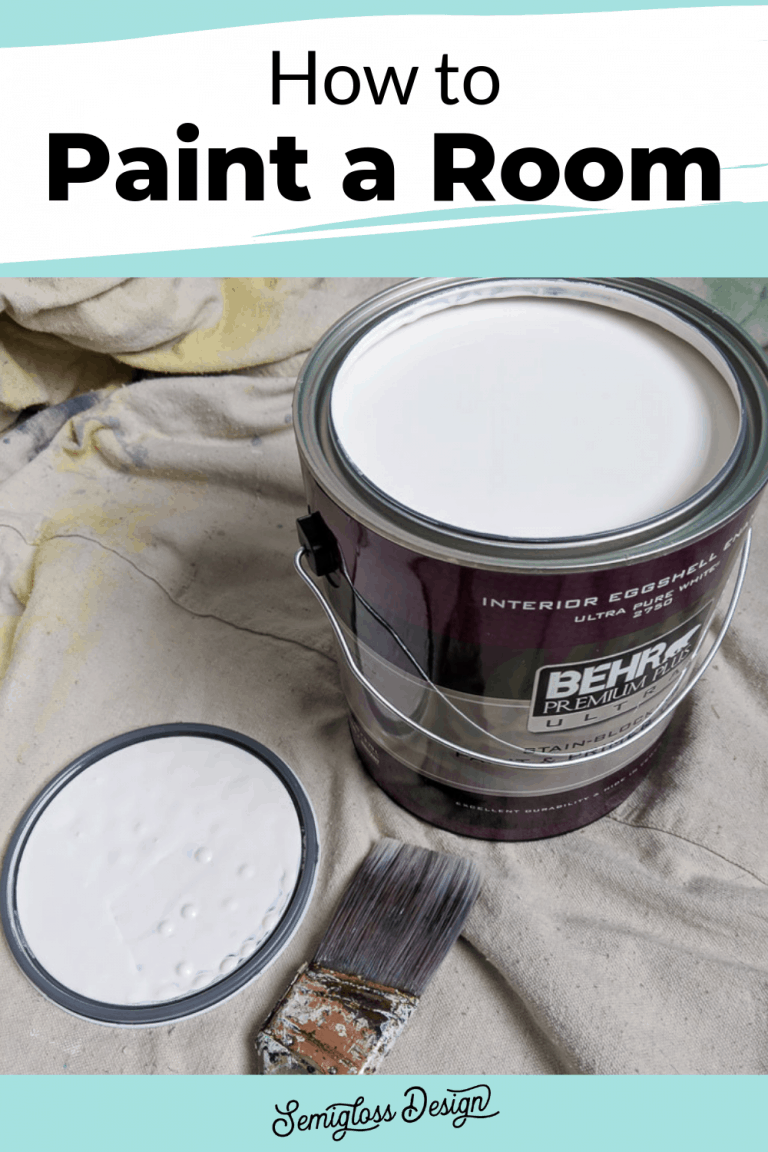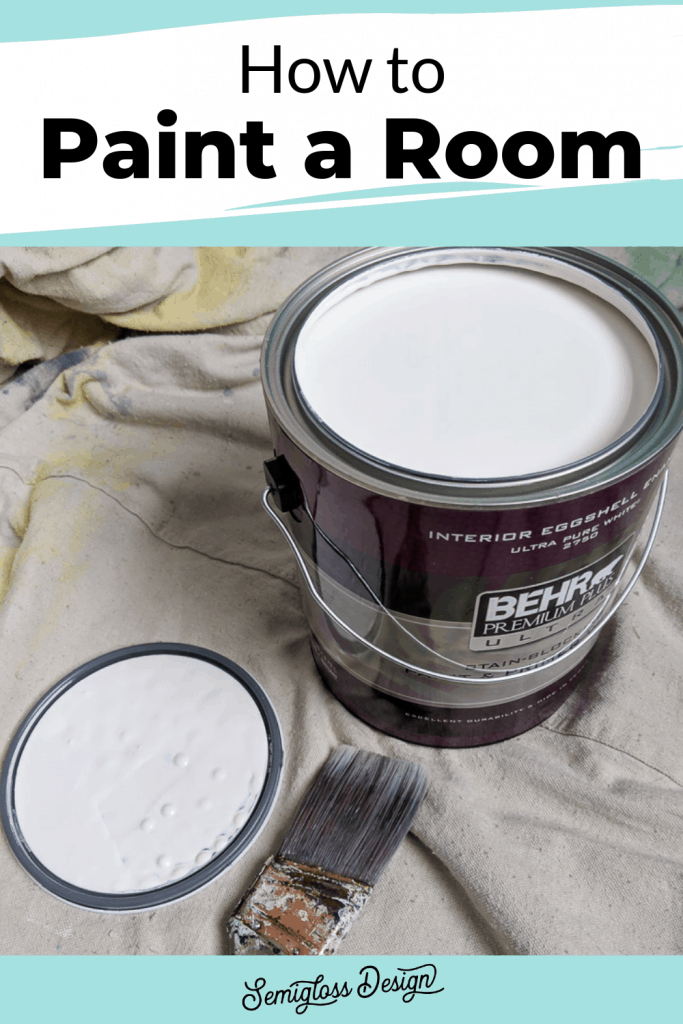 I recently met someone who had never painted a room. It had never occurred to me that someone might not know how to paint walls!
See, I'm one of those rare weirdos who loves painting rooms. Paint never fails to amaze me. In just a few hours, you can transform the way a room feels.
Over the years, I've painted a lot of rooms and have learned a lot of tips and tricks along the way. Today, I'm sharing everything I know about painting a room.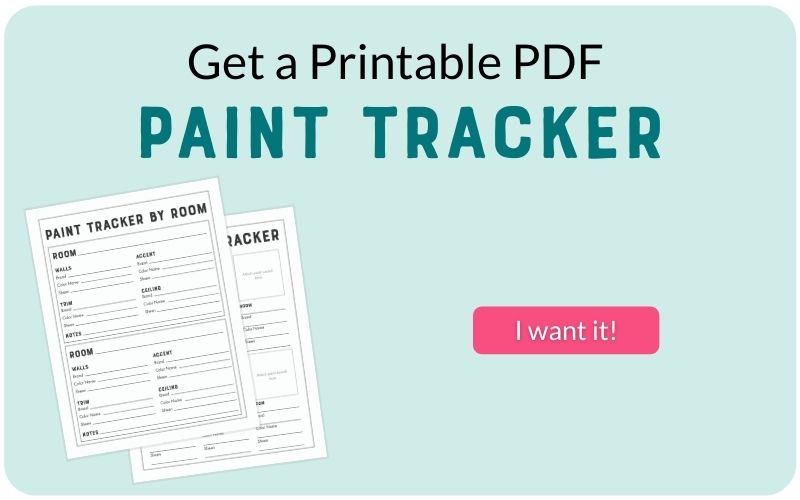 Get Paint Samples Without the Hassel
Did you know that you can order paint swatches? Samplize offers large paint samples that you can try out without the mess! No more going to the store and buying tons of sample pots. No more wasted paint!
Just peel and stick the paint sample to the wall. Observe the colors at different times of the day and pick your favorite.
They offer paint samples for Sherwin Williams, Benjamin Moore, PPG, and Farrow and Ball. (By the way, most Sherwin Williams colors can be bought at Lowes and Ace Hardware stores have Benjamin Moore paints – in case you also live in a small town without specialty paint stores.)
Painting Walls FAQs
The Order for Painting a Room
My preferred order for painting an entire room is:
My reasoning is that I like the get the harder jobs done first.
The ceiling is the hardest. It also is the messiest, so I like to paint ceiling first to avoid splattering paint all over my freshly painted walls.
Then I like to paint the trim. If there are any cracks between the trim and moldings, those spots need to be caulked first with paintable caulk. When the caulk dries, paint over the caulk and trim.
Don't worry about perfectly cutting in at this step. It's better to cover the caulk thoroughly in paint. Unpainted caulk will be a dust magnet and become impossible to clean.
For the walls, I like to cut in first because the edges always need an additional coat of paint.
Usually, by the time I've finished cutting in, I can use a paint roller to start rolling because the paint where I started is dry. This may vary in humid environments or small rooms.
What paint sheen should I use when painting walls?
For public rooms, like living rooms, dining rooms, hallways, kitchens, and bathrooms, I prefer an eggshell finish. It's a matte finish, which looks great and hides imperfections, but it's still easy to clean. It's also perfect for kids' rooms.
Satin is also great for kitchens, bathrooms, kid's rooms, and hallways. The shinier finish is easy to clean without being too shiny.
I like matte paint for bedrooms. The paint colors look deeper and have a gorgeous velvet look. Matte paint is harder to clean, so it needs to be used in rooms that don't get a lot of use. Matte is also great on ceilings.
Semi-gloss or gloss sheens should only be used for trim or doors. It will show every single imperfection in a wall.
Can you paint two coats in one day?
Yes, it's possible to paint 2 coats of paint in one day. Allow the paint to dry for 2-4 coats in between.
Drying time can be dependent on temperature and humidity levels.
Start early in the morning for best results.
How do I know if I need another coat of paint?
You need another coat of paint if it looks streaky or patchy. Another sign that you need another coat is if you can see the beginning color of the wall through the paint.
Some colors are harder to cover than others.
How much paint do I need?
There are a few factors that determine how much paint you will need. Better quality paint requires fewer coats of paint. It also takes less paint if you are not drastically changing the paint color.
For a rough estimate, it's a good idea to calculate the square feet in the room and use a paint calculator to find out how much paint you need.
The Most Important Rule for Painting Walls
Paint during daylight hours only. No amount of artificial light is bright enough to accurately show you the paint coverage.
Every single time I've painted at night, I wake up to find tons of places that I missed because the light was too dim.
How to Paint a Room for Beginners
Using the right tools will make your job so much easier! The supplies that I've listed are my favorites.
Supplies Needed
This post contains affiliate links. By purchasing an item through an affiliate link, I earn a small commission at no extra cost to you.
Learn more about my favorite painting tools here.
The Handy paint tray is one of most favorite supplies to use. It holds an entire gallon of paint, which saves so much time. It's also much sturdier than the cheap metal pans.
One more note: skip the plastic drop cloths and buy a nice canvas one instead. It absorbs the paint, so in the case of drips, you're less likely to track paint all over the house. (The paint doesn't soak through though.)
Plus, plastic drop cloths are really slippery and bad for the environment.
Looking for places to order paint online?
Save time going to the store for paint samples and get them mailed to you instead.
Samplize sends large-scale paint samples in the colors you have chosen. So convenient!
How to Prep Walls for Painting
Remove all outlet covers.
Remove all art and curtains. (I left my curtain rod hangers installed, but you can remove them if you want.)
Move any furniture to the center of the room if you can't move it to another room. You might need to divide a room into 2 parts if you have a lot of furniture and not enough space.

Remove all nails and screws.
Sand the holes lightly.

Use spackle to fill the holes. You can use your finger or a putty knife.

After the spackle dries, sand the spot smooth.

Prime all spots before painting. Spackle will absorb the paint differently, so they need a coat of primer before painting. This will help you to achieve a smooth finish.

Unless it's a kitchen or particularly dirty, there's no need to wash your walls before painting. To remove any dust or dog hair, I wipe mine down with a microfiber cloth instead.
Lay down a drop cloth to protect your floor. Canvas drop cloths do a better job of protecting your floors and make less of a mess than plastic.
Use painter's tape to protect anything that you want. I skip this part and rely on a good brush for cutting in. (If you make a mistake, you can touch up the paint.)
How to Paint a Room
Painting the Edges
Start with the edges and corners. I prefer starting with the cutting in because it typically needs an extra coat.

Use a good paint brush and use the angle of the brush to help cut in. I usually paint my edges about 2-3″ wide around trim, window frames, and doorways.

For the edges near the ceiling, I like to use a stepladder and a HANDy Cup. The HANDy cup holds a nice amount of paint, has a handle that makes holding it easy, and it has a magnet for your brush.
Be sure to dust your window and door trim before painting. Dust gathers on these small ledges and can get into your paint. I keep a microfiber cloth in my pocket to clean these spots before painting.
Painting the Walls with a Paint Roller
Once the paint on the edges is dry, it's time to use the roller on the rest of the wall An extension pole helps you get the high parts of the wall.

For the lower parts of the wall, I remove the extension and paint.
Try to get even coats and pay attention to the edges of the roller. The paint tends to go on thicker in those spots, so watch for drips.
Repeat Edging and Rolling
Let the paint dry and start all over again with edging for the second coat.

You will need 2-3 coats of paint even if the paint says 1 coat coverage. Two coats of paint make the color seem richer than 1 coat will. My walls needed 3 coats because I changed the color so drastically.

If you used painter's tape, be sure to remove the tape while the last coat is wet. The tape is easier to remove while wet and it's less likely to peel.
Let the paint cure before you replace art on the walls. most paint takes about 30 days to cure fully, but 2-3 days should work for walls.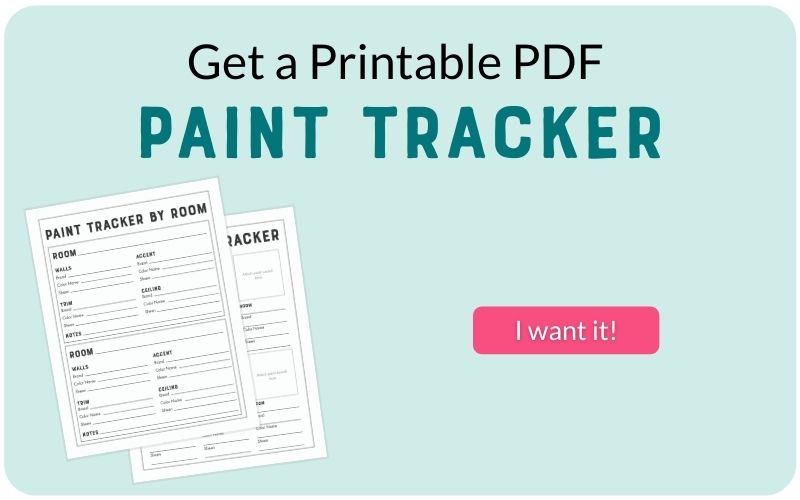 Painting Tips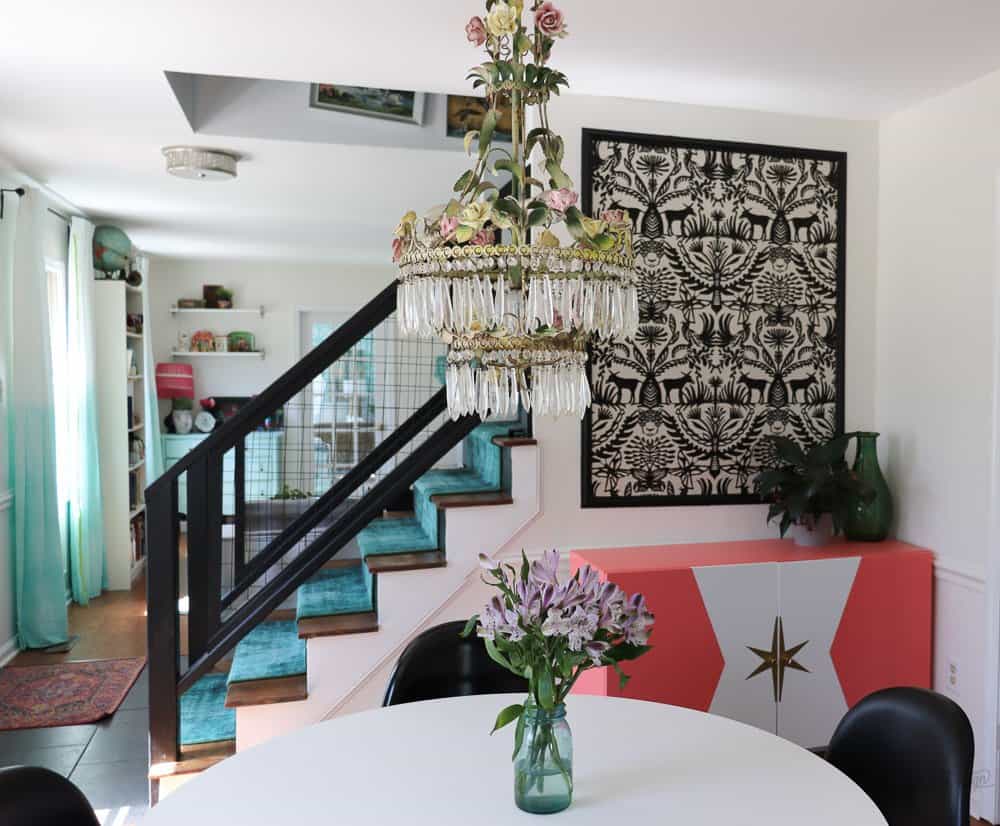 Painting a room is a lot of work, but it's always worth it!
You might also like:
Pin for Later!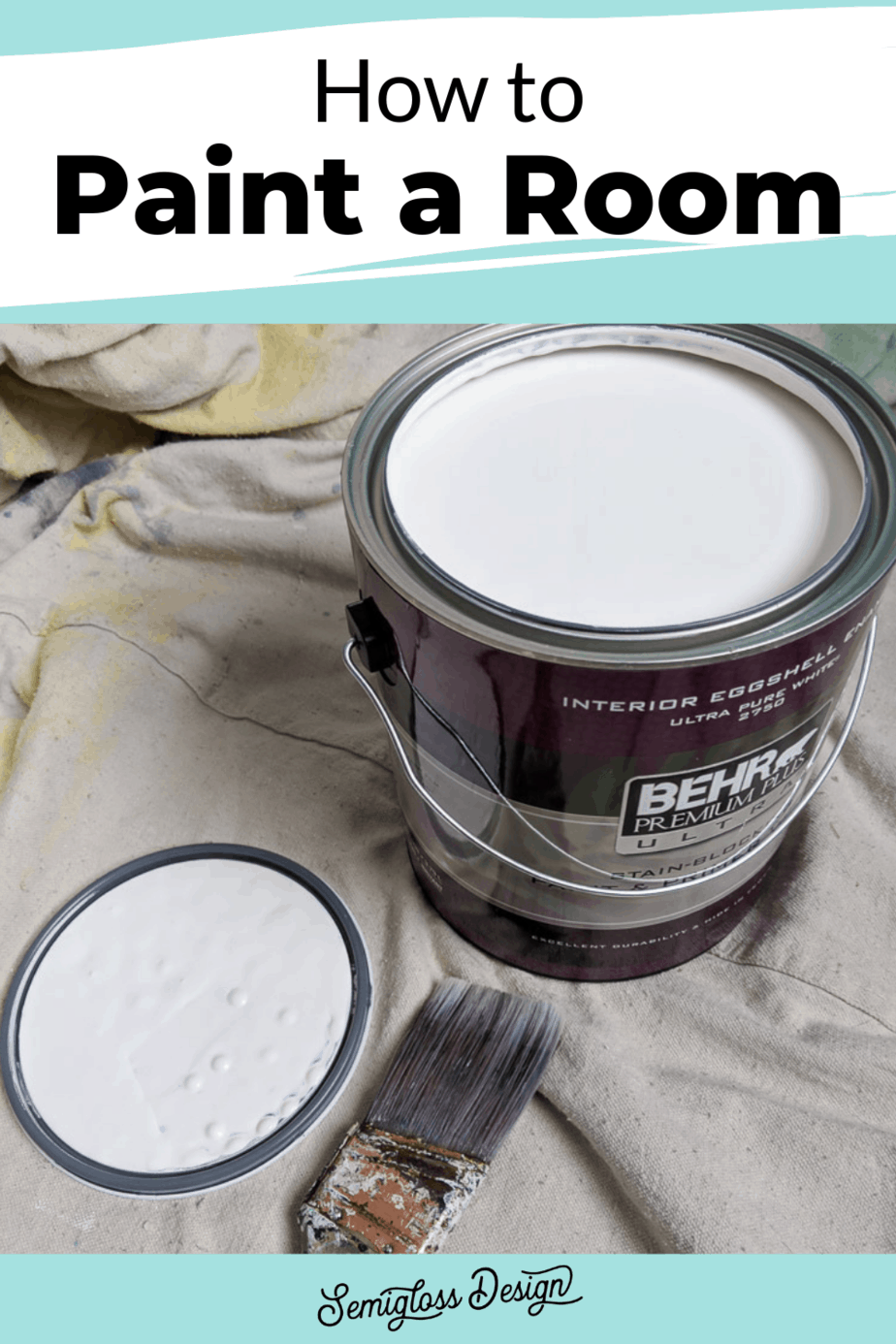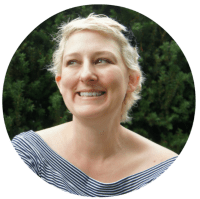 Emy is a vintage obsessed mama of 2 DIYer who loves sharing affordable solutions for common home problems. You don't need a giant budget to create a lovely home. Read more…