How to Decoupage Furniture: Floral Decoupage Dresser
Learn how to decoupage furniture. Decoupage is a great way to add patterns to painted furniture makeovers. This floral dresser is a great example of this. Adding a floral pattern makes what would be an otherwise normal dresser into a statement piece!
You might also like this guide to painting furniture.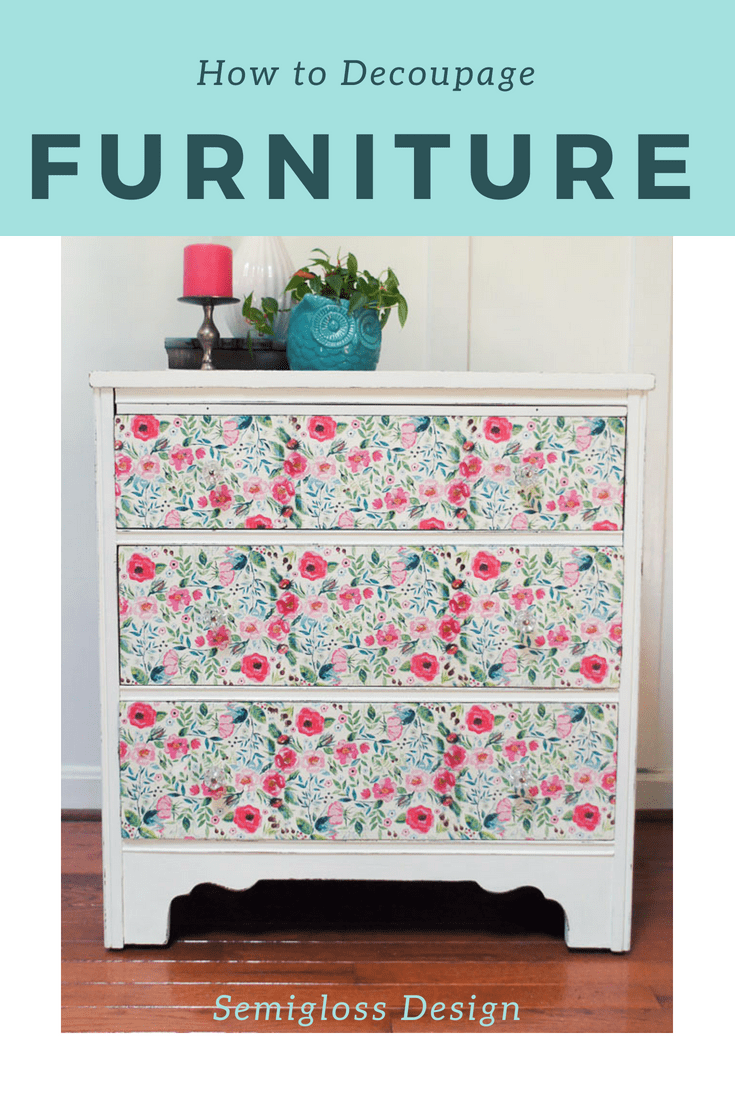 This post contains affiliate links. By purchasing an item through an affiliate link, I earn a small commission at no extra cost to you.
Sometimes you run across a piece of furniture that is a bit more damaged than you would prefer. Bondo can only do so much.
If the price is right and the piece is solid wood, don't pass it by! Decoupage is the perfect way to disguise those hard-to-fix flaws.
Decoupage FAQ's
What is decoupage?
Decoupage is basically gluing paper (or fabric) to something, then sealing it. Decoupage was a popular craft project in the 1970s but has gained popularity again in the past 20 years.
It allows you to glue photos or paper to furniture or fabric to tabletops.
It's an easy way to customize furniture with your favorite patterns, designs, or images.
This tutorial uses paper napkins to decoupage wood furniture. Paper napkins are easy to find (despite articles claiming millennials are killing them) and are available in a variety of patterns.
You'll be looking for fun patterns at every store you go to! Besides online, I've also found fun patterns at grocery stores, party stores, and Home Goods.
Look for patterns without a border for the best results.
Tissue paper can also be used, like this flower pot or decoupaged pumpkins for fall.
What glue do you use to decoupage?
Use decoupage medium for decoupage. There are many brands and they can be found easily at any craft store in the glue department. Mod Podge is the most popular brand available.
Personally, I love DecoArt Decou-page glue and not just because they gave me some for free. It's thinner and easier to work with than the other big brand (which was my go-to for years.)
I've had my bottle for a few months now and it hasn't gotten lumpy or thick yet. The lid isn't glued on. It doesn't leave clumps of glue on my project. I'm a fan.
You can also water down white school glue. I always have decoupage glue on hand, so I've never made my own.
How do you seal decoupage?
For decorative objects, a few coats of decoupage glue over the paper works fine. Furniture needs more protection.
Apply a coat of decoupage glue to the paper and after it dries, I apply a few coats of polycrylic sealer.
Polycrylic is water-based and will not yellow over light colors. It dries hard and protects your hard work.
What kind of paper is best for decoupage?
Thin paper is best for decoupage, especially for large pieces like this dresser. Thinner paper is less likely to wrinkle or bubble.
My favorite paper to work is either paper napkins as shown in this tutorial or tissue paper.
Paper napkins are probably the easiest to work with because they are thin, yet durable. Wet tissue paper tears easier than paper napkins. Here are some of my favorite cute paper napkins for decoupage.
Wrapping paper can also be used and comes in many gorgeous patterns. Look for matte paper for the best results. Shiny paper is much harder to work with.
However, keep in mind that wrapping paper is thicker and harder to work with. Make sure to use very thin coats of glue when attaching the paper to the surface.
How do you separate napkins for decoupage?
Most paper napkins are 2 or 3-ply. This means that there are 2 or 3 layers of napkins.
For decoupage, you want the thinnest paper layer possible. So you will need to separate the layers.
To do this take a corner and bend it back a little. Rubbing the corner back and forth will allow you to easily separate the napkins.
Discard the white layers and keep the layers with the pattern.
Why decoupage furniture?
Decoupage is the perfect way to add a pattern to an otherwise boring piece of furniture.
Since paper napkins come in a variety of patterns, you can achieve any style desired.
It is also a good way to disguise a less-than-perfect finish. Older furniture can be filled with gouges and chips, so patterns can distract from the flaws. 
How to Decoupage Furniture with Napkins
Scroll down for a printable how-to list!
Supplies Needed:
Decoupaging on Wood Furniture: Prepare the Surface
Clean thoroughly. Every piece of furniture that I buy gets cleaned thoroughly. Remove the hardware to clean under it. I like Simple Green for cleaning most furniture.

If a piece is really gross, I will wash it with diluted vinegar water. Be sure to wash all the soap off with water when you're done.

To remove smells, I like OdoBan, but simply placing it in the sunshine for a few hours works wonders for smells as well.

Repair any damage. The dresser that I was working with had a lot of blemishes to repair. Bondo works great for this. I also love bondo for filling the holes from handles if I'm replacing them.

Just spread some bondo on a paper plate, add some hardener, and mix it. Then spread it on with a bondo spreader.

When it's dry, sand it. I normally start with 80-grit sandpaper and work my way up to 220 until it's smooth.

Bondo is a bit smelly, so use it outside. Once it's sealed, the smell goes away.

Sand the rest of the furniture if needed. Some pieces are harder working than others.

The top of the furniture is always going to be used more, so I try to take extra care here (while the sides will never see as much use.) I also sand more if the piece is very shiny. Otherwise, light sanding is fine.
Seal the wood if necessary. Wood tannins can bleed through and ruin all of your hard work, so I seal them in with shellac. You can see in the photo where I started priming and the tannins were showing through, so I knew that I had to shellac the piece.

Shellac is inexpensive and dries quickly, so I don't mind the extra step. Use a chip brush and clean it by soaking it in ammonia, and then rinsing it. (Ammonia can even bring it back to life if you let it dry! Just soak for a few days.)
Painting the Furniture
Napkins will be transparent when decoupaged, so it's important to paint the piece white or light-colored for the pattern to show up.
Patterns can look cool over the wood stain, but the effect will be very subtle.
Prime the piece if you're painting it white or light-colored. Primer is cheap. Paint is not, so I would rather apply a few coats of a cheap primer than expensive paint to get a base coat.

White paint generally takes more coats of paint (sometimes up to 5 coats!) Check out my best primer tips!

Paint the piece of furniture. I used Valspar Chalky paint in Kid Gloves. I like to use smaller brushes with chalk paint because it's easier to spread the paint.

With chalk paint, I almost smear the paint on with the brush, rather than using long graceful brush strokes like on walls. Chalk paint is pretty forgiving and easy to apply.

Reapply coats until you reach your desired coverage. I applied 2 coats of white primer and 3 coats of white paint to get the coverage I wanted.
Distress the edges if desired. I love lightly distressed edges to make a piece feel a little more authentic. Plus, if it gets banged around by your kids, no one can tell!
Finish Painting the Furniture
Apply your top coat. I applied a light coat of wax on the sides of the dresser and the areas that I would not be applying decoupaged napkins to.

Wax goes on easily with a wax brush. Just rub a generous amount on the furniture with the brush. Then go back with a rag and buff it until it's shiny and smooth.

 Polycrylic also works well to seal chalk paint.

Drill new knob holes if needed. I normally start with a 5/32″ bit, but sometimes I need a slightly larger bit.
Decoupage Furniture with Paper Napkins
Now comes the fun part!
Peel your napkins apart. Most napkins are 3-ply and you just want the 1 sheet with the pattern. This process can be a bit frustrating.

Bend the corner to separate each layer. Some napkins came apart easily, but others were harder and I could only get them to 2-ply thickness at first.

Layout your design to see how many napkins you need. It's also a good time to see how to match patterns if you can.

The napkin should be larger than the drawers. Don't worry about cutting them to fit. Once it's dry, they sand right off.

Apply a thin layer of decou-page glue to the dresser with a foam brush.

Apply the napkin onto the glue. Smooth it as you go with the foam brush and your fingers. Get it as smooth as you can, but wrinkles can be sanded out once dry to make the pattern look aged. Wipe away excess glue.

Repeat the steps, overlapping the napkins to match the patterns. Just make sure to apply decou-page glue under the napkins where they overlap.

I also applied the napkins to the edges of the drawers to make the design keep going. If I did it again, I would not do this because it makes the drawers harder to open and shut. Nothing wax can't fix, though. (See step 12.)
I repeated the same steps for the top since the top was so damaged. My napkins had little brand marks in a corner, so I made sure that those spots were along the outer edges where they would be removed and not part of the design.
Finishing the Dresser
Sand the edges. Once the napkins are dry, sand the edges to remove the excess napkin paper. I used 120 grit sandpaper and it worked pretty easily. Just be gentle so that you don't accidentally rip it.

Sand any wrinkles out for a distressed look. Once again, sand gently. Then clean the dust off.
Apply another coat of decoupage glue on top of the paper.
Add a topcoat. Once dry, I added a few coats of Polycrylic to seal it really well. I just used a brush since the pattern will hide any brush strokes.
Wax edges. If you applied the paper to the edges as I did, apply some wax to the sides and top of the drawer, then buff it. The wax will help the drawers slide smoothly into the dresser frame.
Install the knobs. When the dresser is completely dry, you can install the knobs. Use an awl to poke through the paper and install your knobs. I used glass knobs from D.Lawless hardware.
It's hard to believe that this is the same piece!!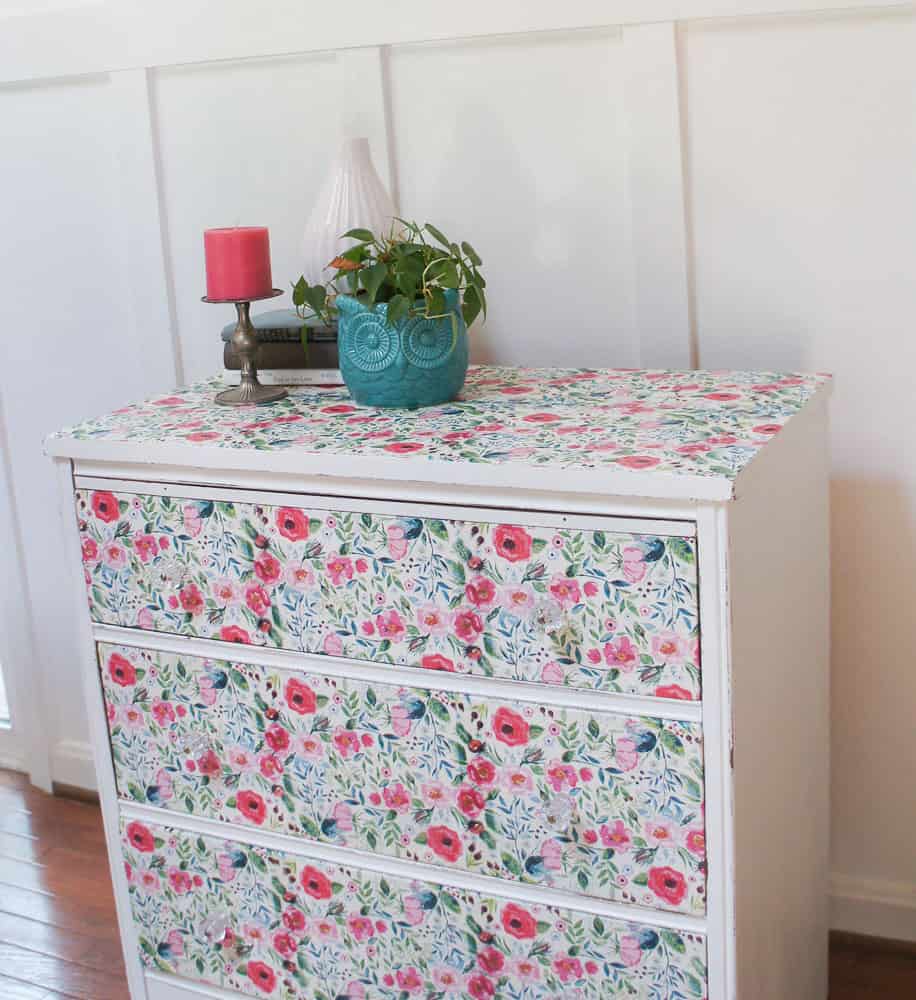 I love how the glass knobs add a subtle bit of shine without competing with the gorgeous floral pattern.
Tips to Prevent Air Bubbles in Decoupage
Smooth as you go. Use a brayer, an old credit card, or a folding tool. Be gentle so that you don't tear the paper. 
Make sure that you've used enough glue to adhere the paper to the wood. But don't use too much glue. It can also cause the paper to wrinkle. Use enough so that the paper is wet on top and bottom.
Thin glue with water if necessary. When the glue is too thick, it can cause problems with adhesion.
Don't decoupage when the weather is too humid or hot. Extreme weather can cause problems with glue drying. If possible, work inside in a temperature-controlled environment.
How to Fix Decoupage Problems
Bubbles and Wrinkles in Paper
If you're going for a distressed look, sanding lightly after it dries can smooth out the wrinkles. It doesn't destroy the design and is very subtle. Use high-grit sandpaper for best results (400 grit.)
If the paper is thin enough, you can saturate the paper with glue and smooth it well. Burnish it lightly with a credit card or folding tool.
Use a needle or craft knife to pop large bubbles and apply more glue on top, trying to get the glue under the paper.
Streaks in Top Coat
Streaks are caused by applying glue on a part that is already drying. Next time, don't apply glue over a surface that is drying. Instead, skip the spot and get it on the next coat.
To fix this problem, sand the dried glue lightly with 400 grit sandpaper to get a smooth finish. Seal it with polycrylic.
Decoupage Glue Feels Tacky to the Touch after It Dries
You can let it dry longer, but in some cases, it never dries all the way.
Instead, apply a top coat of polycrylic over the entire thing. This will seal the tackiness from the glue, as well as provide a solid top coat that won't yellow with time.
Read more about fixing decoupage problems.
Alternate Decoupage Projects Using Paper Napkins
Sign backgrounds. Using napkins on stained wood creates a different look because the wood shows through. Distress the edges for a fun look.
Crates. Decorate boring wooden crates with cute patterns.
Small decor like magazine files and boxes
Simple glass vases
Tabletops
Small occasional furniture, like step stools and side tables
Drawer liners
Instant art
Looking for more furniture tutorials? Here are a few of my favorites:
Yield: 1
How to Decoupage Furniture: Floral Decoupage Dresser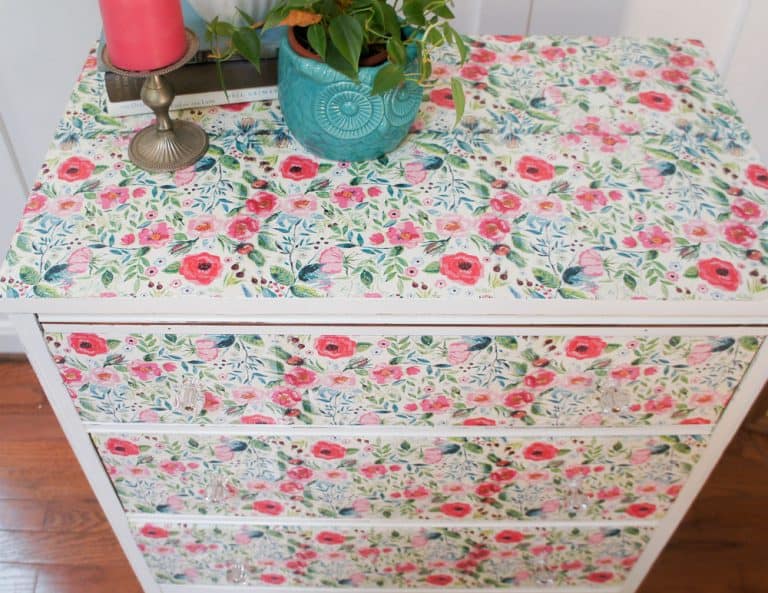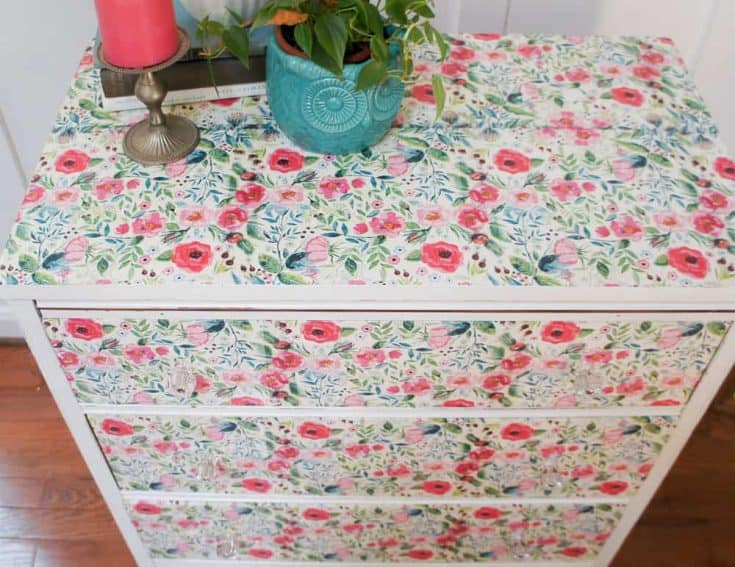 Learn how to decoupage furniture with paper napkins.
Materials
Furniture
Paint
Paper Napkins
Decoupage Glue
Polycrylic
Tools
Sandpaper
Foam brush
Paintbrush
Instructions
Paint the furniture white.
Separate the paper napkin layers.
Paint on decoupage glue using the foam brush.
Apply the paper napkins, letting the paper overhang the edges.
Apply decoupage glue on top of the paper napkins, smoothing as you go.
Let the glue dry.
Use sandpaper along edges to remove the excess paper.
The sandpaper can also be used to distress the edges and any wrinkles.
Seal the piece with 2-3 coats of polycrylic.
Let dry and reattach hardware.
Recommended Products
As an Amazon Associate and member of other affiliate programs, I earn from qualifying purchases.
Pin for Later!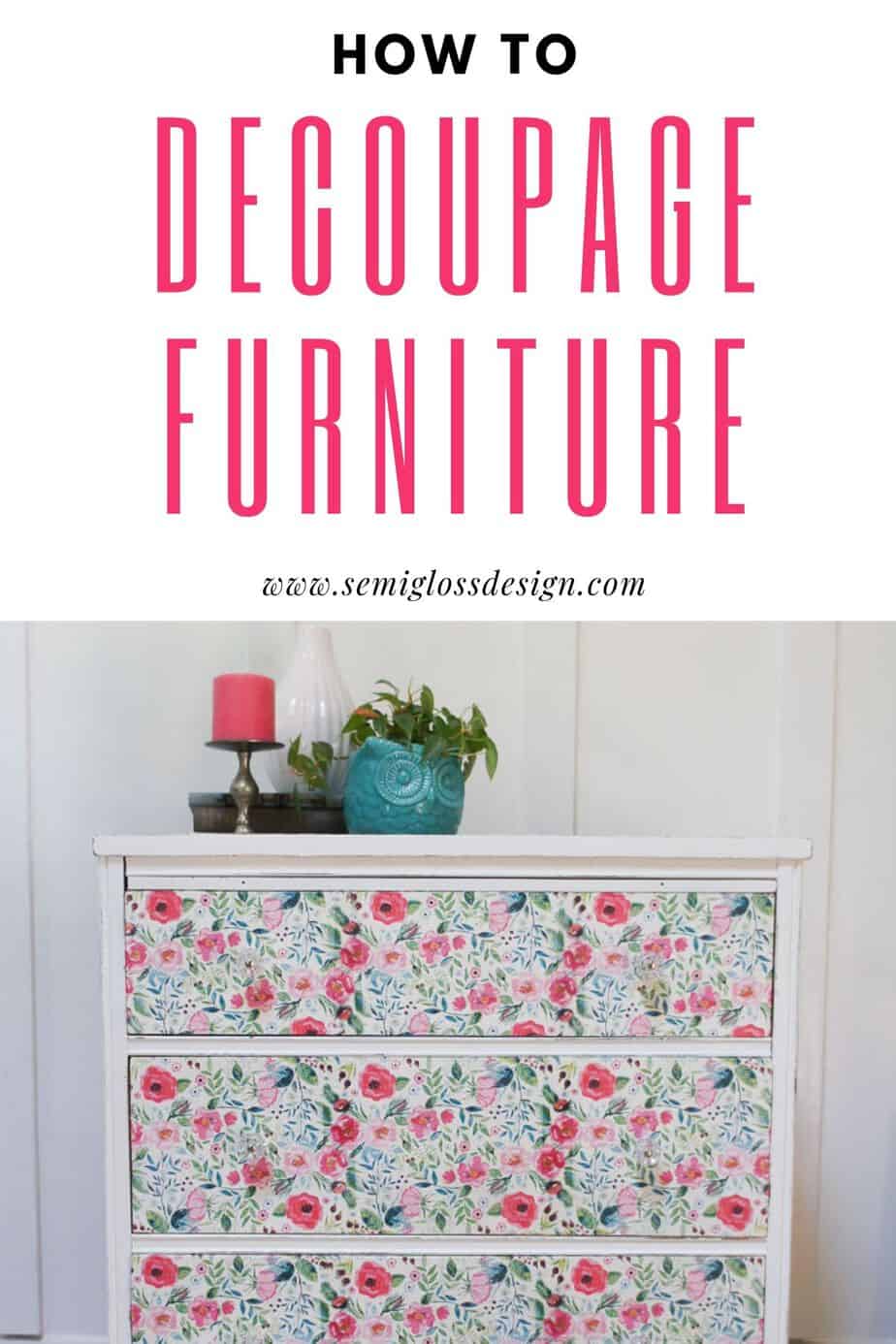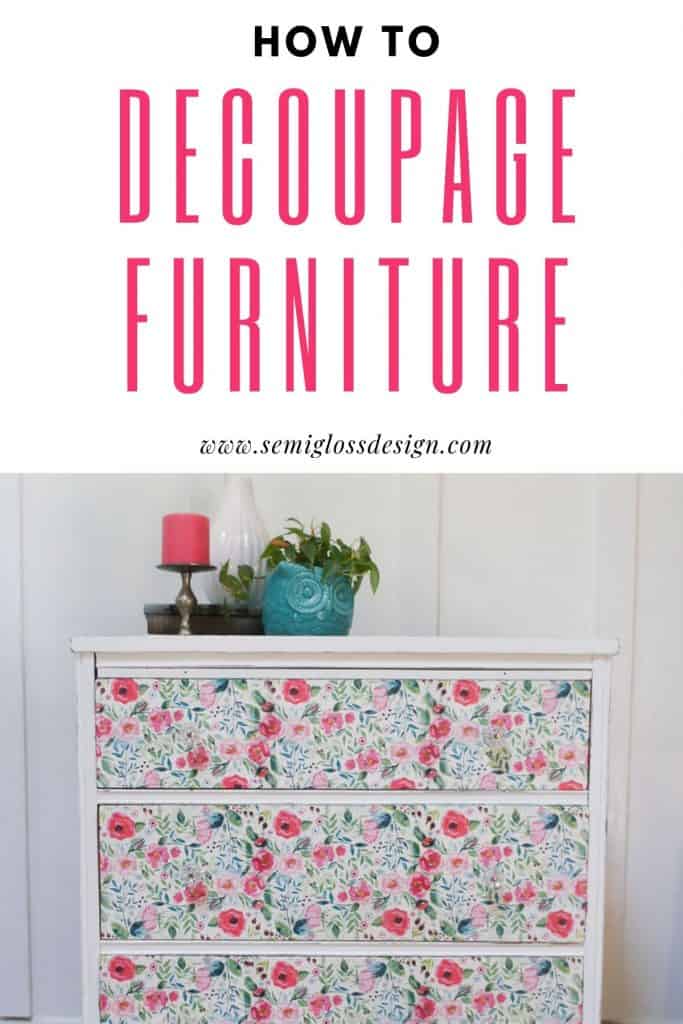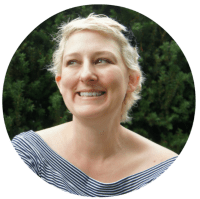 Emy is a vintage obsessed mama of 2 DIYer who loves sharing affordable solutions for common home problems. You don't need a giant budget to create a lovely home. Read more…