Beautiful Bookshelf Makeover with Tree Wallpaper
Learn how to complete a bookshelf makeover using wallpaper. You might also like this post about how to paint furniture white (and other light colors.)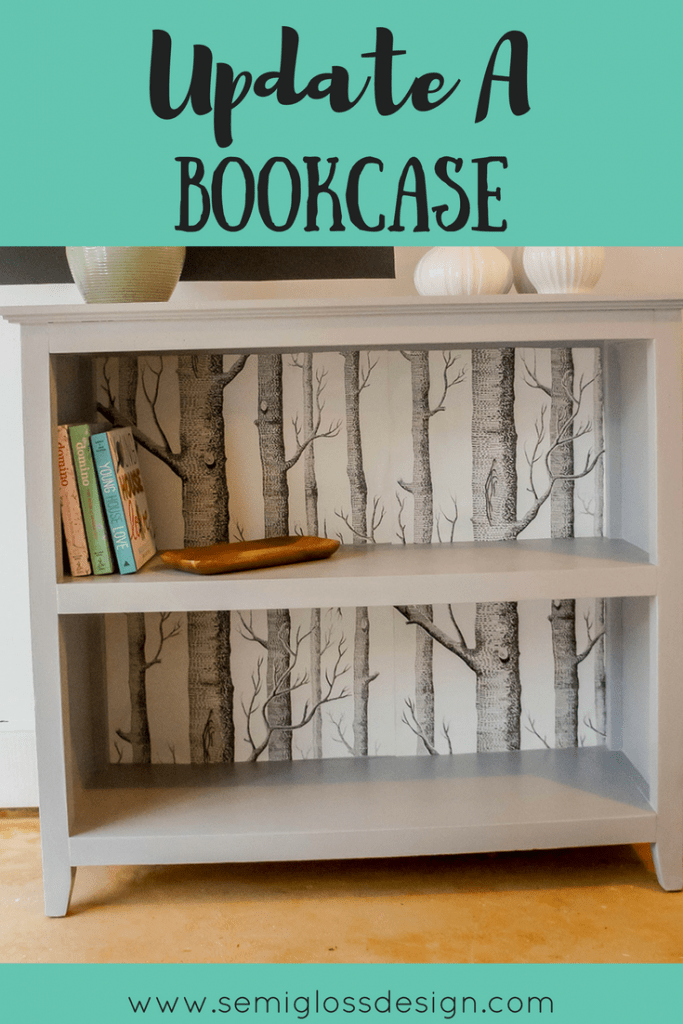 One of the first pieces of furniture that I bought for my vintage shop was a bookshelf. As a book lover, I love a good bookshelf.
This bookshelf was a great size and nice and sturdy. The top was a bit scratched up and the back had a crudely cut hole in it, but I knew that I could make it shine again. I learned some important lessons during this bookshelf makeover.
Bookshelf Before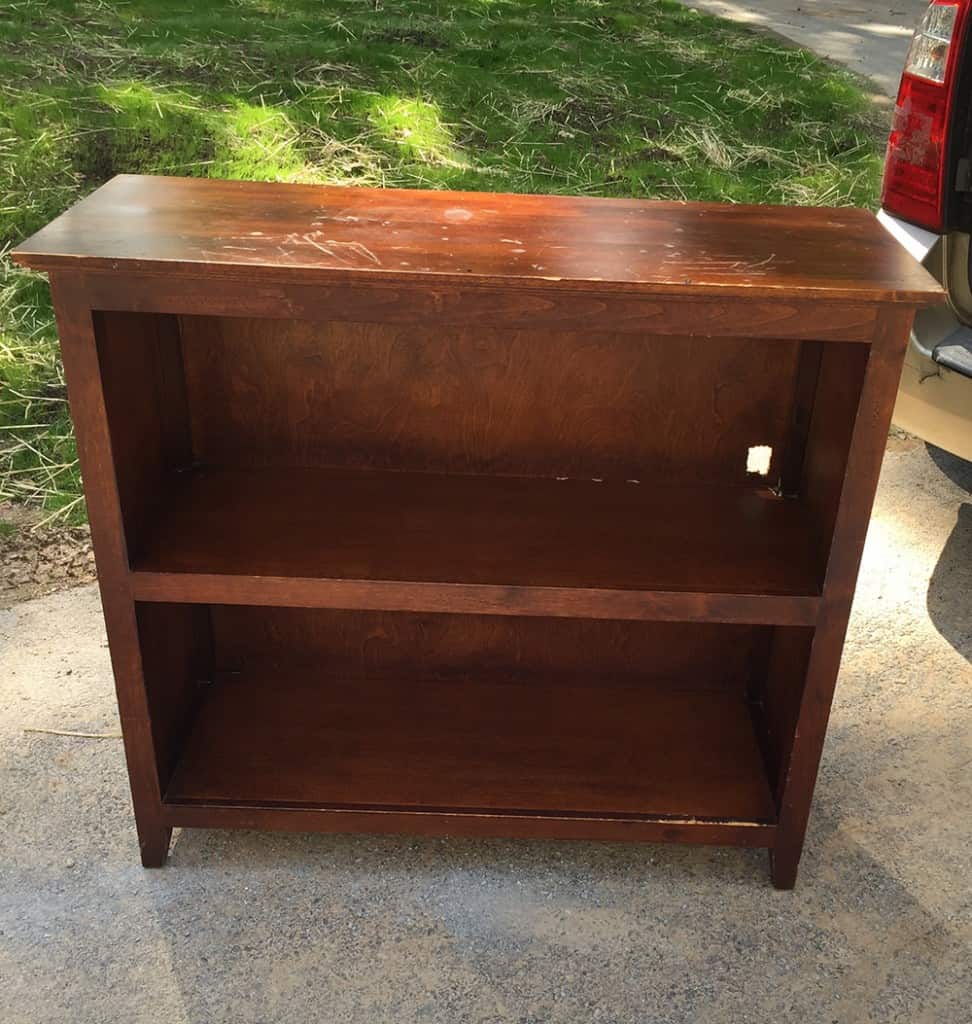 This bookcase was solid wood, with nice clean lines. It was perfect for a makeover.
Tips for a Bookshelf Makeover
This post contains affiliate links. By purchasing an item through an affiliate link, I earn a small commission at no extra cost to you.
Supplies Needed
Prep is key for a bookshelf makeover. Sand and prime before painting. I know that a lot of paints claim to be no prep, but I would never take that chance with a bookshelf!! Bookshelves get a lot of wear and tear, so good prep work is important. Sanding will smooth out any imperfections. Priming will seal any stains that may bleed through. Sanding and priming will ensure that your paint will stick to the wood. I recommend this primer because it's heavy duty!
Use a good paint. For this bookshelf makeover, I used chalk paint, which I don't love. It showed brush strokes and took too many coats of paint, plus needed to be sealed. Instead I would recommend this paint. It goes on easily, doesn't show brush strokes and doesn't need a top coat. Plus, the finish is so smooth and hard once it's dry. A little goes a long way, so you get your money's worth!
When picking a wallpaper, keep in mind that a repeat makes lining up your wallpaper tricky. You will also need more to match the repeat. For a first time user, I would recommend an easy pattern with no repeat, like this beadboard wallpaper. I like that it's pre-pasted as well because that makes it easier to use too.
Use a new blade in your utility knife when cutting your wallpaper. I like to use a straight edge and cut along it. (Edited: My newer preferred method is to measure and cut. I line a lot of drawers and the process is very similar.)

For a top coat, I love the ease of a wipe on poly. It really is as easy as wiping it on. Wipe on poly does yellow a bit, so only use on darker colors and or colors where it will look nice when it turns a bit yellow. (It can turn a too-blue paint a bit more aqua.)
Let your piece cure for several days before you use it. Even though paint feels dry, it can take several weeks to actually cure. Few people want to wait that long, so I recommend a few days.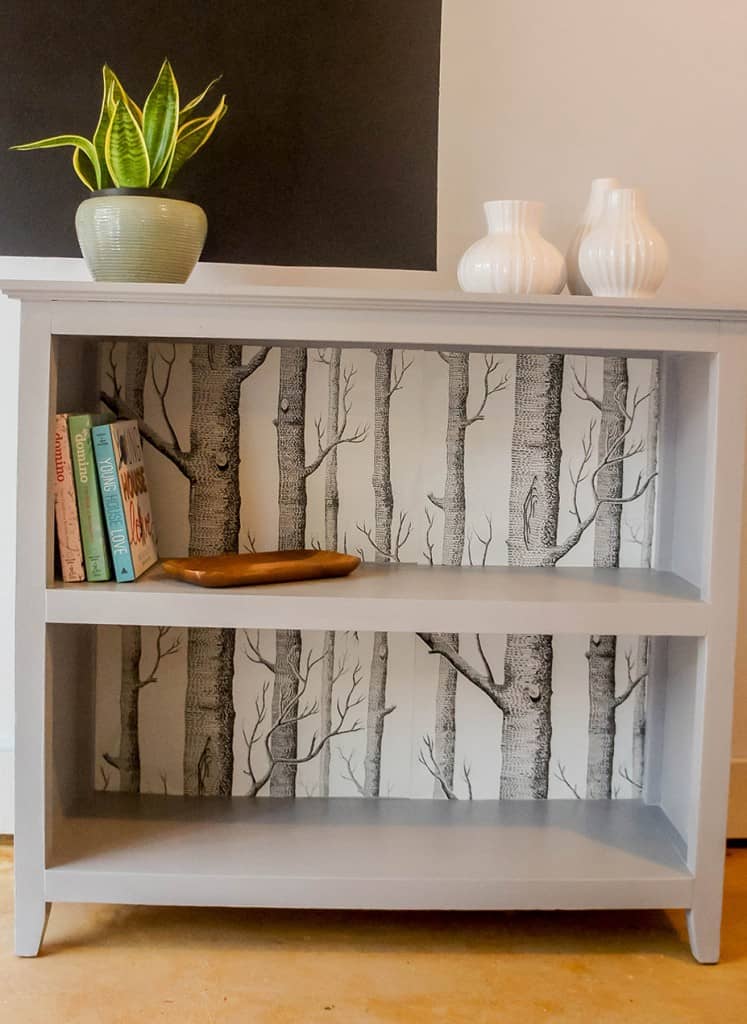 Painting a Bookshelf FAQs
What kind of paint do I use on a bookshelf?
I used chalk paint with a polycrylic top coat for this bookshelf. If you use latex paint, be sure to use a good primer first. And let it cure as long as possible before putting stuff on the shelves.
I like an eggshell finish for painted furniture because it's matte, but still durable. Semi-gloss paint is another good option because it can be wiped down if necessary.
Can I paint a laminate bookshelf?
Yes, but prep is even more important for laminate. Without primer, the paint is going to peel off in sheets.
Sand the entire piece before painting. Use a shellac based primer or even oil based primer for the best results.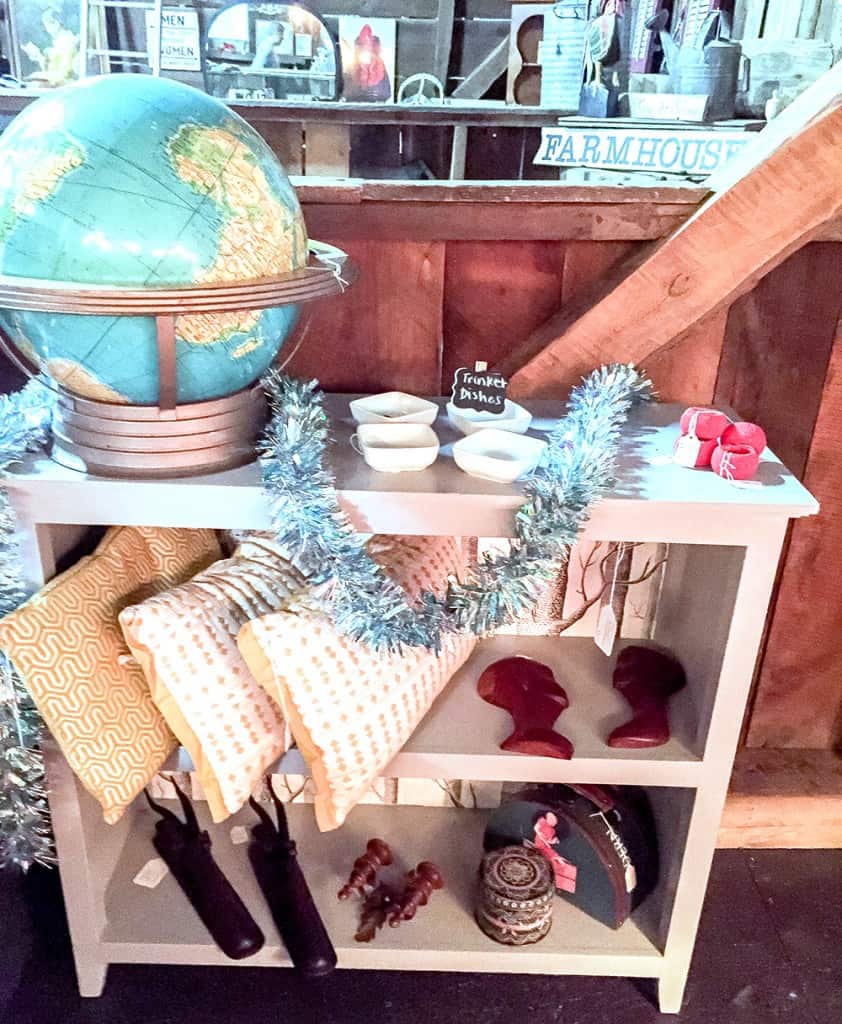 You might also like:
Pin for Later!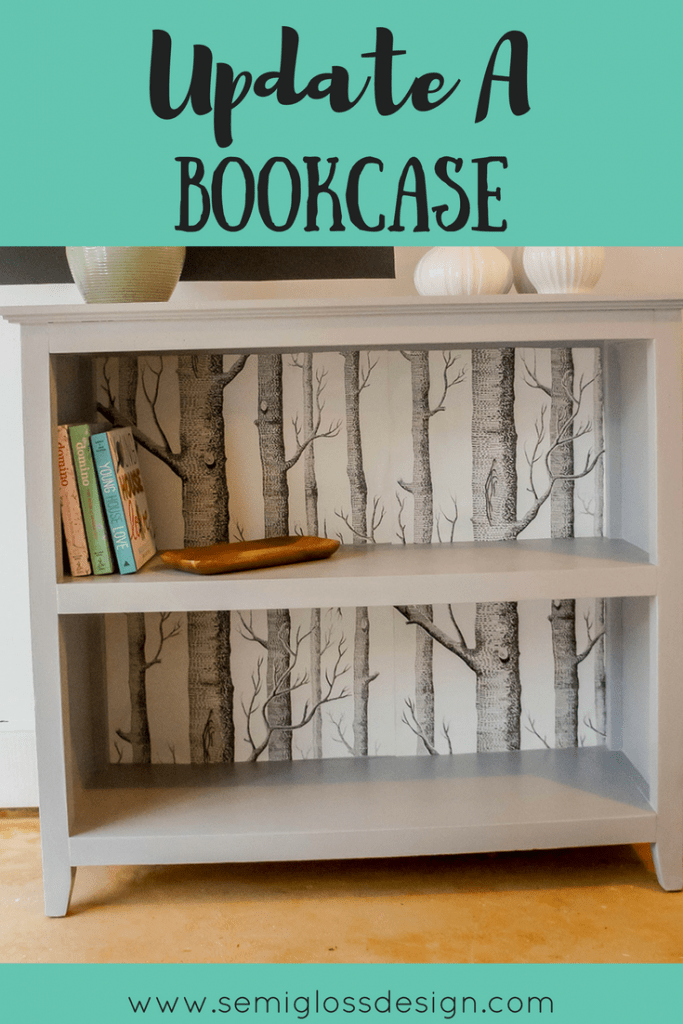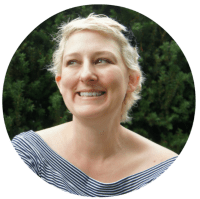 Emy is a vintage obsessed mama of 2 DIYer who loves sharing affordable solutions for common home problems. You don't need a giant budget to create a lovely home. Read more…