Tissue Paper Decoupage Pumpkins: Easy No Carve Pumpkin Decorating
Learn this fun no carve pumpkin decorating idea by making tissue paper decoupage pumpkins.
Decoupage is one of my favorite techniques, whether it's used for furniture or patchwork pumpkins. This easy, no carve pumpkin idea uses tissue paper, which is perfect for using on the curves of a pumpkin.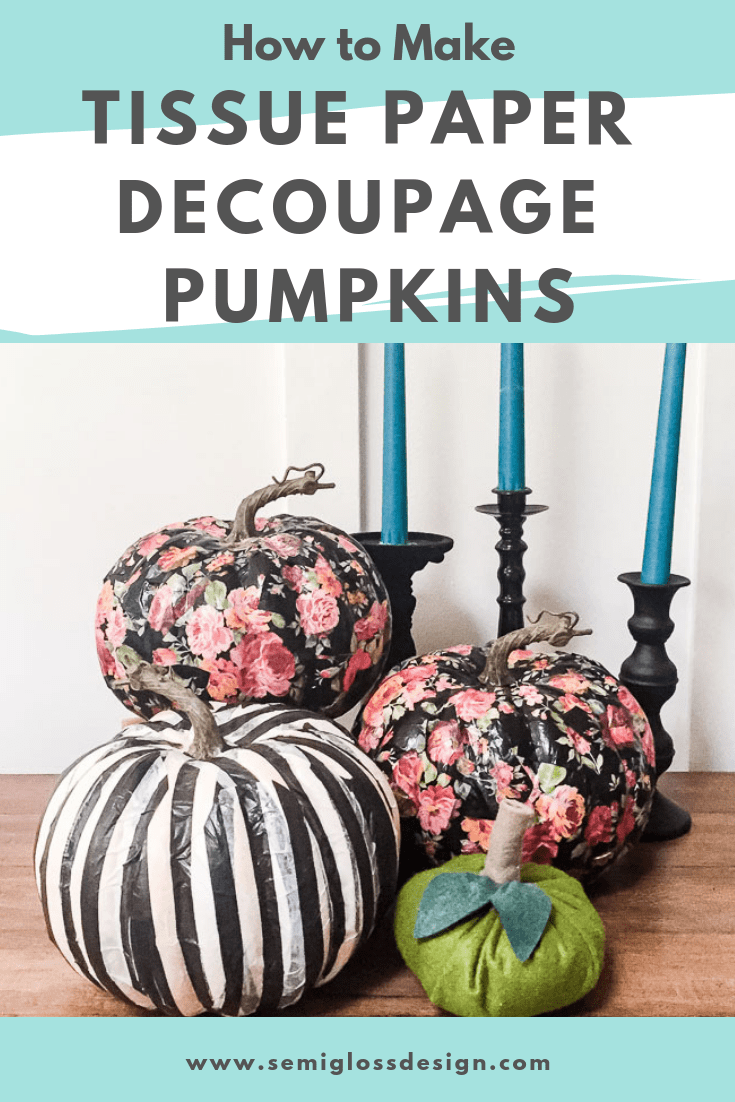 I love carving pumpkins with the family, but they never fail to turn into a disgusting mess. We painstakingly decorate our pumpkins and then after a few days, the pumpkins are gross.
Needless to say, no carve pumpkins are my favorite way to decorate for the fall. They last forever and can be stored for the next year.
Tissue Paper Decoupage Pumpkins
Supplies Needed
This post contains affiliate links. By purchasing an item through an affiliate link, I earn a small commission at no extra cost to you.
(I bought these patterned tissue papers at Michaels, but I've linked to similar sets)
I buy my fake pumpkins at Walmart or Lowes, because fake pumpkins should not cost a million dollars. Try to get white pumpkins, so that you don't have to paint them first.

Striped Pumpkins
The striped pumpkins were fun to do, but didn't turn out as well as I hoped. The linear pattern is hard to work with on a curved surface. Try to line up a black line on the center of each bump. Then add small strips of black paper where they meet.
Cut your paper into strips.

Apply decoupage glue to the pumpkin.

Apply the tissue paper to the glue, using the foam brush to smooth the paper out.

Add more glue as needed. Apply glue to the top of the paper to help it stick and provide a top coat.
I applied strips in 4 places surrounding the pumpkin, then let it dry.

Then I went back and filled it in with more strips. For smaller areas, I tapered the strips at the end to avoid too much overlapping.

Any places that still needed paper were filled in with matching stripes.
Let the pumpkin dry. I used a galvanized bucket to keep my pumpkin from sticking to my table.
Floral Pumpkins
Cut floral patterns apart. It's not necessary to be accurate or perfect. A lot of the floral patterns connected, so I cut them apart into usable portions.

Apply glue to the pumpkin and start placing the largest floral patterns on the pumpkin first.

Continue placing the largest patterns around the pumpkin.

Fill the space with the medium sized floral bouquets until only tiny parts are left.

Fill the remaining spots with small florals or black pieces of paper.

Let dry.
If you want your decoupage pumpkins to go outside, they need to be sprayed with a few coats of clear spray paint. Even then, I wouldn't let them remain outside in torrential downpours.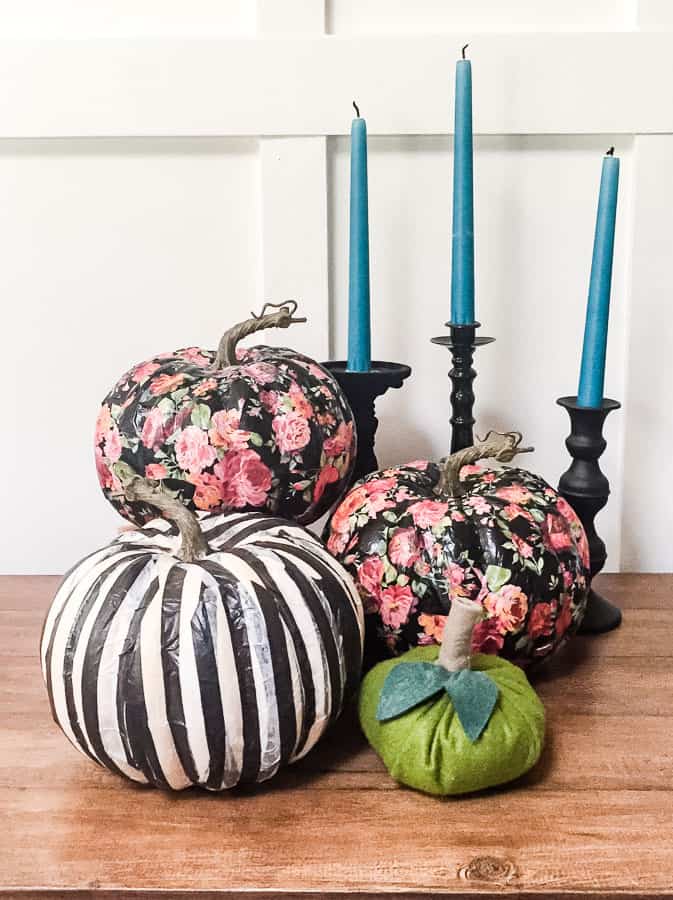 I love how my tissue paper decoupage pumpkins turned out, but the floral pumpkins are my favorite!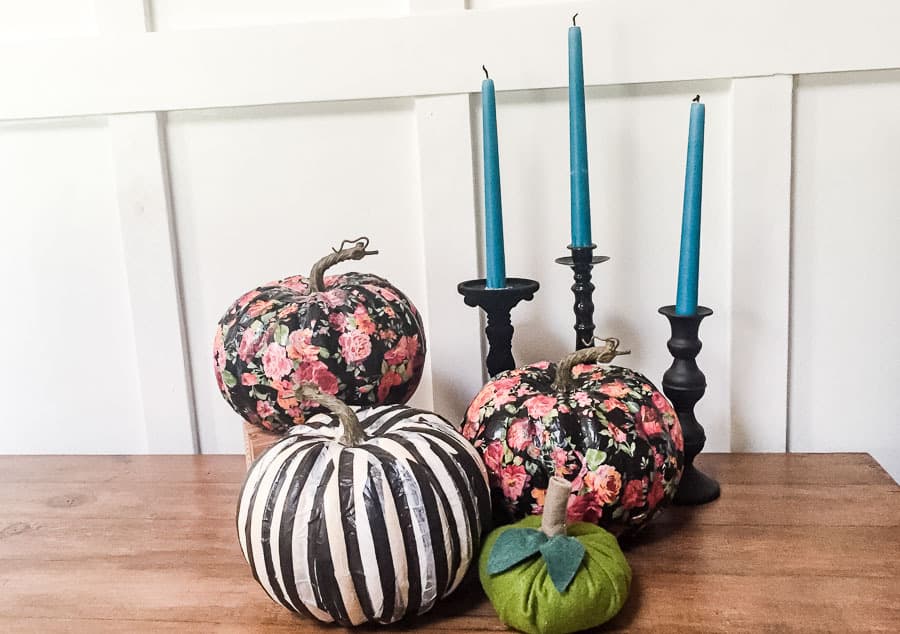 Learn how to correct decoupage mistakes like wrinkles, bubbles and brush strokes.
You might also like:
Pin for Later!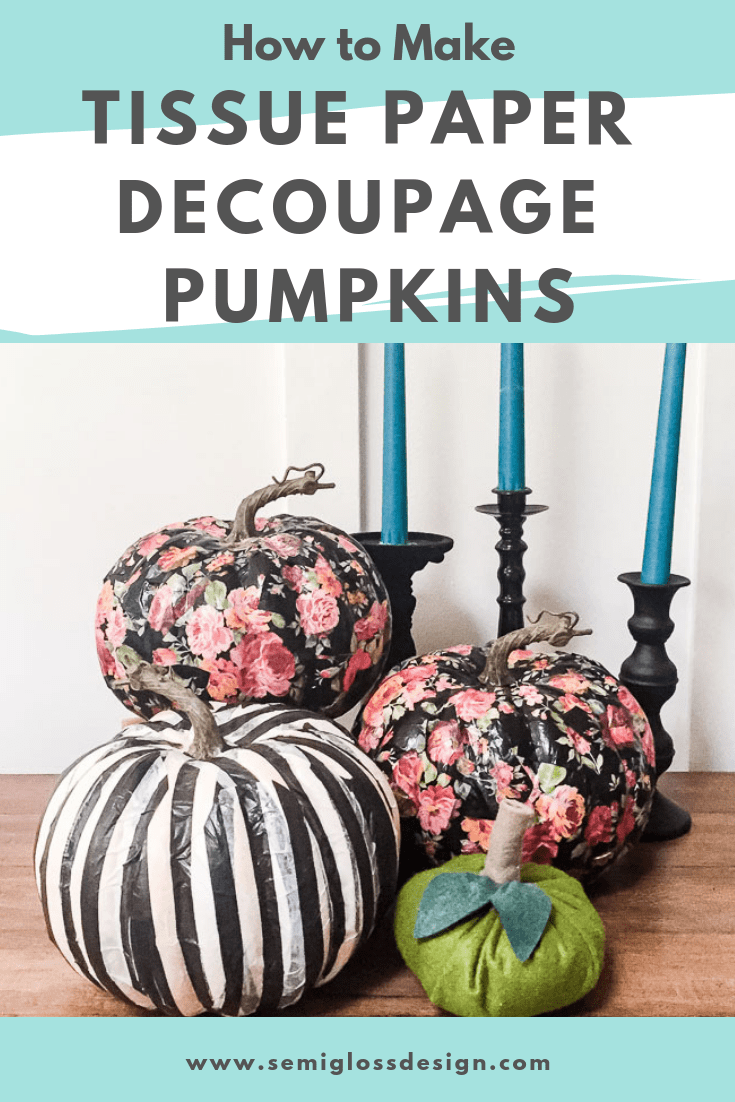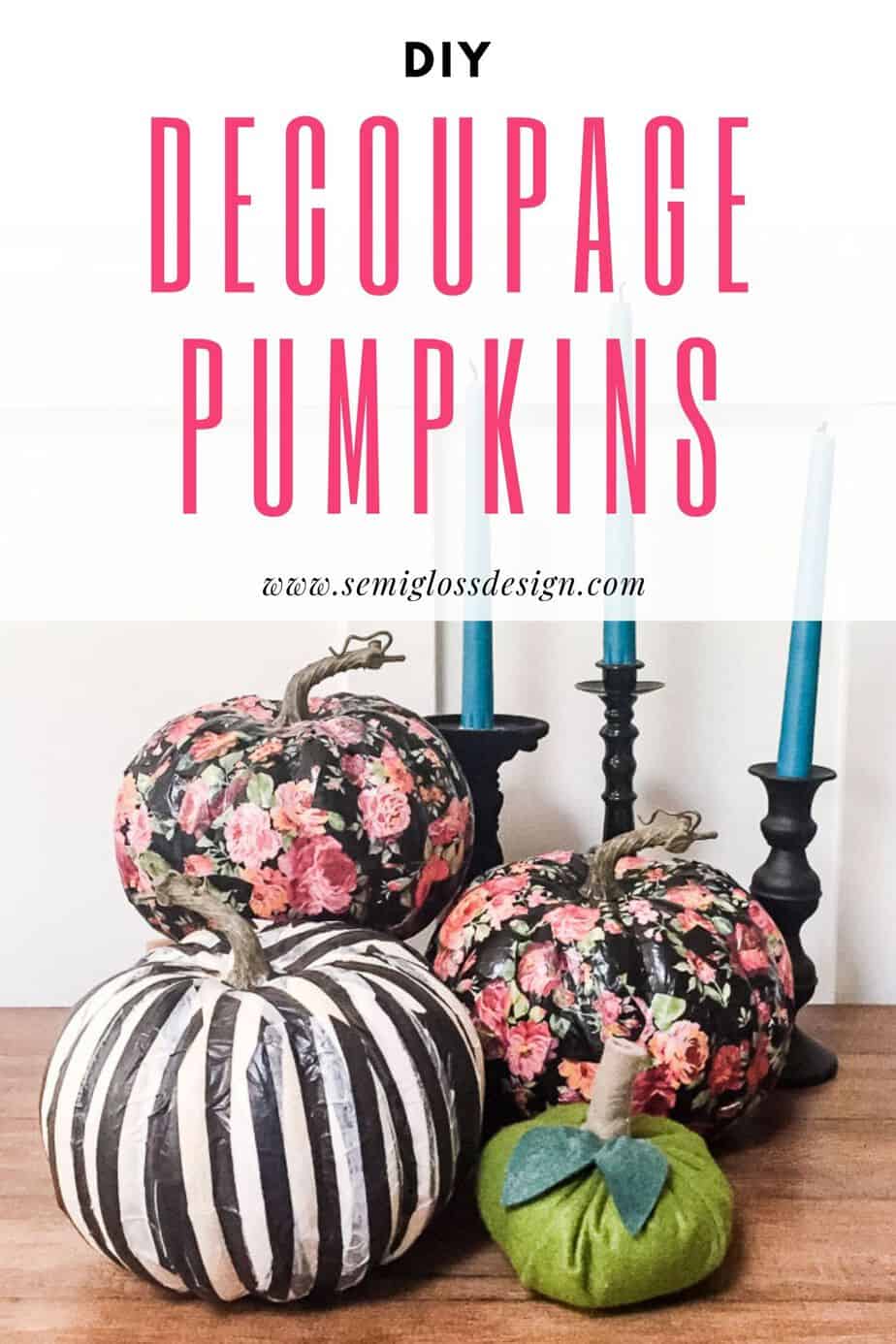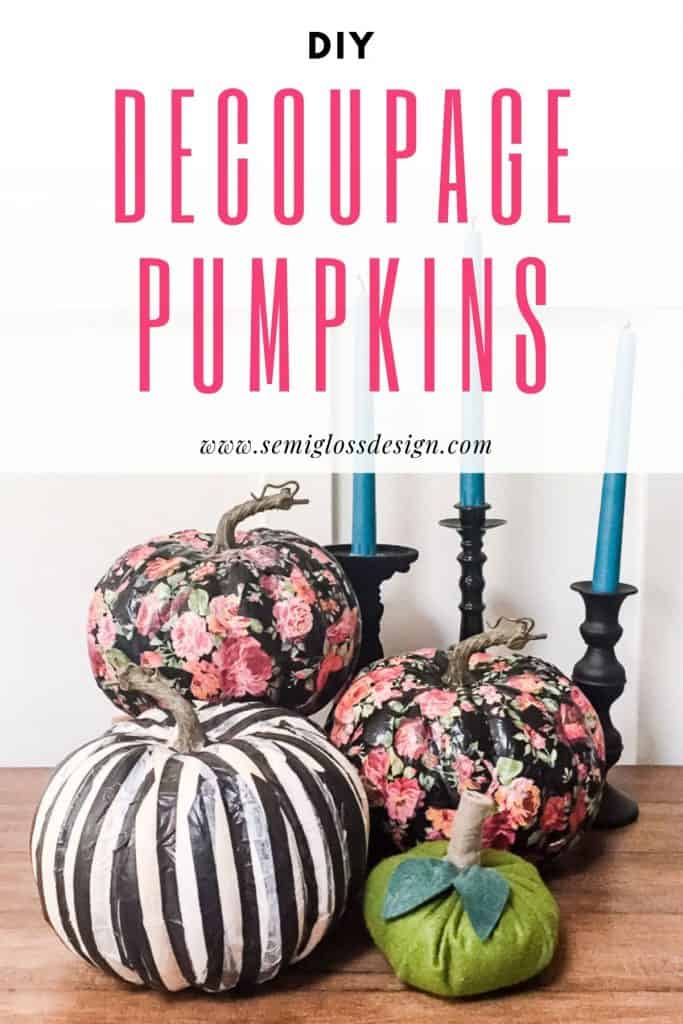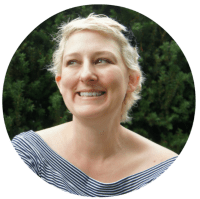 Emy is a vintage obsessed mama of 2 DIYer who loves sharing affordable solutions for common home problems. You don't need a giant budget to create a lovely home. Read more…