How to Use Peel and Stick Wallpaper on Furniture: IKEA Rast Hack
Learn how to apply peel and stick wallpaper on furniture. This is the perfect way to add pattern and interest to a boring piece of furniture. Plus, who doesn't love an IKEA Rast hack?
If you like adding wallpaper to furniture, you might be interested in learning how I added wallpaper to the back of a bookcase.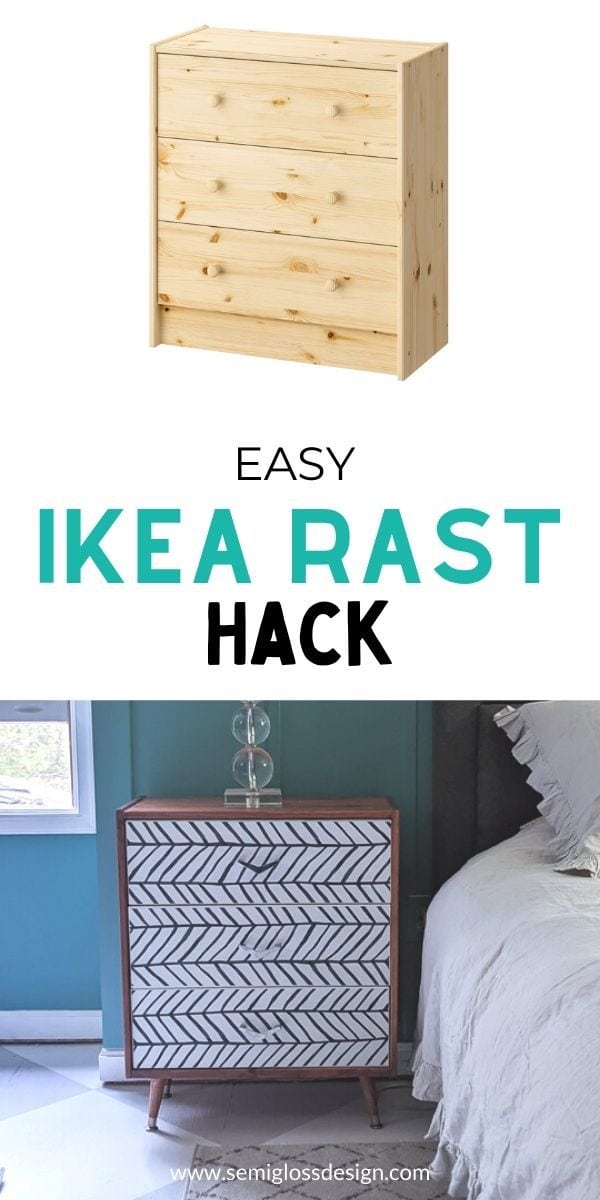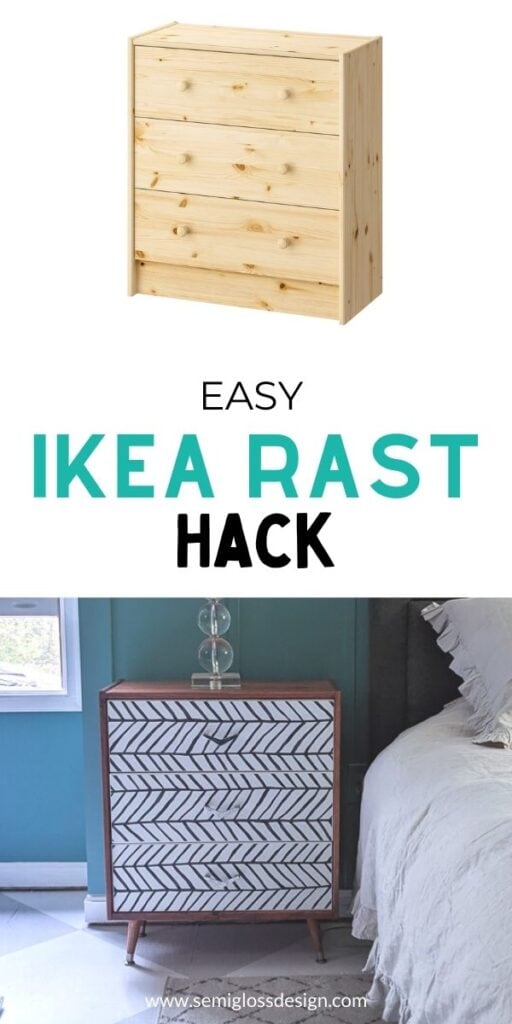 This post contains affiliate links. By purchasing an item through an affiliate link, I earn a small commission at no extra cost to you. As an Amazon Associate I earn from qualifying purchases.
IKEA Rast Dressers – Before
Before I started blogging, I hacked this IKEA Rast dresser using a tutorial by Hearts and Sharts (sadly it doesn't exist anymore.)
Once I started blogging, I knew that I wanted to add something to make it my own. This room makeover has finally forced me to act.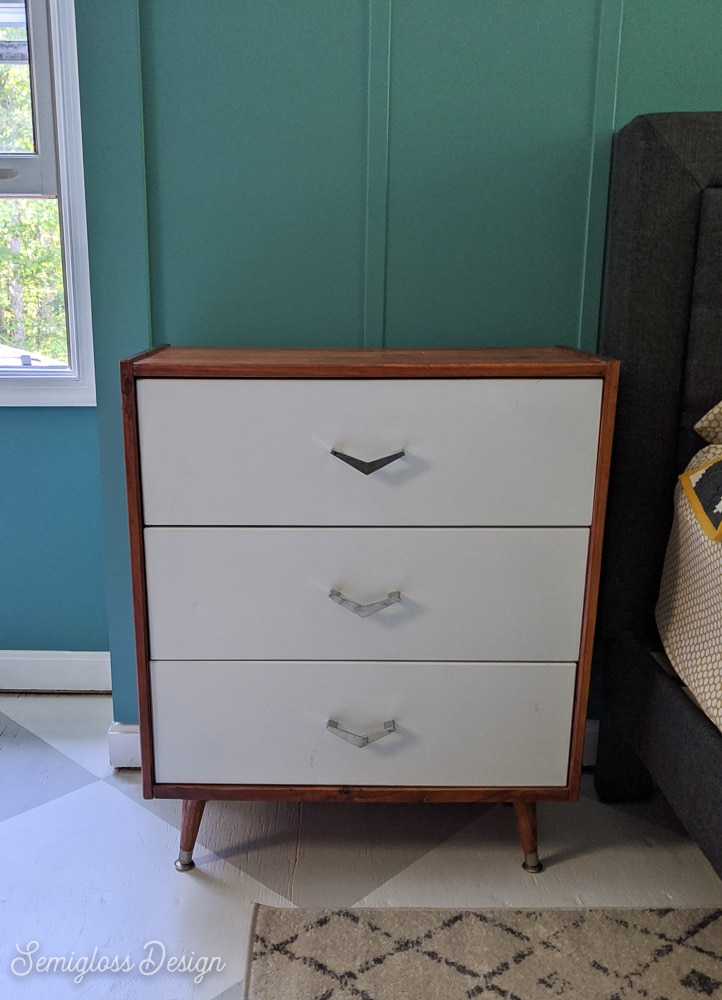 If you want to replicate this look, be sure to check out Dena's tutorial first.
The IKEA Rast dresser is the perfect nightstand for a king-size bed because the proportions are perfect. It's nice to add a bit of storage too.
Wallpaper on Furniture FAQs
Can you use wallpaper on furniture?
Yes, you can put wallpaper on furniture. It's best to work with a clean, dry surface.
I've used both peel and stick wallpaper and regular wallpaper with paste on furniture. The peel and stick wallpaper is obviously easier to use, but wallpaper with paste isn't that bad.
It works best on straight surfaces like the backs of bookcases, drawer fronts, or even lining drawer bottoms.
Can you put wallpaper on IKEA furniture?
Yes, you can use wallpaper on IKEA furniture. I've used peel and stick wallpaper on the back of a Billy bookcase with success. IKEA furniture is practically made to be hacked with paint and wallpaper!
Should you remove the drawers when installing wallpaper on a dresser front?
You can do it either way. I chose to remove the drawers first so that I wouldn't have gravity working against me.
However, if your pattern needs to be lined up, you may want to install the wallpaper while the drawers are still in the dresser body.
How to Use Peel and Stick Wallpaper on Furniture
Supplies Needed:
Scissors
Pencil
Measuring Tape
Yardstick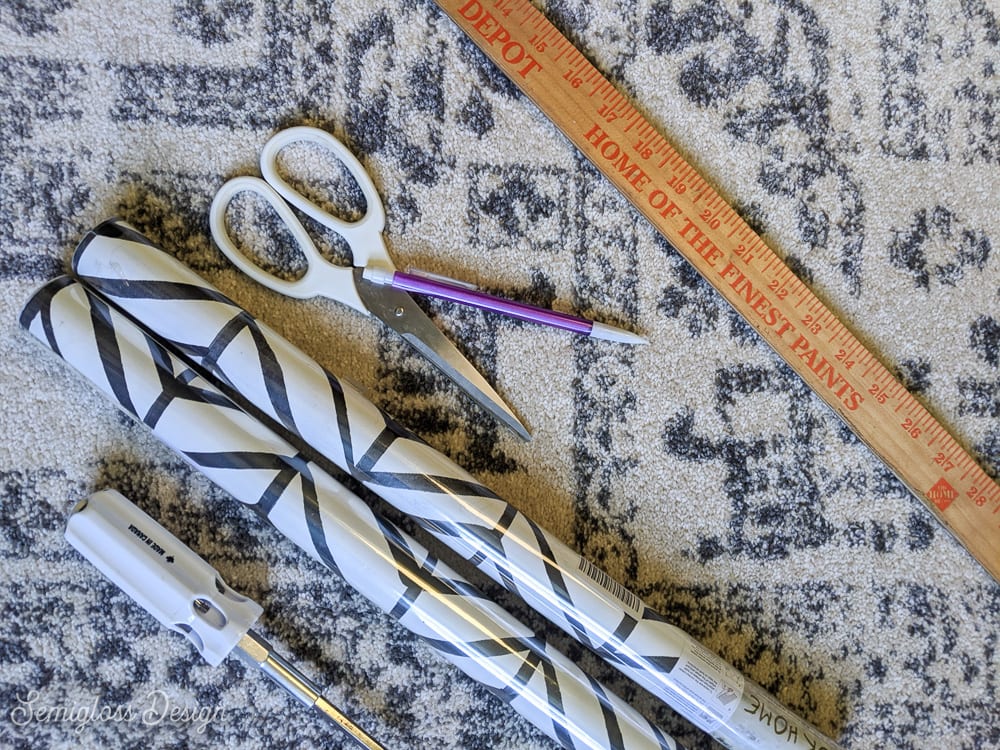 Most tutorials for applying wallpaper to furniture recommend wrapping the paper around the drawer edges. I tried that at first, but the paper wouldn't stick and I knew that it would end up getting destroyed.
This technique is a little different. For the best results, your drawers should be painted the same color as the paper.
Directions
Yield: 1
Using Peel and Stick Wallpaper on Furniture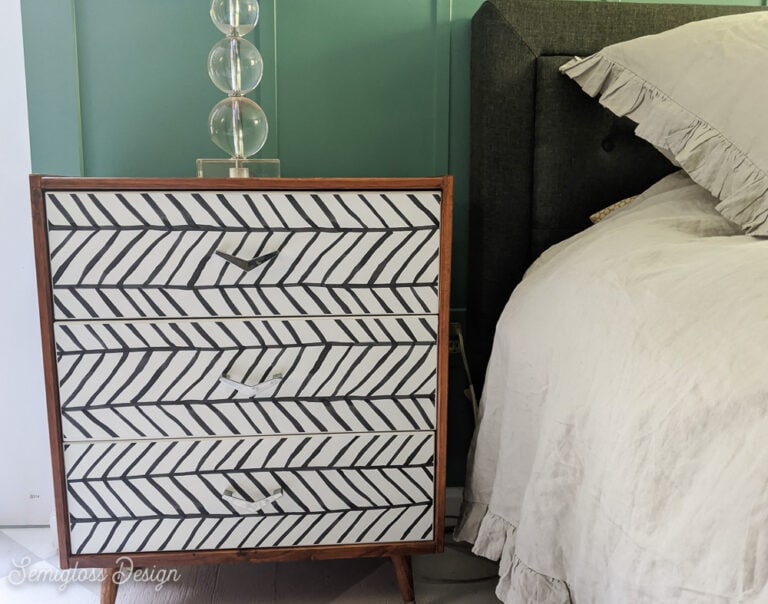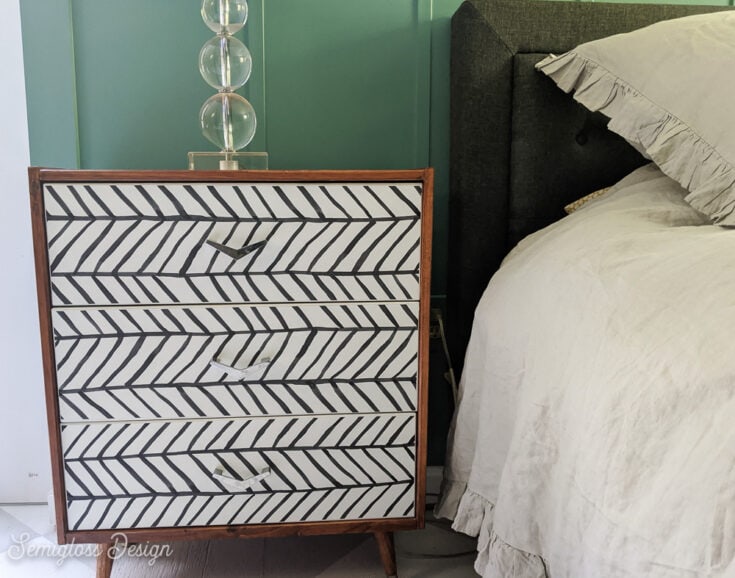 Learn how to apply peel and stick wallpaper to furniture. This IKEA Rast dresser got a fun update with graphic wallpaper.
Materials
Rast dresser
Peel and Stick Wallpaper
Tools
Scissors
Pencil
Measuring Tape
Yardstick
Utility knife with fresh blades
Instructions
If your Rast is already assembled, remove the drawers from the body of the dresser. There are little white plastic screws holding it in place.
If your Rast dresser is new, check out this tutorial to complete the first part of this makeover.
Remove any hardware on the drawers.
Measure the drawer fronts and cut out pieces slightly larger than the drawer fronts. I cut pieces that were about 8" x 24" to give me 1/2" overhang on each side.
Place the wallpaper on the dresser front and get it centered.
Peel the backing away from one edge, smoothing as you go. (If it ends up going on crooked, you can remove it and try again.
Use an old gift card to smooth bubbles if needed. I found it useful for removing creases from the wallpaper.
Mark the edges of the dresser by using the card to create a crease.
Use a straight edge and a utility knife to cut away the excess paper.
Use something sharp to poke holes where the hardware belongs. I used a screwdriver because that's what I had on hand.
Reinstall the hardware.
Reinstall the drawers with the white plastic screws.
Notes
One roll of peel and stick wallpaper was more than enough for 2 Rast dressers.
Experiment with wallpaper orientation to see how you like it better. If you like the pattern going down, you will have to match the pattern when applying it.
I started out trying to wrap the paper around the edges, but it wouldn't stick. You may have more luck with that technique than I had.
It's much easier to cut the paper when you've given yourself a larger overhang. 1/2" is perfect.
Recommended Products
As an Amazon Associate and member of other affiliate programs, I earn from qualifying purchases.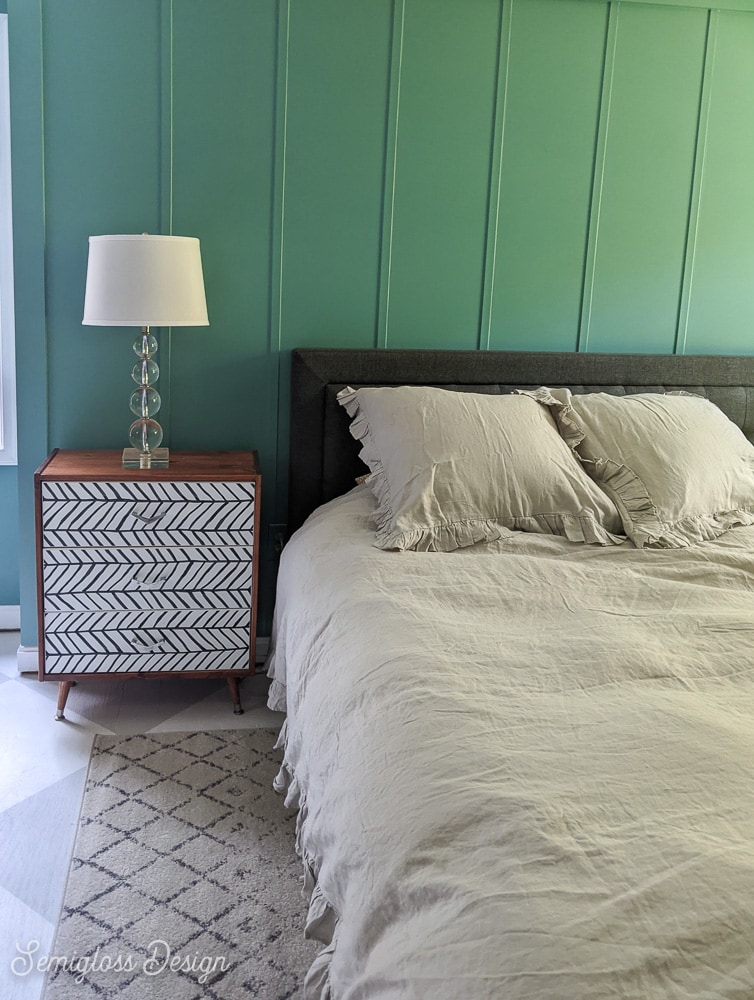 You might be interested in this post on affordable upholstered beds.
Other IKEA Hacks
Pin for Later!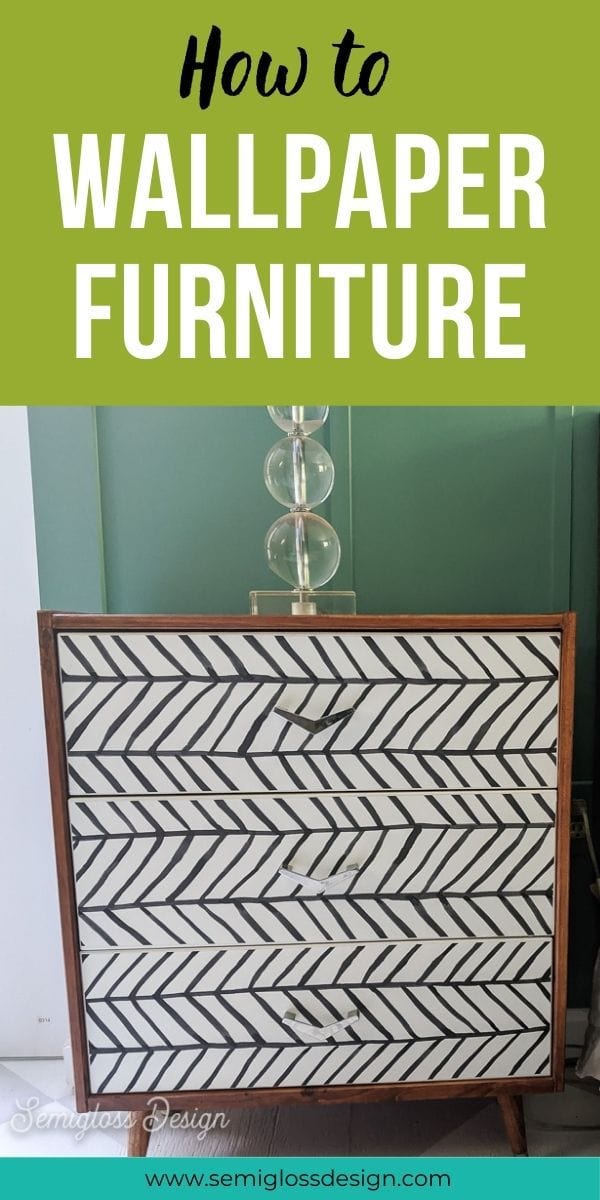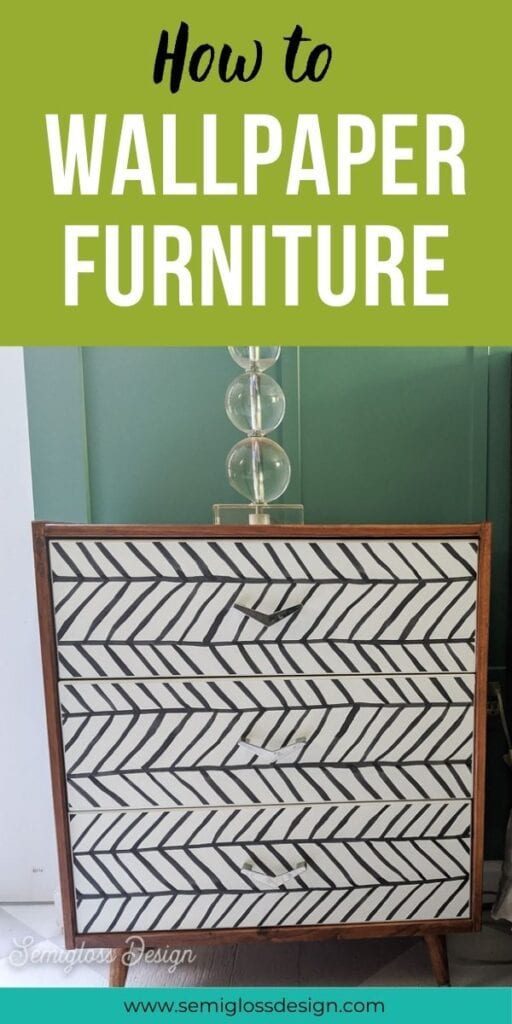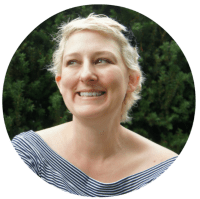 Emy is a vintage obsessed mama of 2 DIYer who loves sharing affordable solutions for common home problems. You don't need a giant budget to create a lovely home. Read more…