How to Paint Wrought Iron Furniture the Easy Way!
Learn how to paint wrought iron furniture, the easy way!
I bought a wrought iron furniture set over the winter for a steal. It was in horrible shape, but I knew that with a little bit of work, it could be gorgeous.
What I didn't realize is that I would fall in love with it and end up keeping it for myself instead of selling it! The struggle is real.
Once the weather warmed up a bit, I painted this patio set the easy way! Learn how to paint wrought iron furniture without picking up a single paint brush.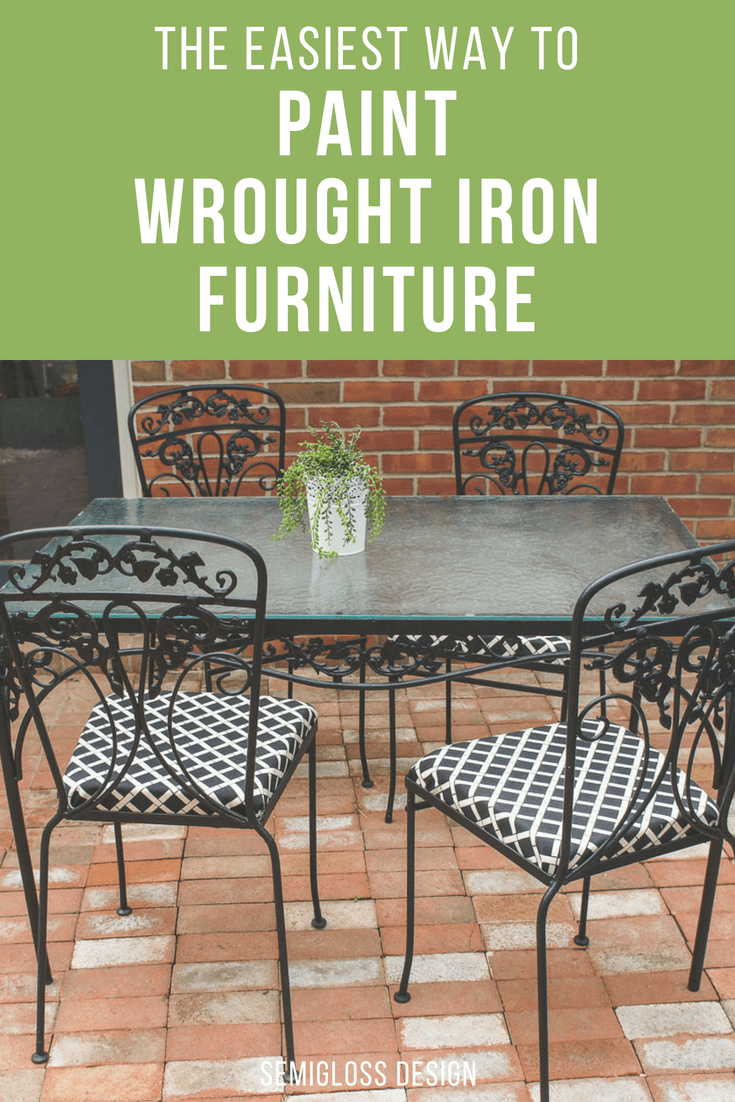 How to Paint Wrought Iron Patio Furniture
Before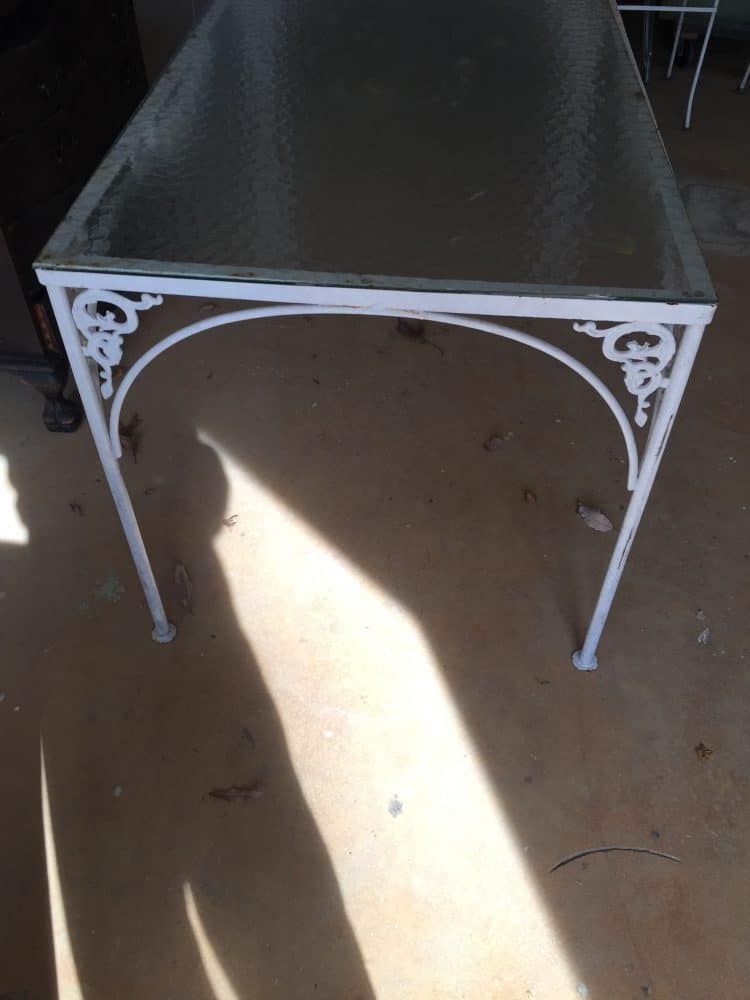 The wrought iron patio table was lovely but needed a paint job. The paint was a bit scratched up and there were rust spots. I know a lot of people love the shabby look, but this set was looking shabby in a bad way.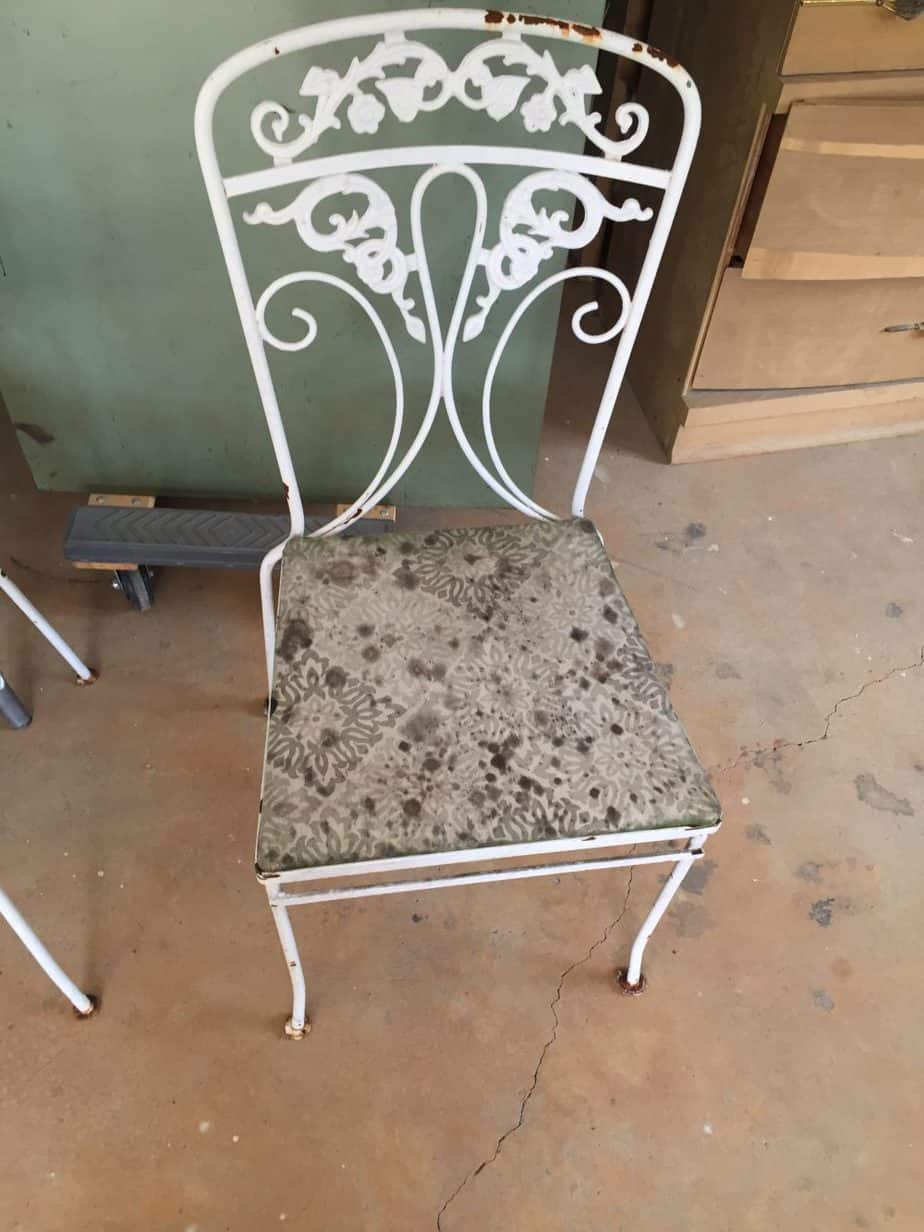 The chairs were in worse shape. Don't worry; those seats were thrown away!
After
Supplies Needed
This post contains affiliate links. By purchasing an item through an affiliate link, I earn a small commission at no extra cost to you.
Outdoor paint (I used Sherwin Williams Tricorn Black)
Plastic drop cloths
I don't have process pictures, but I can share some tips.
Remove Rust and Loose Paint Chips from Wrought Iron Furniture
Remove any loose paint chips with a stripper brush.
Then seal all the rust spots with rust reformer spray paint. This seals the rust so that it doesn't bleed through your pretty new paint.
Should You Spray or Brush Wrought Iron Furniture?
I sprayed the table using my Home Right Super Finish Max sprayer. For a more detailed post on how to use the sprayer, click here.
Basically, water down the paint and spray. Then make sure you clean the sprayer well. It's easier than you think though!! And the coverage is great when you use a sprayer!
My wrought iron furniture set had a lot of intricate details, so spraying the set made it easy to cover all of those curls and curves in minutes. Seriously, this set was painted in less than 30 minutes.
Painting with a brush is possible, but it's going to take a lot longer and require more coats of paint.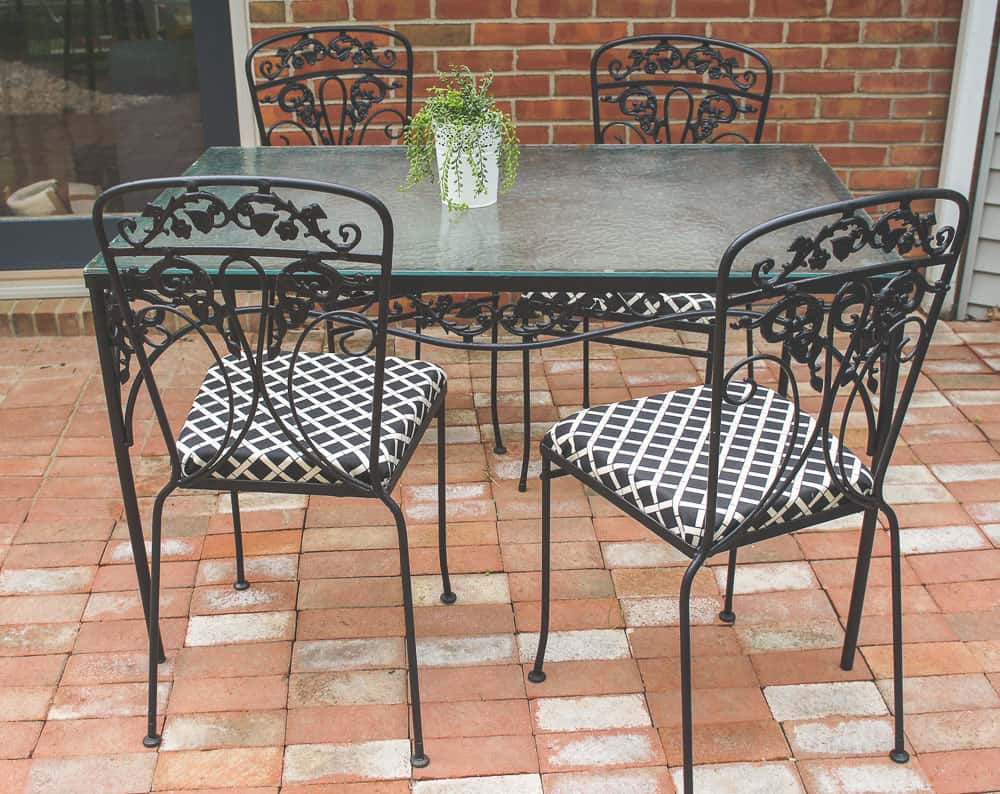 Painted Wrought Iron Furniture FAQ's
Can you spray paint wrought iron furniture?
Spray paint is another option of course, but I would have needed about 10 cans of paint and I would have had claw hand for days. My sprayer allows me to paint furniture with ease without the dreaded claw hand!
Plus, it allows you to use your favorite color of paint. I used Sherwin Williams Tricorn Black because I was playing it safe to sell this set. But a bright turquoise would have also been fun.
Eventually I might repaint it a fun color (spraying makes it easy enough to do that) and replace the glass top with wood planks.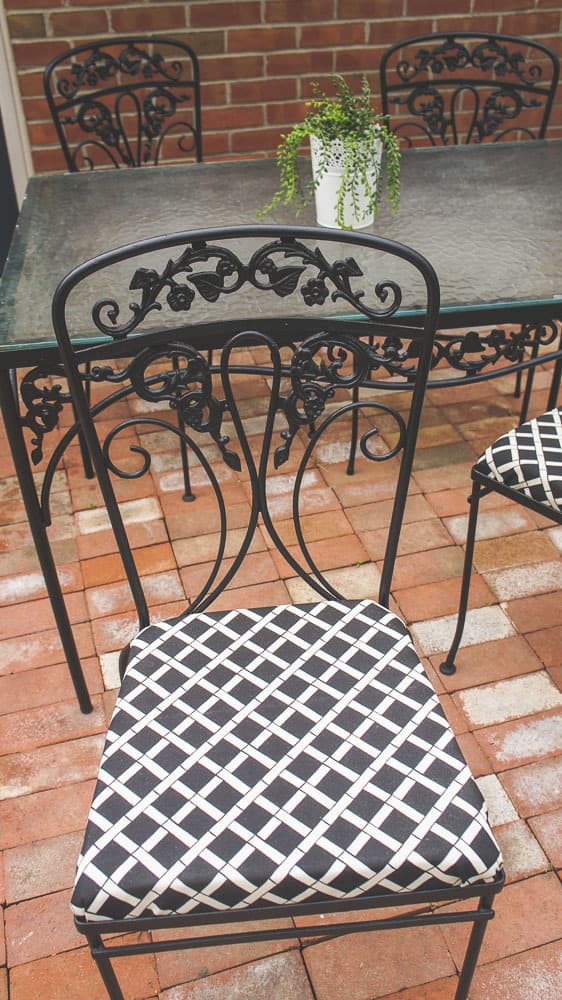 Replacing the Seats on a Vintage Patio Furniture Set
Since the seats were disgusting, I used them to trace templates for new plywood seat bases that I cut with a jigsaw.
Then I added foam and reupholstered them with outdoor fabric and a staple gun. The fabric is holding up well so far. Water beads up on the seat when it rains. 
How Long to Let Paint Cure on Furniture?
Since I used latex paint, the wrought iron furniture needed extra time to cure. Just try to avoid scratching it for about a month and you're good.
Latex paint takes about 30 days to cure, but even spray paint will scratch if it hasn't had enough time to cure. It it gets a little scratch, touching up the paint with a small paint brush only takes a few seconds.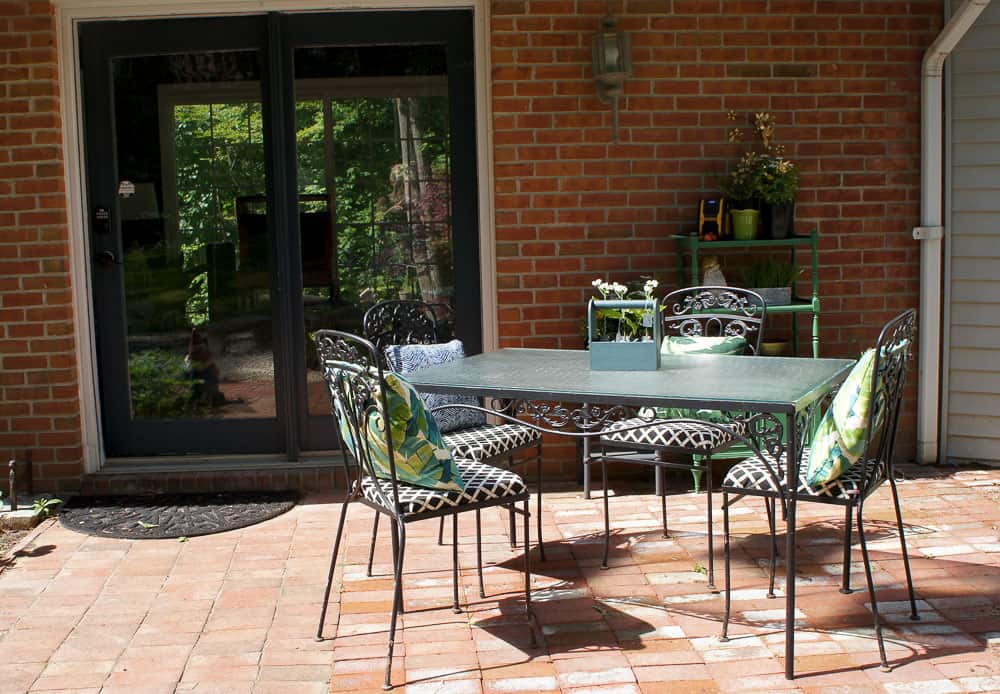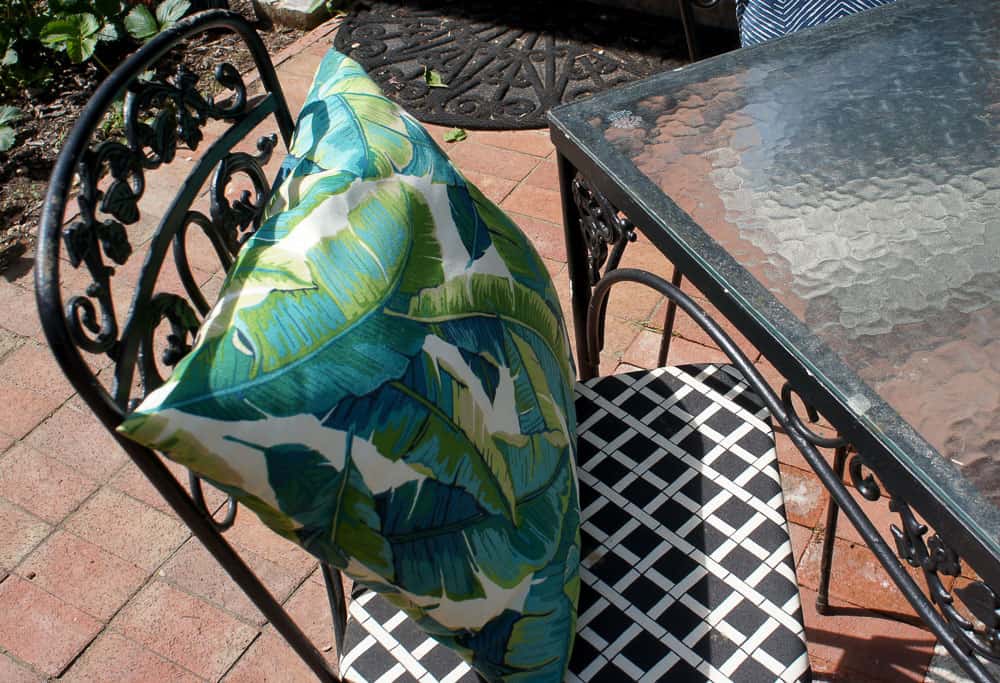 This wrought iron patio table set was available for sale for about a month, before I realized how much I loved it. (The legs were still muddy from being at Lucketts spring market. It has rained so much now that the mud is gone and it looks beautiful again!)
Curious to see more patio pictures?
It fits perfectly on the small patio in our front yard. Vintage furniture comes in the nicest sizes! Who can blame me for keeping this piece?
Pin for Later!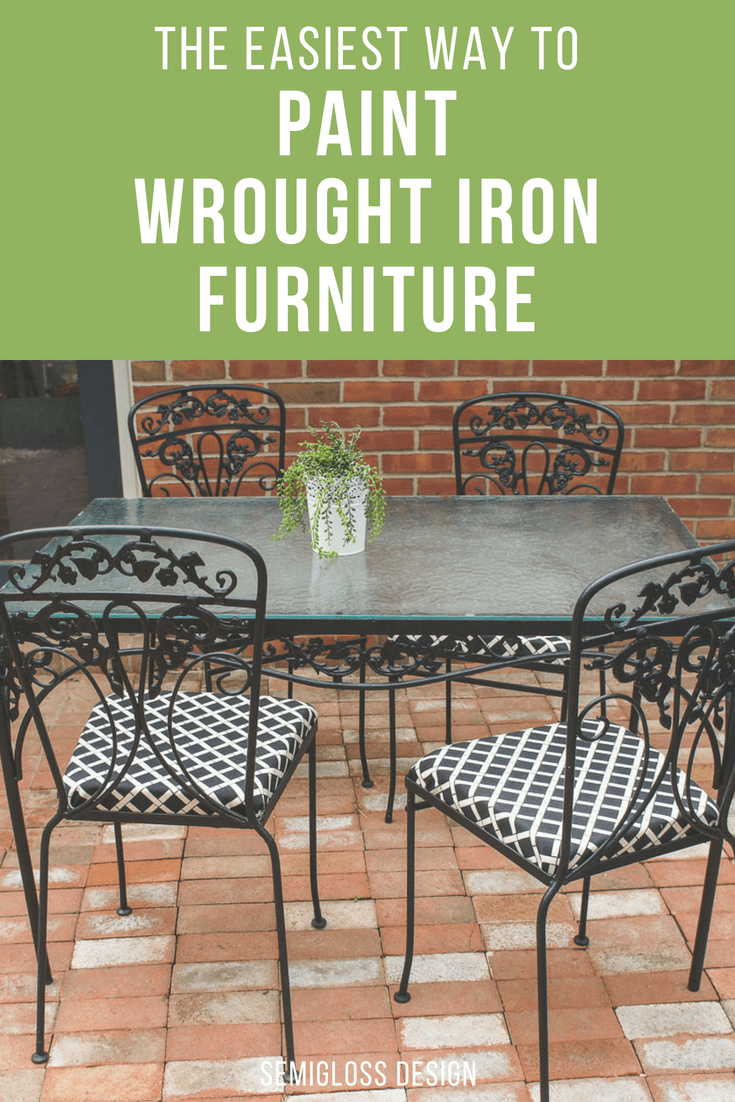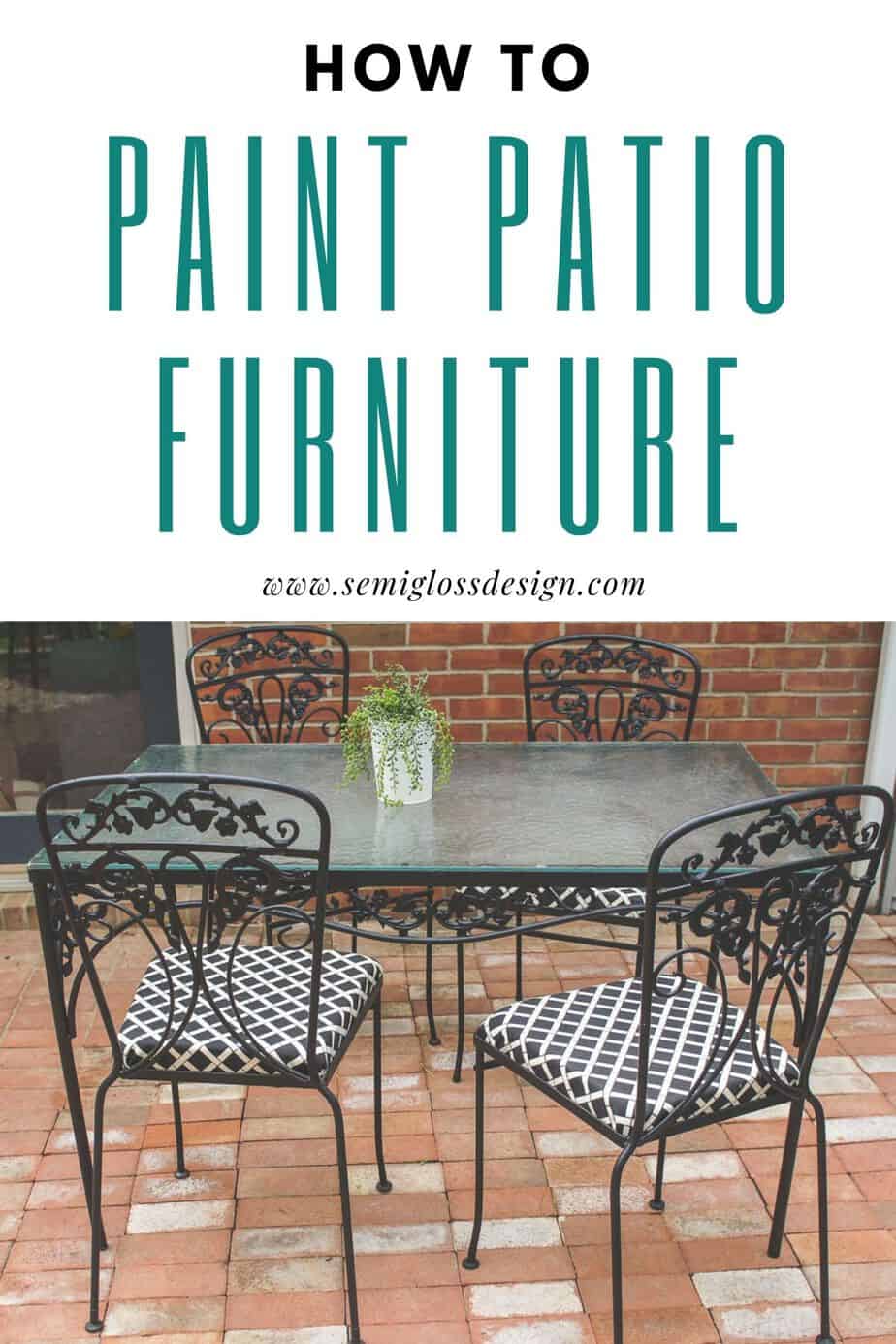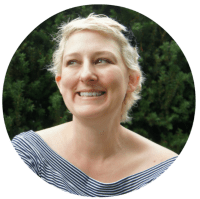 Emy is a vintage obsessed mama of 2 DIYer who loves sharing affordable solutions for common home problems. You don't need a giant budget to create a lovely home. Read more…