Make Your Own DIY Koozie with Vinyl
Did you know that you can make your own DIY koozie using vinyl?
Learn how to use a Cricut Maker to design and make koozies for keeping your summer drinks cold. These make a perfect gift!
You might also like this post on how to make a reverse canvas.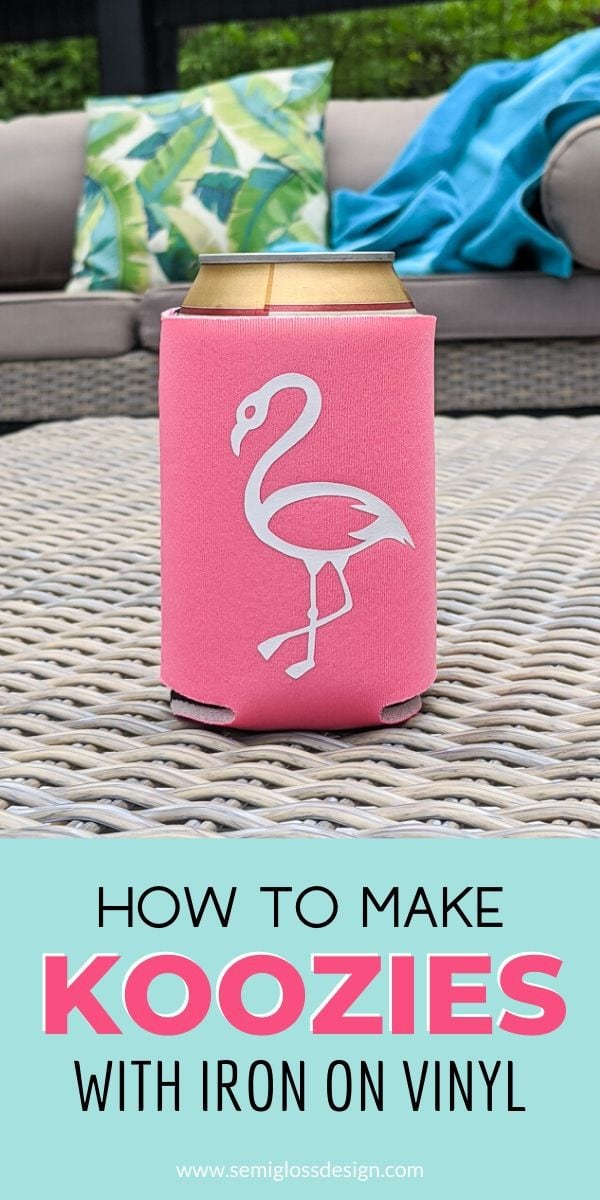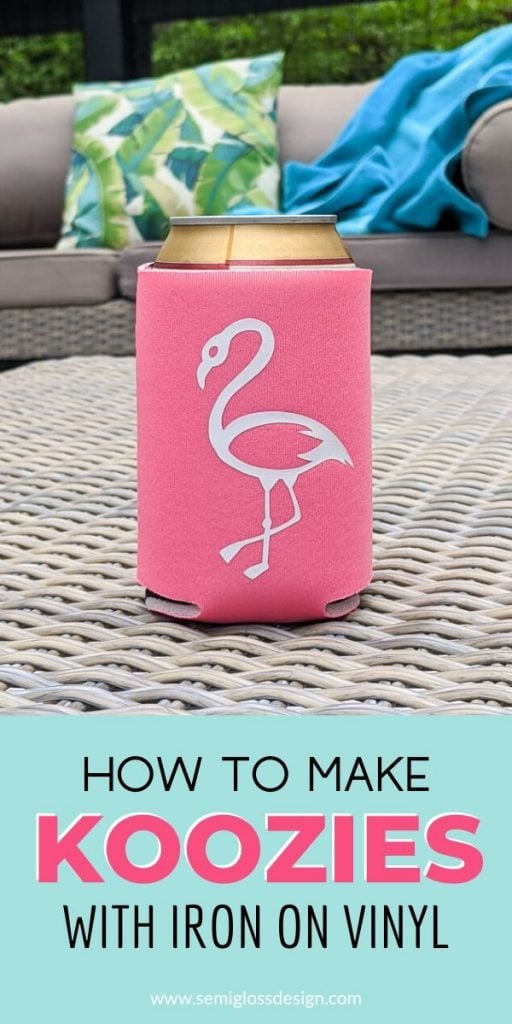 This post contains affiliate links. By purchasing an item through an affiliate link, I earn a small commission at no extra cost to you. As an Amazon Associate I earn from qualifying purchases.
Father's Day is coming up and I needed a gift to make for my husband. He loves beer, so why not make him funny beer koozies?
These koozies are easy to make and I can't wait to give them to him with a 6 pack of his favorite beer.
DIY Koozie FAQ's
What are koozies made of?
Koozies are made of neoprene.
What kind of vinyl sticks to neoprene koozies?
For neoprene koozies, use iron-on vinyl (also called heat transfer vinyl.)
The heat helps the vinyl adhere to the surface. Iron-on vinyl is able to stretch and accommodate the needs of a koozie.
Some brands stick better than others. I've had the best luck with Siser HTV.
Can you iron neoprene?
Yes, you can iron neoprene. Set your iron to cotton for the best results.
Excessive heat will not melt the koozies, but they may curl up.
When using iron-on vinyl, cover the plastic protective sheet with a Teflon sheet, towel, or pressing sheet.
What are the heat settings for using the Easy Press on neoprene?
For most iron-on vinyl, set the Easy Press to 280º for 20-30 seconds.
Some brands require longer pressing. Designs with large solid areas may need to be pressed longer.
Read more about Easy Press settings here.
You might be interested in this full tutorial for using an Easy Press.
How big should a design be for a koozie?
A flat koozie is about 4″ x 4″. For best results, make the design about 3.5″ x 3.5″.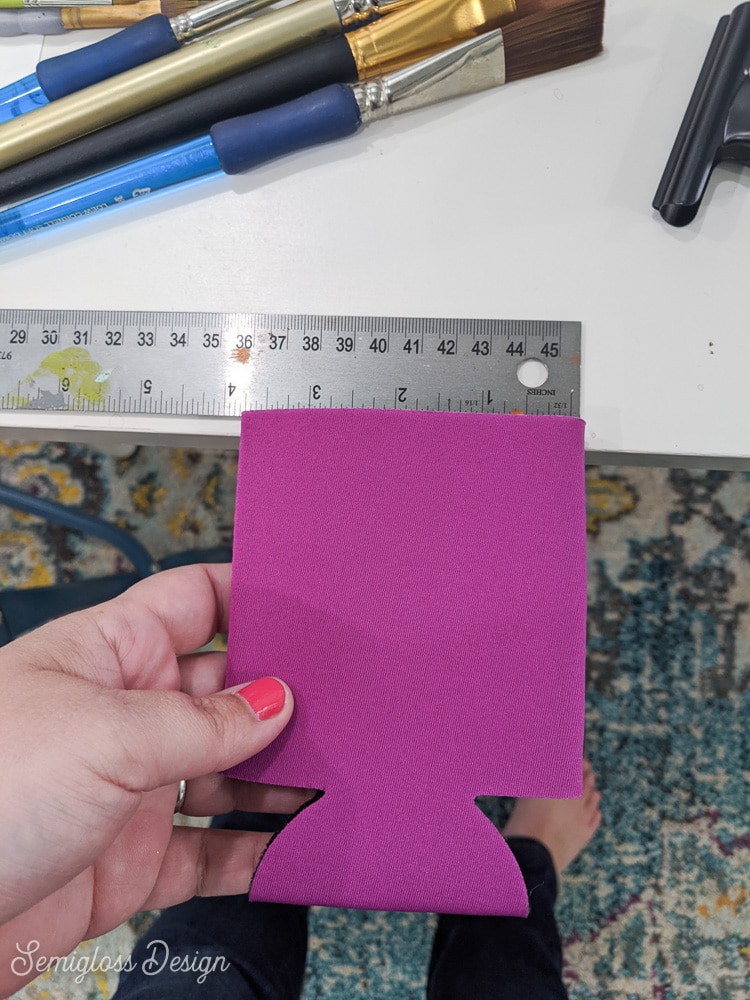 What side goes face down when using iron-on vinyl?
Iron-on vinyl should be placed shiny side down.
Does your design need to be mirrored when using iron on vinyl?
Yes, images need to be mirrored when using iron-on vinyl. Symmetrical designs can be left as is, but the text should always be mirrored.
Curious about the difference between iron-on vinyl and regular vinyl? Read more!
Which mat should I use with iron-on vinyl?
Use a standard mat (green) with iron-on vinyl.
How do I ensure that the vinyl sticks?
After applying iron-on vinyl to the koozie with an iron or the Easy Press, let it cool.
Then test it by placing a cold drink in the koozie. If the vinyl peels a bit, remove the drink and press the vinyl again.
If you're having a hard time getting the vinyl to stick, use a thinner towel on top of the iron-on vinyl and press longer.
Some brands take way longer to press.
I have also found that letting the iron-on backing cool before removing it results in a better bond.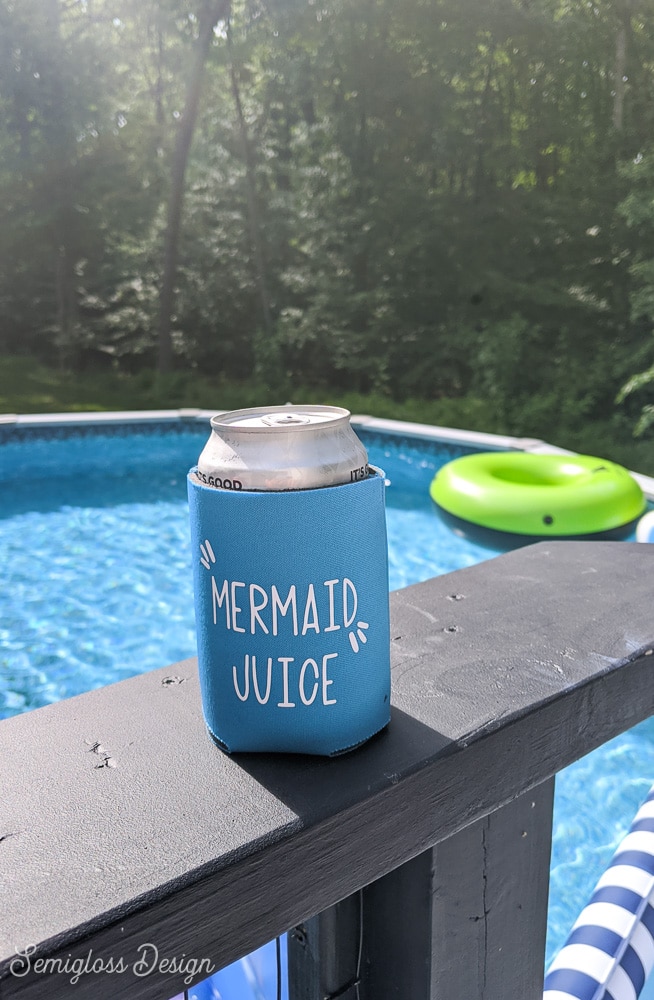 How to Make a DIY Koozie Using Iron On Vinyl
Please note that if you decide to sell your DIY koozies on Etsy, you are not allowed to label them as "koozie." It's a copyrighted term and they will shut you down. Instead call them "can coolers", "drink insulators" or "can cozies."
Supplies Needed:
SVG Designs (scroll down to get free summer designs)
Easy Press or Iron
Monstera Leaf design can be found here.
Neoprene koozie blanks are easy to find in bulk.
They come in pretty obnoxious colors, like the box I bought, or you can buy them all in one color.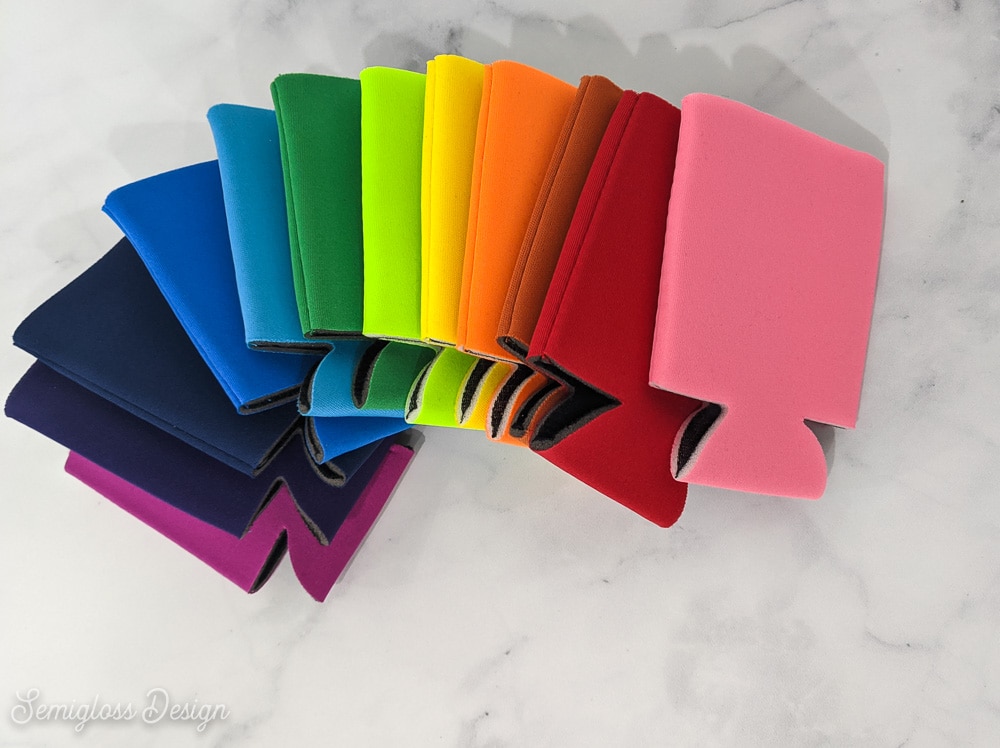 Directions
I make my designs in Adobe Illustrator and thank goodness because I find the Cricut software really frustrating to use.
When making a design with a font, be sure to use one that is thick enough.
If it's not thick enough, you will need to create an offset.
When using Adobe Illustrator to make designs, be sure to expand the text to make it into a shape.
Cursive or elaborate fonts need to be welded to avoid cuts where the letters touch.
All designs need to be "attached" or the design will get separated.
Cutting Iron-On Vinyl with a Cricut Maker
Set up your design in Cricut Design space.
Decide what color of vinyl to use for your designs. Some colors show up better than other colors. For instance, white isn't going to show up well on the neon yellow. And black isn't going to show up on the navy blue.
Delete any designs that will not be used with the 1st color of vinyl.
Select each design and click Attach at the bottom on the screen on the right. This keeps your design together when cutting.
Click "Make It."
Be sure to click the toggle to mirror your design.
Choose the correct vinyl settings. If you're confused about which setting, look at the vinyl manufacturer's website to see the settings.

I used the settings for Cricut Everyday Iron on Vinyl, even though I used Siser and another brand.
Place the iron on vinyl on the mat, shiny side down.
Load your mat.
Push the Cricut button to start cutting.
If your settings are wrong and the cut is too deep, you will have to start over. The design should still be attached to the plastic backing.
But first, you need to clean your mat. Use the scraper to scrape away the pieces. Be sure to get the clear backing as well!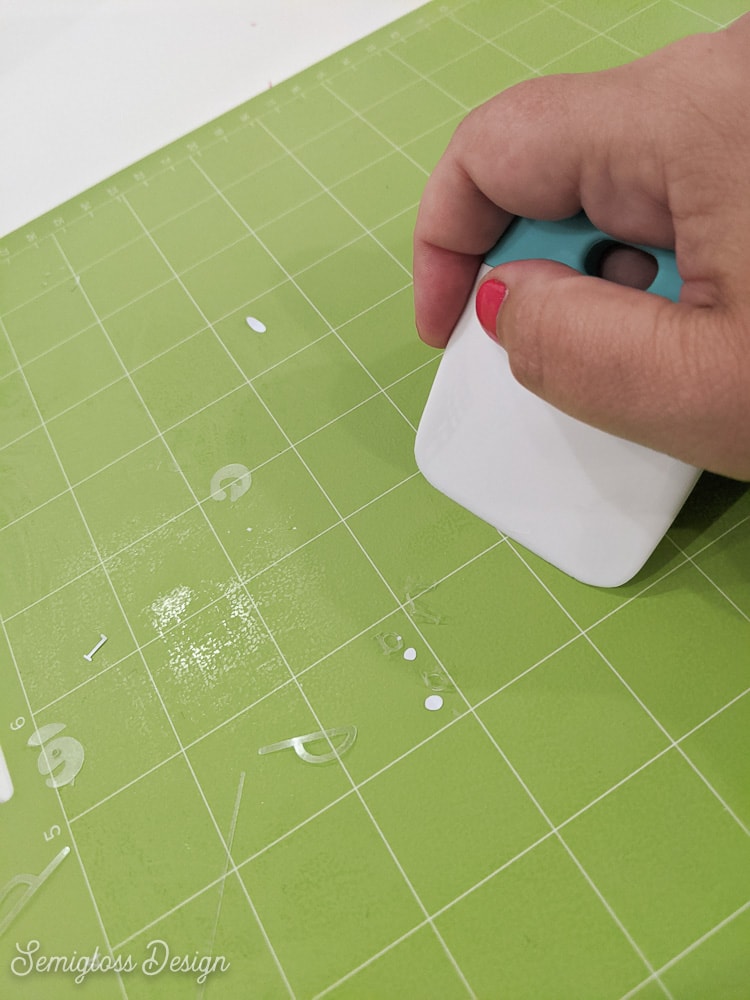 You will find tiny letters all over you for the rest of the day.
Weeding Iron-On Vinyl
Cut each design apart.
Start removing the outside vinyl bits. I find it easiest to bend the corner a bit to make peeling it easier.
Leave the parts of the design that you want to show.
Use the weeder pick to remove the tiny bits.
If you have the Cricut tool set, the tweezers are the most insane contraption I've ever used in my life. They make no sense at all!! Maybe just buy some tweezers from the make-up section.
Using the Easy Press to Make Koozies
OMG! The Easy Press is just that! So easy!
This was my first time using it and I am in L.O.V.E! Move over iron! You've officially been replaced.
Turn on the Easy Press and set the temperature. I set mine to 280º as recommended by Cricut. It will beep when it gets to the right temperature.
Set the timer. I set mine to 20 seconds.
Set a koozie blank on the Easy Press mat (or a towel.)
Cover it with a towel or pressing sheet. (After making these several times, it works better without the towel.)
Press the koozie with the Easy Press for 5 seconds. This removes any wrinkles (not that koozies have any) and warms up the surface. I found that the design stuck better when I did this.
Place the design onto the koozie, centering it and getting it straight.
Cover with a towel and press with the Easy Press.
Push the Cricut button to start the timer. It beeps when time is over. Use your weight and push down on the Easy Press while pressing.
When time is up, remove the Easy Press and towel. Peel back the plastic backing. Press longer if the design is still stuck to the plastic backing.

Some designs needed an additional 10 seconds, but some needed a full 20-30 seconds longer.
Once your design adheres to the koozie, pull away the plastic backing.
Let the koozie cool and test it by placing a cold drink into the koozie. Some of my designs needed extra time with the Easy Press.
Larger, solid designs needed a lot more time. I let them cool completely between pressing so that I didn't damage the koozie.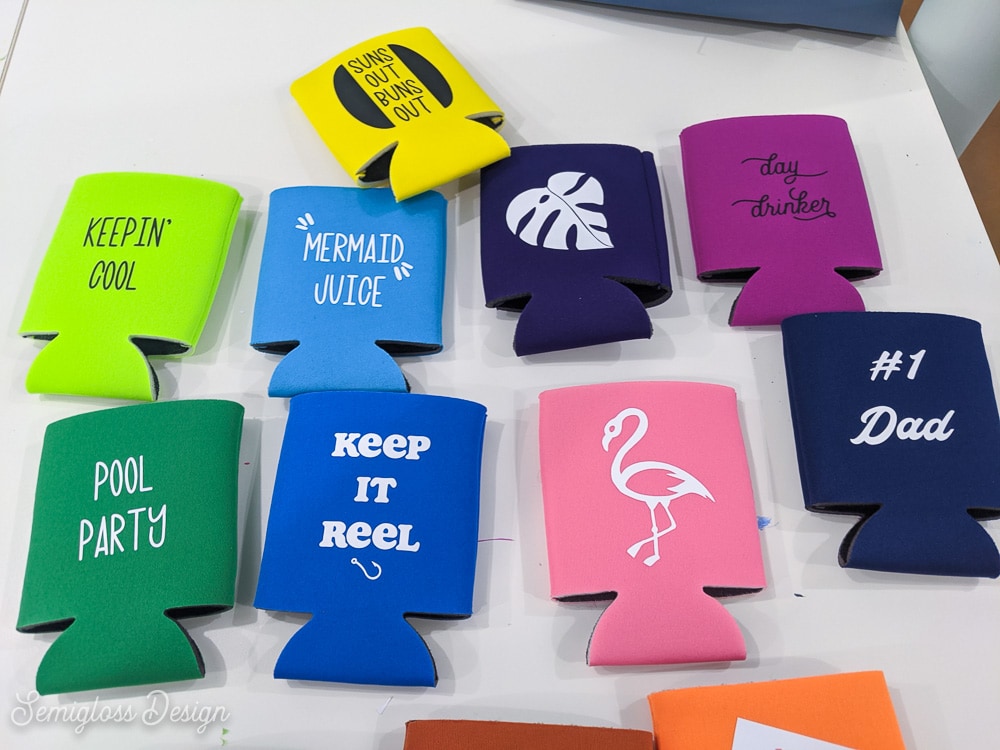 These are gifts for my husband and are based on a song by the Aquabats, one of our favorite bands.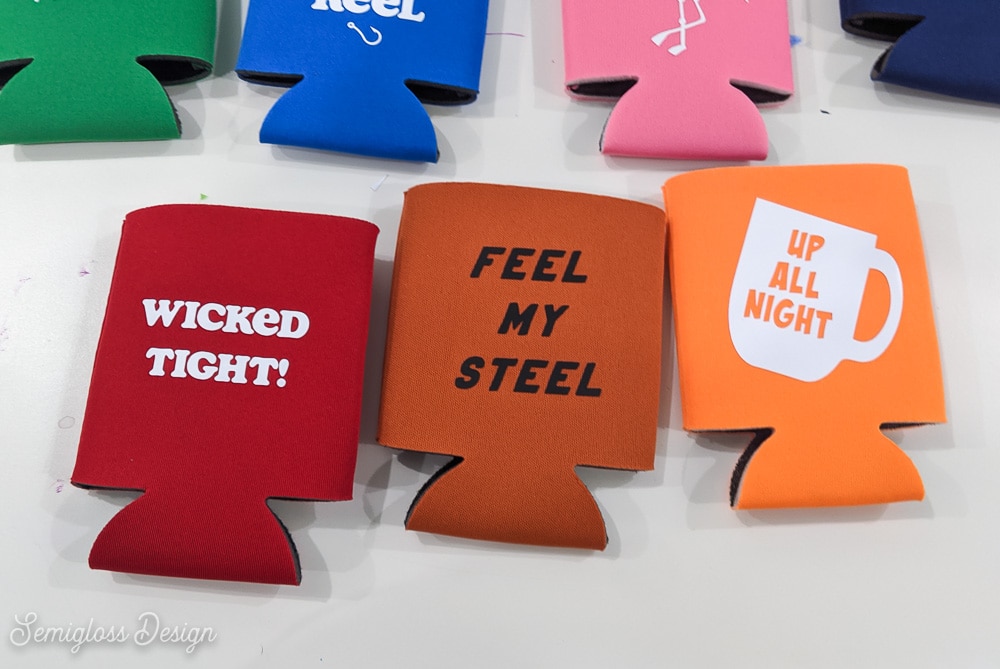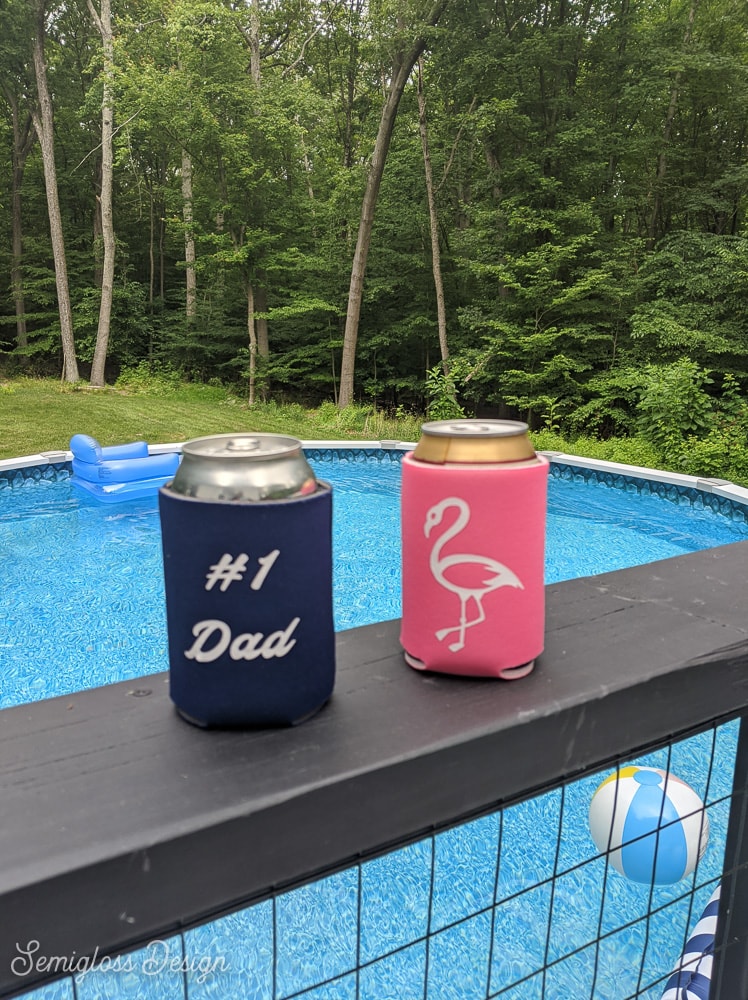 Design Free Summer Koozie SVG Designs
All downloads are for personal use only. Please do not redistribute or sell files.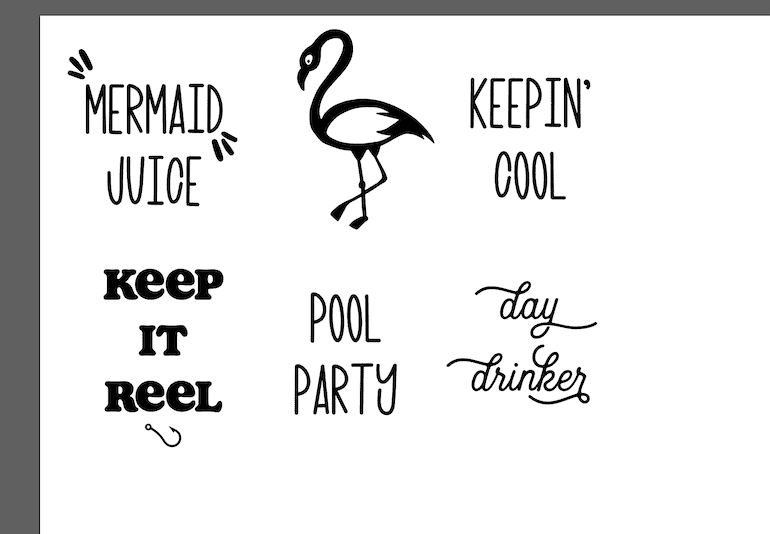 Each file is a zip file containing an SVG and a DXF file. Use the SVG file for Cricut and the DXF file for Silhouette.
The summer koozie designs come in one file. You will need to ungroup the designs to delete the ones that you don't want to use.
Download the #1 Dad SVG
Download the Summer Koozie Designs
You might also like:
Pin for Later!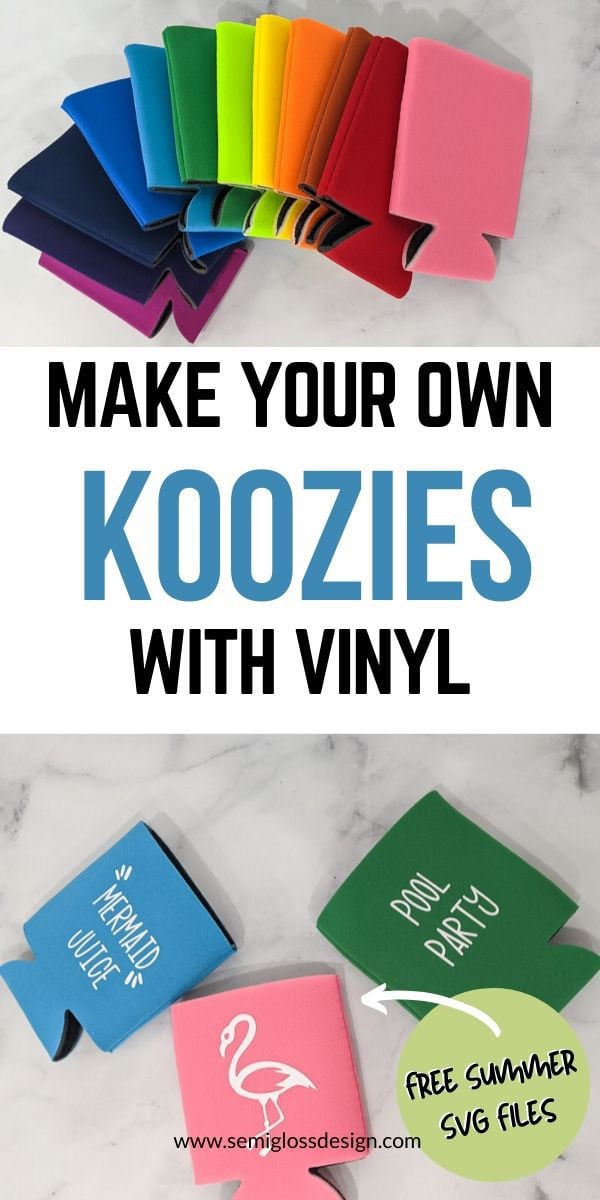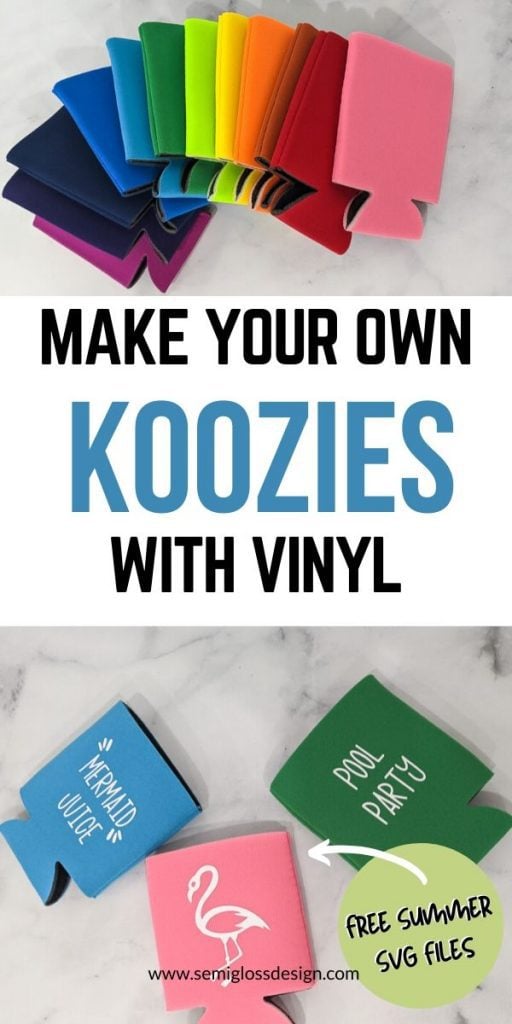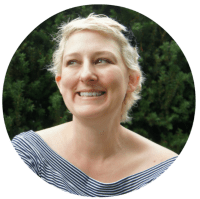 Emy is a vintage obsessed mama of 2 DIYer who loves sharing affordable solutions for common home problems. You don't need a giant budget to create a lovely home. Read more…