It seems like in the 90's, no house was complete without a display cabinet filled with tchotchkes. My house had a few. In fact, my dad gave me a small display cabinet when I got married. Display cabinets have since gone out of style, but when I saw one in a thrift store, I had to have it. Maybe I felt nostalgic, maybe the 90's are back. Who knows? Even the thrift store employees seemed confused as to why I bought it. But I had a vision to completely modernize it. I could see that behind it's sad brown existence, this display cabinet wanted to be beautiful and could be with a bit of work.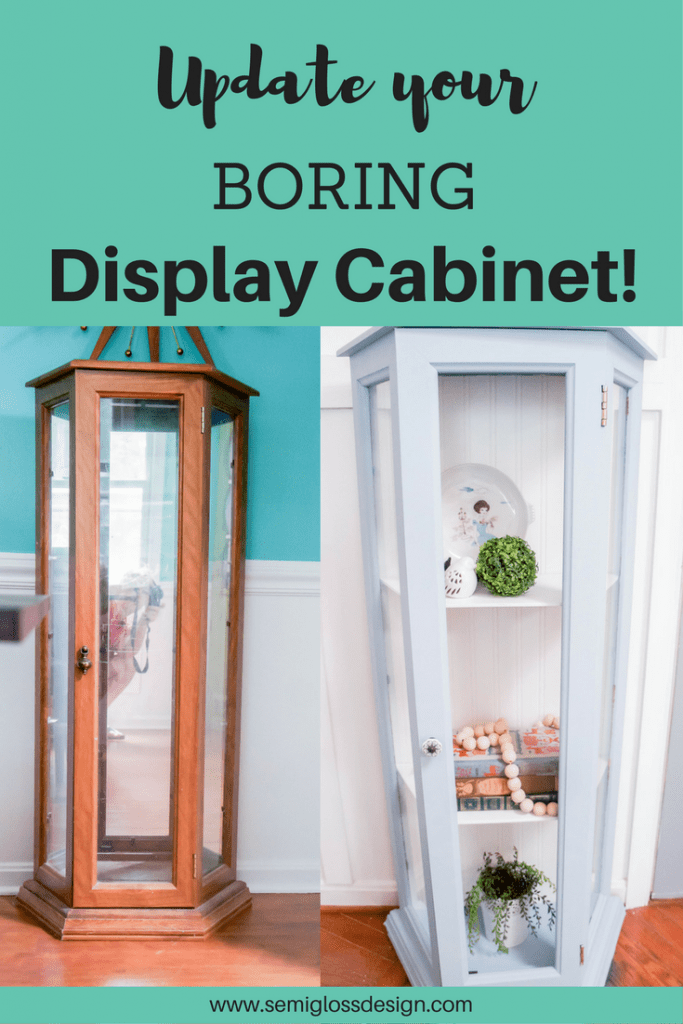 This lovely display cabinet was the perfect contender for this month's Inspired by Creativity challenge to use chalk paint! Big thanks to Shani of Sunshine and Munchkins for hosting! Each month, we create something based on a theme. Next month is Fall and I am so excited for it! Bring on the pumpkin spice (keep the cinnamon pine cones, though – I'm allergic!)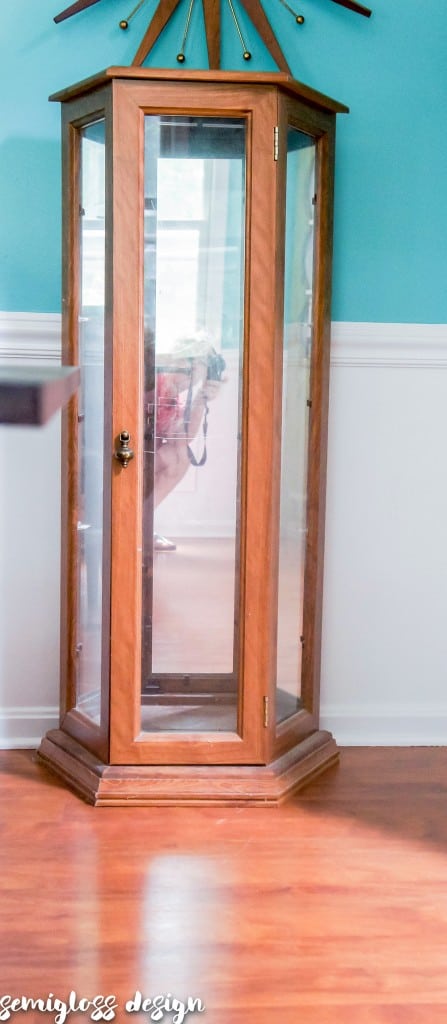 BEFORE
How to Update a Boring Display Cabinet
Supplies
This post contains affiliate links. By purchasing an item through an affiliate link, I earn a small commission at no extra cost to you. Thank you for supporting Semigloss Design. Your support helps me continue making awesome stuff to share.
First, I had to clean the cabinet. It was just dusty, so I wiped it down with a wet rag. Since this cabinet was laminate, I started with a coat of my favorite primer. This stuff is amazing. It's a bit smelly, but not super toxic. Use a chip brush with it and have ammonia on hand to clean the brush.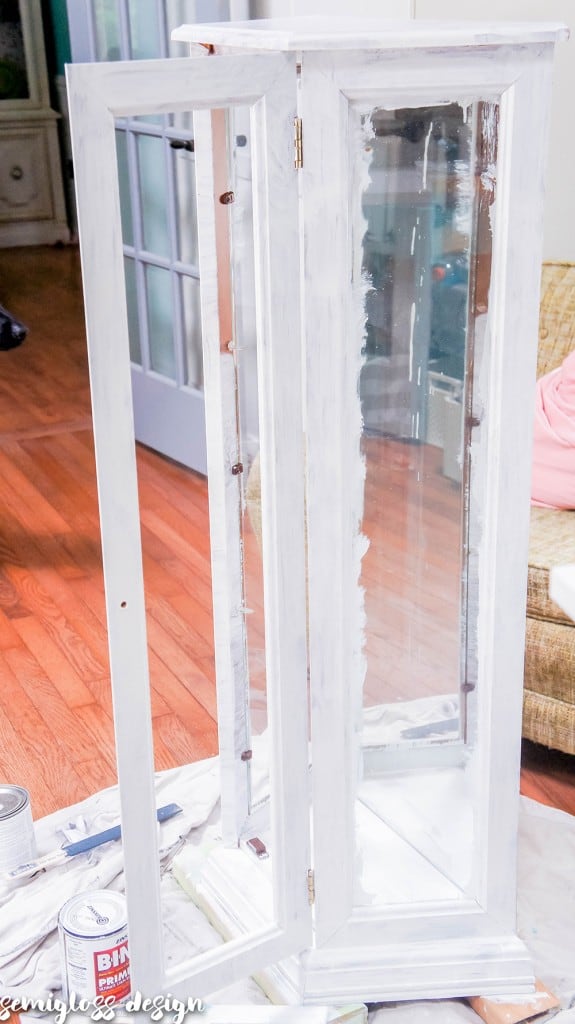 After a coat of primer, I started painting. I've used this paint before and I love it. It's very accessible and inexpensive as far as chalk paint goes. The coverage is fantastic! It's almost 1 coat, but I put on 2. The color is just gorgeous! I was a bit worried that it would feel too country, but I love it.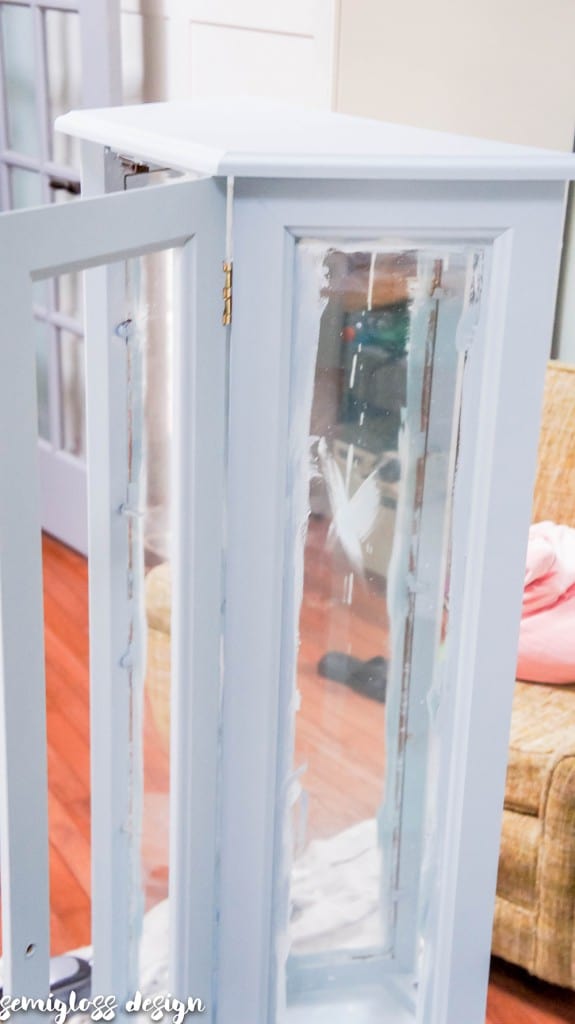 Then add a top coat. I hate using wax, so I added a coat of polycrylic.
So at this point, there's paint all over the cabinet and it looks a mess, right? Wrong. Cleaning paint off of glass is easy. I use a utility knife around the edge to score it and then use a scraper and the paint peels right up. Cleaning it with windex and a bit of elbow grease takes care of the rest.
That mirror is still a bummer, right? Why mirror the back? Who wants to look at the back of stuff? I covered it with beadboard wallpaper that I had on hand. This stuff is fool proof even if you've never wallpapered before. Just soak it in water for a few seconds and let it sit for a few minutes. Then apply it. It slides around until you get it positioned right. And it looks so pretty, unlike that horrible mirror! It already looks better!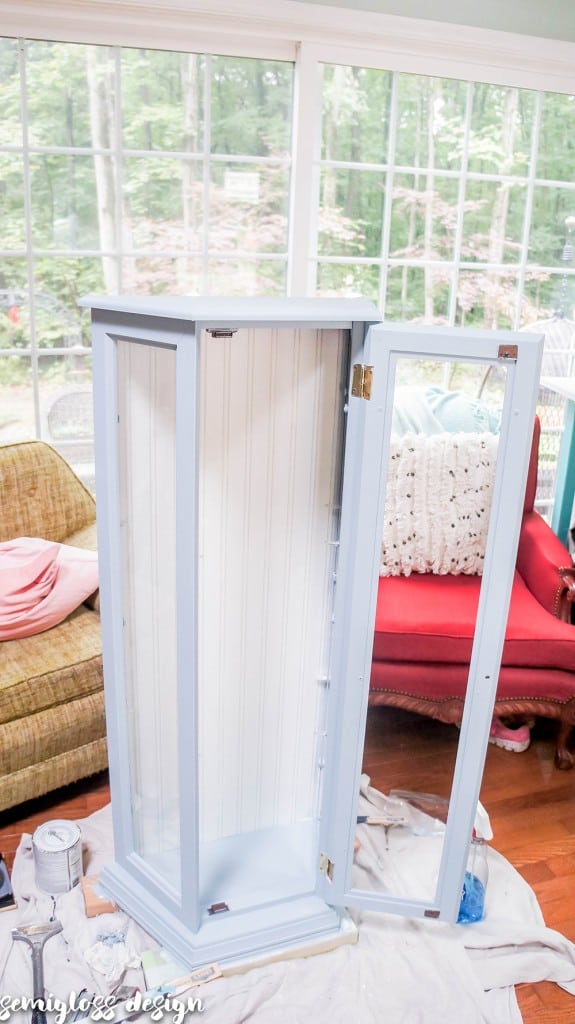 So you might have noticed that in the before picture, I cracked the glass. This seems to be a theme for this challenge, because I broke the glass frame in the last challenge too! I removed the glass and still need to get a new piece cut at the hardware store. For now, let's just pretend that I'm really good at cleaning glass and it's just super clean! 😉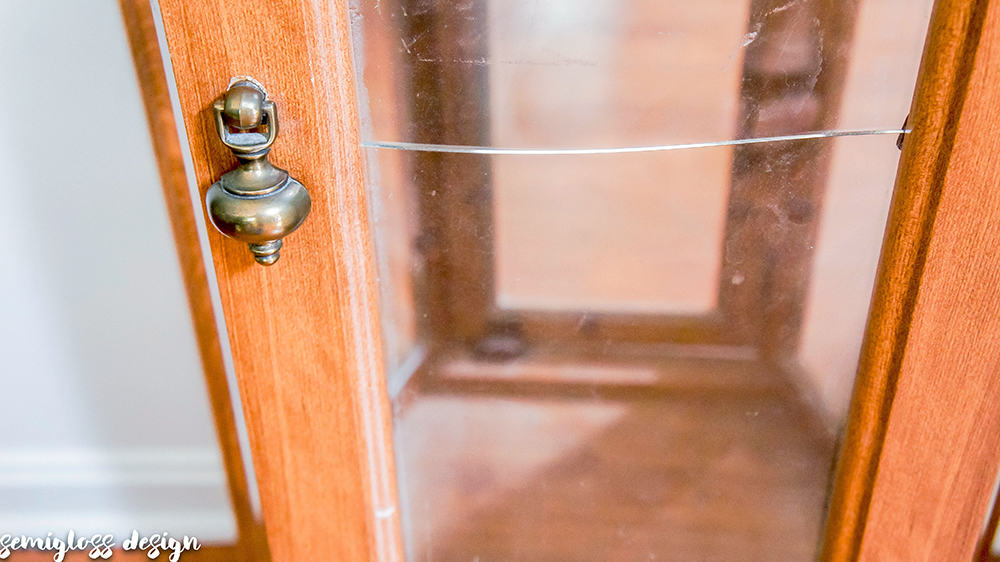 I added a knob and it's done.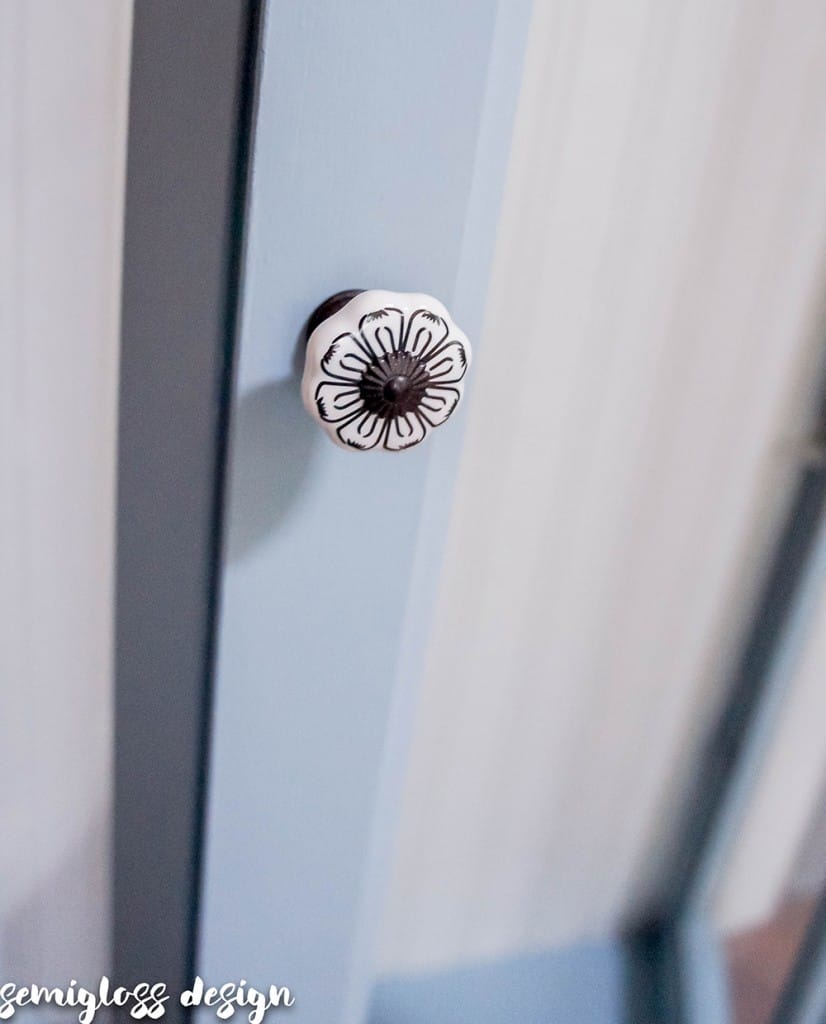 I love the way it looks now. This sad display cabinet was quite the ugly duckling! Now it's a beautiful swan! Just don't fill it with Hummel and Precious Moments figurines.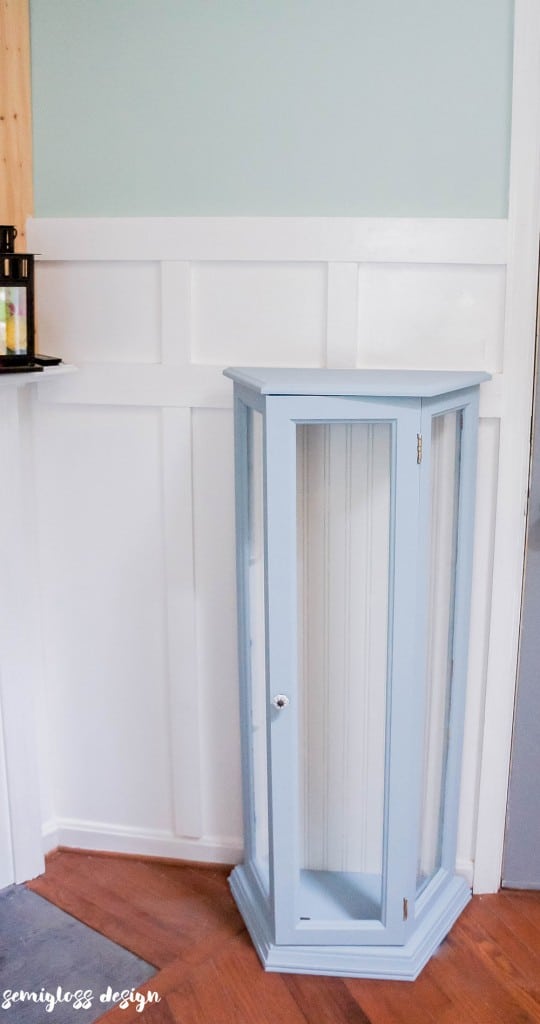 Isn't the blue pretty? By the way, I had a little visitor over and the display cabinet made the perfect pretend refrigerator to keep pretend pizza in. So there's that. 🙂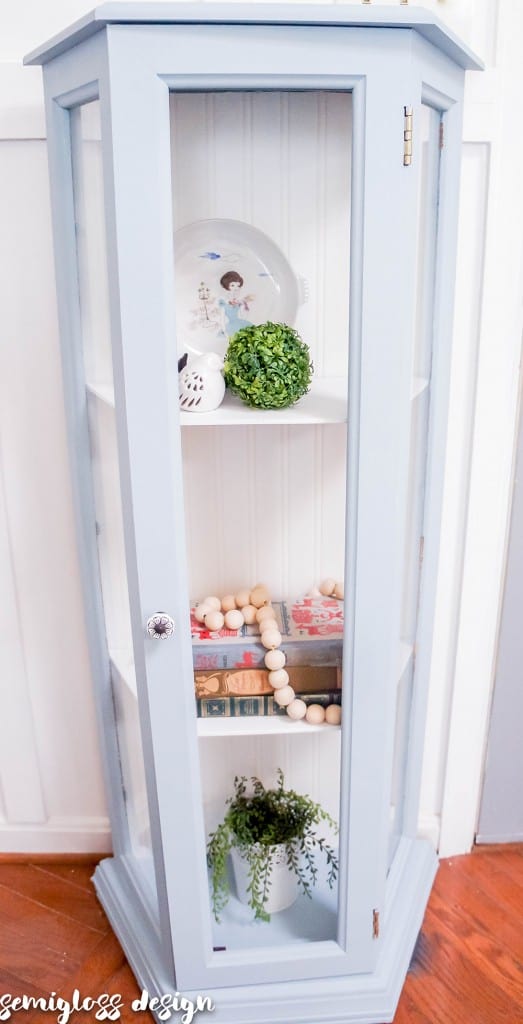 Just pretend those books are pizza.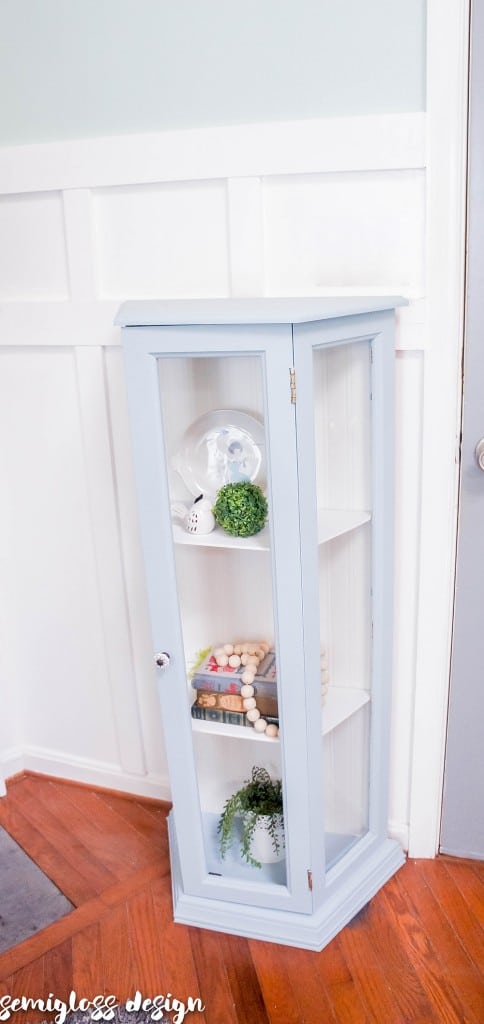 So what do you think? Do you want a display cabinet now?
If you like this post, you might also like these:
Pin for Later!
If you liked this post, you might also like these cut files for canister decals. They would look perfect in your farmhouse kitchen!