Home Office Makeover Reveal
Today I'm sharing my home office makeover. If it feels familiar, it's because I redid my office at the beginning of the year, but it wasn't working out.
I always consider my home a work in progress and sometimes a room makeover just doesn't work out once it's "done". My office space has been that room. For the past month, I've been working on a makeover, combining the space with my living room.
My home has plenty of public spaces but lacks very many private spaces. So while a living room combined with an office may not be ideal for most, it's what I have and I'm working with it.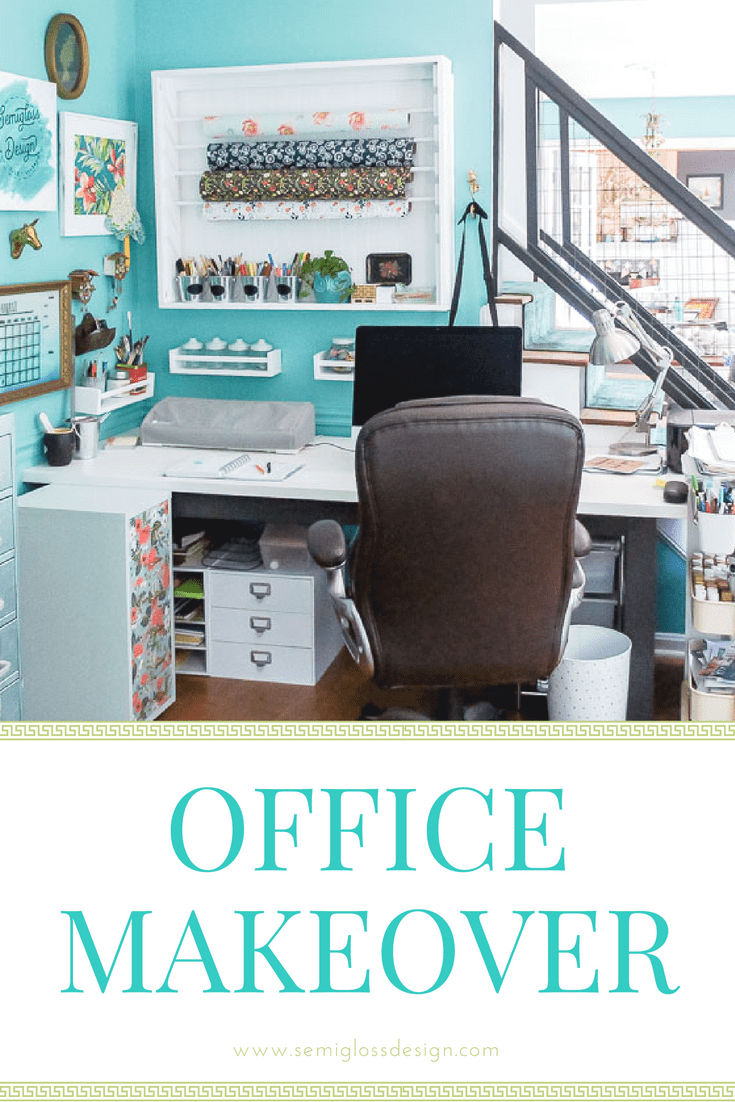 Home Office Makeover Reveal
This post contains affiliate links. By purchasing an item through an affiliate link, I earn a small commission at no extra cost to you.
In the spring, I finished working on my office space by stealing my living room. The layout didn't work well. My second desk became a place to sit stuff, not work.
And I really missed having a living room space. Especially now that my best friend moved back to town (so I need public space to hang out in that's comfy.)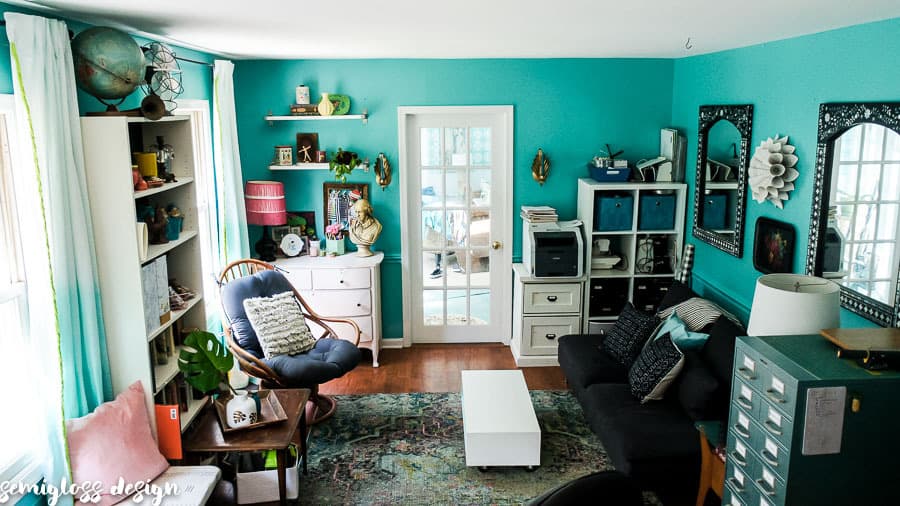 Changes for the Room:
Walls. I painted the wainscot the same color as the top part of the walls, which made me instantly love them. The walls feel taller and have a finished look now.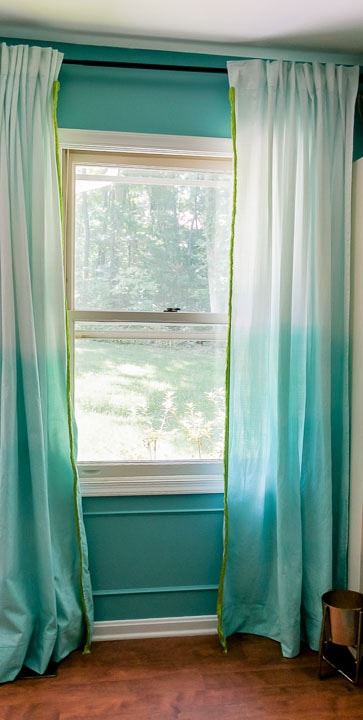 If you hate your wainscot, paint it all the same color and it will look so much better.
Curtains. I've had plain white IKEA curtains in here for months, but I've always wanted something a little cuter. So I dyed them and added fringe. Full tutorial here.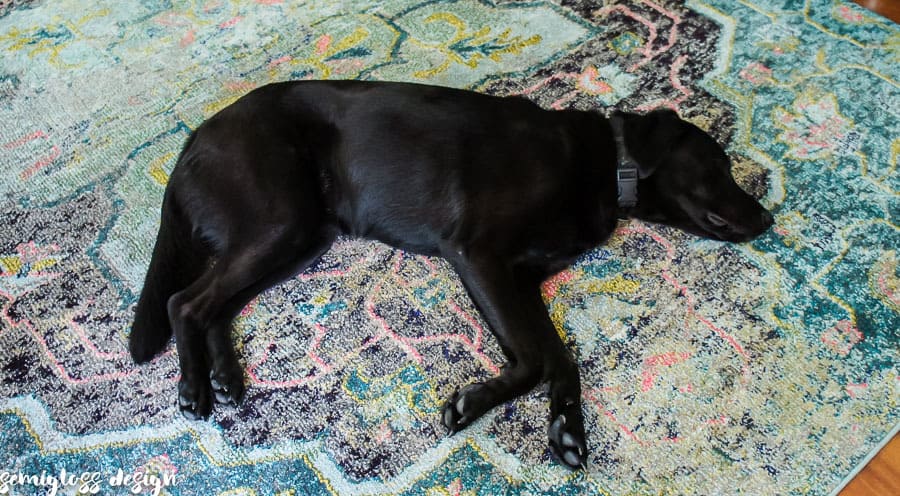 Rug. I love the colors in this rug. The rug that I had in here before was fine, but I always wished that it had more color. (Dog approved.)
New layout. I moved my desk from the window wall to the area by the stairs. This allows me to visually separate my work space from my living space. The couch replaced the spot formerly occupied by my craft desk. This space gets used a lot more now!
Home Office Makeover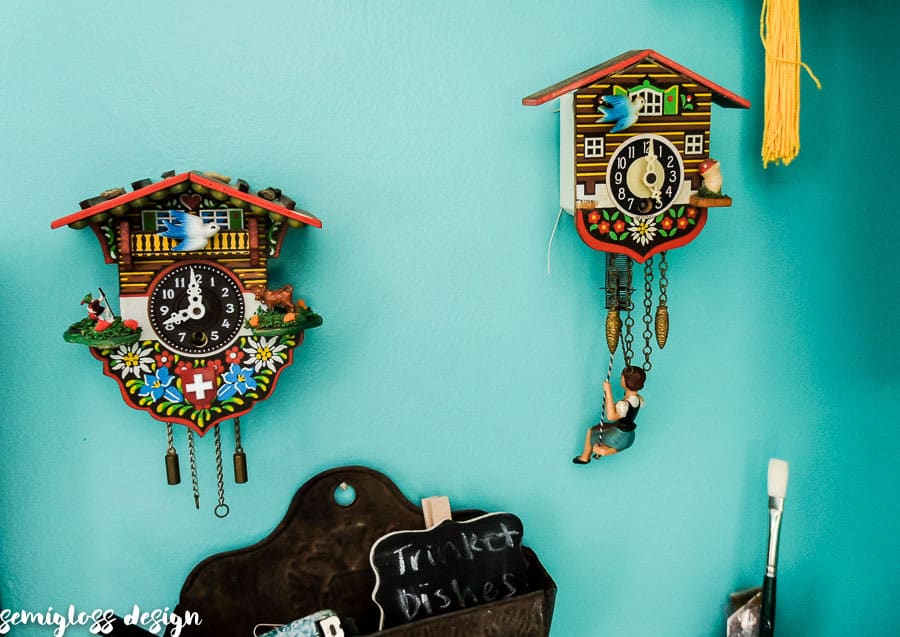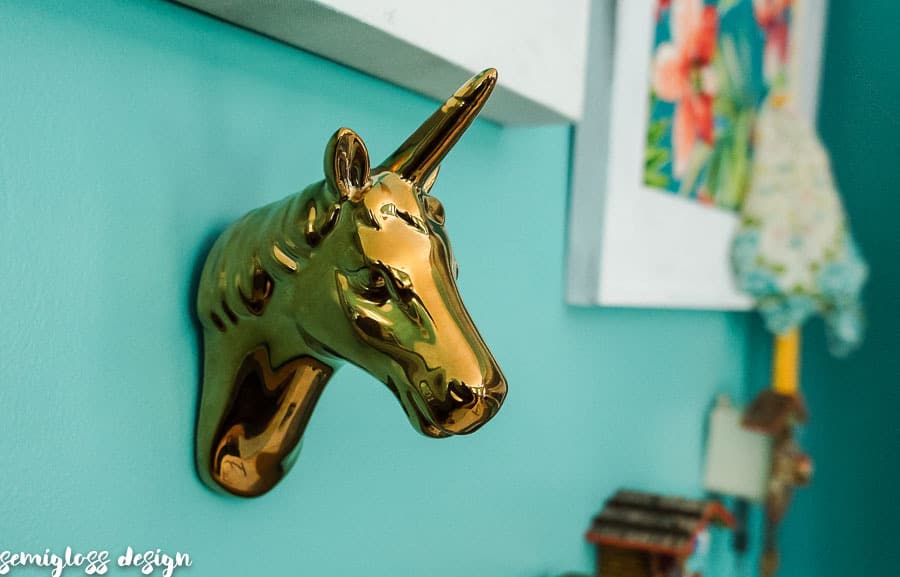 I also used some IKEA bekvam shelves to hold various supplies.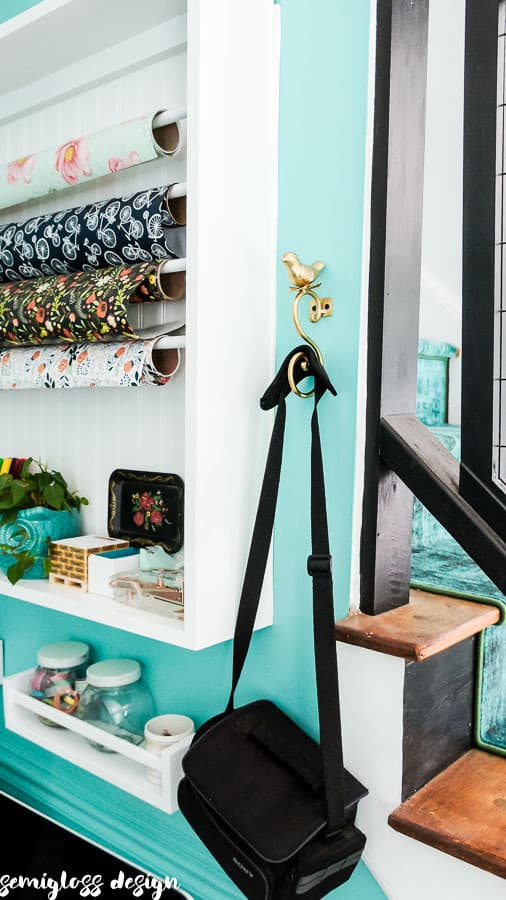 Behind my computer, my camera bag is hung with a bird hook that I sprayed gold.
(Even though I'm posting this reveal, I'm secretly on the hunt for a smaller desk. I built this desk, but honestly, it's just too big. I want something vintage and beautiful that needs some love, so I'm hanging out on facebook marketplace and craigslist like crazy until then.)
Adding a Living Room Space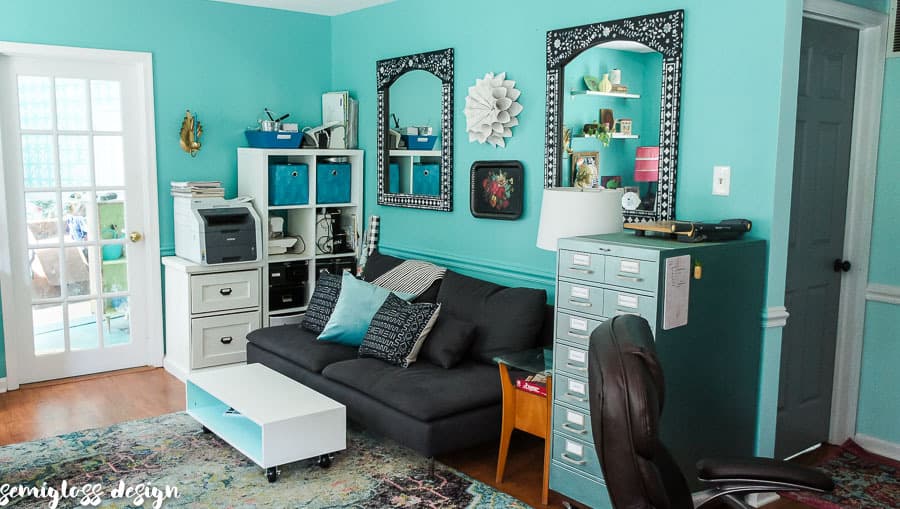 Some of the office furniture intermingles with the living room furniture. I considered using the shelves as a divider for the space, but it felt too small.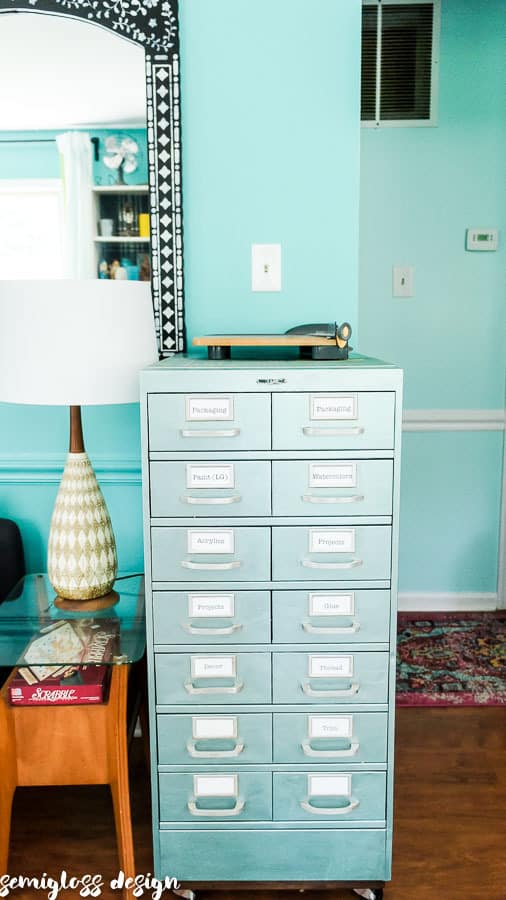 The filing cabinet is nice and organized with labels. It was mostly empty before. There are still a few empty drawers for future craft supplies. They'll be filled when my next amazon order gets here, probably. 😉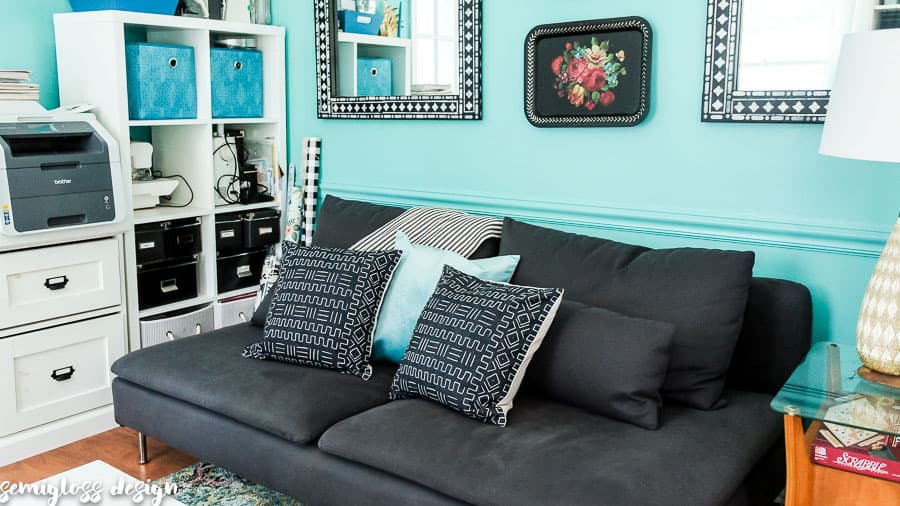 The sofa is the Soderhamn from IKEA and it is so comfy. My downtime has increased since moving it in here.
I bought it last winter when I ran across it on clearance. It came with the pink slipcover, which I knew my husband would hate, so I bought the gray slipcover for it. I added mudcloth pillow covers and an aqua ombre velvet pillow cover (the quality on these is amazing!)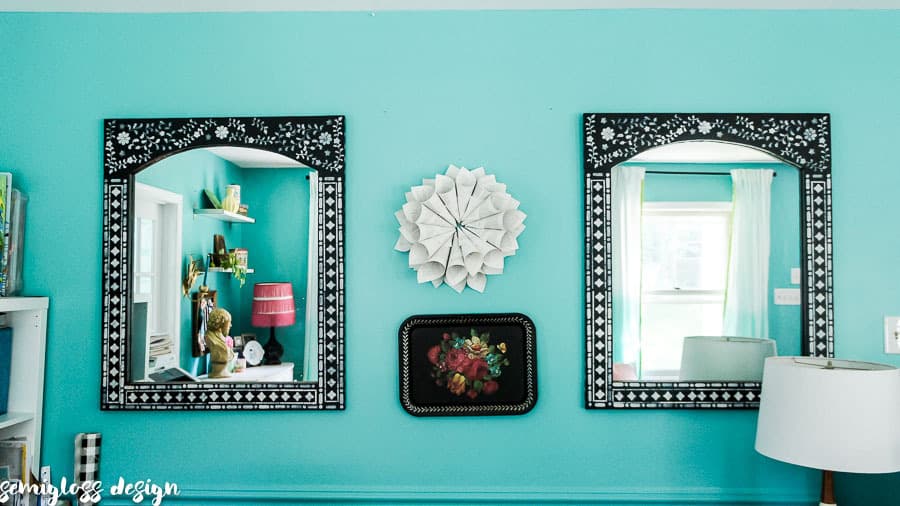 The stenciled mirrors stayed because they're too heavy to move. Good thing I love them. The paper wreath was a bit of a fail, but I hung it up anyways with a vintage tray to add color. I plan on replacing this with a DIY macrame project that still needs to be completed.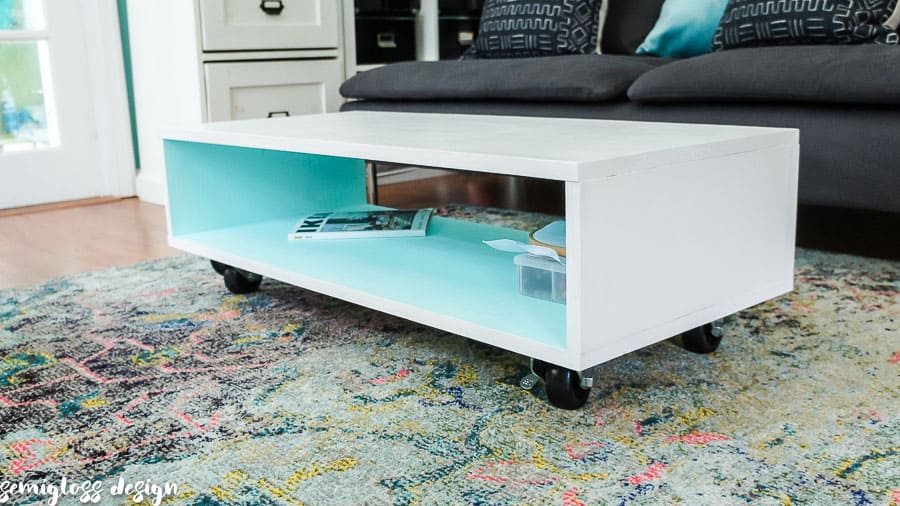 I built a small rolling coffee table to have a work space for projects. Since it's on wheels and super light-weight, it can be rolled by the windows for photos.
It can also be rolled out of the way so that no one bumps into it. (It's right in the path from the bathroom to the pool and sometimes after a few drinks, it's good to get everything out of the way!)
The shelving was reorganized with a few new bins. The top holds oversized stuff. Excess stuff was placed in my son's closet for now until I can steal his room. (When we finish the basement space, he's getting a bedroom there instead.)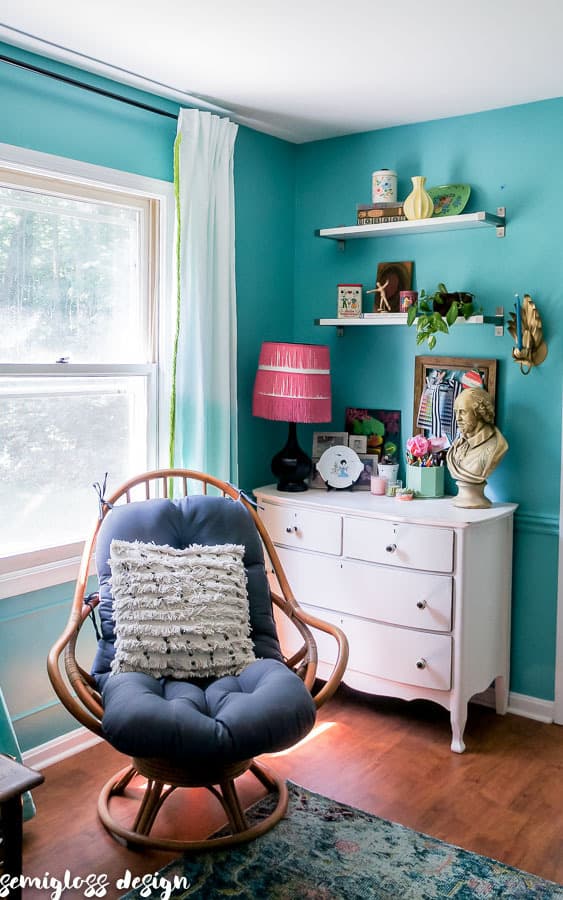 On the other side of the room, I added a bamboo rocking chair that I had in my shop, but loved for myself. A big comfy cushion makes this a perfect reading chair.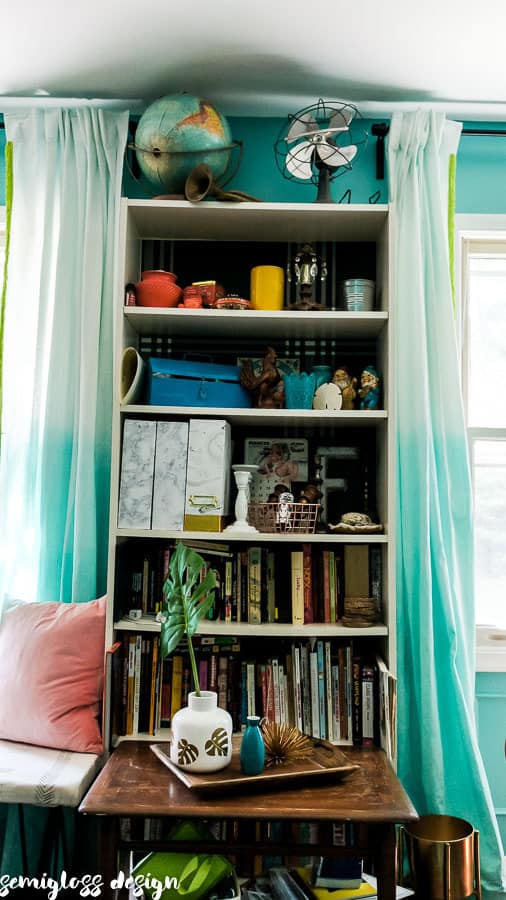 My Billy bookcase got a makeover with some wallpaper from Target. Adding wallpaper to a bookcase is an easy way to customize a generic piece of furniture. Plus, it elevates my collections. (I'm looking for more green stuff to add for a rainbow look.)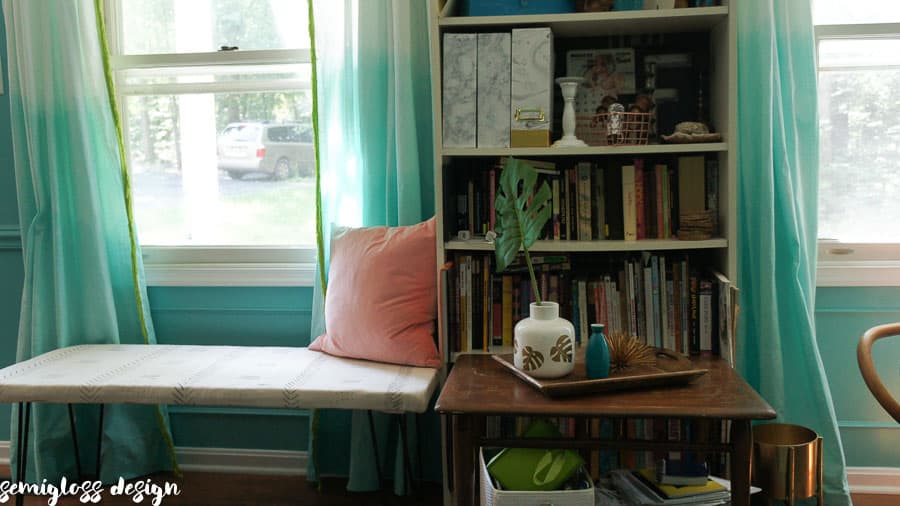 I added my DIY bench on the other side of the shelf.
I'm thrilled with my home office makeover. While nothing is ever "done" around here, it feels good to have a room that feels like me. And I've loved being able to relax in peace away from my noisy kids.
Pin for Later!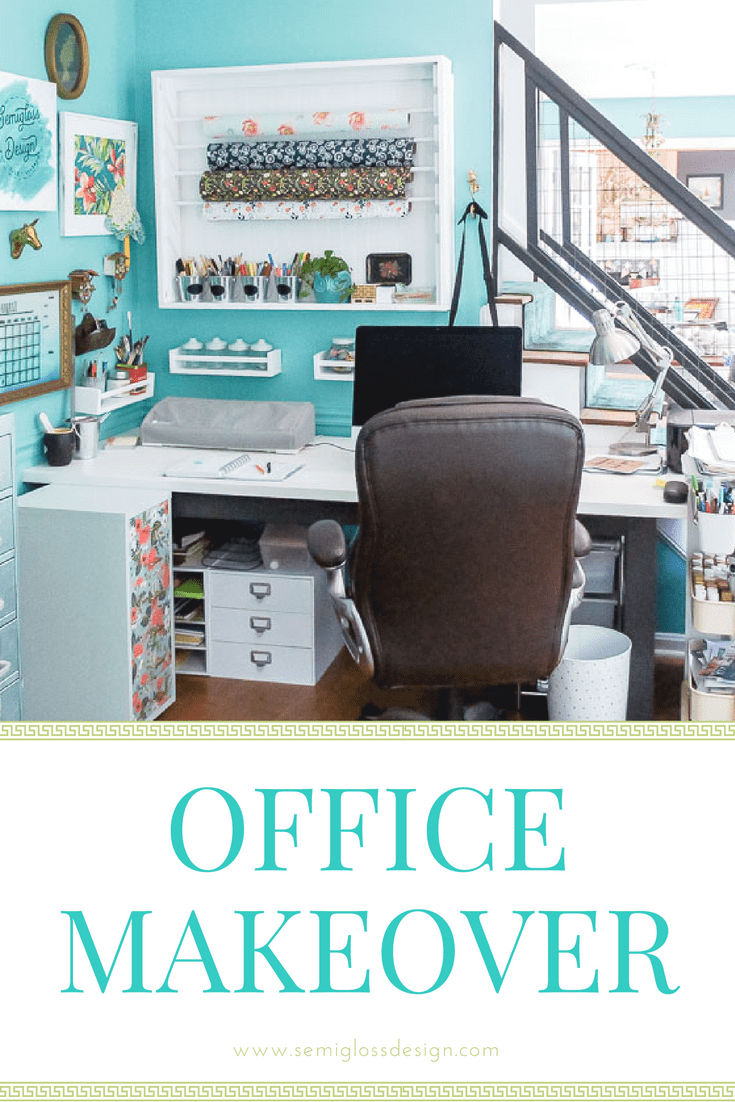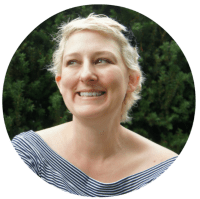 Emy is a vintage obsessed mama of 2 DIYer who loves sharing affordable solutions for common home problems. You don't need a giant budget to create a lovely home. Read more…