Budget Friendly Office Makeover Reveal
After five long weeks, it's time to share my office makeover! There have been times during this challenge that I didn't think it would get done. But I pulled through and got it mostly all done. It's looking pretty lovely now!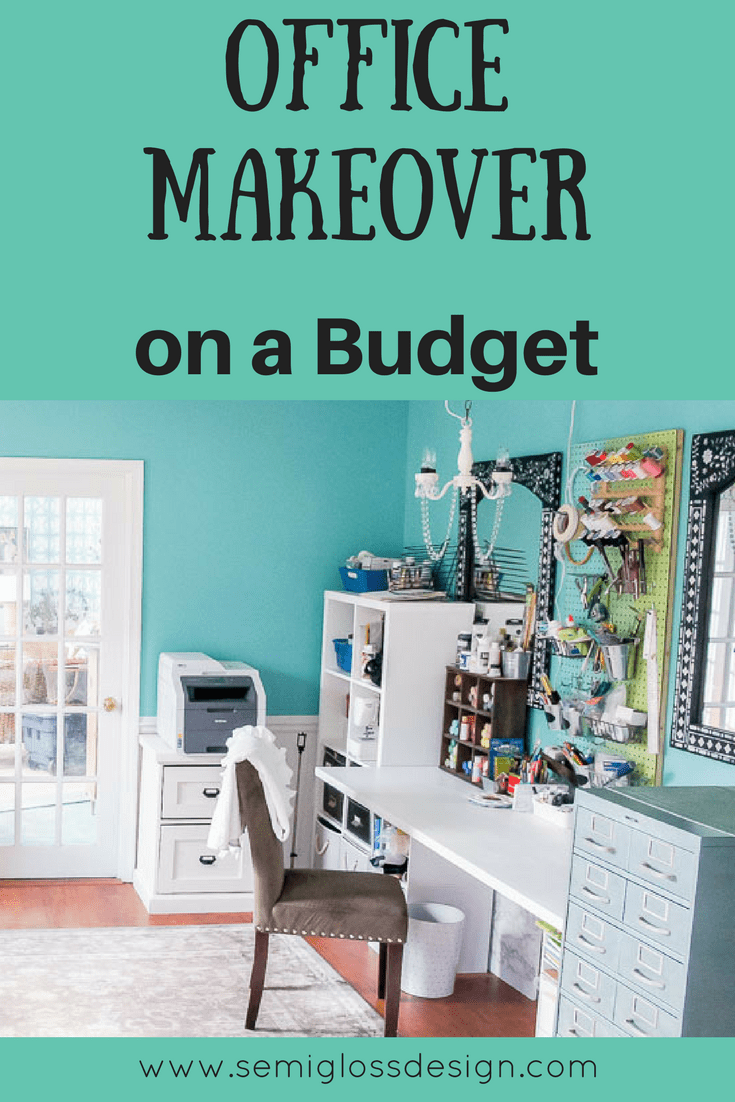 Twice a year, Erin from Lemons, Lavender and Laundry hosts a $100 challenge. We have one month to complete a room makeover on a $100 budget using mostly what we already have on hand. It's a good challenge to use things that you've been hoarding. 😉 This month, we got lucky that January has 5 Wednesdays, so it felt like a longer time to complete the challenge.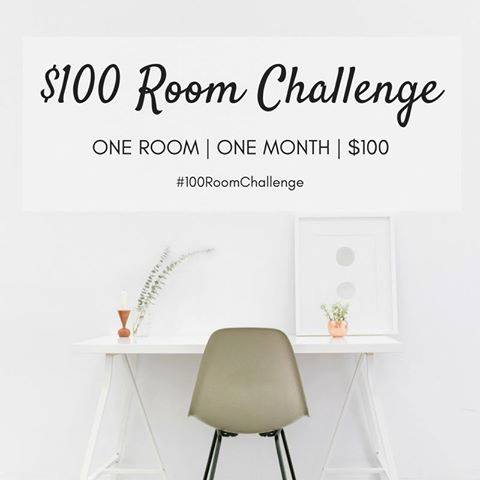 I started with a messy office space and big plans.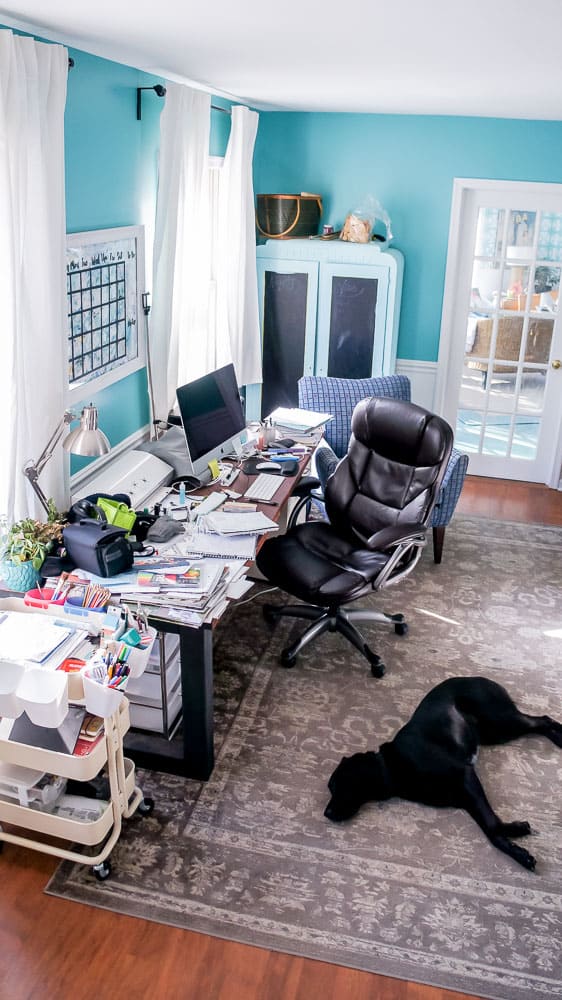 Week 1 | Week 2 | Week 3 | Week 4
Today, my room is complete and feels very "me."
Office Makeover Reveal
This post contains affiliate links. By purchasing an item through an affiliate link, I earn a small commission at no extra cost to you.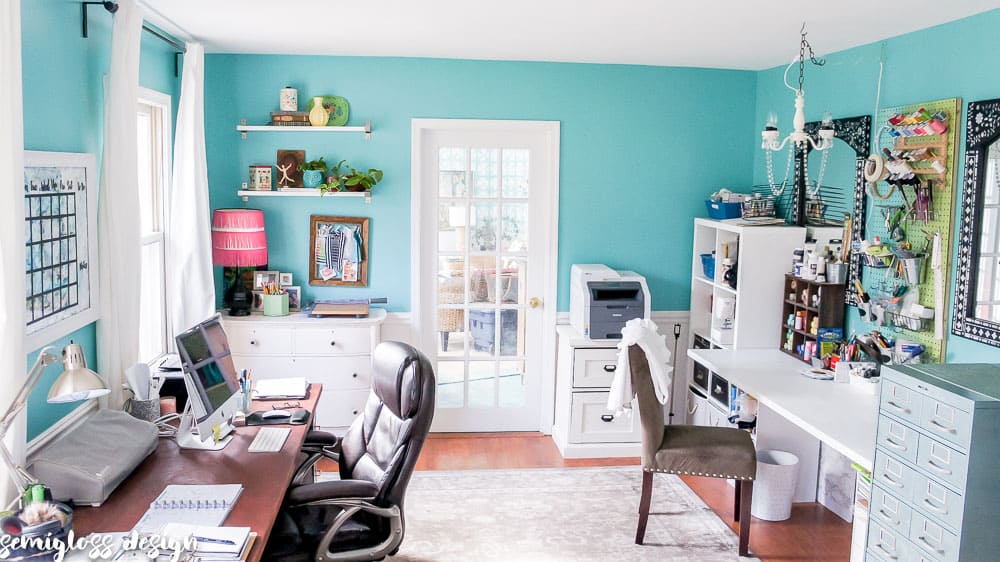 Clean desks for dayyyyyyssssss!
It's so funny how inspired I feel to create now! Besides massive decluttering, I did some painting.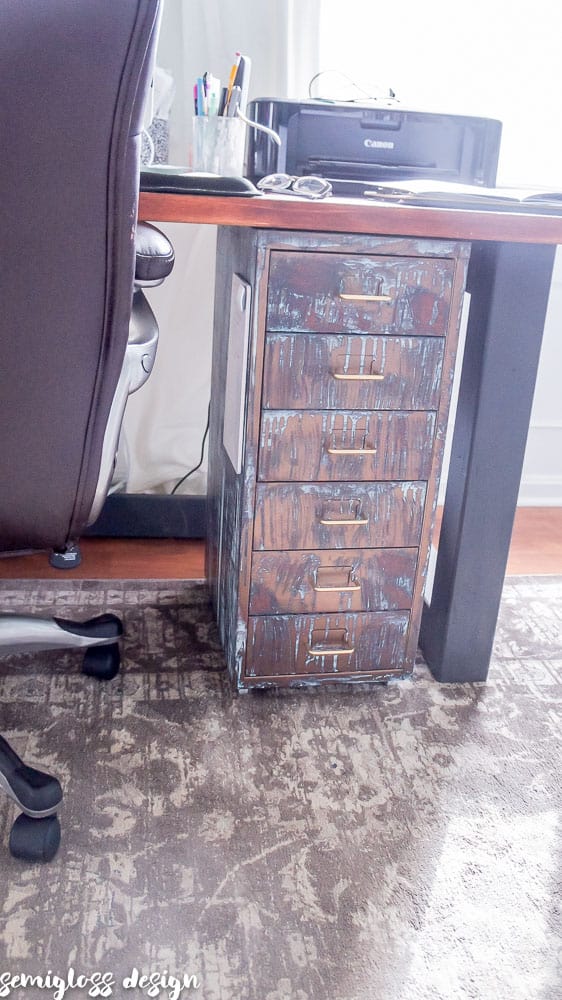 This cabinet was a boring white piece from IKEA. Now, it's a masterpiece. (Tutorial)
Modern Masters Bronze Paint | IKEA Helmer Cabinet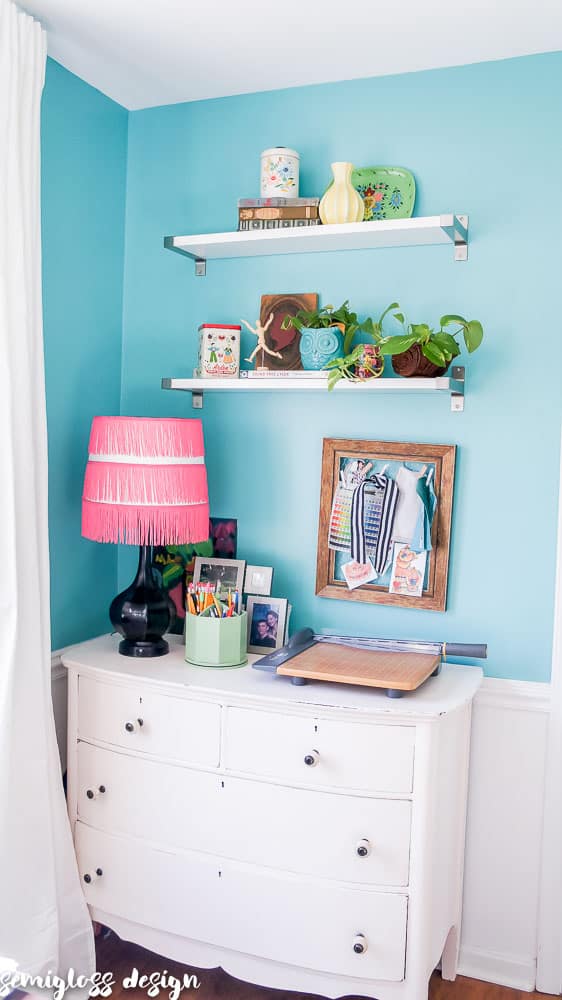 My dresser got brightened with a coat of blush pink paint left over from my daughter's room. The armoire that was here was moved to the garage where it's awaiting a makeover to serve as a display cabinet in my shop.
The IKEA shelves were bought long ago with intentions to hang them in my kitchen. Plans changed and they were left without a purpose. So now, they can serve to display pretty stuff.
The right length of curtains were also hung.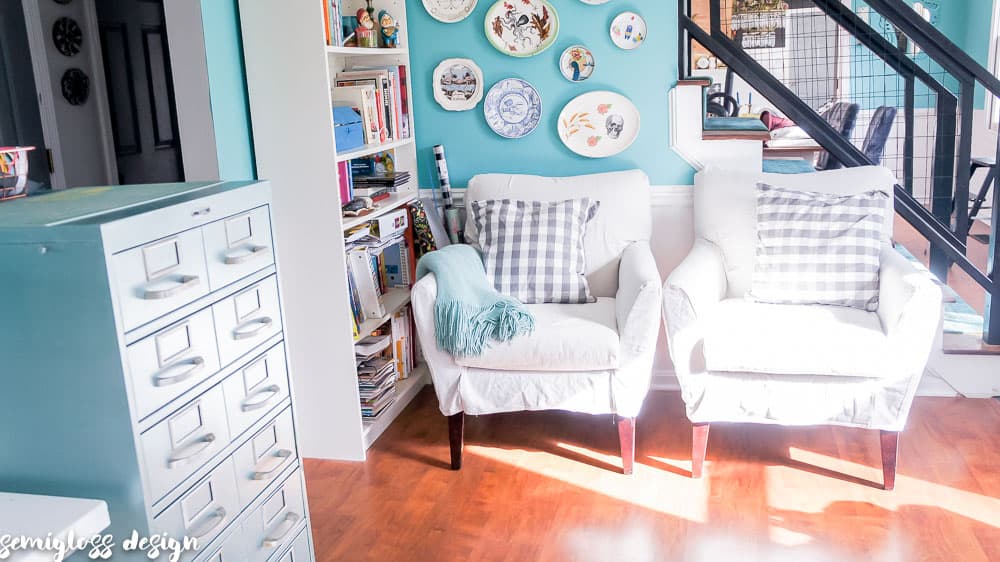 My chairs were slipcovered with dropcloths. If you come over, don't look at them too closely. I am NOT an expert slipcover maker, but it made these once ugly chairs bearable until I find something to replace them with.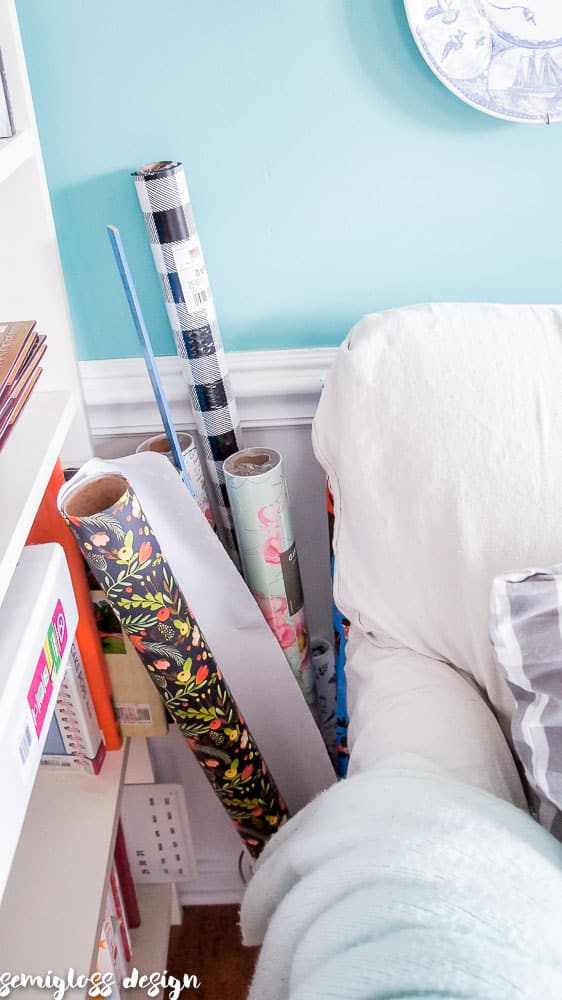 I used a galvanized bucket to contain all of my paper that I use for lining drawers.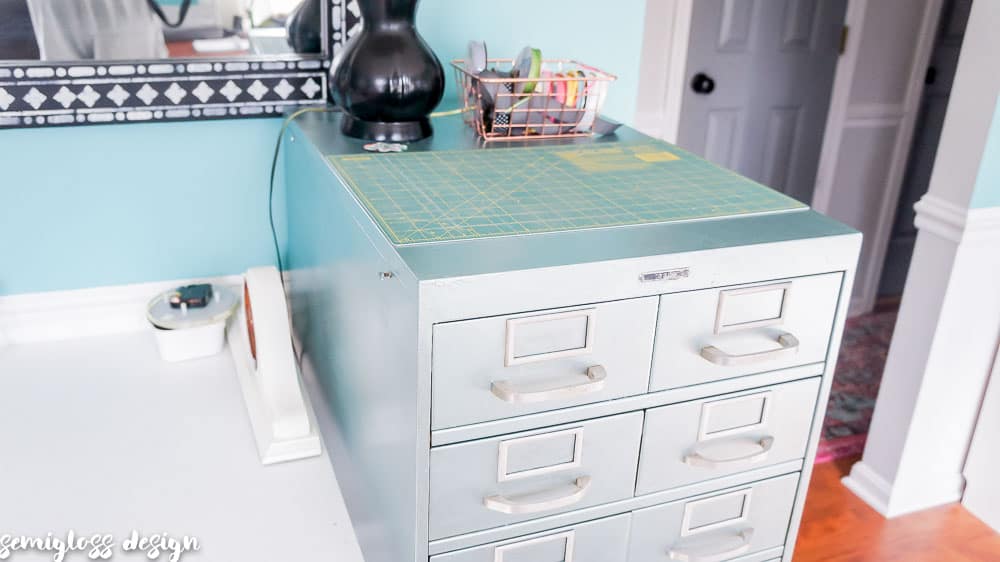 My vintage filing cabinet got a paint job. (To be honest, the insides still need work before they are usable, but it looks pretty good on the outside.)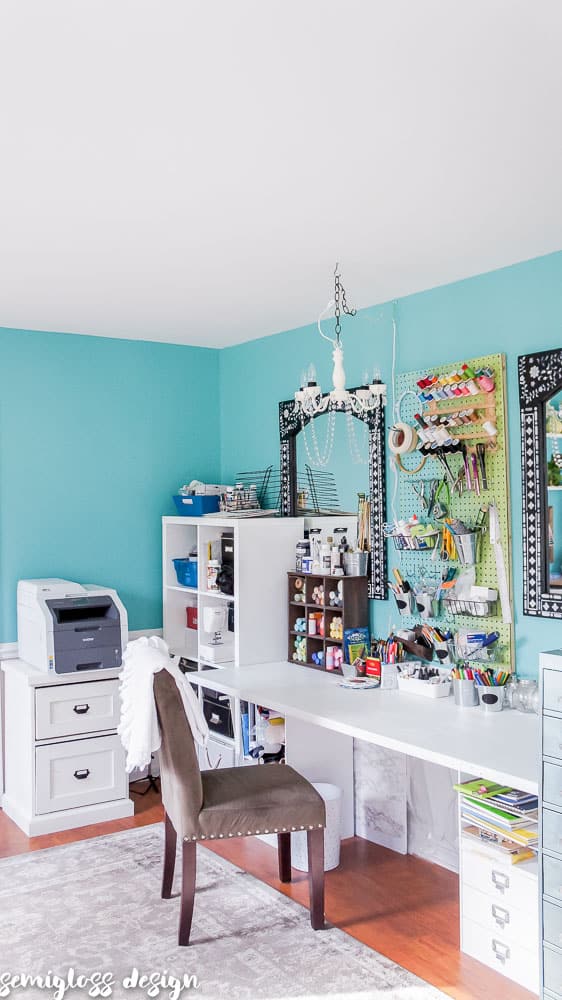 I added a chandelier over my art desk. This room lacks an overhead light and I often feel inspired to work at night. I need all the light I can get so I wanted a pretty one. This was a find from the Restore that I redid. (Tutorial coming soon.)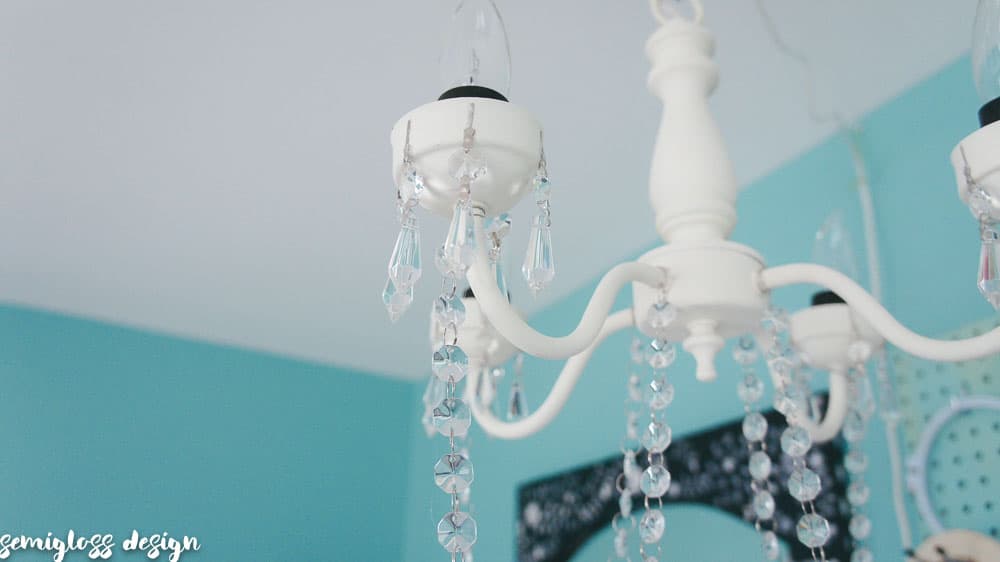 I added crystals (hot glued on because who can be bothered with the mess a dremel would make?)
Chandelier crystals | Chandelier Bead Chain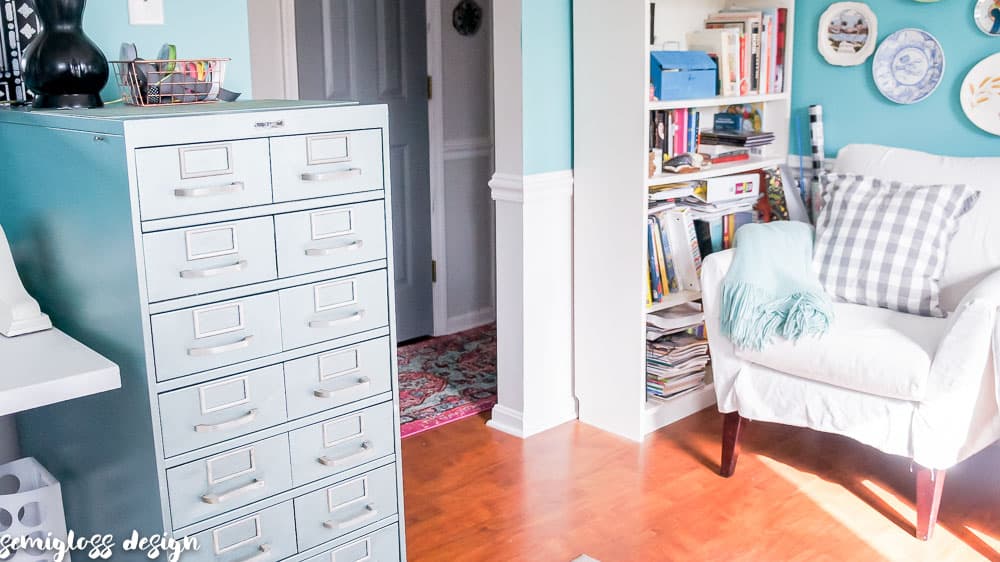 I'm really happy to bring in a bit of pink to this room. My hallway has a pink runner, so it ties the rooms together with the lamp and dresser.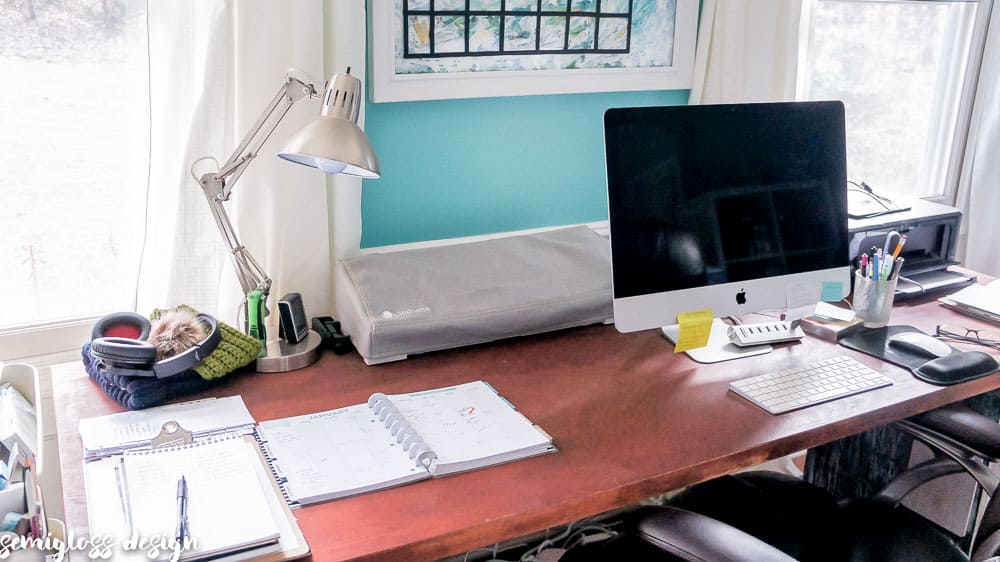 I'm loving my clean desk. It might be the best part of my office makeover. 🙂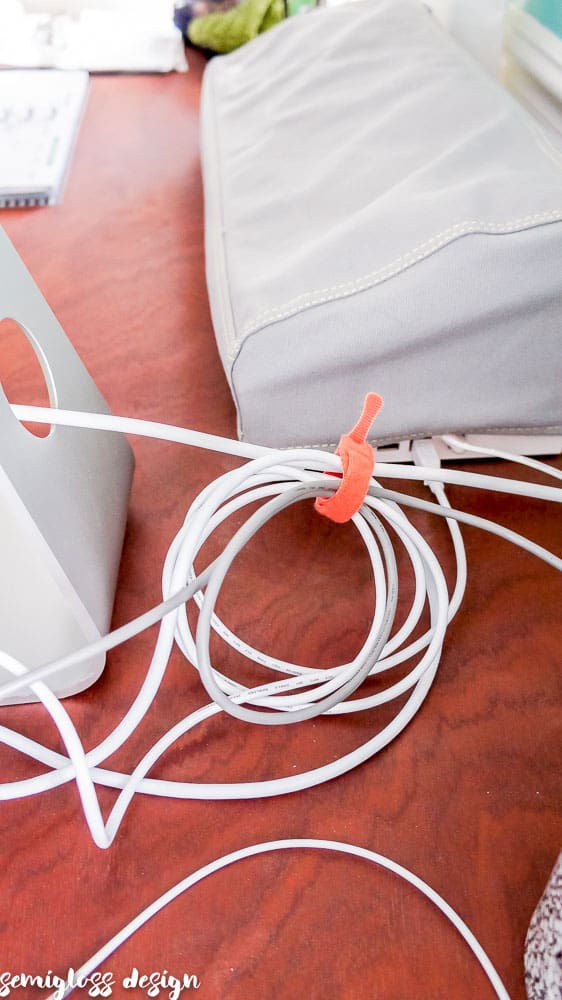 I even tamed the wire problem. A simple hook and look cable tie corrals the wires out of sight.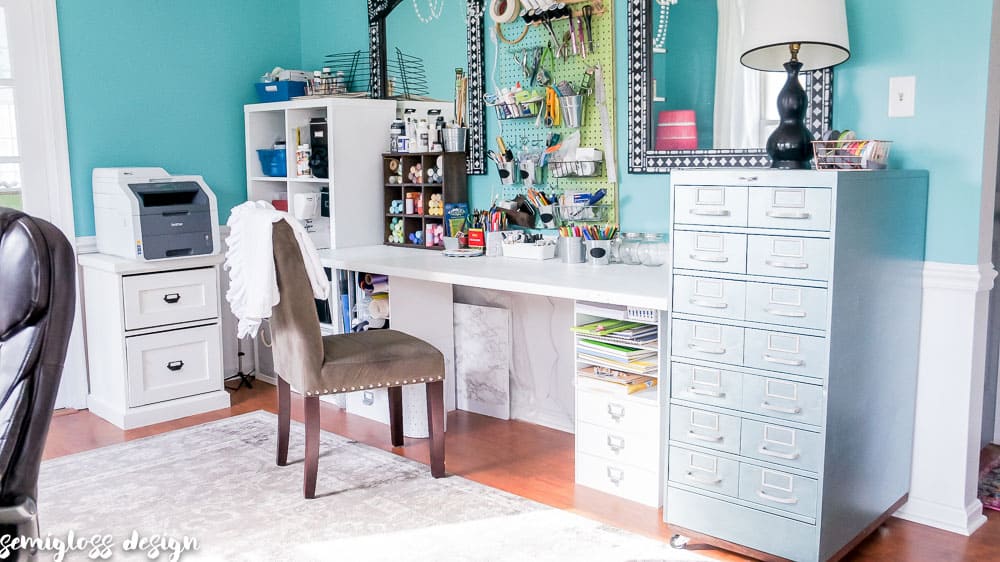 I had my husband build me a little rolling cart for the filing cabinet. This thing weighs a ton and I hated the idea of it being stuck wherever I placed it. Today, I had to move it over an inch and I was able to do it by myself. 🙂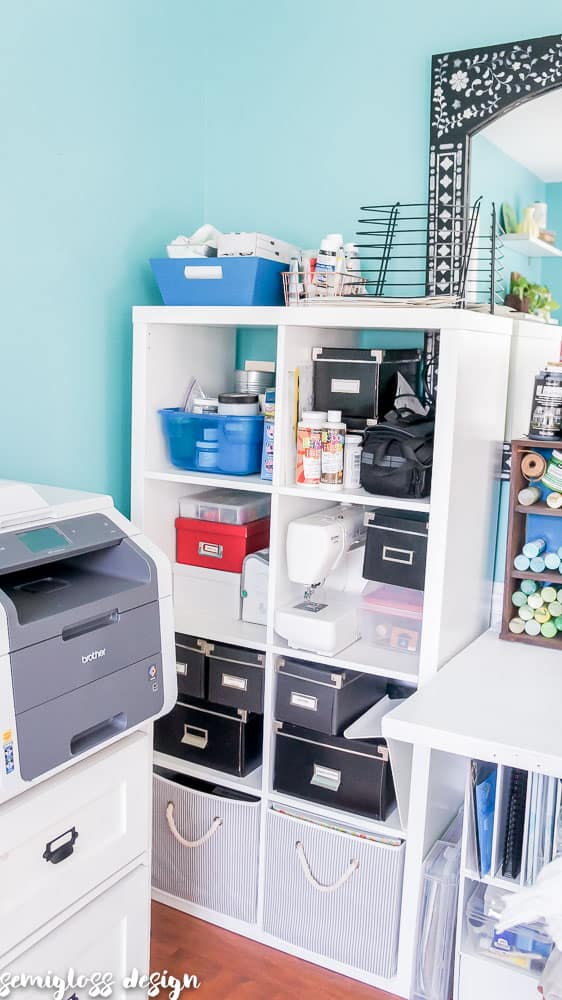 My shelf was also reorganized, which mainly consisted of me throwing stuff away. It's nice to know where everything is now. I'm so happy with my office makeover.
I did not end up finding my filing cabinet hardware, so that's still on my to-do list. And it could probably use even more organizing. I didn't even touch the bookcase…
$100 Budget:
Modern Masters Primer $7
Modern Masters Bronze Paint $10
Modern Masters Blue Patina $6
Vintage chandelier $15
Chandelier crystals $17
Chandelier cord $6
Modern Masters Teal $12
Drop cloth $20
Bleach $3
Light bulbs $3
Total Spent: $99
Remaining: $1
Let's check out those finished rooms!!
[inlinkz_linkup id=762956 mode=1]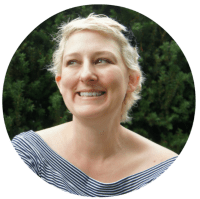 Emy is a vintage obsessed mama of 2 DIYer who loves sharing affordable solutions for common home problems. You don't need a giant budget to create a lovely home. Read more…