It's week 3 of the $100 Room Challenge and I finally got a ton of work done. I've been working on updating my office on a very limited budget, using items I already own. Today in addition to sharing my progress on the room, I'm sharing my IKEA helmer hack. I transformed this plain piece with a fun paint technique to make it look old!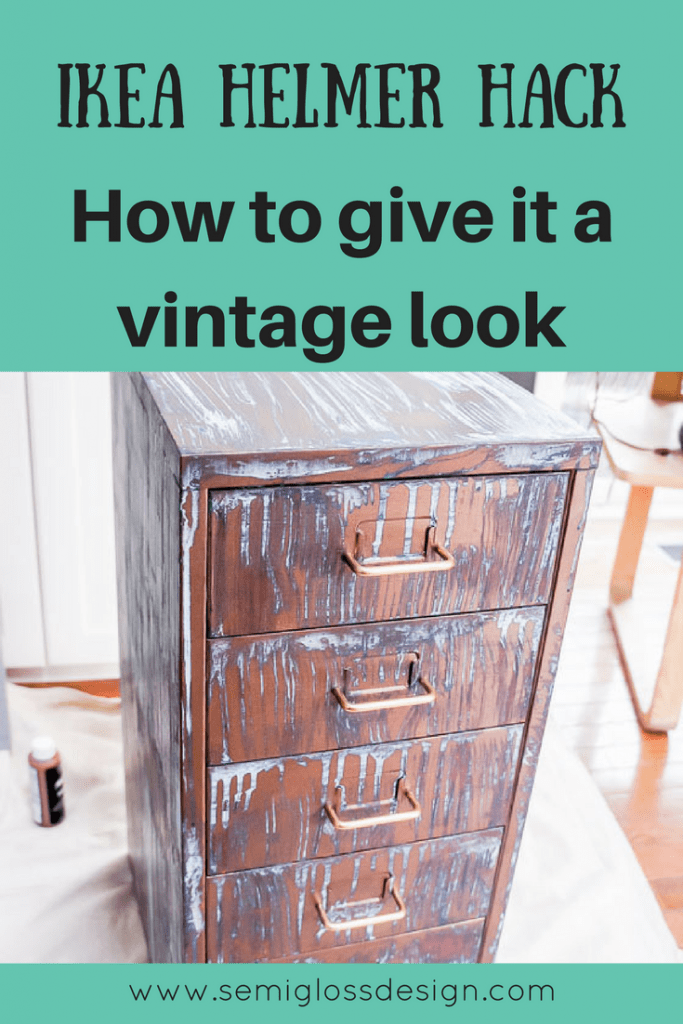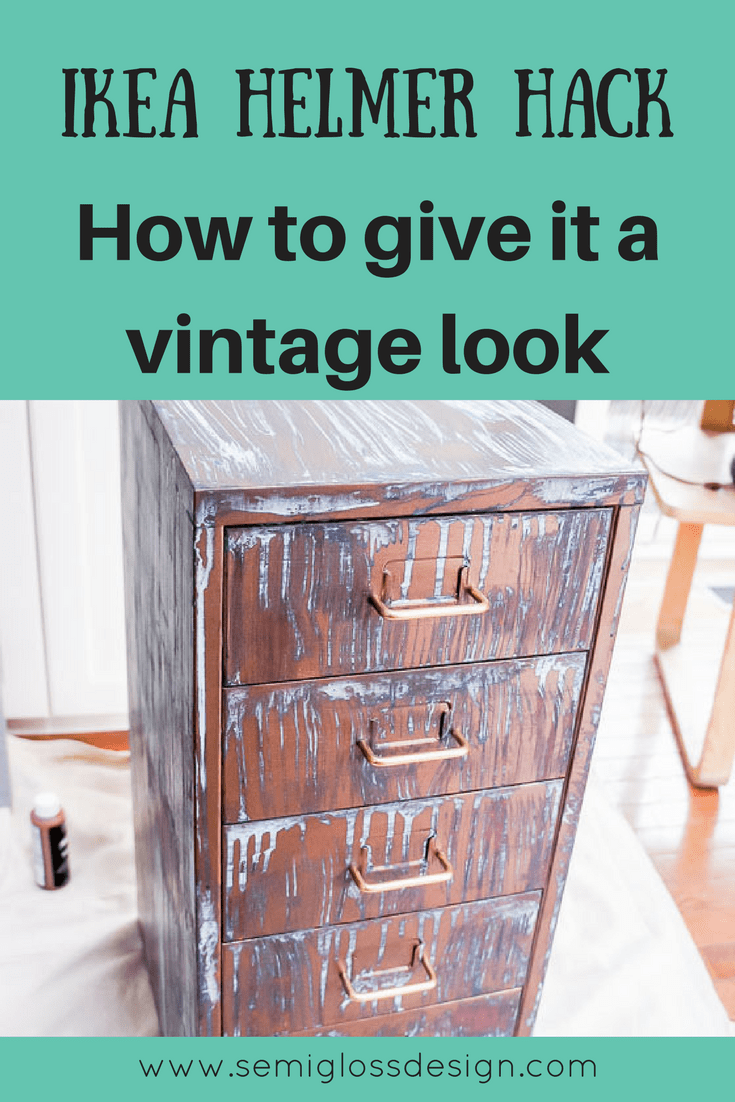 I've joined Erin at Lemons, Lavender and Laundry for her $100 room challenge. We have a month to transform a room on a budget of only $100. The small budget requires us to get creative with items we already own. This is the perfect excuse to use all of those supplies and items that I've been hoarding!
Current Progress:
This past week, I finished painting my dresser pink and installed the hardware that I already had on hand. I also moved the armoire out and moved the dresser to it's spot. Also, note the curtains that are the right length! Finally hung!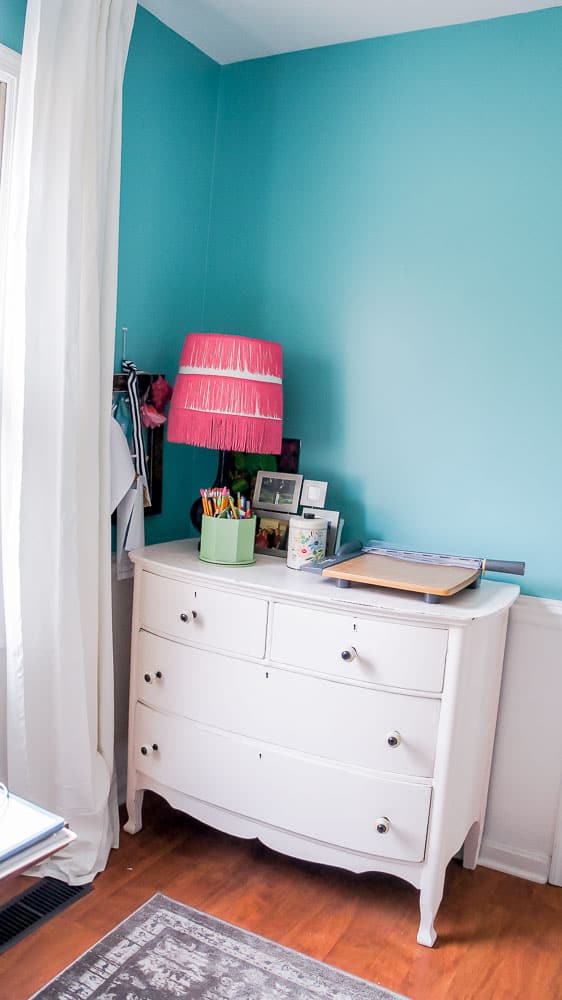 There have been several furniture rearrangements, but I'm holding off on showing a full photo of the room.
There was also some purging. Not going to lie. I hated that part. A mess would get cleaned up and then another mess would happen. There's still a bit of organizing to finish, but I'm loving all of the clear space so far!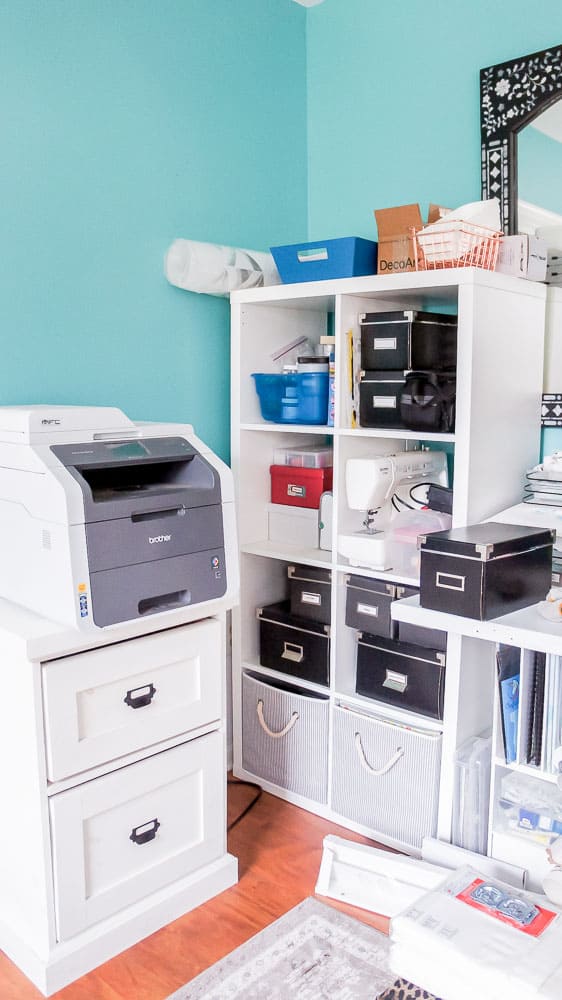 The IKEA cabinet was also painted. Full tutorial at bottom of post.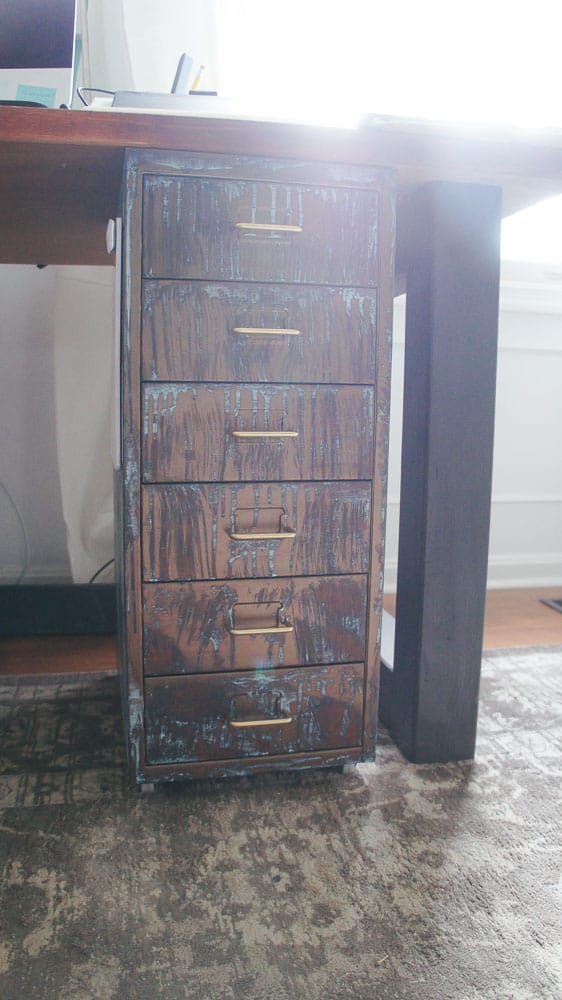 $100 Budget so far:
Modern Masters Primer $7
Modern Masters Bronze Paint $10
Modern Masters Blue Patina $6
Vintage chandelier $15
Total Spent: $38
Remaining: $62
Most of the remaining budget will be spent on updating the chandelier. 
Still to do:
Rearrange and figure out a better floor plan
Make slipcovers – Dreading this, so of course it will be done next!
IKEA Helmer hack
Organize – mostly done, but there are a few more things to do
Finish painting dresser and install new knobs
Remove armoire from room
Install filing cabinet hardware in filing cabinet – I've lost 2 pieces of the kit I had, so here's hoping I find them!
Hang curtains
Lighting – I found a vintage chandelier to remake and I'm so excited about this project!
Bring in my vintage filing cabinet – Hubby requested that it gets a paint job before it's brought inside. 🙁 Which is ironic, because the following tutorial is about making a newer piece look old.
IKEA Helmer Hack: Vintage Look
This post contains affiliate links. By purchasing an item through an affiliate link, I earn a small commission at no extra cost to you. 
Start by removing your hardware.
Spray paint the hardware if desired. I spray painted mine gold.
Lightly sand your metal cabinet. The goal is not to remove paint; just to scuff the surface a bit.
Paint on the primer. I poured my paint into a disposable bowl to make life easier. (Ps. The primer smells like mint.)
Apply a 2nd coat of primer after 30 minutes. It takes 12 hours to dry completely.
After the 12 hours, paint the 1st coat of bronze paint.
Apply the 2nd coat after 30 minutes.
While this coat is wet, apply the patina. You can spray it on or paint it on.
The patina turns blue after a while.
If you add too much patina, you can go back in and add more bronze paint.
In some spots, I used a paper towel to remove spots where the drips were too uniform.
Let dry and reinstall the hardware.
I think my IKEA helmer hack turned out really cool. It has a nice, aged look which I love.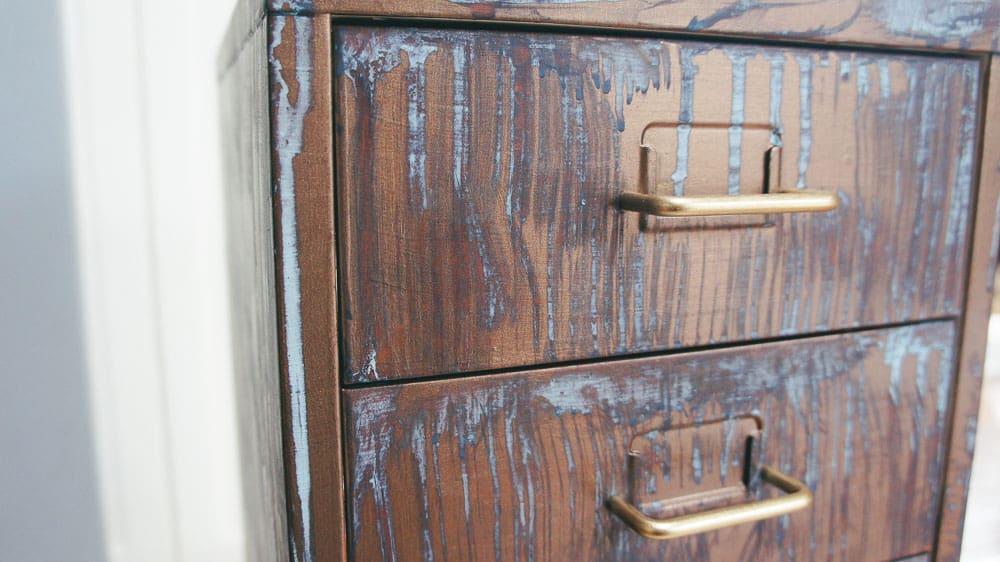 It blends in pretty nicely, without being too in your face.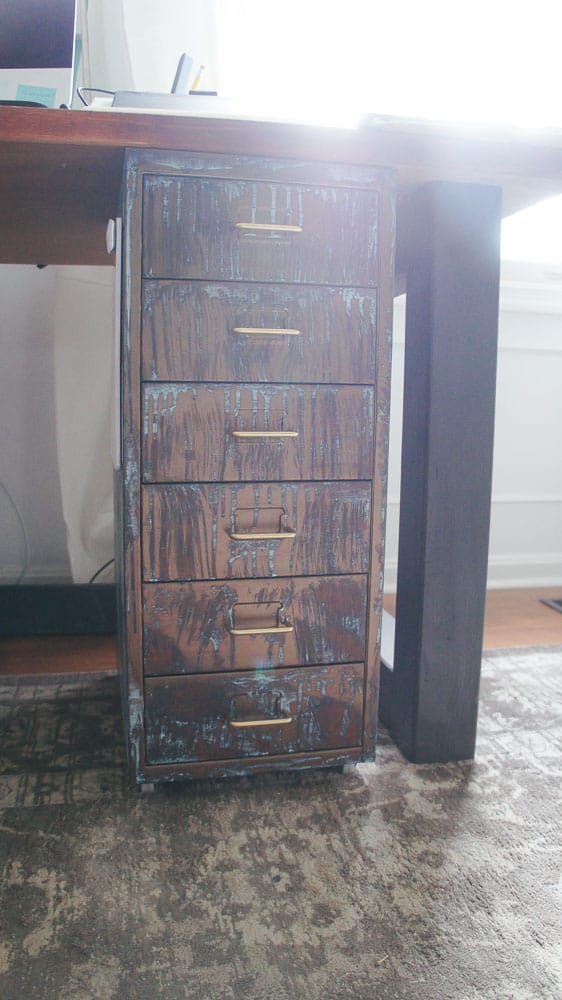 Be sure to check out the other participant's rooms! I'm loving watching these rooms come along!
Loading InLinkz ...