ORC Fall 2017: Vintage Inspired Garage Plans
It's October, so that means One Room Challenge time in blog land. That's right. I'm officially crazy. Apparently, I don't have enough going on already. So I'm joining Linda from Calling It Home as a linking participant to makeover one room in my home in a 6 week time frame. This time around, I'm working on a garage makeover. Today, I'm sharing my vintage inspired garage plans.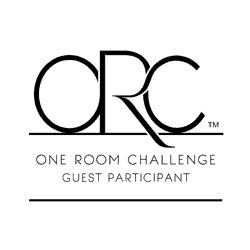 Previous One Room Challenges
Moonrise Kingdom Inspired Bathroom
I know what you're thinking. "Emy, garages are boring and so are you for doing a garage." Yeah, I wasn't thrilled either when my husband suggested it and then offered to do all the work. BUT! I spend a lot of time in there, creating. Shouldn't it be beautiful and functional? Wouldn't it be nice if it was organized and not gross? So, I decided to go ahead and come up with a plan that is inspiring and beautiful.
My Garage Before
There's no way to sugar coat it. It's pretty gross. We throw stuff in here and can barely walk through it most of the time. It's not entirely our fault. We learned a very valuable lesson when we bought our house.
If the person selling the house offers to leave you stuff, SAY NO. Two giant dumpsters later and we still have stuff to throw away.
Other than moving scrap wood, I did not clean before these pictures, so they're pretty bad. You've been warned. The pretty pictures will come in a few minutes. Eat your heart out, pinterest!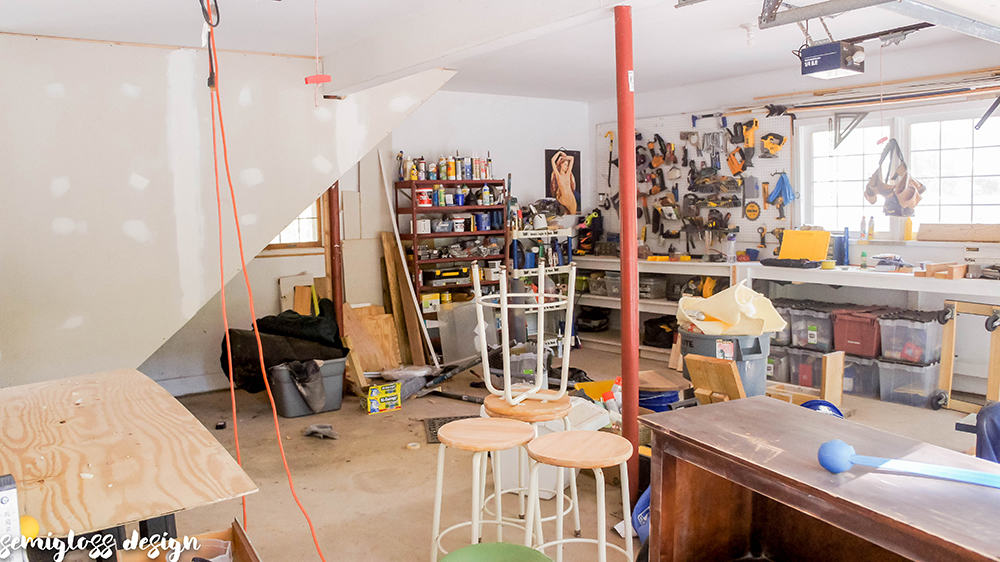 I'm about to get a spot to sell stuff in a barn sale, so there's some furniture makeovers in here. but mostly, just lots of junk.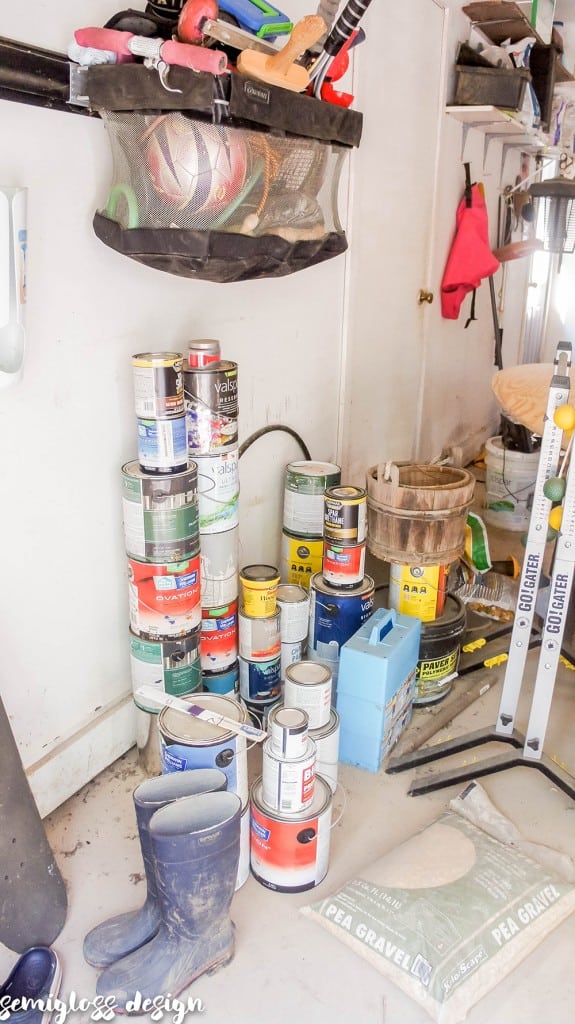 All the paint!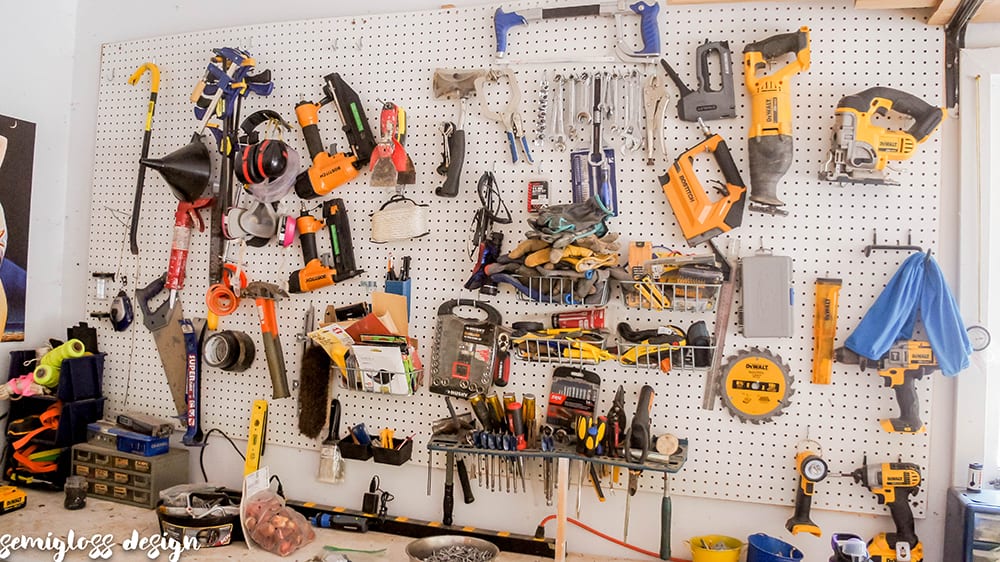 A pegboard that was badly installed and barely holding on to the wall.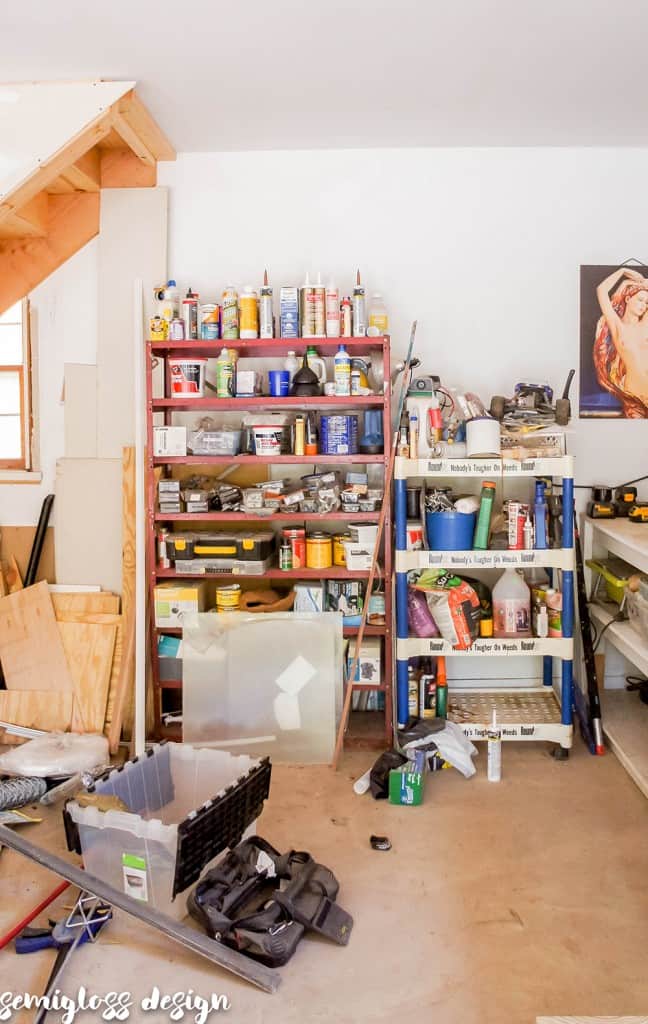 This clusterF of chemicals. Also, note the naked lady picture. Why, yes that is a round-up shelf! I know you're jealous!
We hung it to embarrass our son, but he never cared. Womp womp. Also, best parents ever award. 😉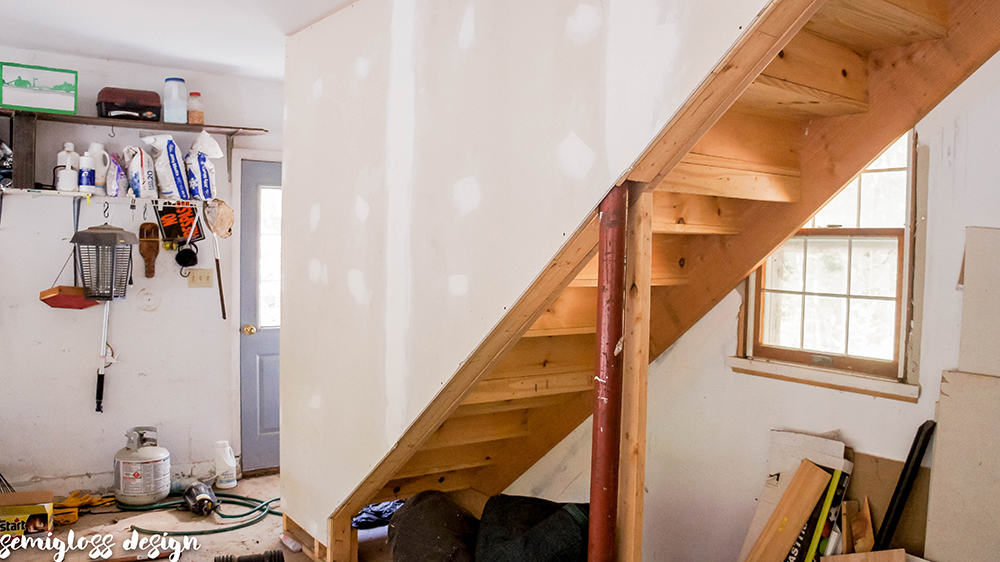 See these stairs? My husband built them to replace old rickety ones and I'm still impressed. Also they're way nicer than the ones in our basement, so at least once a month, I try to talk him into rebuilding those too.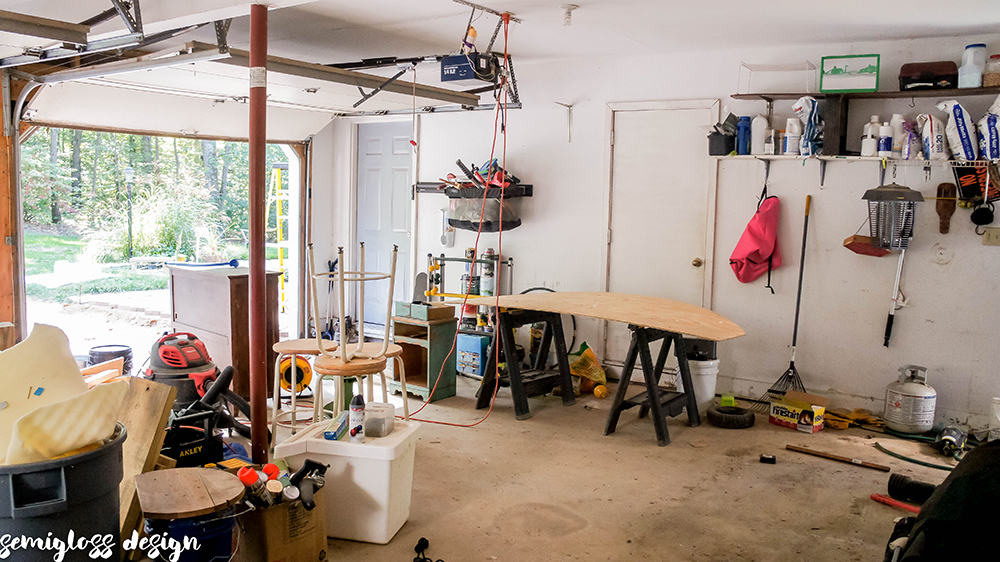 Want to see the ugliest part of all?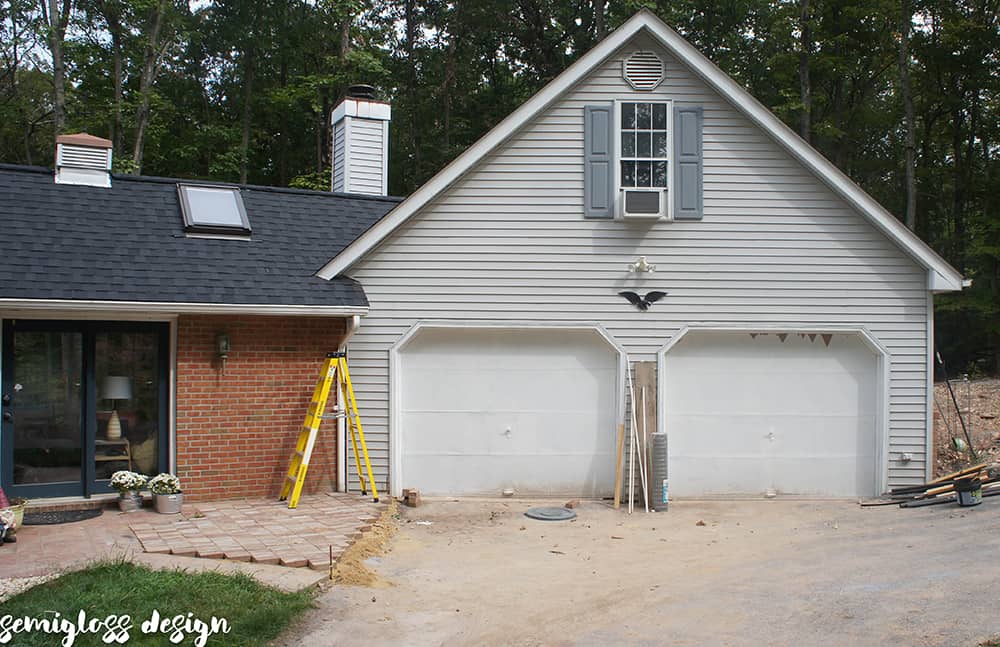 Those doors have to go. Also that eagle. And why does our house have more spotlights than a prison?
Anyways, the garage doors are pretty bad. They're "wood" and I use the word loosely, so they are warped and gross. I was going to try to paint them and then we decided to upgrade them to ones with insulation! So excited.
Over the weekend, we cleaned the garage out. Our front yard looks like we're having the world's worst garage sale. Half empty can of Bondo, anyone?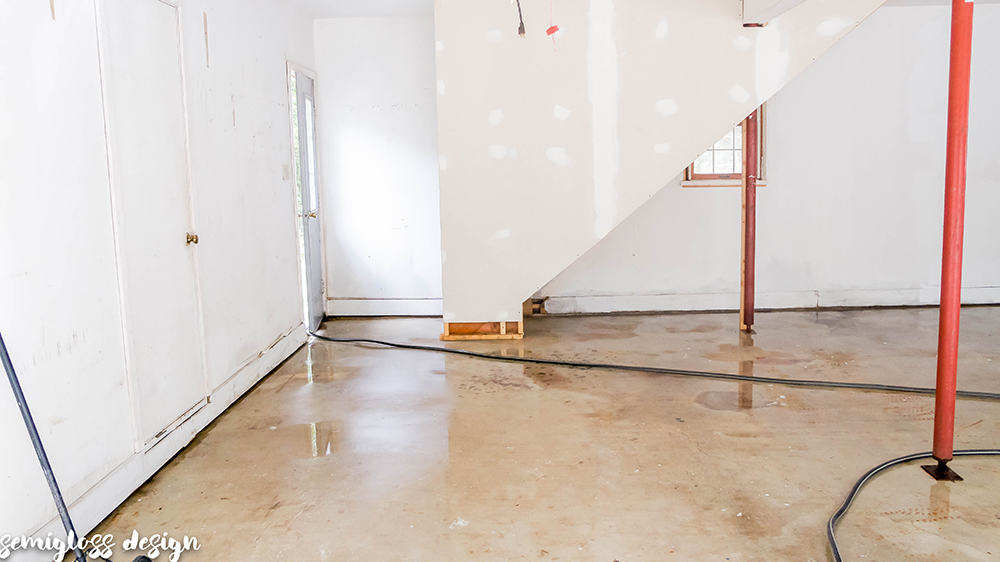 The floors were also cleaned because it flooded in here a bit. The floors were actually a much different color than we thought. Turns out they were REALLY dirty!
All of that stuff is gone now too. I love starting the ORC with a blank slate.
Vintage Inspired Garage Plans
As with the rest of my home, I'm very inspired by vintage decor. My business is based on vintage furniture, so why not carry that into my garage? But not in a vintage car way… I find old tools, wood and rusty textures to be more my style than shiny chrome and loud cars. 😉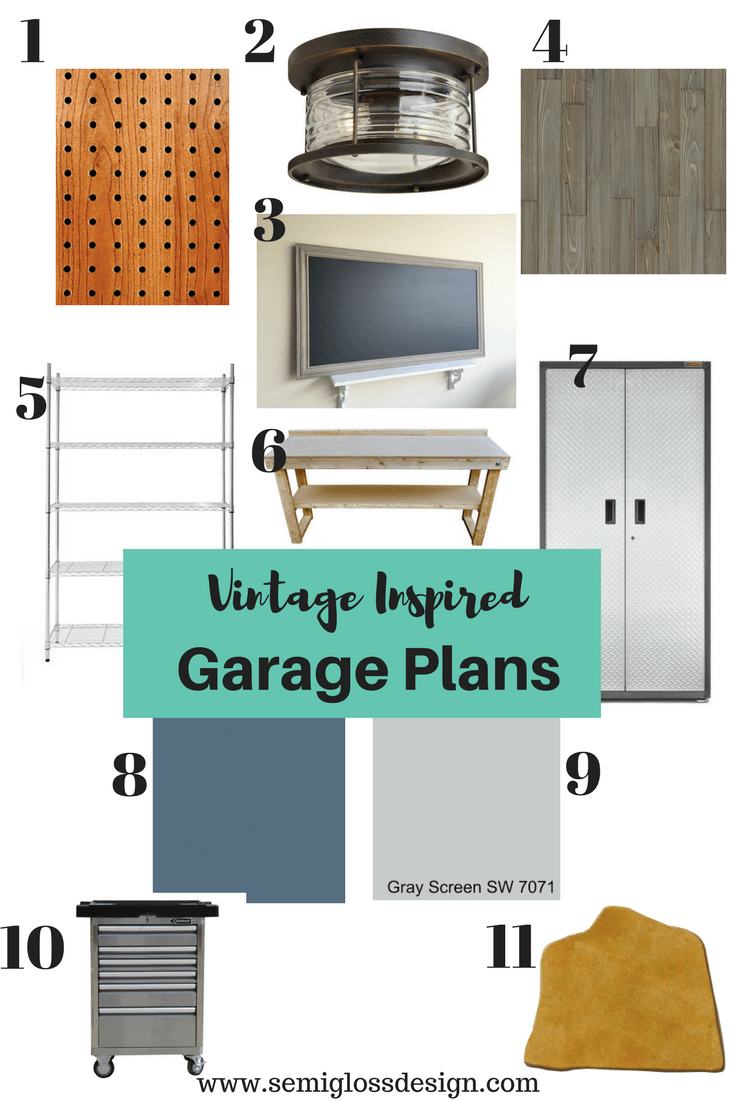 A new pegboard is a must. I would love to find a faux bois one, but if not, I might need to play with some faux finishing. If nothing else, it will get painted.
We currently have naked bulb fixtures, so anything is an upgrade. I'm looking at industrial fixtures like this one.
Chalkboard or whiteboard to keep a running to do list.
A wood wall feature. I have a fun idea that uses scrap wood for this, but I want mine to vary in colors and sizes.
I have one of these shelves in my basement and I love how sturdy it is, so we have bought 2 more so far.
We have workbenches that will be cleaned up and painted.
My husband really wants one of these cabinets.
Instead of my typical aqua, we're going with a slate blue accent. This is Sherwin Williams for HGTV Restorative.
The walls will go a nice neutral shad of gray: SW Gray Screen.
Metal toolboxes to store tools. It's going to be so nice to actually be able to find a screwdriver!
Concrete stain. Yep, we're staining the floor again. Last time we stained a new concrete floor. This time, we're staining a dirty, rust marked, oil spotted floor.
Not shown: Some kind of seating. It's nice to have somewhere to sit while we make a list or figure out a project.
New garage doors. These have been ordered and my fingers are crossed that they will come in and get installed on time.
So do you think I can make a garage beautiful?
Be sure to check out the other participants! I can't wait to see what everyone is up to this year!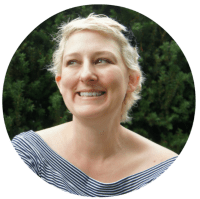 Emy is a vintage obsessed mama of 2 DIYer who loves sharing affordable solutions for common home problems. You don't need a giant budget to create a lovely home. Read more…