Apres Ski Tablescape Blog Hop: Vintage Fondue Party
About 10 years ago, my husband and I went on a ski trip in Calabria, Italy. Calabria is a tiny town in southern Italy best known for being the home of the children's book, Strega Nona. My son stayed with a friend and I hit the gift shops to find him a toy to prove my love for him. While shopping, I ran across the funniest postcards ever. They were from the 70's and absolutely hilarious. For this reason, skiing makes me think vintage 70s. (Also, if you're watching Mystery Science Theater 3000 – the movie Avalanche was really fun.) So when Ariel from PMQforTwo asked if I wanted to join a tablescape party themed Apres Ski, I immediately went retro 70's skiing. What's more 70's than fondue? And I was immediately like, "OMG, this is so obvious. Everyone's going to do fondue." Hahahah. I don't know why I thought that. Search google images for Apres Ski and you don't get fondue at all. But to me, a fondue party sounds amazing after a day in the snow.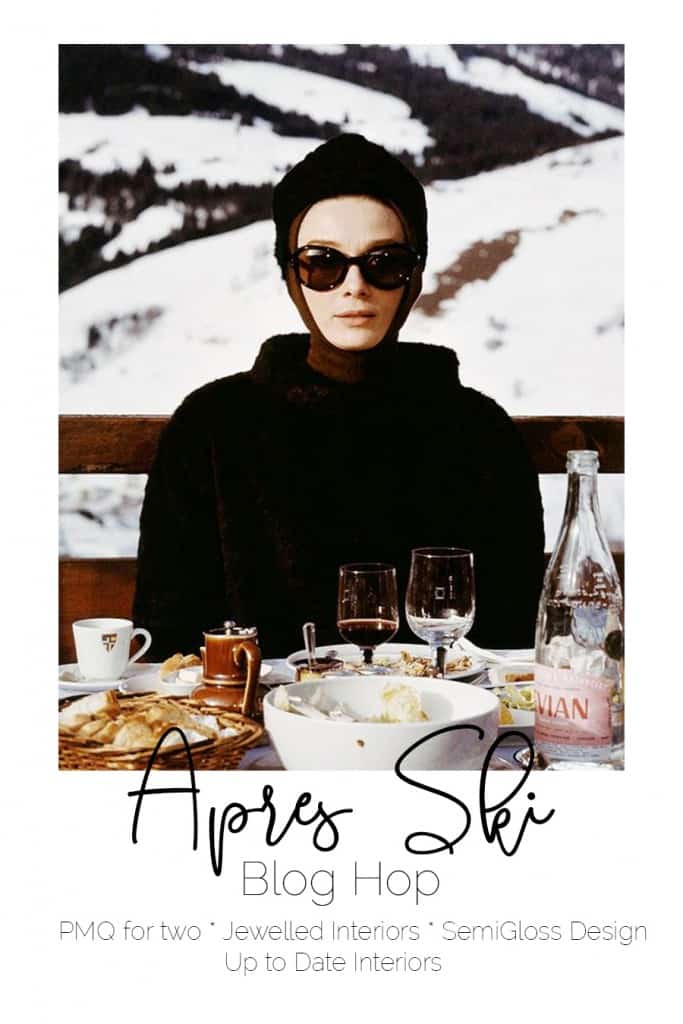 Since this is also a block hop, I invite you all to go see what PMQ for two, Jewelled Interiors, & Up To Date Interiors have done for their take on the Après Ski theme.
This post contains affiliate links. By purchasing an item through an affiliate link, I earn a small commission at no extra cost to you.
A Vintage Fondue Party Tablescape
So, tease your hair, break out the corduroy suits and turn on the Beegees. It's fondue time, baby.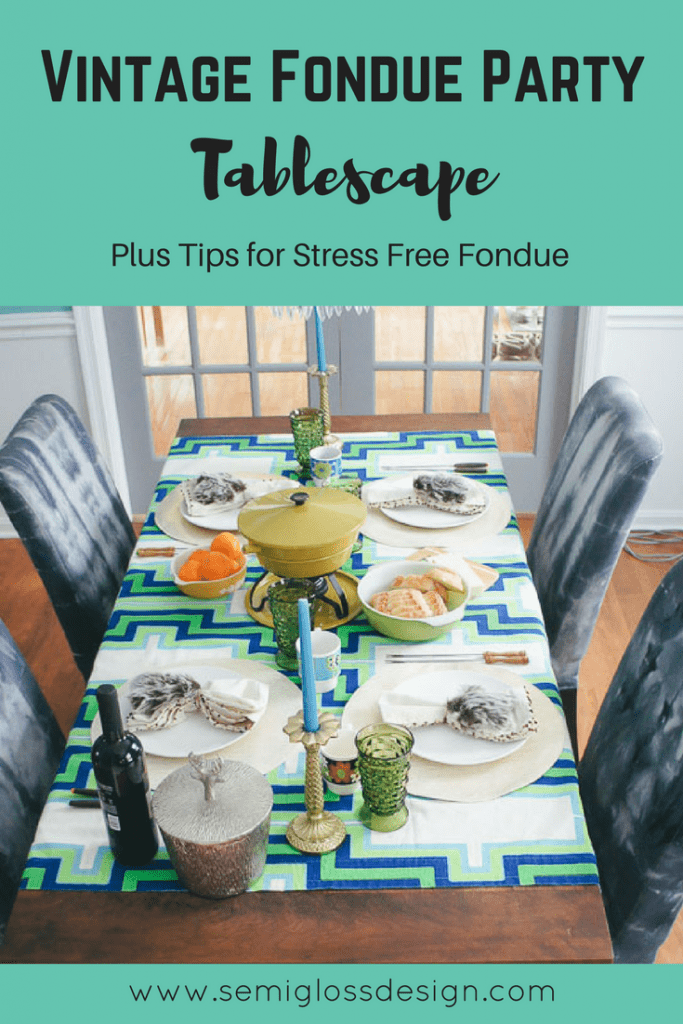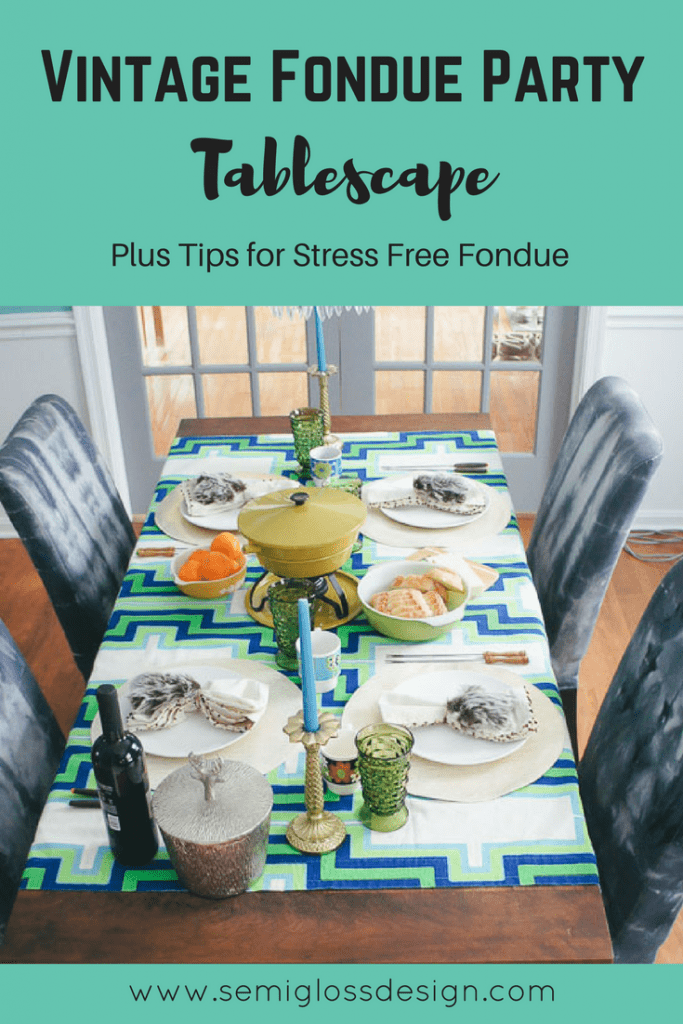 I tried to stick with the traditional 70's color palette of mustard and avocado green, but it felt a bit flat to me. So I added in a vintage blue patterned tablecloth to break up the color a bit. It looks more intentional since my walls are turquoise.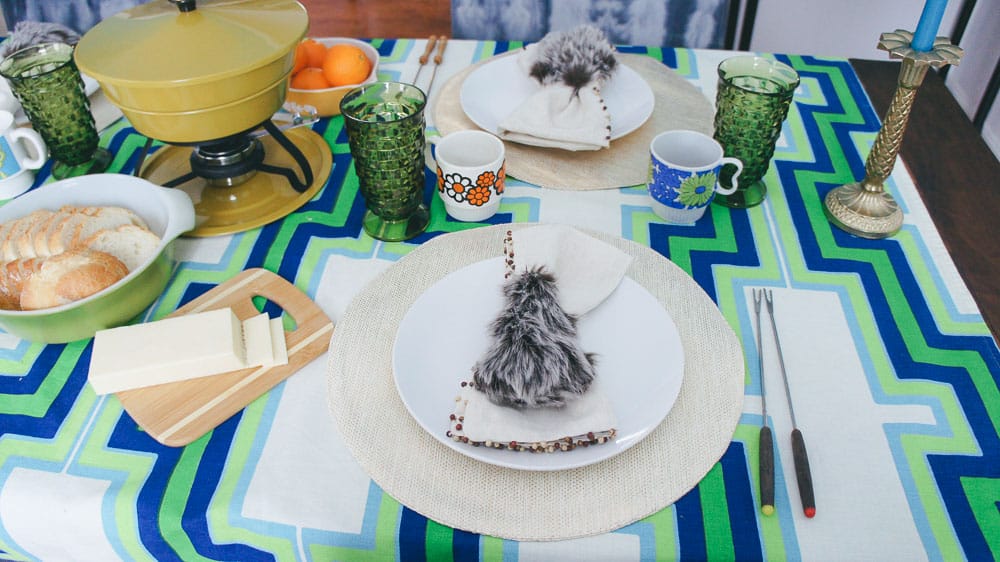 Each place setting has napkin rings made from a faux fur Christmas garland that I cut apart. There are trees and star shapes.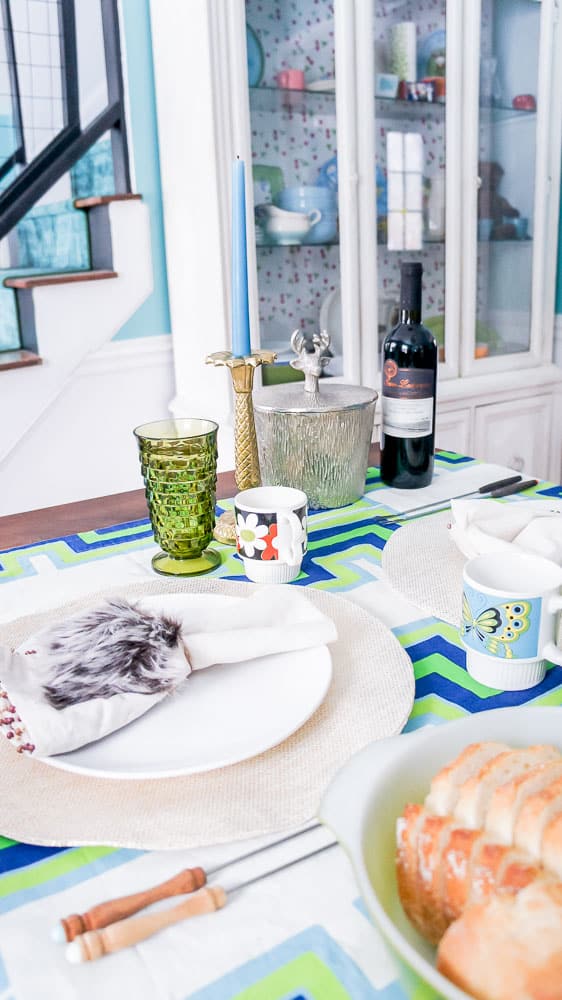 I broke out my mismatched Japanese mugs for this occasion. Hot cocoa (or tea) is a staple in my home in the winter.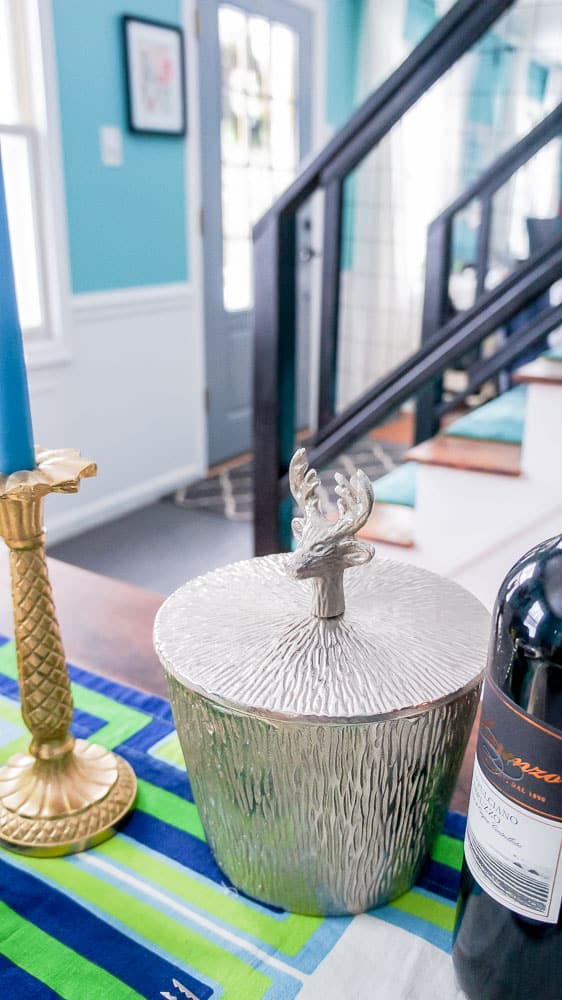 A fun ice bucket also gives a nod to winter.
Fun story: this ice bucket is going into my shop. My son was helping me one day and I asked him to list out my inventory. He didn't know what a lot of things were, so he made up his own descriptions. This deer ice bucket was listed as a "deer head planter bucket." He had me laughing so hard that I was crying when reading his list.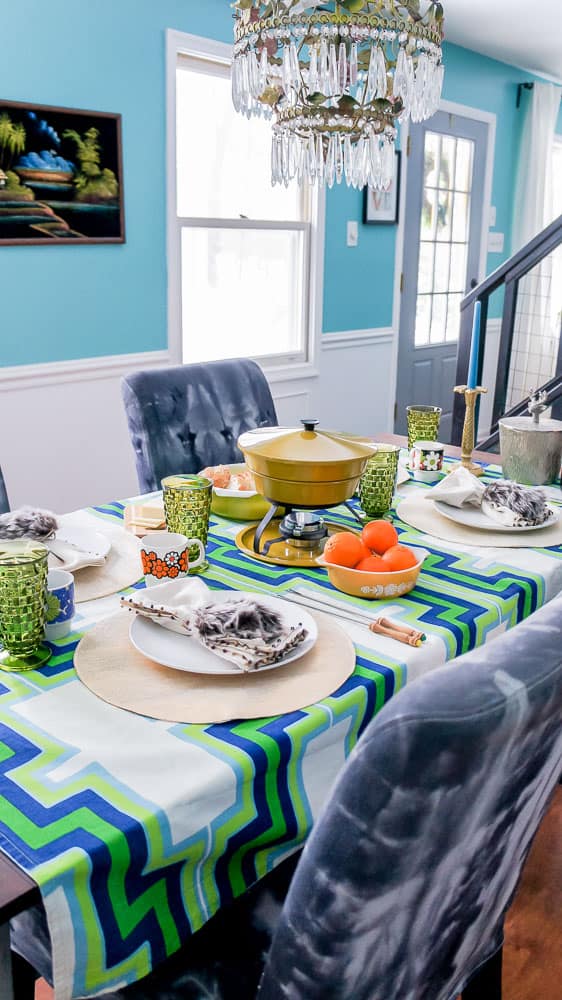 This color scheme allowed me to use some of my funkier colored pyrex and fireking bowls.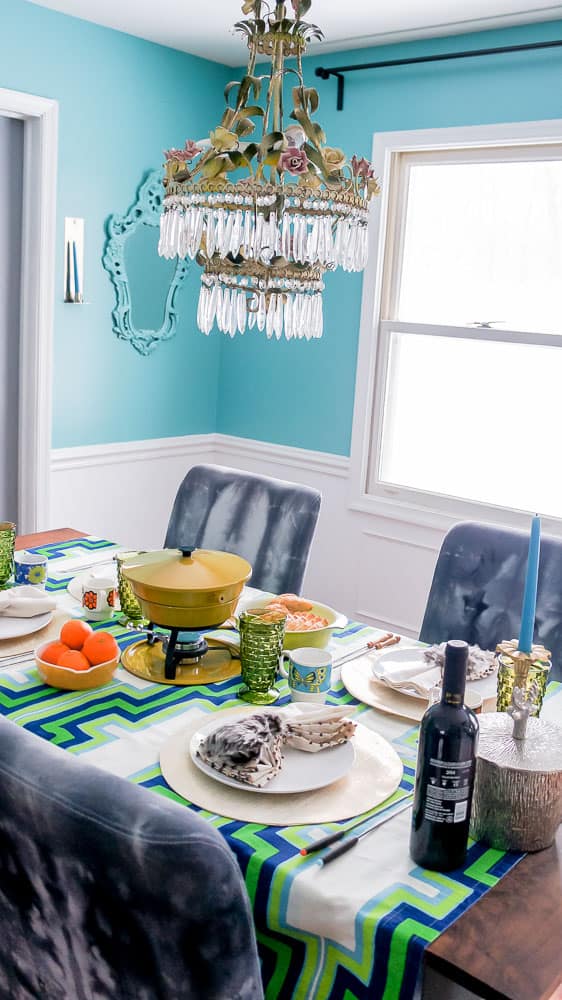 I'm in love with the green glasses. Part of me really wants to add them to my own collection. But they are also going to my shop.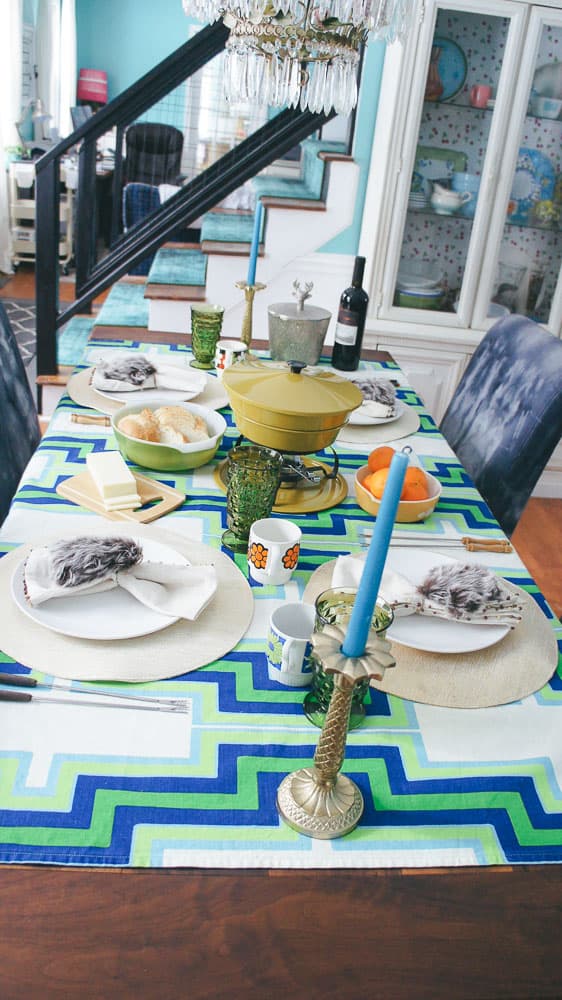 My son made fun of the furry napkin holders, by the way. He said they looked like dead squirrels.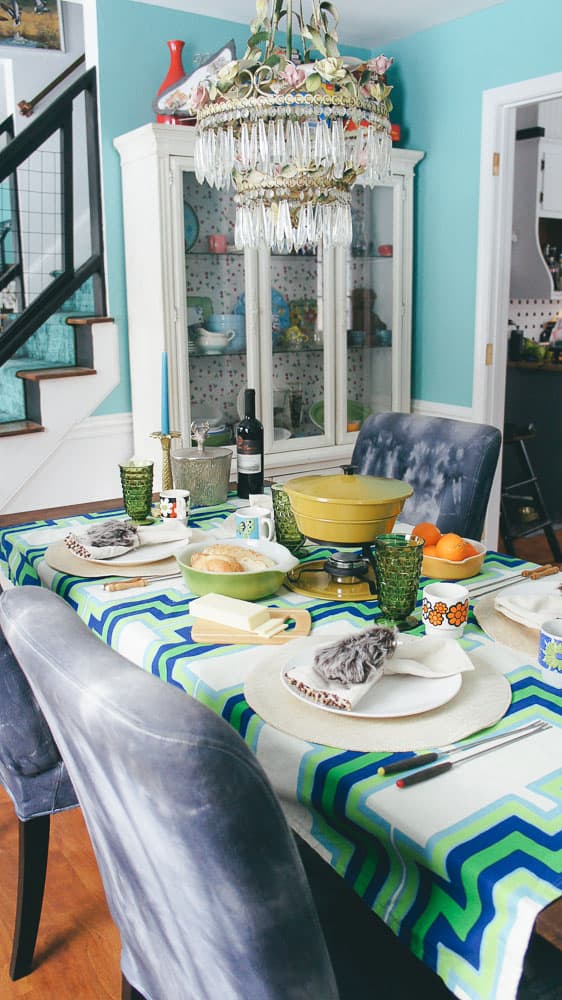 Some kids are just jerks. 😉
But then again, we know he's bad at describing stuff, so what he really meant was "creative, amazing displays!"
Tips for a Stress-free Fondue Party
Fondue is easy even if you hate cooking. And it looks hella impressive. But really, you just cut up a bunch of stuff and stick in in bowls.
I used to make fondue from scratch and it's hard to get right. Cheese separates and gets gross. Plus, all that work stresses me out. Now, I buy the premixed kind (plus the brand name is so good). It's delicious, gluten free and the perfect amount for 2 adults and 2 kids. Buy 2 packs if you LOVE cheese or are feeding more people.
Do the initial cooking on the stove. Even electric fondue pots don't heat evenly.
Fondue pots can be electric, but most fondue pots are heated with sterno cooking fuel. Although, I do have a small one that is heated with tea light candles.
The pot (and contents at the bottom of the pot!) can be hot and WILL burn you. Use caution. You may have to turn it on and off (or light and extinguish) it a few times while you're eating.
If you're gluten free, Against the Grains makes the most amazing GF baguettes. They're 90% cheese, so they're pretty much the best thing on the planet.
Kids with pointy sticks dipping stuff into molten lava hot cheese can be terrifying. Ease the terror by spooning cheese onto a plate for your little ones. My daughter is 10 and I can't handle watching her attempt to dip stuff.
I use 2 different pots (one for cheese and one for dessert.) This allows us to eat both courses back to back.
Do all the prep work ahead of time. I separate the cheese course dippers from the dessert course dippers. Some things work for both though.
Including lots of fruits and veggies will convince yourself that fondue it totally healthy! Look at your kids devouring those veggies! Great job, Mom!
Fondue is perfect for a stay at home date night. There's something very romantic about the slower pace of eating.
My favorite cheese dippers
Bread (see my bread recommendation above if you're GF!)
Red bell peppers
Carrots
Brocolli
Granny smith apples (sounds weird, but super good)
Pretzels
My favorite chocolate dippers
Butter cake cut into pieces (and mostly frozen)
Clementines
Strawberries
Bananas
Rice krispy treats cut into pieces
Pretzels
Okay, show of hands. Who wants to have a fondue party?
Pin for Later!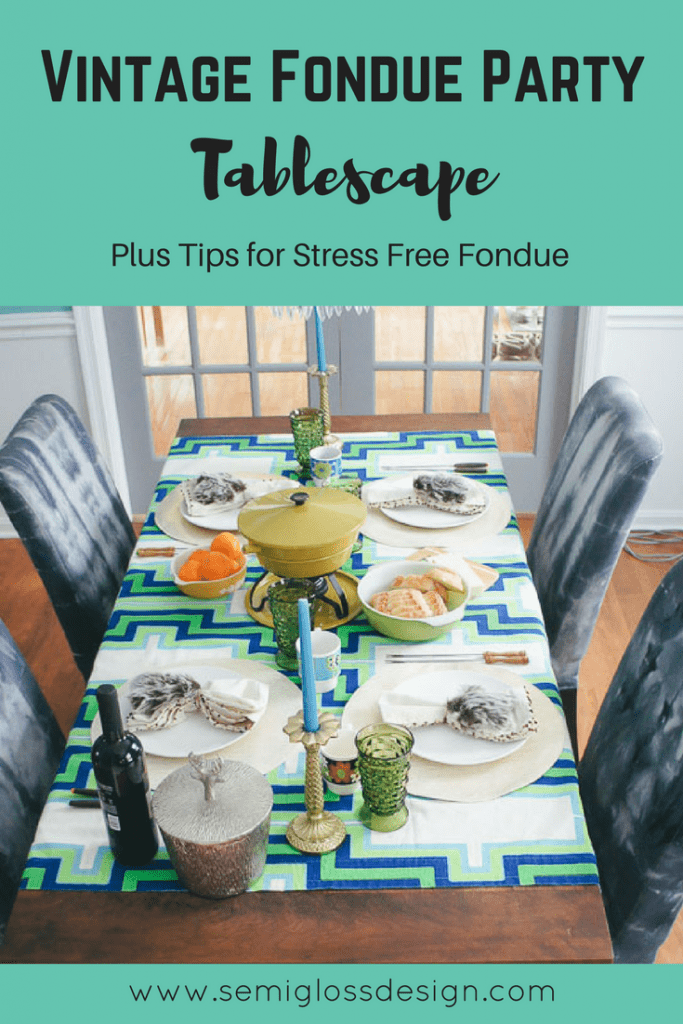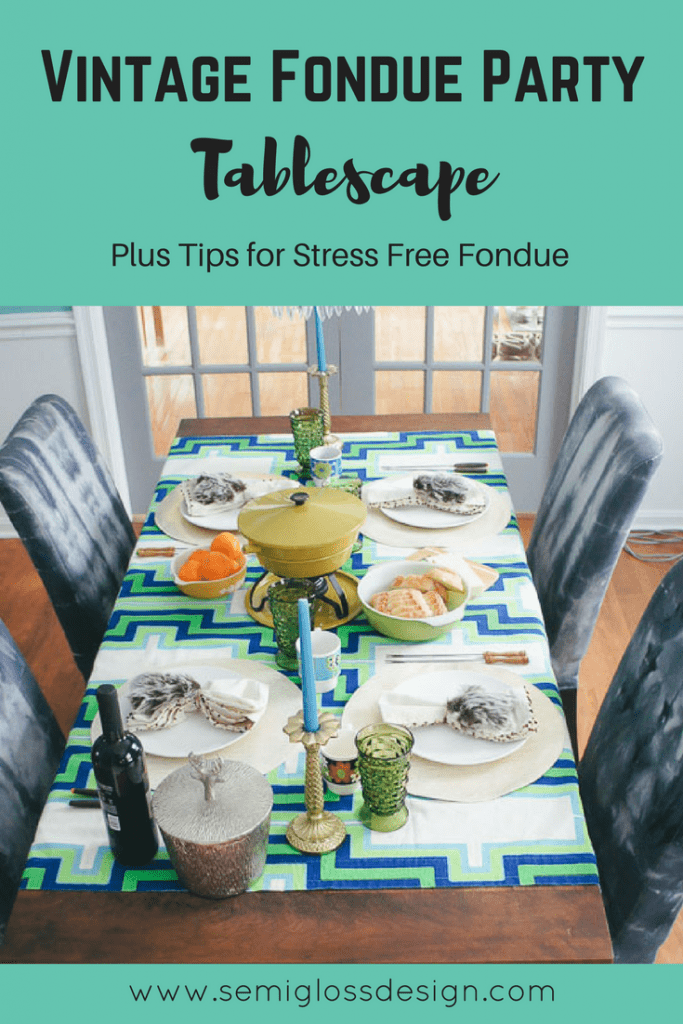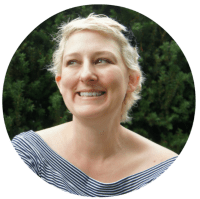 Emy is a vintage obsessed mama of 2 DIYer who loves sharing affordable solutions for common home problems. You don't need a giant budget to create a lovely home. Read more…