$100 Room Challenge: Office Makeover Plans
Today, I'm sharing my office makeover plans to make my organization dreams come true.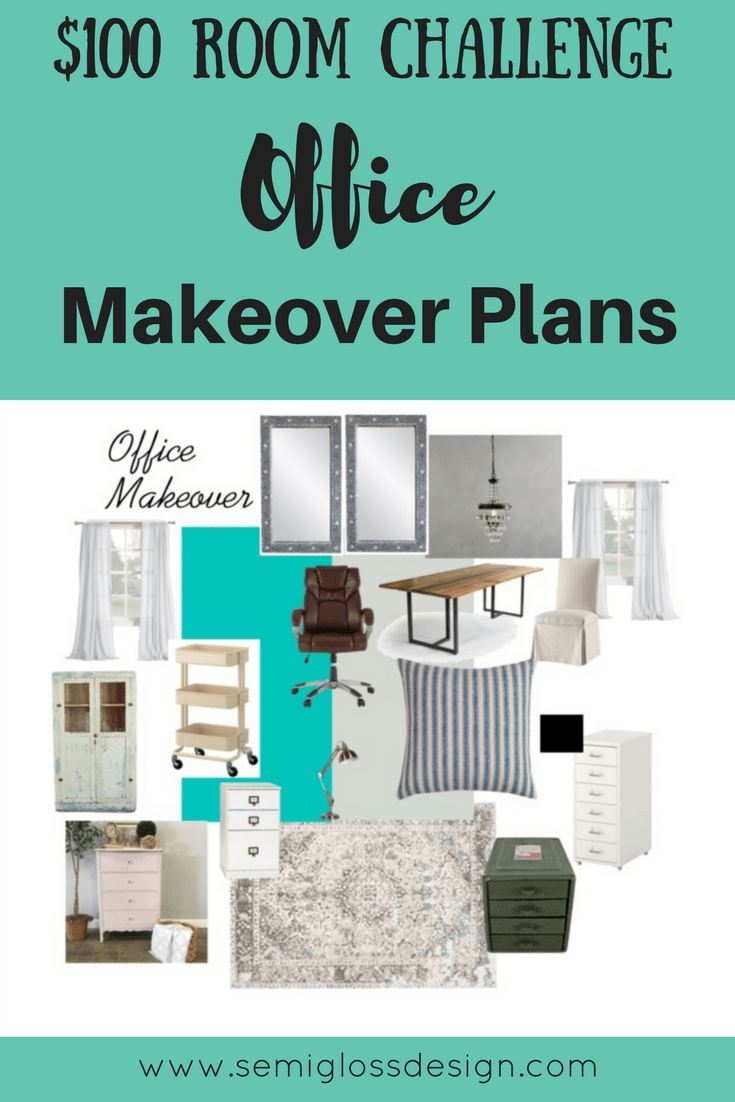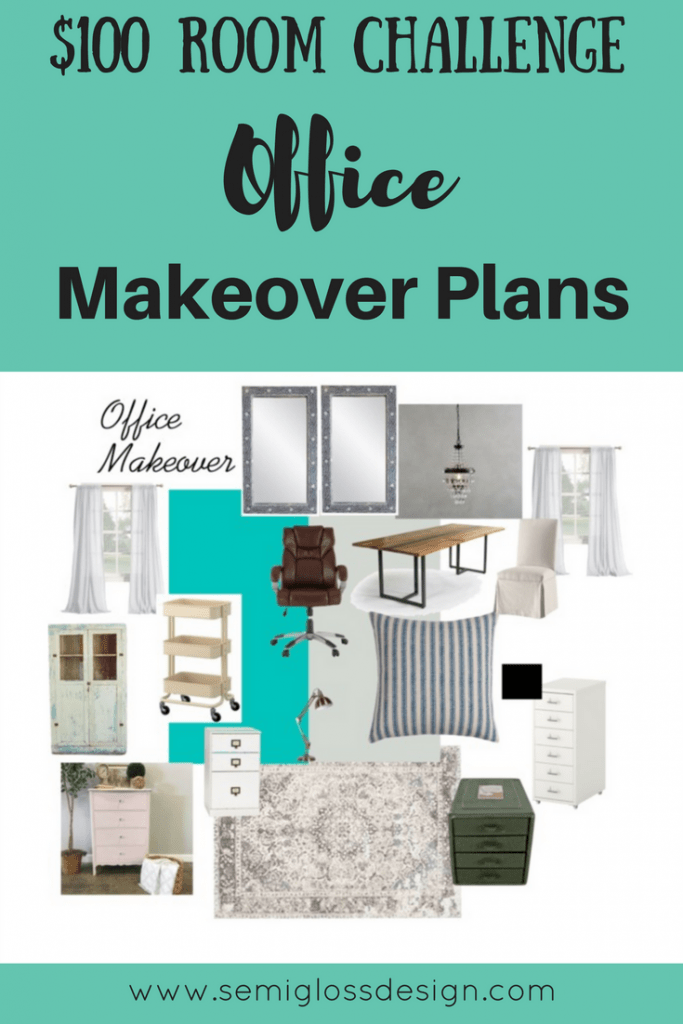 I'm joining Erin at Lemons, Lavender, and Laundry for her $100 room challenge. In January and September, Erin invites us to redo a room in our home using only $100.
Last September, I redid my daughter's room into a purple, goth, FNAF-inspired room. Not my style at all, but fun to do for her. This month, I'm redoing my office space with plenty of vintage finds, AKA my usual style.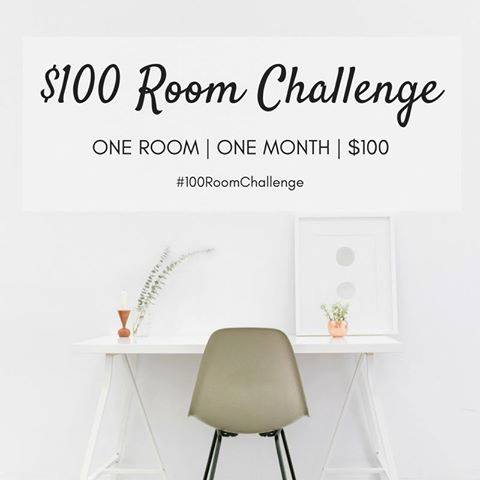 Over the summer, I swapped my office space and living room. Before, my desk was located in front of our glass door, which made me really uncomfortable.
We were dealing with a less-than-honest contractor and I hated that they could see my computer and camera from the door. I miss my view from into the backyard, but I'll admit that the living room is far less distracting.
Office Before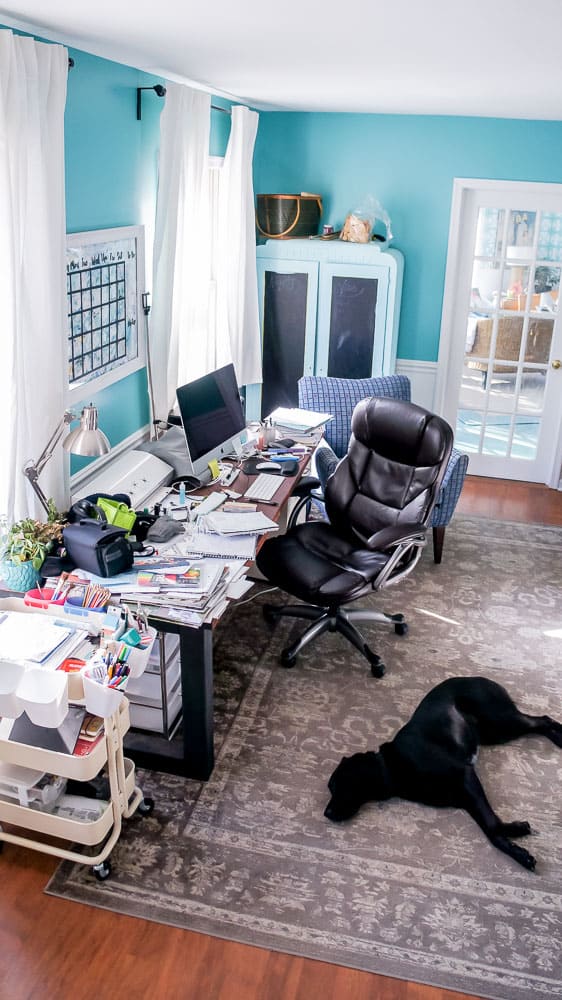 This isn't my ideal, forever work space either, but it's good enough for now. I pretty much moved everything into this room, set up what was necessary and that's it.
There is no organization at the moment and too much stuff. I didn't clean beyond vacuuming for these photos. Also, ignore my lazy dog.
My desk desperately needs to be cleaned off. Also, my desk chair might not be the prettiest, but it's the comfiest chair ever.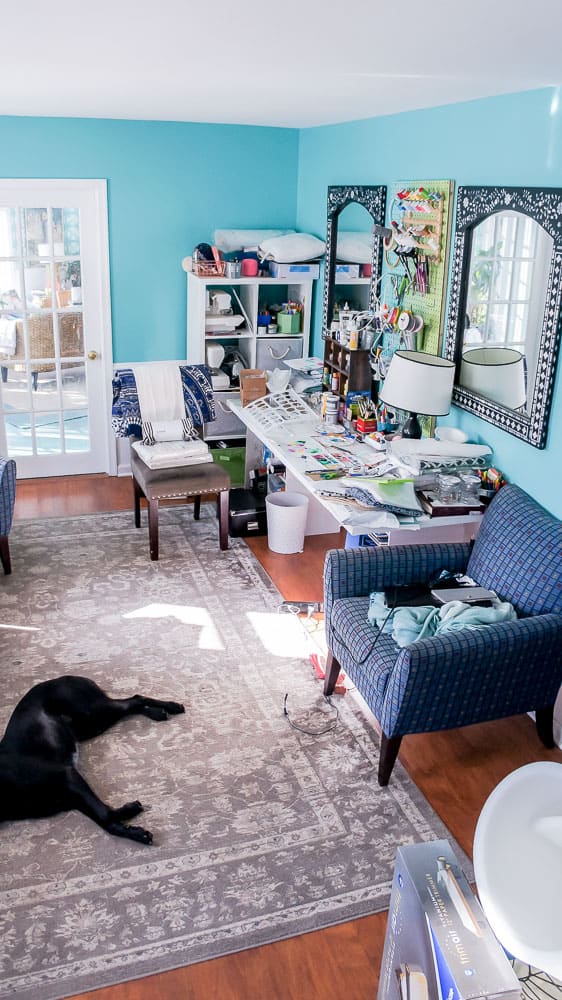 More piles of stuff. Told ya I didn't clean. This is my art desk. Currently too messy to make art.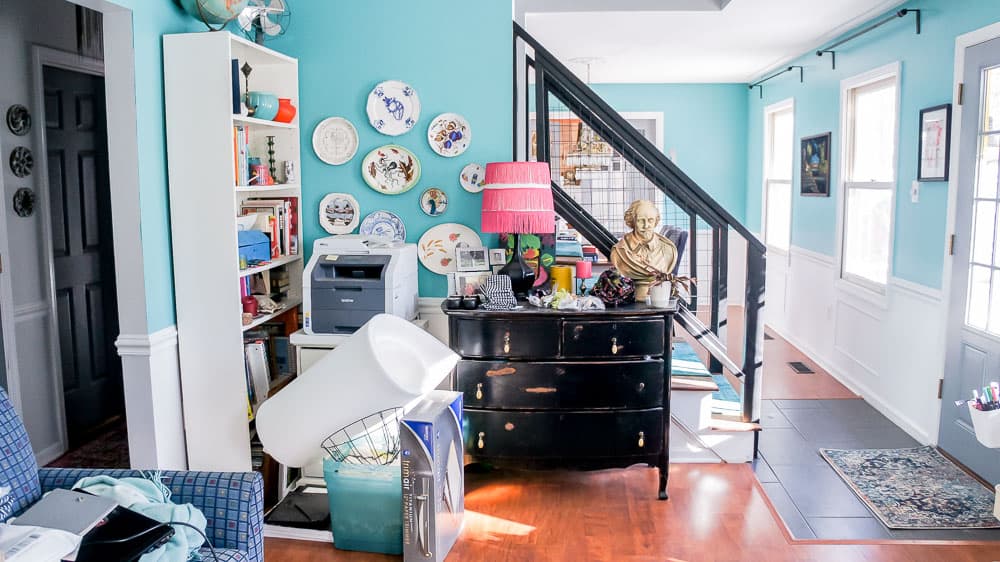 Even more piles. (I actually removed a few last week.) The foam is for some upholstery projects for the shop. And the box contains a guillotine paper cutter that needs a home so I can actually use it.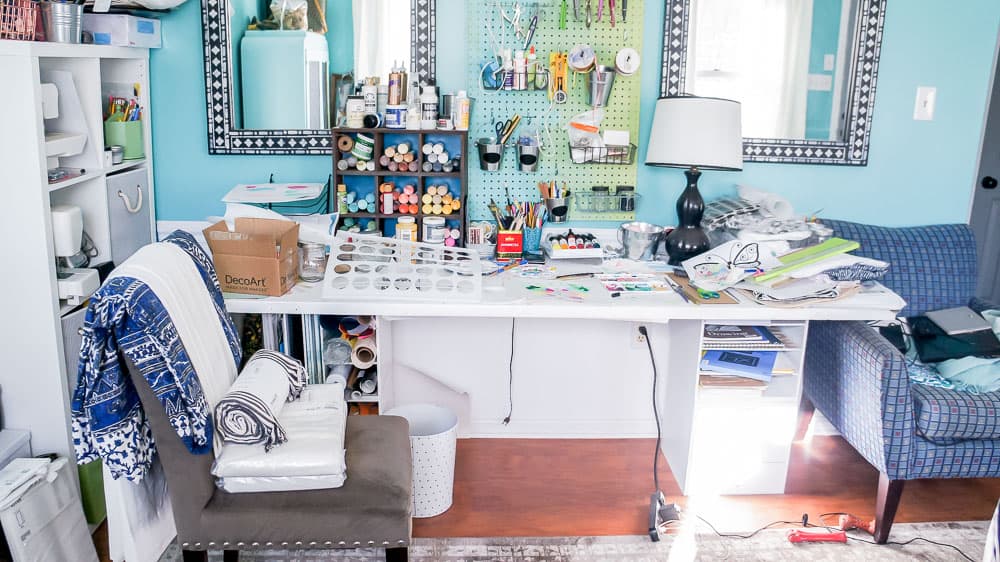 Major cleaning and organization needed.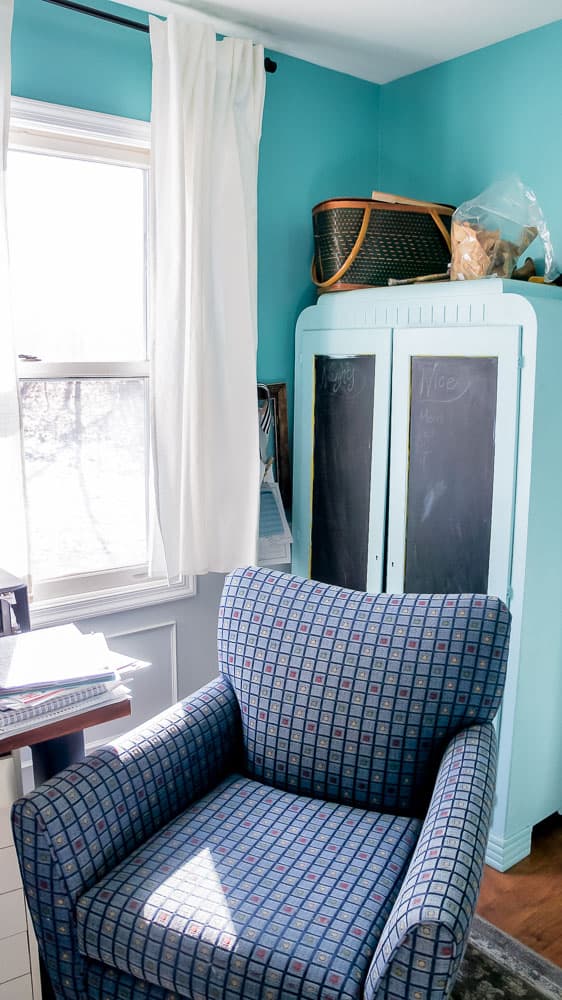 The too-short curtains were bought on accident and hung in a winter-sun-blinding-me fit of rage. They have made me crazy ever since. The chairs were bought with intentions of recovering them. I think they're from a hotel because I see them on craigslist ALL.THE.TIME. They have a nice shape though. I haven't decided if the armoire will stay or not. It might be nice for storage, but I would rather get rid of it and find a new home for the contents. But where will the dog treats go? 😉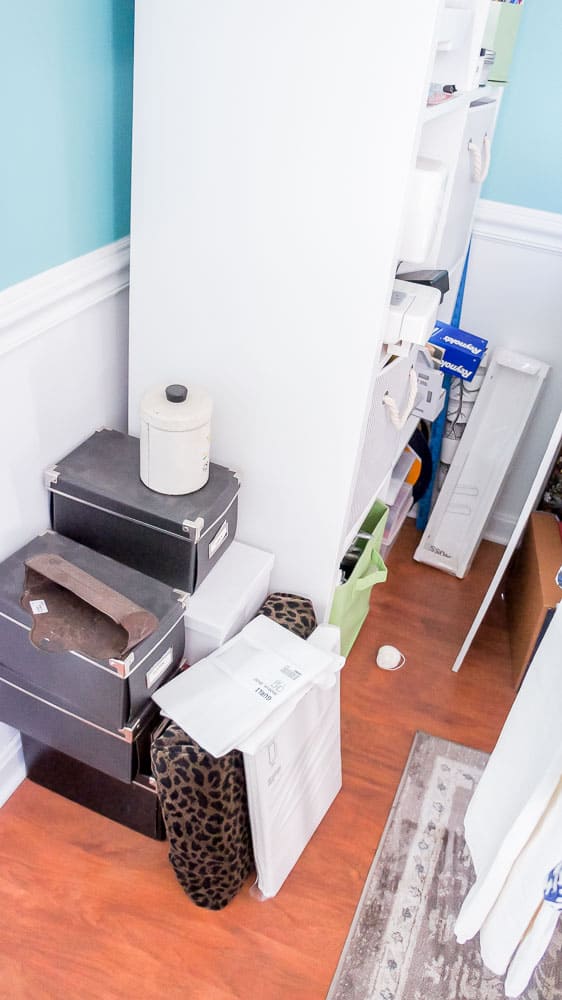 More piles. Can you believe it?
Office Makeover Plans
To Do:
Re-paint walls? This is a maybe. I've been considering neutral walls colors to allow my other pieces a chance to pop. I already have the paint and it would take me about a day. But I also have a vintage sale coming up and my daughter's birthday is next weekend.
Rearrange and figure out a better floor plan. I need to lose some furniture for my plan to work better. But which pieces?
Slipcover the blue chairs. I have ticking already, so I just have to take the time to sew them. I don't always love sewing… I also want to make a slipcover for my gray chair as well. We'll see.
Better organization. This will also involve getting rid of stuff.
Paint IKEA filing cabinet. I have super fun plans for this piece to make it less shiny new.
Paint dresser? I'm considering moving this piece back to the dining room. It's so useful because I store extra paper, batteries, pens, and paint chips in it, but I painted it back when I thought distressing should be very heavy handed. Also, I've had new knobs for it for weeks and I haven't replaced them yet because I want to repaint it.
Repaint (or get rid of) armoire. Should it stay or should it go now?
Install filing cabinet hardware in filing cabinet. I built a filing cabinet and bought the hardware about 2 years ago, but I've never installed it. So my files sit in bins unorganized. It's really time to have a place to file receipts and such.
Hang curtains. Okay, so technically they are hung. But the too short ones need to go.
Lighting. I have a few lamps, but I would love to figure out some plugin ceiling lighting for over my art desk. So I'll either make something or rewire a something. I want something pretty!
Bring in my vintage filing cabinet. I bought this piece a few months ago and I can't wait to fill the 14 drawers with craft supplies. Yes, it's old and rusty, but I love it as is.
For this office makeover, I will be heavily relying on my fabric, paint and decor stashes. To be honest, I'm not sure where I'm spending money in here yet. I have almost everything I need, but I just need to implement it all. Lighting and possibly more storage bins? I'm so excited about my office makeover plans!
Be sure to scroll down and check out how everyone else is going to makeover their rooms with only $100!
Want to see how it turned out?
Pin for Later!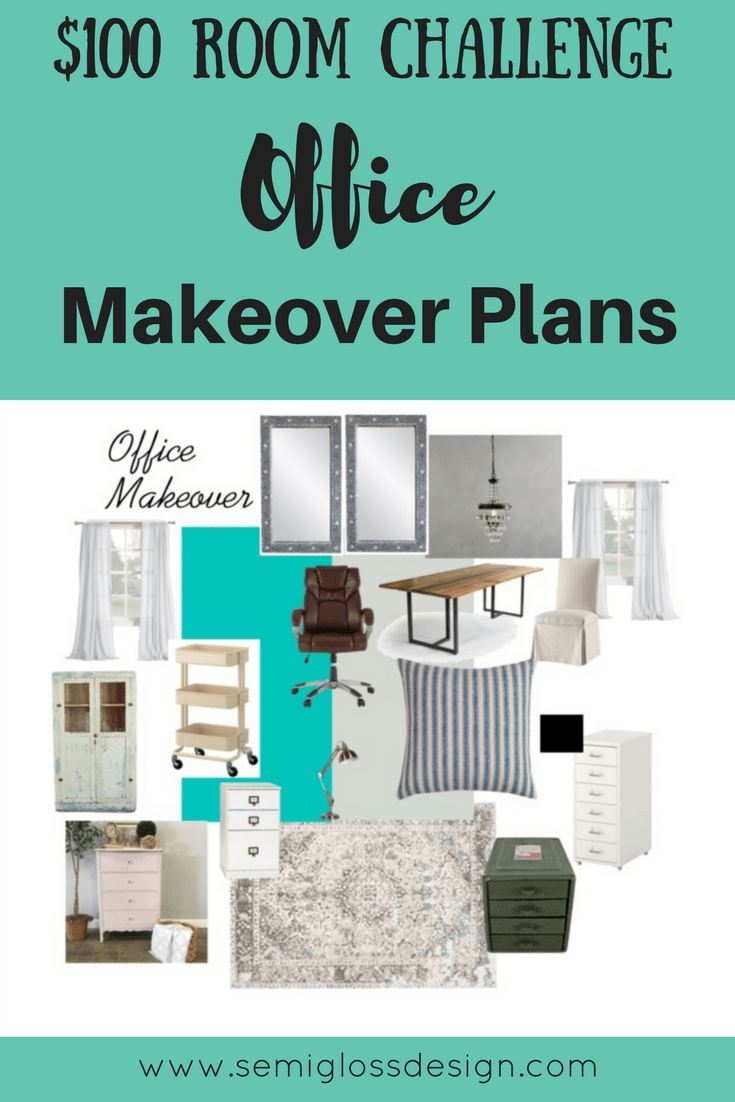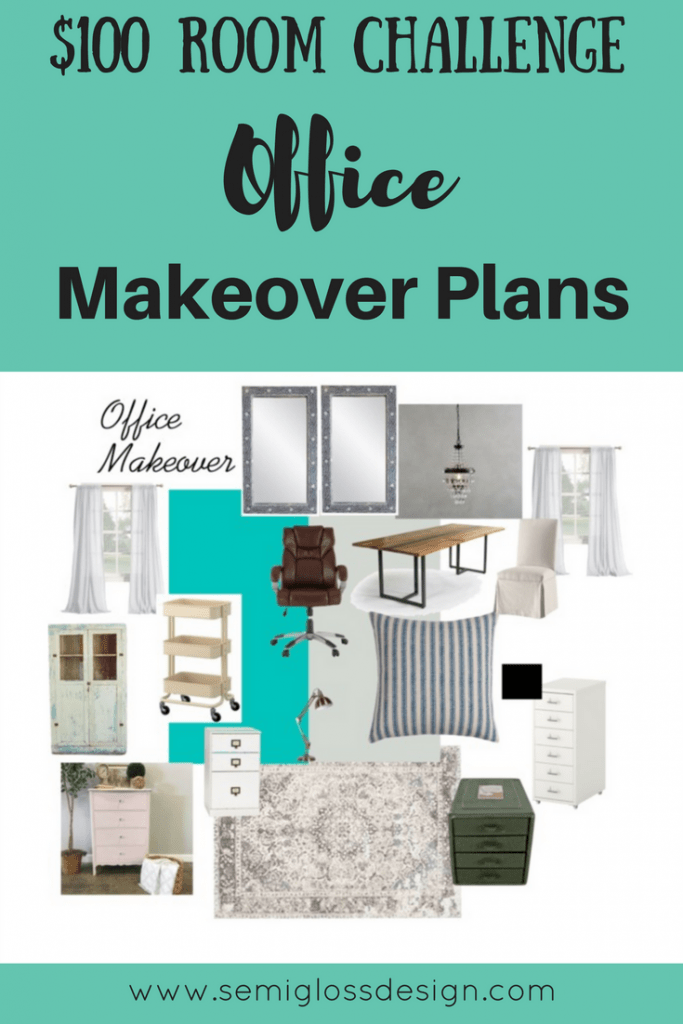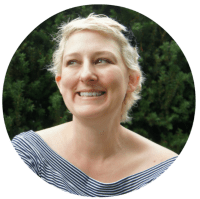 Emy is a vintage obsessed mama of 2 DIYer who loves sharing affordable solutions for common home problems. You don't need a giant budget to create a lovely home. Read more…