It's time for Inspired By DIY. I've joined up with a group of friends who find inspiration from a designer or icon each month. Last month, sought inspiration from Wes Anderson. This month we are inspired by the lovely Genevieve Gorder. I am familiar to Genevieve from her work on Trading Spaces years ago, which I loved. However, her work has evolved to have a sophisticated, global influence. I've also noticed that she uses a lot of black and white. I'm not great at sophistication 😉 but I can do black and white and global.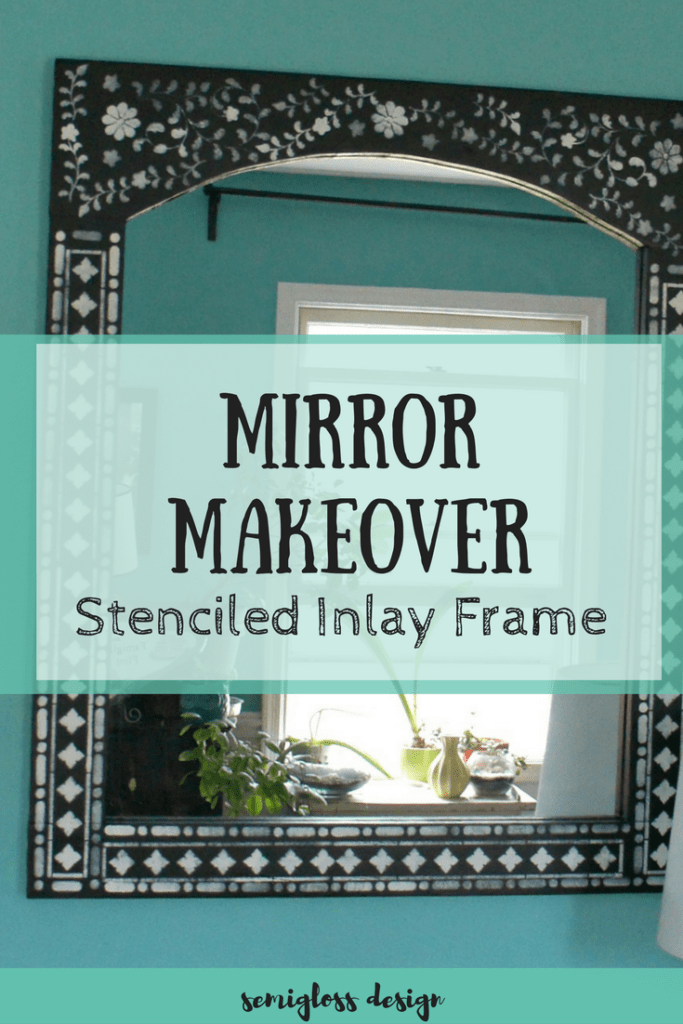 A few weeks ago, I repainted my living room and dining room the most amazing color of teal. It's Cooled Blue by Sherwin Williams for HGTV in case you're wondering. This color fixed everything that I hated about these rooms. Everything that was the wrong color now looked very right. My vintage sofa that looked so drab with the old color now looks more intentional. However, the farmhouse mirrors that I built seemed a bit off. I love having the mirrors to bring more light in, so I decided to give the mirrors a makeover.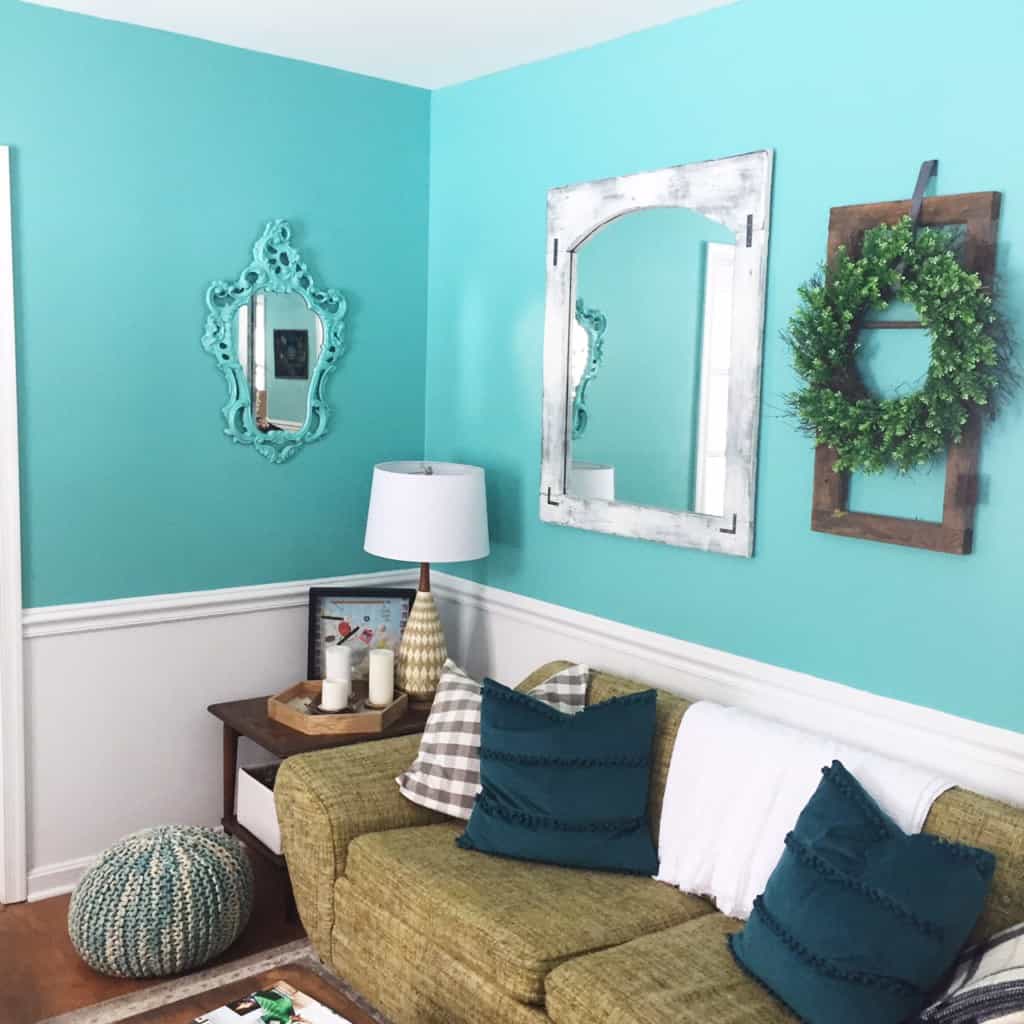 I decided to stencil the mirrors with an inlay stencil. Although I've stenciled before, I still get nervous about it. How do I make the stencils fit a weird shape? Will white paint actually cover enough on a black background? Will it look as good as the picture?
Once I started the project, I quickly realized that all of my worries had been for nothing. This is probably my favorite stencil that I have ever used. It comes with 5 different patterns so that you can customize the pattern to the size you need. Due to it's complexity, it's very forgiving. That sounds like it should be the other way around, right? But with so much pattern, it's hard to see a single flaw because you focus on the overall design.
Mirror Makeover: Stenciled Inlay Frame
Supplies:
Paint the base color. My base color was black. I've also seen inlay furniture with color as well, so you don't have to use black and white. When painting mirrors, I never tape it off. Just slop the paint on. It's fine if it gets on the glass. I'll tell you how to get the paint off in a minute. 
Choose your layout. Pick the piece that you love the most and work around those. I knew that I could fit the flowers at the top. For the sides and bottom of the mirror, I chose the piece with the diamonds and the stripes for the borders.
The first stencil that you apply looks a bit cheesy on it's own. I was afraid for a moment! Think 1980's stencils of grapevines. Trust in the process. Once they're all together, they look amazing.
Since chalk paint covers well, that's what I used for the stencil. I've also read that paint with primer in it is harder to clean off of stencils, so I wanted to avoid regular latex paint since they all have primer in them. If you use latex paint, just be sure to clean them more often.
The patterns on this stencil are pretty small, so I decided to use stencil brushes instead of a roller. Pounce very lightly with much less paint that you think you'll need. I took off as much paint as possible on a paper plate. It might look speckled up close, but from far away it reads as perfect. The texture it gives makes it look more convincingly like mother of pearl.
It's not a huge deal if the paint bleeds a bit. The pattern is very forgiving and a few small flaws won't be noticable. Just apply less paint to the next part. If it's awful, it can be touched up with a small paint brush and your base paint color.

An up close look at the paint texture. Don't panic at less than perfect coverage. From far away, it looks amazing.

Apply your stencil and then move to another part of the frame. For instance, if my first stencil was applied on the left side, I would then stencil a piece on the bottom, and then the right side before returning the the left side to finish that part of the pattern. If you apply your paint lightly, it dries in a few minutes so that you can keep stenciling without waiting.
There were parts where the spacing wasn't perfect, so I just had to split the difference and some areas have more space between the stencil elements. It still reads as perfect because the pattern is so busy.
For the sides of the mirror, I scooted it to where the mirror hung off my work table a bit so that I had full access to it. I had to gently hold the stencil in place to apply the stencil. Extra paint came through the other holes (the design was larger than my wood), but I just took an artist brush and painted over those spots.
I stenciled the top of the mirrors last. The larger elements were stenciled first and then I went back and filled the empty spaces with smaller elements. At times, I only used parts of the stencil to fill in the spaces. It's not perfect at all, but real inlay isn't perfect either.
When the paint is dry, use a razor blade to scrape the paint off the glass. It comes off so easily, especially where it's thick. There will be  spots that are harder to scrape off, but they come off easily when you clean the glass with windex. 
The stencils were pretty easy to clean. In the past, I've used the scrubby pads on sponges, but I found an even better way to clean them. I use the brush part of a paintbrush cleaner and the paint came right off without scratching the stencil up. I found this brush at Lowes, but I can't find this exact one online. This one is made by Wooster and it's my favorite tool to for cleaning paint brushes. 
I'm thrilled with how the mirrors turned out! Aren't they pretty?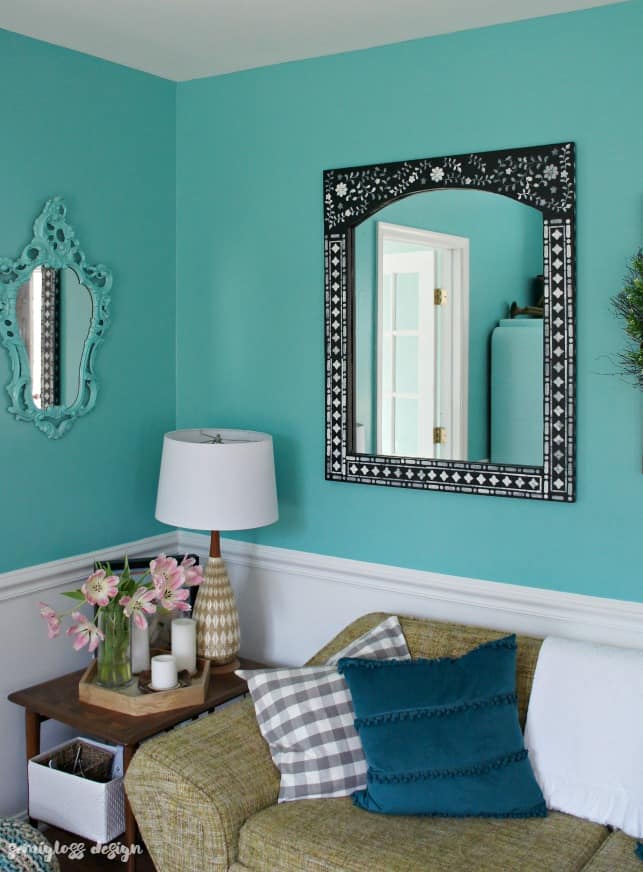 The mirrors look so pretty with the new wall color. The whole room is really coming together because of this mirror makeover.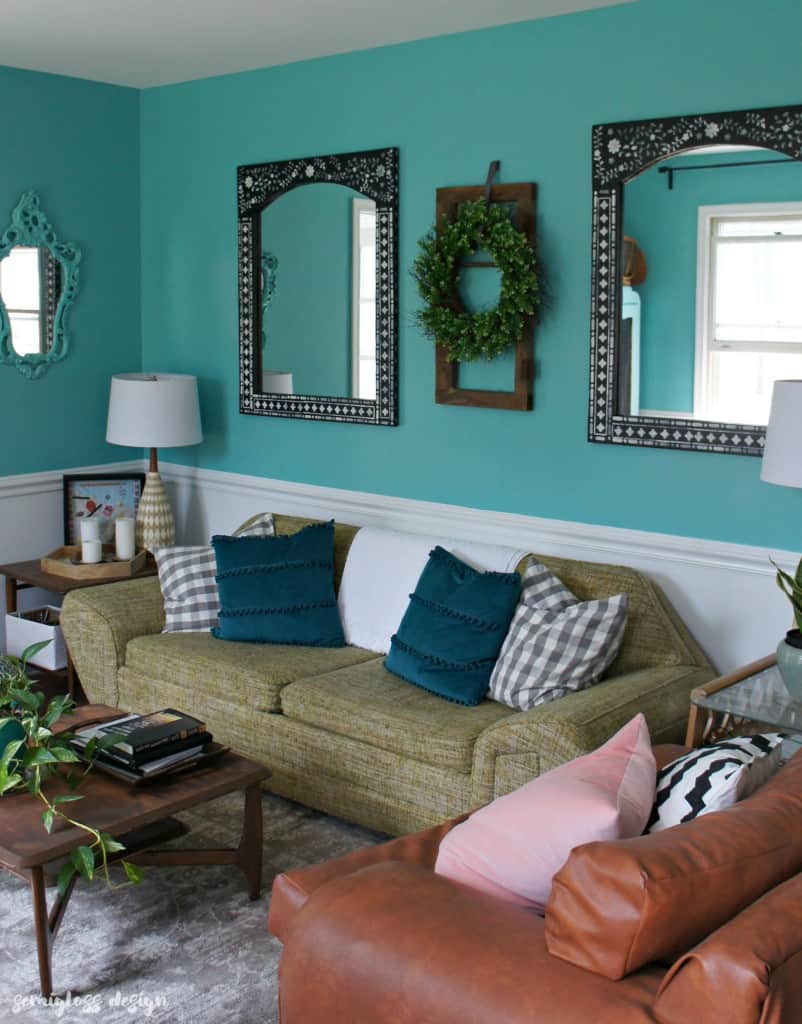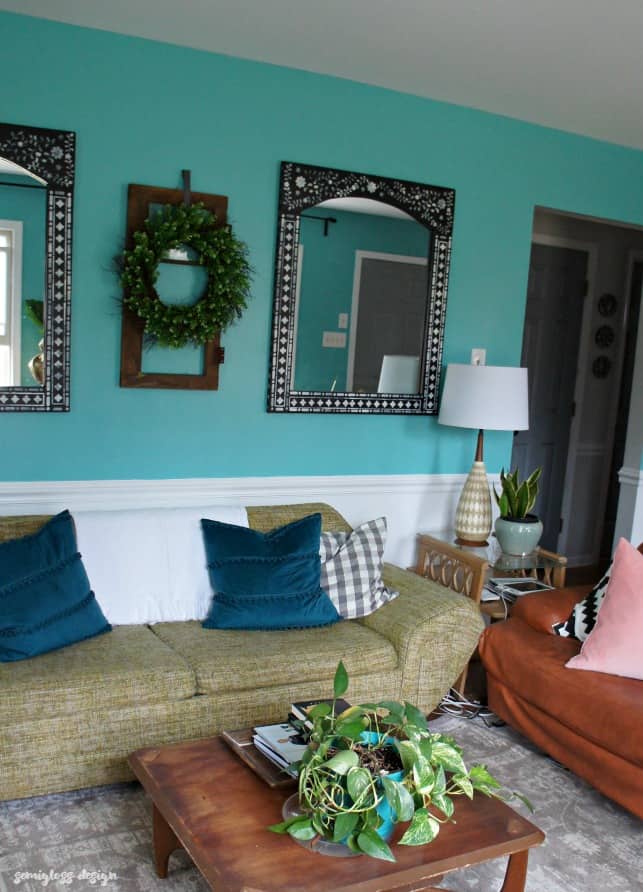 Be sure to check out the other Inspired By DIY projects! These ladies are so talented! I love seeing everyone's different interpretations of inspiration!
Domicile 37 | Up To Date Interiors | Jest Cafe | 58 Water Street | The Rath Project | Semigloss Interiors